January, 3, 2014
1/03/14
11:25
AM ET
The way things have gone for the
Philadelphia Eagles
this season, you half expected to hear that
Drew Brees
fell down an elevator shaft or was hit by some space junk. But no, the
New Orleans Saints
' superb quarterback will not go the way of
Aaron Rodgers
,
Adrian Peterson
and
Tony Romo
the week before their teams played the Eagles.
Of course, that doesn't mean anyone knows which Brees will show up for the first-round playoff game Saturday night at Lincoln Financial Field. Will it be the Brees with the 8-0 record at home, or the Brees who has gone 3-5 on the road this season?
In search of the answer to this and other questions, ESPN.com reporters Mike Triplett in New Orleans and Phil Sheridan in Philadelphia exchanged insight and info.
Phil Sheridan:
Let's start with the obvious: the disparity between the Saints at home and on the road. Is it mostly Brees? The fast track at the Superdome versus grass fields elsewhere? Exposure to electromagnetic waves in the outdoors? Some combination?
Mike Triplett:
Shoot, if I had the answer to that question, I'd probably be interviewing for some of these head-coaching vacancies around the league. It really is a mystery. Of course, the most obvious answer is that it's harder for all teams to play on the road -- especially when weather conditions become a factor. And the Saints have had some road struggles in the past (including an 0-3 playoff record with Sean Payton and Drew Brees). But even in those playoff losses, their offense showed up. We've never seen a season quite like this, where they've had so much trouble scoring points on the road.
Honestly, it's really come down to the football stuff: Early turnovers that put them in a hole, drive-killing penalties, an inability to stop the run. I expect their offense will still put up plenty of yards and points in this game, but I'm curious to see if they can avoid those costly turnovers -- and if they can find a way to contain
LeSean McCoy
. Those are the trends they must reverse from their previous road losses.
While we're dwelling on the negative, what could be the Eagles' fatal flaw? If something goes wrong for them in this game, what do you think it will be?
Sheridan:
The Snowball Effect. While the Eagles' defense has done a remarkable job of keeping points low -- 11 of the past 12 opponents have scored 22 or fewer -- there is a persistent suspicion that the smoke could clear and the mirrors could crack.
Matt Cassel
hung 48 points on them two weeks ago, the most since
Peyton Manning
put up 52 in Week 4. Even Sunday night,
Kyle Orton
was only a couple of slightly better throws away from scoring another touchdown or two. Brees is obviously capable of making those throws. If the Saints can move the ball the way many teams have, plus translate the yards into points, it could force the Eagles to play catch-up. And we haven't really seen
Nick Foles
in a shootout-type game yet.
Jay Cutler
didn't show up two weeks ago when the Bears came to town, and a freak snowfall took Detroit's
Matthew Stafford
and
Calvin Johnson
out of their game.
The stats say Rob Ryan has transformed the Saints' defense from a farce into a force. Does that align with what you see when you watch them? Does Ryan have the scheme and the personnel to be physical with the Eagles' receivers while getting pressure on Foles?
Triplett:
That's absolutely true, Phil. Ryan has been an outstanding fit for this team. I know Philly fans didn't see his best results with the
Dallas Cowboys
the past two years. But it must have been a perfect storm here, where the Saints' defense had just given up the most yards in NFL history under former coordinator Steve Spagnuolo in 2012. The players were ready for a change -- and Ryan is all about change. He constantly adapts his approach from week to week, building around his players' strengths and tailoring game plans for certain opponents.
Several young players are having breakout years -- including pass-rushers
Cameron Jordan
and
Junior Galette
(12 sacks each this season) and cornerback
Keenan Lewis
, who is a true No. 1 corner. He's physical with long arms and plays well in man coverage. I imagine he'll be matched up a lot against
DeSean Jackson
.
From what I've read about Chip Kelly, it seems as though he's a kindred spirit of both Ryan and Sean Payton -- trying to create confusion and mismatches. Is it possible for you to boil down his philosophy to one or two paragraphs?
Sheridan:
Force the issue. That's the underlying principle. It's behind the no-huddle, up-tempo approach, and it drives many of the unusual things he does with formations and blocking schemes. Kelly wants to spread the field horizontally and vertically, forcing defenses to account for every offensive player and every square foot of grass. He'll line right tackle
Lane Johnson
out like a wide receiver, or left tackle
Jason Peters
at tight end on the right, or DeSean Jackson in the backfield, just to see how the defense responds. If he sees a mismatch, he'll exploit it until the defense corrects it.
It must be said that Kelly inherited a lot of offensive talent that was pretty darn good under Andy Reid. The line has been outstanding and, just as important, healthy. Jackson, McCoy and the other skill players are exceptional. The X factor has been the way Foles has mastered what Kelly wants to do. There are a lot of quick reads and decisions for the quarterback to make -- whether it's a zone-read or a package play with run/pass options -- and Foles has translated Kelly's dry-erase board to the field very well, leading the Eagles to a 7-1 record since they were 3-5 at the midway point.
Payton is a similar creative offensive mind with an NFL pedigree. The first time I met him, he was the Eagles' quarterback coach on Ray Rhodes' late 1990s teams, trying to win with Bobby Hoying and various Detmers. Is he any different or more driven since serving his one-year suspension? Is there a sense the Saints are back where they belong and determined to make a deep run?
Triplett:
I think it's a great comparison. Although the offenses don't look identical, the philosophies are the same -- create, identify and exploit mismatches. The Saints will actually rotate in a ton of different personnel groupings early in games, as well as mix up their formations, to see how defenses react.
Payton hasn't changed drastically this season. One of the things that stood out to me most early in the season was his patience in games -- how he'd stick with a methodical attack, settling for a lot of check-down passes, etc., to win games against teams such as Chicago and San Francisco. Lately, Payton's been a little stumped in similar-style games on the road, though.
Overall, the idea with him is that he is hyperfocused on every detail that can help this team win. Brees keeps saying Payton's leaving no stone unturned. It started with switching defensive coordinators on his second day back on the job, then things such as changing the team's conditioning program, then recently switching out the left tackle and kicker heading into Week 16.
I'll leave you with a quick question, Phil. Who are the one or two players we haven't talked about much who could have a big impact on this game? From my end, the answer would probably be those young pass-rushers, Jordan and Galette.
Sheridan:
I'm going to go with the Eagles' key pass-rushers, too --
Fletcher Cox
,
Trent Cole
and
Connor Barwin
. The Eagles didn't sack Orton at all Sunday night in Dallas. Orton is no Brees, but he does get the ball out quickly. So it might not result in many sacks against the Saints, but the defense has to disrupt Brees' rhythm as much as possible. Cole had eight sacks in the second half of the season. Cox has been outstanding at collapsing the pocket. Barwin is as likely to jam
Jimmy Graham
at the line of scrimmage as rush the passer.
But somebody from that group -- or maybe it will be
Brandon Graham
or
Vinny Curry
-- has to make Brees feel uncomfortable, or it's going to be a long night for the Eagles. As you pointed out, the Saints have made more mistakes on the road than at home. Forcing some of those mistakes, preferably early, could make the air feel colder and the wind feel sharper.
.
June, 14, 2011
6/14/11
12:40
PM ET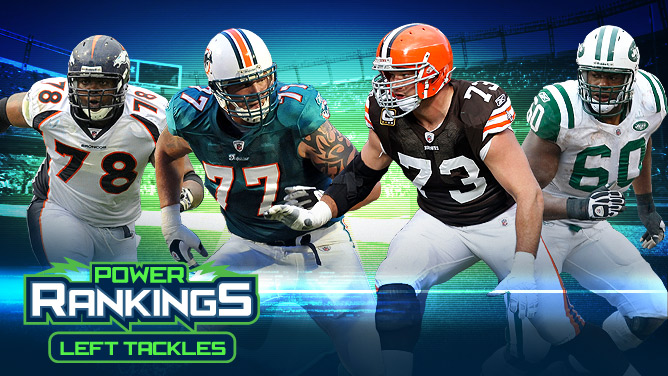 ESPN.com IllustrationOur bloggers say Joe Thomas and Jake Long are the NFL's best left tackles by a wide margin.
ESPN.com ranks the NFL's top 10 at left tackle, one of the most important positions in the league. Next week: Top up-and-coming assistants.
Take a quarter out of your pocket and look at its width. That's basically the difference between the top two left tackles in the ESPN.com Power Rankings.
Cleveland's
Joe Thomas
received 76 points from our eight-person panel of voters. Miami's
Jake Long
received 75. That put them way ahead of the rest of our top 10 list of the NFL's best blindside pass protectors.
Our panel of division bloggers gave Thomas five first-place votes, and Long received three.
"It was pretty much a coin flip for me,'' said NFC East blogger Dan Graziano.
If Graziano's quarter had landed on the other side, we might have had a different outcome. I think the same can be said for some of the other voters. I gave Thomas my top vote only after some strong consideration for Long.
But let's cut to the chase and point out the man who ultimately decided this election. It's AFC South blogger Paul Kuharsky. Every other voter had Thomas and Long in the top two spots. Kuharsky threw things off a bit by putting Long at No. 1 and Tennessee's
Michael Roos
at No. 2. He had Thomas at No. 3.
Let's turn to Kuharsky for his rationale.
"I've seen Long more, which helped him,'' Kuharsky said. "Also, frankly, I knew there could be close to a consensus for Thomas. He's very good. But we're not talking
Orlando Pace
or Jonathan Ogden. The groundswell for Thomas as top left tackle is, in my eyes, more a media creation than the view of players, scouts and coaches. I wanted to note and reflect that.''
Point taken, and I agree that we're not talking the same level as Pace and Ogden -- at least not yet. Thomas and Long are young and it's too early to put them in the category of surefire Hall of Famers. But, aided largely by Kuharsky, Roos did finish No. 6 overall.
Ryan Clady
,
Jordan Gross
and
D'Brickashaw Ferguson
rounded out our top five at Nos. 3, 4 and 5 respectively. After Roos, the rest of the top 10 was filled out by
Jason Peters
(No. 7),
Marcus McNeill
and
Donald Penn
, who tied for No. 8, and
Matt Light
at No. 10.
Let's work our way back toward the top, with one more quick stop at Roos. I had him at No. 8 on my ballot, and James Walker and Kevin Seifert didn't even vote for him. I've had a couple of scouts tell me Roos is a good left tackle, but seemed to take a step backward last season.
Kuharsky heard otherwise.
"I've had a coach and two scouts tell me Roos is as good or better than Thomas and Long,'' Kuharsky said. "I obviously see Roos a lot and think he's quite good, certainly better than he wound up here.''
Roos or ruse? Take your pick, but let's head right back to the top of the voting and back to the argument between Thomas and Long. They were drafted one year apart with Thomas entering the league in 2007 and Long coming in for the 2008 season. Each has made it to the Pro Bowl in every season played.
Kuharsky mentioned the "media creation'' about Thomas. In Cleveland? That's not where you usually turn to find guys to top Power Rankings, so our vote has to say something pretty strong about Thomas. Let's turn to the guy who covers Thomas.
"Thomas has always been focused on doing his job,'' Walker said. "You can't tell whether the Browns are 16-0 or 0-16 with the way he plays, and that's why he's been to four straight Pro Bowls. The NFL has gone the way of speed pass-rushers, and Thomas is the prototype to combat that. He's lean with very good feet and agility, but still strong enough to dominate in the running game. There's really no weakness in his game."
None of our panelists saw a weakness in Long's game.
"I thought Long's run-blocking ability put him a little bit ahead of Thomas,'' Grazianzo said. "I think he's shown improvement every year and is likely to pass Thomas soon if he hasn't already (and for me, these lists are about which guy I'd pick right now, so a guy I think is going to get better is going to get a long look from me). And he earned a bonus point or two from me for playing the last six games of 2010 in a shoulder harness and still being incredible.''
The best news is, these guys are so young we can have this same argument every year for the next decade. Now, let's move on to some other notes about the voting in the Power Rankings for left tackles.
Turn off the Light.
As we mentioned, Light came in at No. 10. That surprised me a bit because he's a big name with three Super Bowl championships and three Pro Bowl selections. I had Light at No. 6 and Walker had him at No. 4. But Light didn't even appear on four ballots, including the one from AFC East representative Tim Graham.
"Matt Light is a quality player, but Stats Inc. blamed him for 10 sacks allowed and four penalties last season, more in each category than his previous two seasons combined,'' Graham said. "I've always thought Light got more recognition simply from being
Tom Brady
's left tackle. Once you name the three or four elite tackles and you rack your brain for the next group, it's easy to understand people sorting through the great quarterbacks and asking, 'Who is so-and-so's left tackle?' Light made the Pro Bowl last year, but as an alternate. Light's reputation also is enhanced by his involvement in the union and being a truly rare species: the gregarious Patriot.''
Also-rans.
Andrew Whitworth
,
Chad Clifton
,
Doug Free
,
Russell Okung
and
Jeff Backus
didn't make the top 10, but each received votes.
"I don't think there are 10 elite or even complete left tackles in the NFL,'' NFC West blogger Mike Sando said. "I list Okung on a very short list of players with the talent and makeup to be elite at that position. Okung hasn't played enough to this point, but I think he'll join that group this season. Listing someone with considerably less ability was the alternative.''
The longest shot.
Somewhere, former Tampa Bay general manager Bruce Allen and coach Jon Gruden are smiling at Penn's name appearing on this list. It's true, they headed the regime that signed Penn as a free agent in 2007 after he was cut by Minnesota in 2006. Then again, they were also the ones who signed Luke Petitgout, and Penn only got a chance to play because Petitgout turned out to be washed up. I used to subscribe to the theory that you needed to use a first-round pick to get a good left tackle. But Penn has shown that's not necessary. In his case, he simply made the most of his shot at playing time and turned it into a $48 million contract as training camp started last year.
January, 20, 2011
1/20/11
6:46
PM ET
The group making the trip from Flowery Branch, Ga. to Honolulu next week just got larger.
Atlanta offensive tackle
Tyson Clabo
has been added the NFC Pro Bowl squad, the Falcons announced. Clabo enters as an alternate after Philadelphia's
Jason Peters
pulled out of the game.
That gives the Falcons a league-high eight Pro Bowlers, the most in franchise history.
John Abraham
,
Tony Gonzalez
,
Ovie Mughelli
,
Matt Ryan
,
Michael Turner
,
Eric Weems
and
Roddy White
already were selected to the Pro Bowl.
Atlanta coach
Mike Smith
and his staff will be coaching the NFC Pro Bowl team.
October, 17, 2010
10/17/10
11:45
AM ET
PHILADELPHIA -- I just got the list of inactives for the Falcons.
On the plus side, defensive end
John Abraham
will play. On the minus side, linebacker
Sean Weatherspoon
will not.
Having Abraham should be a big boost for the Falcons, because he'll have a favorable matchup with tackle
King Dunlap
, who is playing for an injured
Jason Peters
. While Weatherspoon's absence takes away a bit of speed from the Atlanta defense, there's not a huge drop off because the Falcons will turn to
Stephen Nicholas
, a former starter.
The rest of the inactives for the Falcons are cornerback
Dominique Franks
, running back
Gartrell Johnson
, offensive tackle
Garrett Reynolds
, guard
Mike Johnson
, defensive end
Lawrence Sidbury
and defensive tackle
Trey Lewis
.
John Parker Wilson
is the third quarterback.