May, 8, 2014
5/08/14
8:00
AM ET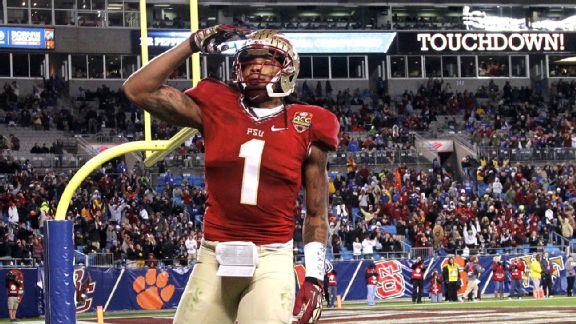 AP Photo/Bob LeveroneFlorida State receiver Kelvin Benjamin could be an option for the Panthers in the first round.
It's no secret the
Carolina Panthers
have big needs at left tackle and wide receiver entering tonight's first round of the NFL draft.
But general manager Dave Gettleman won't reach for a player at either position when the Panthers pick at No. 28 if there are players on the team's board who rank higher.
There is also a slim chance, though he covets having picks, that he will trade up for a player at one of those positions.
This is about taking the best player available, not filling a need. If Gettleman can do both as he did last year with defensive tackle
Star Lotulelei
at No. 14, that is a bonus.
But as Gettleman showed last season in picking defensive tackle
Kawann Short
in the second round, he will stick with value over potential even if it means going with the same position in consecutive rounds.
"I've said this before, when you reach, when you have made up your mind, you're locked in and you're going to take a position because you feel a need to fill that spot, more often than not you're going to make a mistake," Gettleman said.
Gettleman says there are a combined nine to 10 tackles and wide receivers he considers worthy of a first-round pick. That there is enough depth at both positions to get value in the second and possibly third rounds opens the possibility that Carolina takes what Gettleman calls a "blue goose" pass-rusher in the first.
He "wouldn't be mad if a corner was there."
In other words, don't be surprised by whom the Panthers take sometime around 11 p.m.
With that, here are 10 players (alphabetical order) who could be there for Carolina at No. 28:
Davante Adams, WR, Fresno State: Adams says he's the best wide receiver in the draft, so he's not lacking confidence. A playmaker with decent size at 6-foot-2, 216 pounds. Led the nation in receptions (131) and touchdown catches (24) this past season. Caught a touchdown pass in 22 of his 26 games and had 38 career touchdowns. Can be dynamic at times and has some of that Steve Smith flair for the dramatics. Not nearly as strong physically as Smith, though. Definitely a player the Panthers have talked to and worked out.
Kelvin Benjamin, WR, Florida State: One of the more imposing receivers in the draft at 6-5, 240 pounds. A physical player who has the ability to use his size to create space. Doesn't have elite speed, and doesn't always finish plays. Still, he had 15 touchdowns last season, including the game-winner in the national championship game. Has the raw talent teams are looking for, but gets a lot of second-round grades because he is still developing.

Ealy

Kony Ealy, DE, Missouri: With Greg Hardy unsigned long term and Charles Johnson showing some age with a late-season knee injury, the Panthers might be tempted to go for this athletic pass-rushing specimen. He had 14.5 tackles for loss and 9.5 sacks last season. He might be what Gettleman meant when he referred to a "blue goose" pass-rusher.
Dee Ford, DE, Auburn: Another potential "blue goose." Had 10.5 sacks this past season and doesn't lack for confidence. He called South Carolina defensive end Jadeveon Clowney, expected to be the top player taken in the draft, a "blind dog in a meat shop" during the NFL combine. At 6-2 and 252, Ford might be a bit undersized for a 4-3 end, but still a good value at 28.
Kyle Fuller, CB, Virginia Tech: At 6-0, 190 he's a strong, physical player who can be an every-down cornerback or play in the slot, both needs for Carolina. Played linebacker, safety and cornerback at Virginia Tech, where he was a three-time All-ACC player. Considered by many to be the most ready NFL corner in the draft.
Ra'Shede Hageman, DT, Minnesota: Gettleman said he wouldn't pass on a "blue goose" defensive tackle even though Carolina drafted Lotulelei and Short in the first two rounds a year ago. At 6-6, 310, Hageman might be too good to pass up if the top wide receivers and offensive tackles are gone.

Kouandjio

Cyrus Kouandjio, OT, Alabama: Before his knees became a medical issue, many had this 6-6, 322-pound left tackle as a top 10 pick. A bad workout at the NFL combine didn't help. But if the Panthers cleared him medically, Kouandjio could be a steal at 28 the way Lotulelei was with his with medical concerns (heart).
Morgan Moses, OT, Virginia: This is a popular pick for Carolina by many because he is expected to be around at 28 and because he fills a big need. But not everyone has the 6-6, 314-pounder rated as a first-round pick. He definitely has the size and wingspan (35 3/8-inch arms) to make NFL defensive ends run a long way to get around him. It's just a matter of whether the Panthers have him listed as a first-rounder. Not so sure they do.
Ryan Shazier, OLB, Ohio State: You might be surprised to see an outside linebacker here, but Gettleman said he would take the best player available -- particularly if he was a pass-rusher. Shazier has blazing speed and reacts well to the ball. He had 23.5 tackles for loss last season, but sometimes has issues with his tackling technique. The consideration here is that Carolina outside linebackers Chase Blackburn and Thomas Davis are in their 30s, so this could be a pick for depth and the future.
Jason Verrett, CB, Texas Christian: If he was 6-1 instead of 5-9 he might be a top-five pick. Considered by many to be the best pure cover corner in the draft. That the Panthers were comfortable with Captain Munnerlyn at 5-8 last season means they likely wouldn't hold the size against Verrett. He had six interceptions in 2012 and nine in three seasons. With Carolina's front seven in front of him, he would make the league's second-ranked defense in 2013 better.
April, 30, 2014
4/30/14
8:00
AM ET
Let's say
Carolina Panthers
general manager Dave Gettleman is right and there are only a combined nine or 10 offensive tackles and wide receivers worthy of going in the first round of the upcoming NFL draft.
Now let's say there are about 12 (at least by my count) teams interested in drafting a player at one of those positions ahead of Carolina at No. 28. And one or two teams without a primary need at those spots might go there because the player is too good to pass up among the top five.
Do the math.
[+] Enlarge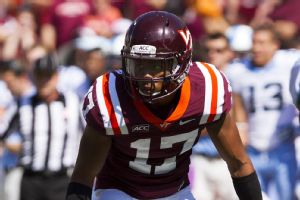 Lee Coleman/Icon SMIDon't be surprised if the Panthers draft a defender like Virginia Tech cornerback Kyle Fuller rather than reach to fill a need on offense.
There is a very good chance a first-round worthy wide receiver or tackle -- both great needs for the reigning NFC South champion -- won't be around when Carolina picks.
This is why Gettleman isn't married to a position with his first pick. This is why the man who introduced us to "hog mollies" a year ago when he drafted defensive tackles in the first two rounds, introduced us on Tuesday to the term "blue goose" when referring to pass-rushers and defensive tackles with a talent as rare as the bird.
Gettleman didn't spend the past few months sending his scouts all over the country looking at players and racking up frequent flier points just so he could select in the first round a player the staff rated as a second- or third-rounder.
So when he says he'll take the best player available, bank on it.
To reach for a player at a position just because you have a need to fill, Gettleman reminded over and over, "more often than not you're going to make a mistake." General managers that make mistakes, particularly with first-round picks, often lose their jobs.
What we don't know is how many of those nine to 10 players Gettleman has at tackle or wide receiver. Does he have six wide receivers and four tackles, or five of each?
What if it's really a combined nine and not 10?
For the sake of argument, let's go on the conservative side and say five wide receivers and four tackles. Based on what most of the so-called draft experts project, the surefire first-rounders at wide receiver would be:
Sammy Watkins
, Clemson;
Mike Evans
, Texas A&M;
Odell Beckham Jr.
, LSU;
Marqise Lee
, Southern Cal; and
Brandin Cooks
, Oregon State.
The surefire offensive tackles would be:
Greg Robinson
, Auburn;
Jake Matthews
, Texas A&M;
Taylor Lewan
, Michigan; and
Zack Martin
, Notre Dame.
And many project Martin as a guard.
If you want to stretch it to five each, add Alabama tackle
Cyrus Kouandjio
, whose stock has been downgraded by many because of medical reports on his knees.
Now let's look at the competition. Among the teams that appear to be looking at wide receiver: Pittsburgh, New Orleans, New York Jets, San Francisco, St. Louis, Tampa Bay, Jacksonville and Philadelphia. Those interested in tackle help: Baltimore, Kansas City, Miami, New Orleans and Cincinnati.
There is overlap here as you can see.
But if each of those teams goes for a tackle or receiver, where do the Panthers turn? They could get a top cornerback. Gettleman said he wouldn't be "sad" to see one of those fall to him.
Among the possibilities could be
Kyle Fuller
of Virginia Tech or
Jason Verrett
of Texas Christian.
Missouri defensive end
Kony Ealy
could be there if Carolina decides to go with a "blue goose" defensive end. There is no guarantee the Panthers sign
Greg Hardy
to a long-term deal, and
Charles Johnson
is going into his eighth season. Johnson also had knee issues last season.
You never can have too many great pass-rushers.
Or what if there is a top defensive tackle on the board such as Notre Dame's
Louis Nix III
? Or Minnesota's
Ra'Shede Hageman
?
Dwan Edwards
and
Colin Cole
both are getting up there in age and have deals that expire after this season.
"If there's a great player there [defensive tackle] were going to take him," Gettleman said. "Everybody's got a philosophy of how they're going to construct their team, and you guys have figured out that we believe in defense."
They also believe in taking the best player available in the draft, and this one will be no different, no matter how great the needs are at tackle and wide receiver.
Bank on it.
April, 28, 2014
4/28/14
8:00
AM ET
In my first attempt to predict the
New Orleans Saints
' 2014 first-round draft pick, I'm going with TCU cornerback
Jason Verrett
.
Although Verrett is "undersized" for a cornerback at 5-foot-10, 189 pounds, I like what I've seen and read about his physical and feisty nature. He is blazing fast, strong in man coverage and an asset in run support. He is the kind of player that could fit well in Rob Ryan's versatile defense, which usually features five or more defensive backs on the field at once.
Two other players I really like for the Saints are USC receiver
Marqise Lee
and Ohio State linebacker
Ryan Shazier
, but I'm less confident that either player will fall to the Saints at No. 27.
I didn't produce a true mock draft. However, I did rank the 26 players most likely to be gone before the Saints are on the clock -- which is just as valuable for the purpose of predicting what they will do.
Here's my top 26, followed by the five most likely scenarios for New Orleans:
1-10 (in no specific order):
OLB
Jadeveon Clowney
,
Khalil Mack
WR
Sammy Watkins
,
Mike Evans
OT
Greg Robinson
, Jake Matthews,
Taylor Lewan
QB
Johnny Manziel
,
Blake Bortles
TE
Eric Ebron
11-20:
DT
Aaron Donald
OLB
Anthony Barr
ILB
C.J. Mosley
CB
Justin Gilbert
,
Darqueze Dennard
WR
Odell Beckham Jr.
,
Brandin Cooks
S
Ha Ha Clinton-Dix
,
Calvin Pryor
G/T
Zack Martin
21-26:
WR Marqise Lee
QB
Teddy Bridgewater
DT
Timmy Jernigan
, Louis Nix
LB Ryan Shazier
CB
Bradley Roby
Five most likely scenarios for Saints:
1. TCU CB Jason Verrett:
See above.
2. Virginia Tech CB Kyle Fuller:
I don't think the Saints need to reach for a cornerback, and I don't think they will. But this position might produce the most value late in Round 1 since there are so many quality options to choose from. Verrett, Fuller and Roby all could be possibilities. Fuller (6-0, 190) is another corner who could help in both coverage and run support. He's not as fast as the other two guys, but he might have the best all-around combination of size, speed and coverage ability.
3. Trade up for receiver:
I wouldn't be surprised to see the Saints trade up in this year's draft. They have an aggressive history under Mickey Loomis and Sean Payton (
see my recent mailbag
), and they have already shown a willingness to be aggressive this offseason with the Jairus Byrd signing in free agency. If the Saints do trade up, I believe they would most likely target one of the dynamic speed receivers in this year's class -- either LSU's Beckham, Oregon State's Cooks or USC's Lee, all of whom could also be assets in the return game.
4. Take their pick of pass-rushers:
Several pass-rushing outside linebackers could sneak into the first round, though analysts seem to be all over the map on how to rank them. If the Saints have a high grade on any one or two of them, they might have a lot of to choose from. Among the possibilities are Auburn's
Dee Ford
, Missouri's
Kony Ealy
, Boise State's
Demarcus Lawrence
and BYU's
Kyle Van Noy
.
5. Indiana WR Cody Latimer:
Latimer has been gaining a lot of attention lately by analysts like ESPN's Mel Kiper Jr. and Todd McShay, who admit they didn't take a close enough look at his college tape earlier in the draft process. But he turned heads when he proved he was both healthy and fast at his pro day, which made many analysts take a closer look. And they love the 6-3, 215-pounder's total package of size, athleticism and skills.
April, 10, 2014
4/10/14
8:00
AM ET
The NFL draft is just under a month away and representatives from the
Carolina Panthers
are all over the country checking out prospects.
Wide receivers coach Ricky Proehl alone has tweeted pictures of stadiums at Indiana, Vanderbilt, Ball State, Wyoming, Fresno State, Southern Cal and Oregon State since March 31.
The Panthers had representatives at LSU's pro day on Wednesday to evaluate wide receivers
Jarvis Landry
and
Odell Beckham Jr.
, among others.
I can't tell you everywhere the Panthers have been, but I compiled a list of players reportedly brought to Charlotte, N.C., for a visit, scheduled for a visit or scheduled for a private workout.

Beckham
You don't see Alabama tackle
Cyrus Kouandjio
, Tennessee tackle
Ja'Wuan James
or Florida State wide receiver
Kelvin Benjamin
on the list, but that doesn't mean Carolina isn't interested and hasn't set up something.
It's no surprise there are a lot of wide receivers and offensive tackles on this list. Both are need positions. There also are a couple of athletic quarterbacks here, which is interesting with Cam Newton coming off ankle surgery and three other quarterbacks on the roster.
Most of the draft analysts predict Carolina will take an offensive tackle or wide receiver with the 28th overall pick. General manager Dave Gettleman insists they'll take the best player available.
Here's a preview of some the Panthers are looking at for the May 8-10 draft:
Wide Receivers

Cooks
Brandin Cooks (5-foot-9, 189) Oregon State:
This was the early popular pick by ESPN draft analyst Mel Kiper Jr. to wind up in Carolina. He won the Biletnikoff Award as the nation's top receiver this past season. He set single-season Pac-12 records with 128 catches for 1,730 yards. He is nicknamed "Sonic Boom" and reminds many of Steve Smith, Carolina's all-time leading receiver who recently was released.
Projected round: 1
Robert Herron (5-9, 193) Wyoming:
Had a team-best nine touchdown catches this past season. Had 72 catches for 937 yards. A good athlete who can stretch the field. The Panthers need somebody to stretch the field with Ted Ginn Jr. gone.
Projected round: 3
Cody Latimer (6-2, 215) Indiana:
Caught 72 passes for 1,096 yards and nine touchdowns last season. Rising fast on a lot of draft boards. Had foot surgery in January and was unable to work out at the NFL combine in February, but ran a 4.44 40 in late March at Indiana's pro day. Excellent blocker, which Carolina likes at the position.
Projected round: 4-5
Jarvis Landry (5-11, 205) LSU:
Had five 100-yard receiving games in 2013. Makes the tough catches and is a solid blocker. A team captain, so good leadership skills.
Projected round: 2-3
Marqise Lee (5-11, 192) Southern Cal:
Missed three games last season with a knee injury, but is good to go. Won the Biletnikoff Award given to the nation's top receiver in 2012. Had 118 catches. Can be dynamic after the catch, and the Panthers are looking for a dynamic receiver.
Projected round: 1-2
Kevin Norwood (6-2, 198) Alabama:
Had seven touchdown catches in 2013. A solid route-runner with good hands. I had a prospect from another SEC team tell me Norwood will surprise and have a major impact once he gets into the NFL.
Projected round: 4-5
Offensive line
Dakota Dozier (6-3, 313) Furman:
He didn't come from one of the big-time programs, but against big-time programs Florida State and Clemson this 6-4, 315-pound prospect more than held his own. A solid run-blocker, and the Panthers like to run. Had a good showing at the Shrine Bowl. Played guard, but could be a nice fit at tackle on the right side.
Projected round: 2-3
Cameron Fleming (6-4, 323) Stanford:
Played on the right side for Stanford and helped the team rush for a school-record 2,904 yards in 2013. In 2011 helped protect Andrew Luck, who threw for a school-record 37 touchdowns.
Projected round: 4-5
Morgan Moses (6-6, 313) Virginia:
Moved from right to left tackle for his senior season. Solid run-blocker with good first step, but has been questioned for his ability to redirect in a short area. Could sneak into the late first round.
Projected round: 2-3
Billy Turner (6-4, 315) North Dakota State:
Good build but needs to carry more weight. Aggressive as a run-blocker, but inconsistent in leverage as a pass-protector. Would be a good fit for a power offense like Carolina.
Projected round: 2-3
Defensive line
Kony Ealy (6-4, 273) Missouri:
First-team All-SEC selection who is big and quick off the snap, which makes him an effective pass-rusher off the edge. Still needs work as a run-stopper. There are no guarantees the Panthers sign
Greg Hardy
to a long-term deal, so Ealy could be insurance.
Projected round: 1-2
Cornerback
Kyle Fuller (5-11, 190) Virginia Tech:
He missed six games last season with a sports hernia, but at 6-0 and 190 pounds he can play any kind of coverage.
Projected round: 3

Verrett
Jason Verrett (5-9, 189) TCU:
Slightly undersized at 5-9, but ran a 4.38 40 at the combine and is polished product. Could be a nice fit in the slot, where the Panthers are looking for an option.
Projected round: 1-2
Quarterback
Garrett Gilbert (6-4, 220) SMU:
Had a strong pro day, completing 87 of 88 pass attempts to see his stock rise. The son of former NFL quarterback Gale Gilbert. An athletic quarterback with Cam Newton-like size who could turn into a nice protégé for Newton.
Projected round: 7-FA
Brett Smith (6-3, 206) Wyoming:
One of the more athletic quarterbacks in the draft, running the 40 in 4.51 seconds at his pro day. Had 76 career touchdown passes and 97 touchdowns overall during his college career.
Projected round: 6-7
March, 13, 2014
3/13/14
10:30
AM ET
Free agency hasn't helped much when it comes to narrowing down the
New Orleans Saints
' draft-day targets. It's probably a safe bet now that they won't draft a safety in Round 1, since they're set with last year's first-round pick
Kenny Vaccaro
and blockbuster free-agent signing
Jairus Byrd
. But a number of positions could still be in play at No. 27 for a New Orleans team that always likes to select the highest-rated player on its board, regardless of position.

The Saints will still likely address one or two of their most pressing needs in free agency so they can think more long-term with their draft picks.
For now, though, I still see cornerback as the Saints' biggest need overall, so TCU's
Jason Verrett
and Ohio State's
Bradley Roby
could make a lot of sense. And the Saints definitely need some new, young dynamic playmakers on offense after parting ways with running back
Darren Sproles
and receiver
Lance Moore
. So speedy receivers such as LSU's
Odell Beckham Jr.
and Oregon State's
Brandin Cooks
could be very attractive.
But the Saints won't reach for those spots if they have a higher grade on someone such as Ohio State linebacker
Ryan Shazier
, Auburn pass-rusher
Dee Ford
or Virginia offensive tackle
Morgan Moses
(especially if they don't re-sign veteran free agent
Zach Strief
).
Check out ESPN draft analyst Mel Kiper's
Mock Draft 3.0

to see where he thinks the Saints might go with that No. 27 pick.
February, 26, 2014
2/26/14
8:00
AM ET
The NFL scouting combine wrapped up Tuesday with some impressive workouts from many of the top defensive backs. That's good news for the
New Orleans Saints
, since I think that position group ranks as their No. 1 need this offseason -- especially when you lump the cornerbacks and safeties together.

I think the Saints will address at least one of those positions in free agency, if not both, since they've got some holes in their starting lineup right now. The Saints have already released longtime starting cornerback
Jabari Greer
and safety
Roman Harper
. And they could part ways with longtime starting safety
Malcolm Jenkins
, too, since he'll be an unrestricted free agent on March 11.
The good news is the Saints are set with their No. 1 cornerback in
Keenan Lewis
and No. 1 safety in
Kenny Vaccaro
. And they like the potential of young backup safety
Rafael Bush
and cornerback
Corey White
. So they don't need a total overhaul.
However, the Saints will certainly consider adding to their secondary depth in the draft, regardless of what happens in free agency. They know you can never have enough talent in the secondary in today's pass-happy NFL.
Since the Saints are picking 27th, they probably won't get a crack at the top two cornerbacks in this year's draft class -- Oklahoma State's
Justin Gilbert
and Michigan State's
Darqueze Dennard
. But they're worth highlighting since it seems like there will be a pretty interesting debate over the next couple months over which should be drafted first.
Gilbert (6-0, 202) is an athletic marvel who ran the 40-yard dash in 4.37 seconds Tuesday -- the fastest time of any defensive back. He also had one of the strongest bench press performances, among other impressive drills. He also showed big-play potential in college. However, he wasn't as consistent as a "shut-down" corner as Dennard (5-11, 199).
Dennard, meanwhile, seemed to draw just as much praise from draft analysts for posting a time of 4.51 seconds in the 40 Tuesday -- since that's considered fast enough to complement his impressive on-field work in college.
Two highly-touted corners who might be available to the Saints at No. 27 are TCU's
Jason Verrett
and Ohio State's
Bradley Roby
, who also posted blazing times in the 40 (4.38 and 4.39 seconds, respectively).
Verrett was a standout cover man in college. NFL teams will just have to get over the fact that he's only 5-9, 189 pounds. That would probably work for the Saints since they use Lewis as their physical press corner against opponents' top receivers. Roby (5-11, 194) was a little less consistent in college but still had a nice career.
The top safety prospects -- Alabama's
Ha Ha Clinton-Dix
(6-1, 208) and Louisiville's
Calvin Pryor
(5-11, 207) -- could also be off the board before the Saints pick. Both of them reportedly helped solidfy their first-round status with impressive workouts at the combine, including matching times of 4.58 seconds in the 40.
Check out this piece by ESPN.com's
San Diego Chargers
reporter Eric D. Williams for
an even more thorough look
at how the secondary prospects fared.