September, 19, 2011
9/19/11
5:55
PM ET
The good news for Atlanta cornerback
Dunta Robinson
is he won't be suspended for his hit on
Jeremy Maclin
in Sunday night's game. Instead, he'll be fined for it.

The NFL just announced that Robinson has been fined $40,000 for a violation of player safety rules.
The league cited the following rule:
"It is a foul if a player initiates unnecessary contact against a player who is in a defenseless posture.''
"(a) Players in a defenseless posture are…(2) A receiver attempting to catch a pass; or who has completed a catch and has not had time to protect himself or has not clearly become a runner."
In the release announcing the fine, the league also said, although Maclin completed the catch, he was still a defenseless player under the rule because he did not have time to protect himself and had not clearly become a runner.
The league also said Robinson is now a repeat offender. He was fined $25,000 last season for a hit on Philadelphia receiver
DeSean Jackson
. The fine initially was $50,000, but later was cut in half.
The league said it sent Robinson a letter saying future offenses will result in escalated fines and a possible suspension.
September, 19, 2011
9/19/11
1:02
PM ET
It's at least possible
Atlanta Falcons
cornerback
Dunta Robinson
could be suspended for his hit on Philadelphia receiver
Jeremy Maclin
in Sunday night's game.
The hit reportedly is being
reviewed by the NFL
. Robinson was called for a 15-yard penalty on the play.
But it goes deeper than that. Robinson initially was fined $50,000 for a hit on
Philadelphia Eagles
receiver
DeSean Jackson
last year. The fine later was reduced to $25,000. As the league continues to focus on player safety, NFL officials have said repeat offenders could face suspensions.
That hasn't happened yet. Could Robinson be the first? It's at least possible.
After the game, Robinson said he doesn't expect punishment.
"I honestly do not expect to hear from commissioner (Roger) Goodell,'' Robinson said. "I felt that it was a legal hit even though I was penalized in that instance. Again, I feel strongly that there will not be any further repercussion."
October, 17, 2010
10/17/10
7:18
PM ET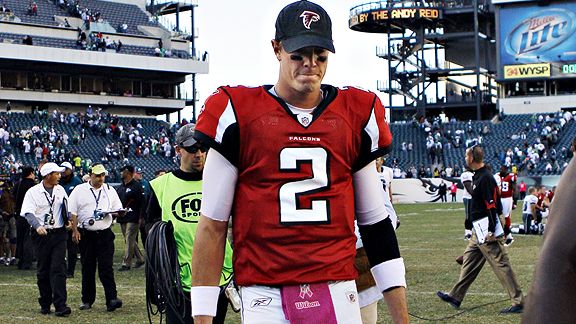 AP Photo/Mel EvansMatt Ryan completed barely half of his passes in a lopsided loss to Philadelphia.
PHILADELPHIA -- It all was set up so nicely. Go into Lincoln Financial Field, bury a ghost forever, beat the
Philadelphia Eagles
and walk away as the unquestioned best team in the NFC.
But the concept of winning an NFC championship in mid-October flew completely over the head of the
Atlanta Falcons
. In a game where injured Eagles quarterback
Michael Vick
didn't even come out of the locker room to see his old team, the Falcons looked like a left fielder responding to a 600-foot shot in a stadium where the fence reads 330 feet.
"We were in a coverage that we should not have the ball thrown over our head,'' Atlanta coach
Mike Smith
said about one particular play before going on to others. "The ball was thrown over our head and that happened twice today. You cannot have the ball thrown over your head in this coverage.''
Kevin Kolb
might have taken the starting job away from Vick on a day where he completed 23 of 29 passes for 326 yards and three touchdowns as the Eagles defeated the Falcons
31-17
. Two of those were the plays Smith was talking about -- a 34-yard strike to
DeSean Jackson
and an 83-yarder to
Jeremy Maclin
.
"We gave up way too many explosive plays,'' Smith said. "You're not going to put yourself in a chance to win ballgames when you give up the explosive plays that we gave up.''
No, you're not and the Falcons may have sore necks after watching the Eagles soar past them. But the amazing thing is, the Falcons still may end up being the best team in the NFC when all is said and done. Heck, at the moment, they still are in the argument. Look at the standings and you'll see that nobody's record is better than Atlanta's 4-2 mark.
The Falcons went into New Orleans a few weeks ago and beat the Saints in a very big game. That elevated them in the eyes of many. What happened against the Eagles was the flip side and it's proof that the Falcons still haven't taken that next step that they think is so close.
[+] Enlarge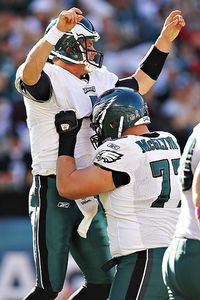 Al Bello/Getty ImagesKevin Kolb was able to throw all day on the Atlanta's secondary -- completing 23-of-29 with a 133.6 quarterback rating.
It might be close and it might all be part of "the process'' Smith talks about so frequently. Like just about everyone else in the NFC, the Falcons are a hard team to read -- unless you are Kolb.
When they haven't been raising expectations with a four-game winning streak, they're playing games like they did against the Steelers in the season opener and like they did against the Eagles.
Kolb finished with a 133.6 passer rating and was sacked only once.
"We didn't do anything to make him feel uneasy,'' said defensive end
John Abraham
.
That's disappointing because only last week, Abraham and
Kroy Biermann
were making it look like the Atlanta pass rush could be dominant. There is no doubt this was a step back for the defensive line and an entire defense that had shown so much promise in recent weeks.
"We let some balls get over our heads and they made some great plays,'' safety
Thomas DeCoud
said.
No, the Falcons did not grab onto the early-season opportunity to take the unofficial title as the NFC's best team. But perhaps what happened Sunday might help show them what they still need to do to get there at the end.
"It's back to the drawing board,'' DeCoud said. "We corrected mistakes once [after the Pittsburgh game] and, now, we have to correct them a second time.''
We've touched on some of the things the Falcons need to work on defensively. They need the pass rush to be productive, they need better coverage and they need to get rookie linebacker
Sean Weatherspoon
back from a knee injury and hope the head injury cornerback
Dunta Robinson
suffered in a brutal collision with receiver Jackson isn't too serious.
Smith said he talked with Robinson after the game and the cornerback seemed fine. It sure would help to have Robinson on the field when the
Cincinnati Bengals
, with
Chad Ochocinco
and
Terrell Owens
, come to Atlanta next week. Maybe Robinson and Weatherspoon will return in time for the Bengals, but you still have to worry about a defense that let the Eagles pile up 474 yards of total offense.
"It's never as bad as it seems,'' Smith said. "It's never as good as it seems. We will make the corrections and then we will move forward.''
It's fair to assume Smith wasn't just talking about his defense. His offense didn't have much of a chance as the Eagles jumped out to a 21-0 lead. That helped neutralize
Michael Turner
, who was held to 45 rushing yards on 15 carries and the Falcons gained only 65 yards on the ground.
[+] Enlarge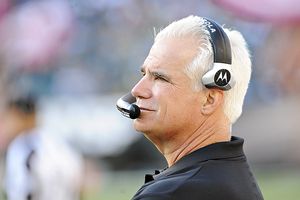 Howard Smith/US PresswireMike Smith's Falcons gave up almost 500 yards to a potent Eagles offense.
Quarterback
Matt Ryan
threw for 250 yards, but completed barely more than half of his passes (23-of-42) and was sacked three times while being intercepted once. The worst offensive statistic of all might have been that the Falcons converted only four of 14 (29 percent) of their third downs into first downs.
It is kind of hard to fathom why the Falcons have been so inconsistent on offense when they have weapons like Ryan, Turner,
Roddy White
and
Tony Gonzalez
, and receiver
Michael Jenkins
returned to the lineup after missing the first five games with a shoulder injury.
"We didn't do what we wanted offensively, whether it be run or pass on first or second down,'' Ryan said. "I think the biggest thing going into next week is to try to improve that early on and trying to get into a better rhythm early on and that is something we'll work on.''
Maybe a little creativity on offense might be worth working on as well because the Falcons haven't shown much of that even when they were winning.
The loss, combined with New Orleans' win against Tampa Bay, leaves the Falcons and Saints sitting atop the NFC South at 4-2. At this time a year ago, it was becoming obvious the Saints were going to run away with the division.
This season, it's becoming obvious the NFC South race probably will go down to the wire. Carolina can be scratched, and Tampa Bay is somewhat in it, but it probably will come down to the Saints and the Falcons.
"I know that our guys will bounce back,'' Smith said. "It's a long season. There are 16 games and this was one of them. We did not perform up to our capabilities today.''
Smith is right. The Falcons are capable of so much more. If they can play to their capabilities, the Falcons finally might take that next step. The opportunity is certainly still there as much at the end of the day as it was at the beginning.
They just have to grab onto it in games like this. If they don't, they'll end up watching the Saints, and maybe the NFC, fly right over them.
March, 31, 2010
3/31/10
1:00
PM ET
»
NFC History
:
East
|
West
|
North
|
South
»
AFC
:
East
|
West
|
North
|
South
»
Draft Watch
:
Biggest needs
(2/17) |
Busts/gems
(2/24) |
Schemes, themes
(3/3) |
Recent history
(3/10) |
Needs revisited
(3/17) |
Under-the-radar needs
(3/26) |
History in that spot
(3/31) |
Draft approach
(4/7) |
Decision-makers
(4/14) |
Dream scenario/Plan B
(4/21)
Each Wednesday leading up to the NFL draft (April 22-24), the ESPN.com blog network will take a division-by-division look at key aspects of the draft. Today's topic: History in that spot.

Tampa Bay Buccaneers
They're sitting at No. 3 and recent history indicates they'll get a big name, but not necessarily a guaranteed star. The jury is still very much out on defensive end
Tyson Jackson
, who went to Kansas City in this spot last year. Jackson didn't record a sack in his rookie year. Atlanta quarterback
Matt Ryan
went No. 3 overall in 2008 and is off to a very good start, and the same can be said for 2007 No. 3 pick
Joe Thomas
. The Cleveland offensive tackle already has been picked for three Pro Bowls. But 2006 third pick
Vince Young
and 2005 No. 3
Braylon Edwards
have both had very uneven careers thus far.

Atlanta Falcons
They hold the No. 19 pick and the recent history in that spot has been solid. Philadelphia receiver
Jeremy Maclin
and Carolina offensive tackle
Jeff Otah
are off to strong starts. Tennessee safety
Michael Griffin
, who went in this spot in 2007, has been a very solid player and 2005 pick
Alex Barron
has been a regular starter at offensive tackle for the Rams. The biggest question mark at this spot in recent history is
Antonio Cromartie
. He had a few very productive years in San Diego, but slumped last season, prompting his move to the
New York Jets
.

New Orleans Saints
They hold the No. 32 pick, the final one in the first round because they won the Super Bowl. There are no guarantees of instant success when you're picking this late.
Ziggy Hood
went in this spot to Pittsburgh last year and the Steelers are bringing him along very slowly. Safety
Kenny Phillips
went No. 32 to the Giants in 2008. He was primarily a backup as a rookie and got hurt early last year. It's a similar story for 2007 pick
Anthony Gonzalez
of the Colts. He showed promise in his first two seasons as a backup, but an injury derailed him last year. The Giants have had mixed results with defensive end
Mathias Kiwanuka
, whom they took in this spot in 2006. He hasn't been spectacular, but he has been somewhat productive. The real gem in this spot has been 2005 pick
Logan Mankins
. The New England guard has been to two Pro Bowls.

Carolina Panthers
The Panthers traded this year's first-round pick to San Francisco last year. As a result, their top pick is in the second round and it's No. 48 overall. History has shown you still can get a productive player at this spot. Cornerback
Darcel McBath
got off to a good start with Denver last year before being sidelined with an injury late in the season. Tight end
Fred Davis
had a quiet rookie season with the Redskins in 2008, but started to emerge last year. Jacksonville linebacker
Justin Durant
was a part-time-starter as a rookie in 2007, but has been a full-time starter the past two seasons. Cornerback
Cedric Griffin
has developed into a solid starter in Minnesota after being selected by the Vikings in 2006. Then, there's the sad story of linebacker
Odell Thurman
, whom the Bengals took at No. 48 in 2005. He played only two seasons before suspensions and off-field problems derailed his career.