NFC South:

Jerrel Jernigan
December, 9, 2012
12/09/12
7:37
PM ET
Thoughts on the New Orleans Saints'
52-27 loss
to the
New York Giants
on Sunday at MetLife Stadium:
What it means:
That dream scenario of the Saints making the playoffs after an 0-4 start and all that off-field turmoil probably can be forgotten. The Saints now are 5-8 and only a game ahead of the last-place
Carolina Panthers
in the NFC South standings.


Point of no return:
The Saints had all sorts of problems with kickoff coverage. They allowed a 97-yard return for a touchdown by
David Wilson
, and
Jerrel Jernigan
had another return for 60 yards. A lot of people like to talk about how bad New Orleans' defense is, but that unit wasn't the real culprit against the Giants. New York's special teams and a defense that picked off
Drew Brees
twice and forced two fumbles repeatedly gave the Giants good field position.
One thing that's obvious:
The Saints need a speed receiver. Aside from
Joe Morgan
, who still is being worked into the offense, the wide receivers weren't getting any separation against the Giants. That forced Brees to lock in on tight end
Jimmy Graham
way too often. Both of Brees' interceptions came on throws for Graham -- one went off the tight end's hands, and the other was underthrown against good coverage.
What's next:
The Saints host the
Tampa Bay Buccaneers
on Sunday.
April, 24, 2011
4/24/11
1:00
PM ET
Time for an Easter trip through the NFC South mailbag.
Owen in Chapel Hill, N.C.
asks if the Panthers might try to trade for or sign a veteran quarterback as a free agent even if they draft
Cam Newton
.

Pat Yasinskas:
I don't know for sure, but I think that's a possibility. When I asked Marty Hurney what kind of
support system
the Panthers would put in place around Newton, he said he didn't want to go into any detail until if or when the Panthers draft Newton. But Hurney admitted he's given a lot of thought to how the team could make Newton's life easier. One way to do that might be to add a veteran. That guy could even start the season or end up as the starter for the whole season, allowing Newton some time to get comfortable. There are different schools of thought on this. Atlanta threw
Matt Ryan
into the mix from the start. Tampa Bay made a decision early on that
Josh Freeman
wouldn't even get on the field until at least the midway point of his first season. You can't argue with the results in either of those situations.
---
Russell in Asheville, N.C.
asks me to name one quarterback who has won a Super Bowl that has a playing style similar to Newton's. He also said Newton's a run-first quarterback.
Pat Yasinskas:
I'll give you two –
Ben Roethlisberger
and
Aaron Rodgers
. Now, I'm not saying Rodgers and Newton are the same guy. Rodgers isn't as big and his style of running is based more on elusiveness, but his feet are a big part of the reason for his success. Talk to scouts around the NFL and ask them to compare Newton to a current quarterback and the name you hear most often is Roethlisberger's, although you'll also hear Freeman's from time to time. Those are both big strong guys and it's not easy for them to get hurt when they're running in the open field. But they're not just runners. They're very good passers who use their feet to open things up even more in the passing game. Besides, I don't think Newton will be a run-first quarterback in Carolina's offense. The Panthers are putting in a scheme similar to San Diego's and there are no plans to install the Auburn offense. They're not going to ask Newton to come in and be
Michael Vick
.
---
Robert in Sterling, Va.
asks which receivers the Falcons might be interested in early in the draft.

Pat Yasinskas:
A lot of people keep throwing out the names of
Jerrel Jernigan
and
Titus Young
. Jernigan is 5-foot-9 and 190 pounds. Young is a little taller, but at least 10 pounds lighter. Both guys can fly, but I just have a hard time seeing the Falcons taking an undersized slot receiver in the first round. Those guys, or guys like them could be considerations in the second round or later. If the Falcons go with a receiver in the first round, I think it will be Maryland's
Torrey Smith
or Pittsburgh's
Jonathan Baldwin
. Both have good size and eventually could develop into upgrades over current starter
Michael Jenkins
. If you take a receiver in the first round, he better be a guy you think can be a starter in a year or two. Also, I've been hearing the names of Smith and Baldwin connected to the Falcons a lot in the past week or so.
---
Gur in Edgware, United Kingdom
wrote to ponder if Raheem Morris on Twitter might be more entertaining than
Roddy White
on Twitter.

Pat Yasinskas:
Hmm, good question. Morris is a highly entertaining guy and so is White. But the difference is White is a player and Morris is a coach. As much as I'm sure some high-ranking members of the Falcons would like to throw White's Twitter account in Lake Lanier, he's a player and he does have certain rights to express himself. Morris is an NFL head coach, which, at least in theory means, he should have a filter and use some discretion. As a member of the media, I really appreciate the fact Morris is entertaining and a good quote because that makes my job more fun. But there are certain times he might be wise to tone things down just a bit.
---
Matt in Miami
wonders if defensive tackle
Phil Taylor
would be a good move for the Saints and asks if drafting him would allow the team to move
Sedrick Ellis
to defensive end.

Pat Yasinskas:
I've seen the Baylor defensive tackle tied to the Saints in some mock drafts and it wouldn't surprise me if he landed in New Orleans. But I don't think the Saints would be drafting him with their main intention being a move of Ellis to defensive end. Ellis is becoming a very good defensive tackle. They also signed
Shaun Rogers
just before the lockout. Even with those two, the Saints could use another solid defensive tackle. Like most teams, they like to rotate their defensive linemen and Taylor would give them the chance to have a high-quality rotation.
April, 18, 2011
4/18/11
5:20
PM ET
The polls just closed (at 5 p.m. ET) on our Call It votes for the draft needs of the
Tampa Bay Buccaneers
,
Atlanta Falcons
and
New Orleans Saints
. Time for a look at and an analysis of what you had to say.
Let's start with the Buccaneers because they had
the most lopsided vote
.
Defensive end was the overwhelming choice with 72 percent of the voters saying that's Tampa Bay's biggest need. No argument here, but the big question will be if there's actually a true pass-rushing tight end available when the Bucs choose at No. 20. Guys like Purdue's
Ryan Kerrigan
, Clemson's Da'Quan Bowers and Georgia's
Justin Houston
may or may not be on the board.
If they're not, linebacker seems to be a possibility. The Bucs have had several linebackers, including UCLA's
Akeem Ayers
, in for visits and 12 percent of voters said this was the top need for the Bucs. Offensive line drew nine percent of the vote and running back got seven percent.
Defensive end also was the
big winner in the Atlanta precincts
with 54 percent of the voters saying that's the biggest position of need for the Falcons. I have no argument with that vote because
John Abraham
isn't getting any younger and the Falcons don't have another true pass rusher.
But there's no guarantee the Falcons are going to see a defensive end they like at No. 27. The second choice among voters was wide receiver with that position drawing 27 percent of the vote. I could see the Falcons going with a receiver like
Jerrel Jernigan
in the first round. Fans also can see the possibility of Atlanta going with an offensive lineman or outside linebacker. Offensive line drew 11 percent of the vote and outside linebacker got eight percent.
The Saints had, by far, the
closest race in this contest
. With over 2,100 votes cast, defensive end (41 percent) nudged outside linebacker (39 percent). I can see the Saints going either way. But this is a team that doesn't always draft its biggest need. That's why running back (18 percent) also remains a decent possibility. The Saints are a veteran team without a lot of different needs and I put wide receiver as the fourth – and final – choice on the ballot. Doesn't sound like New Orleans fans think
Marques Colston
,
Devery Henderson
,
Robert Meachem
and company need much help. Wide receiver only earned two percent of the vote.
April, 7, 2011
4/07/11
3:00
PM ET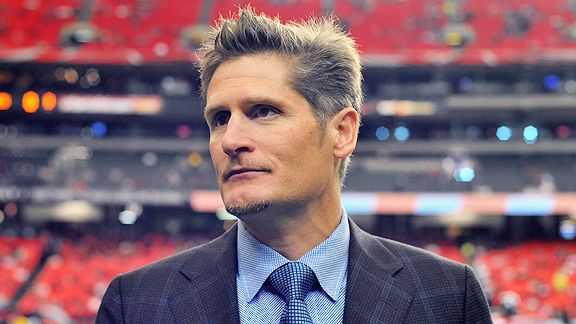 Al Messerschmidt/Getty ImagesFalcons general manager Thomas Dimitroff is comfortable with his team picking near the end of the first round of the NFL draft.
When he was hired as general manager of the
Atlanta Falcons
back in 2008, Thomas Dimitroff was given some instructions by owner Arthur Blank.
With the Falcons coming off the Bobby Petrino mess and
Michael Vick
's legal issues and suspension, the message was pretty direct and basic. Blank told Dimitroff he wanted to win and do it the right way.
Then, sometime after Dimitroff led the search that resulted in the hiring of coach Mike Smith and before the 2008 draft, Blank delivered another message that really hasn't been revealed publicly.
"Arthur whispered very lucidly, 'Get me out of the single digits,'" Dimitroff said with a laugh during last month's NFL owners meeting as he recalled Blank's pep talk.
But Blank and Dimitroff weren't laughing back in 2008 when the owner and the general manager were discussing the draft. The Falcons were sitting at No. 3. That can be a very nice spot to be in, but it's not an area where general managers and owners want to be stuck for the long term.
If you're drafting in the top five, it means you're coming off a bad season. That's not the only negative for an owner. If you're drafting in the top five, at least under the old labor system, you're going to have to pay a ton of money to a player who has never performed in the NFL.
Dimitroff did his duty and we'll come back to the route he took in a minute. But the Falcons are holding the No. 27 overall pick in this year's draft. It's the latest pick for the four NFC South teams and it's the latest the Falcons have been slotted in the first round since Dimitroff's arrival.
When asked how he felt about where he's sitting in this draft, Dimitroff smiled and you could quickly get the sense the only way he and Blank would be happier would be if they were at No. 32. That would mean they're coming off a Super Bowl victory.
They're not, but they're much closer to that prospect than they were a few years ago, and they think they can get there, even if it means finding a key piece late in the first round of the draft, an area where a lot of people will tell you there aren't many can't-miss prospects.
"This is a little bit back to my comfort level having come from New England and usually being in the 25-plus range,'' Dimitroff said.
Part of the reason Dimitroff got the Atlanta job was because he was a huge part of the reason the Patriots were one of the dominant teams of the last decade. As director of college scouting, Dimitroff worked with Bill Belichick and Scott Pioli to consistently churn out wins. They kept fueling the machine, even though they usually weren't drafting until the latter stages of the first round.
Dimitroff used that No. 3 pick back in 2008 to take quarterback
Matt Ryan
and the Falcons haven't been back to the single digits since. Dimitroff had another first-round pick that year, No. 21, and he used it on left tackle
Sam Baker
. In 2009, he picked defensive tackle
Peria Jerry
at No. 24, and last year he grabbed linebacker
Sean Weatherspoon
at No. 19.
[+] Enlarge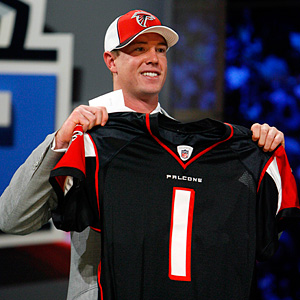 AP Photo/Jason DeCrowMatt Ryan was the first player the Falcons drafted after Thomas Dimitroff took over as GM.
The Falcons hit big on Ryan, who's led them to three consecutive winning seasons. The jury is still out on Jerry, Weatherspoon and Baker. Weatherspoon played well at times last year, but had his rookie season interrupted by injury. Jerry got hurt early in his rookie season and didn't have much of an impact last year, although the Falcons are hoping his knee is fully healed and he can emerge this year. Baker has struggled with some injuries and has had bigger problems with consistency.
Just looking at that history, it's easy to say the chances of the Falcons landing an impact player decrease when they're further down in the draft order. But Dimitroff doesn't see it that way. The Falcons are coming off a 13-3 season that ended with a disappointing playoff loss to Green Bay. Dimitroff and Smith have reviewed last season and firmly believe they're only a couple players away from taking the next step, which would be winning some playoff games.
They believe they're in a prime spot to do it. Coincidentally, they're in the same spot where a previous regime picked
Roddy White
in 2005, and he's turned into one of Atlanta's best players and one of the league's top receivers.
"This is where Thomas and his staff are at their best,'' Smith said. "There are so many scenarios that can take place. It's not like No. 3. There are so many more guys you have to evaluate. The one thing that's different this year is we're at a different point than we were with the needs on our football team. We've done a good job filling needs in our previous drafts, so they're relatively narrow this year.''
Smith and Dimitroff aren't going to undercut themselves strategically and list their exact needs or whom they might be looking at. But they have repeatedly said they want to add players with "explosiveness." Even late in the first round, it's not difficult to figure out what and whom they're talking about.
You can look at Atlanta's roster and figure out "explosiveness'' translates into a pass-rusher (
John Abraham
's getting older and doesn't have much help), a speed receiver to take the passing game to the next level and a speedy running back who could provide a nice complement to
Michael Turner
.
Pass-rushers like Missouri's
Aldon Smith
, Purdue's
Ryan Kerrigan
and Georgia's
Justin Houston
could be prime targets, and there also are rumblings Clemson's
Da'Quan Bowers
, once considered the top defensive end in the draft, could be falling fast due to concerns about injuries and disappointing workouts. Any of those guys could land in Atlanta. But they also could land elsewhere in the NFC South. Tampa Bay (No. 20) and New Orleans (No. 24) are likely to be in the market for pass-rushers.
If the elite pass-rushers are gone, it's not hard to picture the Falcons shifting things a bit and looking hard at wide receivers, and Maryland's
Torrey Smith
and Troy's
Jerrel Jernigan
are guys some experts are tying to the Falcons.
A lot of general managers will tell you that when you have a late pick, you have to let the draft come to you. There's truth and logic to that because much depends on what teams do earlier in the draft.
But as comfortable as he is at No. 27, Dimitroff might not be willing to completely wait for the draft to come to him. The Patriots had success in Dimitroff's time when they were willing to watch the draft sort out for a bit, but, at a certain point, go out and grab the draft. They have traded up a few spots to get a guy they really wanted and traded down a few spots to add an extra pick when they saw several guys they liked still sitting on the board.
Much to Blank's relief, Dimitroff's days with the No. 3 pick are well in the past. But just because the Falcons are sitting at No. 27 right now, it doesn't mean they'll be picking in that exact spot on draft night.
"To me, it's a very good value area,'' Dimitroff said. "In the mid-to-late 20s, there are opportunities to move back a few spaces if you don't see the person you really want or to move ahead a few spaces if you see somebody you really want.''
April, 4, 2011
4/04/11
10:56
AM ET
Let's take a look at some headlines from around the NFC South.
Rick Stroud traveled to Garland, Texas, to look into the recent incident involving Aqib Talib and wrote a
detailed story
about the troubled history of the Tampa Bay cornerback.
We've known this was coming for a while, but Auburn's Cam Newton
is making his private visit to the Carolina Panthers
. He'll be in Charlotte on Thursday. You could call this a final hurdle for Newton who has had his background and character questioned by the media and fans. But I don't think his background or character remain questions in the eyes of the Panthers. I think they're fine with that side of Newton and this is just one of their final acts of due diligence on the quarterback and they're in the process of doing the same thing with some other prospects.
In its review of the Saints' 2010 season, The New York Times
has some pretty critical words for New Orleans' offensive line
. Guards Jahri Evans and Carl Nicks are fine, but there are weak spots everywhere else, the report says.
D. Orlando Ledbetter has his
latest mock draft
up and he has the Falcons taking defensive end Cameron Heyward at No. 27. I like the pick. Ledbetter also projects each of Atlanta's picks and he's got Troy receiver Jerrel Jernigan joining the Falcons in the second round. That goes along with everything I'm hearing. It's pretty well known in league circles that the Falcons are very interested in Jernigan. One potential problem, though, is a lot of other teams are interested in Jernigan.