NFC South:

Jerricho Cotchery
June, 18, 2014
Jun 18
8:00
AM ET
CHARLOTTE, N.C. -- The
Carolina Panthers
don't have a
LeBron James
when it come to their wide receivers -- at least not yet -- but they may have a
Manu Ginobili
and
Patty Mills
.
Maybe even a
Kawhi Leonard
.
"The one thing I love about football is it's a team game," veteran wide receiver
Jason Avant
said on Tuesday, the first of a three-day mandatory minicamp. "I know a lot of people worry about big names, but ask the Spurs about that."
Avant isn't predicting the Panthers will win the Super Bowl like the
San Antonio Spurs
won the NBA title by beating James and the superstar-laden
Miami Heat
four games to one.
But he is suggesting Carolina shouldn't be overlooked because it lost its top four wide receivers from last season and didn't replace them with big names.
"You look at Seattle last year," Avant said of the reigning Super Bowl champions. "They didn't have a whole bunch of receivers that everybody knew. They had [Percy] Harvin, who played basically one game [the Super Bowl]. It doesn't matter.
"You look at all of the Patriots teams. Can you remember all the receivers? They had David Givens out there, so it doesn't matter."
Givens, for the record, had 59 catches in 2005, 56 in 2004 and 34 in 2003. The Patriots won the Super Bowl in 2003 against the Panthers and in 2004 against the
Philadelphia Eagles
.
Avant, who joined the Eagles in 2006, never had a season with more than 53 catches.
So Avant wasn't taking a shot at Givens.
"No, he's not a bad player," the 31-year-old said. "They just had guys out there that you don't remember their names, you know?"
The Panthers have a lot of no-names themselves. Outside of free-agent acquisitions
Jerricho Cotchery
and Avant, and first-round pick
Kelvin Benjamin
, the next most recognizable name might be
Tiquan Underwood
.
And more people know him for his high-top fade hairstyle than anything he's done on the field.
The rest of this group, the same group that quarterback
Cam Newton
said the rest of the NFL world refers to as the "sorriest receivers," includes
Marvin McNutt
,
Tavarres King
,
Kealoha Pilares
,
De'Andre Presley
and
Brenton Bersin
.
No Carolina receivers has the reputation of 35-year-old
Steve Smith
, the team's all-time leading receiver who was released during the offseason and picked up by Baltimore, but as a group they may be more talented.
Just don't ask Avant to evaluate them.
"I'm not in evaluation mode, but I think the guys are doing a great job," he said. "They're doing what they're asked. That's the only thing you can do. So we're looking forward to it. We're trying to be the best we can for our team."
That's not always a bad thing. Just ask the Spurs.
June, 3, 2014
Jun 3
8:00
AM ET
CHARLOTTE, N.C. -- The first thing you need to understand about
Jerricho Cotchery
is he didn't sign with the
Carolina Panthers
to replace
Steve Smith
. Had that been his goal he might have taken the No. 89 he'd worn for nine of his 10 seasons.
Cotchery also didn't sign just to be a leader and mentor for Carolina's young receivers, although those are words used most often to describe him. This isn't a retirement tour where he can sit back and enjoy what he's accomplished.
The same goes for
Jason Avant
.
"We'll do whatever we can to help this group get better, but at the same time we were brought here to make plays," Cotchery said. "So that's on our minds and that's what we're going to try to do each and every day to help this team win a championship, because that's what it's all about."
[+] Enlarge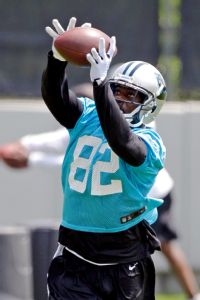 AP Photo/Bob LeveroneJerricho Cotchery, who joined the Panthers in free agency, caught 10 TDs for the Steelers last season.
Cotchery turns 32 this month and Avant is 31. They understand a big reason they were brought in was to replace the experience of Smith, the team's all-time leading receiver, and help bring along a new group of receivers that includes first-round draft pick
Kelvin Benjamin
out of Florida State.
But as Cotchery noted, they also were brought in to make plays. The best way to lead is by example and performance, and that's what they've done during the first week of organized workouts.
From the outside looking in, it may appear the Panthers have taken a step back after releasing Smith and losing their next three receivers to free agency.
But in Cotchery and Avant they added a pair of receivers that caught a combined 84 passes for 12 touchdowns last season. The numbers aren't overwhelming, but in terms of touchdowns they had only two less than what Smith,
Brandon LaFell
and
Ted Ginn
Jr. combined for in 2013.
Toss in Benjamin, free-agent signee
Tiquan Underwood
and returning young players
Marvin McNutt
,
Tavarres King
and
Brenton Bersin
, and this potentially is a more talented group.
"If you're constantly looking around you can't see what's right before you," said Cotchery, who chose to wear No. 82. "What we have right before us is work to do. You can't be worried about what's being said on the outside.
"You have to put forth the work each and every day to help this team win a championship. If we focus on that, we'll be able to do what's necessary to help the team accomplish that."
Notice a theme? Work.
When asked how he would describe the mood in the wide receivers room, Cotchery didn't hesitate.
"Workmanlike," said Cotchery, who caught 10 touchdowns at Pittsburgh last season. "Guys really decided to work with each other and we know what we have to do as a group to help this team win ballgames."
That should come as no surprise. The Panthers have a position coach in Ricky Proehl who made a 17-year career out of working hard to perfect the little things it takes to win.
"He brings so much," Cotchery said of Proehl. "He's played in so many different offenses, he's played so many different [receiver] positions, like how can you not listen?"
Had the Panthers simply wanted experience to replace Smith, they could have relied on Proehl. But they needed players with experience that could make plays, which is why Cotchery and Avant were at or near the top of their free-agent shopping list.
"We have a coach that has played in this league a long time, and to have that type of wisdom at your disposal it's going to help not only young guys but older guys like myself," Cotchery said. "It's a great situation."
How good? Cotchery isn't ready to make any predictions, another sign of veteran savvy and attitude that the Panthers want to build around.
"You just want to continue to work and continue to develop," he said. "We'll see where it's at when the jets fly over the stadium. That's our approach."
May, 25, 2014
May 25
10:15
AM ET
The
St. Louis Rams
had one of the most prolific offenses in NFL history from 1999 to 2001. Wide receivers
Isaac Bruce
, Torry Holt,
Az-Zahir Hakim
and
Ricky Proehl
, along with the running back
Marshall Faulk
and triggerman
Kurt Warner
, were so dynamic that they became known as "The Greatest Show On Turf.''
Proehl, now the wide receivers coach of the
Carolina Panthers
, is planning a reunion.
Sort of.
Proehl, according to his Twitter account, wants to bring Holt, Bruce and Hakim to training camp in Spartanburg, S.C., to help develop his new receiving corps. Here's what he wrote:
"The Greatest Show on Turf'' was awesome, setting all kinds of league records with Mike Martz attack-oriented offense that scored 500-plus points in three consecutive seasons.
Proehl isn't trying to reincarnate that. The Panthers still plan to run a more conservative, ball-control offense.
But he wants to pull on the experience the Rams receivers had when they all came together in 1999 as he replaces the top four receivers from last season.
Perhaps he even sees the similarities the 1999 Rams receivers have with what the Panthers are building.
In Holt, St. Louis had a 22-year-old rookie that burst onto the scene with 53 catches for 788 yards and six touchdowns. That could be
Kelvin Benjamin
, the 28th pick of the recent NFL draft, for Carolina.
In Bruce, the Rams had a 26-year-old veteran that already had been selected to one Pro Bowl. The Panthers don't have a Pro Bowler, but they do have a couple of proven veterans in
Jason Avant
, 31, and
Jerricho Cotchery
, 31.
In Hakim, the Rams had a second-year player who had shown glimpses of potential but done little. That could be
Tiquan Underwood
,
Brenton Bersin
,
Marvin McNutt
or
Tavarres King
for the Panthers.
In Proehl, the Rams had a 31-year-old journeyman known for his precise route running and ability to make clutch catches. Avant and Cotchery probably would fall more into that category for Carolina.
The Rams went from 4-12 in 1998 to 13-3 and Super Bowl champions in 1999.
The latter is what Proehl ultimately would like to duplicate.
He hopes reuniting "The Greatest Show On Turf''' can help jumpstart that process.
May, 13, 2014
May 13
11:45
AM ET
The
Carolina Panthers
lost their starting left tackle to retirement, their top four wide receivers as a result of being cut or signed by other teams in free agency, three-fourths of their secondary in free agency and their franchise quarterback for four months to recover from ankle surgery.
So it is no surprise that the reigning NFC South champions lost a lot of spots in
ESPN.com's post-draft Power Rankings
.
They lost more spots than any other team in the league. Eight to be exact, all the way to No. 11.
I'm actually surprised it wasn't more judging by the national reaction of the decision to cut
Steve Smith
, the team's all-time leading receiver, and quarterback
Cam Newton
's surgery to tighten the ligaments in his left ankle.
But I actually believe the receiving corps will be better with first-round pick
Kelvin Benjamin
and free agent acquisitions
Jerricho Cotchery
,
Jason Avant
and
Tiquan Underwood
.
I also believe Newton will be better now that he has repaired an injury that has hampered him since college.
Questions on the offensive line aside, the Panthers are in better shape now than they were at the beginning of last season when they had a power ranking of 21.
Improving on last season's 12-4 record will be difficult, though, primarily because the rest of the NFC South should be better. New Orleans ranks No. 5 in the power rankings. Atlanta made the biggest jump, improving 12 spots to No. 14.
Tampa Bay, which had arguably the best free agency of the division teams, moved up four spots to 23rd.
And in case you're wondering, Seattle and Denver remained Nos. 1-2 just as they were at the Super Bowl.
As Carolina showed last season, there will be surprises. Will the Panthers surprise and record consecutive winning seasons for the first time in team history? Or will they continue to suffer losses?
Stay tuned.
April, 15, 2014
Apr 15
11:00
AM ET
Many of you have asked if the
Carolina Panthers
have interest in free agent wide receiver
Sidney Rice
now that he's been medically cleared to begin football drills.
One of you emailed to say Rice, cut by the
Seattle Seahawks
in February to save $7.3 million under the salary cap, was at an expensive Charlotte hotel on Saturday night.

Rice
Here is what I know. According to a source, Rice was not in town for an official visit with the Panthers. As of Tuesday morning, no official visit was scheduled.
That doesn't mean it couldn't happen at some point, although I would consider him signing here a long shot.
On Monday, Rice announced on Twitter that he had been cleared medically five months and one week after having surgery to repair a torn ACL.
According to reports, the Panthers,
New York Giants
,
New Orleans Saints
and Seahawks are interested.
Carolina is a natural landing place because Rice grew up an hour from Charlotte in Gaffney, S.C., and played at the University of South Carolina, 90 minutes from Carolina's Bank of America Stadium. The Panthers also are rebuilding their receiving corps.
But financially, Carolina has the least money to spend among the four teams interested. According to ESPN Stats and Information, the Panthers have $2,747,629 left under the salary cap. Seattle has the most room at $15,816,262, followed by the Giants ($4,079,849) and Saints ($3,732,116).
The Panthers already have signed three free agent receivers in
Jerricho Cotchery
,
Jason Avant
and
Tiquan Underwood
who account for $3,675,000 in cap space. They also added tight end
Ed Dickson
, who will count $635,000 under the 2014 cap.
Rice, despite the injuries, still likely would demand more than any of those, with Cotchery ($1.7 million) counting the most against the cap.
Rice was a Pro Bowl receiver at Minnesota in 2009 when he had a career-best 83 catches for 1,312 yards and eight touchdowns. Since then he's been plagued by injuries that have limited him to 32 or fewer receptions in three of the past four seasons.
He has played only one full season since '09, catching 50 passes for 748 yards and seven touchdowns for Seattle in 2012.
But when healthy, he can be a weapon.
The Seahawks still seem the most likely landing spot for the seven-year veteran, because they have a need at receiver after free-agent losses and the most money to spend.
Carolina still seems like a long shot.
April, 9, 2014
Apr 9
1:40
PM ET
Maybe this will help you better understand why
Carolina Panthers
general manager Dave Gettleman was willing to part with his top wide receivers from 2013.
Smith
Avant
There is almost a $3 million difference between the 2014 salary-cap total for the three receivers the Panthers signed compared to the cap total other teams are counting for the three Carolina lost.
For a team looking to get out of salary-cap jail, that is a plus.
We'll start with the most recent signee, former Philadelphia receiver
Jason Avant
. The one-year deal the Panthers gave him on Monday doesn't qualify as a minimum-salary benefit contract because of a $150,000 signing bonus.
Avant also is eligible for a $45,000 workout bonus, which would bring the total of his deal and 2014 cap number to $1,050,000.
That brings the 2014 cap total of the three receivers the Panthers signed --
Jerricho Cotchery
($1.7 million),
Tiquan Underwood
($925,000) and Avant -- to $3,675,000.
That is $2,741,666 less than the combined cap value of
Steve Smith
($2,166,666, Baltimore) ,
Brandon LaFell
($2 milion, New England) and
Ted Ginn
Jr. ($2.25 million, Arizona), Carolina's top three receivers in 2013.
Smith alone was going to count $7 million against the cap this season before the Panthers released him. Carolina still had to pay Smith $5 million in salary and deferred bonuses, but long-term the moves have been a big savings.
Now it comes down to whether the new receivers can replace those lost in production.
April, 8, 2014
Apr 8
8:00
AM ET
The names may have changed, but the 2013 statistics aren't dramatically different when it comes to the new and old wide receiving corps of the
Carolina Panthers
.
Gone are
Steve Smith
(Baltimore),
Brandon LaFell
(New England) and
Ted Ginn
Jr. (Arizona).

Replacing them are free agents
Jerricho Cotchery
(Pittsburgh),
Jason Avant
(Philadelphia) and
Tiquan Underwood
(Tampa Bay) -- and a draft pick or two to be named later.
When you compare what the replacements did this past season versus the old regime, it's not enough to lose sleep over.
In overall age (based on the start of next season), Carolina got slightly younger with the average of the newcomers 30.0 compared to 30.3 of those they replaced. Smith, who will be 35 before the season, is the primary reason.
In terms of 2013 receptions, the old regime held a 149 to 108 advantage. Last year's receivers held a 1,928 to 1,489 edge in receiving yards.
The new guys held a 16 to 14 advantage in touchdown catches.
It's not a wash, but it's not worth panicking over.
And overall price tag of the newcomers is considerably lower, which will help with the salary cap down the road.
Coach Ron Rivera recently said at the NFL owners meeting in Orlando, Fla., that Carolina needed to replace about 10 catches a game based on last season's statistics. The Panthers aren't far from that, although Cotchery and Avant are only short-term solutions.
Underwood is a wild card. He had 24 catches this past season, which is 22 more than Ginn had at San Francisco the year before coming to Carolina.
Ginn saw a 94.4 percent increase in production in 2013. If Underwood can double his that's a win for the new regime.
The other wild card is the draft. Rivera said he's looking for a dynamic receiver. Although none are as dynamic as the top two -- Clemson's
Sammy Watkins
and Texas A&M's
Mike Evans
-- who will be gone way before Carolina picks at No. 28, there's a deep and talented crop.
There are enough receivers that if Carolina takes one or two in the first three rounds, those players can be as much or more of a factor as last year's fourth wide receiver,
Domenik Hixon
.
Hixon, now with Chicago, had only seven catches for 55 yards and one touchdown last season. While that one touchdown was huge -- the game-winner against New Orleans in the 15th game -- it can be easily replace.
There's more long-term upside for a first- or second-round selection than Ginn, last season's No. 3 receiver.
Throw in
Marvin McNutt
and
Tavarres King
, two young players management is high on, and the situation isn't nearly as bad as it appeared a few weeks ago.
Time will tell.
Here's a closer look at what the Panthers have lost versus what they have gained:
April, 4, 2014
Apr 4
8:00
AM ET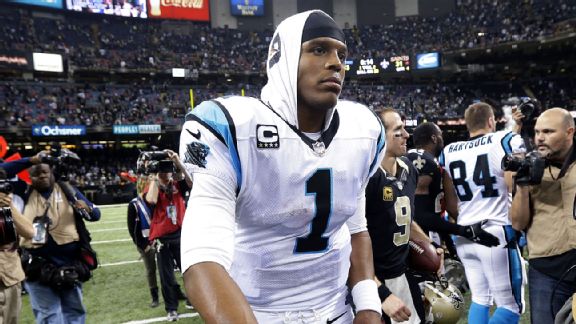 AP Photo/Dave MartinDonovan McNabb says there is reason to be concerned about the lack of weapons around Panthers quarterback Cam Newton.
COLUMBIA, S.C. -- Former NFL quarterback
Donovan McNabb
is a big fan of
Carolina Panthers
quarterback
Cam Newton
. He's not a big fan of Carolina's free-agency strategy that left the 2011 Heisman Trophy winner without his top four wide receivers from last season.
"Oh, I would be worried," McNabb told ESPN.com on Wednesday before South Carolina defensive end Jadeveon Clowney began his pro day. "First of all, I didn't have a top wide receiver until pretty much T.O. [
Terrell Owens
] got there.
"For him, I'm just wondering what they are doing to build around him. You lose
Brandon LaFell
, you lose
Steve Smith
,
Ted Ginn
's gone. All you have at this point is
Greg Olsen
."
Olsen is Carolina's tight end, who led the team in receptions last season with 73.
I reminded McNabb, now an analyst for Fox Sports, that0 Carolina signed
Pittsburgh Steelers
free agent
Jerricho Cotchery
. He didn't seem impressed.
"Greg Olsen," he reiterated as Newton's only legitimate weapon.
McNabb wasn't suggesting the Panthers should have gone after former
Philadelphia Eagles
teammate
DeSean Jackson
, who signed with Washington after being cut last week.
He respects the opinions of Carolina coach Ron Rivera and defensive coordinator Sean McDermott, who were with him during parts of his career in Philly.
"But you've still got to give him some help," he said of Newton. "The quarterback is only as good as the people around him. If you don't ever want him to throw to a player that can create big plays out of the passing game, it's not going to go well."
And to Rivera's argument that the Panthers don't have to have a bona fide No. 1 receiver to be successful, McNabb simply rolled his eyes.
"I hate when teams [say] that," McNabb said. "Who are they, Bill Belichick and the Patriots now?"
McNabb's best example is himself. Let's go back to his comment that he didn't have a true No. 1 until Owens arrived in Philadelphia in 2004.
In the two seasons before Owens, McNabb threw a combined 33 touchdown passes. With Owens, he completed a career-high 64 percent of his passes for a career-high 31 touchdowns and 3,875 yards.
He also ran less that season -- 41 times for 202 yards after averaging 69.8 carries and 447.8 yards rushing in his first five seasons.
To further the argument, McNabb had two of his better seasons late in his career with Jackson in 2008 and 2009.
"[A receiver] doesn't have to be considered a No. 1, but in their offense you need a top dog," McNabb said of Carolina. "We've seen what Steve Smith can do in that offense. We've seen how LaFell has been able to get catches off of Steve Smith.
"What are they going to get them off? Jerricho Cotchery? What was Jerricho Cotchery in Pittsburgh? A No. 4? A 3?"
To be fair, Cotchery caught a career-high 10 touchdown passes last season. He was also the third or fourth receiver.
Regardless, McNabb is concerned about the Carolina passing game. But he's not concerned with Newton, who is out approximately four months recovering from recent surgery to tighten tendons in his left ankle.
He recalled overcoming a broken right ankle in 2002 to be stronger than ever.
"The biggest thing is they're going to benefit from making the playoffs," McNabb said. A record of "12-4 is not easy. What did they do? Win eight straight? That says a lot, and the quarterback is responsible for that."
McNabb likes where Newton is mentally, and that Newton no longer feels the urgency to do it all on the field. But will that change due to the loss of weapons from last season?
"It's just a minor setback," McNabb said of the surgery. "He'll be ready for training camp, which is good. Obviously, it's going to take some time to recover. But Rivera understands how to slowly put him in that arena, that progression to be right.
"He's still a franchise quarterback."
March, 28, 2014
Mar 28
4:25
PM ET
Before anybody gets too far into the dream of
DeSean Jackson
wearing a
Carolina Panthers
No. 10 jersey this season, wake up.
It's not happening.
Yes, coach Ron Rivera told USA Today the Panthers would be interested in Jackson after the
Philadelphia Eagles
cut the Pro Bowl wide receiver Friday. But there are several things you need to understand about that.
First, I'm told Rivera hadn't read the story documenting Jackson's questionable off-the-field behavior, not to mention his alleged association with reputed Los Angeles gang members who have been connected to two homicides since 2010, according to a NJ.com report. Jackson, in a statement, claimed he has no gang associations.
Second, Jackson attended California, the same college as Rivera. You don't expect him to trash a fellow Golden Bear, do you?
Third, multiple sources told me the Panthers made the decision before Jackson was cut not to pursue him. That hasn't changed even though Jackson is free of his big contract.
There's no denying the Panthers could use a player of Jackson's talent. But so could the Eagles, and they released him anyway.
What the Panthers don't need is the headache of a player with a known attitude and now with alleged connections to a gang. They released Pro Bowl wide receiver
Steve Smith
a few weeks ago amid speculation he could be a distraction, something Rivera denied was a factor.
They are happy with the addition of free agents
Jerricho Cotchery
and
Tiquan Underwood
. Neither are a No. 1 receiver as Jackson would be, but Rivera admitted Wednesday at the NFL owners meeting that the team may not need a No. 1 to be successful.
So before you get your hopes up that Jackson may come to Carolina, forget it.
It's not happening.
March, 26, 2014
Mar 26
12:34
PM ET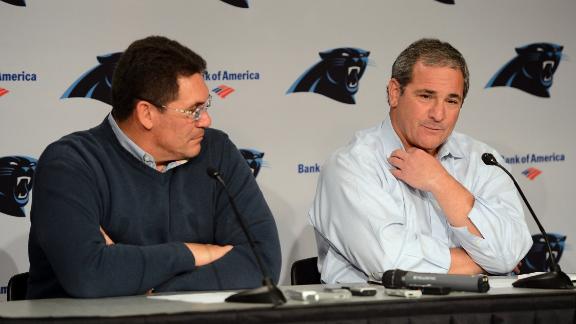 ORLANDO, Fla. -- One by one reporters from around the NFL stopped by the table of
Carolina Panthers
coach Ron Rivera, who under strict orders from his wife was eating a healthy plate of fruit at Wednesday's NFC coaches' breakfast.
One by one they asked about wide receiver
Steve Smith
and Carolina's decision to cut its all-time leading receiver, which Rivera and management believe was healthy for the Panthers.
The rest of those at the NFL owners meeting apparently aren't so sure. I've had my doubts as well. So Rivera spent well over half of his 45-minute interview period talking about the newest addition to the
Baltimore Ravens
.
He finally had enough.
He finally became animated -- at least for him -- and defended general manager Dave Gettleman's decision to part ways with one of the most popular players in team history. He talked passionately about how Gettleman took a hit for the team.
He expressed his frustration over reports that it was personal and that Smith was a distraction to the locker room. He made it clear that it was neither.
Finally.
Had he done this two weeks ago, we might have moved on to another topic for the defending NFC South champions.
And it is time to move on.
The Panthers have. They believe they are headed in the right direction even though much of the league believes they are headed for a hard crash after a 12-4 season.
Smith
That is understandable. Even Rivera was a bit nervous when it became obvious the Panthers would not have their top four wide receivers from last season and quarterback
Cam Newton
needed ankle surgery.
But as I said early in the process, what did they really lose? Not that Rivera wanted to lose
Brandon LaFell
, or even
Ted Ginn Jr.
But when he explained that Carolina averaged more than 100 yards rushing in 15 of 16 games last season, and in doing so the wide receivers collectively averaged 10 catches a game, you knew what he meant.
Ten catches? That's not much to replace.
The likes of veteran
Jerricho Cotchery
, along with his kiddie corps of
Tiquan Underwood
,
Marvin McNutt
,
Tavarres King
and whoever else you want to throw into the mix, surely can catch 10 passes cumulatively.
Now, many of those have to be the big catches. While Smith's numbers were down last season, he still made many of the big third- or fourth-down receptions that made 2013's turnaround possible.
None were bigger than the 19-yard catch into double coverage on fourth-and-10 from deep in Miami territory with 2:33 remaining. That led to a last-minute 20-16 victory that extended Carolina's winning streak to seven straight.
But surely Cotchery, 31, can replace that. He had 10 touchdown catches last season for Pittsburgh. That is more than Smith (4) and No. 2 LaFell (5) combined for in 2013.
A funny aside. The Panthers never intended to go an entire week after releasing Smith without signing a wide receiver, which added to the anxiety of many. They wanted to bring Cotchery in early, but he was on vacation and couldn't.
[+] Enlarge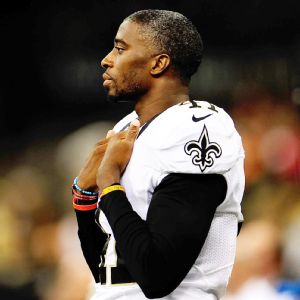 Stacy Revere/Getty ImagesCoach Ron Rivera is confident the additions of veterans like safety Roman Harper will keep Carolina on track despite its losses in free agency.
"I really do wish people and hope people will understand there's a process," Rivera said of the team's plan. "If you do things the right way you have a chance going forward. That to me is what we've done."
And the Panthers aren't done. They plan to add other pieces in free agency and the draft. Some of them will be key.
But with the front seven of the league's No. 2 defense intact, and with Newton expected to be better than ever after surgery for a left ankle issue that has been lingering since college, Rivera has just as much or more to work with now than he had a year ago.
It's not like he has the
Jacksonville Jaguars
' roster.
There still are some key areas -- the secondary and offensive line at the top of the list -- that must be addressed. If the season started today, right tackle
Byron Bell
likely would start at left tackle, with
Nate Chandler
or
Garry Williams
on the right side.
But is that so bad? Rivera really likes Bell, who played left tackle in college, even though public sentiment is that this is a disaster. Sometimes you have to trust the coach's instinct.
The Panthers already have a Pro Bowl center in
Ryan Kalil
, and the guard situation is solid with
Amini Silatolu
and
Edmund Kugbila
back from injuries that kept them from starting last season.
So the line could be as good or better than a year ago.
The biggest concern in the secondary is the nickel back. Rivera likes the competition he has for the two cornerback spots in
Antoine Cason
,
Melvin White
,
Josh Norman
and
Josh Thomas
.
He believes
Charles Godfrey
, if he returns healthy from last season's Achilles injury, can play the nickel as well as free safety. He's thrilled to have New Orleans free agent
Roman Harper
at strong safety, and if Godfrey doesn't return, Rivera has
Robert Lester
and a few other young players who played well in spurts last season.
It's really no different than it was this past August when the big questions were the offensive line and secondary.
So Rivera is upbeat. He's ready to talk about something -- no offense -- other than Smith.
"We're headed in the direction of being a better team," he insisted.
Think of it like his breakfast. Sometimes you have to eat fresh fruit instead of bacon and eggs that taste good but aren't exactly good for you in the long run.
March, 24, 2014
Mar 24
12:00
PM ET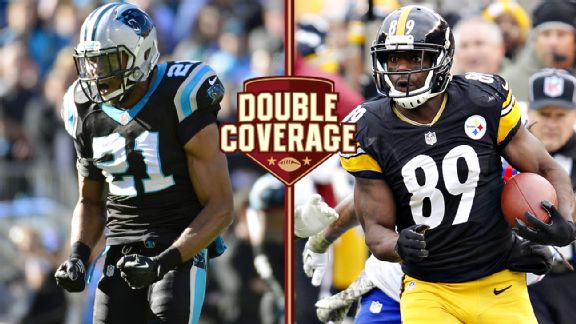 USA TODAY SportsThe swap of safety Mike Mitchell to the Steelers and receiver Jerricho Cotchery to the Panthers bring a veteran presence to each locker room.
It wasn't a trade but two of the biggest free-agent signings by the Steelers and Panthers amounted to two players switching teams. The Steelers signed former Panthers free safety
Mike Mitchell
on March 11, luring him away from Carolina with a five-year, $25 million contract. The Panthers finally added a wide receiver when they signed
Jerricho Cotchery
last Thursday to a two-year contract. ESPN.com Steelers writer Scott Brown and ESPN.com Panthers writer David Newton take a closer look at this de facto swap.
Scott Brown:
David, you reported that Cotchery's contract is worth as much as $5 million. I'm happy for Cotchery, a good player and an even better person, but I am a little surprised that the Panthers gave that much money to a complementary wide receiver who turns 32 in June. Is it a sign that the Panthers were desperate at wide receiver or do they really like Cotchery because he is still productive and gives them a veteran presence?
David Newton:
Maybe a little bit of both. After losing out on
Hakeem Nicks
and with other free agent receivers signing elsewhere, the market was pretty bare. Cotchery was one of the few veterans left, and the Panthers couldn't go into training camp without somebody to help bring along what likely will be the youngest receiving corps in the NFL -- the 31-year-old Cotchery aside. His value comes from his experience and the leadership. That he's played in a system similar to what offensive coordinator Mike Shula ran for five of his 11 seasons is a plus. That he can play all three receiver spots even though he has been labeled as a slot receiver also worked in his favor. Is he as good as
Steve Smith
, Carolina's all-time leading receiver, who was released? I don't think so, even though Smith soon will be 35. But everything else Cotchery brings seems to be a plus.
Having said that, Mitchell brought an aggressive attitude to Carolina's defense last season. Was that something the Steelers were looking for when they signed him?
Brown:
They really needed to get younger and faster in the secondary and the Steelers accomplished both by signing Mitchell. Adding another thumper to the back end of their defense is a bonus and it looks like Mitchell has the range to cover a lot of ground. He will need to do that playing with
Troy Polamalu
. The eight-time Pro Bowler moves around the field, sometimes leaving the Steelers with a single safety as the last line of defense.
I really like this signing for the Steelers as Mitchell is only 27 and seems to be on the upswing of his career. He talked about his work ethic during his introductory news conference in Pittsburgh and seems to have the desire to be great. If he gives the Steelers a badly needed playmaker for their defense they will be very happy with this signing.
Since you covered Mitchell during the season in which he really blossomed what can you tell Steelers fans about one of the newest additions to the team?
Newton:
He's one of the best quotes on the locker room, mainly because he's brutally honest. It's refreshing. He's also one of the more fined players in the league, which he doesn't hesitate to remind commissioner Roger Goodell of. Beyond all that, he's a solid player in coverage and with the occasional pass rush. His numbers this past season were good enough to make the Pro Bowl. Just not a lot of people knew much about him. But the thing I liked the most, and the reason the Panthers wanted him back, was he brought an aggressive attitude to the secondary -- heck, the defense.
Having said that, was aggressiveness something the Steelers were looking for or needed when they signed him?
Brown:
They need the mindset because it lends itself to making game-changing plays and the Steelers could more of that from their defensive backs. They intercepted just 10 passes last season, ranking near the bottom of the league, and they were minus-four in turnover differential. If Mitchell builds on a season in which he intercepted four passes -- four fewer than the Steelers' defensive backs combined -- he will make for a good pairing with Polamalu.
The Mitchell signing got the Steelers off to a good start in free agency but they have since lost two of their top three wide receivers. I think losing Cotchery was bigger than
Emmanuel Sanders
-- even though the latter was a starter -- because it seemed so likely that he would re-sign with the Steelers. But the Panthers made Cotchery and offer he couldn't refuse, leaving the Steelers with little experience at wide receiver behind Pro Bowler
Antonio Brown
before they signed
Lance Moore
.
David, what was the reaction from Panthers' fans to the Cotchery signing? Relief more than anything that they finally brought in an established wide receiver?
Newton:
More astonishment that they let 34-year-old Steve Smith go and signed a 31-year-old that hasn't accomplished nearly what Smith has. I think a few were won over when Cotchery said out of respect he would not wear Smith's No. 89, the number he wore at Pittsburgh. He seems like a classy guy and people will appreciate that. There's still concern that he's not a No. 1 or maybe not even a No. 2 receiver. Many are calling for Carolina to trade for Philadelphia's
DeSean Jackson
, even though the price tag for Jackson would be prohibitive for a team in need of a true No. 1.
How do you see Cotchery fitting in on a team that is looking to take the next step in the playoffs after a 12-4 season? Does he have enough in the tank to be a No. 2 at least?
Brown:
Cotchery is class personified, and he is a consummate professional -- in his preparation, dealings with the media and mentoring younger players. Steelers rookie
Markus Wheaton
became Cotchery's shadow last year because he wanted to learn from such a respected veteran. Does that translate into Cotchery giving the Panthers the kind of production he enjoyed last season when he rejuvenated his career? I'm not sure that is the case if the Panthers are counting on him starting.
I think Cotchery would best serve Carolina as a No. 3 wide receiver, one who uses his smarts and experience to get open more than his speed. I can tell you this:
Ben Roethlisberger
trusted Cotchery more than any wide receiver on the roster last season and I think
Cam Newton
will also find that Cotchery is always where he is supposed to be and just as reliable with his hands. What Carolina has to though is keep adding reinforcements at wide receiver so they don't have to rely too heavily on Cotchery.
March, 20, 2014
Mar 20
4:48
PM ET
I can't say how many passes wide receiver
Jerricho Cotchery
will catch for the
Carolina Panthers
this season, but I can say he has class and he won't be a distraction to the locker room.
Why? He chose not to wear No. 89.
Smith
Cotchery
Out of respect to
Steve Smith
, the team's all-time leading receiver who was released last week, Cotchery wouldn't consider wearing the number he wore at Pittsburgh with his new team.
Not that the topic, according to Cotchery, came up in negotiations. And if it had, management might have told the 31-year-old to pick another number.
But that wouldn't have been necessary because Cotchery never would have asked.
"I definitely won't touch that one," Cotchery said on Thursday after signing a two-year deal. "Steve is a guy ... he's one of my favorite players. Not just [among] receivers. He competes every Sunday. It's been fun to watch him play. He's been the face around here a long time. I definitely wouldn't think about touching that number."
Cotchery also handled with class questions about coming to a Carolina team without any proven receivers.
"First and foremost as a receiver, you look at the quarterback position," he said. "I left
Ben Roethlisberger
. If you're going to leave a quarterback like that you better be sure that you're going to go to someone that can play at a high level.
"I feel we have that here with
Cam Newton
."
Hear that
Brandon LaFell
? Kidding.
Many of you were upset on Wednesday when Carolina's former No. 2 receiver, LaFell, said he signed with New England for the chance to play with a Hall of Fame quarterback. You took that as a slight against Newton, so much that LaFell vowed to take a month off from Twitter.
I didn't take it that way. And I don't take Cotchery's comment as to suggest Newton literally has reached the level of achievement of Roethlisberger, a two-time Super Bowl champion.
But Newton is a lot more Roethlisberger than he is Brady, and Cotchery immediately set the tone that he has confidence in his new quarterback.
Cotchery could be just as helpful in the development of Newton as he is expected to be with a young receiving corps. There is no risk that he will become a distraction as some believe Smith might have been.
He hasn't caught a pass here yet.
But he's shown a lot of class.
March, 20, 2014
Mar 20
2:40
PM ET
The sun came out in Charlotte for the first time this week on Thursday, and with it came a ray of hope for the
Carolina Panthers
' much-maligned wide receiver corps.
Or lack of corps, that is.
Pittsburgh Steelers
free agent
Jerricho Cotchery
chose to play for what I would have to believe is the only NFL team that doesn't have any of its top four wide receivers back from last season.
[+] Enlarge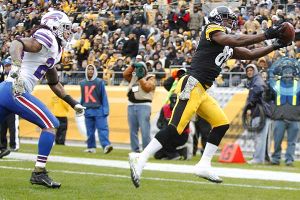 Charles LeClaire/USA TODAY SportsNew Panther Jerricho Cotchery caught 46 passes last season, making the veteran Carolina's most accomplished receiver by a wide margin.
The 31-year-old won't solve all of Carolina's woes at the position, but he's a start.
Cotchery gives the Panthers a veteran to help bring along youngsters such as
Marvin McNutt
and
Tavarres King
, who until now were considered the team's top wide receivers.
And neither has an NFL catch.
The Panthers also are expected to draft a wide receiver with one of their top two picks, the first is No. 28 overall.
Even with Cotchery's age, Carolina is on target to have the youngest receiving corps in the league.
Cotchery's signing should at least end many of the jokes that have been thrust at Carolina general manager Dave Gettleman since the Panthers a week ago released all-time leading receiver
Steve Smith
, then lost
Brandon LaFell
(Patriots),
Ted Ginn Jr.
(Cardinals) and
Domenik Hixon
(Bears) in free agency.
One came from the team's top rusher from last season.
"Well looking at things as they stand Jonathan [Stewart] and I will be high fantasy draft picks," running back
DeAngelo Williams
joked on Twitter.
Cotchery won't change that. He also won't replace Smith. His best seasons came from 2006-2008, when he caught 82, 82, and 71 passes, respectively. His 46 catches last season were the first time since 2010 that he's caught more than 17 in a season.
But he had a career-high 10 touchdowns, which is six more than Smith and five more than any other Carolina wide receiver. He's more of a slot-type receiver, so look for him to fit in as a complement to whoever the Panthers draft or sign.
In all likelihood, the Panthers won't have a bona fide No. 1 receiver as they have had with Smith -- and he was more like a 1.5 at best with 64 catches for 745 yards last season.
About the only thing Cotchery and Smith have in common as a No. 1 is both wear the No. 89.
Will Cotchery wear No. 89 at Carolina, a number that one day could end up on the team's Wall of Honor? Should he be allowed to?
That might be a bigger question -- at least for fans -- than what happens with the rest of the receiving corps.