January, 10, 2014
Jan 10
2:22
PM ET
TAMPA, Fla. -- The common theme emerging from the
Tampa Bay Buccaneers
' search for a general manager is that they're looking for someone who hasn't held that title before.

The reported candidates include Lake Dawson, Lionel Vital and Morocco Brown. All three are widely respected in league personnel circles and are viewed as up-and-comers. Those are not bad qualities to have in a general manager.
But the direction in which this search apparently is headed leaves me wondering why the Bucs aren't even looking at some people who have been general managers before. There are experienced guys out there like Jerry Angelo, Mike Tannenbaum and Tim Ruskell.
None of their names have surfaced in connection with the Tampa Bay opening. That is a little surprising since the Bucs made it a point to get a coach with head-coaching experience in the NFL in Lovie Smith.
That the Bucs hired Smith might be the very reason they are attempting to land a first-time general manager. One of the conditions for Smith accepting the job was that he would get final say on personnel matters. That little detail could make experienced general managers lose interest in the Tampa Bay position.
Maybe that is why the Bucs are looking for a first-time general manager.
January, 4, 2014
Jan 4
11:19
AM ET
TAMPA, Fla. – Buccaneers coach Lovie Smith is off to a fast start in filling his coaching staff.

It was known from the beginning of Smith's candidacy that he planned to bring Jeff Tedford aboard as the offensive coordinator. The Bucs officially announced that move Saturday morning.
"We are very fortunate to have Jeff as our offensive coordinator," Smith said. "I have a great deal of respect for the job Jeff did at Cal for more than a decade and I believe he will be a great fit for what we are attempting to do in Tampa. Jeff has a successful and proven track record as a teacher and developer of young talent and I know our players, and the organization as a whole, will benefit from his experience."
The Bucs also are
bringing in
former
Minnesota Vikings
coach Leslie Frazier as the defensive coordinator. Smith is off to a much better start at filling his coaching staff than predecessor Greg Schiano.
In fairness to Schiano, he was hired late. Many of the coaches he wanted were already taken and there were times when Schiano had to go with his third or fourth choice.
Tedford clearly was Smith's first choice. Frazier was no worse than the second choice. Smith wanted Rod Marinelli, but the
Dallas Cowboys
wouldn't let him out of his contract as defensive line coach.
The Buccaneers also are likely to get their top pick as general manager because there aren't any other jobs open at the moment. Kansas City personnel executive Chris Ballard, who has history with Smith, reportedly is the favorite.
But the Bucs also could consider former Chicago general manager Jerry Angelo, who has ties to Smith and the Bucs, former Carolina general manager Marty Hurney and former
New York Jets
general manager Mike Tannenbaum.
One other name the Bucs could look at is
Atlanta Falcons
director of football operations Nick Polk. He's viewed as a rising star around the league.
June, 10, 2013
6/10/13
10:23
AM ET
The
Tampa Bay Buccaneers
have shored up their offensive line by reportedly
trading
for former Chicago first-round draft pick
Gabe Carimi
.
The deal reportedly is contingent on Carimi passing a physical with the Bucs on Monday. If he does, Carimi would add depth to a Tampa Bay offensive line that has a chance to be very good.
Although Carimi was a bust in Chicago, he could have a chance to compete with
Demar Dotson
at right tackle. At worst, Carimi could be Tampa Bay's swing tackle and he also has the ability to play guard.
One thing to keep in mind here is that Carimi was drafted by former Chicago general manager Jerry Angelo. Tampa Bay general manager Mark Dominik and Angelo worked together with the Bucs and maintain a close relationship. I'm sure Dominik talked to Angelo and heard all the positives and negatives on Carimi before making this deal.
May, 9, 2013
5/09/13
6:30
PM ET
TAMPA, Fla. -- Because of the Gulf of Mexico and Tampa Bay, there are a lot of bridges in this area.
A new one opened Thursday. This one doesn't span water. Instead, it covers the history of an NFL franchise.
That's the picture I got as
Ronde Barber
posed for photos at the conclusion of his
retirement news conference
. There was one in particular that struck me.
It came with Barber flanked by Greg Schiano and Tony Dungy on one side and Jerry Angelo and Mark Dominik on the other. The present, the past and the future -- and everything else in between -- all mixed perfectly into one snapshot.
No one but Barber could bridge all of the gaps that are represented in that photo.
[+] Enlarge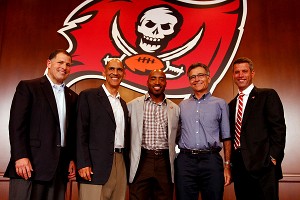 Photo/Tampa Bay BuccaneersRonde Barber, center, poses with Greg Schiano, Tony Dungy, Jerry Angelo and Mark Dominik during Barber's retirement news conference.
"Over the last 16 years, we've seen a lot of changes," Buccaneers co-chairman Joel Glazer said. "We've seen a new stadium go up. The uniforms have changed. Coaches, we've seen different players come and go. We've seen change upon change upon change. But over those years, there has been one constant here in Tampa. A true professional in every sense. What I consider the definition of greatness on and off the field. When we talk about Buccaneer Men, I say if you could put a picture on the wall and say, 'True Buccaneer Man,' it would be Ronde Barber."
Actually, the photo represented more than the 16 years Barber played defensive back for the Buccaneers. It represented the entire history of the franchise. It dates back to 1976 and extends way into the future.
Let's start with the past. Angelo worked in the personnel department back in the days of Ray Perkins, Richard Williamson and Sam Wyche when the Bucs were piling up double-digit losses most years, wearing those Creamsicle uniforms and trying for the better part of their first two decades to grow out of the expansion phase. Dungy is the coach who came in and finally got the team on the right track.
One year into Dungy's tenure, he, Angelo and former general manager Rich McKay drafted Barber in the third round out of the University of Virginia.
The rest is history that you already know, so we'll keep it short. Barber became a perfect fit in the Tampa 2 defense. Along with Derrick Brooks, Warren Sapp and John Lynch, Barber was a central figure in a defense that turned the fortunes of the franchise.
Angelo left in 2000 to become general manager of the
Chicago Bears
. Dungy was fired after the 2001 season because his offense didn't produce nearly as well as his defense.
Barber just kept on playing at a high level.
Jon Gruden came in and won a Super Bowl in his first season, with Barber providing the signature moment of his career (and of franchise history) with an interception return for a touchdown against Philadelphia in the NFC Championship Game.
Gruden and the Bucs bobbed up and down for the next six seasons. After Gruden was fired and Raheem Morris was hired, Barber just kept on playing at a high level.
When Morris was fired after three rocky seasons, Barber just kept on playing at a high level.
That brings us to Schiano and Dominik. Schiano is getting ready to enter his second season as coach of the Buccaneers and Dominik is entering his fifth season as general manager.
They're also the coach and general manager who made it clear they wanted Barber back for a 17
th
season. But Barber, 38, said he woke up one morning about a month ago and decided it wasn't worth it to go through another offseason program and training camp.
"I love football, but football is not who I am," Barber said. "I'm ready to move on, ready to do what's next."
Barber said the next likely step will be a career in broadcasting. But he has no plans to leave Tampa.
"I'm not going anywhere," Barber said. "I've got nowhere else to go."
Barber's influence still will be felt in Tampa Bay's young locker room by his former teammates.
That brings us to the future of this franchise -- and the past. As Barber talked about the teams of the late 1990s and early 2000s, he talked about how there was an "imminent feeling of success."
Barber said he walks away with a similar feeling about the current Buccaneers. Maybe the Bucs will go out and do something special this year.
Whatever happens, Barber will be a part of it in some way.
He still will be the bridge that spans every generation of the team's history.
April, 18, 2013
4/18/13
11:25
AM ET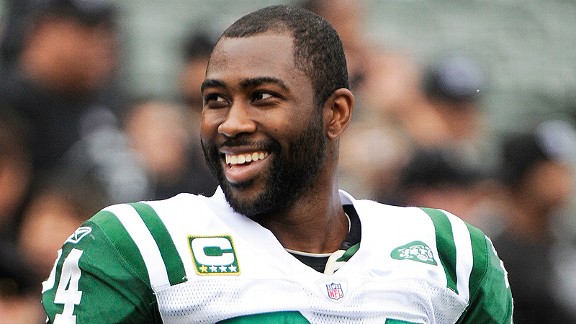 Thearon W. Henderson/Getty ImagesCornerback Darrelle Revis certainly has the star power that would get Bucs fans fired up.
With each day that passes without the
Tampa Bay Buccaneers
trading for
Darrelle Revis
, the more convinced I become they will trade for the cornerback.
New York Jets
general manager John Idzik and Buccaneers general manager Mark Dominik, the guys who used to brew the coffee and make copies when Rich McKay, Jerry Angelo and Tim Ruskell ran Tampa Bay's personnel department, are holding a very public staring contest.
For more than a month, we've been hearing rumors about Tampa Bay dealing for Revis. You can throw out the ones that were floated to try to get Jets quarterback
Mark Sanchez
involved. But I think everything else -- such as the various compensation packages that have been discussed and the Jets hitting the "pause button" -- is based, at least somewhat, in truth.
The Jets almost have to get rid of Revis because he is headed into the final year of his contract and New York has no intention of giving him a massive long-term extension. That alone, I used to think, gave the Buccaneers the upper hand.
But now I'm not so sure. I'm thinking the closer it gets to next week's NFL draft, the more the Jets have the upper hand.
Quite simply, the Buccaneers have set themselves up for (perceived) failure if they don't trade for Revis.
They're sitting there with more than $30 million in salary-cap room. They're the only team in the NFL with the room to pay Revis, and it's widely believed they're the only team with interest in trading for a guy who might be the best cornerback on the planet but is coming off a major knee injury.
I get it that Dominik is playing the waiting game because he doesn't want to give up too much of his team's present or future as compensation. That's smart and the prudent thing to do. But there's going to have to come a point very soon where Dominik has to make the deal.
[+] Enlarge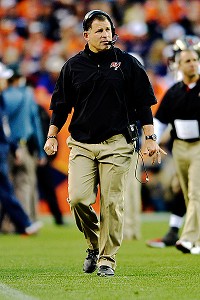 Ron Chenoy/USA TODAY SportsWith Darrelle Revis, Bucs coach Greg Schiano should see heavy improvement in a pass defense that was the NFL's worst in 2012.
Anything less than Revis in pewter is going to cause problems in Tampa Bay. There already is a large segment of the fan base that thinks the Glazer family, which owns the team, doesn't spend enough money. Presumably, that thinking has played a role in the Buccaneers having trouble selling out Raymond James Stadium in recent years.
There are other reasons for the attendance issue. This franchise has been lacking in star power for a long time. There was sizzle when Jon Gruden was the coach, Derrick Brooks was tackling everything that moved and doing it with class, and the likes of Keyshawn Johnson, Warren Sapp and Simeon Rice were as entertaining off the field as on it.
These days, the Bucs are coached by Greg Schiano. He might be a good coach, but the flashiest thing you can say about Schiano is that he once held an office in the same building as former Rutgers basketball coach Mike Rice.
The Bucs have some nice young players (
Doug Martin
,
Lavonte David
,
Gerald McCoy
and
Josh Freeman
) and some talented veterans (
Vincent Jackson
and
Carl Nicks
). Perhaps it's because Schiano prefers his players to stay out of the spotlight, but Tampa Bay's current roster is dull.
Revis would change all that. The guy would be the biggest star to walk into One Buccaneer Place since the day Brooks was shown the door. Heck, Revis could end up being bigger than Brooks.
First off, Revis would go a long way toward fixing a pass defense that was worst in the league last year. I know some fans out there think the Bucs would be better off not giving up several draft picks when no one is sure how healthy Revis' knee is.
But let's say the Bucs stay put at No. 13. They'll have to draft either Florida State's
Xavier Rhodes
or Washington's
Desmond Trufant
if they want a cornerback. Or maybe they'll get really daring and trade up into the top five to get Alabama's
Dee Milliner
.
I'm not saying any of those three guys are bad players, but they're not as good as a healthy Revis. And when it comes to flash, they would bring about as much excitement as last year's first-round pick, safety
Mark Barron
, who is one of the quietest guys on the roster.
That's why the Buccaneers need to go ahead and make the Revis trade. If they don't, they're going to look really bad to their fans, who have been waiting for this deal for weeks.
Even after spending big money on Nicks and Jackson in free agency last year and safety
Dashon Goldson
this year, ownership still needs to convince fans that it's willing to pay whatever it takes to put a winning product on the field.
Revis would make the Buccaneers a better football team, bring some national attention and put people in the stands.
If the Buccaneers somehow don't pull off a deal that has looked like a sure thing for a long time, they're going to have a lot of explaining to do to a fan base that doesn't want to hear anything but that Revis is coming to Tampa Bay.
October, 25, 2012
10/25/12
1:00
PM ET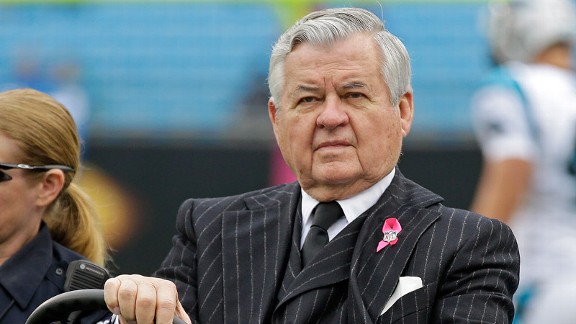 AP Photo/Margaret BowlesPanthers owner Jerry Richardson has a franchise at a crossroads.
Jerry Richardson wanted to talk, but he didn't want to do it standing in a hotel lobby.
Instead, he invited a reporter up to his room because his plan was to take a nap as soon as the conversation ended. Richardson looked tired and worn out and pretty much admitted that he was.
This was at an NFL owners meeting in New Orleans during the labor lockout of 2011. At the time, Richardson was the point man for the owners in their negotiations with the players. He was taking a lot of heat from players and it got even hotter when there were reports that he made condescending comments to
Peyton Manning
at the negotiating table.
The talks dragged on for months, and some thought there was at least the appearance that Richardson got pushed aside by other owners in the end.
[+] Enlarge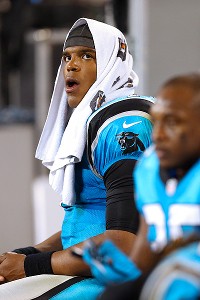 Streeter Lecka/Getty ImagesCam Newton, like many Panthers, is having a lackluster 2012 season.
Throw in the fact Richardson is 76 and had a heart transplant in 2008, and it's easy to see why he looked worn down.
The Richardson I knew during my days as the beat writer for The Charlotte Observer (and even before that) was a vigorous man, constantly filled with energy or maybe caffeine from the iced tea he drinks by the gallon.
Richardson has looked a little better the last few times I saw him, but he needs to find a way to grab back some of his youth and energy right now because his
Carolina Panthers
and his legacy are at a crossroads. The decisions Richardson makes over the next few months might be the most critical in franchise history, and they're also going to write his lasting legacy.
All the things Richardson did in the past don't really matter right now. It doesn't matter he's the one who brought an expansion team to the Carolinas. Or that the Panthers were in the NFC Championship Game in only their second season and the Super Bowl in the 2003 season.
It doesn't matter that Richardson used to be viewed as the model owner by fans. He often drove a Jeep around stadium parking lots on game days, picking up fans he didn't know and driving them into the stadium while chatting. If a fan wrote him a letter, Richardson answered it or called the fan directly. He was a man of the people, and he was beloved. Oh, plus his teams were either winning or at least competitive, so that helped his popularity.
These days, things have changed dramatically. My mailbag and our Friday NFC South chats are filled with criticism of Richardson and panic about the Panthers. I hear the same from my friends who live in Charlotte, and those who were at Sunday's home loss to Dallas said the atmosphere was just as bad as it was at coach George Seifert's final game in the 2001 season -- the 15
th
straight game the Panthers lost. They said the fans who did bother to show up weren't so much angry as they were uninterested.
Sunday was general manager Marty Hurney's last game. The Panthers, a trendy playoff pick in the preseason, are 1-5. The handwriting on the wall for coach Ron Rivera doesn't look promising, and a lot of players are sure to be gone after the season.
You can see a housecleaning coming in Carolina. Does Richardson have the energy and strength to do it? I know the man, and I know he has a passionate desire to win. I'm pretty confident he can scrape up enough strength to do what has to be done.
But Richardson needs to do more than just find a new general manager, probably a new coach and a dozen or two new players. He needs to get the right general manager, the right coach and the right players.
Things are really bad with the Panthers right now. They haven't had a winning season since 2008. The Panthers have had a great fan base since they came into existence (they've been all that matters on the Charlotte sports scene), but if things don't change soon, they're going to lose it.
Once upon a time, Richardson had a strong and close support group that he could lean on to make decisions like this, but that has eroded gradually. He fired son Mark as team president and son Jon as stadium president because he felt their dysfunctional relationship and differing management styles were having a negative impact on every other employee in the building.
Hurney already was a confidant, but he became even more of one when the Richardson sons left. Now, Hurney's gone and Rivera may well be on his way out.
Richardson's inner power circle is down to his wife, daughter, team president Danny Morrison, some buddies from the business world and a few other NFL owners whom he's close to. But I doubt his wife, Rosalind, and daughter, Ashley, or the friends from the business world are going to be too involved in hiring a general manager and maybe a coach. Richardson may make some calls to other owners to ask about candidates, but those guys are also the competition.
Morrison is Richardson's most trusted ally right now. I'm sure Morrison will be involved in whatever happens going forward. But Morrison shouldn't be the guy making the football decisions. He's an administrator and runs the business side of the operation.
Richardson is expected to bring in a consultant, and it's likely to be a former NFL general manager. We don't know who it is yet, so I'll throw out some names, just so you can get a picture of who might fit the profile: Carl Peterson, Ernie Accorsi, Jerry Angelo or Michael Lombardi, just to name a few possibilities. Although I think it's safe to say Bill Polian, who left the Panthers on less-than-friendly terms in 1997, probably is not a candidate.
Whoever it is will evaluate the current roster and coaching staff, evaluate how the scouting department is structured and gather up a list of potential candidates for general manager and maybe for head coach, and then present recommendations to Richardson.
The consultant will do most of the legwork. But Richardson's the one who has to do the heavy lifting. Ultimately, Richardson will be the only one making the decision on how this team is going to move forward.
Richardson has made some good hires in the past (Hurney, Dom Capers and John Fox all had success for varying amounts of time) and some bad ones (Seifert).
But this time around might be more important than all the others combined. Richardson has to gather up his strength and search his soul. He's a man of great pride, and his legacy is on the line.
If he can make all the right moves and the Panthers start winning the next few seasons, his legacy will be golden. If the losing doesn't stop, all Richardson has worked and stood for all these years will be forgotten.
March, 31, 2011
3/31/11
12:00
PM ET
»
NFC Draft Watch
:
East
|
West
|
North
|
South
»
AFC
:
East
|
West
|
North
|
South
Each Thursday leading up to the NFL draft (April 28-30), the ESPN.com NFL blog network will take a division-by-division look at key aspects of the draft. Today's topic: decision-makers.
Atlanta Falcons

Make no mistake, general manager Thomas Dimitroff is the man running the draft room in Atlanta. He comes with a heavy personnel background from his days as a scout with the
New England Patriots
and this is the time of year he enjoys most. Dimitroff has a good working relationship with coach Mike Smith and the two often watch film together. That gives Dimitroff a strong feel for what his coach wants in players. So far, this arrangement has worked very well, with the Falcons producing winning records in each of the three seasons Dimitroff and Smith have been together. One last thing on Dimitroff -- he's not a dictator. He values the opinions of those around him and that includes more people than you'd expect. Even though the Falcons were almost certain they were going to take quarterback
Matt Ryan
in 2008, Dimitroff was asking an Atlanta staffer who was at some of the pre-draft media events in New York for updates on the quarterback's demeanor.
Carolina Panthers

In the early years of the regime of coach John Fox and general manager Marty Hurney, there was a lot of talk about them running an equal partnership, and that was very true. But Fox is gone and Ron Rivera is in his place. Even before Fox left, the partnership stopped being equal. I can't pinpoint the exact moment, but Hurney has been calling the draft shots for at least a couple of years. That was extremely evident last year when the Panthers used a second-round pick on
Jimmy Clausen
, a quarterback Fox wanted no part of. Rivera and his coaching staff will have input and college scouting director Don Gregory is an important cog. But more than ever, Hurney is the person running the draft in Carolina.
New Orleans Saints

General manager Mickey Loomis isn't a real public person and that probably prevents him from getting the full recognition he deserves. He and coach Sean Payton are very much in this together and their track record has been very impressive. Loomis is at his best as an administrator. He knows what Payton and his staff are looking for and he matches up that knowledge with what his scouts give him. Anybody can hit on first-round picks, but the Saints have had some big success in the middle (
Jahri Evans
and
Jimmy Graham
) and later (
Marques Colston
) rounds. That's the mark of a machine that's working well.
Tampa Bay Buccaneers

Mark Dominik is the general manager and he prides himself on being a person who carries (the best) parts of people like Rich McKay, Jerry Angelo, Tim Ruskell, Bruce Allen, Tony Dungy and Jon Gruden in his thinking. So far, it has worked out pretty well. In his first draft, Dominik landed
Josh Freeman
, who has turned out to be the first true franchise quarterback this team has ever had. Amid a lot of distractions, Dominik never has taken his eye off the fact that the Bucs are building everything around Freeman. Coach Raheem Morris and scouting director Dennis Hickey play big roles in the process, but you started to see Dominik's blueprint take hold last season when the Bucs went 10-6.
September, 16, 2009
9/16/09
1:04
PM ET

Posted by ESPN.com's Pat Yasinskas
Say what you want about Warren Sapp, but one thing that's always been admirable about him is he never has been afraid to speak his mind.
That
happened again
when Sapp was a guest on WSCR (670 AM) in Chicago. He was asked about his former teammate
Derrick Brooks
, who despite some rumblings that he would join the
Chicago Bears
, has not.
"If you're telling me Derrick Brooks can't play football, then you really don't know what you're talking about,'' Sapp said.
Sapp knows Brooks as well as anyone -- they were teammates for years in Tampa Bay and Brooks was the best man in Sapp's wedding.
Part of the reason Brooks' name came up after
Brian Urlacher
's injury was because Chicago coach Lovie Smith, assistant Rod Marinelli and general manager Jerry Angelo also are very familiar with Brooks. All three were with him in Tampa Bay.
"No one knows that system better than Derrick and it was Lovie who was sitting there with him when they implemented the numbering, the counting and where we sent him and different stuff. It was Rod and Lovie who put that system together, the front seven and Derrick was an intricate pat of that.''
August, 27, 2009
8/27/09
12:00
PM ET
Posted by ESPN.com's Pat Yasinskas

Three quick hits on the Tampa Bay Buccaneers.

1. Monte Kiffin and Derrick Brooks are gone. So are the days of Tampa Bay being an elite defense. Aside from middle linebacker Barrett Ruud, there's not a blue-chip player in his prime on this unit. Safety Tanard Jackson and cornerback Aqib Talib may be closing in on that category, but Jackson's going to miss the first four games of the regular season because of a suspension and Talib may face disciplinary action for a recent suspension. New coordinator Jim Bates is a great motivator and a strong strategist, but he hasn't been dealt a great deal of talent. Unless cornerback Ronde Barber can regain some of his youth and defensive end Gaines Adams suddenly develops pass-rush moves, Tampa Bay may be counting on its offense
to carry its defense for the first time in ... well, forever.

2. One of the trends in the NFL is having a two-headed monster at running back. Football Outsiders The Football Outsiders use their unique brand of analysis to break down each of the league's 32 teams. Tampa Bay Buccaneers I can see Tampa Bay having a three-headed monster -- maybe even a four-headed monster. The Bucs brought in Derrick Ward as a free agent and he's going to be the closest thing the Bucs have to a feature back. But Earnest Graham already has shown he can produce and he's going to eat into Ward's carries. The Bucs also have big plans to use Clifton Smith as a running back this year. Smith made the Pro Bowl as a return man as a rookie and can make things happen in open space. Then, there's Cadillac Williams, who is coming back from a major knee injury for the second straight year. If Williams is fully healthy, he's good enough to fit in a rotation with Ward and Graham.

3. There's been a lot of speculation that coach Raheem Morris and general manager Mark Dominik are in over their heads. I'm not buying it. Yes, they're both young, but they're also talented. The Glazer brothers (Bryan, Joel and Ed), who run the team, are smart businessmen and they sensed the organization needed some youthful enthusiasm. They found it within their own organization and Morris has made it a point to surround himself with experienced assistants like Bates and offensive coordinator Jeff Jagodzinski. Dominik's spent his career being groomed by the likes of Rich McKay, Jerry Angelo, Tim Ruskell and Bruce Allen. Morris and Dominik at least have a long-term plan, which is a step up over the previous regime. A long time ago, McKay and Tony Dungy were put in charge of this franchise when it was the worst in the league and a lot of people said they were in over their heads. McKay and Dungy had a plan and look how that turned out.
June, 18, 2009
6/18/09
6:00
AM ET
Posted by ESPN.com's Pat Yasinskas
Time to look at the front offices as we continue our series of NFC South position rankings. We've been through the offense, defense and special teams (we'll get to coaches soon), but it's time to rank those who put the rosters together.
We're going to put emphasis on the general managers, but we're also going to factor in the personnel and salary-cap guys.
1. Carolina. When Marty Hurney was promoted to general manager in 2002, he said his goal was to build a team that would contend for the playoffs each year. He's done exactly that, even though the Panthers haven't made the playoffs each year. Personnel guys Mark Koncz and Don Gregory are good at what they do and Rob Rogers is the best salary-cap guy you've never heard of. Hurney gets the nod because of success over a lengthy period of time. Bottom line: He's the glue that has held together a franchise that was on a roller coaster before he took power. (Side note: We imagine Hurney's face is turning red right about now and my phone should be ringing shortly. Much like coach John Fox, he likes to fly under the radar and prefers to be in the role of underdog.)
2. Atlanta. It was very tempting to go with general manager Thomas Dimitroff and Atlanta's front office over Hurney and Carolina. You can basically make a case that Dimitroff has yet to make a mistake. He got Matt Ryan and put Michael Vick behind the Falcons. But let's give him at least a second year on the job before we boost him to No. 1.
3. Tampa Bay. As we wait for Dimitroff to do it again, we're going to give a little slack to Tampa Bay general manager Mark Dominik and factor in his upside. He's a rookie at this job, but he's got pedigree. He's worked under Rich McKay, Jerry Angelo, Tim Ruskell and Bruce Allen. If he learned from each of their strengths and weaknesses, he could be a success. In his previous role as a personnel guy, Dominik was the driving force behind the signings of Antonio Bryant and Chris Hovan, who have revived their careers with the Bucs. He's also got Doug Williams to help him out on the personnel side. Oh, we're also giving Dominik points for having the courage to make moves like cutting Derrick Brooks and drafting Josh Freeman. Not sure that either of those moves were right, but they were gutsy.
4. New Orleans. It's hard to argue with the moves general manager Mickey Loomis has made this offseason. I really like what he's done with the defense and the way he got it done without having a lot of salary-cap room. On paper, he's probably had the best offseason of any general manager in the division. But Loomis' moves always look good in June and the Saints have underachieved the last two seasons. The jury still is very much out on last year's trade for Jeremy Shockey. There's potential for Loomis' ranking to improve and he could even vault to the top of the division if this year's moves work out. But let's see how they look in December.
February, 16, 2009
2/16/09
4:20
PM ET
Posted by ESPN.com's Pat Yasinskas
The final stop on our team-by-team mailbag tour is the Tampa Bay Buccaneers.
MW in NY writes: Will the Bucs attempt to acquire Fred Taylor?
Pat Yasinskas: Wow, didn't take long after Taylor's release from Jacksonville to get Tampa Bay fans started on this path. Logical question (shared by many of you) based on Tampa Bay's way of doing things in recent years. The Bucs of Jon Gruden and Bruce Allen never were afraid to bring in a big-name veteran near the end of his career (perhaps the only one they didn't get was Brett Favre, and they tried like heck). But I'm sensing new general manager Mark Dominik and coach Raheem Morris are going to take a different approach in this area. Part of the reason Allen and Gruden got fired was because they were always looking to patch things together quickly and it never really looked like they had a long-term plan. Yes, Dominik did work for Allen and he'll take the good parts from him (mainly salary-cap management). But Dominik also worked with Rich McKay, Tim Ruskell and Jerry Angelo at the start of his career and he probably picked up some ideas from them as well. I think Dominik and Morris are going to be very deliberate in their moves and try to build this team with a younger core that can stay in place for a while. There might be some veterans, including some high-profile free agents, brought in. But I think the days of signing guys at the end of their careers are over. Taylor was a great player, but is he much different than Warrick Dunn right now? I'm not even sure the Bucs will be keeping Dunn.
---
Jim Wright in Tampa writes: Should Bucs go after a QB in the 1st round of the draft; perhaps Josh Freeman of KSU; most likely Stafford and Sanchez will be gone by the time the Bucs draft in the 19th spot. Or would they do better to take a WR or DT or DE. Hopefully, McCown will do well but we may still a a QB for the future.
Pat Yasinskas: I think it's a little risky to think you can get a franchise quarterback with the 19th pick. The Bucs have high hopes for Luke McCown and that's why they re-signed him. But I still think it's entirely possible Tampa Bay could add a quarterback in the draft or as a free agent. But I think a team picking in the middle or late first round can get more value by drafting another position. I agree the Bucs could use help at wide receiver, defensive tackle or defensive end and a new coach and general manager might get more rapid results by drafting one of those positions. I think the Bucs will add another quarterback to the mix, but I don't think it will come in the first round of the draft. Maybe later in the draft or maybe in free agency.
---
Brian in parts unkown writes: Just wanted to know with all of the players that the Bucs have becoming free agents, which of those would you expect the to retain?
Pat Yasinskas: Just looking at the list of Tampa Bay's potential free agents, I'd say receiver Antonio Bryant, cornerback Phillip Buchanon and safety Jermaine Phillips are the top three priorities. I also think there's a chance receiver Michael Clayton could stay because his problems were with Gruden and not the new regime. We already know the Bucs aren't bringing back quarterback Jeff Garcia. I think defensive end Kevin Carter, defensive tackle Jovan Haye and tight end Jerramy Stevens also will be allowed to test free agency.
---
Jordan in Orlando writes: Has the bucs released any info about resigning WR Bryant?
Pat Yasinskas: The Bucs aren't going to release any information on Bryant unless they have him signed. They're in the negotiating process and I'm sure the Bucs want to keep Bryant. He also has a desire to stay in Tampa Bay after resurrecting his career there last year. Morris was on Gruden's staff and got a first-hand look at how Bryant turned his life around. In a lot of ways, that's an advantage because Bryant wouldn't have to prove himself to another head coach. But we're at the point in time where it comes down to business and money. I think the Bucs are working hard to keep Bryant and my guess is you'll see him re-sign with Tampa Bay. Also, I think even if Bryant re-signs, the Bucs could be a big player for another wide receiver in free agency.