May, 14, 2013
5/14/13
4:43
PM ET
Time for an afternoon run through some news and notes from around the division:
ATLANTA FALCONS
Daniel Cox puts
Jessie Tuggle
at No. 1 on his list of the
hardest hitters
in franchise history. You can't even argue that one. But I especially like the fact that running back William Andrews made the list. You don't often see offensive players on lists of hard hitters. But Andrews was a particularly punishing runner.
Pete Prisco's list of the
top 100 players
in the NFL contains five Falcons. It also includes five members of the Buccaneers. There are only three Saints and two Panthers on the list.
General manager Thomas Dimitroff will participate in
National Bike To Work Day
on Friday.
CAROLINA PANTHERS
Defensive coordinator
Sean McDermott
said he wants to improve the
interior pass rush
to help defensive ends
Greg Hardy
and
Charles Johnson
. The addition of rookies
Star Lotulelei
and
Kawann Short
should help in that area. Lotulelei isn't a natural pass rusher, but he's going to command some blocking. Short might have the quickness to generate a bit of a pass rush on his own.
NEW ORLEANS SAINTS
Running back Chuck Muncie has
passed away
at 60. My memories of Muncie come more from his time with the
San Diego Chargers
, but he was an important part of Saints' history. Muncie was the first player in franchise history to rush for 1,000 yards.
Jeff Duncan takes
a look back
at Muncie's star-crossed time in New Orleans.
TAMPA BAY BUCCANEERS
Charlie Campbell writes that the
Washington Redskins
had interest
in defensive back
Ronde Barber
, who retired from the Buccaneers last week. The Redskins could have offered Barber a starting position and given him the chance to be reunited with former Tampa Bay coach Raheem Morris, who now is Washington's defensive backs coach. But the Redskins have virtually no salary-cap room and could not even attempt an offer that would have been lucrative enough to lure Barber.
Roy Cummings writes that, although fifth-round pick
Steve Means
played outside linebacker in a 3-4 defense in college, the Bucs
plan to use
Means as a defensive end. Means might have to bulk up some from the 250 pounds he's listed at, but he could fill a role as a situational pass rusher.
Defensive end
William Gholston
, a fourth-round pick, has been
signed
to a contract. That leaves the Bucs with only three unsigned rookies.
June, 29, 2011
6/29/11
7:46
AM ET
Again, thanks for your patience Tuesday as technical difficulties forced us to wait to post items on all the blogs. Those issues appear to be fixed and we're hoping for a more normal day. Let's start with a look at the headlines from around the NFC South.
News that NFL commissioner Roger Goodell and NFLPA executive director DeMaurice Smith will
meet with draft picks
Wednesday is another encouraging sign on the labor talks. No deal is done yet, but Smith and the NFLPA must feel very optimistic if they're letting Goodell talk to the rookies.
Former Falcons linebacker Jessie Tuggle was
inducted into the Atlanta Sports Hall of Fame
on Saturday.
Maybe
the picture that runs with this story
is a sign of things to come for the Falcons. Atlanta offensive coordinator Mike Mularkey was doing some daring stunts off the field. Maybe he'll be a little more daring with the offense now that he's got receiver Julio Jones to go with Roddy White and Matt Ryan.
New Orleans has two of the top four guards in the league,
according to these rankings
. Jahri Evans is No. 1 and Carl Nicks is No. 4. I don't think that's far off, but there are some scouts that will tell you Nicks moved ahead of Evans last season.
Tampa Bay guard Davin Joseph said what the Bucs do as far as keeping some of their other free agents
could influence
his decision on if he re-signs or goes elsewhere.
Tampa Bay quarterback Josh Freeman said the Carolina Panthers
have enough leaders
in the locker room to provide strong support for rookie quarterback Cam Newton.
April, 21, 2011
4/21/11
6:00
PM ET
The National Football League announced that it will let 32 former players announcing picks, starting in the second round, during next week's NFL draft.
The plan is for the former players to announce second-round picks, but the
Carolina Panthers
fall into a little different territory since they don't, at the moment at least, have a second-round pick. Instead, they'll have former fullback
Brad Hoover
announcing their third-round pick.
The representatives for the other three NFC South teams are scheduled to announce picks in the second round. Former linebacker
Jessie Tuggle
will do it for the
Atlanta Falcons
. Retired offensive tackle
Willie Roaf
will make the announcement for the
New Orleans Saints
.
In yet another sign that Bruce Allen and Jon Gruden are long gone from the Buccaneers, retired safety
John Lynch
will represent Tampa Bay. Speaking of Allen and guys who have had unceremonious partings with the Bucs, I'm wondering if there's a little mind game going on behind the scenes.
The alumni representatives are listed in alphabetical order by the teams' cities or regions. Two spots beneath the Buccaneers, I looked to see who the
Washington Redskins
will be represented by. Remember, Allen is now Washington's general manager.
Well, Doug Williams, who didn't have a great parting with Tampa Bay general manager Mark Dominik when he left the team's personnel department last year, will be representing the Redskins.
October, 22, 2010
10/22/10
2:28
PM ET
It's kind of fitting that the newest member of the
Atlanta Falcons
' Ring of Honor will be inducted during the Nov. 11 game against Baltimore that will be played in prime time. Yes, it's
Deion Sanders
.
The Falcons just announced that Sanders will be the eighth member of the Ring of Honor.
"Deion Sanders is widely regarded as one of the best cornerbacks in the 91-year history of the National Football League," Falcons Owner & CEO Arthur Blank said. "He epitomized excellence on the playing field and was a tremendously gifted athlete who possessed great speed. Deion excelled as a defender, kick returner, punt returner and on offense on his way to establishing 12 club records. He was an electrifying performer who put fans on the edge of their seats every time he manned his cornerback position or dropped back to receive a kickoff or field a punt. He is without question one of the greatest players in the history of our franchise."
Blank pretty nicely summed up what Sanders did for the Falcons from 1989 through 1993. Sanders will join William Andrews, Steve Bartkowski, Mike Kenn, Claude Humphrey, Tommy Nobis, Jessie Tuggle and Jeff Van Note in the Ring of Honor.
September, 7, 2010
9/07/10
10:30
AM ET
Here are the results of your voting for the most beloved and disliked figures in the history of the
Atlanta Falcons
.

Tuggle
Beloved figure:
Jessie Tuggle
.
Reader comment:
"My vote for most beloved would belong to Jessie Tuggle, who floored me with his drive, his talent, and his spirit." -- James, Atlanta, Ga.
Runner-up:
Arthur Blank. This was a pretty close race, with Tuggle edging out the owner by fewer than 10 votes.

Petrino
Disliked figure:
Bobby Petrino
Reader comment:
"My most disliked individual, Bobby Petrino. The reason for my vote is simply you never quit, no matter how bad something looks, it's just the worst thing one can do while playing organized sports." -- Chris, Tulsa, Okla.
Runner-up:
Michael Vick
. These two dominated the voting in this category, but Petrino received more than double the amount of votes Vick did.
September, 2, 2010
9/02/10
9:42
AM ET
I just got the latest results in your voting for the most beloved and disliked figures in NFC South history and we've had a little bit of movement.
According to Kevin Little, the Saint Leo University student who is helping us out by tabulating the votes, the tightest races are in the Carolina precinct.
At least as of late last night
Julius Peppers
and
Kerry Collins
were tied for the lead in the disliked category. Although
Jake Delhomme
was getting a lot of early votes in the disliked category (and still is getting some), I think Carolina fans now are looking at the bigger picture of what the quarterback did for their franchise. Kevin reports Delhomme has now climbed into second place in the beloved category and isn't all that far off leader Sam Mills.
In the Atlanta precinct, Bobby Petrino is running away with the disliked category. But the interesting thing here is the beloved category, where
Matt Ryan
, Jessie Tuggle and Arthur Blank are in virtually a three-way tie for the lead.
The exit polls in New Orleans show a very close battle in the disliked category with Aaron Brooks holding a very slight lead over Mike Ditka.
Drew Brees
is running away in the beloved category.
In Tampa Bay, Hugh Culverhouse has a sizable lead in the disliked category. Mike Alstott's got a comfortable lead in the beloved category. That's a little surprising to me. I mean, Alstott was a good player for a long time and a nice guy, but I can't help but wonder if people are forgetting about the contributions guys like Derrick Brooks, Lee Roy Selmon and Tony Dungy made to this franchise.
Then again, I don't want to steer the vote. These are your choices. The voting continues through 5 p.m. ET on Friday. If you haven't voted yet, please
send your votes to the mailbag
.
I'll announce the winners next week.
June, 28, 2010
6/28/10
11:00
AM ET
Notable players:
QB Chris Chandler, RB Jamal Anderson, WR Terance Mathis, LB Jessie Tuggle, K Morten Andersen, LB Cornelius Bennett.
[+] Enlarge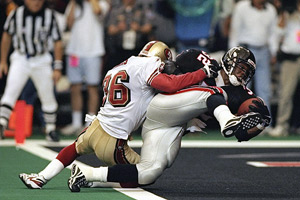 Getty ImagesJamal Anderson rushed for 1,846 yards and 14 touchdowns in 1998.
If ever there's been a one-year wonder, it was the 1998
Atlanta Falcons
. For the better part of three months, this team was as hot as any team ever and it really didn't matter who was coaching.
With coach Dan Reeves having open-heart surgery late in the season, Rich Brooks took over as the interim coach and the Falcons just kept on winning with a great defense and Anderson having a huge year. The Falcons went from Oct. 25, 1998, until the Super Bowl on Jan. 31, 1999, and didn't lose a game.
During a Dec. 13 victory in New Orleans that made the Falcons 12-2, Reeves began experiencing chest pains. When he mentioned it to team doctors the next morning, they took a look and quickly rushed him into surgery. Without Reeves, the Falcons won the next two regular-season games to finish a franchise-best 14-2.
With some help from a first-round bye, Reeves was able to return for two very narrow playoff victories against San Francisco and Minnesota. The NFC Championship Game was in Minnesota, but Atlanta upset the Vikings. That also put the Falcons into the Super Bowl for the first -- and only -- time. The opponent was Denver.
That set up a great subplot as Reeves went against
John Elway
, the quarterback he had clashed with when they were together with the Broncos. Things didn't go well for the Falcons even before the game.
Safety
Eugene Robinson
was arrested the night before the game and that created turmoil for Reeves and the Falcons. In the end, Robinson played, but it didn't really matter. Elway and the Broncos had the upper hand, winning 34-19.
Most impressive win:
The Nov. 1 game against St. Louis gets an honorable mention because it came after the Falcons got trashed by the Jets and it started the long winning streak. But people who were with the team then said the most important game was on Dec. 20 at Detroit. With Brooks coaching the team, the Falcons overcame three deficits to win 24-17 and clinched the NFC West title (this was before the NFC South was formed in 2002).
Research room:
The 1998 Falcons led the NFL in takeaways (44), fumble recoveries (25 ) and time of possession (33:10).
Honorable mention
1980:
With quarterback Steve Bartkowski and running back William Andrews leading the way, the Falcons won a division title for the first time in franchise history.
2008:
In the aftermath of Bobby Petrino and
Michael Vick
, coach Mike Smith came in and took over a team that was expected by many to be horrible. With rookie
Matt Ryan
at quarterback, the Falcons went to the playoffs.
2002:
This team made history by going into Lambeau Field and handing the Packers their first home playoff loss in franchise history.
July, 6, 2009
7/06/09
10:09
AM ET
Posted by ESPN.com staff
Atlanta Falcons
Michael Turner and the Falcons' offense is taking a lot of confidence into the 2009 season.

As long as there aren't any pending legal issues, Michael Huyghue, the commissioner of the new four-team United Football League, would be willing to give former Falcons quarterback Michael Vick a chance to play.
Former Falcon Jessie Tuggle is helping prepare his son for the spotlight that comes with being a high-profile college football player.
Carolina Panthers
New Orleans Saints
Continuing it's "Inside the Numbers" series, NewOrleansSaints.com takes a look at Jonathan Vilma.
Tampa Bay Buccaneers
August, 18, 2008
8/18/08
1:01
PM ET
Posted by ESPN.com's Pat Yasinskas
| | |
| --- | --- |
| | |
| | Allen Dean Steele/NFL |
| | Deion Sanders was voted the greatest player in Falcons history. |
Readers' pick: Deion Sanders, CB
I read what the voters had to say and my first instinct was to argue. Really hard. Deion Sanders as the best player in Falcons' history? Come on. Sanders was nothing more than a traveling circus and he wasn't even in Atlanta that long.
But what's my alternative? Michael Vick? I can't -- and won't -- do that.
This is when it really kicks in that the Falcons don't exactly have a glorious history.
I'd like to make a case for Keith Brooking or Jessie Tuggle or even Tommy Nobis. They each went to a bunch of Pro Bowls. But they're linebackers and didn't come with a lot of flash.
I guess I have no choice to agree and go with Sanders. He was, after all, a great cover corner and return man. But he didn't have longevity with the franchise and he was an attention seeker.
There's a part of me that hopes Matt Ryan or Michael Turner or someone (anyone, please) on the current roster has a great career so we don't have to go with style over substance when we talk about the greatest Falcon.