January, 20, 2015
Jan 20
4:25
PM ET
Even at the very end,
Dominic Raiola
continued to feel connected to the city of Detroit.
The longtime former
Detroit Lions
center spoke to the media on a conference call for about 10 minutes on Tuesday to address a career lasting 14 seasons, six head coaches, two playoff appearances and one forgettable winless season.
He was out front for so much of it, too, the longest-tenured Lion until a week after this season when he found out he would be a Lion no more.
[+] Enlarge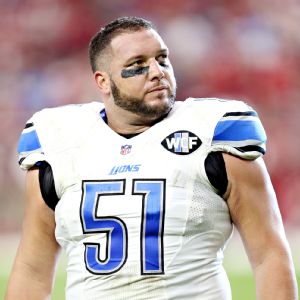 AP Photo/Paul Jasienski"If you're one with the city, you understand the passion I played with and what I brought every day," Dominic Raiola said of Detroit.
"I want to be remembered as a guy who went to work every day, left everything on the field and prepared his butt off and always came ready to play," Raiola said Tuesday. "Played with passion. Yeah, it was controversial at times but if you live in the city, nobody knows that unless you live in the city.
"If you're one with the city, you understand the passion I played with and what I brought every day. It was grouped together. That's how I was raised and it just so happened it was ironic that I got drafted here and really fell in love with this city and I don't know if a lot of people would say the same back but I would hope that. I would hope that I would be looked at that way."
Raiola always played with
passion and an edge to him that sometimes got him in trouble
, be it flipping off or cursing at fans or yelling obscenities as the Wisconsin Marching Band. It led to a suspension this season and a fine for another incident as well. Yet that passion is something both general manager Martin Mayhew and head coach Jim Caldwell echoed in statements released by the team about Raiola.
Raiola, though, also represents one of the last vestiges to a rough past for Detroit.
He was the last player on the Lions to play in the old Pontiac Silverdome. He was one of five players on last year's roster -- along with
Calvin Johnson
and free agents
Don Muhlbach
,
Andre Fluellen
and
Dan Orlovsky
-- to be on the 2008 team that went 0-16.
And he was part of the losing past while trying to change the present. Raiola won little in Detroit. He never picked up a division title. He never played a playoff game at home and never won a playoff game period. The Lions had only two winning seasons in his tenure.
Yet he still felt extremely tied to the city of Detroit and the Lions, mentioning it often during a 10-minute farewell conference call.
"I'm sorry that, that's one thing that if I could apologize to people in this city that I'm sorry that we couldn't be more successful and ultimately win a championship while I was here," Raiola said. "That's, it sucks but I really mean that. Some people can take it how they want but the real fans know that I really mean that and it really comes from the heart."
He found out his fate for sure when the Lions called him into their offices the week after the season ended. He met with offensive line coach Jeremiah Washburn, team president Tom Lewand, Mayhew and Caldwell to tell him they would not be re-signing him for a 15th season.
Raiola said he wasn't given reasons for why Detroit chose not to bring him back, although there has been a strong impetus with the franchise to become younger on the offensive line after the Lions gave up 45 sacks in 2014.
After a strong 2013 season, Raiola regressed in 2014, rated as the No. 37 center by Pro Football Focus for his play throughout the year. A year after allowing no sacks according to PFF, he gave up four. He has maintained all along he believes he can still play in the NFL and said he hasn't given much thought one way or the other to retirement because right now, he still wants to play.
"Obviously I still think I can play," Raiola said. "I think a bunch of people probably don't think I can but a bunch of people haven't took a snap in the NFL, either. I don't know, I'm just digesting this right now with my family."
January, 19, 2012
1/19/12
9:42
AM ET
Time for a look at the top Thursday morning headlines from around the NFC South.
It already had been reported that New Orleans offensive coordinator Pete Carmichael had been given permission to interview for the Raiders' job as head coach. But reports also are surfacing that the Colts have
interest in interviewing
Carmichael after they fired Jim Caldwell. The Saints also have to find a defensive coordinator to replace Gregg Williams. The front-runner is Steve Spagnuolo, who either interviewed Wednesday or will interview Thursday (reports on his schedule have varied). They also need to find a receivers coach to replace Curtis Johnson, who has left to become head coach at Tulane.
New Orleans receiver
Lance Moore
missed the final three games, including the playoff loss to San Francisco, with a hamstring injury. Moore
discusses his disappointment
about the San Francisco result and on not being able to play in that game.
We told you Wednesday that new Atlanta defensive coordinator Mike Nolan plans to stick with the 4-3 scheme. But Knox Bardeen adds a little more to Nolan's future plans. Nolan said the Falcons
might use the nickel package
more often, because offenses are passing more frequently.
The
proposed budget
by Georgia Governor Nathan Deal includes $15 million for a land purchase, and a local official says that money could be used to buy the land where a new outdoor stadium for the Falcons could be built.
The Bucs don't have a new coaching staff yet, so they have only their scouting staff working the practices for the East-West Shrine Game. A general manager for another NFC South team said that's not unusual, that these practices are generally watched by scouting staffs and a few general managers. But most coaching staffs attend next week's Senior Bowl in their entirety. There's no guarantee the Bucs will have a new coach before the Senior Bowl. Even if they do, it's almost certain he won't have his entire staff in place in time for the Senior Bowl. Stephen Holder points out the situation puts the Tampa Bay scouts in a bit of a
unique position
, because they don't know what schemes the team will be using.
Alabama cornerback Dre Kirkpatrick is a name that has been tied to the Panthers with the No. 8 or 9 (depending on a coin flip) in the upcoming NFL draft. But Kirkpatrick
reportedly was charged
recently with marijuana possession. Could that change his stock with the Panthers? For years, Carolina went out of its way to avoid players who had off-field problems. That changed a bit last season after the departure of coach John Fox. The Panthers took a chance on cornerback
Brandon Hogan
, who had some off-field issues, in the fourth-round last year. But there's a big difference when you're talking about first-round picks and fourth-round picks. As long as owner Jerry Richardson and general manager Marty Hurney are running the show, I doubt you'll see the Panthers taking chances on guys who have been in trouble, unless they fully investigate the issue and decide it's unfounded.
April, 5, 2011
4/05/11
2:43
PM ET
We already discussed our
Power Rankings of the NFL's top 10 head coaches
and I
weighed in on where
New Orleans' Sean Payton and Atlanta's Mike Smith fit on that list and why Tampa Bay's Raheem Morris and Carolina's Ron Rivera didn't get any votes.
But let's look again at our poll and let's get hypothetical. I'm not particularly wowed by some of the coaches who made the list and Rex Ryan and Mike Shanahan pop to mind. I respect Philadelphia coach Andy Reid's total body of work, but I'm not so sure he's currently as good a coach as he once was.
Anyway, let's just have some fun and say Jon Gruden and Tony Dungy were still coaching in the NFC South. For those who like to get real technical, let's make it clear Dungy never coached in the NFC South. The division was created right after Dungy left the Bucs and was replaced by Gruden. Let's also remember Pittsburgh's Mike Tomlin, Indianapolis' Jim Caldwell and Chicago's Lovie Smith, who made the list, came from the Dungy tree.
I know time is very relative and our Power Rankings dealt only with current head coaches. But I'm thinking you could make a case that Gruden or Dungy, when they were at their best, might have come in ahead, or right around Payton. Just like Payton, Gruden and Dungy (with the Colts) have a Super Bowl win on their résumé.
Gruden and Dungy each are out of the league and in broadcasting, but I think you could make a case their coaching reputations have gotten better in the last couple years, while Shanahan's has gotten worse.
So I'm asking you to be a little creative. Close your eyes and picture Gruden and Dungy at their best and imagine where they'd fit on the current list. Heck, for that matter, do the same with former Carolina coach John Fox and stay flexible on the parameters.
Yeah, Fox had a horrible last season with the Panthers and that's why he's now in Denver. It's also why he didn't get any votes in the Power Rankings. But be creative again and imagine where Fox would fit if this was, let's just say the 2008 season, when his team was 12-4.
I think Gruden, Dungy and Fox -- at their best -- were better than at least some of the coaches on the list. So hit the comments section below or my mailbag in the upper-right corner of this page and let's hear your thoughts on where Gruden, Dungy and Fox would fit hypothetically.
December, 21, 2010
12/21/10
10:40
AM ET
If you produced a scouting report on each of the NFC South coaches, New Orleans' Sean Payton would clearly be the leader in arm strength.

He's a former college quarterback and played a bit in the NFL in a strike season. I've also seen Payton playing catch with his son after games in the Superdome and the old quarterback still can throw pretty well.

But Payton has been at his best this season when he's throwing red flags, instead of footballs. When it comes to getting calls overturned via replay challenges, Payton is near the top of the league. He's challenged eight calls this year and had six of them overturned. That's a 75-percent success rate and the only NFL coach with a better number in that category is Indianapolis' Jim Caldwell at 80 percent (four of his five challenges have been overturned). No NFL coach has had more calls overturned than Payton.

The rest of the NFC South coaches aren't faring nearly as well as Payton when it comes to replay challenges. Tampa Bay's Raheem Morris is next in line with a 42.86-percent success rate (three of his seven challenges have resulted in calls being overturned).

Atlanta's Mike Smith is next with a 37.5 percent success rate. Smith has had three of his eight challenges overturned. Carolina's John Fox is two for 11, which puts him at 18.18 percent. All numbers are courtesy of ESPN Stats & Information.
December, 7, 2010
12/07/10
11:27
AM ET
When it comes to replay challenges, New Orleans coach Sean Payton is clearly the king of the NFC South and one of the best in the entire NFL.

Payton has used eight challenges and been successful on six of them. That's 75 percent and only Kansas City's Todd Haley, who has been successful on all four of his challenges, and Indianapolis' Jim Caldwell (four out of five) have better percentages.

Payton's six overturned calls tie him with Tom Coughlin and Pete Carroll for most in the league, but both of those coaches have challenged more frequently than Payton. After Payton, there's a sharp drop off in challenge success for NFC South coaches.

Tampa Bay's Raheem Morris is next at 42.9 percent as he has had three of seven challenges overturned. Atlanta's Mike Smith is three of eight (37.5 percent). And, finally, Carolina's John Fox is at 20 percent (two of 10).
June, 16, 2010
6/16/10
10:44
AM ET
Lots of good reaction in the mailbag to Tuesday's column in which I gave my opinion that
Tony Dungy is the best coach
in the history of the NFC South.
Craig in Fort Worth, Texas, writes:
Tony Dungy never coached in the NFC south, right? Jon Gruden was the coach of the Bucs in 2002, when the division got its start.
Pat Yasinskas:
Absolutely correct. Not sure if you're suggesting that should make Dungy ineligible, but I think I made it very clear throughout the process that anyone who ever coached for one of the four franchises that now make up the NFC South was eligible. In other words, guys like Jim Mora and John McKay also were eligible.
---
Steven in Ontario, Calif., writes:
I am a Bucs fan and I read your blog before anything else about the Bucs. I respect your knowledge, but without Manning and what he did with the Colts, Dungy would be with Jim Mora on your list. I am sure Gruden is a pain (for the media), but he got the Bucs to the "holy land". Football is about winning and the best play.
Pat Yasinskas:
Let me say this: Gruden was not "a pain'' to cover. In fact, he was great for media purposes. He was colorful as could be, always saying very good quotes and never afraid to be controversial. Dungy, on the other hand, could be very dry and boring for those purposes. I went with Dungy over Gruden (and several other coaches over Gruden) for the reasons I stated in my column.
---
Mark in Honolulu writes:
I have no issues with your selections of best coaches, but think you may have left out one important criteria. One task of management, in all businesses, is the development of those who work for you. Head Coaches are tasked with the development of assistant coaches. How many assistants did the head coach develop into a peer?
Pat Yasinskas:
Well, I think that would only support Dungy's case. Among the guys he had as assistants were Herm Edwards, Lovie Smith, Rod Marinelli, Monte Kiffin, Mike Tomlin and Jim Caldwell. That's a pretty strong list.
---
Curtis in Cordova, Tenn. writes:
I just finished your blog about the best coach in the NFC South. While your reasoning is strong, I feel there is one thing you left out. Yes, both Sean Payton and Dungy have won a Super Bowl, but you fail to look at the quality of the opponent. Payton and the Saints defeated the Colts and Peyton Manning coming off of a near-perfect season and only one year removed from being led by Dungy. Dungy and the Colts on the other hand defeated
Rex Grossman
and the Bears. Three years later, Grossman can barely hold a back-up job after imploding in the Super Bowl and the Bears now are largely considered irrelevant. I doubt you'll find anyone that believes the Colts and Manning will be in the same position three years from now. So, are all Super Bowl wins equal?
Pat Yasinskas:
Actually, Dungy's Super Bowl with the Colts had nothing to do with my decision. Nothing Dungy did with the Colts had anything to do with my decision. I think I made it pretty clear I was only looking at what the coach did while he was with an NFC South franchise. If I included other stops, guys like Mora and Dan Reeves would have been higher on the list and Mike Ditka would have made the list.
February, 12, 2010
2/12/10
4:50
PM ET
Want to walk in the shoes that New Orleans coach Sean Payton wore as the Saints won their first Super Bowl? Seriously, you actually can buy Payton's shoes.
Rebok will be auctioning off the ZigTech shoes Payton and Indianapolis coach Jim Caldwell wore during the Super Bowl. The same shoes were worn by the rest of the members of both coaching staffs.
All proceeds will benefit Payton's Play It Forward Foundation and the Jim and Cheryl Caldwell foundation.
If you want to bid,
these shoes are being auctioned off here
. The bidding is open now and continues until Feb. 21.
January, 13, 2010
1/13/10
3:28
PM ET
New Orleans' Sean Payton
has been named
NFL Coach of the Year by The Sporting News.

Payton
He beat out Indianapolis' Jim Caldwell for the honor, and this one is well deserved. Payton took a team that underachieved last year and got it to achieve. He won his first 13 games and, as I've said many times before, I believe Payton grew tremendously as a head coach this year.
I'm not saying he was bad before because he wasn't. He took the Saints to the playoffs in his first season and at least had them in contention the next two seasons. But what really set Payton apart this year was his willingness to be introspective, spot his weaknesses and learn from his mistakes. That's something a lot of NFL coaches are too stubborn to do.
After last season, he recognized that something dramatic had to be done with the defense. He went out and hired coordinator Gregg Williams and got good results. Payton also realized he needed more of a commitment to the running game. He used a combination of
Pierre Thomas
,
Reggie Bush
and
Mike Bell
to give the Saints a legitimate running game that complemented
Drew Brees
and the passing game very nicely.
December, 23, 2009
12/23/09
1:43
PM ET
John Fox is king of the NFC South when it comes to replay challenges.

According to ESPN's Stats & Information, Fox has been successful on five of the eight replay challenges he has used this season. That's 63 percent, which puts him way ahead of the rest of the NFC South and not all that far from the top of the league.

Indianapolis' Jim Caldwell has been successful on all three of his challenges and the Buffalo tandem of Dick Jauron and Perry Fewell has combined to succeed on each of their two challenges. After those three, only four coaches have a better percentage than Fox.

Atlanta's Mike Smith is second in the division, succeeding on 45 percent (five of 11) of his challenges. New Orleans' Sean Payton and Tampa Bay's Raheem Morris each have succeed on three of eight (38 percent) challenges.
October, 16, 2009
10/16/09
11:17
AM ET

Posted by ESPN.com's Pat Yasinskas
I just took a look at the latest
SportsNation NFL Head Coaches Approval Ratings
and we've got a new leader. He's from the NFC South.
After narrowly trailing San Francisco's Mike Singletary for several weeks, New Orleans' Sean Payton has moved into the top spot. He's got a 94-percent approval rating, a full point ahead of Indianapolis' Jim Caldwell, Denver's Josh McDaniels and Atlanta's Mike Smith.
Once you scroll past, Payton and Smith, it's a long time before you hit another NFC South coach. John Fox's rating is 26 percent, which probably means that 74 percent of Carolina fans approve of Bill Cowher.
Tampa Bay's Raheem Morris comes in at 15 percent. On the bright side, there are four coaches rated below Morris.