June, 25, 2010
6/25/10
12:00
PM ET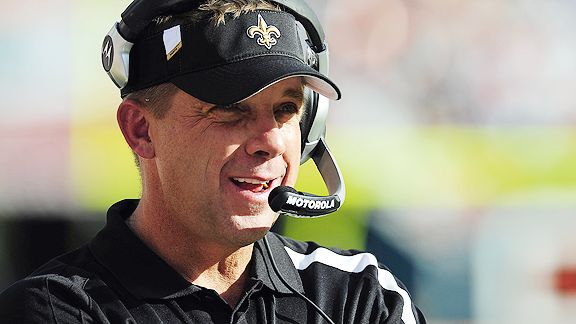 Steve Mitchell/US PresswireThe usually guarded Sean Payton pulls back the curtain on the Saints' 2009 season in a new book.
You know the story already. Now, Sean Payton's filling in the details.
The coach of the Super Bowl champion
New Orleans Saints
has written a book that is scheduled to hit stores Tuesday. It is called "Home Team." The subtitle is "Coaching the Saints and New Orleans back to life."
That last line sums up the book in one sentence. But I recommend you read the book even if you're a Saints fan and think you already know all about the Super Bowl season and the three seasons that preceded that. If you do, you'll find out a lot of things you didn't know.
We're not talking any headline-grabbing revelations here, because there aren't any. The big picture has played out very publicly. What Payton is doing with co-author Ellis Henican is coloring in the outline that already was sketched.
Like just about all football coaches, Payton runs a tight ship. When addressing the media, he's generally guarded with what he shares, especially about the inner-workings of his team. That's why this book is a rare opportunity to see what really has gone on with the Saints since Payton first interviewed for the job in 2006.
Payton's playing by different rules in this book and, in a lot of ways, opening the locker room doors and his mind for fans to really see how the Saints went from the devastation of Hurricane Katrina to the top of the football world. Written entirely in Payton's voice, the book chronicles just about everything, from Payton's first flight into New Orleans right up through the post-Super Bowl celebration.
Like I said, there's nothing that's going to grab a headline or really shock you. But there are a few significant confessions that haven't been public knowledge.
Start with the daring onside kick to start the second half of the Super Bowl. That decision has brought Payton acclaim for making one of the boldest moves in Super Bowl history. Well, truth be told, Payton reveals the onside kick was not initially the surprise play Payton wanted to run.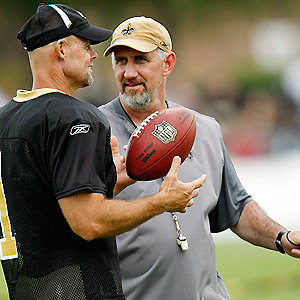 AP Photo/Bill HaberPayton's new book reveals it was special-teams coach Greg McMahon who suggested the Saints use an onside kick in the Super Bowl.
In the days leading up to the Super Bowl, Payton said he wanted to steal a possession from
Peyton Manning
and the
Indianapolis Colts
and his first thought was to run a fake punt. He floated the idea by his coaching staff for several days and word trickled down to the players. Veteran long-snapper
Jason Kyle
finally went to Payton and delicately suggested the fake punt might not be a great idea.
"They didn't tell me what I wanted to hear," Payton said. "They told me what I needed to hear."
Payton backed off the idea and special-teams coach Greg McMahon offered a counterproposal. That was the onside kick. Payton grabbed onto that and it worked masterfully.
There's also a little revelation about why the Saints were so late in showing up for media day on Tuesday of Super Bowl week. Payton said that five players --
Tracy Porter
,
Bobby McCray
,
Roman Harper
,
Usama Young
and
Jermon Bushrod
-- missed the team bus that morning. After each of the players made it to the locker room on their own, Payton shut the door and began blistering his team.
"I can smell a team that looks like they're just happy to be in the Super Bowl," Payton said he told his team. "You guys reek of that team."
The Saints quickly stopped reeking and you already know how they went out and won the Super Bowl. Payton shares the details of the postgame joy and how he virtually had to be dragged to the morning-after news conference.
June, 17, 2010
6/17/10
1:30
PM ET
Robert in Dallas writes:
I was just wondering with all the "drama" surrounding
Albert Haynesworth
, have you heard or do you see the Bucs making a move to try and trade for him this year? I know they made a strong push during the free agency period last year to get him, but it looks like the Redskins may take anything for him? What are your thoughts?
Pat Yasinskas:
It's true the Bucs made a strong run at Haynesworth last year. They offered him more money than the Redskins and not getting him turned out to be a blessing in disguise. I don't think the interest will be there from Tampa this time around. First off, last year's interest came before the Bucs had really embraced the whole youth movement concept. Now they're serious about going with young players. They just drafted defensive tackles
Gerald McCoy
and
Brian Price
. Haynesworth doesn't fit Tampa Bay's profile.
---
Dan in New Orleans writes:
I just read your response to John Clayton's article about
Matt Ryan
being an elite QB. My question is this: why did
Drew Brees
have to win a Super Bowl before anyone even dared to mention him as elite, but we're already calling this kid who hasn't even won his division yet elite? It just doesn't make sense to me.
Pat Yasinskas:
A solid point. A lot of people wouldn't consider Brees among the elite until he won a Super Bowl and I don't really know why that was the case. Maybe because Brees' height would seem to make him something less than the stereotypical franchise quarterback? I don't know why that was. But I do know for sure Brees now is an elite quarterback. I think Ryan's on the way to that, but I think there remains a big gap between Brees and Ryan.
---
Al in Washington, D.C., writes:
I know I'm chiming in late on this one, and I don't have too much of a gripe with Sean Payton pulling down #2 on your list of greatest coaches in the NFC South, but is important for everyone to remember that Brian Billick (and to a lesser extent) Jim Fassel were both riding pretty high after their first four years as head coaches. Now they can't even get head coaching interviews (in the NFL).
Pat Yasinskas:
Point taken, one of the reasons I didn't choose Payton over Tony Dungy is because Payton's only coached four years, still is coaching and we don't know what his legacy will look like. But, so far, it's looking pretty darn good.
---
Craig in Mechanicsville, Va., writes:
As a proud fan of the
New Orleans Saints
. I was wondering about the Saints either having re-signed or have under contract 21 out of the 22 Starters of the Super Bowl. Do you recalled any other team that have done that before? If there was another team that have done that before what did they do the following year?
Pat Yasinskas:
I'm just going off the top of my head here because I've got a recent example from within the NFC South. This team didn't make
> the Super Bowl, but the 2008
Carolina Panthers
went 12-8 and won the division. They spent the 2009 offseason bragging about how they were returning 21 of 22 starters. Sounded like a great thing at the time, but the Panthers hadn't really addressed depth and some of those starters got old or hurt. They ended up taking a huge step back last year, so keeping your roster the same isn't always the right move.
February, 5, 2010
2/05/10
7:15
AM ET
MIAMI -- There has been a lot of talk this week about where Sean Payton's style of coaching comes from.
[+] Enlarge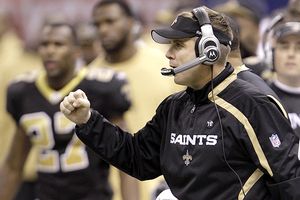 AP Photo/David J. PhillipPlayers describe Payton's style as "balanced."
He spent time with Bill Parcells, Jon Gruden and Jim Fassel. But Payton really isn't a clone of any one of those coaches. The best way to describe him might be that he's a blend of all those guys and even a few others he never worked for.
"I know that Jon (Gruden) worked under Mike Holmgren, and my first years in Philadelphia were really coming up in that system and cutting my teeth on the terminology," Payton said. "The systems in our league and how you call plays vary. There's probably three or four different strains, if you will. And yet they end up being more just like computer programs. You can get the same play design, the same type of play. One system might call it a word and the other system might use a number. In the end, that just becomes merely the language.
"The key to a good offense is deeper than that. That being said, Jon was with Holmgren in Green Bay, and Mike was with Bill Walsh. When a terminology carries through coaches, there are always tweaks and changes to it. I would say there's a portion of it there, and some of it from Dallas."
Payton's offensive roots might stem from guys like Gruden, Fassel, Holmgren and Walsh. But don't underestimate the influence of Bill Parcells, who Payton worked for in Dallas. Parcells had a reputation for being a bit of a control freak and often came across as surly.
Although Payton isn't as extreme, he does have some of those qualities and some recent columns have described him as arrogant. The reports detailed how he and the Saints repeatedly tried to ban a reporter from a New Orleans Web site, even though the NFL repeatedly advised them against such a move.
That may be one side of Payton, but he also has been described as a players' coach at times this week. He doesn't like that at all.
"The whole players' coach thing … I cringe a little bit," Payton said. "I'm not going to describe myself -- it would probably be better for a player to (do so). I think it's important that you're demanding. I think it's important that you're fair. I think you don't want to settle for anything less than exactly what you're looking for. It's not our job to be the players' friend. It's our job to teach and motivate, give them a plan to be successful and make tough decisions.
"I think what's important is that at some point, we are also selling a game plan offensively and defensively and kicking game, and selling a system and creating that confidence within the team. I think those are all things that are important. So I don't know how they'd describe me."
Well, it wasn't hard to find out how players describe Payton. As soon as his press conference ended Thursday, we put the question to veteran linebacker Scott Fujita.
"Sean's more balanced than any coach I've ever been with and I've been with some great coaches, like Parcells," Fujita said. "Sean balances things really well and has such a good sense of knowing his team and what it needs. He's a young coach and he's in touch. He's got young kids and he can understand what we're going through at home with young kids. He's perfectly in tune with our needs and our obstacles."
Balance might be the best word to describe Payton's style. He's not a true players' coach, but he's not a Parcells replica either. He's somewhere in between and that might represent the best of all worlds.
March, 11, 2009
3/11/09
3:08
PM ET
Posted by ESPN.com's Pat Yasinskas
Former New Orleans coach Jim Haslett is going to be a head coach again. This time it will be in the United Football League.
Haslett was one of four former NFL coaches to be officially announced as UFL coaches on Wednesday. Former head coaches Dennis Green and Jim Fassel and longtime NFL assistant Ted Cottrell were the other three.
Haslett's going to coach the Orlando franchise. He was St. Louis' defensive coordinator at the start of last season and was promoted to interim head coach. There was some strong sentiment by Rams' players who wanted Haslett to stay as the head coach, but that didn't happen.
Haslett had some success in his early days in New Orleans, but was fired after a 3-13 season that was disrupted by Hurricane Katrina. Even under those difficult circumstances, with the Saints practicing in San Antonio and playing in Baton Rouge, Haslett drew wide praise for the way he handled the situation.
Going to Orlando might turn out to be a good career move for Haslett. Nobody knows how the new league will fly, but Haslett has always had a reputation for being popular with players and for being a straight shooter. A little success in the new league could help put him back into a head coaching job in the NFL down the road.