March, 31, 2014
Mar 31
8:00
AM ET
Carolina Panthers
coach Ron Rivera doesn't have any great personal memories from his playing days against former
Buffalo Bills
quarterback Jim Kelly.
As an outside linebacker for the
Chicago Bears
, Rivera had only five tackles and no sacks in two games against Kelly during the late 1980s and early 1990s.
But like many who are pulling for the Hall of Fame quarterback as he battles oral cancer, Rivera remembers how tough Kelly was.
"A very tough guy,'' Rivera said last week at the NFL owners meeting in Orlando, Fla. "To see a guy get hit, get knocked down and get back up is always impressive. In my era -- shoot, it sounds like I'm old now -- but in my era you looked at certain guys that had that swagger about them.
"John Elway used to get knocked down, get up, straighten up his head and he'd walk back to the huddle. Jim Kelly, I can remember the same thing watching him in those [four] Super Bowls. ... You never let 'em see you're hurt.''
Rivera knows Kelly, 54, is hurting now. He hopes the toughness Kelly showed as a player gets him through the cancer.
Hearing of Kelly's illness also is a reminder that there are many from his playing days (1984-1992) that are going through medical issues, including former Bears quarterback Jim McMahon.
McMahon admitted last year he was going through early stages of dementia believed to be the result of head trauma suffered during his career.
"We're now at an age, I'm now at that age, guys that I played with are getting ill,'' said Rivera, 52. "Guys that I played with are getting hip replacements, knee replacements, shoulder replacements ... I don't want to say it's scary, but it is.
"So when you see a guy like Jim Kelly [and] Jim McMahon struggle with health issues, it's a scary thing.''
June, 16, 2011
6/16/11
1:00
PM ET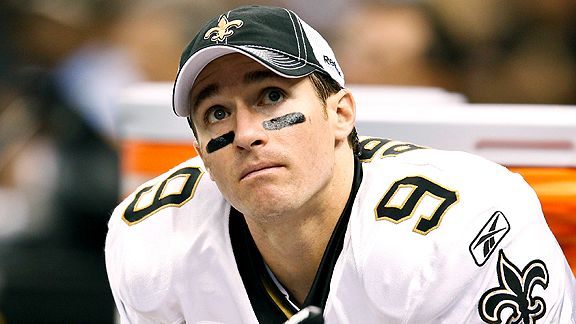 Derick E. Hingle/US PresswireDrew Brees will need to separate himself from quarterbacks like Vinny Testaverde and Drew Bledsoe.
He already has thrown for 7,000 more yards than Terry Bradshaw, completed one fewer touchdown pass than George Blanda and won one more Super Bowl championship than
Jim Kelly
and Fran Tarkenton combined.
So they already should be carving
Drew Brees
from the shoulders up in Canton, Ohio, right? The quarterback of the
New Orleans Saints
could retire tomorrow and waltz straight to the Pro Football Hall of Fame in five years, correct?
Well, it's not quite that easy. At least not yet.
Brees has 35,266 career passing yards. He should soar past Kelly in the first game of this season and should end the year somewhere pretty close to Johnny Unitas, who ranks No. 12 all-time with 40,238 passing yards.
If Brees throws 33 touchdown passes this season, the same number he threw last season, he'll have 268 for his career. That number would put him in the top 10, just behind
Joe Montana
at 273.
If you're putting up numbers like Unitas and Montana, shouldn't you be an automatic Hall of Famer? Yes, if Brees had played in the same era as Unitas or Montana.
But times have changed, and if you don't believe me, let me throw out three names:
Vinny Testaverde
,
Drew Bledsoe
and
Kerry Collins
. All three rank well ahead of Brees in career passing yards, and Collins might not be done yet. Bledsoe and Testaverde also rank ahead of Brees in career touchdown passes.
Bledsoe, Testaverde and Collins are pretty good quarterbacks, and their stats were helped by longevity. That's not a bad attribute, but nobody is ever going to argue that Testaverde, Bledsoe or Collins belongs in the Hall of Fame.
What they represent is the middle ground of the last generation. Brees has to cross that -- and then some -- to assure himself a spot in Canton.
Testaverde had 46,233 career passing yards, which ranks seventh. Bledsoe is one spot behind him at 44,611 yards. Collins is No. 11 at 40,441 yards. Testaverde is No. 8 in career touchdowns with 275, and Bledsoe is No. 14 with 251.
As a member of this generation of quarterbacks, Brees has to go beyond the numbers of guys like that. The bar has been raised, and it's still rising.
Assuming
Brett Favre
stays retired this time, he finished his career leading in passing yards (71,838) and touchdown passes (508). Then, you've got guys like
Peyton Manning
, who is 34, still going strong with 54,828 passing yards and 399 touchdowns and
Tom Brady
, who is 33, with 34,744 yards, 251 touchdowns and a handful of Super Bowl rings.
Manning and Brady are going to continue to increase their numbers, and Brees has to stay on a similar pace. I've had the honor to vote for the Hall of Fame twice, and I can assure you voters pay very close attention to a player's contemporaries. Brees isn't going to get in simply by putting up numbers close to Testaverde, Collins and Bledsoe.
He's got to stay somewhere close to Manning and Brady. It would help if Brees could avoid seasons like last year when he threw a career-high 22 interceptions and the Saints got bounced by Seattle in the first round of the playoffs.
I'm not trying to cast gloom on Brees' Hall of Fame chances. I seriously think he'll get there, but I'm just saying there's some work left to be done.
Brees had some knee problems last season but still threw for 4,620 yards and 33 touchdowns. Those numbers are pretty comparable to an average of the two seasons before that.
Let's assume the knee is healthy and say Brees goes out and plays four more seasons with numbers like that. It's fairly realistic, as long as Sean Payton's calling the plays,
Marques Colston
is catching the passes and
Jahri Evans
and
Carl Nicks
are blocking up front.
That would put Brees at 53,746 passing yards and 367 touchdown passes. That would put him fourth on the all-time passing yards list and fourth on the list of all-time touchdown passes, as they now stand.
That would be an automatic pass into Canton. Brees doesn't even need to reach those numbers to get there. He just needs to move ahead of the middle-of-the-pack guys, and a few more playoff wins wouldn't hurt. Brees is approaching the doors to Canton. He just needs to keep going straight up a few more steps.
April, 2, 2011
4/02/11
8:10
AM ET
Western Pennsylvania is often referred to as being a cradle of quarterbacks.
[+] Enlarge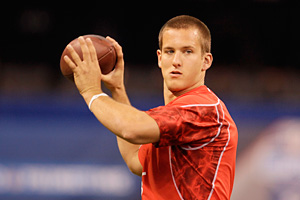 AP Photo/Darron CummingsDelaware QB Pat Devlin has an interesting background that could make him a good fit as Atlanta's backup to Matt Ryan.
It fits. Think Johnny Unitas,
Joe Montana
,
Dan Marino
,
Jim Kelly
and dozens of others. But there's one NFC South team that's had some very good luck mining a tiny pocket of Southeastern Pennsylvania and I'm suggesting the
Atlanta Falcons
should reach there once again.
Not that he'll listen and, if he does, then he might not be as smart as I think he is, but Atlanta general manager Thomas Dimitroff should go ahead and take a shot on Delaware quarterback Pat Devlin.
It makes sense on so many levels. The Falcons already are a very good team. They're heading into this draft with only a few big needs (a pass rusher and some speed at running back and receiver) and they've got their full slate of draft picks, plus two extra choices in the seventh round.
Most experts are saying Devlin's probably a fourth- or fifth-round guy. If the Falcons get into one of those rounds and Devlin is there, go ahead and take him. The Falcons aren't looking for a franchise quarterback or even a starter. They've got
Matt Ryan
and he's going to be around for a decade or so.
But do you really feel like the Falcons have the greatest backup situation in the league? They've got
Chris Redman
, who can get you through a game or two with a good team around him. But, suppose Ryan goes down for a month or six weeks? That's huge trouble. The other option is
John Parker Wilson
and there's a reason why he came to the Falcons as an undrafted free agent and why he's been stuck at the No. 3 spot on the depth chart.
That's why the Falcons should go back to their private quarterback mine. Devlin is from Downingtown, Pa. If you know anything about Pennsylvania geography (and I grew up in that state), you know that Downingtown is one of those Philadelphia suburbs that you can drive through and be in the next town and the town after that without even knowing it.
Those are towns like Downingtown, Exton and West Chester. You could throw in Coatesville, Malvern and Paoli, but let's just stick with the first three for the sake of simplicity.

Ryan
According to Mapquest, Downingtown is 4.73 miles from Exton. You know who grew up in Exton? Ryan. I'm not saying Devlin is going to be the next Ryan and he sure wouldn't be sitting in the fourth or fifth round if anybody really believed that. But I think Devlin has a chance to be a poor-man's version of Ryan.
Actually, once upon a time, Devlin was a better prospect. Ryan went to private school at William Penn Charter and wasn't all that heavily recruited before blossoming at Boston College. At nearby Downingtown East High, which Ryan could have attended, Devlin came out of high school rated as the No. 1 quarterback in the nation by many. He committed to Miami, but Joe Paterno, who doesn't do a ton of recruiting in the Philadelphia area because he thinks it is basketball country, went in and told Devlin he needed to come to Penn State.
Devlin listened, because not many Pennsylvania kids have the guts to ignore Paterno. But things kind of got sidetracked in Devlin's sophomore preseason when he and junior Darryl Clark finished in a dead heat for the starting job. In Paterno's world, the veteran always gets the nod and Clark did. Devlin got some playing time that year and did well, including leading a game-winning drive against Ohio State after Clark got hurt, but he knew he wouldn't start until his senior season and he transferred to Delaware, where the school motto is "Look what we did for
Joe Flacco
''.

Schaub
Now, let's pull out the map and Atlanta history one more time. If you're in Downingtown and head south 8.03 miles, you land in West Chester. There's a high school there called West Chester East. A few years before Ryan and Devlin surfaced, West Chester East had a quarterback named
Matt Schaub
. Paterno didn't want him either, so Schaub went to Virginia and had a pretty nice career.
Back in 2004, the Falcons were in situation similar to now. They had a franchise quarterback,
Michael Vick
, but wanted a solid backup. They took Schaub in the third round and thought he'd be a nice insurance policy.
But a funny thing happened along the way. Schaub became perhaps the best preseason-game quarterback of our generation. The Falcons went to Tokyo in the summer of 2005 and Schaub ended up being selected the Most Valuable Player of the American Bowl.
Schaub suddenly became more than a backup. He became valuable currency. Not knowing Vick's career was about to hit major turmoil, the Falcons traded Schaub to Houston and got second-round picks in 2007 and 2008. Schaub's now the starter with the Texans.
I don't know that Devlin will ever end up being an NFL starter. He has size and background in common with Ryan and Schaub, but the knock on him is he doesn't have the world's strongest arm.
But Devlin's been compared to Ryan and Schaub all his life and those are good quarterbacks to be mentioned along with. Drafting those two guys worked out very well for the Falcons. Maybe they need to look into their history and pull one more gem with a trip on U.S. Highway 322.
January, 13, 2010
1/13/10
11:53
AM ET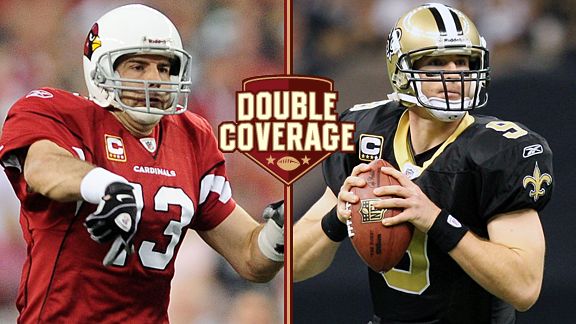 US PresswireKurt Warner, left, and Drew Brees will square off Saturday in the Superdome.
The
Arizona Cardinals
won the
highest-scoring playoff game in NFL history
Sunday. The
New Orleans Saints
are coming off the highest-scoring season in franchise history.
The Cardinals and Saints aren't the only ones putting points on the board this week.
NFC West blogger Mike Sando and NFC South counterpart Pat Yasinskas scored a few of their own while breaking down the Cardinals-Saints divisional playoff game set for Saturday in the Superdome.
Mike Sando:
Ken Whisenhunt has a 4-1 postseason record as Cardinals coach. He has been to a Super Bowl. Sean Payton seems to be the coach with the most at stake in this one.
Pat Yasinskas:
There's a lot at stake for Payton and a lot of pressure on him. He has the potential to go from being considered a very good offensive mind to being considered a very good head coach. He has been in the playoffs only once before and that was 2006. They split a pair of games. Getting to 13 wins this season was a huge step for Payton, but the way the season ended, with three losses, sets up the scenario where a playoff loss would be extremely disappointing.
Fans in new Orleans were talking about a Super Bowl when this team was undefeated. Not getting even a playoff victory would open Payton to criticism. Having the bye week has also upped the pressure and panic among fans in New Orleans, but I think Payton used the time wisely as far as game-planning offensively and getting his banged-up defense healthy.
Mike Sando:
Watching the Saints from afar, quarterback
Drew Brees
seemed unusually disappointed when New Orleans lost for the first time this season against Dallas. It was only one game. I wondered if that was the right reaction. Seems to me the Saints should have been focused on the bigger picture. Was I reading too much into that or was there something to it?
Pat Yasinskas:
The Saints sincerely believed they had a shot at going undefeated. Their confidence was sky high because at times they were steamrolling opponents. Even in games when they were not playing their best, they always seemed able to pull it out in the fourth quarter. All that changed with the loss to Dallas. I think the Saints know deep down that they are a good team still, but their momentum took a hit and they haven't been able to get back on course in the regular season. Getting that on the upswing will be a real test of Payton's motivational skills.
Mike Sando:
The Saints' defense seems to be at its best when playing with a lead. The Cardinals jumped to a 31-10 lead against the Packers in the wild-card round. Arizona has scored at least 14 points in seven first quarters this season and postseason, same as the Saints. As poorly as the Arizona defense played against Green Bay, the Cardinals did force turnovers early (and late, of course). I think New Orleans could be in trouble defensively if
Kurt Warner
gets going early and Arizona takes a big lead.
Pat Yasinskas:
Absolutely. The Gregg Williams defense counts on playing aggressively and basically their phrase back in camp was something like, "We set the tone." They are all about playing aggressively. Williams likes to blitz. The other big thing is
Darren Sharper
early in the season was looking like a true center fielder and was a turnover machine. In the second half of the season, when
Tracy Porter
and
Jabari Greer
got hurt, they couldn't let Sharper roam any more. He was playing more like a Cover 2 safety. He was not freed up to make plays. I do think having Greer back at full strength is going to help tremendously.
I'm not saying they are going to shut down Arizona. But they can play. Let's face it. This is probably going to be a high-scoring game, but defense will be a factor. Whichever defense can force a turnover or two can decide this game.
Mike Sando:
The Saints pressured with five or more rushers 49.4 percent of the time this season, trailing only the Jets. Warner can be tough to blitz because he knows where to go with the football quickly. He also benefits from an improved running game. The quarterbacks will win or lose this game, most likely, but
Beanie Wells
was the player I singled out as
a potential X factor
. Wells has become a bigger part of the Arizona offense. He had 14 carries for 91 yards against the Packers. The Saints' run defense hasn't been all that great this season.
Pat Yasinskas:
The Arizona running game is a concern for that defense. It has been a problem area and
Sedrick Ellis
has been the key there. He has been in and out with injuries. When he is in, they are OK against the run. When he is out, it changes everything. Having
Charles Grant
out helps their pass rush because
Bobby McCray
is better, but Grant was good against the run. The Cardinals might try to exploit that. McCray could be more of a pass-rush situational guy.
Anthony Hargrove
, who has played inside a fair amount, may move outside on running downs.
Mike Sando:
The Saints' pass defense ranked third among NFL teams in holding opposing quarterbacks to low passer ratings. Here's the thing, though. The Saints faced
Matthew Stafford
,
Mark Sanchez
,
Josh Freeman
(twice),
Jake Delhomme
(twice) and
Chad Henne
.
Marc Bulger
had 298 yards against them and nearly won the game. Kurt Warner is in another class, particularly in the playoffs. Warner already has more playoff victories in fewer games than
Steve Young
,
Jim Kelly
,
Dan Marino
and
Peyton Manning
. He had more touchdown passes (five) than incompletions (four) Sunday.
Pat Yasinskas:
Warner has the track record and has been there many times. For Brees, much like Sean Payton, this is a big game to show he truly is one of the elite. Brees has been so precise, not only this year but the last couple of years, that I think he is more than ready to take the next step. Despite the way the season ended, I think the Saints will rebound. This is too talented a team to waste a 13-win season. More important, they lost their last two games in the Superdome and I don't see them losing there again because their fans will not let them.
Mike Sando:
The Cardinals have to love their chances. They hammered a 12-4 Panthers team on the road in the divisional round last season. They have Warner, one of the best big-game quarterbacks ever. These Saints are so much more dynamic offensively than Carolina was last season, though. New Orleans was too good during the regular season to go quietly. A few injuries and a short week will work against the Cardinals. An upset would not shock me, and if the Cardinals win this game, it's one of their finest victories.
NFC SOUTH SCOREBOARD
Sunday, 11/23
Monday, 11/24