June, 29, 2012
6/29/12
10:30
AM ET
By
ESPN.com staff
| ESPN.com
June, 5, 2012
6/05/12
3:30
PM ET
Offensive tackle Paul Gruber reportedly will be the next player inducted into the Tampa Bay Buccaneers
Ring of Honor
.
That's a great choice. Gruber belongs in the Ring of Honor with John McKay, Lee Roy Selmon and Jimmie Giles. Gruber was the consummate pro for 12 seasons. He was an excellent left tackle, who happened to have the misfortune of playing on some very bad teams. That may have prevented Gruber, who also was a true professional on and off the field, from getting all the recognition he deserved. But this latest honor may help make up for it.
Gruber deserves this honor, but there's obviously something going on behind the scenes. The Bucs have been going in chronological order from the start of their franchise an expansion team. McKay and Selmon were logical choices as the first two inductees. When Giles was inducted last year, some fans and media said former quarterback Doug Williams should have gone in ahead of him. But, shortly before Giles' selection, Williams had left his job in Tampa Bay's front office on less than good terms.
By jumping ahead to Gruber, who played in the 1980s and 1990s, the Bucs clearly are moving a generation forward. They have passed over Williams and it obviously has to do with the lingering animosity between him and the team.
Williams and the Bucs need to work through that. I don't know that things will ever be warm and fuzzy between Williams and the Bucs. But there's no reason pettiness (on both sides) can't be set aside and things can't at least be cordial at some point down the road.
Williams is a huge part of Tampa Bay's history. At some point, he needs to be in the Ring of Honor.
June, 4, 2012
6/04/12
6:53
PM ET
METAIRIE, LA. -- Looks like it was fairly quiet as I made my way from Tampa over to Louisiana on Monday afternoon to cover New Orleans Saints' minicamp Tuesday.

There weren't many headlines to choose from, so let's take a quick run through the ones that were most significant.
September, 4, 2011
9/04/11
7:07
PM ET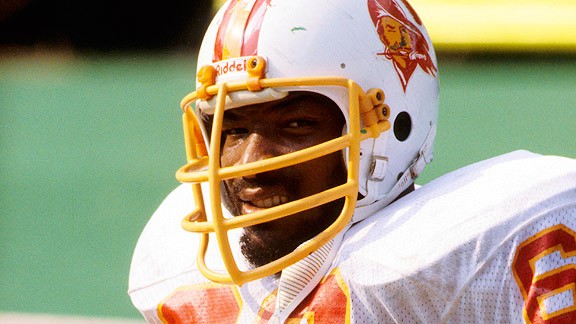 Malcolm Emmons/US PresswireLee Roy Selmon was the first Tampa Bay Buccaneer elected to the Hall of Fame.
TAMPA, Fla. -- I remember precisely where I was the moment Lee Roy Selmon was elected to the Pro Football Hall of Fame.
I was standing outside a hotel ballroom in Miami in 1995. It was the day before the Super Bowl. A few minutes after the privileged voters inside the room had voted Selmon in, the door swung open. Out walked Tom McEwen, the legendary former sports editor of The Tampa Tribune.
"He's in," McEwen said.
For the rest of that afternoon, evening, the media brunch and all during the Super Bowl, I kept seeing writers, league officials, former players and even Ferdie "The Fight Doctor" Pacheco coming up to McEwen and offering congratulations.
The response was the same every time.
[+] Enlarge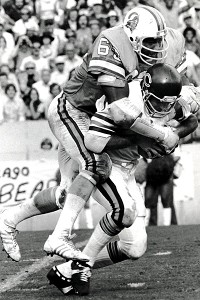 Malcolm Emmons/US PresswireDefensive end Lee Roy Selmon was the first draft pick of the expansion Buccaneers and the top overall pick in 1976.
"Why are you congratulating me?" McEwen said. "Lee Roy's the one who got into the Hall of Fame. He's the one who played the game."
That's the first story I thought of when I heard Selmon had been hospitalized Friday after suffering a stroke. It kind of sums up the story of the first Buccaneer elected to the Hall of Fame and the first member of the team's Ring of Honor.
He
died Sunday
at the age of 56.
A humble, exceedingly gracious man, Selmon never was one of those people who would go around seeking attention or adoration. He simply earned it by his play on the field and the way he carried himself off it -- during and long after his career ended in 1984.
McEwen, a powerful man, might have twisted some arms to get the votes. But Selmon was the one who did the grunt work. He was the one who beat double-teams and chased down quarterbacks every Sunday. He was the one who endured the 0-26 run the Bucs went on as a 1976 expansion team.
He was the one who made the Bucs seem like miracle workers (long before the
Carolina Panthers
and
Jacksonville Jaguars
entered the league under a different set of rules in 1995) when they reached the NFC Championship Game in the 1979 season.
Yeah, the 1979 team had some guys like Doug Williams and Jimmie Giles who made some big plays on offense. But John McKay's first winning team won with defense and Selmon was the center of that.
Selmon still was the center of the team in subsequent years when Williams left and things went bad. He left the game after the 1984 season because of a bad back, but he remained the icon of all icons in Tampa Bay.
The Bucs were bad for the next decade, but fans and the team could always point to Selmon as a point of pride. He stuck around town and stayed active in the community. He eventually joined the staff at the University of South Florida and helped the college start its football program.
Selmon remained an ambassador for the Bucs as the late 1990s arrived and things got better. Even if you weren't in Tampa Bay for Selmon's playing days, you knew who he was. There's a Tampa expressway named after him and I have to drive by one of the restaurants that bears his name to get just about anywhere.
I'll think of him every time I go by that restaurant and I'll have one lasting memory of the man. Last November, Selmon was a guest speaker at a luncheon to honor McEwen at Saint Leo University.
At one point, Selmon said he wouldn't be in the Hall of Fame if it hadn't been for McEwen. No doubt, McEwen played a role. But, like McEwen said, Lee Roy was the one who got into the Hall of Fame and he was the one to play the game.
He played it with uncommon grace and dignity and he lived his life that same way. That's why the legend of Lee Roy Selmon is going to keep lingering in Tampa Bay.
August, 6, 2011
8/06/11
9:23
PM ET
TAMPA, Fla. -- The Buccaneers just finished their annual night practice at Raymond James Stadium, which also serves as sort of a fan festival. But there was plenty of football.

Let's run through some observations.
Defensive tackle Gerald McCoy, who suffered a strained rotator cuff Friday, didn't take part in the workout. But McCoy gave a fan a big thumbs-up when asked how he was feeling.
Cornerback E.J. Biggers made a spectacular leaping interception.
Cornerback Aqib Talib, who had some legal problems in the offseason, got a huge ovation when his name was announced to the crowd. Seconds later, he dropped what should have been an interception on a ball intended for Mike Williams that was thrown by Josh Freeman.
Former Bucs tight end Jimmie Giles was in the crowd and got a huge round of applause when he was shown on the scoreboard video screens.
Freeman looked sharp most of the night, particularly when throwing to tight end Kellen Winslow and Williams. But Freeman didn't win the quarterback competition that was held at the end of the night. The quarterbacks all took turns throwing at targets on moving golf carts. The competition was won by third-stringer Rudy Carpenter.
He's never been known as a speed back, but fullback Earnest Graham torched rookie linebacker in one-on-one coverage and caught a deep pass from Freeman.
I've been saying the Bucs need to add a solid veteran running back to play behind LeGarrette Blount. After watching Kregg Lumpkin, I think there's at least a chance they might already have their backup.
Some excellent stuff from general manager Mark Dominik, who was interviewed during practice and the conversation was played on the video screens. Dominik had high praise for rookie defensive end Adrian Clayborn. Then he delivered the line of the night when asked how he feels about his team right now. "It's a team I want our town to fall back in love with,'' Dominik said.
July, 13, 2011
7/13/11
2:17
PM ET
TAMPA, Fla. -- The orange and white (also known as Creamsicle) colors that symbolized the
Tampa Bay Buccaneers
will make a return late in the 2011 season.
Co-chairman Bryan Glazer announced Wednesday the Bucs will wear their "throwback'' uniforms for the Dec. 4 game with the
Carolina Panthers
at Raymond James Stadium. That will also be the day the Bucs will make former tight end Jimmie Giles the third inductee into their Ring of Honor.
The Bucs, who switched to red and pewter as their dominant colors in the mid-1990s, started bringing back the orange and white for one game a year in 2009.
July, 13, 2011
7/13/11
12:19
PM ET
TAMPA, Fla. -- Of all the hundreds -- maybe thousands -- of moments Jimmie Giles could have picked as his favorite with the Tampa Bay Buccaneers, this one's definitely not the cleanest. It also may surprise you a bit at first.
"Wrestling in the mud with (teammate) David Lewis,'' Giles said Wednesday as the Bucs announced he will be inducted into the team's Ring of Honor at a Dec. 4 home game with Carolina.
[+] Enlarge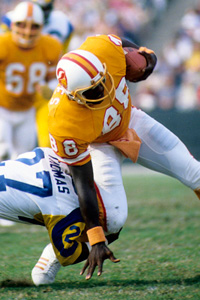 Darryl Norenberg/US PresswireJimmie Giles compiled 4,300 receiving yards and 34 touchdowns in nine seasons in Tampa.
The wrestling session happened at the end of the 1979 season, a crucial one for the Buccaneers. Needing a win to make the playoffs for the first time in franchise history, the Bucs beat the Kansas City Chiefs, 3-0, in a torrential downpour.
The team that began as an expansion franchise in 1976 and started 0-26 would go on to stun everyone and reach the NFC Championship Game. It was a high-water mark for a franchise that soon would fall back to its losing ways. Giles was with the Bucs from 1978 until 1986 and, by that point, the Bucs were mired in something well below mediocrity.
They spent the latter half of the 1980s and the early and middle parts of the 1990s as a national joke. Actually, there were all sorts of jokes in those days.
"The sign on the ticket window was "Sorry, we're open,'' cracked long-time Tampa Bay radio personality Jack Harris, who was one of the guest speakers before Giles took the microphone.
But one of the best things the Bucs have done since starting the Ring of Honor two years ago is that they've embraced their past. It would be easy to try to forget it all and skip the whole era before coach Tony Dungy came along and changed the climate and the uniforms switched from orange and white to pewter and red.
That also would be a mistake because there were some good times and good players from those early years. Co-chairman Bryan Glazer made it a point to say the team's present and future wouldn't be possible without its past. He's right.
Lee Roy Selmon and John McKay, the first two inductees, created some magical moments for a young franchise. So did Giles, who played tight end and went to four Pro Bowls while with the Bucs.
"It was Jimmie Giles and some others who helped turn this team around,'' Harris said. "It was a great era.''
But a short era. Sooner or later, the Bucs will open the floodgates for their Ring of Honor. That will start when Derrick Brooks goes in, which will clear the way for guys like Warren Sapp, John Lynch, Mike Alstott, Ronde Barber, Dungy and Jon Gruden.
It's not quite time for that yet. Although there was a long dry spell between the 1979 team and the teams of the late 1990s, there are some other guys from those eras who deserve the honor. Guys like Ricky Bell, James Wilder, Paul Gruber and Hardy Nickerson should go in before the Bucs get to their more-recent past.
Then, there's Doug Williams. He was the quarterback of the 1979 team and, by all rights, he should be going into the Ring of Honor before or with Giles. He's not. That's mostly Williams' fault. He did some great things as a player and left Tampa Bay in a bitter salary dispute with former owner Hugh Culverhouse. Williams carried a grudge before finally returning to work in the team's personnel department.
Things were good for a few years, but Williams left after the 2010 draft. Williams and general manager Mark Dominik weren't getting along. Since his departure, Williams has taken some public shots at the Bucs. He's not going to get into the Ring of Honor as long as that's going on.
As Giles talked, I think there might have been a subtle message to Williams. Giles was talking about how the Bucs of long ago went through some tough times and weren't beloved. Giles said that things change with time and that no one should succumb to bitterness.
That's an excellent point. The Bucs are going out of their way to reach out to their former players. Let the water flow under the bridge.
The Bucs and their former players need to stay above the bridge -- above the pettiness.
July, 13, 2011
7/13/11
9:14
AM ET
TAMPA, Fla. -- I'm getting ready to head out to One Buccaneer Place for the news conference to formally announce Jimmie Giles into the team's Ring of Honor.
The Bucs did a first-class job of making the announcement of John McKay last year and Lee Roy Selmon the year before that. I'm sure they'll do right by Giles, but I'm more curious to see this announcement than I was the first two.
That's largely because I knew just about everything about Selmon and McKay. Selmon was Tampa Bay's first draft pick, a member of the Pro Football Hall of Fame, a staple in the community and I sometimes eat at his restaurants. McKay was Tampa Bay's colorful first coach and was famous before that as an outstanding college coach at Southern California. He stayed in Tampa Bay after he was done coaching and sometimes stopped by to watch practice back in the mid-1990s when his son, Rich, was general manager and I was covering the Bucs on a daily basis.
[+] Enlarge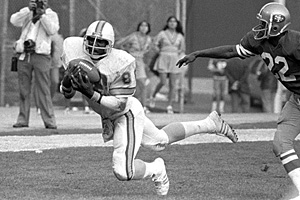 AP Photo/Sal VederJimmie Giles was on the 1979 Buccaneers team that went to the NFC Championship Game.
But Giles is a little different. I don't know nearly as much about him. I remember him a little as a player, but I arrived in the Tampa Bay area for college just as Giles was wrapping up his time with the Bucs. Growing up in Pennsylvania, not many Tampa Bay games were televised locally unless the Bucs happened to be playing the Giants, Eagles or Jets.
Giles also spent time with the Oilers, Lions and Eagles, but the best part of his career came with Tampa Bay. He was with the Bucs from 1978 until 1986 and made four Pro Bowls during that time. He was part of the 1979 team that made an unlikely run to the NFC Championship Game.
In 13 NFL seasons, Giles had 350 catches for 5,084 yards and 41 touchdowns. Those aren't huge numbers for a tight end. But you have to remember Giles was playing in an era when tight ends primarily were used as blockers. Giles did have some big moments as a receiver and none was bigger than Oct. 20, 1985, against the Miami Dolphins. In that game, Giles caught four touchdown passes.
Buccaneers teammate Gerald Carter once was quoted as saying that Giles could have been "one of the best all-time tight ends, if they'd used him more".
But the Bucs used Giles enough that he was one of their best players from an early history that wasn't always pretty. He did enough to earn a spot in the Ring of Honor and a lasting legacy.
I'll be back later with more on Giles.
July, 12, 2011
7/12/11
12:22
PM ET
The
Tampa Bay Buccaneers
have said they'll make an announcement Wednesday about the next inductee to their Ring of Honor.
They won't officially say who it is yet, but the St. Petersburg Times is
reporting that it's former tight end Jimmie Giles
and they're citing former quarterback Doug Williams as the source. I've got no problem with Giles going in as the third member of the Ring of Honor after Lee Roy Selmon and John McKay. Giles was a very good tight end. The Glazer family, which owns the team, works together to select members of the Ring of Honor and team co-chairman Bryan Glazer serves as the front man for those efforts. The Glazers are making a smart move by going by some degree of chronological order.
If he had skipped ahead to
Derrick Brooks
, guys like Giles, James Wilder, Paul Gruber and Hardy Nickerson would have to wait for years. Once Brooks goes in, it's going to open the gates for the rest of the big names from Tampa Bay's golden age -- Warren Sapp, John Lynch, Mike Alstott, Warrick Dunn, Tony Dungy, Jon Gruden and
Ronde Barber
. By the time all those guys get in,
Josh Freeman
,
LeGarrette Blount
and
Mike Williams
might be ready to follow.
The Bucs didn't have a glorious history before Dungy came along, but it's important to recognize guys like Giles now and Brooks and friends can wait a few years. The guy who may be waiting the longest is Doug Williams. You could make a case Williams should be the next guy going into the Ring of Honor, but that's not likely to happen anytime soon.
After winning the battle of public opinion in his long-ago feud with former owner Hugh Culverhouse, Williams was back in the good graces of the franchise for a time. He worked in the team's personnel department and was close with Gruden and former general manager Bruce Allen.
But Williams left due to a strained relationship with Mark Dominik after he became the general manager. Williams might not have the fans on his side this time. He's taken public shots at the Bucs and Dominik, while the franchise has stayed quiet about Williams. Even while Williams still worked for the team, he created an awkward moment when the Bucs announced Selmon as the first member of the Ring of Honor. Williams spoke at that news conference and it was kind of bizarre. Instead of talking about Selmon, he spent almost all of his time talking about the 1979 team.
The franchise probably is going to stay quiet on Williams for a long time. He was an important part of the franchise's early years, but he's burned some bridges. Unless those are repaired, Williams probably won't be going into the Ring of Honor.
February, 27, 2009
2/27/09
2:52
PM ET
Posted by ESPN.com's Pat Yasinskas
ESPN Stats & Information just sent over some numbers on tight end Kellen Winslow, who was traded from the Cleveland Browns to the Tampa Bay Buccaneers on Friday.
Even though Winslow missed six games and endured a staph infection last season, he's been one of the league's most productive tight ends since 2006. In those three seasons, Winslow's 214 receptions rank third among all NFL tight ends. His 2,409 receiving yards rank fourth and his nine receptions of 30 or more yards tie for second.
He gives Tampa Bay something the Bucs have been missing for a long time and that's a pass-catching tight end. The Bucs haven't had a tight end selected to the Pro Bowl since Jimmie Giles went in 1985.
The Bucs never have had a tight end come close to 1,000 receiving yards in a season. Giles had 786 receiving yards in 1981 and Jackie Harris set the season record for receptions by a tight end with 62 in 1995.
January, 26, 2009
1/26/09
12:00
PM ET
Posted by ESPN.com's Pat Yasinskas
TAMPA, Fla. -- There obviously isn't an NFC South team in this Super Bowl, but the fact the game is being played in Tampa gives the division a strong connection to the game. The Buccaneers are the face of the NFL in Tampa Bay -- but it hasn't always been a pretty face.
| | |
| --- | --- |
| | |
| | David Boss/US Presswire |
| | John McKay left USC to take over the expansion Tampa Bay Buccaneers. |
Here's a look back at the early years of the Bucs:
In the very beginning -- out at that primitive facility alongside a Tampa International Airport runway with rodents scurrying the hallways -- the Tampa Bay Buccaneers were a National Football League franchise in name only.
It was 1976 and what showed for the first practice at One Buccaneer Place wasn't pretty. The brand new team, which had joined the league with the Seattle Seahawks, had coach John McKay (who had jumped to NFL riches from the University of Southern California), first-round pick draft Lee Roy Selmon, and ... absolutely nothing else.
"The biggest cast of characters and misfits you've ever seen," jokes current Atlanta Falcons president Rich McKay, the son of John McKay.
Rich McKay was about to begin his senior year as a quarterback at nearby Tampa Jesuit High School and worked as a ball boy that first season. The high school kid had a résumé as good as some of the players who showed and was healthier than most of them.
Back in those days, the NFL's expansion rules just weren't very friendly. There was no free agency, a resource Carolina and Jacksonville used to build quickly when they joined the league in 1995. The expansion draft wasn't much help either. The Bucs and the Seahawks didn't even get the list of players available until 24 hours before the draft and couldn't bring players in for medical exams.
"Over 50 percent of the guys on the list couldn't even pass a physical," Rich McKay says. "I think if my dad had known what the expansion rules were and how everything was going to be stacked against the team, he probably would have stayed at USC. Seriously, it made no sense to give a city a franchise and then give them absolutely no chance for success."