November, 24, 2014
Nov 24
12:30
PM ET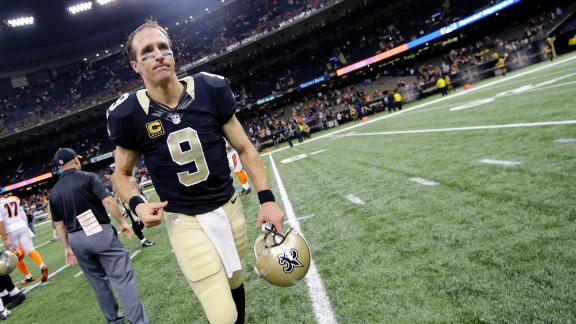 METAIRIE, La. -- There is plenty of blame to go around for the New Orleans Saints' 4-6 start. But the three guys who need to step up the most from here on out are arguably the Saints' three best players: quarterback
Drew Brees
, tight end
Jimmy Graham
and defensive end
Cameron Jordan
.
All of them went quiet last week in a stunning 27-10 loss to the
Cincinnati Bengals
. That's inexcusable for a Saints team that has too many other problem areas. Their star players can't afford any more off days -- or nights -- starting with tonight's "Monday Night Football" showdown against the
Baltimore Ravens
(6-4).
Here's What 2 Watch 4:
Brees
More aggressive offense:
Last week's offensive performance was arguably the most disturbing thing that's happened to the Saints all season, simply because it was so out of character. The Saints' 10 points marked their lowest output at home since 2006. They were surprisingly-efficient in many ways (high completion percentage, high third-down rate, only one meaningless turnover late in the game, no sacks). But they simply couldn't score, and they didn't have a play longer than 17 yards, with Brees missing on the few shots he did take down the field.
Maybe it was just an over-correction since Brees had been struggling with too many turnovers. But the Saints aren't themselves when they're not being aggressive. I expect a huge change in that department, especially against a struggling Ravens secondary.
"One of the best ways for a team to get momentum and to get a spark is big plays," said receiver
Joe Morgan
, who advocates throwing deep even more and who may help fill that role with dynamic rookie receiver
Brandin Cooks
on injured reserve. "Not just me. A lot of guys are capable of doing that."
Graham
More Graham on offense:
Graham already leads the Saints with 59 catches, 623 yards and seven touchdowns this year. But they need even more out of him, even if they force-feed him and risk more interceptions because of it (a problem at times this year). Graham is one of the league's most difficult mismatches, and he's going to win more times than not.
The rest of the Saints' season should look more like the Saints' furious rally attempts against Cleveland in Week 2 or San Francisco two weeks ago, when Graham caught six passes for 55 yards and two touchdowns after halftime (not including his nullified Hail Mary TD catch). The Saints can't afford to be passive with Graham like they were last week when he caught just three passes for 29 yards.
Graham, by the way, says bring it on.
"If [Cooks] is out or not, I want to do everything," Graham said. "That's just the player I am. I always think I'm open, and I always think the ball should come my way. I know if Drew throws my way, I'm going to do my best to go up there and get it for him and put this team in the best place to win."
More pressure required:
The secret to the Saints' defensive success last season was their relentless four-man pass rush led by Jordan and outside linebacker
Junior Galette
, each of whom wound up with 12-plus sacks. Jordan, especially, has been more hit or miss this year -- which has put an added burden on a young, struggling secondary.
"We definitely have to set the tone this week," said Jordan, who was silenced last week, mostly because QB
Andy Dalton
got rid of the ball so fast. "The ball was out even faster than we were told about. But being part of the D-line, it has to start with us. We've gotta be able to get back there and affect the quarterback and make him uncomfortable in the pocket. So if that has to be faster, it has to be faster.
"[Baltimore's Joe] Flacco is one of the few pocket passers in the league. But he's still getting the ball out pretty fast, and they've got some nice weapons we're aware of."
NFC SOUTH SCOREBOARD
Sunday, 11/23
Monday, 11/24