January, 10, 2013
1/10/13
9:56
AM ET
Time for a morning run through the headlines from around the division:
TAMPA BAY BUCCANEERS
Coach Greg Schiano said he still is
evaluating his coaching staf
f, according to Roy Cummings. That means there still is a chance there could be changes to a defensive staff that didn't produce great results. On offense, the Bucs already have openings for a receivers coach and a quarterbacks coach. John McNulty, who coached for Schiano at Rutgers, has coached both of those positions in the past. But the Bucs might be waiting to see what happens with offensive coordinator Mike Sullivan, who has interviewed for the head coaching job in Chicago. If Sullivan leaves, McNulty would be a logical candidate for that spot.
NEW ORLEANS SAINTS
General manager Mickey Loomis said it's up to coach Sean Payton to make
any changes
on the coaching staff. Payton is suspended until after the Super Bowl. There's been some speculation that defensive coordinator Steve Spagnuolo could be on the hot seat after his unit ranked last in the league. But I think Spagnuolo sticks around. He was Payton's hand-picked guy last year.
CAROLINA PANTHERS
Tom Sorensen writes that new general manager Dave Gettleman
isn't a flashy guy
. That fits the Panthers' way. It also sounds like Gettelman's personality is a bit like former general manager Marty Hurney's. That's not a bad thing. Hurney was low-key and didn't have a big ego. For a lot of years, that personality fit well with the Panthers.
ATLANTA FALCONS
Television analyst Jimmy Johnson believes the Falcons are ready to take
the next step
and win a playoff game. I feel the same way. I'll explain my reasoning in a column that's coming a bit later on.
February, 16, 2012
2/16/12
5:09
PM ET
TAMPA, Fla. -- If Butch Davis didn't sound very precise on what his duties will entail as a special assistant to
Tampa Bay Buccaneers
coach Greg Schiano, that's only because his job isn't clear yet.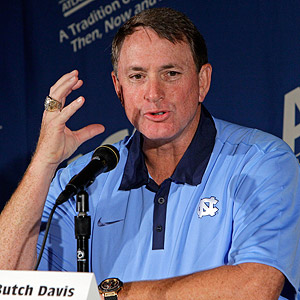 AP Photo/Gerry BroomeFormer North Carolina coach Butch Davis will be a consultant for the Buccaneers.
It's a work in progress, something Davis and Schiano will figure out as they move forward. What is clear is that Davis will not be considered a coach, and he said he won't be doing on-field coaching or sitting in meeting rooms with players. He said he'll be more than willing to give advice to players if they ask, but his main role will be providing advice and support for Schiano and general manager Mark Dominik.
"Greg felt like and I felt like there were a lot of things I could help him with just within the organization in a vast array of different ways, from personnel to combines to the draft, all the different kinds of things,'' Davis said Thursday. "There are so many hats that Greg's going to have to wear, and responsibilities, that anything he feels like he would like for me to help him do, that's kind of the role I'm going to have. And that goes throughout the entire organization, too. It's an opportunity to work with Mark, who I have a great deal of respect for.''
What is clear is that the Buccaneers made a good move in getting Davis in their building. He's a former NFL head coach (with the
Cleveland Browns
) and worked as a defensive line coach and defensive coordinator for the
Dallas Cowboys
in the Jimmy Johnson years.
That gives him far more experience than Schiano, who has spent most of his career coaching on the college level, aside from three years as an assistant with the
Chicago Bears
. Given the fact that one of the knocks on former coach Raheem Morris and his staff was a lack of organization, Davis should provide some insurance that the same thing doesn't happen with Schiano's staff.
"We're still putting thoughts together as to all the ways that I can help,'' said Davis, who also served as a head coach at the University of Miami (where Schiano was on his staff) and at the University of North Carolina.
In essence, Davis expects to be an extra set of eyes and ears for Schiano and Dominik.
"There are so many things within an organization that need attention to detail, and one person can't do it all,'' Davis said. "Any way that I can help Greg or Mark, that's what I want to do.''
Davis said he plans to attend next week's scouting combine in Indianapolis and will be in the room when the Buccaneers do their interviews with draft prospects. He'll also play a role in assessing the team's current personnel.
Davis said he worked in a similar role with the
Kansas City Chiefs
after he was fired in Cleveland and had some opportunities with other teams this year to act as an advisor or special assistant. Davis said he expects to be in the press box with assistant coaches on game days this fall.
Schiano still is in the process of filling out his coaching staff and the parameters of Davis' job will evolve in the coming months. But Davis said one thing is certain.
"I'm committed to trying to help this team win a Super Bowl as soon as possible,'' Davis said.
February, 9, 2012
2/09/12
10:49
PM ET
Although there's been speculation from the day Greg Schiano became the head coach in Tampa Bay that Butch Davis would be joining his staff, that still hasn't happened.

Davis
But it now appears imminent. Alex Marvez reports that Davis
has been hired
as a senior defensive assistant. Local reports say
the deal hasn't been completed
, but appears likely.
If a deal with Davis is finalized, it likely would silence some of the criticism Schiano has taken because most of his reported hires so far have been his former Rutgers assistants — of whom few have any NFL experience.
But Davis has been a head coach in the NFL and on the college level. He also was defensive coordinator for Dallas during the Jimmy Johnson days. Davis was also the University of Miami head coach when Schiano was Hurricanes defensive coordinator and the two have remained close.
Although initial speculation was that Davis would be the defensive coordinator, it appears that won't be the case. His role might be more as a liason between Schiano and a new defensive coordinator. The Bucs made a similar move when they hired Jimmy Raye II as a senior offensive assistant.
Neither coordinator is in place and one or both could come from the college ranks. But the presence of Davis and Raye, who has a long history as an NFL assistant, would bring a lot of NFL experience and respect to the staff of Schiano, who never has been an NFL head coach.
So what if Schiano's bringing in a lot of Rutgers assistants? They're guys he knows and with whom he has enjoyed success. Throw in the NFL experience of Davis and Raye and this could turn out to be a pretty good staff.
It almost certainly would be better than the staff of former coach Raheem Morris. After firing offensive coordinator Jeff Jagodzinski and defensive coordinator Jim Bates early in his tenure, Morris' staff was viewed as largely inexperienced and ineffective in league circles.
When Bates was fired, Morris, who had not officially been a defensive coordinator on the NFL level (he was selected to replace Monte Kiffin, but was elevated to head coach before he ever called a play as coordinator), took over as the defensive coordinator. When Jagodzinski was fired, quarterbacks coach Greg Olson was quickly promoted and the trickle-down effect took a toll on the rest of the offensive staff.
If Schiano, who has history as a college defensive coordinator, surrounds himself with Davis and Raye and coordinators, the Bucs suddenly will be a lot stronger at the top of their coaching staff.
September, 7, 2011
9/07/11
8:54
AM ET
Time for a morning look at the top headlines around the NFC South.
Bradley Handwerger writes that
time in the spotlight at Alabama
should help New Orleans rookie running back Mark Ingram be ready for Thursday night's opener at Green Bay.
Mike Triplett writes that New Orleans defensive coordinator Gregg Williams
welcomed his players back
from the lockout with a video of last season's playoff loss to Seattle. That game's been mentioned more than a few times this season. Williams said he coaches with a chip on his shoulder and he wants his defense to play that way.
Former coach Jimmy Johnson said the NFC South is a
two-team race
between the Saints and Falcons, but didn't pick a winner. Johnson also said he doesn't expect the Bucs to match last year's 10-win season.
Chris Vivlamore has a nice feature on how Atlanta kicker Matt Bryant
handles pressure
. This veteran has gone through some ups and downs, but he's got his career on firm footing in Atlanta and has become the best kicker in the NFC South.
One of the storylines as the Buccaneers get ready to host Detroit on Sunday is how the Lions might have kept Tampa Bay out of the playoffs with a late-season win last year. But Eric Horchy writes that quarterback Josh Freeman said the team
can't afford to dwell
on that game. That's true, but I suspect coach Raheem Morris might have brought it up as motivation a few times.
The Bucs were without top cornerback Aqib Talib, who sat out that Detroit game with an injury. With Talib out, Detroit receiver Calvin Johnson had 10 catches for 152 yards. Although Talib sat out all four preseason games with a hamstring injury, he said he's
ready for Sunday
and looking forward to matching up with Johnson.
The Panthers
claimed
cornerback Darius Butler off waivers from the Patriots. Carolina's been looking for help at cornerback throughout the preseason. Butler's worth a shot. He was a second-round pick in 2009 and briefly was a starter.
September, 6, 2011
9/06/11
4:05
PM ET
Carolina coach Ron Rivera and quarterback
Cam Newton
have a chance to make history Sunday in Arizona.
Since 1970, only four new head coaches have opened their season on the road with rookie quarterbacks. Only one of those combinations has produced a win in the opener. Here's a look at the history of new coaches starting rookie quarterbacks in openers on the road.
On the bright side of history, Newton's had success at University of Phoenix Stadium. That's where he played his final collegiate game. He led Auburn to a BCS National Championship with a 22-19 victory against Oregon on Jan. 11. In that game, Newton completed 20 of 34 passes for 265 yards, two touchdowns and an interception.
May, 2, 2011
5/02/11
9:56
AM ET
I'm not trying to curb the enthusiasm in the Carolinas after the Panthers used the No. 1 overall pick in the draft on quarterback
Cam Newton
. It's a move with huge upside and we'll find out a few years down the road if it was indeed the right move.
However, there's an discouraging statistic, courtesy of the Elias Sports Bureau, that suggests Newton and coach Ron Rivera face an uphill battle. Since 1990, seven rookie head coaches have had the No. 1 overall pick and used it on a quarterback.
None of them has won a postseason game. Think Mike Nolan and
Alex Smith
in San Francisco, Dom Capers and
David Carr
in Houston, Marvin Lewis and
Carson Palmer
in Cincinnati, Chris Palmer and
Tim Couch
in Cleveland, Lane Kiffin and
JaMarcus Russell
in Oakland, Jim Schwartz and
Matthew Stafford
in Detroit and Steve Spagnuolo and
Sam Bradford
in St. Louis.
There seems to be hope for Stafford and Bradford to become successful quarterbacks. Carson Palmer had some good times in Cincinnati, but wants out of there and may get his wish. Other than that, all of the guys on the above list have flopped.
If you want to find a rookie head coach who used the No. 1 overall pick on a quarterback, you have to go all the way back to Jimmy Johnson. Back in 1989, he took Troy Aikman with the first pick, a move that helped the Cowboys become a dynasty for much of the 1990s.
February, 6, 2009
2/06/09
1:08
PM ET
| | |
| --- | --- |
| | |
| | Getty Images |
| | The NFC South has three head coaches returning from last season, but which team has the best coaching staff? |
Posted by ESPN.com's Pat Yasinskas
Free agency is still a few weeks away, but the Atlanta Falcons and New Orleans Saints are the NFC South's two biggest winners in the first phase of the offseason. The Carolina Panthers might have been the biggest loser and it's too early to fully judge the Tampa Bay Buccaneers.
In a very busy few weeks for most of the division's coaching staffs, Atlanta was able to keep its stellar group largely in place for the most part. The Saints didn't sit still and they made some moves that will make them a better team. Carolina curiously had most of its defensive staff walk away and also lost a very underrated offensive assistant.
The Bucs were the only team to make a change at the top, replacing Jon Gruden with Raheem Morris, and that led to an overhaul of most of the staff.
With all those changes so fresh, I'm going to rank the coaching staffs for the four NFC South teams. Keep in mind, the head coach certainly factors into this, but this ranking is for the entire coaching staff.

1. Atlanta Falcons. The best thing Mike Smith did when he took over as coach of the Falcons a year ago was to assemble an all-star team of assistants that included the likes of Mike Mularkey, Emmitt Thomas and Terry Robiskie. There's no doubt that coaching staff played a huge role in Atlanta's dramatic turnaround.
The best thing Smith has done so far this offseason was keep that staff pretty much intact. Some of that's just plain luck. Mularkey and Robiskie were mentioned in connection with head-coaching jobs, but neither became serious players. That's a huge stroke of luck because it gives the Falcons continuity on the coaching staff as they head into the second year of what Smith likes to call "the process."
That process is going to be a lot smoother because the Falcons can hit the ground running. If Mularkey and quarterbacks coach Bill Musgrave were able to get so much out of quarterback Matt Ryan in his rookie year, imagine what they can do when they've got him for a full offseason.
That's kind of the same story for this entire coaching staff. After a surprising 11-5 season, it's easy to forget that Atlanta's roster wasn't fully stocked last season. In particular, offensive line coach Paul Boudreau, Thomas and defensive coordinator Brian Van Gorder squeezed far more out of their groups than they had any right to.
Give general manager Thomas Dimitroff another offseason to fully get the roster where he wants and this coaching staff could really make the Falcons special.

2. New Orleans Saints. The jury still is very much out on head coach Sean Payton. He had a great rookie season in 2006, but the Saints have disappointed the last two seasons. There's a lot of personnel work to be done in the coming months, but Payton has made some strong moves with his coaching staff.
There's change at both coordinator positions and Payton did the smart thing by sticking with what's been working and blowing up what hasn't. After offensive coordinator Doug Marrone left for the head job at Syracuse, Payton promoted Pete Carmichael Jr. to his spot, basically tweaking an offensive staff that's had one of the league's most-productive units in recent years.
Payton took a dramatically different approach on defense, where he fired coordinator Gary Gibbs, whose group underachieved the last two years. In a move that's critical to Payton's future, he went out and (after some heavy bidding against other teams) got the best defensive coordinator available. That's Gregg Williams. There's no doubt Williams can coach and he'll bring an aggressive style to a defense that's been too passive. Now, it's up to general manager Mickey Loomis to get Williams some more players.

3. Carolina Panthers. Once upon a time -- like back in 2003 -- broadcaster and former NFL coach Jimmy Johnson said John Fox had the league's best group of assistants. You can't say that right now. Continuity had been one of the best virtues of this coaching staff -- until now. In a bizarre series of events, almost the entire defensive staff walked away from the Panthers.
A lot of fans got excited when defensive coordinator Mike Trgovac declined a new contract with the Panthers and left to become Green Bay's defensive line coach. But the venom from fans toward Trgovac the last few years was misdirected. Fox was the one ultimately calling the defensive shots and Trgovac was working within his parameters.
The Panthers brought in Ron Meeks to replace Trgovac, who might look a lot better in hindsight. Although Meeks officially resigned as defensive coordinator in Indianapolis, the fact is he was forced out. Oh, and defense wasn't exactly a big part of the reason the Colts had all those 12-win seasons.
On a more subtle note, the Panthers lost quarterbacks coach/passing game coordinator Mike McCoy to the offensive coordinator spot in Denver. This will hurt the Panthers more than many realize. McCoy was very instrumental in running this offense and the former Utah quarterback also was one of the guys the team relied on to try to keep receiver Steve Smith on an even keel.

4. Tampa Bay Buccaneers. In time, Morris might turn out to be a great head coach. But it's too early to tell if the 32-year-old, who served as a coordinator for all of two weeks, will succeed. Give Morris credit for assembling a decent staff at a time when a lot of positions around the league already had been filled.
He made a great hire in bringing in veteran defensive coordinator Jim Bates. In a lot of ways, Bates' experience will give the Bucs someone similar to former coordinator Monte Kiffin.
Morris' most critical hire was Jeff Jagodzinski as offensive coordinator. The former Boston College head coach has been a coordinator in the NFL before and he likes to throw the ball downfield. That's something Gruden's offense rarely did. In theory, Jagodzinski should be a good fit. In reality, he's going to need a very productive offseason from general manager Mark Dominik. The Bucs need to re-sign receiver Antonio Bryant and get a few more receivers. But the biggest challenge is going to be deciding on a quarterback and letting Jagodzinski, who worked with Matt Ryan at Boston College, develop
him.