December, 17, 2011
12/17/11
11:17
PM ET
TAMPA, Fla. -- Thoughts on the
Tampa Bay Buccaneers
'
31-15 loss
to the
Dallas Cowboys
on Saturday night at Raymond James Stadium:


What it means:
Wow, there's a loaded question. The Bucs lost their eighth consecutive game. They now are 4-10. Their stadium had as many fans dressed in blue and white as it did in red or pewter, which was the only reason this game was the second home sellout of the past two seasons. I've tried to think of possible ways the Bucs could keep coach Raheem Morris for 2012, but I no longer can see any way that happens. In fact, as much as the Bucs may not like their options for an interim coach, ownership might have to pull the plug now, just to send a message to the fans.
Interim options:
As long as we're talking about the possibility of finishing the season with an interim coach, let's examine the very limited possibilities. Offensive coordinator Greg Olson would be one. But the problem with Olson is he has no filter with the media and could say some things that might not come across well. Defensive backs coach Jimmy Lake might be the best choice. In theory, he could take over Morris' play-calling duties for the defense. Then again, the Bucs could just play out the string with Morris and pull the plug the day after the season ends.
What I liked:
Hey, there was a bright spot for the Buccaneers. First-round pick
Adrian Clayborn
continues to show signs he can play.
What I didn't like:
That could probably fill up a book, so I'll try to be brief. The offense was horrible and quarterback
Josh Freeman
never got into any sort of rhythm. The defense couldn't tackle or cover.
Worst stat:
Prior to linebacker
Dekoda Watson
recovering a fumble and returning it for a touchdown early in the third quarter, the Bucs had been outscored 69-0 since jumping out to a 14-0 lead against Jacksonville two weeks ago.
Worst stat II:
At just about the five-minute mark of the third quarter, the Cowboys had 23 first downs and the Bucs had one. Then, Tampa Bay exploded for its second first down of the night.
What's next:
The Buccaneers play the
Carolina Panthers
on Christmas Eve at Bank of America Stadium.
October, 17, 2011
10/17/11
5:12
PM ET
Let's hit the headlines to catch up on some loose ends from Monday around the NFC South.
Atlanta wide receiver Julio Jones, who missed Sunday's game with a hamstring injury,
went on a "rehab run''
, according to coach Mike Smith. It's too early to tell if Jones will be ready for Sunday's game in Detroit. But keep one thing in mind if this one is a close call late in the week: The Falcons have a bye week after the Detroit game and may be cautious if they're not certain Jones is healthy.
Carolina coach Ron Rivera, who ran the 3-4 defense when he was a coordinator in San Diego, has
started to mix in a little
of that scheme. The Panthers used it three times Sunday. Rivera has said he'd like to mix in a fair amount of the 3-4, but don't expect to see a lot of it this season. If you're going to run the 3-4 on a regular basis, you need a full offseason to install and you need the personnel to run it properly.
Here's one item I didn't get to on Sunday because the saga of New Orleans coach Sean Payton was taking up a lot of time. But Payton wasn't the only coach injured in Sunday's game at Raymond James Stadium. Tampa Bay defensive backs coach Jimmy Lake
tore his patella tendon
while celebrating an interception by Tanard Jackson and will need surgery after the team returns from London. There's a lesson in this for Lake, Morris and some other Tampa Bay coaches who get a little too involved in celebrating. It's fine to get excited about a big play. But, unless you're the same age as the players and in the same kind of shape, it's not a real good idea to try to jump up and down with them.
Bradley Handwerger and Jim Henderson discuss whether or not the Saints
will be hurt
if Payton has to do his game-day coaching from the press box while his leg recovers.
New Orleans running back Chris Ivory, who has been on the physically-unable-to-perform list since the start of the season, said he feels great and is
ready to play
. The Saints have a three week window in which they can allow Ivory to practice before making a decision on whether or not to activate him. A healthy Ivory could join with Darren Sproles, Mark Ingram and Pierre Thomas to give the Saints the deepest running-back stable in the NFL.
October, 15, 2010
10/15/10
9:45
AM ET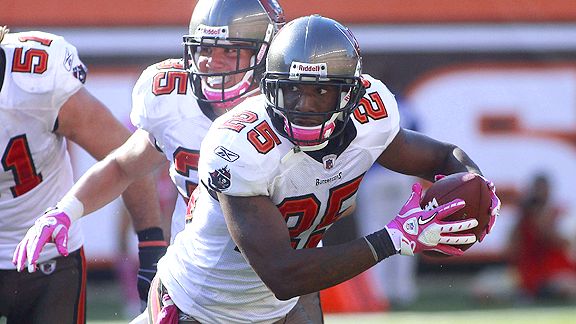 AP Photo/Tony Tribble"I want to be one of the names that you know," said Tampa Bay cornerback Aqib Talib.
TAMPA, Fla. --
Aqib Talib
, perhaps the best cornerback most of the world hasn't heard of, was sitting in a room in One Buccaneer Place on Wednesday, talking about his lot in life.
"When you talk about the best cornerbacks in the league, I just want my name be in the conversation,'' Talib said. "I never wanted to come to the NFL and just be regular.''
Talib's not regular or ordinary these days. He is, the
Tampa Bay Buccaneers
believe, very much on the verge of being in that conversation. Maybe even on the verge of being the best cornerback in the league. He has three interceptions, which ties him for the league lead among cornerbacks.
"I should have five or six,'' Talib said. "I've had a few missed opportunities.''
Talib might have missed even a few more opportunities in the season opener. He didn't play in that game because he was serving a one-game suspension for an altercation with a cab driver that happened more than a year ago. We'll go into Talib's troubled past in just a minute, but first you should know a little more about the present and why the Buccaneers are so thrilled with the sudden maturity of their first-round pick from 2008.
[+] Enlarge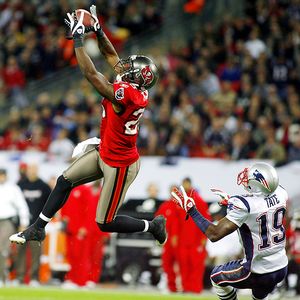 David Wilkinson/US PresswireIn three seasons with the Bucs, Aqib Talib has 12 interceptions, including three this season.
"He said that to you?'' Tampa Bay defensive backs coach Jimmy Lake said with a bit of astonishment in his voice. "I love that he said that to you. He should really have six interceptions right now. What's great about him is he owns up to it.''
That's what the Buccaneers have been glowing about since this past summer. Privately, a few high-ranking members of the Tampa Bay brass, who weren't sure Talib would ever grow up, have been claiming he suddenly has. He's owning up to things, taking responsibility and focusing on football, and that's why there's a belief in the building that Talib, 24, could be headed for the Pro Bowl.
The physical abilities? They've always been there. They are the reason the Buccaneers took Talib instead of fan favorite
Mike Jenkins
(a University of South Florida product) with the 20th pick in the 2008 draft. They are the reason the Buccaneers started putting Talib on the best receiver on the opposing team last year.
But all that physical ability was offset by another factor. That factor was Talib.
There were reports about him getting into a physical encounter with a teammate at the rookie symposium before he even got to training camp. There were reports the Bucs had real concerns about Talib's work ethic and attitude.
Then, there was that incident with the cab driver. It put Talib's name in the headlines for all the wrong reasons and earned him the suspension for violating the league's personal conduct penalty.
It's over now and Talib doesn't want to dwell on it, but he knows it might have been a turning point in his life and his career.
"For most young men in the world to mature, you're going to have to go through something major one way or another in order to mature,'' Talib said. "Of course, getting in trouble had something to do with it. Seeing your daughter grow up, that has something to do with it. There are a lot of different factors. Just going out there and playing in a game and seeing what you might be capable of has something to do with getting focused because you realize you can do great things if you do them right.''
That's the bell the Bucs were hoping would go off in Talib's head -- that he would realize he has a chance to be a truly special NFL player, if he would just focus on football.
That's where a few other people came in. There was Talib's father, Ted Henry. There was his older (by three years) brother, Q Talib, and there was Tampa Bay head coach Raheem Morris, who was Talib's defensive backs coach in his rookie season.
"I have my real 'maturity' conversations with my brother and my dad," Talib said. "They're the two older guys I've been around all my life. They've always been good influences on me, but I got to the NFL and I got a little sidetracked. They helped get me back on track."
The message from the father and the brother was pretty much the same.
[+] Enlarge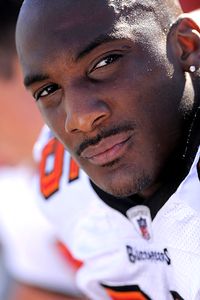 Scott A. Miller/US PresswireAqib Talib has admitted he's had some growing up to do, but says he's realized "you can do great things if you do them right."
"Seeing the big picture,'' Talib said. "Beating it into my head what I'm capable of. I've been blessed with a lot and you don't want to mess it up because it's something I've been dreaming about since I was little. They just made me see the big picture. They're always reminding me why I'm in Tampa and what I'm out here to do.''
Then there is Morris. During a disastrous 3-13 first season as a coach last year, Morris drew frequent criticism for being too friendly with his players. But it's a pretty well-known fact in the building that Morris wasn't acting like a buddy after Talib got in trouble. The coach showed some tough love and pretty much echoed the advice from Talib's father and brother.
"He let me know what's important and what's not important,'' Talib said. "In his eyes, football is important. Everything else is not important. Football and winning games are what matters.''
Talib has grabbed onto the concept that he has too much talent to let it go to waste. That's why it's ironic that he's talking about how he should have six interceptions. He's talking about missed opportunities. That theme could have ended up summarizing his career. But things have changed.
Instead of talking about off-field troubles, the only missed opportunities Talib is talking about these days are the interceptions he believes he should have had.
"I want to cash in on all of them,'' Talib said. "I don't want to leave any out there. Until I cash in on every opportunity, I've still got a lot to do.''
But the Bucs are thrilled with what Talib is doing.
"Aqib has learned to handle his business,'' Lake said.
That's why the Bucs are putting so much trust in Talib, a guy they once weren't sure they could trust at all.
"It's just up to us as coaches to put him in position, show him the game plan and then let Two Five do his thing because he's that talented,'' Lake said. "Every week, if they have a lead dog wideout, it's guaranteed that Two Five is going to be on him. There aren't many receivers in this league that are going to beat him consistently. We feel like we have one of the best corners in the league and we're going to utilize him.''
Talib is trying to use that opportunity to make sure he gets into that conversation about being one of the league's best cornerbacks.
"I want to be one of the Ronde Barbers,'' Talib said of the veteran cornerback, who starts across from him. "I want to be one of the names that you know.''
The Bucs are a surprising 3-1. Talib is putting up numbers. You put winning and statistics together and you get recognition and Pro Bowl berths. This really might be just a start for Talib. But as the conversation winds down, Talib starts talking about how he wants it all to end. He had four interceptions as a rookie and five last year.
He wants more this year and many more after that. He wants to make sure he capitalizes on every opportunity and he's thinking eight or 10 years down the road.
"By then, hopefully I'll have seen the Super Bowl, hopefully I'll have seen a Lombardi Trophy and ordered hats or T-shirts a couple of times that say NFC South champions or NFC Champions or Super Bowl champions and maybe bring back some T-shirts from a few Pro Bowls,'' Talib said.
In what has been a season of turnarounds in Tampa Bay, Talib's might be the biggest of all.
"That was the type of career I had in mind all while I was growing up,'' Talib said. "I kind of forgot about that or at least forgot the work that takes to get there for a while. But I get it now and I know what I want. I'd like to have one of those
Ronde Barber
-type careers. He's seen NFC South championships, Super Bowls, Pro Bowls and has a couple of records. That's what I want.''
It's certainly not too late. Maybe, when all is said and done, Talib will be mentioned as one of the best cornerbacks in the league and maybe he'll get those team and personal accolades he talked about.
They're out there for him and they're opportunities he says he's not going to miss.
February, 4, 2010
2/04/10
12:53
PM ET
MIAMI -- Before jumping back into Super Bowl stuff, time for a quick update on the Buccaneers.
They sent out a release this morning announcing they finalized their 2010 coaching staff. Most of the moves were reported over the past few weeks. But if you missed any of them, here's a look at how Tampa Bay's coaching staff now stands:
Raheem Morris -- Head Coach
Greg Olson -- Offensive Coordinator
Richard Bisaccia -- Associate Head Coach/Special Teams Coordinator
Joe Baker -- Linebackers Coach
Tim Berbenich -- Assistant Wide Receivers Coach
Tim Holt -- Offensive Assistant Coach
Jay Kaiser -- Assistant to the Head Coach
Chris Keenan -- Assistant Strength and Conditioning Coach
Jimmy Lake -- Defensive Backs Coach
Steve Logan -- Running Backs Coach
Pete Mangurian -- Offensive Line Coach
Chris Mosley -- Defensive Assistant Coach
Alfredo Roberts -- Tight Ends Coach
Kurtis Shultz -- Head Strength and Conditioning Coach
Dwayne Stukes -- Assistant Defensive Backs Coach
Alex Van Pelt -- Quarterbacks Coach
Todd Wash -- Defensive Line Coach
Eric Yarber -- Wide Receivers Coach