June, 3, 2013
6/03/13
1:45
PM ET
Tony Dungy is the only NFC South representative to appear in our
greatest coaches series
that's been running over on our main NFL page. But today's featured coach once came very close to landing in the division.
Joe Gibbs came in at No. 9 and that got me thinking: What if Gibbs had been the first coach of the Carolina Panthers?
It could have happened. When Jerry Richardson was granted an expansion team to begin play in 1995, it was widely known that Gibbs was the coach he wanted. Gibbs had retired from the Redskins in 1992 to focus on his NASCAR team.
But Richardson tried desperately to coax Gibbs back into coaching. It didn't happen and Richardson eventually turned to Dom Capers. The Panthers had incredible early success, reaching the NFC Championship Game in their second season. But things fell apart quickly and Capers was gone after four seasons.
The George Seifert era followed and didn't amount to much. John Fox had the longest tenure of any Carolina coach and took the team to its only Super Bowl. But Fox never could put together back-to-back winning seasons. Ron Rivera still is trying for his first winning season.
Would things have turned out differently if Gibbs had taken the job? That's tough to say. But I think the franchise's ride might have been a lot smoother with Gibbs, who might have been better equipped to build a team for the long term.
Gibbs eventually returned to coach the Redskins in 2004 and made the playoffs twice in four seasons. He showed that the game hadn't passed him by.
Maybe, if Gibbs had come to Carolina, the Panthers would have had longer periods of sustained success. And maybe, just maybe, Gibbs still would be coaching the Panthers.
January, 28, 2013
1/28/13
9:41
AM ET
NEW ORLEANS -- Let's take a run through the headlines from around the division:
ATLANTA FALCONS
Mike Smith was named
Coach of the Year
by The Sporting News. Smith also won the honor in the 2008 and 2010 seasons. That puts him with Paul Brown, Chuck Knox and Joe Gibbs as the only coaches to win the award three times. The Associated Press will announce its Coach of the Year on Saturday. Smith may have a tough time winning that one due to the work of Chuck Pagano and Bruce Arians in getting the Colts to the playoffs.
CAROLINA PANTHERS
Joseph Person has a
lengthy story
on the background of Dave Gettleman. The new general manager has a lengthy background in scouting. That's great and it's very important. But Gettleman's first real challenge will be getting the Panthers under the salary cap in the next six weeks or so.
NEW ORLEANS SAINTS
Drew Brees started at quarterback and
threw one touchdown pass
in the NFC's victory over the AFC in Sunday night's Pro Bowl.
TAMPA BAY BUCCANEERS
Receiver Vincent Jackson had a
strong showing
in the Pro Bowl, catching six passes for 91 yards and two touchdowns.
October, 29, 2012
10/29/12
9:25
AM ET
Atlanta coach Mike Smith probably doesn't get the credit he deserves and probably won't until he wins his first postseason game.

But give Smith credit for one thing -- the man has shown he can win regular-season games at a historically fast pace. Sunday's victory over Philadelphia was the 50th win of Smith's career. It came in his 71st game.

Since the AFL-NFL merger in 1970, only George Seifert (62 games) and Chuck Knox (65 games) have gotten to 50 wins faster than Smith.

The next three guys on the list are Joe Gibbs (72 games), Bill Cowher (73 games) and Mike Ditka (73 games).

Smith also established a new record for most wins by an Atlanta coach. The previous franchise record was 49 wins by Dan Reeves, who went 49-59-1 from 1997 through 2003.

Any way you look at it, Smith is in good company.
January, 24, 2012
1/24/12
10:02
AM ET
Time for a look at the top Tuesday morning headlines from around the division.
Although there still is a lot of work ahead, New Orleans general manager Mickey Loomis
sounded optimistic
the Saints can keep potential free agents Drew Brees, Carl Nicks and Marques Colston.
The Buccaneers have contacted Mike Sherman for a
second interview
for their coaching job. Sherman was one of the first to interview for the job and was thought to be a leading candidate. But the Bucs attempted to hire Oregon coach Chip Kelly before he elected to stay on the college level. I think Sherman might be back to being a leading candidate. But I also think the team might bring back another candidate or two for a second interview.
Martin Fennelly writes that the Bucs have
egg on their face
after the unsuccessful attempt to get Kelly. There's no doubt a fan base that isn't high on ownership is laughing at this one. But the Bucs aren't the first team -- and they won't be the last -- to have a college coach change his mind and stay in his current job.
Former NFL coach Joe Gibbs, who now runs a NASCAR team, had some
high praise
for Carolina quarterback Cam Newton. On a side note, Gibbs is one of the few former NFL coaches not to have interviewed for the Tampa Bay job, at least as far as we know.
Mark Bradley lists off some
common threads
from Atlanta's three playoff losses during the tenure of coach Mike Smith.
January, 20, 2010
1/20/10
1:00
PM ET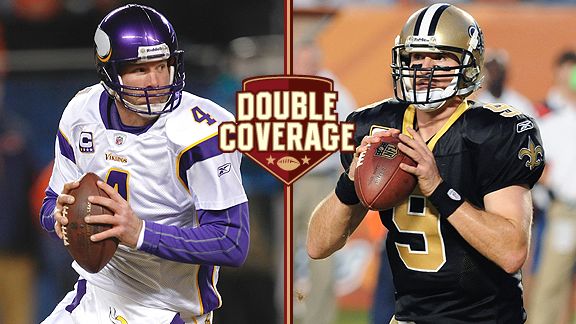 Getty ImagesBrett Favre, left, and Drew Brees will meet Sunday in the NFC Championship Game.
There was Ali-Frazier. Hulk Hogan-Andre the Giant. The Coke-Pepsi taste test. The status of the most highly anticipated competitive matchups in American history will be threatened this weekend in the NFC Championship Game, which will feature the two teams that spent most of this season jockeying for conference supremacy. Minnesota-New Orleans should be so good, why, it'll be better than "Cats."
ESPN.com bloggers Pat Yasinskas (NFC South) and Kevin Seifert (NFC North) broke down the matchup during an orderly phone call this week. We kept it professional, although we occasionally screamed at each other to practice communicating in what we expect will be ear-splitting noise Sunday at the Superdome.
Kevin Seifert:
PAT, IT WAS SOMEWHERE AROUND THE ... oh, sorry, I'll stop yelling. It was somewhere around the third week of September when we realized Minnesota had the potential to be a special team this season. And yet at every point along the way, it seemed the Saints were one step ahead. The Saints were 13-0 at one point and absorbed the conference limelight.
The Vikings had plenty of big games on their schedule, but after they essentially clinched the NFC North in November by completing a season sweep of Green Bay, their eyes privately turned south. I think they knew their path to the Super Bowl would have to go through the Saints, and they've been thinking about them ever since. Coach Brad Childress even admitted to watching a few games out of "admiration" for the way Saints coach Sean Payton runs his offense.
Be it admiration or early game planning, this matchup has been on the horizon here for a long time. How about in New Orleans?
Pat Yasinskas:
Absolutely. The Saints have kept an eye on the Vikings all season. They were very conscious of everything Minnesota did, because they wanted the home-field advantage in the playoffs and recognized the advantage of playing the NFC Championship Game at the Superdome.
I think they also realize how important hosting this game is to the city of New Orleans. They've waited a long time for this game to come.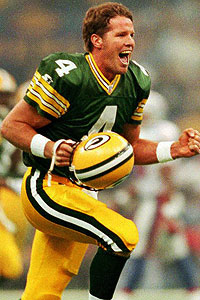 Don Emmert/AFP/Getty ImagesOne of Brett Favre's career highlights came at the Superdome in Super Bowl XXXI.
KS:
Indeed, they've waited forever. This is the first time the Saints have ever hosted an NFC Championship Game. Their history is long, sordid and not worth recounting here. We could always ask
Brett Favre
to do it, though.
The Vikings quarterback grew up a Saints fan in nearby Mississippi. He claims he never wore a bag on his head, but more than any player currently in the NFL, Favre knows how far the Saints have come. He also had one of his greatest NFL moments in New Orleans, winning the Super Bowl in January of 1997.
He'll arrive at the Superdome playing arguably the best football of his career. Counting the playoffs, Favre has thrown 37 touchdowns and seven interceptions this season. Over his last nine quarters, dating back to halftime of the Vikings' Dec. 28 game at Chicago, Favre has a 140.4 passer rating.
So what do you think, Pat: How do people in New Orleans regard Favre?
PY:
Favre is a local hero for the entire Gulf Region. He's on par with
Peyton Manning
, a New Orleans native,
Deuce McAllister
and
Drew Brees
. But Favre obviously will not be the local favorite for this game. He won't even be the most-popular quarterback, not by a long shot.
That title belongs to Brees, who could be mayor of New Orleans and governor of Louisiana if he wanted to be.
February, 9, 2009
2/09/09
4:30
PM ET
Posted by ESPN.com's Pat Yasinskas
Since the Bucs just re-signed quarterback Luke McCown, we'll strike while the iron is hot and make Tampa Bay the next stop on our team-by-team mailbag tour.
By the way, co-worker John Clayton just got some details on McCown's contract. It's a two-year deal that should be worth about $7.5 million, with $5 million guaranteed in salary and bonuses for 2009. However, the deal also has some incentives that could make it worth up to $14 million.
Pete in Largo writes: I just read that the Buc's just resigned McCown?...who pulled the trigger on this? Do you see this as a quick fix to get us through the year until next year's draft? How does this impact bringing up Josh Johnson?
Pat Yasinskas: Yes, the Bucs have re-signed Luke McCown. I'd strongly suspect that general manager Mark Dominik and coach Raheem Morris pulled the trigger on this. It's the first significant move of their regime. Not certain McCown is the answer, but there are a lot of personnel folks out there who think he has a lot of upside. Dominik and Morris were around McCown in practice every day last year and I think the fact they re-signed him speaks a lot about what they think of him. Not sure that this move has a big impact on Josh Johnson. He was a project under Jon Gruden, and I think he's still a project.
---
Walter writes: Hey Pat, I'm a big fan of your blogging. I have a couple questions actually. 1.) Who will start at QB for the Bucs in 2009? 2.) Who wins the NFC South crown in 2009? Thanks man!
Pat Yasinskas: Even with the McCown signing, I still could see the Bucs making another move at quarterback, perhaps in the draft. As it stands right now, they've got McCown, Johnson and Brian Griese under contract. Jeff Garcia can become a free agent, and I suspect he will. If the Bucs stay with their current roster of quarterbacks, I think McCown emerges as the starter, Griese the backup and Johnson No. 3. As for predicting the NFC South, let's hold on a bit. I want to see what happens in free agency and the draft before making any calls on that.
---
Miles in Orlando, Fla., writes: Just saw in the chat that the bucs resigned Luke McCown. What do you think the odds are that he ends up the starter next year? And is this an indication that they don't want to draft a QB? And since everyone's all abuzz about the cap space the bucs have, what do you think the most likely names will be to end up in pewter next year?
Pat Yasinskas: Again, I don't think the McCown signing necessarily means the Bucs are done at quarterback. I still think they could draft one. This just means they don't absolutely have to go out and make a desperate move for a quarterback. As far as free agency, I expect the Bucs to be very active at a number of positions and we'll discuss some names in the questions below. But, one thing to keep in mind with all that cap space is, the Bucs need to use some of that to keep some of their own free agents, mainly receiver Antonio Bryant.
---
Daniel in Tampa writes: what are the chances of the bucs getting boldin... and what would they have to give up to get him.
Pat Yasinskas: Anquan Boldin has made it pretty clear he wants out of Arizona, and I suspect the Bucs, like a lot of other teams, are monitoring the situation. Even if the Bucs do re-sign Bryant, they still need another receiver. I think Boldin would be a consideration, but I think the outcome will be determined on what his market value is and some teams may be more aggressive than the Bucs as potential trade partners. I can't see Dominik and Morris giving away a large chunk of their first group of draft picks.
---
Charles in Mt. Dora, Fla., writes: Check out Doug Williams' career stats. Trent Dilfer won the Super Bowl too. Williams is extremely overrated.
Pat Yasinskas: I'm well aware of Doug Williams' career stats. I'm going to disagree with you and say the guy was underrated. Yeah, his stats weren't always pretty, but think back to what was around him and the style of offense the old Bucs played. I'm not saying he's Johnny Unitas, but I'd take Doug Williams in his prime as my quarterback any day. The guy had great intangibles and was as good a leader as you'll ever find.
---
Casey in Phoenix writes: Just curious on your thoughts about several Bucs vets, including Joey Galloway, Michael Clayton and Jeff Garcia. It is obvious that all were in Gruden's doghouse for one reason or another and that probably played a major role in why they didn't play at times. What are the chances that these three, or various combinations, are back next year to prove that they still have something to give. I'm not totally sold that Galloway is washed up and the same for Clayton. I'd personally like to see what they really can do with a fresh start, but hopefully that doesn't have to come from a new team.
Pat Yasinskas: I think the signing of McCown is the end of the road for Jeff Garcia in Tampa Bay. But I think he has something left and can help another team. I also think Joey Galloway is on his way out. His age, cap number and injuries last season work against him. I think the Bucs will look heavily at wide receivers in free agency. Michael Clayton might be a slightly different story. If Jon Gruden had stayed, I'd say Clayton definitely would be gone. With Morris and Dominik taking over, I think there's at least a chance the Bucs try to re-sign Clayton. He's got some talent and a new coaching staff might be enough to inspire him.
---
Dean in parts unknown writes: Lee Roy Selmon the only past Buc in the HOF? Did you forget that Steve Young played two seasons with the Bucs. How about coaches, Joe Gibbs was an assistant on the Bucs staff in the early days.
Pat Yasinskas: I think you got my point. Lee Roy Selmon is the only real Buccaneer in the Hall of Fame -- for now. Do you seriously count Steve Young and Joe Gibbs? Young was a nobody in his brief time with the Bucs and made his career in San Francisco. If you want to claim Joe Gibbs, I think there are some fans in Washington who might argue with you on that. If you really want to go overboard, why don't you add Anthony Munoz to your list, too? He once practiced a few times with the Bucs in training camp before deciding his career was over. Selmon will have some company in a few years when Derrick Brooks and Warren Sapp join him.
---
Roderick in Brooklyn writes: Pat how's it goin I'm a extremely happy Bucs fan now that Gruden is gone but I was wondering w
ith the problems in the D-Line do you believe the Bucs will try to purse a player like Julius Peppers or Albert Hanesworth(If he becomes available) and could you enlighten me on what OC Jeff Jagozinski's offensive style is because I'm a bit unfamiliar with him.
Pat Yasinskas: The defensive line is an area I expect the Bucs to be very aggressive with. Chris Hovan and Kevin Carter wore down at the end of the year, Jovan Haye is a free agent and Gaines Adams still is a work in progress. The Bucs certainly have enough cap room to make a play for Julius Peppers or Albert Haynesworth, and I suspect they'll at least test the waters. As for Jeff Jagodzinski's offense, it's going to be different than Gruden's and I think that can be a good thing. Jagodzinski favors a vertical passing game and the Bucs were way too horizontal last year. I also think you'll see a pretty fair split between the run and pass.