September, 27, 2013
9/27/13
12:00
PM ET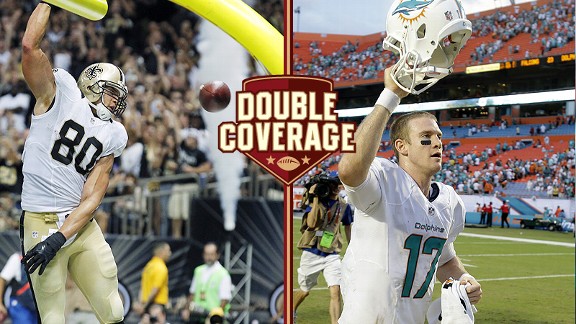 AP PhotoJimmy Graham has as many touchdown catches (4) as Ryan Tannehill has TD throws.
One team is the biggest surprise in the NFL. The other has worked its way back to prominence after the return of its Super Bowl-winning head coach.
That leads to a monumental matchup of undefeated teams when the
Miami Dolphins
travel to face the
New Orleans Saints
on ESPN's "Monday Night Football." This is the only matchup of unbeatens in Week 4.
Is Miami ready for prime time? Can the Saints stay hot?
ESPN.com's Dolphins reporter James Walker and Saints reporter Mike Triplett weigh in.
James Walker:
Mike, I don't know whether we can have this discussion without starting at the top with the head coaches of both teams. Joe Philbin in Miami and Sean Payton in New Orleans have done a tremendous job through three games. Dare I say we could be looking at two early coach of the year candidates if the Dolphins and Saints maintain their winning ways. For Philbin, I've really been impressed with his game planning and his attention to detail in his second year. Miami has committed just two penalties for 13 yards in the past two games. This is a team that doesn't beat itself. Miami also is outscoring opponents 41-16 in the second half, a credit to the coaching staff's ability to make halftime adjustments. Mike, you saw the impact of Payton when he was suspended in 2012. How much has Payton meant to New Orleans' fast start?
Mike Triplett:
Well, let's start with those two traits you just mentioned: game planning and attention to detail. I think Payton has been the best game planner and offensive schemer in the league during his tenure in New Orleans, especially exploiting mismatches in the passing game. Also, when asked that same question you just posed, players such as quarterback
Drew Brees
have said Payton's attention to detail and ability to focus on what's most important are what make him stand out. But I think, more than anything, there is just a confidence and comfort level that has returned along with Payton. The Saints believe that Payton is going to put them in the right situations to win -- and have an answer when things aren't working. I think that played a big part in their down-to-the-wire victories over the
Atlanta Falcons
and the
Tampa Bay Buccaneers
in Week 1 and Week 2.
I have to imagine that "trust" and "confidence" are some words that are starting to be used to describe Philbin and quarterback
Ryan Tannehill
around Miami. I'll admit that from afar I didn't expect this much out of Tannehill in his second season. What's working so well?
Walker:
I've seen Tannehill up close and personal from his first minicamp in 2012 after he was drafted, and even I'm surprised with how well he is playing in Year 2. If you told me before the season that Tannehill would have a better passer rating (94.3) than Brees (91.4) after three games, I would have thought you were crazy. But there really are not a lot of quarterbacks playing better football right now than Tannehill. He has outdueled
Andrew Luck
and
Matt Ryan
in back-to-back weeks. On top of that, he has made key drives in the fourth quarter in both games, something I did not see from Tannehill in his rookie year. His growth involves more than statistics. Tannehill's confidence has skyrocketed, and the game appears easier and is slowing down for him. But a big concern has been pass protection. Miami has allowed 14 sacks and faces an aggressive Saints defense. How do you view that matchup, Mike?
Triplett:
The Saints' young defense has been just as surprising -- especially the way it has been able to generate consistent pressure with its four-man front. The Saints have eight sacks (four of them last week). End
Cameron Jordan
and outside linebacker
Junior Galette
have been particularly disruptive. And players are clearly responding to new coordinator Rob Ryan's versatile schemes (a mix of 3-4 and 4-3). They're still a work in progress, but, if Miami's pass protection is suspect, the Saints sure look prepared to exploit it.
Tell me about the Dolphins' defense. I know it's been solid, but will it have answers for matchup problems such as
Jimmy Graham
,
Darren Sproles
and
Marques Colston
?
Walker:
I'm not sure Miami has a lot of answers for New Orleans defensively. That's why I think the Saints are a tough matchup for the Dolphins. Miami has had trouble for years defending tight ends. It was one of the reasons the Dolphins upgraded at linebacker in free agency, signing
Dannell Ellerbe
and
Philip Wheeler
. But Miami still struggled until the second half last week against
Tony Gonzalez
of Atlanta. Graham's athleticism over the middle could be a nightmare for the Dolphins.
Brent Grimes
has been terrific for Miami and has a good track record against the Saints. But New Orleans could have a lot of success attacking the Dolphins' second and third corners. I think Miami's best chance to disrupt the Saints is with its pass rush. Pro Bowl defensive end Cameron Wake's (knee) status is up in the air, but the Dolphins' blitz packages have been a strength. How would you assess New Orleans' offensive line, and can it improve?
Triplett:
The Saints' pass protection has been surprisingly porous. Brees has been sacked 10 times, the most in any three-game stretch since he arrived in 2006. The Saints have actually allowed the fewest sacks in the NFL over that stretch -- so it's a problem I think they'll correct. It will be huge for them if they can get All-Pro right guard
Jahri Evans
back healthy. While he was out last week with a hamstring injury, his rookie backup
Tim Lelito
allowed three sacks. But the rest of the line is still solid, including new left tackle
Charles Brown
. And Brees and Payton are savvy enough to keep him clean. The bigger issue for the Saints' offense has been its lack of a consistent run game. I think it'll still be pretty pass-heavy this week against Miami. Sounds like the run game has been an issue for the Dolphins, too?
Walker:
The only way I can describe Miami's running game, Mike, is sluggish. It just hasn't looked good, and various parts aren't on the same page. Sometimes, it's the offensive line missing blocks. Other times, it's the running backs not eluding tacklers. The play calling on runs, too, has been predictable. Add this up and you have a Dolphins team averaging 3.2 yards per carry. Miami running backs
Lamar Miller
and
Daniel Thomas
still have a lot to prove. They haven't showed much in three weeks, but Monday's game is a good opportunity. The Saints' defense has allowed 5.3 yards per carry. It's the one hole I've seen so far in the New Orleans defense. Look for Miami's offense to try to grind out yards on the ground and control the clock to some degree. That will be big playing on the road. Speaking of which, a big topic in Miami this week is playing in the Mercedes-Benz Superdome. The Dolphins are 2-0 on the road, but this could be their biggest challenge to date. How much will home-field advantage affect this game, especially in front of a rowdy Monday night crowd?
Triplett:
The Saints' home-field advantage is no joke, especially for these prime-time night games. The Saints have won 10 straight night games at home, including the playoffs, and 13 of their past 14. Whatever advantage you can get from a loud dome and a frenzied crowd, the Saints obviously seem to feed off it. I asked new Saints tight end
Benjamin Watson
about it earlier this year, and he said the loudest game he ever played in was a regular-season Monday night game in the Dome when he was with the
New England Patriots
in 2009. And you hear that kind of stuff quite a bit from visiting players. At least some folks in the crowd will be cheering for NOLA native
Mike Wallace
, though.
All right, speed round. If the Dolphins win Monday night, who will get the game ball?
Walker:
It would have to come down to Miami's defense. I don't see the Dolphins beating the Saints on the road in an offensive shootout. Someone in the secondary must have a big game for Miami to pull this out. The top two candidates are probably Grimes and safety
Reshad Jones
. Brees is going to throw the ball in the Superdome -- a lot. Someone such as Grimes or Jones probably has to get a big turnover or two to give the Dolphins momentum. Jones believes he's one of the NFL's top young safeties, and he's being paid like one after his summer contract extension. This is the type of national game to prove it, especially when matched up against Graham. Which key player could thrive for New Orleans?
Triplett:
I'm cheating if I say Brees or Graham, right? I'll give you two other names, as well -- Sproles on offense and Galette on defense. I think Sproles looks as dynamic as ever as a runner/receiver, so it might be his turn to bust out if the Dolphins concentrate too much on stopping Graham. And Galette is the Saints' speed-rusher who could best exploit the Dolphins' pass-protection issues.
.
April, 4, 2012
4/04/12
3:10
PM ET
The NFL is supposed to announce its complete preseason schedule Wednesday. I haven't seen the complete release yet, but the
Tampa Bay Buccaneers
just announced their schedule.
Exact dates haven't been finalized yet, but Greg Schiano will begin his coaching career sometime between Aug. 9 and 13 with a game at Miami. That also will be the first game for Dolphins coach Joe Philbin. Schiano will make his home debut against Tennessee sometime between Aug. 16 and 20. The third game will be against New England (Aug. 23 to 26) at home. That one has special significance because Schiano is close to New England coach Bill Belichick and has called him a mentor.
The preseason finale will be at Washington on either Aug. 29 or 30.
I'll be back shortly with preseason schedules for the Saints, Falcons and Panthers.
January, 23, 2012
1/23/12
12:15
PM ET
I've been saying all along the
Tampa Bay Buccaneers
have been wise to move slowly in their coaching search.
They promised an exhaustive search and they're coming through on that. It appeared to be ending Sunday night when the Bucs reportedly were working out a contract to bring in Oregon coach Chip Kelly. But that changed Monday morning when the news broke that Kelly had decided to pull out and
stay at Oregon
.

The Bucs have interviewed at least eight other known candidates and only one of them, Joe Philbin who wound up with the Miami job, is off the market. It's possible the Bucs could want to interview some more candidates that have been tied up with the postseason and
New York Giants
defensive coordinator Perry Fewell could be one of them.
But the Bucs are approaching a point where continuing to be exhaustive can be counterproductive. The week of Senior Bowl practices starts Monday in Mobile, Ala. It's not imperative the Bucs have their new coach there to see the college prospects. The scouting department can handle that.
However, the Bucs are getting close to running the risk of putting their new coach at a big disadvantage. For those who haven't been to the Senior Bowl, let me describe it a bit.
Sure, it's about the players. This is the first real step in beginning to determine where they'll be ranked on draft boards. But the Senior Bowl is more than that. It's also a convention for coaches and there's as much networking going on there as there is at a job fair.
When John Fox was about to get the Carolina job back in 2002, I watched him on the sidelines during Senior Bowl practices. Coach after coach walked up to him and handed him their business card or a piece of paper with their name on it.
Later in the week, I sat with Fox and his agent in the Mobile airport, waiting for a flight to Charlotte. As we talked, Fox pulled out the stack of cards, he had received. I'm guessing the total amount of cards was somewhere around 200. A day or two later, Fox was hired and there's no doubt he called some of the numbers on those cards as he filled out his staff.
Cards are being handed out in Mobile right now as teams with new coaches try to fill their staffs and other teams try to patch holes on existing staffs and the supply of coaches without jobs is going to dwindle very soon.
The Bucs, Raiders and Colts currently still have vacancies for head coaches. If the Bucs don't hire a coach soon, he's not going to have a deep pool of candidates to hire as assistants. Putting together a strong staff is one of the most important things a coach does.
Former Tampa Bay coach Raheem Morris hired an initial staff that included Jeff Jagodzinski as offensive coordinator and Jim Bates as defensive coordinator. Jagodzinski was fired before the end of Morris' first preseason and Bates was gone by the middle of that season. One of the knocks on Morris in league circles was he didn't have a very good group of assistant coaches.
The Bucs have pledged to learn from past mistakes. But, if they don't hire a coach soon, they may once again end up with a group of assistants that's less than stellar.
January, 23, 2012
1/23/12
9:34
AM ET
Oregon coach Chip Kelly reportedly
backed out
just as it appeared he was about to become the head coach of the Tampa Bay Buccaneers.
Kelly reportedly had been in the final stages of negotiating a deal with Tampa Bay. But general manager Mark Dominik said Monday morning that Kelly informed the Bucs he'll be staying at Oregon.
So where does that leave Tampa Bay's coaching search?
Well, Kelly may have been the first choice, but the cupboard is far from empty. Of the candidates known to have interviewed, only Joe Philbin, now the head coach of the Miami Dolphins, is officially out of the picture.
Former NFL head coaches Mike Sherman, Marty Schottenheimer and Brad Childress already have interviewed. So have NFL assistants Tom Clements, Mike Zimmer, Jerry Gray and Rob Chudzinski.
The Bucs could turn to one of them. The Bucs also could seek to talk to other NFL assistants. Or they may have another surprise candidate like Kelly. It hadn't been reported that Kelly was even on Tampa Bay's radar until Sunday night, when he appeared close to a deal. It turned out the Bucs quietly had interviewed Kelly last week.
January, 22, 2012
1/22/12
10:02
AM ET
Before the conference championship games get going later Sunday, let's take a look at some of the top headlines from around the NFC South.
There was at least one report that said Joe Philbin
was a finalist
for the Tampa Bay job before he became Miami's head coach. If so, that may be a sign that the Bucs are getting around to narrowing their list and potentially bringing back a few candidates for second interviews. But I'm not sure the report about Philbin is true. I also wouldn't be surprised if the Bucs still interview a candidate or two still involved in the postseason. There has been a lot of speculation that the Bucs may want to interview New York Giants defensive coordinator Perry Fewell.
Roddy White
has been recognized
by the Atlanta chapter of the Pro Football Writers of America with the Good Guy award. The honor is supposed to go to the player who is most helpful to the media in doing its job. I think the writers got this one right. As someone who has spent a fair amount of time covering the Falcons, I can verify that White is accessible after wins and losses. More importantly, he's a guy who is almost always willing to speak candidly.
There's a lot of excitement in New Orleans about the hiring of defensive coordinator Steve Spagnuolo. But Jeff Duncan notes that former coordinators Gregg Williams, Gary Gibbs, Rick Venturi and Ron Zook also
arrived with a lot of excitement
and left without big production. He notes the last defensive coordinator to leave New Orleans on good terms was Monte Kiffin in 1995. In other words, Spagnuolo has a great reputation, but he'll have to get the defense to produce to keep that reputation.
Here's an
overview of Carolina's linebacker situation
for 2012. The Panthers have James Anderson, a quality player at one outside spot. But middle linebacker Jon Beason and outside linebacker Thomas Davis missed most of the 2011 season with injuries. Beason's return should boost this unit considerably. But there are no guarantees. His lengthy history of injuries and the structure of his contract make it likely the Panthers will cut Davis. They eventually could bring him back at a lower salary, but Davis has torn his ACL three times and it remains to be seen if he still can be anywhere close to the player he used to be. Jordan Senn did some promising things last season and could factor into the mix going forward. But backup middle linebacker Dan Connor is a potential free agent. The Panthers may have to add a little linebacker depth in the draft or free agency.
January, 20, 2012
1/20/12
7:10
PM ET
Scratch Joe Philbin off the list of candidates to coach the Tampa Bay Buccaneers. He
reportedly is headed
to the Miami Dolphins.
I don't think that's left the Bucs suddenly hopeless. As I mentioned Thursday, I had Philbin at No. 7 on
my rankings
of the eight candidates known to have interviewed for the Tampa Bay job. Yes, the Bucs interviewed Philbin and may have liked him, but I don't think he was all that high on their list.
As we've mentioned many times, the other known candidates are Mike Sherman, Mike Zimmer, Tom Clements, Marty Schottenheimer, Jerry Gray, Brad Childress and Rob Chudzinski. In fact, I don't think a sudden exit by any of those candidates would shatter Tampa Bay's plans.
I believe the Bucs think several of the candidates could be good fits for their job and are just trying to figure out who they think is the right guy. I also think it's entirely possible Tampa Bay's list could grow after this weekend's championship games.
There's a school of thought out there that the Bucs could be waiting to interview New York Giants defensive coordinator Perry Fewell and I wouldn't be surprised if that happens. I wouldn't be surprised if the Bucs also want to interview another candidate or two that's been tied up with the postseason.
The only way this development hurts Tampa Bay is that Philbin will start hiring his staff for the Dolphins. That will narrow the pool of assistants available to the Bucs whenever they do hire a head coach.
January, 19, 2012
1/19/12
10:30
AM ET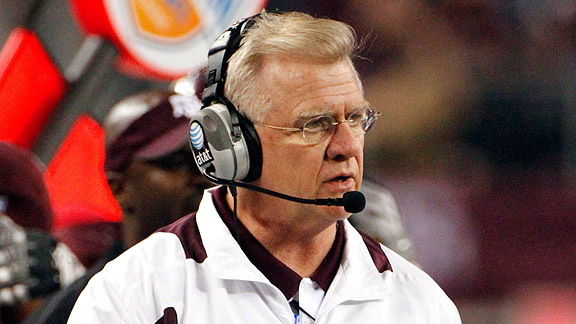 AP Photo/Tony GutierrezMike Sherman is the opposite of Raheem Morris, and that may make him Tampa's top target.
All indications are the
Tampa Bay Buccaneers
aren't ready to end their search for a head coach. Monday will mark the three-week anniversary of Raheem Morris' firing.
Since then, the Bucs seemingly have been talking to anyone (almost everyone), but don't appear close to making a hire. They could be waiting to talk to more coaches that are still involved in the postseason. Or they soon could be narrowing their lengthy list and bringing a few candidates back for second interviews.
What we do know is that by the end of this week the Bucs will have interviewed at least eight candidates. We don't know exactly how those candidates stack up in the team's eyes.
But I'm going to give you my rankings of the candidates that are known to have interviewed or are expected to interview by the end of the week. I'm factoring in some insight on what it appears the Bucs are looking for in an ideal candidate. I've also talked to coaches and front-office types who have worked with some of the candidates as well as media members who have covered them.
So let's take a look at my list:
1. Mike Sherman.
Even before Morris was fired, Sherman's name was tied to this job. Part of it was due to the fact Sherman uses the same agent as general manager Mark Dominik, who undoubtedly is going to have a big say in this hire. The Bucs want a cohesive relationship between their front office and the coaching staff and all indications are Sherman and Dominik would work well together.
But there are more reasons why Sherman remains No. 1 on my list. The first is that he's almost exactly the opposite of Morris in just about every way and that appears to be what the Bucs want. Sherman is 57 with lots of experience. Although his most recent job was a lackluster tenure at Texas A&M, he has been an NFL head coach before. A lot of people tend to forget Sherman's time in Green Bay was pretty productive.
He produced a winning record in five of his six seasons. He comes from an offensive background and I think that scores points with the Bucs. Tampa Bay needs quarterback
Josh Freeman
, who it wants to be the foundation of the franchise, back on track after a disappointing 2011 season.
Also, there's the fact that Sherman is a strong disciplinarian, another thing Morris was not.
[+] Enlarge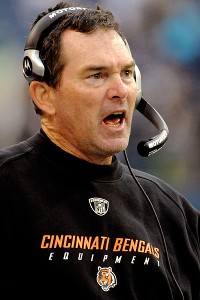 Kirby Lee/US PRESSWIREMike Zimmer has an impressive defensive coaching background in the NFL, but is that what the Bucs are looking for?
2. Mike Zimmer.
Like Sherman, Zimmer is mature and would clean up the lack of discipline and accountability that plagued the Bucs under Morris. Zimmer hasn't been a head coach, but he's got a long résumé as a defensive coordinator -- he's currently working in Cincinnati with stints in Atlanta and Dallas before that. Zimmer is universally respected in league circles and the only potential knock against him for this job might be that he doesn't come with an offensive background.
But Zimmer could end up with this job if he can convince the Bucs he can bring in a strong offensive coordinator and quarterbacks coach.
3. Tom Clements.
He's 58 and has never been an NFL head coach and only did a two-year stint as a coordinator in Buffalo, but he still has pretty strong credentials. He's been the quarterbacks coach of the
Green Bay Packers
for six seasons and you could say that coaching
Brett Favre
and
Aaron Rodgers
is a lot like being the Maytag repairman. But those who know him well say Clements is a big part of the reason the Packers made such a strong transition from Favre to Rodgers.
Prior to joining Green Bay, Clements was quarterbacks coach in Pittsburgh, Kansas City and New Orleans. He also played quarterback at Notre Dame (back when the Notre Dame quarterback pedigree meant a lot) and was a Hall of Fame player in the Canadian Football League.
Clements, who also is an attorney, is known for his no-nonsense approach.
4. Marty Schottenheimer.
If you based it only on experience, which obviously is a big factor, Schottenheimer would be the hands-down choice. He spent 26 years as an NFL head coach, with stints with the Browns, Chiefs, Redskins and Chargers. Schottenheimer's career record is 327-200, which almost makes it easy to overlook his 5-13 postseason record. Freeman potentially could be better than any quarterback Schottenheimer ever worked with (and that includes
Drew Brees
only as he was in San Diego, not after he got to New Orleans).
But Schottenheimer is the one candidate who age could work against. He's 68 and hasn't coached in the NFL since 2006. He's been a successful builder before, but can he do it again at this age?
5. Rob Chudzinski.
At 43, he's the youngest of the known candidates. He had a two-year stint as offensive coordinator in Cleveland and helped
Derek Anderson
(yes,
that
Derek Anderson) get to a Pro Bowl. But Chudzinsk's a hot name right now almost entirely because of his work in his first season in Carolina.
Without an offseason program, he installed an entirely new offense and rookie quarterback
Cam Newton
had a record-setting season. If Chudzinski did that for Newton, the Bucs have to be imagining what he could do with Freeman. But Chudzinski also would have to convince the Bucs he could bring them a proven defensive coordinator.
6. Jerry Gray.
He currently is the defensive coordinator in Tennessee and had a pretty successful run as coordinator in Buffalo when Gregg Williams was the head coach. Williams also has a strong background as a secondary coach.
Gray also had a good NFL career as a defensive back and finished his playing career with the Bucs in 1993. The fact that he's a former player helps his candidacy because he can relate to players. But the fact that he is 49, means that unlike Morris, he would not be a contemporary to the players.
7. Joe Philbin
. The offensive coordinator for the Green Bay Packers, Philbin already has had a second interview for the job as Miami's head coach. Philbin has led a very good Green Bay offense since becoming coordinator in 2007. But head coach Mike McCarthy has handled play-calling duties. Although Philbin had 19 years of experience in the college ranks, the Packers are the only NFL team he has worked for. His rise has been pretty rapid. Philbin joined the Packers (then coached by Sherman) in 2003 as an assistant offensive line coach and became tight ends coach the next year. He later became offensive line coach for one season before becoming coordinator.
8. Brad Childress.
Yes, Childress had some success as head coach of the
Minnesota Vikings
. He had a winning record in two of his five seasons, but his tenure was marked by inconsistency and turbulence, including the fiasco in which
Randy Moss
returned to the Vikings. Some who have covered Childress say stability isn't necessarily his biggest strength. In Minnesota, he seemed prone to go with the quick fix, bringing in Favre and begging him to stay for a second season. That's the kind of approach that could remind the Bucs, who are going to remain committed to building through the draft, a little too much of the Jon Gruden era, in which there never seemed to be a long-term plan.
Before joining the Vikings, Childress was offensive coordinator in Philadelphia. But head coach Andy Reid called the plays. I do think there's a chance Childress could be hired by Tampa Bay, but as the offensive coordinator for one of the other candidates.
January, 17, 2012
1/17/12
12:48
PM ET
I'm just looking at
the latest on the Tampa Bay Buccaneers' coaching search
and starting to wonder if the Bucs are trying to set some sort of record.
The latest is the Bucs will interview Green Bay offensive coordinator Joe Philbin and quarterbacks Tom Clements at some point soon. The Bucs are interviewing Cincinnati defensive coordinator Mike Zimmer and Carolina offensive coordinator Rob Chudzkinski on Tuesday.

The Bucs previously interviewed former NFL head coaches Mike Sherman, Marty Schottenheimer and Brad Childress as well as Tennessee defensive coordinator Jerry Gray.
Check my math here, but assuming the Bucs do interview Clements and Philbin, that will bring the number of interviews to eight. And that also is assuming the media as reported every coach who has interviewed. We chase these things like crazy, but sometimes an interview or two can slip through the cracks. The Bucs also could decide to interview more candidates that are still involved in the playoffs. There's been some speculation about New York Giants defensive coordinator Perry Fewell possibly being a candidate.
But, for now, the number will stand at eight, probably later this week. I seriously think that might be some kind of record. ESPN Stats & Information does a wonderful job, but does not keep numbers on how many candidates have interviewed for any given job throughout history.
I've been through a few coaching searches in my day. Generally speaking, most teams interview three or four candidates and I think five is the highest number I've ever seen.
But I'm not seeing any huge drawback with Tampa Bay's methodical approach. Indications are, the Bucs could narrow their list and bring back a few candidates for second interviews. That makes it sound like we might not see a hire for at least another week.
Assistant coaches are being hired all over the league and the Bucs may be missing out on some good candidates. But there still are lots of other assistants available. The East-West Shrine Game is this week and the Senior Bowl is next week.
Ideally, you'd like to have your full coaching staff in place for those two events, so the coaches can get a good look at the college prospects. But any assistant that's available will be at the Senior Bowl and will be watching players on their own.
Besides, the coaching staffs aren't the ones who do the bulk of the work at the college all-star games. The scouting staff does that.
Yeah, there comes a point when coaches need to start evaluating the current roster and getting ready for free agency. But, as long as Tampa Bay has its staff in place by the end of the month, there's plenty of time for that.
I know a lot of Tampa Bay fans are looking at the candidates and saying there's no one with a "wow factor." That's true, but was there anybody with a "wow factor'' out there to begin with? Maybe Jeff Fisher, who ended up in St. Louis. But Fisher is a good, but not tremendous coach and his stock was elevated in a year when Bill Cowher, Tony Dungy and a few other big names refused to join the league-wide candidate pool.
The Bucs aren't going for the "wow factor" and there's nothing wrong with that. The deliberate approach might be the right thing. Maybe the Bucs will get a coach who is the right fit. Then, two years down the road or so, maybe fans will say "wow'' at what that guy has done.
January, 17, 2012
1/17/12
9:39
AM ET
Time for a Tuesday morning look at the top headlines from around the NFC South.
— A lot of Carolina fans are asking why the Panthers simply don't block offensive coordinator Rob Chudzinski from interviewing for the head coach job in Tampa Bay. Joe Person reports the Panthers
aren't allowed to stop
Chudzinski from taking a step up. The team also could offer Chudzinski more money to stay, the way Wade Phillips did in Houston. But Chudzinski's a young guy who wants to explore opportunities as a head coach. If he ends up staying, he probably will get a nice raise. By the way, Chudzinski is interviewing with the Bucs today. Cincinnati defensive coordinator Mike Zimmer was supposed to interview Monday. But Zimmer encountered some travel issues and he also will interview with the Bucs today.
— Former Minnesota head coach Brad Childress said he
has yet to hear back
from the Bucs after interviewing for their job. Childress said the team told him the search would take some time. He also said he wouldn't be opposed to coming to Tampa Bay as an offensive coordinator, if another candidate is hired.
The Bucs also are
expected to interview
Green Bay quarterbacks coach Tom Clements later this week. There also have been reports the Bucs have
asked for permission
to interview Green Bay offensive coordinator Joe Philbin.
— John DeShazier points out the Saints would have
ended up hosting
the NFC Championship Game if they had won in San Francisco. They would have hosted the New York Giants, who upset Green Bay. The Saints beat the Giants at home in the regular season. I'm sure everyone who works for the Saints — and all of their fans — are wondering what could have been if the Saints played the NFC Championship Game in the Mercedes-Benz Superdome. By the way, coach Sean Payton is scheduled to meet with the New Orleans media later Tuesday to review the season.
— Atlanta fans
continue to be shocked
at the hiring of Dirk Koetter as offensive coordinator. One of their main gripes is the Falcons didn't even go through the process of interviewing other candidates. We don't know for sure that's true. The media doesn't always get every interview. Besides, coach Mike Smith knew for a good month that former coordinator Mike Mularkey probably would end up as the head coach in Jacksonville. Smith had plenty of time to think about a replacement and he has history with Koetter.