December, 18, 2014
12/18/14
5:48
PM ET
CHARLOTTE, N.C. -- There was a moment on Thursday where
Cam Newton
sounded philosophical.
It came when the
Carolina Panthers
quarterback was asked about being hesitant to say he wanted to start in Sunday's game against the
Cleveland Browns
, when earlier in the season he was so bold with predictions coming off an injury.
Maybe Newton didn't want to jump the gun on coach Ron Rivera, who had yet to comment on his plans at quarterback. Maybe he didn't want to hurt the feelings of
Derek Anderson
, who started for him in Sunday's 19-17 victory over Tampa Bay.
Or maybe, as Newton said, he's simply grown up.
"You live and learn," Newton said. "Life is all about growth and so much about football is transferable to life. The person that you started as, you're not the same person. And if you are, shame on you.
"From Week 1 until now I have grown up and there is no need to waste any energy with stressing. I don't need anybody doubting me wanting to play."
For the record, Rivera later said Newton was on target to start. It'll be his first game after suffering two small fractures in his lower back in a two-vehicle crash near Bank of America Stadium last week.
But as Newton has said repeatedly since the wreck, when he plays again doesn't matter.
That's where he's changed.
It's not that Newton doesn't want to play. He probably can't wait to run for a first down and do the move that Anderson imitated so well against the Bucs. Or to score a touchdown and do his trademark "Superman" gesture. But Newton won't be doing any of this simply to prove, in his words, he's "a tough man" as perhaps he would have before.
"Everybody goes through stuff in life where they really open up their lives and go, 'Man, I'm fortunate to be alive,' " backup quarterback
Joe Webb
said. "The car crash reminded him life, you can't take it for granted.
"That not only did something for him, it did something for everybody else in here, too. It did something for me. I just saw the man the day before, and in the car crash his life easily could have been taken away."
Rivera said there's been a series of things that have gone on this season that have helped Newton and "us all mature and grow."
"I've gone through a bit of a metamorphosis myself in seeing all the things that we've had to deal with, I've had to deal with," Rivera said, referring to everything from defensive end
Greg Hardy
's domestic violence case and the backlash from that to Newton's crash.
"This has been a strange year for him. He's never been bumped up, nicked up or injured the way he's gone through this year. He's a tough individual. He's a tough-minded young man. He wants to play every time, get on the field every opportunity he can. He's had to take a couple steps back."
The first came in the opener at Tampa Bay when Newton wasn't happy with Rivera's decision to sit him and give his fractured ribs another week to heal.
Until then, the first pick of the 2011 draft hadn't missed a start. Now he's missed two.
"I agree with him, there are some things that have helped him mature and grow as a person and as a football player," Rivera said.
And you could hear it in Newton's voice on Thursday.
"When I go into that locker room I can go up and down each and every row and ask every person whether they want to play, and they do want to play," Newton said. "I can see it in their eyes and that is what is getting us over this hump the last couple of weeks.
"If I can play, we all know I want to play. But that the end of the day I won't jeopardize what we have the opportunity to do just because of my selfishness to say, 'Oooh. I'm a tough man.' "
December, 16, 2014
12/16/14
5:59
PM ET
CHARLOTTE, N.C. --
Carolina Panthers
quarterback
Cam Newton
made it to Bank of America on Tuesday this time.
Exactly a week after suffering two small fractures in his lower back when his 1998 pickup truck rolled in a two-vehicle accident on the way to the stadium, Newton was in for treatment to get him ready for his possible return on Sunday against Cleveland.
Newton spent time on the underwater treadmill and was scheduled to throw.
Afterwards, Newton began delivering Christmas cheer with what he called on Twitter his #SantaCam Surprise Sleigh. His elves, according to this picture he tweeted, were backup quarterback/wide receiver
Joe Webb
and rookie receiver
Kelvin Benjamin
.
Ready to spread some holiday cheer! Got my elves ready for the first stop! #SantaCam Surprise Sleigh pic.twitter.com/XN31vX8UqL

— Cameron Newton (@CameronNewton) December 16, 2014
Coach Ron Rivera said on Monday that Newton's status for Cleveland would depend largely on the quarterback's ability to protect himself from further harm. By that he meant Newton had to show the ability to escape pressure and keep a play alive.
Rivera said he would like to make a decision as early in the week as possible on whether Newton or backup
Derek Anderson
, who led Carolina (5-8-1) to a 19-17 victory against Tampa Bay on Sunday, will start.
He said Newton's status ultimately will come down to what he observes in practice from Newton, as well as what the team doctors and trainers tell him.
Players return to the practice field on Wednesday to prepare for a game the Panthers must win to remain alive in the NFC South playoff chase. Carolina needs to win its final two games and hope the Saints lose against Atlanta or Tampa Bay to repeat as division champs.
Offensive coordinator Mike Shula said he'll have a game plan ready for whichever quarterback plays.
While Shula developed a game plan, Newton continued to deliver Christmas cheer around Charlotte.
Just surprised the boys & girls basketball teams at Cochrane Middle with fresh @UnderArmour gear! #WhatsInAYukon pic.twitter.com/tjck2GgSnF

— Cameron Newton (@CameronNewton) December 16, 2014
December, 12, 2014
12/12/14
12:20
PM ET
CHARLOTTE, N.C. --
Carolina Panthers
quarterback
Cam Newton
returned to practice on Friday -- as a spectator.
It was Newton's first appearance on the practice field since suffering two small fractures in his lower back during a Tuesday automobile accident.
The two-time Pro Bowl selection arrived on a golf cart with trainer Ryan Vermillion and general manager Dave Gettleman. He appeared stiff as he walked around the fields wearing black sweatpants, a white sweatshirt, gloves and his typical big smile.
He occasionally shouted something at teammates that was followed by his infectious laugh.
Newton, while standing off to the side, did catch a short pass from backup quarterback Joe Webb during the first 20 minutes when media were allowed to watch. Otherwise, he didn't get more active than raising his arms to signal touchdown after Webb or
Derek Anderson
threw a pass.
Newton began rehabbing with Vermillion at Bank of America Stadium on Thursday. He will miss Sunday's game against Tampa Bay.
Anderson will start for the second time this season against the Buccaneers. He started the opener, a 20-14 Carolina win, in Tampa as Newton recovered from fractured ribs.
Coach Ron Rivera said on Wednesday the best-case scenario was Newton misses only one start.
Dallas Cowboys
quarterback
Tony Romo
missed one start earlier this season with a similar injury, but he didn't have the additional trauma to the body that comes from an automobile crash.
Newton said on Thursday he is thankful to be alive every time he sees flashbacks of his Dodge pickup on its side with the roof smashed in.
Unlike Week 1 when he lobbied Rivera to play against Tampa, he's prepared to wait until doctors and trainers clear him this time.
"As far as when I'm coming back, who cares," Newton said on Thursday, his first public comments since the accident that occurred on his way to the stadium. "That's not something I'm worried about right now. I'm just thankful to have breath in my lungs so I can breathe again."
December, 10, 2014
12/10/14
12:55
PM ET
CHARLOTTE, N.C. – The
Carolina Panthers
began prepping for Tampa Bay on Wednesday with
Derek Anderson
taking first-team snaps at quarterback.
Joe Webb
, who was moved to wide receiver last month, returned to quarterback and took backup snaps.
Anderson
Starter
Cam Newton
suffered two small fractures in his lower back on Tuesday in a car crash near Bank of America Stadium. He hasn't been ruled out officially, but it is unlikely the first pick of the 2011 draft will play.
Newton was released from the hospital at 11:15 a.m. on Wednesday, but he did not come to the stadium where his teammates already were on the practice field.
Anderson started the opener at Tampa Bay while Newton recovered from fracture ribs suffered during the preseason. He completed 24 of 34 passes for 230 yards and two touchdowns in the 20-14 victory.
Webb has not taken a snap at quarterback in a regular-season game for Carolina. Brought in to simulate the read option while Newton recovered from March ankle surgery, Webb was active at quarterback for the opener and then inactive the next six weeks after Newton returned.
He was then moved to wide receiver, where he played last season at Minnesota, and special teams. He has two kickoff returns for 53 yards.
September, 3, 2014
9/03/14
4:23
PM ET
CHARLOTTE, N.C. --
Carolina Panthers
quarterback
Cam Newton
, who fractured his ribs two weeks ago in an exhibition game at New England, still is expected to start Sunday's opener at Tampa Bay despite being held out of Wednesday's practice.
Coach Ron Rivera said Newton was sore, and because the practice was a mirror of what the team did on Monday, he was held out to work with trainer Ron Vermillion.
Newton
Rivera said Newton did throw some on Tuesday, an off day for players, and got in some work with the team during Wednesday morning installations.
Newton didn't appear overly sore during team warmups, swinging his arms and dancing to music being played over a loudspeaker. He was in full pads and wearing the flak jacket that he is expected to use on Sunday.
Asked if there were any concerns for Newton starting on Sunday, Rivera said, "No. I'm optimistic and I expect him to be out there.''
Newton also did not talk to the media during his normal Wednesday time slot. According to the Carolina public relations department, he was undergoing treatment.
Backup
Derek Anderson
and third-stringer
Joe Webb
took all of the repetitions in practice, but Anderson said he fully expects Newton to be the starter on Sunday.
"When DA was taking his reps, he did good,'' Rivera said. "Like what I saw. Joe looked good, too. This gave us an opportunity to have the other guys get some work, because the last two days, Cam has gotten a lot of it.''
Defensive ends
Charles Johnson
(hamstring) and
Greg Hardy
(shoulder), as well as right guard
Trai Turner
(groin), participated in the full practice and are expected to start on Sunday. Newton was the only player listed on the injury report.
September, 2, 2014
9/02/14
8:00
AM ET
CHARLOTTE, N.C. --
Carolina Panthers
tight end
Greg Olsen
loves football.
He loves his family more.
[+] Enlarge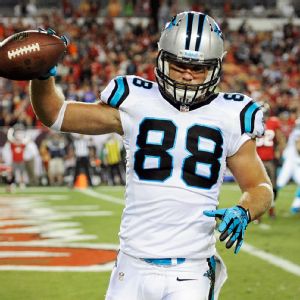 Jeff Siner/Charlotte Observer/MCT/Getty ImagesThe Carolina Panthers organization has given Greg Olsen all the time he needs to attend to his son, T.J., who recently had open-heart surgery.
So when his football family said take unlimited time off two weeks before the season to be with his son, T.J., as he underwent open heart surgery for the third time since being born with a severe congenital heart defect in 2012, it was a relief.
"It's made life a lot easier, and it's not something I take for granted," Olsen said on Monday after returning to practice for the first time in seven days. "You would hope that it would be this way everywhere, but sometimes people aren't quite as understanding."
The Panthers have been. Team owner Jerry Richardson, who received a heart transplant in 2009, flew Olsen, his wife Kara, T.J., and other family members to Boston in 2012 to consult with doctors about an experimental surgery.
Richardson actually made the trip and spent time in hospital waiting rooms with Olsen.
"We talk about family and we want to follow up on that," Panthers coach Ron Rivera said. "Mr. Richardson has fostered a great environment here for us and we've taken the ball and run with it."
Rivera would like to believe all 32 NFL teams take the same approach. But when asked if other organizations he's been around have, he said, "Well, I just know this, I'm more involved in it a little bit more. That's all I'll say about that."
There are other examples where the Panthers put family first. Rivera made time before practice last Wednesday to play catcher for his daughter, a pitcher at UCLA, before she returned to college.
Quarterback
Derek Anderson
was given time off last week to be with his wife as she gave birth to the couple's first child even though it left third-stringer
Joe Webb
as the only healthy quarterback, as starter
Cam Newton
was out with fractured ribs and fourth-stringer
Matt Blanchard
was on injured reserve with a concussion.
"It all worked out," said Olsen, who happened to be at the same hospital as Anderson. "DA got to be there for his wife and [at Thursday's exhibition finale at Pittsburgh]. I didn't miss much. It all works out if you do things the right way."
Olsen would like to think the family appraoch has helped make the Carolina locker room and team stronger as it attempts to record consecutive winning seasons for the first time in franchise history.
"It's a special group," he said. "I've said that since I got here."
Olsen is happy to report T.J. is recovering well. But because his son remains in intensive care and is maybe weeks from being discharged, Olsen goes back and forth between the hospital and the stadium in his free time.
"He's a tough little guy," Olsen said. "He's really responded well to all three surgeries. We've had a few little hiccups, but for the most part he's on the right track."
And while there are no guarantees there won't be a transplant or other surgeries in T.J.'s future, Olsen has the support of the organization and is able to focus on football and Sunday's opener at Tampa Bay without added stress.
And the Panthers will need Olsen. He led the team in catches last season with 73. He is a big part of a two-tight end set Carolina plans to implement in an attempt to diversify the offense and take pressure off a new group of wide receivers.
Olsen vows he'll be ready.
"I haven't felt a ton of pressure to be two places at once, and I've been able to handle my family and that priority first," he said. "But also realize, this is a priority for me, too. It's important for me to be here.
"It won't be any challenge. I'll make sure I get what I have to get done. My wife is pretty understanding. She gets it."
So, apparently, do the Panthers.
August, 27, 2014
8/27/14
8:00
AM ET
CHARLOTTE, N.C. -- Let's make one thing clear, third-string quarterback
Joe Webb
didn't completely back into or luck into a spot on the
Carolina Panthers
roster.
He earned it.
[+] Enlarge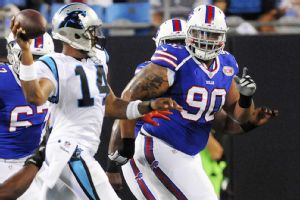 AP Photo/Mike McCarn"I wish Cam all the best and to get well soon," Joe Webb said. "In the meantime, I'm going to do my best to fill the void."
Sure, the fractured rib of starting quarterback
Cam Newton
makes keeping three quarterbacks a necessity instead of a luxury. Newton won't begin seriously throwing again until Saturday, and by then the Panthers must have their 53-man roster set.
Even though coach Ron Rivera repeatedly has said he's confident Newton will be ready for the Sept. 7 opener at Tampa Bay, he can't risk cutting Webb and then finding out his franchise quarterback can't play.
That would leave Carolina with backup
Derek Anderson
and searching the trash pile for a backup. They can't depend on Webb being available as well as he's played during the preseason, completing 21 of 35 pass attempts for 271 yards and two touchdowns.
He's also rushed four times for 30 yard.
That's why this post began with Webb didn't back into a roster spot. The Panthers began talking about keeping the former University of Alabama at Birmingham star after the second preseason game.
Rivera reiterated that after Tuesday's practice when the conversation turned to how Newton's injury opened up a spot for Webb.
"It's a tough position to be in, because obviously we are going to have to let a good player go to keep the extra quarterback," Rivera said. "Because of our situation, we need to. This is a necessity move.
"But at the same time, Joe's earned that. He earned his right to be on this football team right now."
Carolina coaches talked to several of Webb's former coaches before signing him to imitate what Newton does with the read option after Newton underwent ankle surgery in March.
"They thought what we do would be a good fit for what his skill set was," Rivera said. "A lot of people thought doing some of the stuff we do with Cam would fit with him.
"They're right. Those things do fit Joe very nicely. I like who Joe is. He's a hard-working, very conscientious young man who wants to do well."
Webb spent his first three seasons with the
Minnesota Vikings
after being selected in the sixth round of the 2010 draft. He played quarterback for the first two, starting a playoff game in 2012.
He was moved to wide receiver in 2013, catching five passes for 2013 yards. There was a time when he thought he'd never play quarterback again. Now he's getting a chance to do that at Carolina, and possibly setting the stage for a future there with another team.
"I know I'm not only performing for the Carolina Panthers, but for 31 other teams out there," Webb said. "Pretty much your game film is your résumé and you want to put your best performance on it.
"I would never want to wish for somebody to get hurt for my benefit. It was an unfortunate situation. It's just a blessing for me to come in and show my talents to the coaching staff. I wish Cam all the best and to get well soon. In the meantime, I'm going to do my best to fill the void."
August, 26, 2014
8/26/14
2:15
PM ET
CHARLOTTE, N.C. -- Baby watch is almost over.
Barring an unexpected delay, the
Carolina Panthers
will have two quarterbacks available for Thursday night's preseason finale at Pittsburgh.
Anderson
Backup
Derek Anderson
said before Tuesday's practice that his wife, if she doesn't give birth naturally before, is scheduled to be induced later in the day. If all goes well, Anderson will be in Pittsburgh in time to start for the injured
Cam Newton
, who is out with a hairline fracture to a rib.
"Tonight's the magic night," Anderson said.
With fourth-stringer
Matt Blanchard
placed on injured reserve after suffering a concussion in Friday night's loss at New England, the Panthers were down to two healthy quarterbacks in Anderson and
Joe Webb
.
Webb
Until Anderson knew for sure his wife would be induced, the Panthers were prepping a couple of non-quarterbacks for an emergency situation in case Anderson didn't make the trip and Webb was injured.
Meanwhile, Newton continues to work with trainer Ryan Vermillion as part of his rehab from the rib injury that occurred in the second quarter against New England.
While he still looks stiff at times, Newton is beginning to make more moves with his upper body without signs of pain. At one point while observing a quarterback drill, he reached up slightly behind his body to effortlessly snag a throw with his right hand.
There is no indication Newton won't start in the Sept. 7 opener at Tampa Bay. While he isn't practicing, he was a part of preparing for the Bucs on Sunday and Monday.
"He's with the coordinator, he's with the quarterback coach and they're talking about what we're looking at and why we're looking at it," coach Ron Rivera said on Monday. "So Cam's getting a feel for Tampa Bay right now."
August, 25, 2014
8/25/14
4:59
PM ET
CHARLOTTE, N.C. -- The
Carolina Panthers
are planning for their Sept. 7 opener at Tampa Bay as if quarterback
Cam Newton
will start.
Newton suffered a hairline fracture in a rib during the second quarter of Friday night's exhibition loss at New England. He will not play in Thursday night's preseason finale at Pittsburgh, but he is attending every meeting and watching every snap at practice.
Newton
While Newton is not physically involved, he has been mentally since the team began putting the Tampa Bay game plan in on Sunday.
"Very, very," coach Ron Rivera said on Monday. "He's with the coordinator, he's with the quarterback coach and they're talking about what we're looking at and why we're looking at it.
"So Cam's getting a feel for Tampa Bay right now."
Rivera said he hasn't gotten an update on how much Newton's condition has improved in the last 24 hours, but the first pick of the 2011 draft did seem less stiff when walking.
As Newton left the practice field, rookie wide receiver
Kelvin Benjamin
playfully nudged him in the shoulder a couple of times. Newton responded by raising his arms and playfully shoving Benjamin back.
Rivera said treatment hasn't gotten in the way of Newton being a part of all planning involving the Bucs.
"We're working around him," said Rivera, who closed practices to the media when preparing for the Bucs began. "We're focusing him on Tampa in terms of our preparation."
Rivera said there aren't two different game plans in case Newton can't play against Tampa Bay and backup
Derek Anderson
has to start.
"We're putting a regular game plan together," he said. "The big thing is everything we put in our game plan Derek is able to do. We don't have two separate sheets. We have one plan."
But Rivera is having to make adjustments for what little game plan there will be for Pittsburgh. With Anderson's wife expecting their first child at any time and fourth-string quarterback
Matt Blanchard
out with a concussion, there's a chance third-stringer
Joe Webb
is the only quarterback.
As a precaution, Rivera said a couple of non-quarterbacks are being prepped to play quarterback if Anderson is with his wife and Webb gets hurt. He would not identify them.
Otherwise, Rivera said the plan is to play the healthy starters for about a quarter.
Starters not expected to play against Pittsburgh include Newton, right guard
Trai Turner
(groin), defensive ends
Greg Hardy
(shoulder) and
Charles Johnson
(hamstring).
A decision has not been made on tight end
Greg Olsen
, whose son successfully underwent open heart surgery on Monday.
All are expected to be ready for Tampa Bay.
August, 1, 2014
8/01/14
6:00
PM ET
SPARTANBURG, S.C. -- A daily review of the hot topics coming out of
Carolina Panthers
training camp:
Give coach Ron Rivera credit for making the right call on the weather. He postponed the 9:25 a.m. practice until 1 p.m. after studying the weather flow and seeing a window in the heavy rains that have dropped several inches on the area the past couple of days. The forecast was spot on, but Rivera (wearing a jacket) was concerned with the unusually cool temperatures -- low 70s instead of low 90s -- as the team prepares for the opener in Tampa Bay where the heat and humidity are sure to be through the roof.
Third-string quarterback Joe Webb ran the read option with the first team during team drills, throwing a touchdown pass to Brenton Bersin. Webb was signed as a free agent from Minnesota to emulate starting quarterback Cam Newton, who is coming off left ankle surgery. The Panthers like what Webb brings to the offense in that he takes carries off Newton in practice, gets the offensive line used to working with a mobile quarterback and is insurance should Newton reinjure the ankle. Carolina kept only two quarterbacks last season, but Rivera says three are a distinct possibility this year. It makes sense on many levels. Webb hasn't looked bad, either.
With Pro Bowl defensive end Greg Hardy practicing in shorts, second-round draft pick Kony Ealy got a little more work. He made an impression early, blasting past the right tackle and getting in backup quarterback Derek Anderson's face so fast that he threw an errant pass that rookie corner Bene' Benwikere intercepted on the sideline. He had a few moments in one-on-one drills as well. That's the kind of pressure the Panthers expected when they drafted Ealy out of Missouri. Now he just needs to impress against a starting tackle.
Speaking of Benwikere -- now known as "Big Play Bene' (pronounce Ben-Ay)" -- he had two interceptions and at least three passes broken up. "He's one of those young guys that catches your eye. It was a good day for him." The rookie out of San Jose State was drafted to compete with Charles Godfrey for the nickel back vacated by Captain Munnerlyn, who signed with Minnesota. He's not ready to be an every-down corner despite his flashes, but he's certainly out-performed Godfrey thus far as a nickel and every-down backup.
The Panthers are lining tight end Ed Dickson outside like a wide receiver a lot in a two tight-end formation. At 6-foot-4 and 255 pounds, he's yet another big target for Newton. With Dickson, starting tight end Greg Olsen, wide receiver Kelvin Benjamin and Jerricho Cotchery on the field the average height of the receivers is just under 6-4. With a quarterback who has a tendency to throw high at times that could come in handy. Regardless, judging by the number of formations Dickson is a part of, he will be a large part of this offense.
The Panthers practice at 9:25 a.m. Saturday. There's a 40 percent chance of thunderstorms, but Rivera seemed optimistic it would be dry.
May, 23, 2011
5/23/11
12:48
PM ET
Here's an update to the
previous post
we had about new Carolina quarterback
Cam Newton
working out with former Carolina quarterback
Chris Weinke
.
This one has some
great detail
about what they worked on in what Weinke described "four-day minicamp'' at IMG Academy, where Weinke is now the director of the football program. Perhaps most important of all, the story clarifies the question everyone is asking – does Newton have a Carolina playbook?
Yes, he does. According to Weinke, Newton (who apparently got the playbook during the brief window when the lockout was lifted in April) brought it with him to Florida recently. Weinke said the daily sessions included 90 minutes of going over plays and defenses, followed by 90 minutes of work on the field. After lunch, they went back to the classroom for a 90-minute study session. Newton also had the option of hitting the field for a second throwing session each afternoon.
"We're spending about 3 to 3 1/2 hours a day in the classroom installing his offense and watching video," Weinke said. "We film everything, we video it, we analyze it. We come back in the afternoon and do some more installation and review some video. It's really similar to what they would face if they went to a minicamp following the draft."
Carolina's new offense is much different than the ones Weinke worked in under George Seifert and John Fox. But Weinke is a smart guy who can pick up just about any playbook quickly. Weinke had been out of football since 2008 and only recently took this job after "playing a lot of golf''.
Weinke is cut out perfectly for a role like this. Although his NFL career never blossomed, he was always known as a guy who studied hard and had good mechanics. Weinke also has worked with Minnesota quarterback
Joe Webb
last week and
Christian Ponder
is scheduled to join him this week.