October, 26, 2012
10/26/12
1:30
PM ET
»
NFC Final Word
:
East
|
West
|
North
|
South
»
AFC
:
East
|
West
|
North
|
South
Five nuggets of knowledge about Week 8:
[+] Enlarge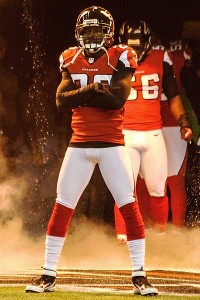 Daniel Shirey/US PresswireFalcons defensive back Asante Samuel will face his former team in the Eagles this week.
Samuel's homecoming:
It's pretty safe to assume Atlanta cornerback
Asante Samuel
will go into Philadelphia with a chip on his shoulder. Samuel always carries some swagger, but I'd expect it to be even more obvious against the team he played for from 2008 through last season. He had 23 interceptions in his time with the Eagles, tying him for second in the NFL in that span. But it was reported that Philadelphia coach Andy Reid decided to trade Samuel because he was in "steep decline." That could come back to haunt Reid. Samuel is a guy with a lot of pride and you can bet he'll be giving everything he has against the Eagles.
Remember the Georgia Dome:
This game is in Philadelphia, but the Falcons should just close their eyes and imagine they're at home and think back to last season. In Week 2 of 2011, the Eagles had a 31-21 fourth-quarter lead on the Falcons, but Atlanta rallied to win. That marked the start of a really bad thing for the Eagles. According to ESPN Stats & Information, the Eagles have a league-high seven fourth-quarter blown leads since the start of the 2011 season, and the first one came in Atlanta.
Throw it deep:
There's a reason why New Orleans quarterback
Drew Brees
has looked better the past three games than in the first three. He's throwing the deep ball better. In the past three games, Brees has completed 75.6 percent of his throws of 10 yards or more with seven interceptions and just one touchdown. In the first three games, Brees completed just 47.8 percent of throws of 10 yards or more with only two touchdowns and four interceptions.
Manning and the bye:
The Saints will be going against New Orleans native
Peyton Manning
and Denver on Sunday night. Manning's coming off his bye week and that's not good news for the Saints. Manning has won his past six starts after a bye week, throwing for 15 touchdowns with three interceptions while his team has averaged 33 points per game.
Can't beat the good ones:
As he approaches the halfway point of his second season, one troubling trend has emerged for Carolina quarterback
Cam Newton
. In games against teams that have a .500 or better record since the start of last season, Newton and the Panthers are 2-12. And let's keep in mind that Newton's seven career wins include six victories in 2011 against the Jaguars, the Buccaneers (twice), the Texans with
T.J. Yates
, the Redskins with
John Beck
and the Colts with
Curtis Painter
.
December, 21, 2011
12/21/11
10:00
AM ET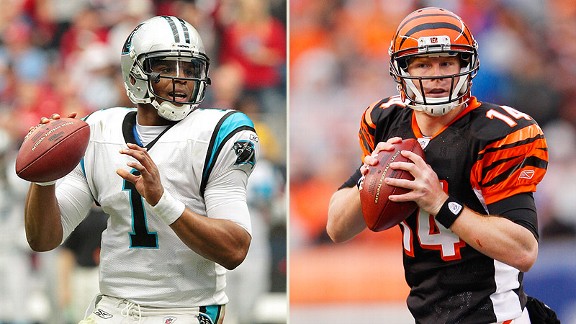 US PresswireThe Panthers (with Cam Newton) and Bengals (with Andy Dalton) are two examples of teams that successfully used the draft to fill a void at quarterback.
In the past few months, we've seen the Panthers, 49ers and Bengals discover they're just fine at quarterback. In those same few months, we've seen even more teams discover that they're not in great shape.
That's why the 2012 draft and free-agency period could provide a shopping spree for teams looking for starting quarterbacks. I'm looking around the league and seeing that roughly a quarter of the 32 teams could change starters in 2012.
Maybe they'll find solutions in the draft, as the Panthers did with
Cam Newton
and the Bengals with
Andy Dalton
. Or maybe they'll take a guy who has been around for a while, put him in the right situation and find out he can play, the way the 49ers did with
Alex Smith
.
But neither method is foolproof. Drafting a quarterback early doesn't always work. That's why I'm putting the Vikings and Jaguars on my list of teams that might look for a starter in the offseason. Bringing in a veteran, as the Cardinals did with
Kevin Kolb
, didn't bring any dramatic changes, and that's why Arizona also is on my list of teams with uncertain quarterback futures.
Let's run through the list, in no particular order.
Redskins
. Who really thought it was a good idea to go into a season with
John Beck
and
Rex Grossman
as your only options? Owner Daniel Snyder and coach Mike Shanahan must realize now that they're going nowhere with journeyman quarterbacks. That's why they have to find someone who can be a franchise quarterback.
Seahawks
. Same story as the Redskins. Pete Carroll generally had more talent and depth in his quarterback groups at USC than he did when he decided to go with
Tarvaris Jackson
and
Charlie Whitehurst
. Letting
Matt Hasselbeck
go wasn't necessarily a bad move, but heading into a season with guys who never have been and never will be any good made no sense.
Dolphins
. The tandem of
Chad Henne
and
Matt Moore
was as uninspiring as what the Seahawks and Redskins brought to the table. That's why the Dolphins will be looking for a new coach. Moore has played pretty well at times, but ownership seems intent on making a big splash to bring some life back to this franchise. The quickest way to make waves is to add a high-profile quarterback, but keeping Moore around as a backup is a nice insurance policy.
Colts
. Had Indianapolis had a backup like Moore, this season wouldn't have been so disastrous. Everything fell apart as soon as it became apparent that
Peyton Manning
wouldn't play because of a neck injury. The Colts could get a healthy Manning back, or they could draft Andrew Luck. But, if they let Manning go and draft Luck, they should go out and get a backup who is capable of starting.
Vikings
. They tried to use
Donovan McNabb
as a bridge to first-round draft pick
Christian Ponder
. The bridge quickly collapsed, and Ponder was thrown in over his head. Ponder may eventually turn into a decent starter, but we've seen no solid evidence that will happen. That's why the Vikings need to have an alternative.
Jaguars
. You can put
Blaine Gabbert
in the same category as Ponder. The jury is still out on him. Like Miami, this is another franchise that will hire a new coach and try to energize a fan base. Just a thought here, but there's a hometown guy who could sell out the stadium every week, if he somehow becomes available. (See below.)
Broncos
.
Tim Tebow
has pulled off miracles by putting the Broncos in playoff contention. The guy has all sorts of intangibles, but he doesn't throw like an NFL quarterback. That's why it looks as though John Fox and John Elway are forcing smiles every time Tebow leads them to an awkward victory. You get the sense that, deep down, Fox and Elway would rather have a conventional quarterback.
Cardinals
. The Cardinals thought they found their franchise guy when they traded for Kolb. He hasn't played like a franchise quarterback, but the Cardinals don't necessarily have to go outside on a shopping trip.
John Skelton
has played pretty well in relief of Kolb. Come training camp next summer, let Kolb and Skelton compete and settle this thing once and for all.

TRENDING UP

TRENDING DOWN
December, 10, 2011
12/10/11
9:55
AM ET
A look at the top Saturday morning headlines from around the NFC South:
Former Atlanta Falcons coach Jim Mora reportedly will be the
next coach at UCLA
.
The New Orleans run defense, which has played well of late, faces a
huge two-game challenge
. The Saints will face Tennessee's Chris Johnson on Sunday and Minnesota's Adrian Peterson next week.
Atlanta's Matt Ryan
has been hit 65 times
. Only five teams have allowed their quarterbacks to be hit more.
Carolina quarterback Cam Newton, who plays the Falcons on Sunday, had his
lowest NFL passer rating
in the Week 6 contest against Atlanta.
Scott Fowler points out that one thing the Panthers haven't done this season is
beat a big-time quarterback
. Their wins have come against Curtis Painter, Josh Johnson, John Beck and Blaine Gabbert. They'll have their shot against Ryan on Sunday.
Tampa Bay coach and defensive coordinator Raheem Morris already has said the Bucs will simplify what they do on defense. Now, offensive coordinator Greg Olson said the Bucs will
scale things back
offensively. I guess the only question left is if the Bucs will scale back what they do on special teams?
Tampa Bay safety Sean Jones
was fined
$20,000 for a helmet-to-helmet hit on Carolina's Legedu Naanee last week.
October, 21, 2011
10/21/11
3:02
PM ET
ESPN's
panel of predictors
is pretty divided on two games involving NFC South teams Sunday.
The split is the closest on the game in London between the
Chicago Bears
and
Tampa Bay Buccaneers
. Six experts picked the Bucs and four chose the Bears.
In a mild surprise, seven experts chose the 1-5
Carolina Panthers
to beat the
Washington Redskins
. I'm guessing the fact
John Beck
will be the starting quarterback for the Redskins might have something to do with that.
Eight panel members picked the Lions over the Falcons. But I think there's a chance Chris Mortensen and Adam Schefter, who picked the Falcons, could end up being right.
The one thing everyone agreed on is the Saints will win against the Colts on Sunday night. Not surprising. Saints coach Sean Payton is injured, but he'll still be involved. Indianapolis quarterback
Peyton Manning
is hurt and won't be playing a homecoming game in the city where he grew up.
October, 21, 2011
10/21/11
1:30
PM ET
»
NFC Final Word
:
East
|
West
|
North
|
South
»
AFC
:
East
|
West
|
North
|
South
Five nuggets of knowledge about Week 7:
[+] Enlarge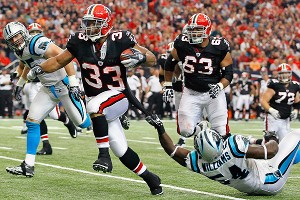 Kevin C. Cox/Getty ImagesMichael Turner appeared to have lost a step, and there's speculation that the RB may not be back in Atlanta in 2012.
Magic number:
It might be harder to accomplish than it sounds, but there's a very simple formula for success for the
Atlanta Falcons
. In the three games they've won, the Falcons have scored at least 30 points. In the three games they've come up short of 30 points, they're 0-3. One wise move for the Falcons might be to establish the ground game. Detroit has allowed 100 rushing yards in each of its last five games. Atlanta is 22-3 when
Michael Turner
rushes for at least 100 yards.
Lucky charm?
The
Carolina Panthers
might be catching a huge break with Washington's decision to bench quarterback
Rex Grossman
and replace him with
John Beck
. Grossman was having his problems, but there's no real evidence to indicate that Beck will be the solution. Beck's career record as a starter is 0-4. He hasn't started a game since Week 14 of the 2007 season.
Pressure's not the problem:
Added pass-rushers haven't really been a problem for Atlanta quarterback
Matt Ryan
. His numbers against the blitz have been better than when facing a standard defense. When facing four or fewer pass-rushers, Ryan has thrown five interceptions and been sacked 13 times, according to ESPN Stats & Information. The bad news is that the Lions blitz less than any team in the league. They've sent four or fewer pass-rushers on 83.3 percent of opponent dropbacks.
History in London?
The last two meetings between the Buccaneers and Bears have gone to overtime. If that were to happen again Sunday, it would mark only the third time since overtime was instituted in 1974 that two teams have had three straight meetings go to overtime.
Going for five:
New Orleans quarterback
Drew Brees
will be attempting to collect his fifth straight game with at least 350 passing yards. He would be breaking his own NFL record, which was set last week when his streak reached four games.
December, 21, 2009
12/21/09
3:47
PM ET
Great stat from the Elias Sports Bureau on Carolina quarterback
Matt Moore
.

Moore
Entering Sunday night's game against Minnesota, Moore had thrown for only one touchdown pass in his last 72 attempts, which dated back to December 2007. Moore had three touchdown passes without an interception against the Vikings on Sunday.
Injured starter
Jake Delhomme
had only one game where he threw at least three touchdowns without an interception in his last 52 regular-season starts, a span that dates back to November 2005.
By the way, Moore came out of Oregon State as an undrafted player in 2007.
JaMarcus Russell
, the first pick in that draft, never has had a game with three touchdowns and zero interceptions. Neither have
Kevin Kolb
,
John Beck
or
Drew Stanton
, who were second-round picks in that draft.
Brady Quinn
, the No. 22 overall pick in that draft, has had two career games where he's thrown for three touchdowns without an interception.