December, 26, 2011
12/26/11
3:06
PM ET
We all know that Carolina rookie quarterback
Cam Newton
is having an outstanding rookie season.
Newton
But what does it mean going forward? In this
Insider post
, our friends at Football Outsiders use "similarity scores'' to find historical matches for contemporary players. They compared Newton to some pretty outstanding quarterbacks during some pretty outstanding seasons (and we're not just talking rookie years for the other guys).
Their conclusion? We've never seen anything like Newton before. They say that it's fair to compare Newton to a young
Peyton Manning
as a quarterback and a young
Herschel Walker
as a running back. That's pretty high praise.
I've been saying for a couple months now that Newton is different than anything we've seen. You can say he throws like a Manning,
Dan Marino
or
John Elway
. You can also say he runs like
Michael Vick
or
Tim Tebow
.
There have been quarterbacks before that you could say one of those two things about. But I think Newton is the first guy you can say both things about.
December, 21, 2011
12/21/11
10:00
AM ET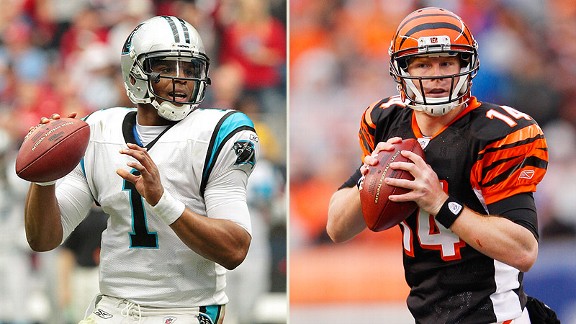 US PresswireThe Panthers (with Cam Newton) and Bengals (with Andy Dalton) are two examples of teams that successfully used the draft to fill a void at quarterback.
In the past few months, we've seen the Panthers, 49ers and Bengals discover they're just fine at quarterback. In those same few months, we've seen even more teams discover that they're not in great shape.
That's why the 2012 draft and free-agency period could provide a shopping spree for teams looking for starting quarterbacks. I'm looking around the league and seeing that roughly a quarter of the 32 teams could change starters in 2012.
Maybe they'll find solutions in the draft, as the Panthers did with
Cam Newton
and the Bengals with
Andy Dalton
. Or maybe they'll take a guy who has been around for a while, put him in the right situation and find out he can play, the way the 49ers did with
Alex Smith
.
But neither method is foolproof. Drafting a quarterback early doesn't always work. That's why I'm putting the Vikings and Jaguars on my list of teams that might look for a starter in the offseason. Bringing in a veteran, as the Cardinals did with
Kevin Kolb
, didn't bring any dramatic changes, and that's why Arizona also is on my list of teams with uncertain quarterback futures.
Let's run through the list, in no particular order.
Redskins
. Who really thought it was a good idea to go into a season with
John Beck
and
Rex Grossman
as your only options? Owner Daniel Snyder and coach Mike Shanahan must realize now that they're going nowhere with journeyman quarterbacks. That's why they have to find someone who can be a franchise quarterback.
Seahawks
. Same story as the Redskins. Pete Carroll generally had more talent and depth in his quarterback groups at USC than he did when he decided to go with
Tarvaris Jackson
and
Charlie Whitehurst
. Letting
Matt Hasselbeck
go wasn't necessarily a bad move, but heading into a season with guys who never have been and never will be any good made no sense.
Dolphins
. The tandem of
Chad Henne
and
Matt Moore
was as uninspiring as what the Seahawks and Redskins brought to the table. That's why the Dolphins will be looking for a new coach. Moore has played pretty well at times, but ownership seems intent on making a big splash to bring some life back to this franchise. The quickest way to make waves is to add a high-profile quarterback, but keeping Moore around as a backup is a nice insurance policy.
Colts
. Had Indianapolis had a backup like Moore, this season wouldn't have been so disastrous. Everything fell apart as soon as it became apparent that
Peyton Manning
wouldn't play because of a neck injury. The Colts could get a healthy Manning back, or they could draft Andrew Luck. But, if they let Manning go and draft Luck, they should go out and get a backup who is capable of starting.
Vikings
. They tried to use
Donovan McNabb
as a bridge to first-round draft pick
Christian Ponder
. The bridge quickly collapsed, and Ponder was thrown in over his head. Ponder may eventually turn into a decent starter, but we've seen no solid evidence that will happen. That's why the Vikings need to have an alternative.
Jaguars
. You can put
Blaine Gabbert
in the same category as Ponder. The jury is still out on him. Like Miami, this is another franchise that will hire a new coach and try to energize a fan base. Just a thought here, but there's a hometown guy who could sell out the stadium every week, if he somehow becomes available. (See below.)
Broncos
.
Tim Tebow
has pulled off miracles by putting the Broncos in playoff contention. The guy has all sorts of intangibles, but he doesn't throw like an NFL quarterback. That's why it looks as though John Fox and John Elway are forcing smiles every time Tebow leads them to an awkward victory. You get the sense that, deep down, Fox and Elway would rather have a conventional quarterback.
Cardinals
. The Cardinals thought they found their franchise guy when they traded for Kolb. He hasn't played like a franchise quarterback, but the Cardinals don't necessarily have to go outside on a shopping trip.
John Skelton
has played pretty well in relief of Kolb. Come training camp next summer, let Kolb and Skelton compete and settle this thing once and for all.

TRENDING UP

TRENDING DOWN
September, 11, 2011
9/11/11
7:05
PM ET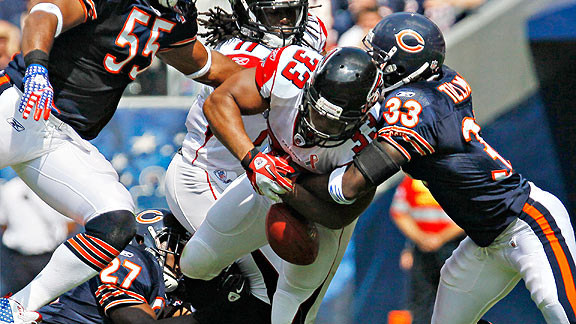 AP Photo/Charles Rex ArbogastAtlanta's Michael Turner lost this first-quarter fumble during an ugly opening loss in Chicago.
CHICAGO – One game into the season, the
Atlanta Falcons
have an identity they don't want.
"Sloppy ball,'' linebacker
Mike Peterson
said. "We played sloppy ball.''
That might be putting it kindly. A team that has spent the past three seasons winning with precise efficiency lost in a way it seldom has since Mike Smith took over as coach in 2008.
The Falcons spewed turnovers, failed to protect their quarterback and got very few of the big plays they talked so much about during the offseason. And that's just the offense. The defense did such a poor job that if Chicago quarterback
Jay Cutler
put up those kind of numbers in his days with the Broncos, he'd still be in Denver and John Elway would be forgotten.
Throw in nine penalties for 65 yards and it all added up to a
30-12
loss to the Bears at Soldier Field in a game that was pretty much over during the second quarter.
"We've just got to make sure that doesn't happen again,'' cornerback
Dunta Robinson
said.
You can at least start to wonder if those predictions that had the Falcons going to the Super Bowl, or at least deep into the playoffs, were way off base. This team looked like it was one day out of the lockout or still caught in last season's playoff loss to Green Bay.
Quarterback
Matt Ryan
threw an interception (that set up a touchdown) and
Michael Turner
lost a fumble -- and that was just in the first quarter. In the third quarter, Ryan lost a fumble that
Brian Urlacher
returned for a touchdown.
Smith always emphasizes the importance of the turnover battle and the Falcons usually win it. Not this time. They turned the ball over three times and generated only one takeaway -- an interception that went for a touchdown by defensive end
Kroy Biermann
in the fourth quarter, long after the game had been decided.
"You're going to decrease your chances of winning,'' Smith said. "We can't do that.''
When Biermann and kicker
Matt Bryant
, who made two field goals, are your most explosive players, it's not a good thing.
Rookie receiver
Julio Jones
and free-agent defensive end
Ray Edwards
, the players who were brought in to help the Falcons become more explosive, didn't have major impacts. Jones had five catches for 71 yards, but most of that came way too late. Edwards produced precisely one tackle. But let's not pin all the blame on the high-priced newcomers, because the Falcons were collectively and uncharacteristically bad.
"Explosiveness is not just for the offense,'' Smith said. "It's for the entire football team. We want to be explosive in all three phases.''
They didn't even come close. After an offseason filled with talk about more downfield passing, it seemed like there was less than in the past.
[+] Enlarge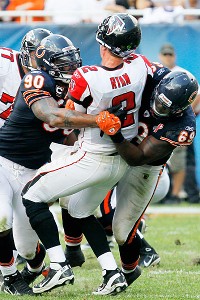 AP Photo/Charles Rex ArbogastFalcons quarterback Matt Ryan gets sacked by Chicago's Julius Peppers, left, and Henry Melton, part of a rough day for Ryan.
"I thought Chicago did a good job of keeping things in front,'' Ryan said. "There were (deep) plays called, but I had to check down.''
"There were plays that were designed to go into the end zone,'' Smith said. "I can assure you of that. If the read took (Ryan) down, then he's got to go where the reads take him. We've got to win our one-on-ones.''
That can be tough to do when you're going against the Tampa Two defense that Chicago runs, and give the Bears, who were the No. 2 seed in the NFC last season, plenty of credit for playing a strong all-around game.
But the Falcons were the No. 1 seed in the NFC last season and it looked like they've taken multiple steps back.
"Not the outcome we wanted,'' Smith said. "Disappointed, not discouraged. It's a long season. It's Week 1. We' will work to get it fixed and we will get it fixed.''
That might sound like lip service coming from just about any other coach. But Smith's got a track record in this area that he can point to.
Last season, the Falcons went up to Pittsburgh and lost the opener in a game where they didn't play very well. They bounced back to win 13 of their next 15 games.
"It's the first week of the season,'' Smith said. "There's a lot of football to be played. Let's not be saying the sky is falling. We didn't play well. I know that we will get things fixed. We've got a great locker room. We've got a great group of men that work very hard and love to compete. We'll come back and we'll get things fixed.''
Maybe Smith's right and maybe the Falcons will recover just like they did after the Pittsburgh loss last season. It's too early to say a disappointing performance means doom for the Falcons. That's especially true in an opening week in which New Orleans and Tampa Bay, the teams viewed as the main challengers to Atlanta's NFC South crown, also lost.
"You lose a game the way we did and you've got to come to work Monday expecting a very rough day,'' Peterson said.
The Monday film session and the upcoming week of practice aren't going to be a lot of fun. But Smith and his coaching staff fixed a lot of problems in a hurry last season, and it could happen again.
It almost has to. The
Philadelphia Eagles
and
Michael Vick
, who once was Atlanta's franchise quarterback before an epic fall from grace, are coming to the Georgia Dome next Sunday night.
If the Falcons play against the Eagles the way they did against the Bears, we're no longer talking about one game or one week. We could be talking about a long season.
September, 2, 2011
9/02/11
4:17
PM ET
Now that we're getting down to some real football, I'm happy that I can start interacting more with my friends at ESPN Stats & Information.
They supply some wonderful stuff, much of which you can't get anywhere else, and we'll lean heavily on them during the regular season. Heck, we'll start it a little before the regular season.
Now that we know for certain
Cam Newton
will be the starting quarterback for the
Carolina Panthers
on opening day, it's time to look at some history.
Here's a look at quarterbacks drafted No. 1 overall (since 1966) who started a season opener and how they fared in that game.
2010: Sam Bradford, Loss
2009: Matthew Stafford, Loss
2002: David Carr, Win
1998: Peyton Manning, Loss
1993: Drew Bledsoe, Loss
1990: Jeff George, Loss
1989: Troy Aikman, Loss
1983: John Elway, Win
1975: Steve Bartkowski, Loss
1971: Jim Plunkett, Win
1970: Terry Bradshaw, Loss
None of the above finished the season with a winning record as a starter. In other not-so-encouraging news in this department, all rookie quarterbacks starting an opener since 1970 are a combined 10-16. But, hey, there's one bit of good news for Carolina fans. One of those 10 wins came by Carolina with
Chris Weinke
in 2001.
May, 5, 2011
5/05/11
11:14
AM ET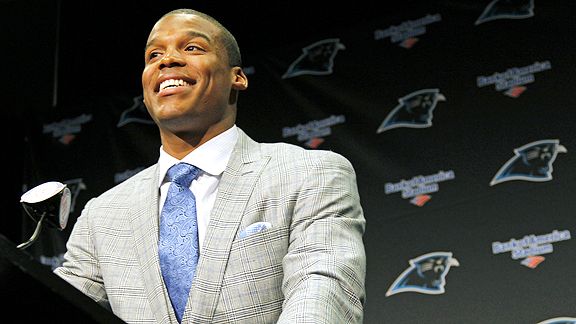 AP Photo/Bob LeveroneCam Newton was all smiles during his introduction in Charlotte. The smiles may continue into the season.
At a kickball game in Charlotte on Sunday,
Cam Newton
and
Jimmy Clausen
were on common ground for perhaps the first and last time in their lives.
The future and current quarterbacks of the
Carolina Panthers
(or is it already the current and past quarterbacks?) got together for a charity event that included some other players. It's kind of ironic, because Newton and Clausen have virtually nothing else in common, and, despite the fact they're going to be teammates, things already are setting up for them to be competitors, maybe even rivals.
You could see that building last Friday as Newton was introduced to the Charlotte media and asked what jersey number he wants to wear. At Auburn, Newton wore No. 2. Clausen picked that number when he was drafted by the Panthers last year. In the world of the NFL, the veteran usually gets to keep his number, unless some sort of financial agreement can be worked out.
Newton didn't concede the number to Clausen and made some reference like "we'll see." That might lead you to believe the man taken with the No. 1 overall pick in the draft might flex his muscle to wear No. 2.
It might not come with a bad ending for the Panthers, but you can see Clausen and Newton, two guys with entirely different backgrounds and personalities, already lining up on a collision course. The ending won't be happy for both, because they're playing for one job as the long-term starting quarterback.
It can only be coincidence, but the kickball game came precisely one year to the day that Clausen threw his first NFL minicamp pass and many people thought the Panthers finally had found their franchise quarterback. A year later, the Panthers turned around and drafted Newton to fill that role.
That's the role Clausen has been groomed for all his life, while Newton's grooming process was far less traditional.
Let's start with Clausen. Chances are pretty good you first heard of Clausen when Sports Illustrated ran
this story
, titled "The Kid with the Golden Arm."
In it, the writer talks about how people viewed Clausen as the next great quarterback: "Others see the arm of
John Elway
, the composure of
Tom Brady
and the quick release of Joe Namath."
Former NFL quarterback Brian Sipe said, "I've never seen anyone with a quicker release than Jimmy has."
The story was written when Clausen was
a junior in high school
. It goes on to reveal details of his grooming -- how he worked with a private quarterbacks coach since junior high, how his brothers, Rick and Casey, made it as college quarterbacks at the University of Tennessee -- and the recruiting wars that were being fought over him.
Skip ahead a little more than a year. If you somehow hadn't heard of Clausen by then, well, that changed. He
showed up in a white limousine
at the College Football Hall of Fame to announce he would attend Notre Dame. Notre Dame, the school with Charlie Weis (the man who developed Brady) and all sorts of quarterback pedigree (forget
Brady Quinn
, we're talking the days of
Joe Montana
and Joe Theismann).
Weis didn't really win big, but Clausen had a respectable career. Although some thought he might go in the first round of last year's draft, he slid to the second and the Panthers grabbed him. For the first time in his life, Clausen wasn't in a position where success was assured, and it showed. Former coach John Fox -- fighting the youth movement imposed by management and throwing farewell gestures on his way out the door -- refused to play Clausen until injuries left him no choice. In the offense of Fox and coordinator Jeff Davidson, which looked like it was created for a 1950s high school team, Clausen struggled mightily and the Panthers finished 2-14.
Clausen clashed with volatile receiver
Steve Smith
. Media and teammates described Clausen as self-centered, aloof and not the kind of guy who commands respect in a locker room or a huddle. The Panthers swear they haven't given up on Clausen and still think he can turn into a decent NFL quarterback.
[+] Enlarge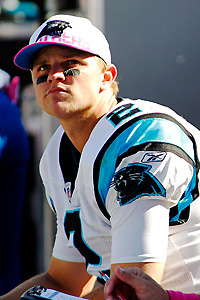 Geoff Burke/Getty ImagesJimmy Clausen could find himself watching from the bench again this season.
But they were saying that after they had drafted Newton, and logic says you don't go out and use an early pick on a quarterback if you think you have one on your roster.
Newton suddenly is the chosen one, and he's coming at it on a completely different track than Clausen. At his press conference the day after the draft, Newton was engaging and cracking smile after smile.
The Panthers talked about his charismatic personality and the passionate halftime speech that sparked Auburn to a win over Alabama last season. They talked of how Newton's teammates spoke about his leadership skills, and no one ever has questioned his physical skills. It's the kind of stuff Clausen can only dream about.
It's not as though Newton comes with a résumé that's empty compared to Clausen's. Newton won a national title and a Heisman Trophy at Auburn. He won a junior college national title at Blinn College. But he played only one year at each place, and neither program ran a Notre Dame offense, the kind of offense people said made Clausen the most NFL-ready quarterback in last year's draft.
Newton's résumé also included a brief stop at the University of Florida, which doesn't recruit quarterbacks from the bargain basement. But
Tim Tebow
already was there. Newton was involved in an incident in which a computer was stolen. There were reports of academic improprieties, reports Newton disputes. Newton left, went to Blinn, and, as he was looking to transfer back to a big-time school, things got murky.
There have been reports Newton's father, Cecil, sought money for the rights to his son, and the NCAA is investigating the matter.
The Panthers did all sorts of homework on Newton's background and decided that none of it suggests future problems. They put him under a microscope on and off the field and decided they loved what they saw.
If it means pushing aside the kid who grew up in a quarterback laboratory, the Panthers appear fine with that. In a best-case scenario, maybe Clausen rallies and pulls off something like
Drew Brees
did when he was in San Diego. Brees, at least temporarily, did a nice job of keeping
Philip Rivers
on the sideline.
But that's far fetched. The Panthers didn't draft Newton to sit, and, listening to them talk last week, you could read between the lines and see that they'd like nothing more than to open the season with their franchise quarterback as their franchise quarterback.
The labor situation could complicate things a bit. If there are no offseason workouts and a limited training camp, the Panthers might be forced to open the season with Clausen as the starter. But, seriously, how long is that going to last? Four games? Six, tops?
The smiles and relaxed atmosphere from the kickball game are over. Whenever the Panthers do get back to the practice field, Newton just has to show he's getting a grasp of the playbook and then he'll be the one on the playing field.
Really, it's all about pedigree. He might have taken an unconventional route through college, but Newton's got the upper hand now. Clausen, because he's had so much coaching already, might be as good as he's ever going to get.
Newton's the guy who has won championships and won over huddles. He's the one with potential that seems limitless. He's the one the Panthers picked in the spot that gives him the ultimate pedigree.
December, 15, 2010
12/15/10
9:08
AM ET
There is one downside to winning a lot of games in the NFL : It can rip apart a coaching staff. Success often leads to opportunities elsewhere for assistant coaches and we might be seeing the seeds of this sprouting in Atlanta.
Offensive coordinator Mike Mularkey has been mentioned as a possible candidate for the head job in Denver. At this point, it's mostly speculative that Mularkey's name will be on the Broncos' list of candidates after the season.
[+] Enlarge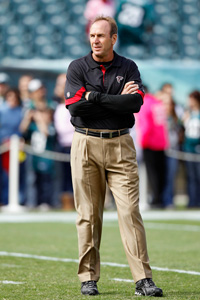 AP Photo/Paul SpinelliFalcons offensive coordinator Mike Mularkey could be a hot head-coaching candidate after the season is over.
Teams aren't allowed to talk to assistants under contract with other teams during the season and Mularkey said he has had no contact with the Broncos. But Mularkey did admit he
might have interest in a head job
.
That alone is a little bit newsy and should raise some eyebrows around the league. There were some who thought Mularkey had soured on the hassles of being a head coach after going through a rough experience in Buffalo.
While Mularkey would likely be selective in looking for a head job and an ownership and front-office structure he'd be comfortable with, Denver could fit that profile. Mularkey's built his résumé back up with the success of
Matt Ryan
and the offense the last few years and he also has a gregarious personality.
The mere fact Mularkey said he might be interested in being a head coach again might put him on some of the speculative lists of other teams around the league. Heck, let's go ahead and think out loud that he could be a candidate for the job a few hours up Interstate 85.
That's the
Carolina Panthers
, where John Fox will be gone shortly. After nine seasons of Fox's conservative offensive approach, the Panthers may look for a coach with an offensive background. It's also likely they'll look for a guy who has shown he can develop a quarterback because they want someone who can get
Jimmy Clausen
on track or groom a quarterback that comes with next year's No. 1 draft pick.
The Panthers have been envious of Ryan and his success ever since he came to the Falcons, so, at the very least, Mularkey fits the profile.
Again, lists are only speculative at this point because there can't be any interviews of assistants just yet. But let's go ahead and throw Mularkey on Carolina's speculative list because he would make a good deal of sense.
Going back to the Falcons, the easy assumption would be that quarterbacks coach Bill Musgrave simply would slide into the offensive coordinator job if Mularkey moves up. It's very possible, but not a slam dunk. Musgrave's name sometimes gets thrown into talks about head spots or coordinator jobs elsewhere in the NFL or in college. Heck, you could even put Musgrave's name on Denver's speculative list. He has deep ties to the Broncos because he spent much of his playing career as
John Elway
's backup.
October, 28, 2010
10/28/10
11:21
AM ET
The
Tampa Bay Buccaneers
are up in our series of team-by-team mailbags.
Carlos in Panama writes:
What has happened to Tampa's linebackers? You were singing their praises during offseason, preseason and the beginning of the season but now they seem to be dormant. I don't see
Quincy Black
,
Geno Hayes
or
Barrett Ruud
making big plays EVER on a game-to-game basis. Why?
Pat Yasinskas:
Yes, I was singing their praises because the coaches and the front office were saying they expected big things from the linebackers. It hasn't played out that way, but I think the reason is fairly obvious. The young defensive line isn't playing very well, and it's not keeping blockers away from linebackers. Rookie defensive tackle
Brian Price
has been hurt and fellow rookie
Gerald McCoy
is still adjusting to the NFL game. Until the Bucs get better up front, the linebackers won't have a chance to shine.
---
Gerald in Casper, Wyoming writes:
Going back to the draft in which
Matthew Stafford
and
Mark Sanchez
were selected ahead of him, don't you think
Josh Freeman
is doing more with less than the other two? The reason the Bucs are winning is because of Freeman with a less than stellar cast while Stafford has been hurt and Sanchez has Pro Bowl talent at every position.
Pat Yasinskas:
Well, scouts don't always get it exactly right. But the Bucs said they had Freeman rated ahead of Stafford and Sanchez, and I know one other general manager who told me Freeman was the highest quarterback on his team's board last year. We'll see how the careers of those three quarterbacks play out over time. But, right now, I like Freeman the best of the bunch.
---
Mike in Orlando writes:
Is it too soon to start making
John Elway
comparisons when talking about Josh Freeman? He seems to have that same knack for carrying his team to 4th quarter comebacks.
Pat Yasinskas:
Yes, just a little too early. It's still very early in Freeman's career. But he is showing a knack for making clutch plays, and that's extremely encouraging. I'm very interested to see how he continues to develop as the Bucs work to improve his supporting cast.
---
Chris in Winter Park, Fla., writes:
In your blog on what Raheem Morris said in his interveiw is correct. The Bucs aren't the best in the NFC, but if they continue the way they are going by winning the rest of their away games and winning the easy home games then they just might be at the level. Also have you seen what they can do in the 2nd half is amazing -- they are shutting down teams. Finally if the Bucs find their running game and defense then they will be set, because I see what Raheem is getting at.
Pat Yasinskas:
Yep, there's no doubt Morris' comments were, at very least, premature. But, so what? He's showing confidence in his team, and there's nothing wrong with that. He clearly has this team headed in the right direction.
---
Drew in Clearwater, Fla., writes:
I liked the way the Bucs finally had some semblance of a running game in the 2nd half of the game versus the Rams. Do you think that we will see more of
LeGarrette Blount
as the primary back and maybe more of Carnell Williams as the 3rd down back? Blount seems to have more of a burst and is quite a bit tougher to tackle. I know that he isn't experienced picking up blitzes but I believe that he can do the job if given the opportunity. Plus it actually makes our offense 2 dimensional. What do you think?
Pat Yasinskas:
I think it's safe to expect Blount's playing time to continue to increase. But I think he and Williams will be splitting time at running back. It's a long season and you need at least two quality running backs. Early indications are the Bucs might have stumbled onto something good by giving Blount a shot.
September, 9, 2010
9/09/10
9:44
AM ET
NEW ORLEANS -- I know fans of the Saints tend to get a little superstitious, so I thought I'd start your day off with a positive statistic as we get ready for tonight's season opener against the Vikings.

According to Elias Sports Bureau, the defending Super Bowl champion has won its opening game of the next season each of the past 10 years. The last defending champion to lose its opener was Denver in 1999. Those Broncos had just lost John Elway to retirement and they lost their opener to Miami, 38-21.
July, 6, 2010
7/06/10
12:00
PM ET
A weeklong look at current or former players or coaches with Hall of Fame potential in the division.
Saints:
Drew Brees
, quarterback.
Claim to fame:
He led the 2009 Saints to their first Super Bowl championship while throwing for 34 touchdowns and posting a career-best 109.6 passer rating. Brees threw for a career-best 5,069 yards in 2008. He has thrown for 30,646 yards in a nine-year career.
Case for enshrinement:
Brees has been more than a quarterback for the Saints. Arriving as a free agent in 2006, Brees has helped New Orleans and the entire Gulf region rebound from the devastation of Hurricane Katrina. Brees has taken an extremely active role in the community and has done just as much on the field.
He is the perfect quarterback for coach Sean Payton's offense. Brees has made the Saints one of the most fun teams in the league to watch while putting up huge offensive numbers. With Brees, the Saints have reached heights the franchise never came close to before.
Case against enshrinement:
This almost certainly will change in another few years, assuming Brees continues to play anything like he has the past few seasons. But, at this moment, Brees would not be a slam dunk for the Hall of Fame because he's only spent eight seasons as a starter and his years in San Diego were very good, but not great.
A couple more years of big numbers and another Super Bowl title, or at least some more playoff victories, should put Brees over the top.
Bottom line:
Barring major injury, Brees is well on his way to the Hall of Fame.
[+] Enlarge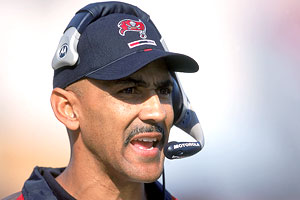 Andy Lyons/Allsport/Getty ImagesTony Dungy laid the foundation for a Super Bowl winner in Tampa.
Buccaneers:
Tony Dungy, former coach.
Claim to fame:
He took over a disaster of a franchise in 1996 and turned the Bucs into a consistently respectable team for the first time in franchise history. Dungy went on to coach the
Indianapolis Colts
and won a Super Bowl.
Case for enshrinement:
The knock on Dungy in Tampa was that he couldn't win the big one and the Bucs had to turn to Jon Gruden to get them their Super Bowl victory. But Dungy was largely responsible for building that team and changing the entire football climate in Tampa Bay. Building around Derrick Brooks, Warren Sapp and John Lynch, Dungy took the defensive philosophy he learned in Pittsburgh and built the famed "Tampa 2'' defense, which became a phenomenon around the league. He also built a lengthy coaching tree with Herm Edwards, Jim Caldwell, Lovie Smith, Rod Marinelli and Mike Tomlin going on to become head coaches.
Case against enshrinement:
With all of the defensive talent he had in Tampa Bay and
Peyton Manning
in Indianapolis, Dungy only won one Super Bowl title.
Bottom line:
If I'm voting at the time Dungy comes up for the Hall of Fame, he's the first name on my ballot. Aside from his record on the field, Dungy brought all sorts of good things to every place he's ever been. He won with class and did things the right way. He still does things the right way. There was a recent tragedy involving a family member of a former Dungy player. I wish I could tell you the story of how Dungy reached out, but I'm sworn to secrecy. Let's just say it was a Hall of Fame move.
Panthers:
Steve Smith
, wide receiver.
Claim to fame:
Smith has 574 career receptions for 8,330 yards and 50 touchdowns. With all sorts of injuries at running back, Smith put the 2005 Carolina offense on his back and carried the Panthers to the NFC Championship Game. That season, Smith had 103 catches for 1,563 yards and 12 touchdowns.
[+] Enlarge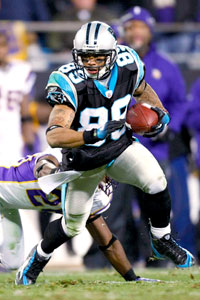 Kevin C. Cox/Getty ImagesA few more postseason appearances could help solidify Steve Smith's Hall of Fame status.
Case for enshrinement:
He's the best player in the history of the franchise. Initially expected to be nothing more than a kick returner, Smith made himself into one of the most dynamic receivers in the NFL.
His touchdown catch in double overtime in the divisional playoff round against St. Louis put the 2003 Panthers into the NFC Championship Game.
Case against enshrinement:
It's getting more difficult for receivers to get into the Hall of Fame as the NFL has evolved into more of a passing league. At the moment, Smith's numbers aren't even close to Hall of Fame material.
Smith's also had some troubles. On three different occasions, he has had physical altercations with teammates. Playing in a small market with a franchise that's never had back-to-back winning seasons doesn't help either.
Bottom line:
Let's not count Smith out of the Hall of Fame race yet. He's 31, but he really hasn't shown any signs of slowing down. He's going to miss some time in training camp as he recovers from a broken arm, but he should be ready for the start of the regular season.
With either
Matt Moore
or
Jimmy Clausen
taking over as the new starting quarterback, Smith's numbers could suffer. But he remains Carolina's only proven threat in the passing game. If he can play another four or five years at a high level and get his career yardage above 13,000, he could have a shot. Of course, it would only help if the Panthers can have a few more playoff seasons.
Falcons:
Dan Reeves, former coach.
Claim to fame:
He led Atlanta to a franchise-best 14-2 record in 1998 and the only Super Bowl berth in team history. Reeves also led the Broncos to three Super Bowls in four years.
Case for enshrinement:
Reeves, who also played in the NFL, wasn't the best head coach ever and he wasn't the best player ever. But combine what he did as a player and a coach and you've got a pretty impressive résumé. Reeves was a very solid player for the
Dallas Cowboys
in the 1960s and early '70s. He primarily was a running back, but also played some quarterback and receiver. He threw a touchdown pass in the legendary "Ice Bowl." The Cowboys made the playoffs every year Reeves played for them. He became Denver's head coach in 1981. In 12 seasons, Reeves led the Broncos to six playoff appearances, five division titles and three Super Bowls. He took the
New York Giants
to the playoffs in his first season with that team and took the Falcons to the Super Bowl in his second season with the team.
Case against enshrinement:
Reeves' coaching career was better than his playing career, and you can poke some holes in that coaching career. The strongest argument against Reeves is that he never won a Super Bowl with the Broncos, despite having John Elway in his prime. Despite his early success with the Giants and Falcons, Reeves wasn't able to keep the level of play that high for very long with either team.
Bottom line:
A very tough call because Reeves doesn't have one overwhelming accomplishment going for him. If he just had been able to win one Super Bowl with Elway, the path would be much easier.
June, 28, 2010
6/28/10
11:00
AM ET
Notable players:
QB Chris Chandler, RB Jamal Anderson, WR Terance Mathis, LB Jessie Tuggle, K Morten Andersen, LB Cornelius Bennett.
[+] Enlarge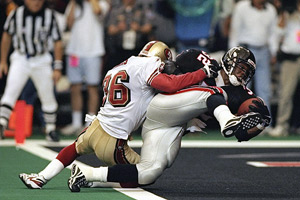 Getty ImagesJamal Anderson rushed for 1,846 yards and 14 touchdowns in 1998.
If ever there's been a one-year wonder, it was the 1998
Atlanta Falcons
. For the better part of three months, this team was as hot as any team ever and it really didn't matter who was coaching.
With coach Dan Reeves having open-heart surgery late in the season, Rich Brooks took over as the interim coach and the Falcons just kept on winning with a great defense and Anderson having a huge year. The Falcons went from Oct. 25, 1998, until the Super Bowl on Jan. 31, 1999, and didn't lose a game.
During a Dec. 13 victory in New Orleans that made the Falcons 12-2, Reeves began experiencing chest pains. When he mentioned it to team doctors the next morning, they took a look and quickly rushed him into surgery. Without Reeves, the Falcons won the next two regular-season games to finish a franchise-best 14-2.
With some help from a first-round bye, Reeves was able to return for two very narrow playoff victories against San Francisco and Minnesota. The NFC Championship Game was in Minnesota, but Atlanta upset the Vikings. That also put the Falcons into the Super Bowl for the first -- and only -- time. The opponent was Denver.
That set up a great subplot as Reeves went against
John Elway
, the quarterback he had clashed with when they were together with the Broncos. Things didn't go well for the Falcons even before the game.
Safety
Eugene Robinson
was arrested the night before the game and that created turmoil for Reeves and the Falcons. In the end, Robinson played, but it didn't really matter. Elway and the Broncos had the upper hand, winning 34-19.
Most impressive win:
The Nov. 1 game against St. Louis gets an honorable mention because it came after the Falcons got trashed by the Jets and it started the long winning streak. But people who were with the team then said the most important game was on Dec. 20 at Detroit. With Brooks coaching the team, the Falcons overcame three deficits to win 24-17 and clinched the NFC West title (this was before the NFC South was formed in 2002).
Research room:
The 1998 Falcons led the NFL in takeaways (44), fumble recoveries (25 ) and time of possession (33:10).
Honorable mention
1980:
With quarterback Steve Bartkowski and running back William Andrews leading the way, the Falcons won a division title for the first time in franchise history.
2008:
In the aftermath of Bobby Petrino and
Michael Vick
, coach Mike Smith came in and took over a team that was expected by many to be horrible. With rookie
Matt Ryan
at quarterback, the Falcons went to the playoffs.
2002:
This team made history by going into Lambeau Field and handing the Packers their first home playoff loss in franchise history.
February, 3, 2010
2/03/10
1:56
PM ET
MIAMI -- Courtesy of ESPN Stats & Information, we've got a good omen for
Reggie Bush
and New Orleans fans.
Bush is a running back and he's originally from San Diego. Those two items are somewhat significant. Running backs from San Diego have a strong history in Super Bowls.
[+] Enlarge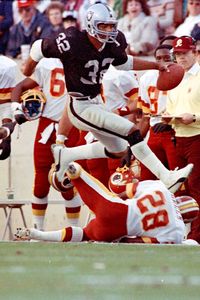 AP PhotoSan Diego native Marcus Allen got 191 yards on the ground for the Raiders in Super Bowl XVIII.
Here's a look:
Marcus Allen -- Super Bowl XVIII -- 20 Rush, 191 yards, 2 TDs vs. Redskins (Super Bowl MVP)
Allen used Super Bowl XVIII as his personal race track rushing for 191 yards on 20 carries in a blowout victory over the defending Super Bowl champion Redskins, 38-9. The most memorable play of that Super Bowl came when Allen scampered for a 74-yard touchdown. Allen took home MVP honors and gave Al Davis and the Raiders his last Super Bowl victory.
Terrell Davis -- Super Bowl XXXII -- 30 Rush, 157 yards, 3 TDs vs. Packers (Super Bowl MVP)
Super Bowl XXXII was a homecoming for the San Diego native Davis and he did not disappoint in his hometown. Davis carried the ball 30 times for 157 yards and three touchdowns, including the game winner. To cap off the perfect game, Davis took the MVP award, giving John Elway and the Broncos the first Super Bowl win in franchise history while denying
Brett Favre
his second straight Super Bowl title. Davis rushed for over 100 yards despite battling migraines throughout the game.
Davis -- Super Bowl XXXIII -- 25 Rush, 102 yards vs. Falcons
The next year, Davis and the Broncos returned for an encore in Super Bowl XXXIII, this time in Miami against the Falcons. Davis had another 100-yard performance rushing for 102 yards in the 34-19 win over Atlanta . Davis played well, but the spotlight belonged to Elway, who passed for 336 yards and a touchdown in what would be his last game.
July, 24, 2009
7/24/09
10:30
AM ET
| | |
| --- | --- |
| | |
| | Al Messerschmidt/Getty Images |
| | Former Falcons quarterback Michael Vick may get conditionally reinstated, but even if he does, will any team want him? |
Posted by ESPN.com's Pat Yasinskas
Anybody want Michael Vick?
That's not a question. It's a plea. Seriously, I'd be thrilled to trade you the former Atlanta quarterback for anything. Heck, for nothing. Take him and the mountain of baggage he carries, please.
Still no takers?
Don't feel isolated. It appears nobody is lining up to take Vick. Selfishly, I'm not real happy about that because I've had more than my share of the ugly Vick saga, which has dragged on seemingly forever.
As the NFC South blogger, my territory includes Vick until he signs with a team in another division. My readers write me every day to ask me to stop writing about Vick because they're so tired of hearing about him. That's probably not going to change any time soon.
Yes, Vick is out of prison and done with home confinement. Yes, ESPN's Sal Paolantonio is reporting Commissioner Roger Goodell has decided to grant Vick a conditional reinstatement for training camp, although there remains a chance the quarterback could face a four-game suspension.
Even with the conditional reinstatement, there's no guarantee an NFL team will step forward to take an immensely talented athlete, who may or may not be suited to play quarterback or some other position and is certain to bring a swarm of media and protesters if he shows up anywhere near a stadium. And the cloud of a possible four-game suspension doesn't make Vick any more appealing.
Still, I thought there was a chance some owner (Jerry Jones? Al Davis?) might take a shot. Now, I'm thinking there's a very real chance 32 owners will pass on Vick.
April, 20, 2009
4/20/09
2:08
PM ET
Posted by ESPN.com's Pat Yasinskas
The folks over at Page 2 came up with a fascinating idea, taking this year's draft order and making every prospect ever to come out of college eligible. You can take a look at the whole draft here.
Obviously, it's just for fun but I do think John Elway, even at his current age, probably could help the Detroit Lions. Anyway, the picks were based solely upon scouting reports on players when they were coming out of college. What they ended up doing in the NFL was not factored in.
The picks were made by our Page 2 staff and I was asked to comment on each of the NFC South's picks as if I were projecting how that player would fit in with this year's teams.
In short, the NFC South picks are:
No. 14: Saints Charles Woodson, defensive back, Michigan
No. 19: Buccaneers Peyton Manning, quarterback, Tennessee
No. 24: Falcons Ed "Too Tall'' Jones, defensive end, Tennessee State
No. 59: Panthers Joe Namath, quarterback, Alabama
Don't know about you, but I'm a little anxious to see that Namath/Manning matchup. Think it could be a little more exciting than Luke McCown and Jake Delhomme?