January, 31, 2013
1/31/13
2:00
PM ET
NEW ORLEANS -- The glitz is still here, but the tone this Super Bowl week just doesn't seem to fit with the celebrations on Bourbon Street or the free and easy nature of the host city.
The issue of player safety has been as topical as
Ray Lewis
' last game or brothers Jim and John Harbaugh coaching against each other.
We've heard predictions that the NFL will be gone in 30 years, or at least reduced to a game of two-hand touch. President Barack Obama hypothetically has wondered whether or not he would let a son play football. Current players have said they "signed up" for a violent game and all that may eventually come with it, even as thousands of former players are pursuing lawsuits claiming the NFL failed to warn them of the long-term effects of concussions.
ESPN.com surveyed a group of current and former players and executives to get their thoughts on the player-safety issues.
The group included current San Francisco linebacker
NaVorro Bowman
, former NFL cornerback Eric Davis, current Baltimore safety
Ed Reed
, retired quarterback Bobby Hebert, former NFL director of officiating Mike Pereira, former linebacker Willie McGinest, current San Francisco linebacker
Aldon Smith
, NFL Players Association president Domonique Foxworth, current Baltimore linebacker
Terrell Suggs
, retired lineman Shaun O'Hara, current San Francisco fullback
Bruce Miller
, longtime
Dallas Cowboys
executive Gil Brandt and current San Francisco guard
Alex Boone
.
[+] Enlarge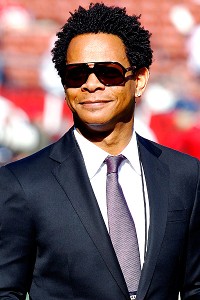 AP Photo/Kevin Terrell"Let's be real honest," former NFL safety Eric Davis said. "It's a gladiator sport. Coliseums were built for it."
Here are the highlights of their answers to the hot-button questions:
Where do you see the NFL in 30 years?
Brandt:
"I don't think we're Montgomery Ward. Montgomery Ward, at one time, was the leading retailer in the world and they made the mistake of saying we're not going to go into the little towns, we're just going to go into these big places, and they stood still. The league may doze, but it will never close. They're always looking for ways to make things better. They've been working on making the game safer and they'll continue to make it safer."
Pereria:
"I see it not a whole lot different than it is. I think the league will go as far as it can and still go further than it is now to try to make the game safer. But I don't think it's going to make the league disappear as some people have said. I think this is still a once-a-week game that people get very passionate about their games."
McGinest:
"I think the NFL definitely is going to be here to stay. I think that this is the best game in the world. I think that they're doing everything in their power to keep it that way and to make it one of the safest games. I don't think it's going to look different. I think they're just changing certain things to make it safer. If you're talking about hit zones, if you're talking about staying away from head shots and stuff like that, that's not something we're not used to hearing. So I don't think we're going to go back to leather helmets with no face masks or no helmets. This game is going to be the way it is. I just think they're doing everything and taking every precaution to make it safer."
O'Hara:
"Football is not going to disappear in 30 years. Will it look different? Of course it'll look different. Look at the game 30 years ago to today -- different game, different rules, different equipment. So 30 years from now, absolutely, it'll be a different game."
Are the safety concerns overblown?
Foxworth:
"My responsibility is just to protect the rights of the players and their health and safety, so I don't think that there can be enough [attention given to safety issues], especially given some of the things that have happened as a result of some of the head injuries. I'm pretty sure that those players and their families would say that there's no such thing as too much attention on the health and safety of the guys. So I come from that standpoint, and, being a former player, it's something I'm keenly aware of from a personal standpoint, and a lot of my friends are in this league and I know a lot of our kids may potentially be in this league. So it's very important that we put as much effort, time and money toward evolving the game and the science of the game as we can."
Smith:
"The game is what we signed up for. We didn't sign up for tennis. We didn't sign up for swimming and didn't realize we were going to go out there and get tackled. We signed up for football, which we knew was a physical sport."
Davis:
"Let's be real honest. It's a gladiator sport. Coliseums were built for it. People like to watch it and we're talking about big, strong, fast men. There are going to be collisions. There are going to be injuries. Do all the things you have to do to make it as safe as possible, but the reality is there's always going to be some danger."
Hebert:
"A little bit. But the NFL is so popular because it's the modern-day gladiator. I mean, I don't know what that says about mankind. But you can also look at boxing and ultimate fighting and how popular they are. Fans don't want to see flag football. I still think football will be here. You can change it, but you can only change it so far."
McGinest:
"I think it's necessary based on some of the studies, some of the former players and what they're going through, some of the players now. It's necessary. And it's also showing that the NFL cares about its players. If they're taking time to put on these full-on studies and they're going through every precaution with the testing of the gear and the helmets and they are willing to change certain things about the game to make sure that it's going to be here and be a safer game, it has all the signs of going in the right direction."
Boone:
"I just never understood how you change the game when you have players who are bigger, stronger and faster every year. It's just football. It's going to be physical. It's a physical sport. There are going to be injuries, but we're doing things to correct it.''
What one change would you make to improve safety?
Pereria:
"The safety issue is really all about the head. That's something the league has been focusing on for a long time and they'll continue to focus on making the rules broader than they are right now. Right now, only nine players are protected in certain situations. Can you go further? Possibly. The whole notion is going to try to be to get the head out of the game and get back to the wrap and tackling as opposed to lowering the head. They're serious about that, and they should be. To me, as I watch so much football on Sundays, it's already made a difference. You see situations where a defender really has a chance to blow up a receiver and he doesn't. To me, that means the rules are taking effect and that the fines have made a difference."
Davis:
"They're making the game safe for quarterbacks and star players. But they're not making it safer for all players. You never hear of a defenseless running back. You never hear of a defenseless linebacker. Defensive players aren't protected. Unless you make it safer for all players, I don't think you're doing as much good as you can. You have to put everyone on equal footing."
Reed:
"Defensive players should be protected, too. Offensive guys, quarterbacks in general, shouldn't be treated better than everybody on the football field.''
McGinest:
"I would take out the chop-block. That's another thing we don't talk about. A lot of emphasis is on the head, guys getting concussions and stuff, but there are also a lot of players getting their ACLs knocked out because now guys are diving. Now that they know they can't go high, guys are starting to attack with chop-blocking. That's also knocking guys' careers either out or messing them up. Not everybody's
Adrian Peterson
coming back from those injuries. A lot of guys, they take the wrong hit on the knee, they're never the same player."
O'Hara:
"I think the only real way to get everybody on the same page is to somehow get all the players in the NFL and all the coaches in the NFL and all the referees, get everybody in the same building and have, 'This is what is acceptable and this is what is not.' No second- and third-person regurgitation of the facts and, 'Here's what we're looking for,' because that needs to be consistent and everybody needs to hear the same message. Centralize the education, basically."
What else can be done to make things safer?
Hebert:
"I think you truly have to take it out of the players' hands as far as whether you're going to go back into the game or not after a head injury. As a player, when it comes to your teammates, you never want to be looked upon as a wuss. You want to be a tough son of a gun. To me, it totally has to be out of the hands of the players."
[+] Enlarge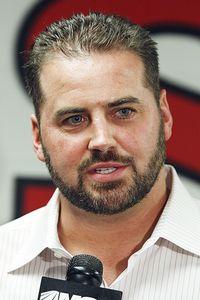 AP Photo/Mel Evans"You wouldn't give your son a circular saw and let him go and start whittling wood," former lineman Shaun O'Hara said. "You would teach him how to use that."
Davis:
"Look, the guys I played with and the guys that are playing now were schooled a certain way. It's too late for us and maybe too late for the guys still playing in the NFL. But the next generation is where a difference can be made. The kids that are coming into Pop Warner now need to be taught how to tackle properly. And maybe, just as importantly, they have to be taught that if you get dinged, if you take a hit to the head and you don't feel right, you go straight to the coach or the doctors and tell them immediately. People do that with ankle injuries. You hurt your ankle, you come out of the game. Head injuries need to be treated the same way."
Foxworth:
"In nine years, you can ask me that question and I'll have a definitive answer. But I don't know. We don't know how much damage repetitive hits do or whether it's the big knockout blows that do the damage. There are just so many questions. We're not sure about the best treatments and the quicker recovery time and if there are any precursors that make someone predisposed to have these kinds of brain injuries. Those are questions that will be answered by this Harvard research, and at that point, I think we can be able to set forth clear protocols of how to treat a player after a practice or how many hits [before] it's time to sit a guy out. Those sorts of things that are changes that can be made easily."
Brandt:
"I think it's like the Internet. People that are older, like myself, are not Internet-savvy. Kids that are 7 or 8 know more about it than I do. I think it's a thing that you build from the bottom up. Where I think we have a problem is that we have a lot of youth football leagues and the guys that are coaching sometimes get overzealous. I think we're gradually educating that element."
Would you let a young son start playing football right now?
Bowman:
"I'm not going to deter my kids from the game. When they see the game, they understand what it's all about. It's a physical game."
Suggs:
I respect [the president's comments] for the simple fact that this is a very physical and dangerous sport, especially considering that with the concussions and the current findings of Junior Seau. A parent would be reluctant [to let] his or her child play football. I think, if you play the game right and you play it appropriately, that injuries are part of the game.''
Pereria:
"Sure, I would. But I'd also be out there with him, coaching and working with the coaches to make sure that the game, at that level, is being coached properly and that kids are keeping their heads up and abiding by the rules that are still in the NFL rule book, which defines tackling as wrapping your arms around the opponent and taking him to the ground."
Miller:
"Everyone has their own opinions, but I would let my kid play football. It's a violent game, but not too violent. At the same time it builds character, hard work, dedication, responsibility. All of those things are important. They are taking caution to be careful and concerned for the players' safety and taking that into account more."
Foxworth:
"My son's so young, I like to think that we would have made advances by the time he's old enough to play to make it safer. Given the current state of the game, I wouldn't stop him from playing it, but I'd be very cautious about the exposure and the frequency with which he may come into contact with those type of dangers."
O'Hara:
"If my son wanted to play football, I would absolutely let him. I would drive him. But I would teach him. You wouldn't give your son a circular saw and let him go and start whittling wood. You would teach him how to use that. There's a proper way to use power tools. So my issue is, when I hear parents say, 'I don't want him to play football,' well, it's because you don't want to take the time to teach him how to do it right. Or you don't know how to teach him right. So that, to me, is a big sticking point. When I see kids that want to play football, I just want them to learn it the right way. We need to make sure our coaches are teaching our kids the right way to do things, because for every one kid that gets hurt, that's something that could affect a whole lifetime."
January, 29, 2013
1/29/13
7:46
AM ET
NEW ORLEANS -- Before I run off to Super Bowl media day, let's take a look at the top headlines from around the NFC South:
ATLANTA FALCONS
Although uncertainty remains about the funding,
five finalists
have been selected as potential designers of a new stadium for the Falcons.
Jay Adams writes that most of the
early mock drafts
have the Falcons going for a tight end or defensive lineman in the first round of the draft. That makes plenty of sense because tight end
Tony Gonzalez
has given indications he's leaning heavily toward retirement and the Falcons need an eventual successor to defensive end
John Abraham
. But, if the Falcons don't re-sign
Brent Grimes
and/or
Sam Baker
, I could see them turning their attention toward cornerback or left tackle.
CAROLINA PANTHERS
Owner Jerry Richardson
met with state officials
to ask for a reported $62 million in funding for renovations for Bank of America Stadium. The Panthers already have been lobbying Charlotte officials for $125 million in funding. If both the state and city come through with that kind of money, the total will come to $187 million. Presumably, Richardson and the Panthers would come up with the other $63 million. I recognize it's common for state and city tax money to finance new stadiums or renovations. But it's still a little weird that Richardson is asking for help because the owner was very proud of the fact he was able to build the stadium without any taxpayer money in the first place.
The Jim Harbaugh vs. John Harbaugh storyline is probably the biggest of this Super Bowl. In the spirit of telling what family rivalries can be like, Joseph Person got Carolina offensive coordinator Mike Shula to
recall
what it was like coaching against his father, Don, and brother, David.
NEW ORLEANS SAINTS
The name of Times-Picayune columnist Jeff Duncan
appeared in transcripts
of testimony about the bounty scandal in December. Assistant head coach Joe Vitt testified that the team believed former defensive coordinator Gregg Williams was texting the names of who the Saints were going to draft to Duncan before the picks were announced publicly. This supposedly happened during the 2011 draft. I wouldn't put anything past Williams. But Duncan says, if there were such texts being sent, they weren't coming to him. I've known Duncan for more than a decade and if he says he wasn't getting texts, then I can assure you he wasn't getting texts.
TAMPA BAY BUCCANEERS
Baltimore running back
Ray Rice
had some
high praise
for Tampa Bay coach Greg Schiano. Rice played for Schiano at Rutgers. Although Schiano has drawn some criticism for perhaps being heavy handed, Rice said the Ravens use the same team-first approach that Schiano believes in. The Ravens obviously are in the Super Bowl, so maybe Schiano's style isn't a bad thing. We'll find out for sure in time.
May, 1, 2012
5/01/12
1:30
PM ET
Somehow, and I'm still trying to figure exactly how, the
New Orleans Saints
have been dragged into yet another controversy.
Baltimore coach John Harbaugh was doing an
interview with a local radio station
Tuesday morning. Harbaugh was asked a question about the Saints' bounty program and the general concept of cheating throughout the NFL.

Harbaugh
Harbaugh didn't say a thing about the Saints. Instead, he turned his answer toward the
New England Patriots
, who had their own controversy with Spygate several years ago.
"In the end, everything is brought before the light of day, when it's all said and done," Harbaugh said in the interview. "What happens, even the thing in New England, no matter whether those things had any impact on whether they won their championships or not, they got asterisks now. It's been stained."
That set off a firestorm in New England, and the Ravens quickly moved into damage-control mode. The Ravens just sent out a statement from Harbaugh. Although the Saints didn't get mentioned in his on-air words, they do get mentioned in Harabaugh's latest statement.
"While on the 98 Rock show this morning to talk about the run to honor O.J. Brigance and raise funds for ALS research, I answered a question about playing within the rules and referred to the perception that the Super Bowl championships won by the Patriots and Saints have a stain,'' Harbaugh said. "My reference was to the perception out there that came as the result of the league's actions. I could have been more clear that I was referring to those viewpoints. I totally believe that the Patriot and Saint coaches and players earned those championships. Bill (Belichick) and Sean (Payton) both know that. There has been some distortion about what I said.
"The original tweet indicated I pointed the finger at Bill Belichick and mentioned Bill's name. I did not. I have so much respect for Coach Belichick and the job he does and has accomplished in his Hall of Fame career. I called him to remind him of my respect for him. I also reached out to Tedy Bruschi, who rightfully defended those Patriot players and coaches on ESPN, to tell him that I agree with him that the Patriots earned every victory."
March, 1, 2011
3/01/11
3:10
PM ET
For those of you who have sort of forgotten about Rich McKay since he left his role as the
Atlanta Falcons
general manager after the 2007 season, here's a reminder that he still remains a powerful force in the NFC South and the NFL. Heck, aside from Jerry Richardson who's heading the owners in the labor talks, I think you could make an argument that McKay is the most important figure in the NFC South.
The league announced Tuesday that McKay will serve as chairman of the NFL's competition committee. McKay's been on the committee since 1994, when he was the general manager for the
Tampa Bay Buccaneers
, and started serving as co-chairman in 1998. But this latest move is a step up for McKay, who had been co-chairman with Jeff Fisher since 2001. With Fisher leaving the
Tennessee Titans
and no longer coaching, McKay is now a one-man show at the top of this committee.
McKay became Atlanta's team president in 2008 when the Falcons hired general manager Thomas Dimitroff. A lot of people think McKay's role was narrowed strictly to running the team's business operations. But that's never really been the true story.
While Dimitroff handles the traditional roles of a general manager, McKay has continued to help with salary-cap management and is sometimes turned to for advice on football matters. He also is the point man for the new open-air stadium owner Arthur Blank wants built in downtown Atlanta.
McKay also has been Atlanta's main liaison to the league, and that now has been underscored with his role as chairman. He should help give the Falcons some clout when it comes to proposed rule changes and similar matters.
For the record, McKay is the only NFC South representative on the competition committee. The other members are Stephen Jones (
Dallas Cowboys
), Marvin Lewis (
Cincinnati Bengals
), John Mara (
New York Giants
), Ozzie Newsome (
Baltimore Ravens
), Bill Polian (
Indianapolis Colts
) and Rick Smith (
Houston Texans
).
There also is a coaches' subcommittee to the competition committee and there is one NFC South figure there. That's
New Orleans Saints
' Sean Payton. The other members of the subcommittee are John Madden, John Harbaugh (Ravens), Mike Holmgren (
Cleveland Browns
), Andy Reid (
Philadelphia Eagles
), Steve Spagnuolo (
St. Louis Rams
), Mike Tomlin (
Pittsburgh Steelers
), Norv Turner (
San Diego Chargers
) and Ken Whisenhunt (
Arizona Cardinals
).
November, 11, 2010
11/11/10
5:52
PM ET
We had a
big column on the similarities between
Atlanta quarterback
Matt Ryan
and Baltimore quarterback
Joe Flacco
earlier today. Now, let's do a similar comparison on their coaches.
Like Ryan and Flacco, Mike Smith took over in Atlanta in 2008 at the same time John Harbaugh was hired in Baltimore. Not only did the two coaches find franchise quarterbacks and a playoff berth in their first seasons, but they also have the exact same 26-14 regular-season career record.
Atlanta and Baltimore each went 11-5 in 2008 and 9-7 in 2009. Both teams are 6-2 so far this season.
Barring a tie tonight, one of the coaches is going to come out of this one with a better record.
November, 11, 2010
11/11/10
1:00
PM ET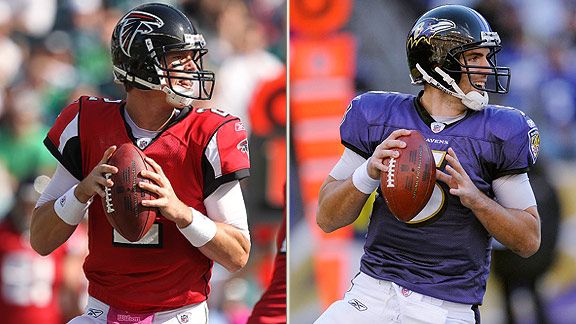 Rafael Suanes/US PresswireMatt Ryan and Joe Flacco have similar backgrounds and are having similar careers.
ATLANTA -- If you had walked by the Atlanta Falcons' media relations office Monday afternoon and heard the quarterback on the speaker phone, you would have thought it was
Matt Ryan
.
It wasn't. It was Baltimore quarterback
Joe Flacco
.
It's only fitting that these two guys speak with the same accent that's prevalent in the Philadelphia area because it's just one more thing, among many, that links Ryan and Flacco.
When you really look at everything, they're pretty much the same guy. It's been that way from the day they were drafted in 2008. In their third seasons, the common bond between the two has grown even stronger.
"We spent a whole lot of time doing due diligence on Joe Flacco because there was probably a good chance we were going to draft a quarterback,'' Atlanta coach
Mike Smith
said. "Joe has got a very good skill set. I think he's done an outstanding job for the Ravens. There are a lot of similarities between both players in terms of their size and their skill set and I even think in their makeup. They're going to be tied together. They're both the type of quarterback that's going to play in this league for a long time and be very successful.''
[+] Enlarge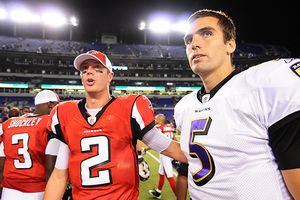 James Lang/US PresswireMatt Ryan and Joe Flacco met on the field in a 2008 exhibition.
Ryan and Flacco will have their first regular-season meeting tonight, but their careers have been tied together from the start -- maybe even before they got to the NFL.
They were born nearly four months and 40 miles apart. Ryan grew up in Exton, Pa., and Flacco was reared just across the Delaware River, in Audubon, N.J.
The Falcons did their homework on Flacco before drafting Ryan with the third overall pick. The Ravens did their homework on Ryan and pounced on Flacco in the first round with the 18th pick. Heck, Baltimore coach John Harbaugh was even scouting Ryan as far back as high school.
"Yeah, Matt's a guy that we were involved with, studying him as quarterback,'' said Harbaugh, an assistant coach with the Eagles from 1998-2007 . "He was kind of a top-rated quarterback coming out. I was always so impressed with him. He's from Downingtown, Pa., [near Exton] so when I was in Philly, I just followed his career all through high school too, so I just kind of knew a lot about him. He's a great leader, a tremendous arm, great touch, very accurate, and I think those are things that Joe and he have in common. Obviously, he's done a great job of winning football games. "
Flacco has taken Baltimore to the playoffs in each of his first two seasons. Ryan took the Falcons to the playoffs as a rookie, but Atlanta went 9-7 and narrowly missed the playoffs last season as Ryan missed two games with a toe injury.
Flacco visited with the Falcons before the draft and was at least a consideration, although Ryan was the consensus top quarterback in that draft.
"They worked me out and they interviewed me for a little bit and it went well, just like all of the other workouts and interviews,'' Flacco said. "They usually go in there and they try to put a little bit of pressure on you and things like that. For the most part, they're just trying to get a feel for what kind of personality you have and how good they think you are at football. It went pretty well and I enjoyed it."
In addition to their other similarities, the statistics for Ryan and Flacco are nearly identical -- over their careers and especially this year.
In his three seasons, Flacco has completed 732 of 1,190 passes (61.5 percent) for 8,501 yards with 47 touchdowns, 30 interceptions and an 85.8 passer rating.
In that same span, Ryan has completed 708 of 1,173 passes (60.4) for 8,305 yards with 51 touchdowns, 30 interceptions and an 85.7 passer rating.
This season, Flacco has 12 touchdown passes, six interceptions,1,917 passing yards and an 88.9 passer rating. Ryan has 13 touchdowns, five interceptions, 1,949 passing yards and a 90.2 passer rating.
Ryan and Flacco didn't cross paths until the start of the draft process.
"I got to know him pretty well,'' Ryan said. "I've talked to him in the course of the offseasons the last couple of years at different events. He's a really good guy. He's had a great start to his career. A lot of success. His record speaks for itself. I've been very impressed with what he's done.''
When they get together, Ryan and Flacco said they don't really talk about football. They talk about some common friends in the league, golf and things back in the Philadelphia area. But they also know they have an unspoken common bond that probably will last at least as long as they play.
June, 8, 2009
6/08/09
4:07
PM ET
Posted by ESPN.com's Pat Yasinskas
Former Tampa Bay coach Jon Gruden will be one of five current or former NFL coaches taking part in the first NFL-USO Coaches Tour.
Gruden, who now is an analyst for "Monday Night Football," will join Tom Coughlin, Bill Cowher, Jeff Fisher and John Harbaugh on a visit to troops in the Persian Gulf later this month and into July.
"You're talking about people who are all the way over there where the temperatures exceed 130 degrees," Gruden said. "These people miss their loved ones. They've been over there a long time. I'm sure they have the same fears as that the rest of us have. To go over there and give my thanks for all that they are doing, I'm really looking forward to the opportunity and the experience."
March, 17, 2009
3/17/09
6:35
PM ET
Posted by ESPN.com's Pat Yasinskas
All right, after getting through mailbags for the Saints and Falcons, it's time to get back to the NFC South's favorite topic.
That's Jay Cutler and that means it's time for a mailbag on the Tampa Bay Buccaneers. Hundreds of you are asking about the possibility of the Bucs trading for the Denver quarterback.
Let's start by saying there are no definite indications that the Bucs and Broncos are even talking at this point. But they did discuss a deal back at the start of free agency and that leaves plenty of room for speculation as the sparks continue to fly between Cutler and the Broncos.
Again, there's no way to answer all of your great questions, so I'll choose a few that seem to represent what's on a majority of minds. I'll put the Cutler questions first and, then, move on to a few other matters.
Brian in Rochester, N.Y., writes:
What are the chances the Bucs actually land Cutler??
Pat Yasinskas: Your question pretty well summarize a lot of questions. Again, nobody knows exactly how the Jay Cutler scenario is going to play out in Denver. But you're asking for my opinion and speculation. I'm going to say the same thing to all of you that I just said to my good friend and renowned Tampa singer/guitarist and Bucs fan Johnny G. Lyon. He was on his way to set up for his Saint Patrick's gig with JGLB, but called to ask if there was anything new on Cutler. No new developments, but if Cutler truly is on the market, I think the Bucs HAVE to go out and get him. It just makes sense on a lot of levels. First, Cutler's a downfield thrower and coordinator Jeff Jagodzinski wants a passing game that can go downfield. Second, the Bucs are pretty well set up with the rest of their offense. You can make a case that all the Bucs need is a quarterback. Third, and don't overlook this one, the Bucs could use a splash. After getting rid of Jon Gruden and Derrick Brooks, the Bucs don't exactly have a lot of star power. Ownership is aware of that and ownership here likes star power. This wouldn't be quite as big as going after Brett Favre last summer -- on the surface. But, in the long run, a trade for Cutler could be even bigger for the Bucs. Cutler has some star power. He also has lots of ability and he's 25. There's room for him to build that star power with the Bucs.
---
Mikey in Iraq writes: Pat, Bucs fan here. Ive been deployed over in Iraq, and dont get much information. Was wondering if Tampa, does go after cutler, what is it that tampa has to work with besides Draft Picks?
Pat Yasinskas: Well, the draft picks are the most important thing. I'm just guessing here that it would take a first-round pick and one other choice to get Cutler, if the Broncos do trade him. An existing player could be part of a deal, but I don't see that as being a huge priority. The one thing that might coax the Broncos would be a quarterback to replace Cutler. I don't see Brian Griese returning to Denver as something the Broncos would be interested in, so I think it will come down to draft picks.
---
Paul in Houston, Texas, writes: Pat, I've been wondering alot about what the Glazers have been thinking sticking Raheem Morris in the 'line of fire' regarding his new job as head coach of the Bucs. Its my thinking only but do you think as well that if he doesn't perform very well in his first year that the ownership could opt to release him and bring in the likes of Bill Cowher or Mike Shannahan when they return to coaching in 2010?
Pat Yasinskas: Possible. But I think the Glazers are thinking Raheem Morris can do very well in his first year. That's why they hired him. They're following a leaguewide trend of going with young coaches. There's a reason for that trend. It's guys like Atlanta's Mike Smith and Baltimore's John Harbaugh, who took their teams to the playoffs in their first season as head coaches. Morris was going to be a head coach somewhere before too long. Maybe the Glazers sped up that process a bit, but they've seen a lot of assistant coaches come through their system (Lovie Smith, Herm Edwards and Mike Tomlin to name a few) and go on to have success elsewhere. Makes sense. But it also makes sense that if young head coaches don't continue to have success, you could see a trend back to recycling former head coaches.
---
Felix in parts unknown writes:
Hey pat, I'm curious on who is going to be the starting corner opposite of
Aqib Talib
?
Pat Yasinskas: At the moment, it's Ronde Barber, but I think that's far from being set in stone. Barber survived the purge of old guys and that's a sign that Morris, who was the secondary coach last season, believes he has something left. But the Bucs have entertained a fair amount of free-agent cornerbacks. They haven't landed any, but that tells me they're looking for options. I think Barber could end up as the nickelback. The Bucs could draft someone like Malcolm Jenkins or Vontae Davis and use Barber to help ease the transition or they still could sign a free agent with some experience.
---
Rio in Tampa writes: What are we going to do about our defensive tackle situation? Do we have a solution in house or is it our main draft concern?
Pat Yasinskas: I don't think it would be a stretch to say defensive tackle is a huge concern. Jovan Haye left through free agency, Chris Hovan's not getting any younger and Jimmy Wilkerson is a nice backup who can swing between end and tackle. New coordinator Jim Bates likes bigger defensive tackles. I still think the Bucs are looking hard at this area in free agency and may have a solution before long. But, if that doesn't happen, defensive tackle could be a top priority on draft day.
January, 16, 2009
1/16/09
11:35
PM ET
Posted by ESPN.com's Pat Yasinskas
| | |
| --- | --- |
| | |
| | Al Messerschmidt/Getty Images |
| | The Glazers, known for pursuing big names, opted for a relative unknown in Raheem Morris. |
TAMPA, Fla. -- In the past, they've flirted with the likes of Bill Parcells and Steve Spurrier (back when he was a big name) and sold their souls (and two first-round picks, two second-round picks and $8 million in cash) to get Jon Gruden.
They even went out and bought the fabled Manchester United soccer team.
In short, the Glazer family -- Malcolm and sons Joel, Bryan and Ed -- like big names. So, how in the heck are the Glazers hiring Raheem Morris as the head coach of the Buccaneers?
Well, to make a long story short, he's Tony Dungy. Or Mike Tomlin. Or Lovie Smith. Or Rod Marinelli, back when it looked as if he could win a few games.
Morris also is, in a lot of ways, the anti-Gruden. All of that factored into the decision the Glazers made Friday, firing Gruden and general manager Bruce Allen and putting Morris and long-time personnel executive Mark Dominik in their spots.
So who is Morris?
We'll likely find out a lot more Saturday, when an introductory news conference is expected to be held. But here's the short version. Morris is 32. He was Tampa Bay's defensive coordinator -- for about two weeks.
Before that, Morris was Tampa Bay's defensive backs coach for two seasons in his second stint with the team. He first joined the Bucs in 2002 and stayed until he went to Kansas State as defensive coordinator for one season in 2006. Morris also played college football at Hofstra.
That's the bio, but here's the stuff that goes deeper than that. Morris was going to be a head coach in this league someday. Coaches who've worked with him rave about him and players who play for him do it even more vocally.
This guy is a true players' coach. He's also going to be a true fans' coach, but it might take a while to get to know him. All indications are Tampa Bay fans are going to love Morris.
| | |
| --- | --- |
| | |
| | NFL.com Video |
| | Breaking down the Buccaneers' decision to fire Jon Gruden as head coach. |
That's something that couldn't be said about Gruden. His act had worn thin in Tampa and fell apart completely when the Bucs lost their last four games to finish 9-7 and out of the playoffs. Tampa Bay fans were outraged.
The Glazers, known for their quiet and calm, apparently were outraged as well. They took their time (three weeks) and did their homework. These guys are sharp and they talked to players and assistant coaches. Word is, Gruden didn't get glowing reviews. I think that was Jeff Garcia I saw doing cartwheels up and down Dale Mabry Highway when the firing was announced.
Part of Gruden's problem might have been that he was a bit of a showman and people stopped buying that when he didn't win a playoff game after the Super Bowl. They also stopped buying it when, year after year, Gruden and Allen just patched together the Bucs without anything that looked remotely close to a long-term plan.
That's why Gruden and Allen are gone and Morris and Dominik are getting promoted. The Bucs once ran Dungy out of town because he couldn't win the big one. They also watched as Tomlin, Smith and Marinelli worked as Tampa Bay assistants and left for head jobs and, for the most part, great success.
Maybe the Glazers looked at the Bill Cowhers and Mike Shanahans of the world before making their decision and realized what they had in their own backyard. They had a future star in Morris and the anti-Allen in Dominik, who at least has social skills. Dominik also has a strong reputation as a personnel evaluator.
And maybe the Glazers looked around the league and saw men such as Atlanta's Mike Smith and Baltimore's John Harbaugh having success in their first seasons as head coaches on any level.
The Gruden-Allen era in Tampa Bay is over. The Morris-Dominik era is about to start. Give credit to the Glazers for keeping an open mind on this and not just going out and hiring the biggest name. That worked briefly with Gruden, but there didn't seem to be any real direction for this franchise in the last few years.
You'll hear a lot more about Morris and Dominik once the Bucs make this official, and I'm guessing they'll sound more like Dungy and former general manager Rich McKay than like Gruden and Allen. They may or may not bring instant success.
But Morris and Dominik may get a honeymoon period that had long ago expired on Gruden and Allen, and fans may have to be a little patient in the growing process.
I'm guessing Tampa Bay fans won't mind because they'll have a coach and general manager who actually are following a plan.
December, 25, 2008
12/25/08
12:00
PM ET
Posted by ESPN.com's Tim Graham, James Walker and Pat Yasinskas
The debate over who should be the NFL's coach of the year begins with three rookies who assumed control of woebegone teams and brought them back to relevancy.

Atlanta Falcons coach Mike Smith, Miami Dolphins coach Tony Sparano and Baltimore Ravens coach John Harbaugh have been sideline miracle workers. The Falcons already have clinched a playoff berth. On Sunday, the Dolphins can claim the AFC East, and the Ravens can clinch the final wild-card berth.

ESPN.com bloggers Pat Yasinskas, Tim Graham and James Walker discuss whom is more deserving of the award, breaking down the debate into the three significant issues: team infrastructure, personnel at their disposal and obliterating expectations.

Which coach had to deal with the most daunting organizational strife?
Tim Graham: The Dolphins blew themselves up at the start of the year. Bill Parcells arrived late in 2007 and didn't see much he liked from a team about to miss the playoffs a seventh straight season. The team was going through the motions of a 1-15 campaign that was even more ridiculously bad than the record indicated. So the Dolphins started from scratch. Parcells fired the general manager, the head coach and got rid of all the captains.
Tony Sparano became the fifth head coach in the past five years, taking over a team that hadn't recorded double-digit wins since the glorious Jay Fiedler era. Dolphins owner Wayne Huizenga, meanwhile, was unloading a good portion of the team, creating a widespread uneasiness at the Davie, Fla., headquarters even in the offices outside of the football operations department.
A good time was not being had by all.
Pat Yasinskas: Sorry fellas, but this one's not even a contest. Yeah, the Ravens and Dolphins had their problems. But let's face it, at the end of last year, the Falcons were the most dysfunctional franchise in the history of football. Their franchise quarterback, Michael Vick, had just gone off to jail.
Their coach, Bobby Petrino, had walked out on them for a more talented roster at the University of Arkansas. The city, which never truly embraced the Falcons, now turned its back on them completely. Even Rich McKay, the team's general manager, president and perhaps only lingering thread of sanity, got pushed out of the football side and into the business side of things. Then owner Arthur Blank did the most daring thing of all and hired Mike Smith, who had never been a head coach before, and Thomas Dimitroff, who had never been a general manager before. It looked as if it was going to be a classic case of the blind leading the blind.

James Walker: Let me add this, Pat and Tim. Much is being made of Miami's 1-15 record last year, but keep in mind which team that victory came against. Yes, it was the Baltimore Ravens. That was a rock-bottom moment, not only for the season but I think for the 12-year history of the franchise.

Baltimore's biggest issue moving forward was where it would go from there. The Ravens' situation was unique in that they had to consider what type of transition to make.

Was Baltimore in need of a complete overhaul or just retooling? Sometimes, that's harder to accomplish in the NFL than what the Dolphins and Falcons did by completely starting over. Those two teams at least knew their direction early on.

The Ravens had to tread a more delicate path in bringing in some new coaches such as Harbaugh and offensive coordinator Cam Cameron, while keeping others such as defensive coordinator Rex Ryan. They brought in some new players to help certain spots and trusted others to bounce back, either from injury or poor performance.

Baltimore also traded down in the draft to land more picks and first-round quarterback Joe Flacco, who was a bigger unknown than Matt Ryan or Jake Long. So there were certainly some issues with the Ravens. It just happened that Baltimore general manager Ozzie Newsome pushed most of the right buttons.
---
TG:
Excellent points, James. You make an intriguing case for the Ravens in this area that I didn't think could be made compared to the Falcons or Dolphins. Mediocrity sometimes is harder to overcome than wretchedness, and the Ravens seemed stuck in neutral.
But let me remind everybody that Cameron was the Dolphins' head coach last year and ran their offense. He also had a huge say in personnel, which included the ill-fated addition of quarterback Trent Green and drafting return specialist Ted Ginn with the ninth overall pick. Cameron has returned to genius status with the Ravens. I think that speaks not to some sort of professional rebirth as much as it does that the infrastructure that was in place. There already was decent talent on the roster and good football people in the front office to lean on. The Dolphins didn't have an Ozzie Newsome.
As for the Falcons, do you mean to tell me, Pat, that overcoming all those travails you outlined are a big deal? Puh-lease. Teams handle that sort of turmoil every year, don't they? OK, maybe not.
PY: All right, I'm going to move on with how the Falcons began to rebuild their infrastructure and this brings up what seems like a very subtle point, but, as much as anything aside from drafting Matt Ryan and signing Michael Turner, it has been a key for the dramatic turnaround. Quite simply, Mike Smith put together an all-star team as a coaching staff.
He got former head coach Mike Mularkey to be the offensive coordinator, quarterback teacher Bill Musgrave to work with Matt Ryan (before the Falcons even knew they had Ryan) and kept defensive backs coach Emmitt Thomas on staff. That was hugely important because Thomas was the guy who coached the team when Petrino left and the players trusted him. Smith completed the roster by getting veteran position coaches such as Paul Boudreau, who has taken very ordinary talent on the offensive line and kept Ryan standing upright and opened all sorts of holes for Turner.
It was kind of the same with Dimitroff, who knew a lot about evaluating players, but had never negotiated a contract. People like to say McKay is completely out of the football end of things and assume there's a rift between him and the guy who filled his general manager duties. But that's just not the case. McKay's one of the smartest people in the NFL and it makes some sense to at least let him keep a hand in the football side. McKay's the one who did Ryan's contract and he has been guiding Dimitroff and his staff on other contracts. From what was a totally dysfunctional organization, the Falcons have patched together one that now works very smoothly with good people in every spot.
JW: The Ravens, more than anything, needed a culture change. I think that should d
efinitely be considered when it comes time to vote.

Harbaugh had to come in and quickly tear down the relaxed, country-club atmosphere that Brian Billick left behind. The training camps were harder. The practices were more up tempo, and when you have a lot of strong-minded veterans that were there before the head coach, that can become dicey.

But the leaders in Baltimore's locker room bought into Harbaugh's message early and everyone else fell in line. Once that happened, it was no longer Billick's team. Winning early also helped, but this situation had the potential to be a major challenge that Harbaugh defused early on.

I don't think either Smith or Sparano faced the same issues, because those rosters were gutted and infused with youthful players who were easier to mold.
---
Which coach coped with the worst personnel entering the season?
PY: I remember standing at Falcons training camp and thinking, "This is not an NFL team." I looked out and saw Keith Brooking, John Abraham and Lawyer Milloy as the only big names, and they're all closing in on the end of their careers. The cupboard appeared to be absolutely bare.
I know everyone likes to think the Michael Vick thing is what left the Falcons so short-handed. It really wasn't. When Smith and Dimitroff came in, one of the first things they did was to gut the roster. They unloaded big names such as DeAngelo Hall, Alge Crumpler and Warrick Dunn, so a bad roster suddenly looked even worse. Back on that day in training camp, I played a little game and asked myself how many Falcons could start for another team? My answer was brief -- Abraham and fullback Ovie Mughelli. That's it.
JW: The Ravens had good personnel, but much of it was aging. Baltimore entered the season with seven starters with at least 10 years of experience, and many of those key players were coming off injuries the year before.
So although Harbaugh had veterans such as Ray Lewis, Samari Rolle and Trevor Pryce, the big unknown was how would they hold up for a 16-game season. The Ravens have had injuries this year but they've been fortunate for the most part with their older players, and it's one of the reasons they are having a winning season.
Even though Miami beat Baltimore last year, I would still say the Dolphins' personnel was considered the thinnest coming in. Would you agree, Tim?
TG: Oh, the Dolphins looked thinner than Manute Bol in pinstripes. What strikes me most when reflecting on Miami's training camp was the dearth of significant names on either side of scrimmage. A casual NFL fan couldn't name five guys on their roster, and the most well-known players came with serious question marks.
Ronnie Brown was returning from season-ending knee surgery. His backfield mate, Ricky Williams, is 31 years old and a known head case. Joey Porter was viewed as the NFL's most egregious free-agency error of 2007. Even Chad Pennington, once he arrived, was considered a washout just clinging to a career. Before leading target Greg Camarillo suffered a knee injury in Week 12, Miami's game-day receiving corps consisted of only one player who had been drafted, Ted Ginn. And he's considered a bust by most Dolfans.
---
PY: With such poor personnel, Smith and Dimitroff knew they had to work their tails off to rebuild the roster. It looked as if it might take a couple of years for them to assemble a roster capable of even challenging for the playoffs. Obviously, they've moved far ahead of schedule and that's because they were lucky and good as they went about the process. The first piece of the puzzle was signing Turner. He was viewed as the biggest prize in free agency, so why would he want to go to a team like the Falcons?
After four seasons of playing in the shadows of LaDainian Tomlinson in San Diego, Turner was looking for a place where he could be "the guy." The Falcons told him they'd give him 20 or 30 carries a game. They had him show up at an Arena Football League game and the crowd went nuts. If that didn't make Turner feel welcome enough, the Falcons wouldn't let him leave the building without signing a contract.
As good as Ryan has turned out, it was still a gamble to take any quarterback with the third overall pick and start him right away. But Dimitroff did an enormous amount of homework on Ryan and firmly believed he was exactly whom the Falcons needed to be their new quarterback and face of the franchise. Dimitroff's draft preparation didn't stop there. He traded back into the first round to get left tackle Sam Baker to protect Ryan's blindside, got a defensive quarterback in middle linebacker Curtis Lofton in the second and a third receiver and return man in Harry Douglas in the third. Those four rookies plus defensive back Chevis Jackson each have played huge roles in the turnaround.
JW: Pat and Tim, let me end this with a quick story that relates to both of your teams.

I live in Cleveland and attended the rookie orientation at the Hall of Fame in Canton, Ohio for both of these teams. I was working on a story this summer and picked the brains of about a half-dozen rookies that day such as Long, Chad Henne, Ryan and Baker, and I got the sense early that these were respectful, mature players that appreciated the opportunity to play in the NFL. So I'm not surprised Atlanta and Miami have young talent playing beyond their years.

But what was funny was the number of players that were brought in. The orientation was for rookies only, but I remember thinking the Dolphins and Falcons brought their entire 53-man rosters to Canton. There were at least 15 rookies and undrafted free agents coming off the bus from each team, and it could have been closer to 20 players.

Obviously some rookies and rookie free agents never made it past training camp, but it illustrates the point you two were making about gutting the rosters. In that respect, Miami and Atlanta definitely had a farther starting point than the Ravens.
---
Which coach prompted the lowest expectations?
JW: Without a doubt, all three teams and coaches came in with question marks. Most experts picked the Dolphins, Falcons and Ravens to finish either third or last in their respective divisions at the beginning of the season. But in terms of coaches, Harbaugh was the biggest unknown.

Two years ago Harbaugh was a longtime special teams coach for the Philadelphia Eagles. He was promoted to secondary coach under Philadelphia's Andy Reid for one year before impressing the Ravens enough to lead their team.

There were certainly doubters locally and nationally. The biggest question was can a coach that spent most of his career running special teams handle all the strong personalities as the leader of the Ravens? But Harbaugh had the charisma and intensity to pull it off and was very smart to put together an A-list staff of assistants to back him.

As far as the team, no one knew what to expect from Baltimore. Were the Ravens a five-win team of 2007 or the 13-win team of '06? Maybe they were somewhere in between?

With decent quarterback play, I felt this team could win seven or eight games this year. My prediction was higher than most, but the Ravens have far exceeded even my expectations.
PY: If the expectations in Detroit this year were what they were in Atlanta, Matt Millen would still have a job and Rod Marinelli would be viewed as a decent coach. Seriously, after what happened to the Falcons last year, there were no expectations in Atlanta. Three or four wins and less than three major off-field controversies would have been considered a nice season. People were hoping the Braves went deep enough into the playoffs that there wouldn't be much gap before the Hawks started playing some preseason games because, as far as Falcons fans were concerned, there was going to be no reason to watch the Falcons.
In large part, I think that turned out to be a good thing. The incredibly low expectations allowed the Falcons to decide to start Ryan from Day One because fans wouldn't have the lofty expectations for him that they usually do for a first-round quarterback. Ryan didn't have to start the season under a microscope and that gave him a chance to get comfortable in a hurry. Even at midseason, Atlanta fans still were looking at the Falcons with guarded optimism. It has only been in recent weeks that people have started to even think about the playoffs.
TG: James, I have to disagree with you that Harbaugh was the most unknown of the new coaches. People at least knew him by his last name, his father being a well-known college coach and his brother playing NFL quarterback before embarking on a coaching career of his own. People still think the name of the new Dolphins coach is Tony Soprano.
As for expectations, no sane individual ever would have predicted Miami would finish with double-digit wins or be in position to make the playoffs in Week 17. But that was no more unfathomable than what's transpired in Atlanta.
But here's where Sparano will be taken for granted when it comes time for people to consider coach-of-the-year honors. Parcells, with his mere presence, inflated expectations. Fans weren't bold enough to consider an AFC title, but seven or eight wins was within the realm of possibility. And when people judge Miami's turnaround, the first person they will give credit to is Parcells.
JW: Tony Sparano had the catchy name, he was a Parcells guy, and he came from "America's Team," the Dallas Cowboys. By the time he was hired in Miami, he was on the radar of sports fans. Harbaugh's hiring had people looking through media guides to double-check his pedigree.
We'll just have to agree to disagree, Tim.
But speaking of taking things for granted, let's not overlook the strength of schedule the Ravens had coming into the season. Baltimore had the fifth-toughest schedule in the league that included non-division opponents such as the Tennessee Titans (13-2), Indianapolis Colts (11-4) and the entire NFC East division.
Although some things changed during the course of a season, Atlanta entered the year with the No. 21-rated schedule and Miami's was No. 23.
Baltimore is in control of its playoff chances this week, in part because it went 3-1 against the NFC East, which is a mark the Dolphins and Falcons probably couldn't match if given the chance. Also, if head-to-head meetings have anything to do with coach of the year voting, Harbaugh and the Ravens did go into Miami and beat the Dolphins by two touchdowns in Week 7.
PY: James and Tim, I think we can all agree none of these three guys were household names in comparison to some of the veteran head coaches. But Harbaugh did have the bloodlines of his father and brother and was well-known as one of the league's top special-teams coaches. Sparano wasn't an unknown because the assistants in Dallas are as well known as head coaches most places. Smith was easily the least known of the trio of new coaches.
He'd been a coordinator in Jacksonville, where media attention is minimal, and he spent a bunch of years coaching in some small stops through the college ranks. The only area where Smith stood out was the fact he was tremendously ordinary. Even his name is ordinary.
I remember at the NFL owners' meeting last spring, ESPN's Michael Smith and I had breakfast with Smith. They were joking about having the same names. I remember thinking, "My television colleague is the more famous of these two." With apologies to Michael Smith, it's no longer that way. Mike Smith has become famous because he is the Coach of the Year.
TG: Mike Smith sounds like the name people use when they check into motels that charge by the hour, and I wondered if his coaching career would be measured in the same increments given the circumstances he was headed into.
But when you look at the turnaround of each club, the Dolphins have been the most dramatic. Sparano has overseen one of the biggest one-season improvements in NFL history. No one-victory team has won 10 games the next season, and the Dolphins could finish with 11 and a playoff berth, another unprecedented feat.
The Falcons' and Ravens' turnarounds have been remarkable, but the Dolphins' has been historic.
November, 24, 2008
11/24/08
4:12
PM ET
Posted by ESPN.com's Pat Yasinskas
Atlanta's Mike Smith and Matt Ryan already have made history together. With Sunday's victory against Carolina, the rookie head coach/quarterback tandem has paired for seven wins. Baltimore's John Harbaugh and Joe Flacco matched that mark.
That puts the two rookie coach/quarterback combos at the top of the record books. Carolina's Dom Capers and Kerry Collins won seven games together in 1995 to become the first rookie combo to reach seven wins since 1966, or "the Super Bowl era'' as our friends at ESPN Stats & Information call it.
That leaves Ray Perkins and Phil Simms, who won six games with the New York Giants in 1979, in fourth place.