February, 11, 2012
2/11/12
9:54
AM ET
Friday night's
hiring of Mike Sullivan
as offensive coordinator is the biggest move Tampa Bay coach Greg Schiano has made so far. Down the road, it could end up being his most important move ever.
Sullivan comes to the Buccaneers from the
New York Giants
, where he spent the past two seasons as quarterbacks coach and six seasons before that working with wide receivers. Sullivan never has been an NFL coordinator before and the Bucs talked to some experienced coordinators, like Ron Turner and John Shoop, before hiring Sullivan.
[+] Enlarge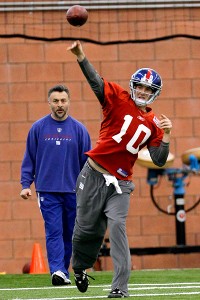 AP Photo/Julio CortezMike Sullivan, left, has been Eli Manning's quarterbacks coach the past two seasons.
I initially thought the Bucs would bring in a coordinator who had handled that role on an NFL level before. Experience seemed to be a priority as the Bucs searched for someone to fix quarterback
Josh Freeman
and an offense that struggled last season.
But I'm thinking the Bucs went the right way when they chose Sullivan. He may not have coordinator's experience, but he knows how to win. The Giants just won their second Super Bowl since Sullivan joined the team in 2004 and quarterback
Eli Manning
obviously has been playing at a high level.
Sullivan learned at the side of head coach Tom Coughlin and offensive coordinator Kevin Gilbride and that can only be viewed as a positive. Sullivan also worked in Jacksonville in Coughlin's last two seasons there, so he has a pretty lengthy NFL history, even if he hasn't been a coordinator. Besides, it's not like Shoop or Turner had enormous success in their previous stints as coordinators.
Taking a leap of faith and handing the offense to Sullivan might end up being a very good move for the Bucs. Schiano and Butch Davis, who is expected to join the team as a senior assistant and adviser, come from defensive backgrounds. But the Bucs also are putting some experience and insulation around Sullivan. They reportedly are adding longtime NFL assistant Jimmy Raye II as a senior offensive assistant.
Raye has been a coordinator before and he can help guide Sullivan. But, more importantly, the Bucs landed Sullivan, a coach who may have some fresh ideas and knows how to win.
February, 10, 2012
2/10/12
3:03
PM ET
Let's go ahead and throw another name into the mix to be the new offensive coordinator for the
Tampa Bay Buccaneers
.
New York Giants
quarterbacks coach
Mike Sullivan
reportedly
will interview
for the job. There previously have been reports that Ron Turner and John Shoop are candidates for the job and the Bucs also were denied permission to speak with several NFL assistants about the position.
Sullivan's stock obviously is on the rise after the Giants won the Super Bowl. He's spent the past two seasons as quarterbacks coach and
Eli Manning
has produced big results.
Sullivan actually has been with the Giants since 2004, but worked as wide receivers coach for his first six seasons with the team. Prior to that he spent two years as an assistant in Jacksonville and coached at various colleges.
Sullivan obviously has deep ties to Giants coach Tom Coughlin. That's not a bad thing to have going for you right now. After winning his second Super Bowl, Coughlin suddenly is getting tons of praise. When that happens, other teams typically start looking at the guys around the star coach.
February, 8, 2012
2/08/12
1:32
PM ET
Add another name to the list of candidates to be offensive coordinator in Tampa Bay. University of North Carolina offensive coordinator John Shoop reportedly is
interviewing for the position
.
Ron Turner also remains a possibility, but Bill Lazor has elected to stay at the University of Virginia. Shoop has a decent résumé that includes a 2004 stop in Tampa Bay as quarterbacks coach.
Shoop also spent time as quarterbacks coach for the Oakland Raiders and Carolina Panthers and that brings up a legendary story. There was a time when former Carolina quarterback Kerry Collins was asked by a media member if he'd be better off with a quarterbacks coach.
Collins said "absolutely'' and then proceeded to explain how the addition of a quarterbacks coach would make him better. Of course, Collins somehow was neglecting the fact Shoop already was in place as the quarterbacks coach. But all that happened right before Collins' career blew up in Carolina.
Back to the Bucs, the most important thing here is that Shoop also has experience as an NFL offensive coordinator. He served in that capacity for the Chicago Bears from 2001-03.
The same report also says the Bucs have hired Jimmy Raye II as a senior offensive assistant. Raye is a longtime NFL assistant, who was fired as San Francisco's offensive coordinator in 2010.