NFC South:

John Stallworth
August, 1, 2012
8/01/12
5:31
PM ET
Let's take a quick look at the day's headlines from around the NFC South:

TAMPA BAY BUCCANEERS
Tampa Bay punter
Michael Koenen
said he would not have minded if the
Atlanta Falcons
had
given permission
to use their trademarks in the "Rebirth'' statue unveiled last week outside the Mercedes-Benz Superdome. The statue memorializes Steve Gleason's legendary blocked punt against the Falcons in the first game played in the Superdome after Hurricane Katrina in 2006. Koenen was Atlanta's punter at the time. The NFL holds the rights to the use of a team's trademarks outside their home market and the NFL asked the Falcons if they'd like to make an exception in this situation. The Falcons declined. Koenen said he has met Gleason, who has ALS, and has enormous respect for him. Koenen said he might visit the statue when the Bucs play the Saints this season.
After being troubled by injuries in his final few seasons in Indianapolis, tight end
Dallas Clark
appears to be
totally healthy
in Tampa Bay's training camp. If he can stay that way, it would be a big plus for the Bucs. I don't think Clark ever will be the 100-catch guy he once was, but he can provide a nice veteran target for quarterback
Josh Freeman
.

NEW ORLEANS SAINTS
Before playing in the Hall of Fame Game on Sunday, the Saints
will visit
the Pro Football Hall of Fame and view the exhibit celebrating the Super Bowl championship from the 2009 season. That's a natural motivational tactic. Let the guys that were on that team see and remember the work that went into the championship and let them tell the young guys all about it. And I'd be willing to bet that assistant head coach Joe Vitt will remind the troops that this season's Super Bowl will be played in the Mercedes-Benz Superdome.
With starting cornerbacks
Jabari Greer
and
Patrick Robinson
sitting out with injuries,
Johnny Patrick
is making the most of his opportunity. Patrick had a
highlight play
in Wednesday's practice, intercepting a
Drew Brees
pass.

ATLANTA FALCONS
Chris Vivlamore
ponders
how good the receiving duo of
Roddy White
and
Julio Jones
can be. He also rolls out a list of his top receiving combinations in history. He has Pittsburgh's Lynn Swann and John Stallworth at the top. We already know White is a great receiver and all indications suggest Jones can become one. But Jones needs a few big years and White needs to continue to keep playing at a high level for a few more years before you can mention them with the likes of Swann and Stallworth.
Speaking of Atlanta receivers, Knox Bardeen
explores the battle
between
Kevin Cone
and
Drew Davis
for the No. 5 receiver spot.
Harry Douglas
already is settled in as the No. 3 receiver and
Kerry Meier
is likely to stick around because he has value on special teams.

CAROLINA PANTHERS
Defensive tackle
Ron Edwards
is
healthy and ready to go
after missing all of last season with an injury. Everyone talks about linebacker
Jon Beason
's return from injury and that's very significant. But I think Edwards' return is just as important. He was brought in to bring the kind of run-stopping presence the Panthers have lacked since the long-ago departure of
Kris Jenkins
.
Tom Sorensen writes he doesn't expect
Jeff Otah
to
stick with the Panthers
after his trade to the
New York Jets
was voided by a failed physical. I'm in full agreement with Sorensen. In fact, I've been checking my e-mail all afternoon because I'm expecting an announcement that the Panthers have released Otah. Time to check the e-mail again.
June, 23, 2011
6/23/11
11:04
AM ET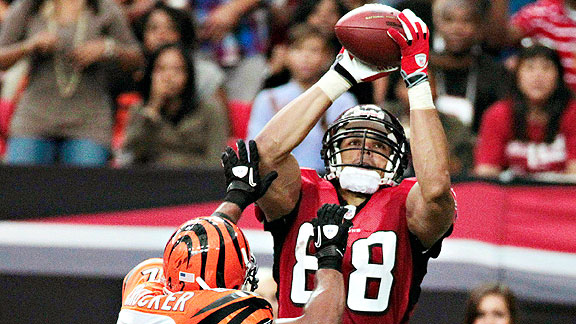 AP Photo/John AmisIs Tony Gonzalez, who holds nearly every tight end record, a first-ballot Hall of Famer?
When it comes to
Tony Gonzalez
the question isn't if he'll get into the Pro Football Hall of Fame. There's no doubt the man with the best tight end statistics in just about every category that can be measured will be selected.
The question is, when will it happen?
Common sense would lead you to believe Gonzalez will retire from the
Atlanta Falcons
and, five years later, he'll get in on the first ballot. But recent history tells us that common sense may not apply when it comes to putting tight ends in the Hall of Fame, especially on the first ballot. Tight end is a unique position, and voters obviously view it that way.
Take a look at
this list of Hall of Famers
, sorted by position. You'll see that kickers are the only group with less representation than tight ends. There are more than double the amount of "contributors'' than there are tight ends in the Hall of Fame. Same for coaches.
There are currently just seven tight ends in the Hall of Fame. That number will increase to eight later this summer when
Shannon Sharpe
is inducted. The mere mention of Sharpe's name and Hall of Fame voting shows that it's not a slam-dunk that Gonzalez will go in on the first ballot.
A few years back, Sharpe was in pretty much the same spot Gonzalez will be in. Sharpe retired in 2003 as the holder of virtually every all-time record for tight ends. He also had three Super Bowl rings.
When Sharpe was first eligible for the Hall of Fame in 2009, he was passed over. The same thing happened in 2010. There's a school of thought that some Hall of Fame voters wanted to make Sharpe wait for a couple of years, simply because he was a tight end.
"When Shannon retired, he was the most prolific tight end in all the categories, and if that's not a Hall of Famer, then I'm trying to figure out what the definition of the Hall of Fame is," Hall of Fame defensive back
Rod Woodson
said after Sharpe came up short in his second year of eligibility. "There hasn't been a tight end ever on the first ballot, but this was his second, so I was thinking and hoping that they would do the right thing.''
[+] Enlarge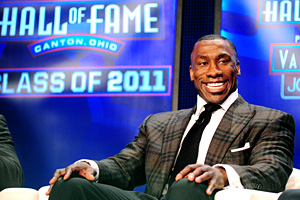 Mark J. Rebilas/US PRESSWIREThe Hall of Fame voters made Shannon Sharpe -- arguably the game's best tight end before Tony Gonzalez -- wait to earn induction into Canton.
I'll make a case right now that the right thing to do with Gonzalez when the time comes is to put him in on the first ballot. Anything else would be flat-out wrong.
Gonzalez is simply the best tight end ever. Sharpe might have held that title for a while. But, within a few of years of Sharpe's retirement, Gonzalez started breaking all of his records. The two aren't even close in most statistical categories anymore. Gonzalez has 12,463 receiving yards. That's almost 2,403 more than Sharpe. Gonzalez has 1,069 career receptions. That's 254 more than Sharpe.
The gap is only going to get bigger. At 35, Gonzalez may not be what he was in his prime as he was back in 2004 with Kansas City when he set a single-season record for catches by a tight end with 102. But in an Atlanta offense that's already good and could be even better with the addition of rookie
Julio Jones
, Gonzalez remains an important role player.
Let's just say Gonzalez has another season something like last year, when he caught 70 passes for 656 yards and six touchdowns. Anything close to that, and he adds another layer of insulation between his records and what Sharpe did.
Anything close to last year and Gonzalez will have numbers that basically double what Hall of Famer
Kellen Winslow
did. With the
San Diego Chargers
back in the 1980s, Winslow revolutionized the tight end position. Tight ends used to be pretty much just blockers, but Winslow made catching passes part of the job description.
In other words, Winslow changed the game and the position. If you do that, you should be a Hall of Famer. Gonzalez has done that. He's left Winslow and Sharpe far behind in the argument about the greatest tight end ever.
Gonzalez is the guy who opened the door for a generation of former basketball players to start becoming as important as wide receivers in many offenses. That brings us to another point about Gonzalez and why he should go in on the first ballot.
He's a tight end, but he's got numbers that are just as good as some Hall of Fame wide receivers. Gonzalez has more receiving yards than guys like Charlie Joiner, Don Maynard,
Michael Irvin
and Lance Alworth.
Yeah, those guys played in different generations when the league wasn't as geared toward the passing game. But Gonzalez created a whole new generation of tight ends. Yeah, it sometimes takes too long even for wide receivers to get into the Hall of Fame. Guys like Lynn Swann and John Stallworth were placed on a waiting list for about two decades and there's a backlog still sitting there.
But Gonzalez shouldn't have to wait just because he's a tight end. Gonzalez currently is No. 6 all-time with 1,069 receptions. The only guys ahead of him are
Jerry Rice
,
Marvin Harrison
,
Cris Carter
,
Tim Brown
and
Terrell Owens
.
If Gonzalez catches 34 more passes, he'll move up to No. 2. He'll be behind only Rice, which says a lot. When Rice was first eligible for the Hall of Fame, voters skipped over the usual ritual of making wide receivers wait. That's because there was a universal agreement that Rice was the best wide receiver ever to play the game.
There's universal agreement Gonzalez is the best tight end ever to play the game, and he deserves the same treatment.
There's one other argument that could be used against Gonzalez. He's never played on a Super Bowl champion. He's never even gone deep into the postseason. For the longest time, a lot of Hall of Fame voters seemed to think a Super Bowl ring was a requirement for selection.
That idea seems to have faded some in recent years. But there is one way Gonzalez can make sure that's not an issue. He can go out and help the Falcons win a Super Bowl this season. Then, he could go out in a blaze of glory or he could even stick around and pad his résumé for another year or two.
But Gonzalez shouldn't have to worry about adding much more to his résumé. He's already done enough to be a first-ballot Hall of Famer.