November, 21, 2013
11/21/13
10:00
AM ET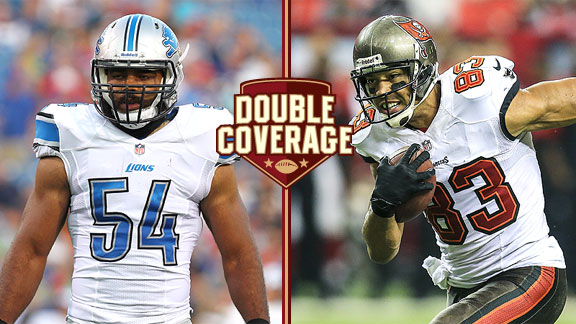 USA Today SportsDeAndre Levy and the Lions will need to keep Vincent Jackson in check on Sunday.
Tampa Bay started its season terribly before finding some answers the past two weeks. Detroit started its season strong but is suddenly vulnerable and has some questions.
Only the Lions are in the playoff picture heading into the last six weeks of the season. Meanwhile, the Buccaneers can play spoiler and give a damaging blow to the Lions' playoff hopes.
The Buccaneers will try to do that with a rejuvenated defense that caught the eye of Detroit quarterback
Matthew Stafford
.
"They are an extremely talented defense," Stafford said. "Probably the most talented defense we've played all year."
ESPN.com NFL Nation reporters Michael Rothstein (Lions) and Pat Yasinskas (Buccaneers) break down Sunday's matchup.
Rothstein:
What has happened over the past couple of weeks to turn this Tampa team around?
Yasinskas:
The short answer is that the Bucs suddenly have gotten much better at finishing games, a huge problem early in the season. But it goes much deeper than that. Coach Greg Schiano has a reputation for being stubborn and inflexible. But he's changed in recent weeks. His mood has been lighter on the practice field and when he's met with the media. More importantly, he's adjusted some things on the field. He's stopped stunting so much on the defensive line, and that's created more straight-ahead rushes for defensive tackle
Gerald McCoy
. Schiano has used cornerback
Darrelle Revis
in more man-to-man coverage after playing him in a lot of zone early in the season. The Bucs also have been running the ball much better, and that's a tribute to the offensive line.
Speaking of McCoy, he and
Ndamukong Suh
came out in the same draft, and early on, it looked like Suh clearly was the better player. But McCoy has been outstanding of late. What kind of a year is Suh having?
Rothstein:
Suh's actual statistics are fairly pedestrian and wouldn't really stand out to anyone if they were just watching Detroit from afar. But he has faced a lot of double-teams throughout the season and has been somewhat consistent throughout the year. He played his best in the two games against Chicago -- four quarterback hurries in Week 10, two sacks in Week 4 -- but he and the rest of the Detroit defensive line almost inexplicably struggled to reach Pittsburgh quarterback
Ben Roethlisberger
this past Sunday.
Detroit has not blitzed much this season, putting a lot of pressure on the front four, starting with Suh.
That'll lead into my next question -- how has
Mike Glennon
been progressing this season, and how does he move when he is pushed in the pocket a little bit?
Yasinskas:
Glennon has been a pleasant surprise. He was thrown into the lineup when
Josh Freeman
was benched, and he struggled at first. But Glennon has steadily improved and has been very good in recent weeks. He had only three incompletions in Sunday's victory over Atlanta. He's shown poise and leadership. Glennon's strength is his big arm, and the Bucs are trying to develop more of a deep passing game. They showed signs that's catching on when
Vincent Jackson
caught two long passes against the Falcons.
I first saw Glennon when I was covering the filming of "Gruden's QB Camp" this past spring. Watching Glennon's college tape, I thought he didn't have the mobility to succeed in the NFL. As it turns out, I was wrong. Glennon is not a running threat, but he's not a statue, either. He's been extending some plays by scrambling.
Speaking of deep passing games, the matchup I can't wait to see is
Calvin Johnson
against Revis. I saw the Lions-Steelers game, and it seemed like Johnson disappeared in the second half. What was all that about? Revis and Johnson went head-to-head in a 2010 game, and Johnson caught just one pass for 13 yards. Do you see Revis, with a little bit of help, being help to keep Johnson quiet?
Rothstein:
It depends on what Tampa tries to do defensively. When teams have tried covering Johnson with single coverage, he's destroyed opponents. It happened a good amount against Dallas and early against Pittsburgh. It goes to the situation most teams have had to face this season -- do you double-team Johnson and give a lighter box to
Reggie Bush
and
Joique Bell
, or do you play single high to focus on Bell and Bush and put Johnson in lighter coverage?
That said, Revis is one of the best corners in the league -- something Stafford acknowledged Tuesday -- and it should be an intriguing matchup Sunday. Johnson likes going against the top corners in the league and has had some success this season in those matchups, notably against Arizona's
Patrick Peterson
(six catches, 116 yards, two touchdowns) and Dallas'
Brandon Carr
(14 catches, 329 yards).
One of the other ways teams have had success against Detroit is to pressure Stafford, which hasn't been easy this season. It goes back to that first question with McCoy, but is he the key to any pressure Tampa might get?
Yasinskas:
McCoy is the central piece of the defensive line, and everything feeds off him. But he's not alone in the pass rush. End
Adrian Clayborn
has some pass-rush skills, and the Bucs have started lining up outside linebacker
Dekoda Watson
as a rush end. But the Bucs also like to use their linebackers as blitzers, and
Lavonte David
(five sacks) is a very good pass-rusher. But it all goes back to McCoy. The Bucs rely on him to push the quarterback off the spot, and the other players can clean up.
You mentioned Bush. At least from a distance, it seemed like he got himself in the doghouse by fumbling against Pittsburgh. Is Bush in good graces with the coaching staff, or will we see less of him Sunday?
Rothstein:
Doghouse? No. But he needs to work on protecting the ball better and hanging on to it, period. He's struggled with drops all season and lost fumbles two of the past three weeks. He's too big a weapon for Detroit to move away from him -- especially at home -- but if he continues on this trend, Bell might steal some of his snaps.
January, 3, 2012
1/03/12
6:39
PM ET
The
Detroit Lions
made a very quiet move just after Christmas that now is starting to look like it could end up helping them when they play the
New Orleans Saints
in Saturday's playoff games.
Heading into the last week of the regular season, the Lions signed running back
Joique Bell
off New Orleans' practice squad.
"We coached Joique at the Senior Bowl a few years ago,'' Detroit coach Jim Schwartz said in a conference call with the New Orleans media on Tuesday. "He is also from Wayne State, which is about five miles down the road. We are very familiar with him and had our eye on him during a couple different cut down dates. We never really had the roster spot to get him in. We had the roster spot (in late December)."
That brought up a question about if the Lions signed Bell to use him as a source of information on the Saints in the playoffs. It's important to note the Lions did not know who they would be facing in the playoffs at the time they signed Bell. If they had won Sunday's regular-season finale against Green Bay, the Lions would have been the No. 5 seed and would have ended up playing the
New York Giants
.
"It had nothing to do with playing New Orleans,'' Schwartz said. "We had no idea we would be playing New Orleans. I think that stuff is overblown anyways. Everybody knows what plays the other team is going to run. There are no real secrets in the NFL. It's a matter of when they are going to run them and what players they have that run them. He is a guy that we had an eye on for a little while and he is a good, strong runner. It was our experience with him from the Senior Bowl and plus the fact that he is a local kid. We would like to give him a chance to see if he can become a Lion for a long time."
September, 8, 2011
9/08/11
7:18
PM ET
September, 5, 2011
9/05/11
12:12
PM ET
No football coach is going to reveal a great deal of strategy before a season. But New Orleans coach Sean Payton gave a pretty extensive answer about his plans for rookie running back
Mark Ingram
.

"It's pretty easy,'' Payton said in a conference call with the Green Bay media. "He's going to be a guy we hand the ball to. We're going to use him on first and second down, on third down. He's a guy we feel will give us a lot of versatility. He's smart. He picked things up extremely quickly. He's been a good addition to what we're doing.''
Take that as a sign that Ingram's going to have a big role right from the start. The Saints didn't trade back into the first round to get a running back they plan on having on the sidelines. They do have a crowded backfield with
Pierre Thomas
,
Darren Sproles
and
Joique Bell
also in place.
The one safe assumption is that Sproles will take on
Reggie Bush
's former role and be used as a pass-catcher and outside runner. Thomas has shown an ability to run between the tackles in the past and Bell had an outstanding preseason. But Ingram might be the most complete back of the bunch and that might mean he'll get the most carries and playing time.
"I think all of them have a unique role, yet all of them have the ability to be plugged in at any moment,'' quarterback
Drew Brees
said in a conference call with the Green Bay media.
September, 3, 2011
9/03/11
6:37
PM ET
Check
here
for a complete list of the New Orleans Saints' roster moves.

Biggest surprises:
Although the Saints almost certainly will have the NFC South's oldest opening-day roster, they did show they're not stuck on having a bunch of veterans. They released linebacker
Clint Ingram
and safety
Pierson Prioleau
.
Both had deep ties to defensive coordinator Gregg Williams, and Prioleau was the special-teams captain last season. But the release of Ingram shows the Saints believe the younger legs of
Will Herring
,
Martez Wilson
,
Ramon Humber
and
Jonathan Casillas
can cover more ground at outside linebacker. By releasing Prioleau and safety
Chris Reis
, the Saints are showing a lot of faith in undrafted rookie
Isa Abdul-Quddus
.
No-brainer:
The Saints, who ran out of running backs in last seaosn's playoffs, are determined not to let it happen again. Even though
Chris Ivory
was put on the injured-reserve list, the Saints kept
Joique Bell
to go along with
Mark Ingram
,
Pierre Thomas
and
Darren Sproles
.
Bell had an outstanding preseason and made it impossible for the Saints to cut him.
What's next:
Don't be surprised if the Saints bring in another tight end, and look for it to be a guy who specializes in blocking. They currently have only two tight ends on the roster.
Jimmy Graham
is likely to be used mostly as a pass-catching specialist, and
David Thomas
is a jack of all trades. The team wants to get back to a more consistent running game, so a run-blocking specialist would be a good fit.
September, 2, 2011
9/02/11
11:03
PM ET
It looks like running back
Joique Bell
, who has been one of the stars of the preseason for the
New Orleans Saints
, will make the 53-man roster.
That's not definite yet, but Bell's chances increased considerably Friday night as the Saints made some roster moves at running back. They placed
Chris Ivory
and
Patrick Cobbs
on injured reserve
.
That leaves Bell with a chance to be a backup and special-teams player in a backfield that also includes
Mark Ingram
,
Pierre Thomas
and
Darren Sproles
.
Wide receiver
Joe Morgan
, another preseason star, was placed on injured reserve along with safety
Paul Oliver
. Defensive end
Greg Romeus
was placed on the non-football injured list.
The Saints terminated the contracts of tackle
Jordan Black
, safety
Quincy Butler
, tackle
George Foster
, tight end
Tory Humphrey
, cornerback
Trumaine McBride
, safety
Pierson Prioleau
, safety
Chris Reis
and fullback
Chris Taylor
.
The Saints also placed receiver
Montez Billings
, defensive tackle
Dexter Larimore
, tight end
Tyler Lorenzen
and linebacker
Dwight Roberson
on waivers.
September, 2, 2011
9/02/11
4:01
PM ET
With the preseason over, roster cuts already taking place and the start of the regular season only days away, we were able to cover all sorts of ground in Friday's NFC South chat.
Let's take a look at some of the highlights.
Kent (Melbourne):
Pat- Should the Bucs be looking for a running back with speed. Do you think they could use a change of pace back.
Pat Yasinskas:
If I were them, I'd be keeping a close eye on what New Orleans does with
Joique Bell
. If he's available, grab him.
Jacob (Michigan):
Any surprise to
Kyle Moore
and Tyrone Mckenzie being cut?
Pat Yasinskas:
More surprised at McKenzie. He was real popular with his teammates, but I guess coaches didn't share the same view.
coached (couched):
Can Cam win the job? And remain starter?
Pat Yasinskas
: He already won the job. They'll keep him as the starter unless he gets hurt or is just flat-out horrible. There may be some ups and downs, but they're prepared for that and just want to see him grow as the season goes on.
Eliot (NY, NY):
Do you think
Matt Ryan
will put up career numbers or do you think 'taking the gloves off' is too big of a step?
Pat Yasinskas:
Yes, I think they really will let him do more this year. Plus, he has more to work with.
Nate (Anchorage, AK):
Armanti Edwards
? I know you say it's a long shot, but what makes you say it at all? Where does he stand right now?
Pat Yasinskas:
He needs to catch the football. Like I said, it's a long shot. They've got a high draft pick invested in him. But it's shaping up to be like Dexter Jackson (the receiver, not the safety) with the Buccaneers. But Hurney probably gives Edwards one more year.
Brock (Boulder, CO):
Is
Jacquizz Rodgers
going to be a factor this year?
Pat Yasinskas:
Yes, you'll see him worked in as a change-of-pace back. They're hoping he can be what Norwood never could become because of the injuries.
Dwayne (Who Dat Nation):
I think it would be in the SAINTS best interest to place
Chris Ivory
on PUP. That way, Ingram, Thomas, Sproles, and Bell can carry the running game for the first six weeks. In week seven they'd get Ivory back with fresh legs for the stretch run. Agreed?
Pat Yasinskas:
I suspect that's how it will play out.
Daniel (Nashville):
Who ends up with more yards rushing Ingram or Thomas?
Pat Yasinskas:
Ingram.
Here's the
complete transcript
of Friday's NFC South chat.
September, 1, 2011
9/01/11
11:06
PM ET
The Panthers, Buccaneers, Saints and Falcons each completed their preseason Thursday night.
Not a lot of starters played, so let's sum it all up with some quick observations on each team.
August, 16, 2011
8/16/11
7:12
PM ET
The
New Orleans Saints
sent out their depth chart to advance Saturday's preseason game and there's one interesting thing on there.
In a move you don't often see, the Saints are listing two starters at one position. That's right tackle, where the chart reads: "
Zach Strief
/
Charles Brown
." Both names are in bold, which is used to indicate starters.
This isn't all that surprising though. It basically reflects exactly what coach Sean Payton said Monday
when discussing the release
of former starting right tackle
Jon Stinchcomb
. Payton said Strief and Brown would compete for the job and the depth chart seems to reflect that.
In a somewhat related noted, the game news release teams send out always includes a chart on how a team was built, listing what players came in what years. Stinchcomb, who came in 2003, had been the longest-tenured member of the Saints.
That honor now is shared by defensive end
Will Smith
and receiver
Devery Henderson
, who were drafted in 2004. Those are the only remaining players who were with the team before Payton became coach in 2006.
A couple of other notes on the depth chart. Right tackle isn't the only spot where the Saints are listing two starters. They're also doing it at nose tackle with
Shaun Rogers
and
Aubrayo Franklin
. Both are veteran defensive tackles who were signed by the Saints this year. This one's not a real surprise either, but it's not as much about competition as the right-tackle spot. In the case of Rogers and Franklin, they'll probably rotate along with defensive tackle
Sedrick Ellis
.
The starting outside linebackers are still listed as
Scott Shanle
on the weak side and
Will Herring
on the strong side. The Saints could open the season that way, but I think there still is competition at those spots.
Jonathan Casillas
, who is listed as Shanle's backup, had a very strong performance in the preseason opener and
Clint Ingram
, who is listed behind Herring, has history with coordinator Gregg Williams from their days together in Jacksonville.
One other quick note on the Saints. They signed running back
Patrick Cobbs
on Tuesday. Running backs
Chris Ivory
and
Joique Bell
are currently injured. Cobbs previously has been with the Dolphins and Steelers and has made his mark mostly as a special-teams player.
April, 14, 2011
4/14/11
2:16
PM ET
To all those who think the four NFC South teams are so set at running back they don't need to touch that position in the upcoming draft, I give you
DeShawn Wynn
.
In the second half of the
New Orleans Saints
' playoff loss to Seattle, Wynn was getting much of the playing time and serving as the last-resort blocker for
Drew Brees
as the Saints tried to come from behind and keep their dream of back-to-back Super Bowls alive. It didn't happen, and that's largely because the Saints simply ran out of running backs.
[+] Enlarge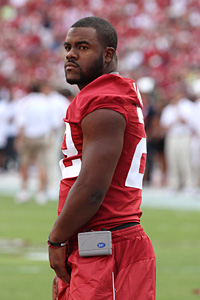 Marvin Gentry/US PresswireThe Bucs and Saints brought in Alabama's Mark Ingram for a pre-draft visit.
Wynn, who had been with the Saints earlier in the season, had been re-signed in the week leading into the game. Same for
Joique Bell
, who didn't make the active roster that day, but the Saints could have used him. They went into the game with
Julius Jones
and
Reggie Bush
as their running backs.
Jones was a retread from coach Sean Payton's Dallas days and was with the Saints only because there already were problems at running back. Bush spent much of last season on the sideline, but was healthy enough to at least set foot on Qwest Field. That's more than can be said for
Pierre Thomas
and
Chris Ivory
, who weren't available because of injuries.
Jones and Bush quickly got banged up by a Seattle defense that didn't scare too many people last season. That left the Saints with Wynn and a loss.
There's a lesson in that for the entire NFC South. No matter how set you think you are at running back, you're probably not as well off as you think. As they head into the draft, the Falcons, Buccaneers and Panthers all seem to have at least an immediate feature back, and the Saints look to have plenty of options in an offense that relies on playing a variety of running backs.
But none of the NFC South teams can afford to ignore running back in this draft. Here's a team-by-team look at why:
Falcons.
Michael Turner
's coming off a season in which he ran for 1,371 yards and 12 touchdowns and
Jason Snelling
's a solid backup with the ability to function as a power runner and catch passes out of the backfield. But that's not enough.
The Falcons got only two games out of
Jerious Norwood
before he went down with a season-ending injury. Norwood is the guy the Falcons always have envisioned as their speed back, but he's never been able to stay healthy, and his time in Atlanta looks to be over.
[+] Enlarge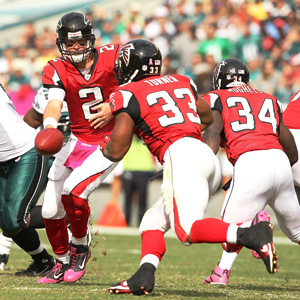 Al Bello/Getty ImagesMichael Turner logged over 700 carries combined during the 2008 and 2010 seasons and could be wearing down.
The Falcons could look for a pure speed back like Kentucky's
Derrick Locke
or North Carolina's
Johnny White
in the middle rounds. But there's been talk in mock-draft circles that Alabama running back
Mark Ingram
could be available when the Falcons pick at No. 27. There are seemingly larger needs at defensive end and wide receiver, but would the Falcons be wise to pass on Ingram if he's available?
Ingram's not a pure speed back and he's not a true power back. He's somewhere in between, and he's the closest thing to a surefire feature back in this year's draft. The Falcons have been pushing their luck with Turner. He carried 334 times last season and 376 times in 2008. He missed five games because of injury in 2009. There were times last season when Turner seemed to lack the pop he showed early in his Atlanta days, and you have to wonder if he's starting to wear down.
It might be time to get an heir apparent in Atlanta. Even if Turner stays healthy, the Falcons could use someone to pick up some of his carries or else they might end up with an empty backfield like the Saints in Seattle.
Buccaneers.
Tampa Bay fans are excited about
LeGarrette Blount
and rightfully so. The undrafted rookie was cut by the Titans in training camp, and Tampa Bay took a shot by picking him up. By midseason, Blount was Tampa Bay's feature back. He ran for 1,007 yards on just 201 carries.
Blount's role and statistics should only continue to improve next season. But it's tough to look objectively at Tampa Bay's backfield situation and say the Bucs are just fine.
Cadillac Williams
is a potential free agent. If he returns, it will be only in the role of third-down back he filled the second half of last season. There's a chorus of fans in Tampa Bay who believe
Kareem Huggins
is the perfect complement to Blount.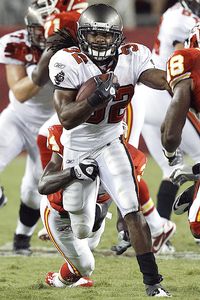 AP Photo/Chris O'MearaKareem Huggins, who figures to be LaGarrette Blount's backup, is coming off a major knee injury.
He might be. Huggins is one of those guys who flashes promise in the preseason. But he has only four regular-season carries in his career and he's coming off a major knee injury. Before the lockout, the Bucs weren't overly optimistic Huggins would be ready for the start of training camp.
Then, there is Blount. His physical style and habit of trying to hurdle defenders could leave him open to injury. Also, Blount went undrafted for a reason. He had a violent altercation with an opponent after a college game, and questions remain about his ability to keep his emotions in check over the long haul. Maybe that's why the Bucs had Ingram in for a pre-draft visit earlier this week.
Panthers
. On paper, they've got the best backfield in the division. They've got
DeAngelo Williams
and
Jonathan Stewart
, and either one could be the feature back for most teams. They also have
Mike Goodson
, who emerged last season when there were injuries in the backfield.
But, depending on how the labor situation plays out, Williams will be either a restricted or unrestricted free agent. Stewart came into the league with foot problems and rarely has been completely healthy. If Williams goes, the Panthers suddenly are on thin ice. They'd be one Stewart injury away from having to use Goodson, who is ideal as a part-time player, as their full-time running back.
Saints.
This circle started and will end with New Orleans. The Saints re-signed Thomas before the lockout. They've given indications they plan to extend Bush's contract and keep him. All signs are that Thomas, Bush and Ivory should be recovered from their injuries. Promising young running back
Lynell Hamilton
also is coming back from injury.
The numbers say the Saints are just fine at running back. But recent history tells another story. The Saints also had Ingram in for a visit, and he has to be a consideration if he's available at No. 24. Even if it's not Ingram, the Saints need to add a running back somewhere in the draft.
Of all the NFC South teams, the Saints know best that you never can have enough good running backs. If they had one more last year, they might have gone back to the Super Bowl.
January, 8, 2011
1/08/11
3:04
PM ET
January, 7, 2011
1/07/11
12:10
PM ET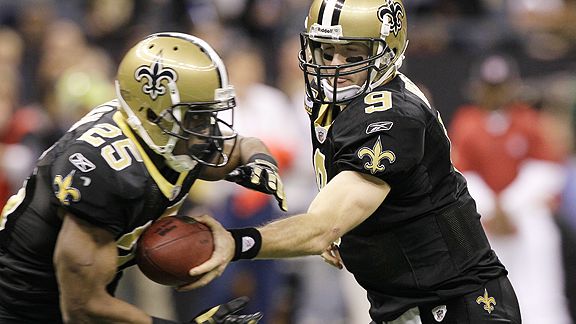 AP Photo/Patrick SemanskyWith a depleted backfield, Reggie Bush might take a lot more handoffs than usual in the playoffs.
If you go by record or reputation, you can look at Saturday's playoff game and say the
New Orleans Saints
should be able to win with one arm tied behind their back.
That might be exactly what the Saints have to do.
They're heading into Seattle's Qwest Field without running backs
Chris Ivory
and
Pierre Thomas
. Both were placed on injured reserve this week. Ivory has a foot injury that will require surgery. Thomas has an ankle injury that kept him out much of the season and finally sidelined him after a brief, but promising, late-season comeback.
On the surface, Ivory and Thomas aren't superstars, but they were important cogs in an offense that's known more for the passing game than the running game. Thomas was the closest thing to a complete running back the Saints had during last season's Super Bowl run. With Thomas and
Reggie Bush
injured early in the season, Ivory, an undrafted rookie free agent, stepped up and was the team's leading rusher during the regular season.
Quarterback
Drew Brees
might be good enough to put the team on his back and simply use the passing game to get by the 7-9 Seahawks, who are in the playoffs only because they were slightly less mediocre than the rest of the teams in the NFC West.
As good as Brees is, though, that's a lot to ask. Qwest Field is known as one of the league's loudest outdoor venues, and weather frequently can be a factor. Scratch the running game out of New Orleans' offense, and Seattle's defense simply will load up against the pass.
Even when Bush and Thomas were hurt early in the year, New Orleans coach Sean Payton made it a point not to abandon the running game completely. Even Brees needs help and balance, and the Saints will have to turn to some unusual suspects to provide at least some threat of a running game.
"We've gone through this before and really it's not uncommon,'' Payton said. "It's more of the norm and making sure that through preparation that the players that maybe haven't played more significant roles at one point or another are now ready to play those roles. More than anything else, I think it's the preparation and the teaching and the coaching that goes on. The players work week-to-week regardless of what their status might be that week, and it's understanding that all of these guys are on hand and ready to contribute."
What the Saints have on hand is a unique collection of running backs, all with different strengths and weaknesses. They have Bush, who could be more important than ever,
Julius Jones
,
DeShawn Wynn
and
Joique Bell
. Wynn and Bell were signed this week to fill the roster spots of Thomas and Ivory. Wynn had a brief stint with the Saints this season, and Bell was signed off Philadelphia's practice squad.
At least one of them will be active Saturday, but it probably will be only as a third running back. That leaves Bush and Jones as New Orleans' two best options in the running game and, as the only two backs with much experience, they'll also be needed in the passing game.
"The protections are the big issue,'' Payton said.
In recent weeks, opponents have been trying to beat the Saints by blitzing Brees frequently. That strategy worked well for Baltimore and Tampa Bay, and you can bet the Seahawks have studied film of those games closely.
Neither is an exceptionally big back and neither is known as a blocker. Jones, who was signed by New Orleans this year after three mostly disappointing seasons in Seattle, hasn't done much with the Saints. Ivory vaulted over Jones on the depth chart. In a backup role, Jones has carried 48 times for 193 yards and caught 17 passes for 59 yards. He has not scored a touchdown.
The Saints might use Jones as a blocker, but it's not likely they'll suddenly put the entire running game in his hands. That's why Bush could be the wild card in this game.
The No. 2 overall pick in the 2006 draft, Bush never has been the type of running back to handle 20 or 25 carries a game. Instead, he's been used in tandem, first with
Deuce McAllister
, then with Thomas and most recently with Ivory. Bush has been part running back, part wide receiver and part return man throughout his career.
But this could be the one game where the Saints use Bush almost exclusively as a running back because they really don't have many other choices.
"We just have to package him the right way and look at the snaps and what we're trying to do when we put him in that position,'' Payton said.
Bush missed eight games earlier this season with a broken leg, and the Saints have gradually worked him back into the rotation. But it might be time to take the limitations off Bush, and there were some encouraging signs in the regular-season finale against Tampa Bay. Bush had season highs with 70 rushing yards on nine carries.
"I thought he played well last week,'' Payton said. "He's healthy and is doing well. Coming back off of the injury, he's fully recovered now and I thought the carries and the touches he had last week were encouraging."
Although Bush finished the regular season with just 36 carries for 150 yards, there is a precedent for his stepping up in the postseason. That's what happened last season as the Saints won the Super Bowl. The Saints were cautious with Bush, who was dealing with a knee injury most of the regular season.
But he was healthy for the postseason, and the Saints unleashed him. Bush averaged 6.9 yards per carry in the postseason and was at his best in a divisional round victory against Arizona in which he ran for 84 yards, including a 46-yard touchdown run. Bush also returned a punt 83 yards for a touchdown.
Still, the Saints were pairing Bush with a healthy Thomas throughout the postseason, and Bush never got more than seven carries in a game.
The Saints aren't going to suddenly hand the ball to Bush 25 times on Saturday, but it's pretty safe to assume he'll get more than seven carries. Jones probably will get more carries than usual, and Wynn and/or Bell could end up handling a few carries.
The Saints have used Bush basically as a hybrid throughout his career. On Saturday, they might have to ask him to be just a running back.
January, 5, 2011
1/05/11
4:03
PM ET
If the
New Orleans Saints
are going to have any kind of running game in Saturday's playoff game at Seattle, it will have to come from the trio of
Reggie Bush
,
Julius Jones
and
DeShawn Wynn
.
The Saints announced that
Pierre Thomas
has
been placed on injured reserve
Wednesday. That comes one day after the Saints placed leading-rusher
Chris Ivory
on injured reserve.
Bush missed nearly half the season with a broken leg and the Saints have been gradually increasing his workload since he returned. Jones was signed when the Saints had injuries at running back earlier in the season, but hasn't been much of a factor. Wynn, who was with the Saints previously, was brought back Tuesday to take Ivory's roster spot. The Saints signed rookie
Joique Bell
off Philadelphia's practice squad to fill Thomas' roster spot.
On a more positive injury note, receiver
Marques Colston
, who missed Sunday's game after minor knee surgery, participated fully in Wednesday's practice. Tight ends
Jeremy Shockey
and
David Thomas
, who also have been out with injuries returned to practice on a limited basis.
But the Saints held safety
Malcolm Jenkins
(knee), tight end
Jimmy Graham
(ankle), defensive tackle
Anthony Hargrove
(knee) and linebacker
Danny Clark
(hamstring) out of Wednesday's practice.