NFC South:

Jonathan Amaya
November, 26, 2012
11/26/12
6:10
PM ET
It's a little difficult to type as I deal with the goose bumps that come from the anticipation of Monday night's showdown between Carolina and Philadelphia. But I'll try to get through it.
Before we start talking Panthers and Eagles, let's take a run through some other odds and ends from around the division.
Earlier Monday we saw some quotes from Tampa Bay offensive tackle Donald Penn that probably will end up in the Atlanta Falcons' locker room when the two teams play in late December. Well, it turns out the Falcons might need to get a bigger bulletin board. Tampa Bay linebacker Adam Hayward told Ira Kaufman, "Their record says they're 10-1, but they're not a 10-1 team," among other things.
Good news for former Carolina defensive back Mike Minter, who truly was one of the classiest guys ever to pass through the NFC South. Minter will be the new football coach at Campbell University, according to Tom Sorensen. Minter had been working as the special teams coach at Liberty, and I have no doubt he's ready to run his own program.
Miami defensive back Jonathan Amaya isn't in the NFC South. But I see two division connections in this story about Amaya reportedly choking a cab driver. First off, Amaya previously was with the Saints. He came as part of the Reggie Bush trade, but later was released. Second, former Tampa Bay cornerback Aqib Talib pretty much set the precedent for incidents with cab drivers.
Mark Bradley has a nice summation of Atlanta's situation at running back. He says it's too early to say for sure if Jacquizz Rodgers is ready to take over as Atlanta's feature back, but it's nice to know there's an alternative to Michael Turner. The Falcons obviously are giving Rodgers more playing time and more carries. I'd expect things to keep moving in that direction as long as Rodgers continues to produce.
Larry Holder reports that New Orleans defensive tackle Brodrick Bunkley will not face a suspension after he was ejected for kicking a San Francisco player on Sunday. But Bunkley still could face a fine from the NFL.
August, 2, 2012
8/02/12
7:56
AM ET
Time for a Thursday morning run through the headlines around the NFC South.
ATLANTA FALCONS
With the Falcons roughly a quarter of the way through training camp, D. Orlando Ledbetter has his
first-quarter grades
on the rookies. Guard Peter Konz gets the only A. Konz also might be the only rookie with a realistic chance to be in the starting lineup on opening day.
Running back Art Malone, who spent five seasons with the Falcons in the 1970s, has
passed away
.
CAROLINA PANTHERS
Receiver Jared Green is the son of former NFL player Darrell Green. He's an undrafted rookie free agent, but he's made some
impressive plays
in camp. Still, it might be tough for Green to earn a roster spot. Steve Smith, Brandon LaFell, Louis Murphy, David Gettis, Kealoha Pilares and Joe Adams are all ahead of him on the projected depth chart.
Speaking of Carolina's receivers, coach Ron Rivera said
it's time
for third-year pro Brandon LaFell to step up and firmly grab the No. 2 job opposite Smith. LaFell has been getting the first-team work during camp. The word I got when I visited the Panthers for their June minicamp was they were happy with what LaFell was showing. It sounds like a situation where he should have a starting job, as long as he doesn't step back in what's left of camp and in the preseason games.
NEW ORLEANS SAINTS
When asked about the recent criticism from New Orleans quarterback Drew Brees on how discipline is handled in the NFL, commissioner Roger Goodell said he
expects criticism
. He said his job isn't to be popular, but to do what is right for the league.
Although Jonathan Amaya and Isa Abdul-Quddus have played mostly just on special teams, the Saints appear ready to go with them as their
top backups
at safety behind Malcolm Jenkins and Roman Harper.
While the rest of the Saints are learning a new defense, linebacker Chris Chamberlain has
an advantage
. He played in the same system in St. Louis, where defensive coordinator Steve Spagnuolo was the head coach the past three years.
TAMPA BAY BUCCANEERS
It may only be training camp, but the Bucs did something they haven't done in quite some time Tuesday. Quarterback Josh Freeman led the Bucs on what would have been a
game-winning drive
in the team's situational two-minute drill. Freeman connected with Mike Williams for the winning touchdown. That's a really good sign that Freeman's confidence may be back or on its way back. Freeman showed the ability to lead comebacks in 2010. But the Bucs didn't come back from much of anything last season as they lost their final 10 games.
Ira Kaufman writes that the Bucs
never have had
a receiver quite like Vincent Jackson. He's right. The Bucs never have had a receiver with Jackson's combination of size, speed and ability to get open down the field. That may be another reason why Freeman's confidence appears to be on the rise.
Just like they've done in recent years, the Bucs put up
huge photos
of some of their key players on the exterior of Raymond James Stadium on Wednesday. The featured players are Jackson, rookie safety Mark Barron, defensive end Adrian Clayborn, guard Carl Nicks, cornerback Ronde Barber, defensive tackle Gerald McCoy, Freeman, Williams and Jackson. It's fair to wonder about the absence of running back LeGarrette Blount, who have been featured in the past. I'm taking this as another sign that rookie Doug Martin is going to be the main running back.
July, 30, 2012
7/30/12
12:00
PM ET
METAIRIE, La. -- As he prepares for his third NFL season, it sounds as if New Orleans tight end
Jimmy Graham
has figured out the secret to NFL success.
"I was told to never tug on Superman's cape," Graham said.
He was talking about quarterback
Drew Brees
. Graham noted how the quarterback challenged him to a sprint race at the start of training camp and said he let Brees win. Graham was partly joking, but there was some deep wisdom in his words.
More than ever, the Saints are Brees' team. They've been through an offseason unlike one any other team has faced. They've been through the painful drama of the bounty scandal and they'll move forward without coach Sean Payton, who is suspended for the season, and general manager Mickey Loomis, who is suspended for the first eight games.

Brees, the league's highest-paid player, is coming off a season in which he set a NFL single-season record for most passing yards. No, let other teams try to tug on Brees' cape. If the Saints really are going to endure all this adversity successfully, they need Brees' skill and leadership more than ever. They need to ride the coattails of the most positive thing they have at the moment.
Brees knows this high-flying offense as well as anyone, including Payton. The Saints remain loaded at offensive skill positions. There's little doubt this team still is going to score a lot, and that alone will keep it competitive.
But Brees can't do everything by himself. Even before the word "bounty" started flying in March, the Saints knew they had to overhaul their defense. That became clear in last season's playoff loss to San Francisco. That's why defensive coordinator Steve Spagnuolo was hired. Predecessor Gregg Williams had a gambling philosophy, going all-out to produce turnovers. The negative side effect was that the Saints gave up too many big plays.
Spagnuolo brings a more balanced philosophy. Sure, he wants turnovers, but he also wants to be able to shut down offenses from time to time. A big theme of this camp is the installation of Spagnuolo's defense. Even though that's not his side of the ball, Brees shows a lot of interest in the defense. Even in camp, the Saints are implementing game plans.
"[Spagnuolo] is going to try to find every flaw, just like we are going to do to them,'' Brees said. "Along the way, I am certainly going to be picking his brain as to what he is seeing with our offense, how we can improve. That is how you help one another. That is a habit that we got into, me talking to the defensive guys, even if it is just the secondary guys, saying, 'You give away that blitz whenever you do this.' We are competing against each other, but in the end we are on the same team. I want them to be able to go out and have as much success as possible, just like they want us, on game day, to have as much success as possible."
Maybe that's the best way to improve the New Orleans defense. Practice against Superman every day. After you've been through that, everything else should be easy.
[+] Enlarge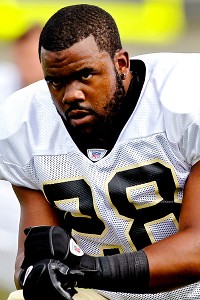 Derick E. Hingle/US PRESSWIREMark Ingram rushed for 474 yards and five touchdowns during his rookie season with the Saints.
THREE HOT ISSUES
1. Mark Ingram's playing time
. Fan expectations for Ingram might be significantly higher than the team's. That's somewhat understandable, because the Saints traded back into the first round in 2011 to draft Ingram. He played at a college powerhouse (Alabama) and won a Heisman Trophy. Instant stardom was expected by fans, but it didn't turn out that way in Ingram's rookie season.
He finished with 122 carries for 474 yards and five touchdowns. Injuries were part of the reason his numbers weren't bigger. But even before the injuries, Ingram shared playing time with
Darren Sproles
and
Pierre Thomas
, and
Chris Ivory
did a nice job joining the rotation after Ingram's injury problems started. Ingram had a couple of offseason surgeries and said he's completely healthy.
But that doesn't mean Ingram suddenly is going to become a 300-carry guy. New Orleans' offense is based on diversity, and that's not going to change. The Saints aren't going to take playing time away from Sproles, who set an NFL record for all-purpose yards last season, and Thomas is going to play because he has earned it with his performance.
Assuming Ingram stays healthy, I expect him to get more carries than last season, but a 200-carry season for about 800 yards is a reasonable expectation.
2. Will the linebackers be better than last season?
I think they'll be markedly better. Many believe the season-long suspension of
Jonathan Vilma
is going to hurt the Saints. If this were two or three years ago, I'd agree. But Vilma was bothered by knee problems last season, and his age seemed to be catching up to him. I think free-agent addition
Curtis Lofton
is an upgrade over Vilma in the middle. In fact, I think Lofton is pretty similar to what Vilma was two or three years ago. The Saints will be just fine in the middle.
Plus, the Saints didn't sit still at outside linebacker. They signed free agents
David Hawthorne
and
Chris Chamberlain
. It looks as if Hawthorne is well on his way to winning a starting job. That leaves Chamberlain competing with
Scott Shanle
,
Will Herring
and
Jonathan Casillas
for the other starting job. There's no true favorite here, and Shanle is the fallback option as the safe choice because he's smart and dependable. But Chamberlain, Herring and Casillas are more athletic and at least come with the possibility of producing big plays. The hope is that one of those three can step forward to win the starting job.
3. Can the offensive line, minus Carl Nicks, be as good as last season?
Nicks took the big money and left for Tampa Bay in free agency. Losing a player many scouts consider the best guard in the NFL must take a toll. But the Saints already had
Jahri Evans
, who might be the closest thing to Nicks. Loomis did a nice job getting
Ben Grubbs
to replace Nicks. Grubbs isn't quite on the Nicks/Evans level, but he's an above-average player and came at a much lower salary than Nicks. The Saints build their offensive line around the interior, and Evans and Grubbs will form a very strong guard tandem.
Brian de la Puente
did a nice job taking over at center last year and should be fine with Grubbs and Evans surrounding him. The tackles are more of a question. The Saints are sticking with
Jermon Bushrod
on the left side and
Zach Strief
on the right. They're serviceable, but Bushrod and Strief aren't all-pros, and the presence of Evans and Grubbs should be enough to keep this offensive line among the better ones in the league.
REASON FOR OPTIMISM
Spagnuolo's history.
There is legitimate concern about the pass rush, because Spagnuolo likes it to come mostly from his front four. Aside from defensive end
Will Smith
, who will serve a four-game suspension at the start of the season, the Saints don't have a proven pass-rusher. Many fans are worked up about the potential of
Junior Galette
and converted linebacker
Martez Wilson
. Those guys could turn into something, but maybe fans aren't looking in the right direction.
Second-year pro
Cameron Jordan
might be a big factor. Yeah, I know that sounds like a stretch because Jordan had one sack as a rookie, but he was a first-round pick and still has plenty of untapped potential. There's more than that, though. Look at Spagnuolo's past. When he became defensive coordinator for the
New York Giants
in 2007,
Justin Tuck
had gone through two NFL seasons with one sack. In Spagnuolo's first season, Tuck had 10. In 2008, Tuck recorded 12.
If Spagnuolo can get anything close to double-digit sacks from Jordan, he may have short- and long-term answers for his pass rush.
REASON FOR PESSIMISM
How much adversity can one team take?
The Saints will use all that happened to them in the offseason as a rallying cry, providing strong motivation. But it's tough for any team to ride one emotion (anger, in this case) for an entire season. This franchise has been through a lot, and you have to worry about that taking a toll at some point.
[+] Enlarge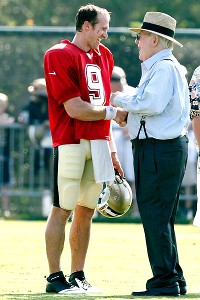 Derick E. Hingle/US PRESSWIREWith a new contract and instability in the coaching staff, Drew Brees will be asked to be even more of a leader for Tom Benson's Saints.
You also have to worry about the Saints being a target for opponents, especially those who spent the past few months hearing that the bounty program had targeted some of their own players. Then throw in the fact that assistant head coach Joe Vitt, who has run the team in Payton's absence, must serve a six-game suspension at the start of the season. At that point, the Saints are expected to make another of their assistants the acting head coach. Yes, this is a veteran team with outstanding leadership, but it sure looks like a lot of things are stacked against the Saints.
OBSERVATION DECK
February, 29, 2012
2/29/12
7:38
AM ET
Time for a look at Wednesday morning's top stories from around the NFC South.
The New Orleans Saints
continue negotiations
to get quarterback Drew Brees signed to a new contract, but nothing is done yet. The Saints also have the option to put the franchise tag on Brees before Monday's deadline, but that's only a last resort. The Saints would rather complete a deal with Brees so that they would have the franchise tag available for guard Carl Nicks.
D. Orlando Ledbetter has his offseason
depth chart
for the Falcons. It's fine as it stands right now, but changes will be coming in free agency. I'd be shocked if the chart looks like it does now in September and has Sam Baker and Will Svitek as the top two options at left tackle. He also doesn't include free-agent cornerback Brent Grimes and middle linebacker Curtis Lofton. I've got a hunch the Falcons will find a way to keep both of them.
The Saints have
signed exclusive-rights free agents
Jonathan Amaya and Justin Drescher to their tenders.
Tampa Bay coach Greg Schiano said the fact the Bucs hired Ron Cooper from LSU to coach their secondary
doesn't mean it's automatic
the Bucs will draft LSU cornerback Morris Claiborne. No, it's not a given, but I think Claiborne is at least a possibility with the No. 5 overall pick.
Although he had some off-field issues earlier in college, North Alabama cornerback Janoris Jenkins
is on Carolina's radar
when it comes to the No. 9 overall pick. Jenkins had a fine showing at the combine and did a good job answering questions about the problems that got him kicked out of Florida earlier in his college career.
January, 25, 2012
1/25/12
12:29
PM ET
For months, Saints fans have been asking for full details on last summer's trade of Reggie Bush to the Miami Dolphins.

For the longest time, those details seemed to be one of the league's best secrets. We knew the Dolphins got Bush and the Saints got safety Jonathan Amaya, but that's all we knew for sure.

But it looks like we finally have an answer. The Saints still haven't said anything official. But Miami general manager Jeff Ireland finally filled in the blanks on the draft-pick compensation part of the deal Monday during a break in Senior Bowl practices.

Brace yourself, New Orleans fans. You're not going to be jumping up and down about this one because your team is not gaining much. The Saints will move up either 18 or 19 picks in the sixth round of the draft.

Ireland confirmed that in addition to the trade of Bush for Amaya, the only other item in the deal is that the two teams swapped sixth-round picks.

The Dolphins will holed either the eighth or ninth pick in each round. The exact spot will be determined by a coin flip with the Carolina Panthers at the scouting combine in February.

So the Saints will receive either the eighth or ninth pick of the sixth round. But the Saints also have to send their own sixth-round pick to Miami. That's the 27th pick of the sixth round.
January, 6, 2012
1/06/12
5:06
PM ET
The
New Orleans Saints
have declared wide receiver
Lance Moore
(hamstring) out for Saturday's playoff game with Detroit.

New Orleans still has plenty of healthy receivers with
Marques Colston
,
Robert Meachem
and
Devery Henderson
. But the Saints use all sorts of different personnel groupings and
Adrian Arrington
could pick up some of Moore's playing time. Arrington has very limited playing experience.
The Saints also declared linebacker
Jonathan Casillas
(knee) and tight end
John Gilmore
(toe) out for Saturday.
Martez Wilson
and
Ramon Humber
could get more playing time with Casillas out.
The Saints are listing Meachem (knee), linebacker
Jonathan Vilma
(knee), safety
Malcolm Jenkins
(neck) and safety
Jonathon Amaya
(shoulder) as probable.
The only Detroit player who is listed as anything other than probable is safety
Chris Harris
, who is doubtful with a back injury.