NFC South:

Jonathan Martin
November, 21, 2013
11/21/13
10:00
AM ET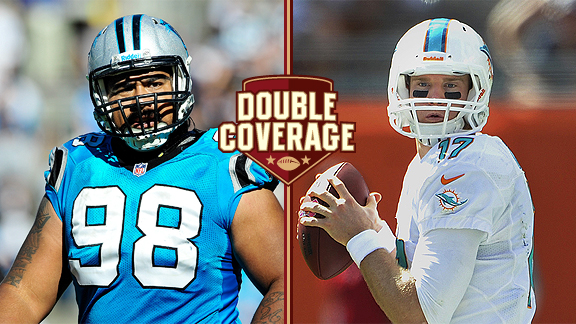 Getty ImagesStar Lotulelei and the Panthers' front four will bring pressure on Dolphins quarterback Ryan Tannehill.
Two teams battling for playoff positioning will face off Sunday when the
Carolina Panthers
travel to play the
Miami Dolphins
.
Carolina (7-3) is one of the hottest teams in the NFL behind a stout defense and improved play from quarterback and MVP candidate
Cam Newton
. The Dolphins (5-5) have fought through off-the-field distractions to win two of their past three games and are just a tiebreaker behind the
New York Jets
for the final wild-card spot in the AFC.
Who will prevail? ESPN Panthers reporter David Newton and Dolphins reporter James Walker weigh in.
James Walker:
This looks like a game of matchups. One that looks concerning from Miami's perspective is Carolina's aggressive, physical defense against the Dolphins' inconsistent offense. The Dolphins are still searching for an offensive identity 10 games into their season. There is nothing they do particularly well on that side of the football: Miami is ranked 20th in passing and 24th in rushing. In fact, the Dolphins haven't scored more than 27 points in a game all season.
Is Carolina's defense as good as advertised? What kind of challenge can Miami's offense expect?
David Newton:
It's hard to argue the numbers Carolina's defense has put up, particularly against the run, allowing just 84.5 yards per game. The front seven is as good as there is at making a game one-dimensional and forcing teams to pass; the defensive line can apply pressure on the quarterback, which allows seven, and sometimes eight, to drop back into coverage. It's really an unselfish group that is working as well together as any unit I've seen this season. The return of defensive tackle
Dwan Edwards
from a hamstring injury three weeks ago has added a more consistent third-down inside pass rush and made this unit even stronger. The defense that helped the 2003 Panthers get to the Super Bowl was good, but I believe this one is better.
The Dolphins bounced back from the loss to the
Tampa Bay Buccaneers
with a solid effort at San Diego. Has this team put the off-the-field issues behind it completely?
Walker:
I wouldn't say completely, because the investigation is ongoing. I don't see an end to the
Richie Incognito
-
Jonathan Martin
saga for at least several more weeks, if not longer. The NFL spent a lot of time at the Dolphins' training facility this week to try to get to the bottom of things, and the NFLPA will reportedly do its own investigation soon.
I thought Miami handled this situation better against San Diego, and it showed in the Dolphins' preparation. Miami put together a focused effort to pick up a big win. I think the team was a bit shell-shocked by the circumstances and the amount of media scrutiny leading up to the Tampa Bay game when everything first came out. It's really going to be a week-to-week scenario with the Dolphins as this investigation unfolds.
Carolina is coming off a short week of preparation after winning a thriller against the
New England Patriots
on "Monday Night Football." Is this a concern, especially going on the road, where the Panthers are 3-2?
Newton:
The short week shouldn't be a problem. They had a Thursday night game a few weeks ago at Tampa and played well for having only a few days of preparation. The coaching staff has really gotten into a groove with knowing when to go hard and when to back off in practice. From a defensive standpoint, because they don't rely on a lot of fancy formations with the front four so solid, it really just comes down to tweaking things for individual matchups.
The biggest issue might be from wear and tear. They played three games in a span of 12 days a few weeks ago, and they're coming off consecutive games against San Francisco and New England, elite teams that really get after you.
Speaking of physical teams, what problems will Miami's defense cause Newton and the Carolina offense?
Walker:
Miami's defense has been an enigma. There is talent and depth, especially in the front seven, but the defense hasn't lived up to its potential. The Dolphins' best chance to rattle Newton is to stop Carolina's running game and make the Panthers one-dimensional. That's a tall order. I thought Miami's defense had the talent on paper to be top 10 against the run, but that's far from the case. The Dolphins are 25th against the run.
But in games when the Dolphins have earned a second-half lead, their pass rush has been able to cause problems. Pro Bowl defensive end
Cameron Wake
is healthy again and back to his old self; he has four sacks in his past three games and 6.5 overall. Fellow defensive end
Olivier Vernon
(5.5 sacks) has been a pleasant surprise. The Dolphins have four players with three sacks or more this season. They have the ability to pin their ears back and get to the quarterback. But the Dolphins haven't had enough leads late in games.
David, one area in which Carolina has struggled is its 28th-ranked passing offense. How can the Panthers improve?
Newton:
Carolina's ranking is a bit misleading. The key number is Newton's efficiency. He's completing a much higher percentage of passes -- 63.2 -- than in his previous two seasons. He's also throwing more short passes as the offense goes with more ball control. He's more or less taking what defenses are giving him better than he has before. Because the Panthers are so balanced in rushing and passing, Newton's passing yards are down. But they have deep threats when they need them in
Steve Smith
and
Ted Ginn
. They just haven't needed them because, for most of the past two months, they've been getting big leads and running more.
James, my last question to you is, do you believe the Dolphins are a playoff team?
Walker:
The Dolphins feel confident because they are still in the hunt. They are just a tiebreaker behind the Jets, and the teams still have two games against one another. But I haven't seen any consistency from Miami since its 3-0 start. Since then, the Dolphins have gone 2-5, so there isn't much reason to believe they can go 5-1 or 4-2 down the stretch to get into the playoffs. Miami has a huge three-week stretch ahead, with Carolina and games at the Jets and at Pittsburgh. All of these games are going to be tough.
November, 8, 2013
11/08/13
10:00
AM ET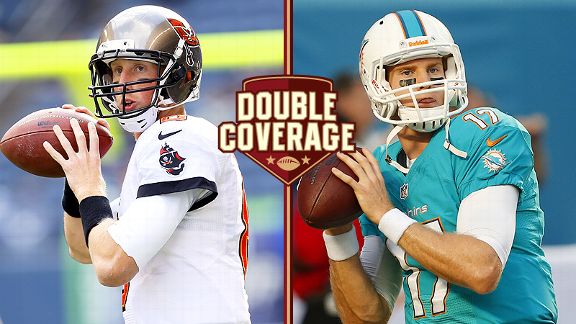 Getty ImagesMike Glennon, left, and Ryan Tannehill have a lot to prove in the season's second half.
TAMPA, Fla. -- Although their records are uninspiring, the
Miami Dolphins
and
Tampa Bay Buccaneers
have been all over the news this season -- for all the wrong reasons.
The recent incident involving Miami offensive linemen
Jonathan Martin
and
Richie Incognito
has dominated the headlines. Earlier in the season, the Bucs were in the news as the rift between coach Greg Schiano and quarterback
Josh Freeman
erupted, and Tampa Bay continues to draw attention after three players were diagnosed with MRSA infections.
But, on Monday night, the Dolphins and Bucs finally will be in the football spotlight as they play in a nationally televised game. ESPN.com Dolphins reporter James Walker and Buccaneers reporter Pat Yasinskas discuss the matchup.
Pat Yasinskas:
James, the Martin-Incognito situation has been one of the biggest stories of the season. How much of a distraction has it been for the other Miami players?
James Walker:
The Dolphins are trying to put a decent spin on things this week. However, you can tell it's weighing on them. Players are genuinely upset that it came down to this. They felt Martin could have handled this differently, and in a way that was better for the team, himself and Incognito. I would think most people outside of Miami's locker room would find issues with that line of thinking. But it's really within the NFL culture to think week-to-week and how to win games immediately. This has been an interesting case study on NFL locker rooms and how it relates real societal issues.
Pat, the Buccaneers have had their own share of drama this season. How is Tampa Bay handling its various issues at 0-8?
Yasinskas:
James, things finally seem to have settled down a little bit the past week or two. But, for the longest time, it seemed as if the Bucs had a fresh controversy every day. The Freeman saga was nothing short of a soap opera, and the MRSA is a very serious issue. Cornerback
Darrelle Revis
has admitted the Bucs have been affected by the distractions. Throw in the fact that the Bucs are 0-8 and have lost several games they should have won, and it appears as if there's a situation that could blow up at any time. But the one thing the Bucs have going for them is that they still are playing hard.
All right, let's move to some on-the-field stuff. How are the Dolphins going to adjust their offensive line?
Walker:
Here is the interesting thing about Miami's offensive line: It wasn't good with Martin and Incognito.
Ryan Tannehill
is the most-sacked quarterback in the NFL at the midpoint of the season, and, until two weeks ago, the running game was hit-or-miss. So, yes, on the surface, the Dolphins lost two starters on the offensive line. However, the bar set by the old group wasn't very high.
Tyson Clabo
will start for Martin at right tackle and
Nate Garner
at left guard. They're capable of holding up the same standard, but it remains to be seen whether they can do better.
Speaking of better, how much has the quarterback play improved with
Mike Glennon
? Can he become the long-term solution?
Yasinskas:
Glennon has shown gradual improvement in each game. He's been poised and has shown more mobility than most people thought he had. He has gone three straight games without an interception, which is a major accomplishment for a guy who has only five career starts. Schiano is very high on Glennon, and that admiration goes back to when Schiano tried (unsuccessfully) to recruit the quarterback to Rutgers. If Schiano sticks around, I think he views Glennon as his long-term answer at quarterback. But, with the way the Bucs are losing games, there is no guarantee Schiano will be back next season. A new coach might not be as high on Glennon as Schiano.
Speaking of long-term answers, has Tannehill shown enough to convince the Dolphins he can develop into a top-line starter?
Walker:
I like what Tannehill brings to the table. However, this season has been challenging to evaluate because of all the troubles on the offensive line. Tannehill has a few holes in his game, such as poor pocket presence, suspect ball security and an average deep ball. Maybe some of those can be corrected with experience. This is a big eight-game stretch for Tannehill and his long-term future in Miami. That important period starts Monday night.
.
April, 27, 2012
4/27/12
5:54
PM ET
As we get ready for the NFL draft to resume, let's take a spin through some NFC South headlines.
— Great
quote
from NFL Network draft analyst Mike Mayock on Tampa Bay safety Mark Barron: "I love this kid because his floor and ceiling are the same thing. His ceiling is to be a Pro Bowl safety; his floor is to be a Pro Bowl safety. That's how good this young man is.'' I'm with Mayock on this one. I know a lot of Tampa Bay fans wanted cornerback Morris Claiborne and the Bucs did extensive homework on him. I don't know what the knock against Claiborne was, but the Bucs had him rated below Barron. You've got to go with what all your scouting tells you.
— Barron and running back Doug Martin
were introduced
to the Tampa Bay media on Friday.
— D. Orlando Ledbetter throws out
some names
of offensive linemen that could be possibilities for the Falcons at No. 55. He mentions Cordy Glenn, Jonathan Martin, Bobby Massie, Mike Adams and Peter Konz as guys the Falcons might have to trade up to get in the second round. He lists Mitchell Schwartz and Amini Siatolu as guys who the Falcons can probably get if they stay put. I think there's also a chance the Falcons go with a defensive lineman in the second round. By the way, even if you're not interested in offensive or defensive linemen, click the link to check out Ledbetter's photographic talents.
— New Orleans doesn't have a pick until the third round, but Mike Triplett points to
recent history
to show the Saints still can get an impact player. They've landed Jimmy Graham, Jermon Bushrod, Carl Nicks and Jahri Evans after the first two rounds. All four of those players made the Pro Bowl for the Saints, although Nicks now is with Tampa Bay.
— One of the
first people to call
linebacker Luke Kuechly after he was selected by the Panthers on Thursday night was Carolina quarterback Cam Newton. Looks like Newton is making good on his pledge to attempt to be more of a leader.
April, 27, 2012
4/27/12
9:39
AM ET
The second round of the draft is shaping up to be a very quiet one for the NFC South.
At the moment, the
Carolina Panthers
and
Atlanta Falcons
are the only two teams with picks in the round. The Panthers have No. 40 overall, and the Falcons have No. 55.
But that's only at the moment. As we saw in Thursday night's wild first round, trades can shake things up in a hurry. The Buccaneers and Saints could find ways to trade into the second round, and there are no guarantees the Panthers and Falcons stay where they are.
If they do, Carolina has some decent options at No. 40.
Let's take a look at the
Insider list

of Mel Kiper Jr.'s 10 best-available players. North Alabama cornerback
Janoris Jenkins
might be the most exciting name on there, and the Panthers could use some depth at cornerback. But this will only happen if the Panthers are comfortable with what they've seen from their homework on the issues Jenkins has off the field. There's a perception the Panthers suddenly stopped caring about off-field matters in last year's draft. That's not the case at all. They were willing to draft
Brandon Hogan
in the fourth round, but that only happened after they did extensive homework and decided his off-field problems didn't bring a big risk.
A lot of people thought the Panthers would go with a defensive tackle in the first round. They instead chose Boston College linebacker
Luke Kuechly
. But I think there's a chance the Panthers take another big body up front to allow Kuechly and the other linebackers to run free, and help cut down on the rash of linebacker injuries the Panthers have had recently. Michigan State's
Jerel Worthy
and Cincinnati's
Derek Wolfe
are on Kiper's list. So is Penn State defensive tackle
Devon Still
, who many saw as a potential first-round pick.
I'm also looking at Kiper's list and wondering if a couple of guys could still be around for Atlanta's pick. Mississippi
Bobby Massie
and Stanford's
Jonathan Martin
didn't go in the first round. That means they're not blue-chip prospects at left tackle. But they're only a notch below that, and the Falcons need to get a left tackle to at least compete with
Sam Baker
in the short term, and possibly to replace him in the long term. Defensive line also seems to be a possibility for the Falcons.
The NFC South is a little short on third-round picks right now. The Bucs have the fifth pick in the third round. The Falcons have the 21
st
pick in the round, and the Saints finally join the draft with the 26
th
pick.
February, 20, 2012
2/20/12
11:27
AM ET
We're a little more than two months away from the NFL draft, but we're about to enter a key time.
The scouting combine starts later this week and that's when you'll see the stock of various prospects rise or fall. As it stands right now, there seems to be a fairly clear consensus on the top 10 players, but that could change after players work out at the combine.
The NFC South has only two teams with first-round picks because Atlanta and New Orleans traded away their choices last year. But Tampa Bay and Carolina each are in the top 10 and should be able to come out of the draft with players that can make instant impacts.
Let's take a look at the latest Insider
mock draft

by Mel Kiper.
He has the Bucs taking Alabama running back
Trent Richardson
at No. 5. I'm not ruling this one out at all because the Bucs clearly have to improve their backfield.
LeGarrette Blount
is not an every-down back and it doesn't seem real likely that
Earnest Graham
, who will be a free agent, will return. But conventional wisdom says you can get a good running back a little later in the draft.
The Bucs have plenty of needs and running back is high on that list. But cornerback could be even higher. That's why I wouldn't be surprised if the Bucs pass on Richardson and take LSU cornerback
Morris Claiborne
. Cornerback could end up being the biggest need of all. We don't know yet if veteran
Ronde Barber
wants to continue playing. Even if he does, we don't know if the Bucs want him back.
Aqib Talib
is the other starting cornerback, but he's got a trial on an assault charge coming up. Talib could end up with a prison sentence. He also could be subject to discipline from the league. It's also possible new coach Greg Schiano might send a message to his team about off-field issues by parting ways with Talib.
We'll know Friday if the
Carolina Panthers
will pick No. 8 or 9. A coin flip with the
Miami Dolphins
at the combine will determine that.
Either way, it's not that difficult to project what Carolina might do. Kiper has the Panthers taking LSU defensive tackle
Michael Brockers
and I think that's entirely possible. Even with
Ron Edwards
expected back from injury and the presence of second-year players
Terrell McClain
and
Sione Fua
, the Panthers need to make sure they finally fix the middle of their defensive line. I could also see them going with a cornerback if Claiborne falls a bit. I also wouldn't be all that surprised if the Panthers went with an offensive tackle, such as Iowa's
Riley Reiff
or Stanford's
Jonathan Martin
. Left tackle
Jordan Gross
is getting older and right tackle
Jeff Otah
has had chronic knee problems. It might be a long time before the Panthers pick in the top 10 again. It might be hard to pass on a can't-miss left tackle. The Panthers could play the new guy at right tackle for a year or two and eventually move him to the left side.

NFC SOUTH SCOREBOARD
Thursday, 9/18
Sunday, 9/21