NFC South:

Jonathan Sullivan
June, 25, 2010
6/25/10
12:00
PM ET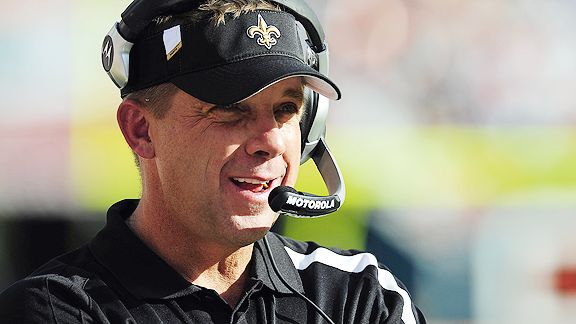 Steve Mitchell/US PresswireThe usually guarded Sean Payton pulls back the curtain on the Saints' 2009 season in a new book.
You know the story already. Now, Sean Payton's filling in the details.
The coach of the Super Bowl champion
New Orleans Saints
has written a book that is scheduled to hit stores Tuesday. It is called "Home Team." The subtitle is "Coaching the Saints and New Orleans back to life."
That last line sums up the book in one sentence. But I recommend you read the book even if you're a Saints fan and think you already know all about the Super Bowl season and the three seasons that preceded that. If you do, you'll find out a lot of things you didn't know.
We're not talking any headline-grabbing revelations here, because there aren't any. The big picture has played out very publicly. What Payton is doing with co-author Ellis Henican is coloring in the outline that already was sketched.
Like just about all football coaches, Payton runs a tight ship. When addressing the media, he's generally guarded with what he shares, especially about the inner-workings of his team. That's why this book is a rare opportunity to see what really has gone on with the Saints since Payton first interviewed for the job in 2006.
Payton's playing by different rules in this book and, in a lot of ways, opening the locker room doors and his mind for fans to really see how the Saints went from the devastation of Hurricane Katrina to the top of the football world. Written entirely in Payton's voice, the book chronicles just about everything, from Payton's first flight into New Orleans right up through the post-Super Bowl celebration.
Like I said, there's nothing that's going to grab a headline or really shock you. But there are a few significant confessions that haven't been public knowledge.
Start with the daring onside kick to start the second half of the Super Bowl. That decision has brought Payton acclaim for making one of the boldest moves in Super Bowl history. Well, truth be told, Payton reveals the onside kick was not initially the surprise play Payton wanted to run.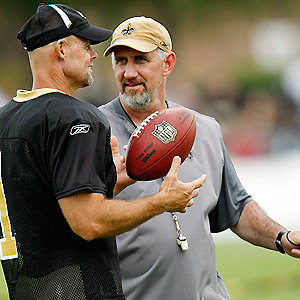 AP Photo/Bill HaberPayton's new book reveals it was special-teams coach Greg McMahon who suggested the Saints use an onside kick in the Super Bowl.
In the days leading up to the Super Bowl, Payton said he wanted to steal a possession from
Peyton Manning
and the
Indianapolis Colts
and his first thought was to run a fake punt. He floated the idea by his coaching staff for several days and word trickled down to the players. Veteran long-snapper
Jason Kyle
finally went to Payton and delicately suggested the fake punt might not be a great idea.
"They didn't tell me what I wanted to hear," Payton said. "They told me what I needed to hear."
Payton backed off the idea and special-teams coach Greg McMahon offered a counterproposal. That was the onside kick. Payton grabbed onto that and it worked masterfully.
There's also a little revelation about why the Saints were so late in showing up for media day on Tuesday of Super Bowl week. Payton said that five players --
Tracy Porter
,
Bobby McCray
,
Roman Harper
,
Usama Young
and
Jermon Bushrod
-- missed the team bus that morning. After each of the players made it to the locker room on their own, Payton shut the door and began blistering his team.
"I can smell a team that looks like they're just happy to be in the Super Bowl," Payton said he told his team. "You guys reek of that team."
The Saints quickly stopped reeking and you already know how they went out and won the Super Bowl. Payton shares the details of the postgame joy and how he virtually had to be dragged to the morning-after news conference.
April, 6, 2009
4/06/09
6:28
PM ET
Posted by ESPN.com's Pat Yasinskas
Just happened to stumble across this article about the biggest defensive draft busts in NFL history. Sad to say, the NFC South is pretty well represented.
The Saints got Alex Molden and Jonathan Sullivan on the first team and linebacker Keith McCants made it for the Buccaneers.
The NFC South made up 75 percent of the secondary with Carolina's Rashard Anderson and Atlanta's Bruce Pickens joining Molden. Can't really argue with any of the other selections.
But I can think of a few other NFC South draft busts that were no slouches. In fact, I'd nominate Carolina's Jason Peter and Tampa Bay's Booker Reese and Broderick Thomas as tremendous slouches. I also think Atlanta defensive end Jamaal Anderson is about one more disappointing season away from a spot on this list.
I'm sure I'm overlooking some more defensive draft busts. Fire away if you've got some more.