NFC South:

Junior Gallette
October, 5, 2014
10/05/14
7:25
PM ET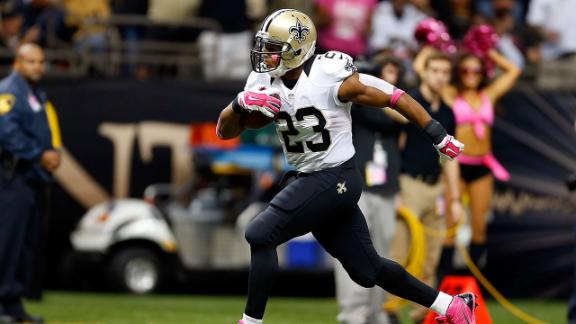 NEW ORLEANS -- The table was all set for the
Tampa Bay Buccaneers
to turn around their season.
Then it all fell apart.
Despite holding an 11-point lead in the fourth quarter, the Bucs
lost 37-31
to the
New Orleans Saints
in overtime Sunday at the Mercedes-Benz Superdome.
"We had every opportunity to win this football game," offensive tackle
Demar Dotson
said. "We had the Saints right where we wanted them. We didn't finish. We allowed things to slip out of our hands. We've got to learn how to finish football games. That's tough to come in here and have the opportunity we had and let it slip away."
It's tough because, with a win, the Bucs would have been nicely positioned. They would have been right in the NFC South race and they would have been coming home with a two-game winning streak and growing confidence for next week's game with Baltimore.
Instead, they're 1-4, in sole possession of last place in the NFC South and coming home angry. There was more anger in Sunday's locker room than there was after a 56-14 loss to Atlanta in Week 3.
"Somebody's got to make a play," defensive tackle
Gerald McCoy
said. "You've just got to make a play. We let that one go. We let that one go."
The Bucs let this one get away in regulation and in overtime. They took a 31-20 lead when rookie receiver
Robert Herron
caught a touchdown pass from
Mike Glennon
with 13:28 left in the fourth quarter.
Plenty of teams have blown leads to
Drew Brees
and the Saints in their home through the years. But shouldn't you expect to hold on when you have an 11-point lead and your offense and defense have been playing well?
"Yes, we do," coach Lovie Smith said. "There's no other way around it. You're up by 11. With our defense, simple as that, you don't let them score and you win the football game."
That's not what the Bucs did. Two series -- one by the offense and one by the defense -- quickly turned the course of the game. On a New Orleans drive that featured three Bucs penalties,
Pierre Thomas
scored on a 27-yard run to cut the lead to 31-26.
The Bucs followed that with one of the worst offensive series in franchise history, which is saying a lot. The Bucs started with a first-and-10 at their own 20. They quickly got backed up by three penalties and a fumbled snap by Glennon. Stuck at the 1-yard line, Glennon was sacked for a safety by
Junior Gallette
to cut the lead to 31-28.
The Saints followed that up with a field goal to send the game to overtime. But that's where things got even worse for the Bucs. On a third down, the Tampa Bay defense appeared to force a New Orleans punt. But cornerback
Johnthan Banks
was called for illegal use of hands. That gave New Orleans new life and the Saints wound up winning on an 18-yard run by
Khiry Robinson
.
The Bucs, who finished with 15 penalties for 113 yards, have no one to blame but themselves. They had this game there for the taking and they didn't finish it off.
"It was a key game for us," Smith said. "We put a big emphasis on it. On the road and a division game, that itself says quite a bit. To be able to steal one would have put us in pretty good position. But we seem to do it the hard way. I'm still encouraged by a lot of the things I saw. Disappointed in the loss, but encouraged by some of our play. We're getting better as a football team and eventually our record will show it."
But, despite the golden opportunity, the Bucs aren't there yet.
June, 27, 2013
6/27/13
10:40
AM ET
By
ESPN.com staff
| ESPN.com
Atlanta Falcons
Richard Seymour, a former standout at the University of Georgia,
discussed his talks with the Falcons
, the possibility of retirement in an interview with SiriusXM NFL Radio. "But in terms of Atlanta, obviously, we had some talks," said Seymour. "[There's] really nothing new to report. I think they are a team that is definitely on the rise and they obviously have a lot of great players at the positions that you want to have."
Which receiver is quarterback
Matt Ryan's go-to guy
: Julio Jones or Roddy White? The Falcoholic's Alex Welch takes a look.
Carolina Panthers
The team
released its training-camp schedule
Wednesday. The Panthers will report to Wofford College on Thursday, July 25, and hold its first practice the following day. Training camp will end Aug. 13.
Ted Ginn Jr. is
looking forward to a fresh start
with the Panthers, writes the AP's Steve Reed.
New Orleans Saints
The Times-Picayune continues its series on the Saints' top 25 players, with
No. 17: Junior Gallette
.
Which Zach Strief will show up
in 2013? Cory Gunkel of Canal Street Chronicles explores.
Tampa Bay Buccaneers
The Bucs will
open 10 training-camp practices to the public
, according to the Tampa Tribune.
May, 19, 2012
5/19/12
11:04
AM ET
Let's take a look at some of the highlights from Friday's NFC South chat.
Ryan (Charlotte):
Regression or Progression. Which will be the theme for
Cam Newton
next year.
Pat Yasinskas:
I see progress. He's got a full offseason with the coaches and the play book this time around.
Chris (taylor):
Saw you just made the article about the lawsuit. Article 43 section 1 states that per agreement, Vilma can only take grievance with the NFl, not the legal system. Do you think that the case will be thrown out?
Pat Yasinskas:
Again, I'm no legal expert. But Munson is our legal expert and he said he believes there is a good chance it will get dismissed.
Bryant (Virginia):
what are the bucs expecting to get out of McCoy/Price? Do you expect them to have big years?
Pat Yasinskas:
They both have flashed promise when they've been healthy. But there's no denying this will be a crucial season for McCoy. He needs to stay healthy and start reaching his potential.
RossMcR (Glasgow, Scotland):
Pat, I am not too concerned about the Brees lack of talks with Saints at this point however I do expect them to ramp up now! When do you expect this to get resolved??
Pat Yasinskas:
Deadline to sign franchise players to long-term deals is July 16. I'm guessing it will play out pretty close to the deadline.
Kris (One Buc, FL):
Who do you see having a better year? Freeman or
Matt Ryan
?
Pat Yasinskas:
Hmmm, I'll say Ryan. I think Freeman will be much better than last year. But I think Ryan might really take a big step up in their new offense.
Brian (Baton Rouge):
Much has been made of the Saints' "lack of depth" at DE this offseason. I think both Junior Gallette and
Greg Romeus
have a chance to blossom under Spags' guidance. Your thoughts?
Pat Yasinskas:
Yeah, bringing up Romeus is a good point. He's supposed to be healthy and I think he could be a player. Gallette definitely has some raw talent and could be helped by Spags.
Tony (Richmond, CA):
Will Mike Smith & Matt Ryan get over the hump this year and finally win a playoff game? If not, do questions begin swirling around the coach and his ability to take Atlanta to the next level?
Pat Yasinskas:
Yeah, I think it's pretty obvious this is a crucial year for Smith. He needs to win a playoff game. Not saying he'll be fired if he doesn't, but the pressure is definitely on.
Scott (maine):
when its all said and done who do you see playing oline for falcons?
Pat Yasinskas:
I say Hawley at center with Konz and Blalock at guards. Clabo at RT. And this probably isn't what you want to hear ...but Baker at LT. I think they're serious about sticking with him -- for better or worse.
Here's the
complete transcript
of the NFC South chat.
May, 2, 2012
5/02/12
1:47
PM ET
As severe as the New Orleans Saints'
player suspensions
were for their three-year bounty program, they're not entirely devastating.
Middle linebacker
Jonathan Vilma
was suspended for the entire 2012 season, and defensive end
Will Smith
will be suspended for the first four games. That's all, as far as current Saints go. Defensive lineman
Anthony Hargrove
, now with Green Bay, drew an eight-game suspension, and linebacker
Scott Fujita
, now with Cleveland, will be suspended for the first three games of the season.
[+] Enlarge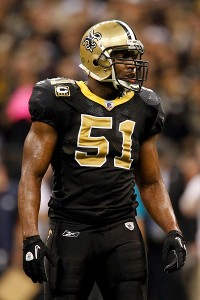 Derick E. Hingle/US PresswireJonathan Vilma had a down season in 2011, collecting 54 tackles in 11 games.
But let's stick to the current Saints and how this latest news impacts them. There's no doubt Vilma's suspension is severe. But the overall news wasn't as bad as it could have been. The NFL initially said 22 to 27 players were involved in the bounty program, and there was fear many more current Saints could end up with suspensions.
But only Vilma and Smith ended up drawing suspensions. Those two have been defensive leaders for the Saints in recent years, but their suspensions aren't going to gut the New Orleans defense.
The Saints had spent the offseason bracing for a possible lengthy suspension for Vilma, although I suspect the full season is about a half-season longer than what the Saints suspected. But they were proactive at linebacker. They went out and got free agent
Curtis Lofton
from Atlanta. They also added
David Hawthorne
from Seattle and
Chris Chamberlain
from St. Louis.
Let's be real honest here. As great as Vilma was in the Saints' 2009 Super Bowl season, and maybe even in 2010, he had a down year in 2011. He tried to play through a knee injury before finally having knee surgery that kept him out for five games. Even after his return, Vilma wasn't the same player he was in earlier seasons.
Plug in Lofton, who is younger and healthier, as the starting middle linebacker and the Saints may have an upgraded linebacker corps. Hawthorne and Chamberlain also can play outside and they'll compete with
Scott Shanle
,
Jonathan Casillas
,
Martez Wilson
and
Will Herring
for playing time. The Saints are pretty well set at linebacker.
Defensive end is another story, and the Saints will have to get through contests against the Redskins, Panthers, Chiefs and Packers without Smith, who led the team with 6.5 sacks last season. That will be a challenge, especially in a system in which new defensive coordinator Steve Spagnuolo likes to get the bulk of his pass rush from the front four.
Smith is the only member of the front four with a proven track record of getting pressure on quarterbacks.
Cameron Jordan
, who had one sack as a rookie, was projected as a starter even before Smith's suspension. The Saints could go with
Turk McBride
or
Junior Galette
(or a combination of the two) at the other end spot.
But it also is entirely possible the Saints will try to find another defensive end (or two) in free agency.
September, 8, 2011
9/08/11
11:49
PM ET
GREEN BAY, Wis. -- A few thoughts on the
New Orleans Saints
' season-opening
42-34
loss to the
Green Bay Packers
.


What it means
: It's only one game, but this one was particularly painful for the Saints and could have implications that linger through the season. The defense was nothing short of horrible most of the night, and that's a huge cause for concern. Yes, the Saints were playing the defending Super Bowl champions on the road, but they have to be better than this on defense if they hope to be more than an average team.
Missing Will Smith:
With the defensive end suspended for the first two games of the season, the Saints generated virtually no pass rush. Rookie
Cameron Jordan
,
Jeff Charleston
,
Junior Galette
and
Turk McBride
weren't expected to do it on their own. The Saints did try plenty of blitzes but didn't have a lot of luck. Don't give the Saints too much sympathy on this one. They knew for months there was the chance Smith would serve a suspension but didn't do much to counter that.
Secondary issues:
Second-year pro
Patrick Robinson
had a tough game as he took over the nickelback role. Strong safety
Roman Harper
had a rough night, and cornerback
Tracy Porter
didn't tackle well. If you're not getting any pressure and your secondary is struggling, you've got problems.
The bright spot:
Running back/return man
Darren Sproles
was explosive as he made his New Orleans debut. He returned a punt for a touchdown, and looked good on kickoff returns and as a receiver out of the backfield. Sproles looks like an upgrade from
Reggie Bush
.
Whatever happened to Jimmy Graham?
The second-year tight end was expected to be a focal point of the offense. He was barely a factor. But give Green Bay's defense much of the credit for that. The Saints seemed like they were looking for Graham, but he rarely was open, except for a fourth-quarter touchdown that came too late.
What's next:
The Saints get another strong NFC North opponent Sept. 18. They'll play the
Chicago Bears
, but that game will be in the Superdome.
November, 25, 2010
11/25/10
3:05
PM ET
ARLINGTON, Texas -- New Orleans running back
Reggie Bush
will make his return Thursday after missing eight games with a broken leg.
Bush is on the active list and is listed as the starter, although he's likely to share time with
Chris Ivory
in the backfield.
Inactives for the Saints Thursday are running back
Pierre Thomas
, safety
Matt Giordano
, safety
Darren Sharper
, running back
Ladell Betts
, tackle
Charles Brown
, tight end
Jeremy Shockey
and defensive end Junior Gallette.
Sean Canfield is the third quarterback.
August, 19, 2010
8/19/10
10:25
AM ET
John in Prairieville, La., writes:
A lot is being made of the "late" hits on Brett Farve. There were called late hits on Favre, two I believe. And I believe that one was missed. I also saw that a man in mid-air, as Favre passed, was called for a late hit. This extended a drive. It goes both ways. The refs did the best they could with the Vikings backfield swamped with Saint's jerseys. Which leads me to my point. The Vikings could not contain our pass rush (or hold on to the ball), this is why they lost. Not because we paid off refs our some other conspiracy. Simply put, if you don't protect your QB he will get hurt. Your opinion?
Pat Yasinskas:
Football is a very physical game and I think you're correct in saying the Vikings didn't do a great job of protecting Favre in the NFC Championship Game. That and
Adrian Peterson
's inability to hold onto the ball are the main reasons the Vikings lost. Yes, the Saints got called for some penalties and might have crossed the line at times. But, like you said, if the Vikings had done a better job protecting Favre, the Saints wouldn't have been able to get hits on him.
---
Kevin in Omaha, Neb., writes:
I know you don't make your predictions until closer to the season, but I was listening to Mike and Mike and they predicted that the Bucs would have a 2-14 season and 3-13 season. What are they looking at? From my view the Bucs are better at just about every position. Now I am not predicting a Super Bowl run and a playoff appearance is even far-fetched (not out of the question but unlikely) but they are going to be better than last season. What is your view?
Pat Yasinskas:
Pretty much the same as your view. I think the Bucs are improved in a lot of areas and the biggest is at quarterback.
Josh Freeman
has a year under his belt and he's going to be all right. Like you, I'm not ready to say the Bucs are going to the playoffs, but I think they'll be a competitive with the potential to win five or six games.
---
Matt in Tampa writes:
Great article on the Bucs in your Camp Confidential piece. Just one question, how is
Arrelious Benn
doing? He seemed invisible against Miami and I see that he is 3rd string at the Z WR position behind
Maurice Stovall
and
Sammie Stroughter
. Is he really struggling?
Pat Yasinskas:
I don't think it would be fair or accurate to say Benn is struggling. He did get off to a quiet start in camp, but that happens with a lot of rookie receivers. He's come on in practice over the last week or so and is progressing nicely. I don't think he's ready for a spot in the starting lineup. But, if continues to make progress, he could earn a spot in the receiver rotation.
---
Brendan in Kernersville, N.C., writes:
What is the feeling in Panther's camp on how
Dan Connor
is progressing at the MIKE position?
Pat Yasinskas:
The Panthers seem satisfied with Connor at middle linebacker. He's not going to be
Jon Beason
, who has moved over to weakside linebacker. In other words, Connor probably isn't going to make a lot of big plays. Beason can do that from the weak side. Connor's main job will be to produce tackles.
---
Scott in Austin, Texas, writes:
Junior Gallette looked pretty good in the first preseason game and I keep hearing his doing well. Do you think there is any chance they might move him to defensive tackle as opposed to end?
Pat Yasinskas:
I've heard good things about Gallette and liked what I saw when I visited the Saints early in camp. However, I don't think defensive tackle is in Gallette's future. He's not big enough to play the interior. Heck, he's even undersized as a defensive end. He might have trouble making the regular roster as an end, but I wouldn't be at all surprised if he ends up on New Orleans' practice squad.