NFC South:

Kellen Clemens
December, 21, 2013
12/21/13
8:00
AM ET
TAMPA, Fla. -- Three things to watch for in Sunday's game between the
Tampa Bay Buccaneers
and the
St. Louis Rams
.

The St. Louis pass rush:
Rookie quarterback
Mike Glennon
is going to face another challenging pass rush, which is led by defensive ends
Robert Quinn
and
Chris Long
. Quinn particularly has been having an outstanding season. He has 15 sacks and seven forced fumbles. Left tackle
Donald Penn
will be the primary guy responsible for blocking Quinn. But the Bucs need to give Penn a lot of help.
The Tampa Bay running game:
The Bucs have been very inconsistent in this area in recent weeks. That needs to change, because Tampa Bay's offensive philosophy starts with being able to run the ball. The offensive line needs to help running back
Bobby Rainey
establish the running game early, to help take the pressure off Glennon.
Tampa Bay's run defense:
With
Kellen Clemens
playing quarterback, St. Louis' offense depends heavily on the running game and
Zac Stacy
. Tampa Bay's run defense ranks No. 15, after ranking No. 1 last season. The Bucs need to bottle up Stacy and challenge Clemens and the passing game to beat them.
December, 30, 2011
12/30/11
10:00
AM ET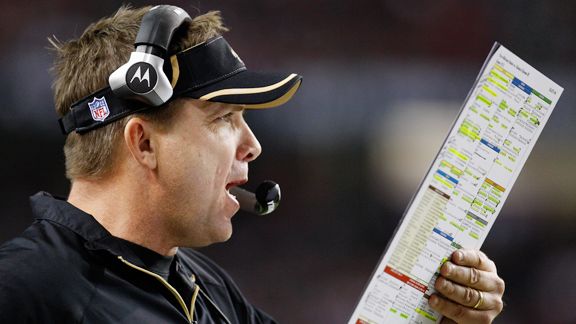 Scott Halleran/Getty ImagesSean Payton played his starters in Week 17 llast season, and the Saints suffered several key injuries.
If we've learned anything about Sean Payton and Mike Smith this season, it's that neither coach likes to use the brakes.
Whether it's Payton leaving
Drew Brees
in during a
blowout win
against the Falcons on Monday night or Smith
going for it
on fourth-and-inches in overtime against the Saints earlier in the season, both coaches have demonstrated aggressive styles.
That's why it shouldn't come as a big surprise that Payton said the Saints will play their starters in Sunday's season finale against the
Carolina Panthers
and Smith said the Falcons will do the same against the
Tampa Bay Buccaneers
.
Being aggressive is a big part of the reason the Saints and Falcons already have clinched playoff berths. But maybe it's time for Payton and Smith to take their feet off the accelerator, just for a bit.
There's a very real chance the Saints and Falcons already have done all they can do to max out where they're seeded in the NFC playoffs. The Saints likely are headed for the No. 3 seed and the Falcons will be either No. 5 or 6.
"We're playing some of our best football here the last few weeks,'' Payton said. "There's some value to that.''
That's true. The Saints (12-3) have won seven straight games and carrying momentum into the playoffs is important. The Falcons (9-6) had some momentum going, but they lost it Monday night when they were trounced by the Saints. Regaining some positive momentum could be one reason Smith is planning to play his starters.
"We know there are some things that are set in concrete,'' Smith said. "We know we'll be playing the following week. We don't know who or where or when, and we've just got to go through our normal preparation and prepare to beat Tampa Bay.''
But the reality is Payton and Smith are playing a dangerous game with their starters. They're running the risk of injuries that could be very costly in the playoffs.
[+] Enlarge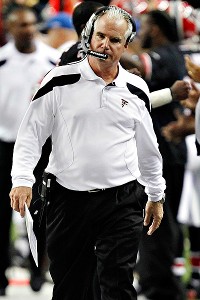 Josh D. Weiss/US PresswireMike Smith will know before his Falcons take the field on Sunday if they can earn the No. 5 seed for the NFC playoffs.
Of all the coaches in the league, Payton should be most aware of the potential for damage. He went through a similar situation last season. With the Saints holding onto only the slightest shot at a better seed, Payton played his starters in the final regular-season game. Tight end
Jimmy Graham
, safety
Malcolm Jenkins
and running back
Chris Ivory
all suffered injuries in the first half.
Events elsewhere decided the Saints could not move up and Payton eventually pulled his starters. But the damage already was done. Graham, Jenkins and Ivory weren't available when the Saints went out to Seattle for a first-round game.
They ended up losing to a team that didn't even finish the regular season with a winning record.
"I think we all found ourselves scoreboard watching a little bit as to what was happening in that other game (last season)," Brees said. "And therefore I feel like, not that we took a step back in that game, but we just didn't progress. And our mindset is we want to continue to progress and get better. I think there's things that serve you well in this game if you can continue to stay on the rise as you go into the playoffs, whether they're just confidence builders or situations that come up that you fight through. So I think we're taking on a little bit different mindset than we did last year at this time in a very similar situation.''
Payton has said he won't be watching the scoreboard for updates on the game between San Francisco and St. Louis, which will start at the same time as the New Orleans game. Let's hope he's not serious about that because Payton should have someone on his staff assigned to give him constant updates on the 49ers and Rams.
The only way the Saints can do better than the No. 3 seed is if the 49ers lose to St. Louis. If that happens and the Saints win, they would move into the No. 2 seed and get a first-round bye. But that's a pretty unlikely scenario. The Rams are 2-13 and are expected to start third-string quarterback
Kellen Clemens
.
"Our league is a league where every week, any team that lines up can win,'' Payton said. "A perfect example is the team we're talking about is a team that beat us.''
It's true the Rams upset the Saints in the middle of the season. But that was a fluke. The 49ers have lots to play for and, if they start pulling away from the Rams, Payton should immediately pull his starters from the game to minimize exposure to injury.
Atlanta's situation is a bit different. By the time the Falcons start their game at 4:15 p.m. ET, they'll know if they have any shot at the No. 5 seed. The
Detroit Lions
play an early game against the
Green Bay Packers
, who already have clinched the No. 1 seed.
If Detroit wins, the Lions are the No. 5 seed, no matter what Atlanta does. If Detroit loses, the Falcons can move into the No. 5 spot with a victory.
"We're not thinking about the second season,'' Smith said.
But maybe he should be, just a bit. If the Lions win, Smith might be wise to treat the meeting with Tampa Bay like a preseason game. Let the starters play a few series, just to shake off the frustration of the loss to New Orleans and try to stay sharp.
Smith has had four straight winning seasons, but he's yet to win a playoff game. That's where his focus should be. There's not much difference between the fifth and sixth seed. Heck, Smith can just look back to last season when the Falcons were the No. 1 seed in the NFC and the Packers were No. 6.
Green Bay came into Atlanta and won on its way to winning the Super Bowl.
Yeah, it's nice that Payton and Smith spout all the old clichés about taking it one game at a time. But Payton and Smith are in situations this week where they should be looking ahead or, at the very least, ready to adjust as the day plays out.
If the door is open for either of them to better their playoff seed, fine, go for it. But, if that door starts closing, they need to sit their starters immediately.
If they leave their starters in unnecessarily, Payton and Smith are running the risk of injuries. If they're not willing to at least tap the brakes a little, they could be out of gas when they get to the playoffs.
June, 24, 2011
6/24/11
11:42
AM ET
We already have talked quite a bit about players from the NFC South who are expected to become unrestricted free agents. We're going on the assumption that players not under contract who have at least four accrued seasons can become unrestricted free agents.
With that in mind, and with some help from ESPN Stats & Information, let's take a look at some of the more prominent potential free agents from the rest of the league.
QUARTERBACKS:
Marc Bulger
,
Kerry Collins
,
Rex Grossman
,
Matt Hasselbeck
,
Patrick Ramsey
,
Alex Smith
,
Billy Volek
,
Kellen Clemens
,
Brodie Croyle
,
Trent Edwards
,
Bruce Gradkowski
, Tarvaris Jackson,
Matt Leinart
,
Troy Smith
and
Tyler Thigpen
.
RUNNING BACKS:
Cedric Benson
,
Ronnie Brown
,
Kevin Faulk
,
Mewelde Moore
,
Sammy Morris
,
Clinton Portis
,
Dominic Rhodes
,
Tony Richardson
,
Kevin Smith
,
Darren Sproles
,
Fred Taylor
,
Brian Westbrook
,
Ricky Williams
,
Joseph Addai
,
Ahmad Bradshaw
,
Jerome Harrison
,
Brandon Jackson
,
Laurence Maroney
and LeRon McClain.
WIDE RECEIVERS
:
Mark Clayton
,
Braylon Edwards
,
T.J. Houshmandzadeh
,
Randy Moss
,
Santana Moss
,
Terrell Owens
, Donte' Stallworth,
Steve Breaston
,
Malcom Floyd
,
Santonio Holmes
,
James Jones
,
Sidney Rice
,
Mike Sims-Walker
,
Brad Smith
and
Steve Smith
(of the
New York Giants
, not the Steve Smith of Carolina).
TIGHT ENDS:
Desmond Clark
,
Donald Lee
,
Randy McMichael
,
Bo Scaife
,
Kevin Boss
,
Owen Daniels
,
Daniel Fells
,
Zach Miller
,
Ben Patrick
and
Matt Spaeth
.
OFFENSIVE LINEMEN:
David Baas
,
Jammal Brown
,
Robert Gallery
,
Adam Goldberg
,
Kyle Kosier
,
Olin Kreutz
,
Matt Light
,
Sean Locklear
,
Casey Rabach
,
Chris Spencer
,
Langston Walker
,
Casey Wiegmann
,
Floyd Womack
,
Damien Woody
,
Chris Chester
,
Jeromey Clary
,
Daryn Colledge
,
Willie Colon
,
Doug Free
,
Jared Gaither
,
Charlie Johnson
,
Deuce Lutui
,
Samson Satele
,
Lyle Sendlein
and
Marshal Yanda
.
DEFENSIVE TACKLES:
Aubrayo Franklin
,
Tommie Harris
,
Chris Hoke
,
Chris Hovan
,
Kris Jenkins
,
Bryan Robinson
,
Gerard Warren
,
Jamal Williams
,
Pat Williams
,
Alan Branch
,
Barry Cofield
,
John McCargo
and
Brandon Mebane
.
DEFENSIVE ENDS:
Jason Babin
,
Dave Ball
,
Raheem Brock
,
Andre Carter
,
Shaun Ellis
,
Cullen Jenkins
,
Travis LaBoy
,
Trevor Pryce
,
Marcus Spears
,
Ray Edwards
and
Mathias Kiwanuka
.
LINEBACKERS:
Akin Ayodele
,
Keith Bulluck
,
Kevin Burnett
,
Dhani Jones
,
Kirk Morrison
,
Julian Peterson
,
Matt Roth
,
Takeo Spikes
,
Jason Taylor
,
Mike Vrabel
,
Stewart Bradley
,
Bobby Carpenter
,
Manny Lawson
,
Paul Posluszny
,
Ernie Sims
and
Stephen Tulloch
.
CORNERBACKS:
Nnamdi Asomugha
,
Phillip Buchanon
,
Chris Carr
,
Drayton Florence
,
Ellis Hobbs
,
Carlos Rogers
,
Lito Sheppard
,
Ike Taylor
,
Fabian Washington
,
Drew Coleman
,
Antonio Cromartie
,
Chris Houston
,
Johnathan Joseph
,
Dimitri Patterson
,
Josh Wilson
and
Eric Wright
.
SAFETIES:
Aaron Francisco
,
Ken Hamlin
,
Michael Lewis
,
Brandon McGowan
,
Quintin Mikell
,
Lawyer Milloy
,
Brodney Pool
,
Gerald Sensabaugh
,
Roy Williams
,
Gibril Wilson
,
Atari Bigby
,
Melvin Bullitt
,
Abram Elam
,
Dashon Goldson
,
Michael Huff
,
Dawan Landry
,
Danieal Manning
,
Bernard Pollard
,
Eric Weddle
and
Donte Whitner
.
December, 13, 2009
12/13/09
6:56
PM ET
I'm going to put in a call to the folks at ESPN's Stats & Information because I'm curious if the
Tampa Bay Buccaneers
are making history.


They lost to the
New York Jets
on Sunday. That means they've lost to a backup quarterback in each of the last three games. They lost to Atlanta in a game where
Matt Ryan
got hurt early and
Chris Redman
came on. They lost to the mighty
Matt Moore
and Carolina last week and they lost to
Kellen Clemens
on Sunday.
I'm wondering if any team ever has lost to three backup quarterbacks in a row before. Heck, I'm wondering if any team ever has played three backup quarterbacks in a row before.
Speaking of quarterbacks, I'm once again concerned about Raheem Morris' future in Tampa Bay because
Josh Freeman
had another horrible day. A few weeks ago, I thought Morris would get a second year because Freeman was playing well and that offered some hope for the future. But Freeman struggled against the Jets after throwing five interceptions against the Panthers.
The central point of Morris' rebuilding project isn't looking so bright these days. And the Bucs haven't shown much else that would lead a reasonable person to believe they're close to turning the corner again.
April, 12, 2009
4/12/09
10:58
PM ET
Posted by ESPN.com's Pat Yasinskas
Keith Hawkins, who hopefully got paid double-time by ESPN Stats & Information for working on Easter, dug up a bunch of numbers on Tampa Bay's quarterback situation after the Bucs signed Byron Leftwich.
First, Hawkins looked at the quarterbacks on every roster. Then he figured out which quarterbacks with which teams made the fewest starts in 2008 and the answer is a little scary for Bucs fans.
According to Hawkins, the Jets (Kellen Clemens, Brett Ratliff and Erik Ainge) don't have a quarterback who started a game last season. The Patriots' quarterbacks only made one start. But there's comfort in the fact that that start was made by Tom Brady, who is expected to be fully recovered from injury.
The Bucs are tied for third in this category. Brian Griese started five games for them last year and they really don't want him starting this year. That's why they plan to let Leftwich battle with Luke McCown. The Detroit Lions tied with the Bucs as Daunte Culpepper made five starts.
Now, lets take a look at the Bucs and their five quarterback starts compared to the rest of the NFC South. It's not even close. The Falcons, Panthers and Saints got all their starts from quarterbacks still on their roster. In fact, Matt Ryan, Jake Delhomme and Drew Brees started every game for their team.
Finally, let's take a look at the career records of Tampa Bay's four quarterbacks as starters. Leftwich is 24-22. Griese has a 45-38 career record. McCown is 1-6. Finally, Josh Johnson, who was drafted last year, has not made a start.