September, 13, 2012
9/13/12
1:00
PM ET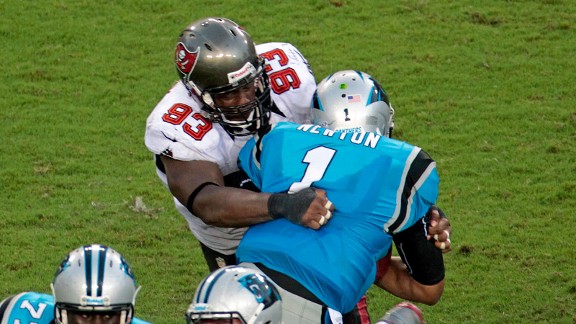 AP Photo/Margaret BowlesGerald McCoy, who had four career sacks coming into the season, sacked Cam Newton once on Sunday and came close to adding a few more.
TAMPA, Fla. -- When the locker room door opened Wednesday afternoon, a large cluster of media members headed straight for
Gerald McCoy
's locker.
They were there to talk about the defensive tackle's dominant performance in Tampa Bay's victory against Carolina. McCoy held court for nearly 12 minutes and forced several outbursts of laughter.
This is how it's always supposed to have been with McCoy. As the third overall pick in the 2010 NFL draft, he was supposed to be an instant star, sort of like the guy taken just ahead of him -- Detroit's
Ndamukong Suh
.
The problem is, it's rarely been like this. McCoy always has been gregarious, but there hasn't been a lot of reason to hear from him.
McCoy started slowly as a rookie and injured his arm just when it looked like he was starting to emerge. He started off well last season, but suffered a similar injury and missed more than half the season.
That's led to talk in the media and fans about McCoy being a bust. McCoy said he doesn't listen to the critics, but he gets the point.
"There are different pressure levels,'' McCoy said. "Mine just so happened to be a top-pick pressure. But if you don't want to play in a professional environment, if you don't want pressure, then you shouldn't play in a professional environment, seriously.''
Bring on the pressure, McCoy said. He welcomes it and perhaps it will fuel him into pressuring quarterbacks.
"My dad always told me to be smart with my choices and never to take on a challenge I don't think I can handle,'' McCoy said.
[+] Enlarge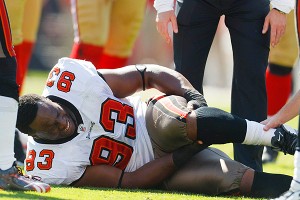 Jason O. Watson/US PresswireGerald McCoy struggled to stay healthy and on the field during his first two NFL seasons.
McCoy refuses to point to the injuries as excuses. Heck, he's just as disappointed with how his first two seasons have gone as any of his critics. McCoy had only four sacks in his first two seasons and that's not good enough.
"Performance is everything,'' McCoy said. "Nothing else matters because nobody's going to say, "Oh, he was a great guy''. They're going to say, "Oh, he didn't perform." I've been smiling since I've got here, but people also say I haven't been performing since I got here. Nobody cares that I'm smiling. Nobody cares that I'm a great guy. They care if I'm not performing.''
And that's why the cluster surrounded McCoy's locker. On Sunday at least, he performed. He sacked Carolina's
Cam Newton
once and had two other plays where he was very close to a sack. McCoy also was extremely instrumental in holding Carolina's running game to 10 yards.
Maybe, just maybe, this was the real McCoy. Maybe he'll stay healthy and dominate for the next six or eight years.
"Gerald's always had intensity,'' said Kelli Masters, his agent. "But I saw him take it to another level this offseason. More so than ever, he was all about football. Maybe some of it was frustration about the injuries, but I think it was more the maturation process than anything.''
Before the team's offseason program started, McCoy was out in San Diego working with his personal trainer to get his arm healthy. He came to Tampa for the offseason program. Minicamp ended in June and players around the league took their vacations.
McCoy didn't. Although he was healthy, he went straight back to San Diego for more conditioning work and stayed right up until the start of training camp.
"It's a big season for us and I needed to be in the best shape I could to help my team,'' McCoy said.
There's no question McCoy helped his team against Carolina. But you look at the injury history and it's only logical to wonder if he can continue like that for another 15 games.
Injuries can be tied to luck and maybe it's time to put aside the doubt and consider the possibility that McCoy's luck can change.
Maybe, after seeing Sunday's performance, it's time to consider the possibility McCoy is right where he should be -- a third-year defensive tackle, just hitting his full stride.
"It's kind of like it was in college,'' McCoy said. "After a while, you just know what's coming. You just kind of go with the flow. You just play the game and everything slows down because you learn how to study film, you learn what to look for and what to watch. Now that I know everything that goes with it, it's time to put it together and just use it.''
If he plays like he did on Sunday for an entire season, McCoy will be exactly what he was supposed to be.
March, 14, 2011
3/14/11
2:52
PM ET
We've got a quick note today that doesn't involve the lockout or even the NFL draft. As we speak, Tampa Bay defensive tackle
Gerald McCoy
is en route to Uganda.
According to his agent, Kelli Masters, McCoy is taking part in a trip with
Pros for Africa
. The plan is to help bring medical aid, food and clean drinking water to impoverished areas. After visiting Uganda, McCoy and the rest of the group will travel to Rwanda on a similar mission.
McCoy has been spending most of his offseason in the San Diego area, Masters said, and he plans to return there once his trip is over. As long as there is a lockout, McCoy plans to spend most of his time in San Diego working with a personal trainer.
McCoy had biceps surgery to repair an injury that brought a premature end to his rookie season. McCoy finished his rehabilitation in late January, Masters said, and his goal for the offseason is to add upper-body strength.
February, 25, 2011
2/25/11
12:21
PM ET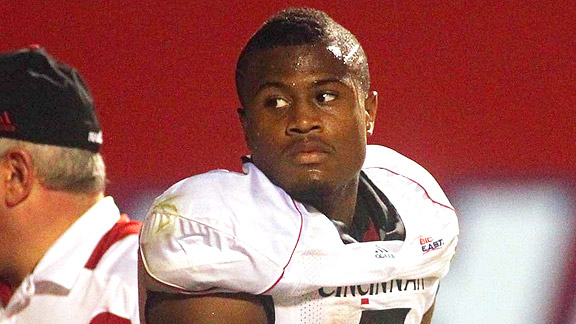 Cary Edmondson/US PresswireVidal Hazelton's college career didn't go as planned, but he thinks he has a bright future in the NFL.
If it hasn't happened already, Atlanta general manager Thomas Dimitroff is going to hear
Vidal Hazelton
's name at the scouting combine at some point this weekend.
Hazelton, perhaps the biggest draft-eligible name not at the combine, has given his agent, Kelli Masters, some very specific orders.
"Get my name in front of the Falcons," Hazleton said. "Remind them that I'm out there. That would be a dream scenario to end up with the Falcons. They're the team I always rooted for growing up."
The fact Hazelton has spent much of his life living in Georgia also is a factor. And Hazelton's biggest fan (more on that in a bit) lives in Alpharetta, Ga., a suburb of Atlanta.
But Hazelton realizes he's no longer in a position where dream scenarios are likely. That's why Masters' job is to also remind 31 other general managers that Hazelton is out there. Hazelton is proof that the NFL and college football are games that move quickly and even the brightest of stars can be forgotten.
"I have no question that, if things had gone a little differently for Vidal, you'd be hearing all about him as a first-round pick during the combine," said University of Cincinnati receivers coach T.J. Weist, who has coached 14 future NFL receivers during a lengthy career in the college ranks. "He's got the size, he's got the physical tools, he's a great competitor and he's mentally tough and a great worker."
So why wasn't Hazelton even invited to the combine?
This is where the story veers way off that dream scenario and takes twists and turns that lead back and forth across the country. It could be a tragic story, but it's not. At least not at this point because Hazelton is adamant that this story is far from over and he's in charge of writing the ending. Before we get to that, though, let's go back to the beginning.
Let's go back to 2006, when Hazelton was one of the top college receiver prospects in the nation. He signed with a football factory, the University of Southern California, which has produced plenty of NFL receivers through the years.
[+] Enlarge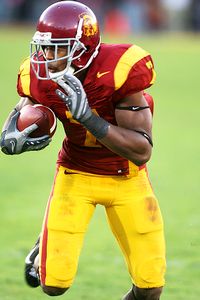 Kevin Reece/Icon SMIVidal Hazelton's best season came in 2007, when he had 50 receptions for 540 yards at USC.
The plan was to go slowly and let Hazelton spend his freshman season playing behind Dwayne Jarrett and Steve Smith before making him the main target in the passing game. He led the Trojans with 50 receptions the next year, but things took a strange turn the following season. In the 2008 opener, Hazelton suffered a high-ankle sprain. By the time he returned, Damian Williams, Patrick Turner and
Ronald Johnson
had emerged and there wasn't a lot of playing time.
While this was going on, Hazelton's grandfather, James Hazelton, was diagnosed with cancer. Hazelton wanted to be closer geographically to his grandfather. He transferred to Cincinnati and sat out the 2009 season. In a pass-happy offense, huge things were expected of Hazelton in 2010.
"In camp last summer, he was looking better than ever,'' Weist said. "He was just exploding off the ball and [NFL] scouts were getting all excited.''
The buzz lasted for a little over half a game. In the season opener, Hazelton fielded a kickoff return and tore his anterior cruciate ligament.
"It happened on a Saturday," Hazelton said. "I cried on Sunday. On Monday, I woke up in good spirits and I haven't looked back since. My father and my grandfather raised me to never look back and to only worry about the things you can control."
What Hazelton has controlled in the months in between is his knee. He made what doctors have jokingly told him was the quickest recovery ever from an ACL injury. He was even cleared for Cincinnati's last two games, but didn't play because there still was the possibility of him being granted an extra year of eligibility by the NCAA. That didn't happen and Hazelton has moved on quickly.
He's spent the last few months working out at Athletic Performance Institute in the Los Angeles area, along with many other prospects who are at the combine, and he's actually happy he wasn't invited.
"I look at it as a blessing," Hazelton said. "I'm almost 100 percent, but this gives me more time to get ready."
The target date is March 28, when Cincinnati holds its pro day workouts.
"I need to prove everything," Hazelton said. "I need to show my knee is back. I love days like that. I'm more anxious than nervous. This whole thing has humbled me and made me more motivated."
It's Masters' job to make sure NFL teams show up for Hazelton's workout, and Weist said he's been getting a lot of calls from NFL scouts recently. Weist is happy to share here the same scouting report he's been giving to the NFL people.
"Look at how quickly he's come back from the injury," Weist said. "That says a lot about his work ethic. You just don't come back from an ACL in a few months. He showed he's going to put in the work and he showed he's got good genetics to be able to recover like he did. People ask me which NFL receiver I'd compare him to and I say T.O. [Terrell Owens]. He's a thick, powerful and explosive player. He's right up there with any receiver in this draft in terms of physical ability. But what sets this kid apart is his maturity. He's been through adversity and he's very hungry. A lot of guys going in aren't as hungry. He's not going to take anything for granted."
Now, let's go back to the Falcons. Like every other team, they're not giving away any draft plans right now. It's obvious Hazelton's circumstances will push him down into the later rounds or perhaps make him a potential undrafted free agent.
Any chance with the Falcons would be a dream come true for Hazelton and for someone else. James Hazelton lives in Alpharetta and is a lifelong Falcons fan. James Hazelton is still battling cancer, his grandson said.
"He's doing all right and he's fighting," Hazelton said. "He keeps telling me he's not going anywhere until he sees me play in the NFL."
The Falcons have needs at wide receiver, where not much is certain after starters Roddy White and Michael Jenkins. Two other NFC South teams, Carolina and New Orleans, could be in the market for a developmental receiver in the later rounds. Even if it's not in Atlanta or anywhere in the NFC South, Hazelton believes he'll be in the NFL soon. He's not showcasing his talent at the combine, but he's hoping to, once again, grab the attention that slipped away from him when he works out in Cincinnati.
"I'm totally confident I have the ability to play in the pros," Hazelton said. "But next month my job is to go out and show the pros that I can play. I have to make sure they haven't forgotten about me."
January, 24, 2011
1/24/11
2:24
PM ET
The 2011 season starts Tuesday for one member of the
Tampa Bay Buccaneers
.
Defensive tackle
Gerald McCoy
, who had his rookie season cut short by a biceps injury that required surgery, was cleared Monday to begin working out, according to Kelli Masters, one of McCoy's agents. He will head to San Diego on Tuesday, where he plans to spend the offseason working with renowned trainer Todd Durkin.
New Orleans quarterback
Drew Brees
and Tampa Bay tight end
Kellen Winslow
also have used Durkin as their personal trainer.
Masters said McCoy will continue to do some rehab work on the biceps, but the injury is completely healed. She said McCoy has decided he wants to focus on adding upper body strength.
"Gerald's whole goal in going there is to get stronger,'' Masters said. "He feels that's what he needs to work on. He wants to add upper-body strength to do the job he wants to do next season.''
December, 2, 2010
12/02/10
3:35
PM ET
TAMPA, Fla. -- Ask
Gerald McCoy
about the turning point in his rookie season and the
Tampa Bay Buccaneers
defensive tackle brings the answer as quickly as a bull rush.
"It was chapel service before the game in Atlanta,'' McCoy said. "The guest speaker [former
Cleveland Browns
tight end Rickey Bolden] said, 'if you're not seeing the mental or physical results that you want, then you need to change what you're doing.' It hit me right in the face.''
That was on Nov. 7 and the Bucs went out and lost a close game to the Falcons that day. There was no noticeable difference in McCoy's play that day. But take a look at what the No. 3 overall pick in this year's draft has done since then.
[+] Enlarge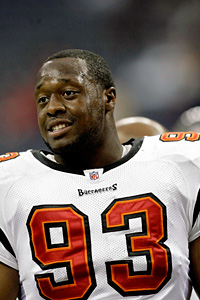 Brett Davis/US PresswireGerald McCoy has made changes off the field that have helped him on it.
In a Nov. 14 win against Carolina, he had a career-best five tackles. He also was credited with two passes defensed and a forced fumble. In a shutout victory at San Francisco the next week, McCoy recorded two half-sacks. Last week against Baltimore, he had two sacks. He now has three for the season after being held without a sack through the first nine games.
"You know, it's been coming all year," Raheem Morris said. "We all want oatmeal and grits. You open it up and add water and you drink it, but our game is not played that way. Our game is played through attrition, it's played through battles, it's played through tough-testing, and he has certainly went through the fire. I'm glad [the media] sparked a little fire in him with the negative stories and negative criticisms. All that stuff drives him. It makes him hungry to come to work with an angry mentality and attitude ... and that's what we want."
That's pretty good insight on how high the expectations were for McCoy and how a lot of fans simply expected him to come in and immediately dominate. But the fuel that comes from the early criticism doesn't come close to what really turned the light on for McCoy. That, he says, truly came in the chapel service.
"I was out of whack in my life,'' McCoy said. "I wasn't out drinking or carousing or anything like that. I just had the wrong mindset. We do not have entitlement and I had kind of developed a sense of entitlement. We're here to serve God and, although I've always believed in that, I wasn't quite living my life that way.''
McCoy now reads the Bible and prays every day. Those were things he did before, but on a more sporadic basis.
If you want the change in simpler terms, let's turn to Kelli Masters, one of McCoy's agents.
"I think you could say that Gerald just focused on taking care of the inner things and living his life the way he truly believes it should be led,'' Masters said. "Once he started doing that, the results started coming on the outside and the football side.''
That's been obvious as McCoy suddenly has emerged as a force on a defensive line that doesn't have anything close to a force. Tampa Bay's entire defense has suddenly been a lot better and so has McCoy's mood.
"It feels good simply because I'm helping the team more,'' McCoy said. "I'm finally doing what they brought me here to do, which is to make plays at game-changing times.''
Even in the early days of the season, McCoy wasn't playing as badly as a lot of people thought.
"He was grading out well all year,'' defensive line coach Todd Wash said. "He just wasn't making the splash plays he wanted to make. The thing about Gerald is that he's his own worst critic and he was getting on himself hard because he wasn't making those splash plays.''
The chapel service was the main thing, but a few other things helped.
"We haven't changed all that much,'' Wash said. "We are playing more aggressively and we are cutting him loose a bit more. But, more than anything, I think it's just a matter of Gerald understanding things and understanding what's expected of him. We had some discussions about how he was not where he wanted to be and what he wanted to be known for. It wasn't any big mysterious thing that turned it. It was just a matter of him working on a few little details and he's done that. Because of where he was drafted, everything is magnified. He just focused in on doing what's expected and understanding things better. He addressed it and he's become a better pro because of it.''
But the side of McCoy that's overly self-critical has not changed.
"Early on, Gerald would call and he'd just be beating himself up,'' Masters said. "I tried to tell him to just relax and things would come with time. But Gerald doesn't really listen to that because he puts so much pressure on himself. Even now that he's producing with big plays, he's still very hard on himself and wants more.''
That's not necessarily a bad thing.
"I think it's one of Gerald's great qualities,'' Wash said. "Gerald is the kind of guy that's never going to be satisfied. If he gets two sacks one week, he wants to go out and get three or four the next week. He wants perfection and that's not a bad thing.''
That critical nature and quest to be the best isn't going to change.
"That's who I am,'' McCoy said. "I want to be the best and I'm always going to take that very seriously. I made some changes to put myself on a better path and I'm always going to be looking for ways to make myself better.''
May, 17, 2010
5/17/10
1:19
PM ET
TAMPA, Fla. -- The
Tampa Bay Buccaneers
opened up Monday's OTA session to the media, so let's get to some observations.