NFC South:

Ken Whisenhunt
March, 1, 2011
3/01/11
3:10
PM ET
For those of you who have sort of forgotten about Rich McKay since he left his role as the
Atlanta Falcons
general manager after the 2007 season, here's a reminder that he still remains a powerful force in the NFC South and the NFL. Heck, aside from Jerry Richardson who's heading the owners in the labor talks, I think you could make an argument that McKay is the most important figure in the NFC South.
The league announced Tuesday that McKay will serve as chairman of the NFL's competition committee. McKay's been on the committee since 1994, when he was the general manager for the
Tampa Bay Buccaneers
, and started serving as co-chairman in 1998. But this latest move is a step up for McKay, who had been co-chairman with Jeff Fisher since 2001. With Fisher leaving the
Tennessee Titans
and no longer coaching, McKay is now a one-man show at the top of this committee.
McKay became Atlanta's team president in 2008 when the Falcons hired general manager Thomas Dimitroff. A lot of people think McKay's role was narrowed strictly to running the team's business operations. But that's never really been the true story.
While Dimitroff handles the traditional roles of a general manager, McKay has continued to help with salary-cap management and is sometimes turned to for advice on football matters. He also is the point man for the new open-air stadium owner Arthur Blank wants built in downtown Atlanta.
McKay also has been Atlanta's main liaison to the league, and that now has been underscored with his role as chairman. He should help give the Falcons some clout when it comes to proposed rule changes and similar matters.
For the record, McKay is the only NFC South representative on the competition committee. The other members are Stephen Jones (
Dallas Cowboys
), Marvin Lewis (
Cincinnati Bengals
), John Mara (
New York Giants
), Ozzie Newsome (
Baltimore Ravens
), Bill Polian (
Indianapolis Colts
) and Rick Smith (
Houston Texans
).
There also is a coaches' subcommittee to the competition committee and there is one NFC South figure there. That's
New Orleans Saints
' Sean Payton. The other members of the subcommittee are John Madden, John Harbaugh (Ravens), Mike Holmgren (
Cleveland Browns
), Andy Reid (
Philadelphia Eagles
), Steve Spagnuolo (
St. Louis Rams
), Mike Tomlin (
Pittsburgh Steelers
), Norv Turner (
San Diego Chargers
) and Ken Whisenhunt (
Arizona Cardinals
).
January, 13, 2010
1/13/10
11:53
AM ET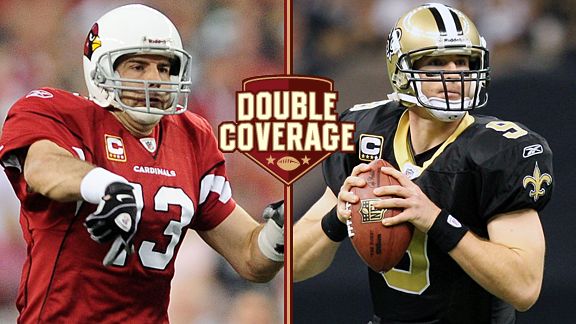 US PresswireKurt Warner, left, and Drew Brees will square off Saturday in the Superdome.
The
Arizona Cardinals
won the
highest-scoring playoff game in NFL history
Sunday. The
New Orleans Saints
are coming off the highest-scoring season in franchise history.
The Cardinals and Saints aren't the only ones putting points on the board this week.
NFC West blogger Mike Sando and NFC South counterpart Pat Yasinskas scored a few of their own while breaking down the Cardinals-Saints divisional playoff game set for Saturday in the Superdome.
Mike Sando:
Ken Whisenhunt has a 4-1 postseason record as Cardinals coach. He has been to a Super Bowl. Sean Payton seems to be the coach with the most at stake in this one.
Pat Yasinskas:
There's a lot at stake for Payton and a lot of pressure on him. He has the potential to go from being considered a very good offensive mind to being considered a very good head coach. He has been in the playoffs only once before and that was 2006. They split a pair of games. Getting to 13 wins this season was a huge step for Payton, but the way the season ended, with three losses, sets up the scenario where a playoff loss would be extremely disappointing.
Fans in new Orleans were talking about a Super Bowl when this team was undefeated. Not getting even a playoff victory would open Payton to criticism. Having the bye week has also upped the pressure and panic among fans in New Orleans, but I think Payton used the time wisely as far as game-planning offensively and getting his banged-up defense healthy.
Mike Sando:
Watching the Saints from afar, quarterback
Drew Brees
seemed unusually disappointed when New Orleans lost for the first time this season against Dallas. It was only one game. I wondered if that was the right reaction. Seems to me the Saints should have been focused on the bigger picture. Was I reading too much into that or was there something to it?
Pat Yasinskas:
The Saints sincerely believed they had a shot at going undefeated. Their confidence was sky high because at times they were steamrolling opponents. Even in games when they were not playing their best, they always seemed able to pull it out in the fourth quarter. All that changed with the loss to Dallas. I think the Saints know deep down that they are a good team still, but their momentum took a hit and they haven't been able to get back on course in the regular season. Getting that on the upswing will be a real test of Payton's motivational skills.
Mike Sando:
The Saints' defense seems to be at its best when playing with a lead. The Cardinals jumped to a 31-10 lead against the Packers in the wild-card round. Arizona has scored at least 14 points in seven first quarters this season and postseason, same as the Saints. As poorly as the Arizona defense played against Green Bay, the Cardinals did force turnovers early (and late, of course). I think New Orleans could be in trouble defensively if
Kurt Warner
gets going early and Arizona takes a big lead.
Pat Yasinskas:
Absolutely. The Gregg Williams defense counts on playing aggressively and basically their phrase back in camp was something like, "We set the tone." They are all about playing aggressively. Williams likes to blitz. The other big thing is
Darren Sharper
early in the season was looking like a true center fielder and was a turnover machine. In the second half of the season, when
Tracy Porter
and
Jabari Greer
got hurt, they couldn't let Sharper roam any more. He was playing more like a Cover 2 safety. He was not freed up to make plays. I do think having Greer back at full strength is going to help tremendously.
I'm not saying they are going to shut down Arizona. But they can play. Let's face it. This is probably going to be a high-scoring game, but defense will be a factor. Whichever defense can force a turnover or two can decide this game.
Mike Sando:
The Saints pressured with five or more rushers 49.4 percent of the time this season, trailing only the Jets. Warner can be tough to blitz because he knows where to go with the football quickly. He also benefits from an improved running game. The quarterbacks will win or lose this game, most likely, but
Beanie Wells
was the player I singled out as
a potential X factor
. Wells has become a bigger part of the Arizona offense. He had 14 carries for 91 yards against the Packers. The Saints' run defense hasn't been all that great this season.
Pat Yasinskas:
The Arizona running game is a concern for that defense. It has been a problem area and
Sedrick Ellis
has been the key there. He has been in and out with injuries. When he is in, they are OK against the run. When he is out, it changes everything. Having
Charles Grant
out helps their pass rush because
Bobby McCray
is better, but Grant was good against the run. The Cardinals might try to exploit that. McCray could be more of a pass-rush situational guy.
Anthony Hargrove
, who has played inside a fair amount, may move outside on running downs.
Mike Sando:
The Saints' pass defense ranked third among NFL teams in holding opposing quarterbacks to low passer ratings. Here's the thing, though. The Saints faced
Matthew Stafford
,
Mark Sanchez
,
Josh Freeman
(twice),
Jake Delhomme
(twice) and
Chad Henne
.
Marc Bulger
had 298 yards against them and nearly won the game. Kurt Warner is in another class, particularly in the playoffs. Warner already has more playoff victories in fewer games than
Steve Young
,
Jim Kelly
,
Dan Marino
and
Peyton Manning
. He had more touchdown passes (five) than incompletions (four) Sunday.
Pat Yasinskas:
Warner has the track record and has been there many times. For Brees, much like Sean Payton, this is a big game to show he truly is one of the elite. Brees has been so precise, not only this year but the last couple of years, that I think he is more than ready to take the next step. Despite the way the season ended, I think the Saints will rebound. This is too talented a team to waste a 13-win season. More important, they lost their last two games in the Superdome and I don't see them losing there again because their fans will not let them.
Mike Sando:
The Cardinals have to love their chances. They hammered a 12-4 Panthers team on the road in the divisional round last season. They have Warner, one of the best big-game quarterbacks ever. These Saints are so much more dynamic offensively than Carolina was last season, though. New Orleans was too good during the regular season to go quietly. A few injuries and a short week will work against the Cardinals. An upset would not shock me, and if the Cardinals win this game, it's one of their finest victories.
October, 28, 2009
10/28/09
1:00
PM ET
| | |
| --- | --- |
| | |
| | Getty Images |
| | Kurt Warner's Cardinals and Jake Delhomme's Panthers have gone in different directions since their playoff meeting last season. |
Posted by ESPN.com's Mike Sando and Pat Yasinskas
The
Arizona Cardinals
did more than knock the
Carolina Panthers
from the 2008 postseason.
Their 33-13 victory in Charlotte delivered a knockout blow from which the Panthers' organization has yet to recover. What should be a Week 8 grudge match between playoff contenders is looking more like a mismatch.
Arizona is 4-2 and riding high following a nationally televised victory over the Giants, the Cardinals' fourth consecutive road victory dating to their divisional-round upset of Carolina. The Panthers are 2-4 and contemplating whether to bench veteran quarterback
Jake Delhomme
, who has more interceptions through six games (13) than he had in 16 starts last season (12).
What happened?
NFC West blogger Mike Sando and NFC South counterpart Pat Yasinskas pick up the discussion.
Pat Yasinskas:
That playoff game changed the momentum for both franchises. Going into that game, the thinking was how the Panthers would thump the Cardinals. Arizona had beaten Atlanta in the wild-card round to get its playoff victory, but the Cardinals were ultimately a 9-7 team from a weak division. They would be no match on the road against a 12-4 team. The upset vaulted the Cardinals toward the Super Bowl while absolutely crumbling the Panthers. Carolina hasn't recovered from it, starting with the quarterback and extending to the defense. The game led to changes on the coaching staff. The Panthers still could have a mental block heading into the rematch at University of Phoenix Stadium.
Mike Sando:
These teams share quite a few similarities. Both re-signed older quarterbacks during the offseason. Both made significant changes to their coaching staffs. Both faced salary-cap limitations in free agency after naming franchise players. The results have been vastly different.
Fateful QB decisions
| | |
| --- | --- |
| | |
| | Chris Keane/Icon SMI |
| | Jake Delhomme and the Panthers haven't been the same since last season's playoff loss to Arizona. |
Pat Yasinskas:
After the playoff game, I personally had some doubts about Delhomme, as did a lot of fans. He threw those five picks and I thought there was a chance they would at least bring in someone to compete with him -- not to replace him, but to compete with him. They did not do that. He had one year left on his deal and they signed him to a contract extension. I understand the loyalty coach John Fox and general manager Marty Hurney felt toward Delhomme because he has obviously done a lot for that franchise and he is a leader in the locker room. But in hindsight, that game against the Cardinals and even a few late-season games last year showed that he was declining and they should have sought out alternatives.
Mike Sando:
The Cardinals had little choice but to re-sign Warner. In the back of their minds, though, they would have been entitled to wonder when Warner might hit the wall. Quite a few other quarterbacks have faded at around age 38. Would Warner be next? He made the trip to San Francisco in free agency, but there was still a sense the Cardinals were bidding against themselves. Committing $22 million to him over two seasons was a necessary risk. In the end, Arizona could not walk away from the quarterback who put them ahead in the final stages of Super Bowl XLIII. The Cardinals made the right move.
Coaching turnover
Pat Yasinskas:
I think the playoff debacle against Arizona contributed to a rift on the Panthers' coaching staff over the direction of the team. Defensive coordinator Mike Trgovac decided he no longer wanted to be a coordinator. His departure started a near-total disbandment of the defensive staff. Line coach Sal Sunseri left for the University of Alabama. Linebackers coach Ken Flajole bolted to become defensive coordinator for the Rams. Secondary coach Tim Lewis left for the Seahawks. On the offensive side, Delhomme's longtime position coach, Mike McCoy, became offensive coordinator in Denver. Fox had passed over him for the same position on his staff a couple of years earlier. Some on the staff felt McCoy should have gotten that job.
| | |
| --- | --- |
| | |
| | Jason Bridge/US Presswire |
| | Kurt Warner has thrown for 1,672 yards and nine touchdowns this season. |
Mike Sando:
The Cardinals had a good thing going on the offensive staff when coordinator Todd Haley left to coach the Chiefs. I think Arizona is still sorting through the aftermath of that one. Haley and Warner were tight. Haley knew how to push players' buttons. He called the plays and the offense was in a rhythm. The offense is still finding its identity a little bit. On defense, Whisenhunt failed to land Keith Butler from the Steelers after firing coordinator Clancy Pendergast. He promoted linebackers coach Bill Davis instead. Either way, the defense was going to become more straightforward, with an emphasis on reducing big plays allowed. It's still too early to pass judgment on Davis, but the defense has played very well recently. Overall, Whisenhunt is certainly on the rise, whereas there's a perception Fox has possibly run his course in Carolina.
Pat Yasinskas:
Absolutely, Mike. There's a sense of that.
Julius Peppers
asked out after last season, shocking given that Fox is supposedly a defensive wizard. There was precedent for this.
Kris Jenkins
asked out for two years before Peppers did. People shrugged and said Jenkins was a flake. But when Peppers, who was born and raised in North Carolina, asked for the same, it raised some eyebrows. Fox used to build his team around the defensive line and suddenly you had the two cornerstones of that line asking to get out of there. That tells you something pretty major right there.
Salary-cap limitations
Pat Yasinskas:
Franchising Peppers cost about $18 million total in cap space. The Panthers re-signed tackle
Jordan Gross
to a long-term deal. With those moves, they tied up their cap to a point where they could not do anything else. They did not sign any free agents. They had to let veteran cornerback
Ken Lucas
go. They could not even re-sign veteran snapper
Jason Kyle
, even though the savings for letting him go was only $600,000. That severely affected their depth across the board, which was demonstrated when defensive tackle
Ma'ake Kemoeatu
went down with an injury on the first day of training camp and there were no decent replacements behind him. The Panthers have struggled on the interior of their defensive line ever since. They bragged coming into the season that they had 21 of 22 starters back, but the salary-cap issues meant they had absolutely no depth behind those starters.
Mike Sando:
The Cardinals charged $9.678 million against their cap by naming
Karlos Dansby
their franchise player. They paid more than $10 million per year to Warner.
Larry Fitzgerald
was already making that kind of money. Re-signing
Adrian Wilson
ate up another huge chunk of cap room, although some of that seemed by design. Arizona did manage to sign cornerback
Bryant McFadden
from the Steelers in free agency. When defensive end
Antonio Smith
left in free agency for $8 million a year, the Cardinals plugged in second-year player
Calais Campbell
, who has played well. Again, the Cardinals' moves have simply worked out better.
Divergent outlooks
Pat Yasinskas:
I think we're seeing the end of the Fox era in Carolina. The Panthers still have talent, but Delhomme appears finished. It's time to blow up the roster and rebuild.
Mike Sando:
The Cardinals are a good team with the potential to get better. The Cardinals were 4-2 at this point last season heading into their 30-24 regular-season defeat at Carolina. They should beat the Panthers this time. The rest of the schedule sets up favorably. Some of the games that once appeared toughest this season -- at Seattle, at the Giants, at Tennessee -- are either in the bank already or looking like they will be.