NFC South:

Kenyatta Walker
November, 11, 2011
11/11/11
1:00
PM ET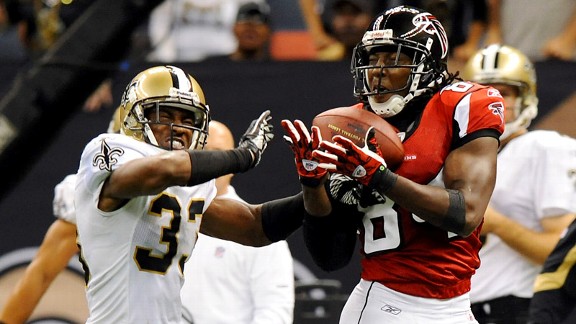 Chuck Cook/US PresswireAfter saying plenty about the Saints last season, Roddy White's twitter account has been quiet.
Perhaps the best indicator of how big Sunday's game is between the
New Orleans Saints
and
Atlanta Falcons
is Roddy White's
verified Twitter account.
For nearly a week now, it's gone almost silent. White, who never has been one to hold back what's on his mind, has weighed in a few times on the Joe Paterno controversy, but he hasn't written a word about the Saints.
That says a lot about what this NFC South rivalry has become. If White's staying quiet and the Saints aren't getting their cameras ready for postgame pictures, you know players from both teams are taking this game very seriously. There also is a very good chance they're following orders from New Orleans coach Sean Payton and Atlanta coach Mike Smith, who realize you don't need to throw gas on a fire that's been burning for about four years, and still may not have reached its peak.
It might not have the historic significance of, let's say, Green Bay-Chicago or Washington-Dallas, but it's hard to find a rivalry that's been more heated the past few years.
"This is one of the most overlooked rivalries in football right now,'' Atlanta running back
Michael Turner
said. "We've been playing some great games. We know we don't like each other. We've been fighting each other since 2008 for this division. It's a rivalry game."
The part about not liking each other is about as close as any Saint or Falcon has come to fanning the flames. But that part is pretty well known if you've spent any time around either team. It extends even to the fans.
"If you're just kind of walking around town, fans say, 'If you do one thing this year, just beat Atlanta,' " New Orleans quarterback
Drew Brees
said. "I think that's probably the sentiment of fans that have been longtime Saints fans, I'm sure. Maybe longtime Falcons fans say the same thing to them about beating the Saints, I don't know.''
It's pretty safe to say that Atlanta fans -- longtime or not -- do feel the same way about the Saints.
Two incidents from last season demonstrate just how strong this rivalry has become.
[+] Enlarge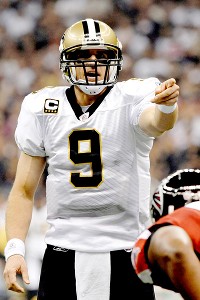 Chuck Cook/US PRESSWIRE"If you're just kind of walking around town, fans say, 'If you do one thing this year, just beat Atlanta,' " Drew Brees said.
One came long before White turned to more tame tweets -- or Smith ordered him to. Before a game with New Orleans last season, White tweeted that the "grace of God'' was the reason the Saints won their Super Bowl so the "city wouldn't fall apart."
That caused outrage by New Orleans fans and probably didn't score much goodwill with the Saints. But this rivalry flows both ways. After New Orleans defeated Atlanta in the Georgia Dome last season, some of the Saints were seen dancing and having their pictures taken on the Falcons' logo. Former New Orleans defensive tackle
Remi Ayodele
made a comment that indicated the Saints were intentionally showing the ultimate disrespect to the Falcons.
That caused a stir, but the Saints insisted they had the utmost respect for the Falcons and the pictures were taken to commemorate an important victory.
As word of that scene spread through the Atlanta locker room, defensive end
John Abraham
, generally one of the more subdued Falcons, grew visibly angry.
"We can never let that happen again,'' Abraham said.
The Saints and the Falcons weren't biting this week when the media asked them about that incident. Not even White.
"They came down here and got a W,'' White said. "They can kind of do whatever they want to do. That's kind of what happens. When we won down there, we kind of went on the field. It happens. We kind of did our thing when we went down there and won the game. They won, so congratulations to them.''
But don't let the diplomacy fool you.
"I'm not too familiar with that. I heard about it,'' said Atlanta linebacker
Sean Weatherspoon
, who tried to be coy when first asked about the incident.
That didn't last.
"But at the same time, I don't forget a lot of stuff,'' Weatherspoon said. "Sometimes you have to have the memory of an elephant."
Although the Saints and Falcons are the oldest of the four NFC South franchises and played together in the NFC West before realignment in 2002, the rivalry hasn't been this volatile for long. Both teams struggled through much of their early existence. When one team was good, the other wasn't.
When Carolina entered the league in 1995, the NFL tried to make the Falcons and Panthers a natural rivalry because the cities are less than a four-hour drive apart. But that never really took off because the Panthers and Falcons were seldom good at the same time.
Without any encouragement by the NFL, the
Tampa Bay Buccaneers
and
Carolina Panthers
became the NFC South's only real rivalry, soon after the division came into existence. In those days, Carolina's
Brentson Buckner
and
Kris Jenkins
and Tampa Bay's
Warren Sapp
and
Kenyatta Walker
, lobbed verbal shots back and forth. Even Carolina punter
Todd Sauerbrun
and Tampa Bay kicker
Martin Gramatica
got into the rift and the teams played a series of brutally physical games through the middle of the past decade.
That rivalry has faded. But it's been replaced by the Falcons and the Saints.
"If you look at the past four years, ever since Mike Smith has been there and Sean has been here, both teams have been up there as far as first or second in the division quite a few times,'' Brees said. "So I'd say that's part of the reason why it's even more competitive now than maybe it ever has been."
There's no doubt. When two good teams are going at each other, it makes things more interesting. The Saints are 6-3 and the Falcons are 5-3 and they'll be playing for first place when they meet Sunday in the Georgia Dome.
Things tend to get heated between the Falcons and Saints these days. But that's a good thing. It's the sign of a healthy rivalry. The best rivalry the NFC South has ever had.
April, 27, 2010
4/27/10
11:18
AM ET
ESPN's Stats & Information's Keith Hawkins passed along a very interesting post-draft note. Keith went back and did the homework on players Mel Kiper Jr. had ranked in his top five that weren't taken in the top five.

Since 1999, 44 of the 60 players Kiper ranked in his top five were taken in the top five picks. That's a 73.3 percent success rate and 55 of Kiper's top five were taken among the top 10 picks. That's 91.6 percent.

So Kiper's usually right. But what about the few that he's been wrong on? Well, Keith provides us with a chart of the five guys that have fallen the furthest from Kiper's top five and the winner, who landed in the NFC South, easily set a new record.

April, 9, 2009
4/09/09
3:03
PM ET
Posted by ESPN.com's Pat Yasinskas
This video clip just was forwarded to me. To make a long story short, some NFL players participating in a recent golf tournament were given tasers as a gift for participating. Former Buc Kenyatta Walker and current Buc Ryan Sims have a little fun talking about that whole concept.
Sims has a pretty good line about not wanting any more Plaxico Burress situations (see accidental shooting). Here's the link.
September, 11, 2008
9/11/08
2:00
PM ET
Posted by ESPN.com's Pat Yasinskas
It started as a verbal heavyweight bout with Warren Sapp, Kris Jenkins and Brentson Buckner arguing about who was the best defensive tackle in football. They're all gone, but that trio helped create the best rivalry in the NFC South.


Sure, everything's relative in a division where the four teams haven't been around forever and none of them have a very gaudy history, but the rivalry between the Carolina Panthers and Tampa Bay Buccaneers is very strong and very real.
It started with some training camp words from Buckner, who endorsed Jenkins as the best interior lineman in the league in 2003 and Sapp took exception. Things only escalated when the Panthers went down to Tampa and blocked three kicks in an overtime game that was one of the most physical contests in recent memory.
Through the years Carolina defensive lineman Kavika Pittman essentially had his career ended by what teammates said was a cheap block by Kenyatta Walker and Tampa Bay quarterback Chris Simms eventually lost his spleen after being hit front and back by Jenkins and linebacker Thomas Davis.
Oh, by the way, no account of this rivalry would be complete without mention of one of the more infamous stories of the last few seasons. Early on the morning before a 2005 meeting between these two teams, two members of Carolina's cheerleading squad were arrested after an incident in the restroom of a Tampa nightclub.
+ INTENSITY RATING: 2 (Have 911 on your cellular phone's speed dial)

NFC SOUTH SCOREBOARD
Friday, 8/22
Saturday, 8/23