March, 6, 2013
3/06/13
4:34
PM ET
Let's take a run through some afternoon news and notes from all corners of the NFC South:
ATLANTA FALCONS
In
this radio interview
, free-agent safety William Moore said he doesn't have "the slightest idea'' if he'll re-sign with the Falcons. Maybe negotiations just haven't gotten down to a crucial point yet. But the Falcons quietly have been putting out the word that they want to re-sign their own free agents and I'm pretty sure Moore is near the top of that list.
The Falcons held a symposium for current and former players to prepare for
life after football
. The program is run by director of player development Kevin Winston, who is one of the best in the league at what he does.
CAROLINA PANTHERS
Bryan Strickland writes that the offensive line could be an area the Panthers address
early in the draft
. That makes some sense. Center Ryan Kalil and left tackle Jordan Gross are the only top-notch players on this line and Gross is getting older. The Panthers are building the franchise around quarterback Cam Newton and they have to make sure he's protected.
NEW ORLEANS SAINTS
Coach Sean Payton has taken some criticism for hiring Rob Ryan as defensive coordinator. In
this radio interview
, Payton defended the move, saying it wasn't a popularity contest. That's the right way to handle that kind of move. Payton needs to get his defense straightened out and can't worry about whether fans like Ryan or not. If the defense plays well, Ryan quickly will become popular.
TAMPA BAY BUCCANEERS
Although the Bucs don't appear to be ready to give Josh Freeman a contract extension just yet, Mark Cook writes that
it's important
to the future of general manager Mark Dominik and coach Greg Schiano for the quarterback to have a big 2013 season. If Freeman struggles and the Bucs don't make the playoffs, Dominik could be on the hot seat and Schiano could be in the tough spot of having to start over with a new quarterback in his third season as coach. That's why I expect the Bucs to use free agency to surround Freeman with every possible weapon to make sure he succeeds.
May, 31, 2012
5/31/12
5:34
PM ET
Time for an evening run through the headlines from around the NFC South.
August, 5, 2011
8/05/11
7:14
AM ET
FLOWERY BRANCH, Ga. -- You think of Deion Sanders and your first image of him might be as a member of the Cowboys, 49ers, Redskins or Ravens.
But as Sanders gets ready to enter the Pro Football Hall of Fame on Saturday, let us not forget that his NFL career actually began as a member of the Atlanta Falcons. Drafted fifth overall in 1989, Sanders played for the Falcons through 1993. He hasn't forgotten his time in Atlanta and neither have the Falcons.
[+] Enlarge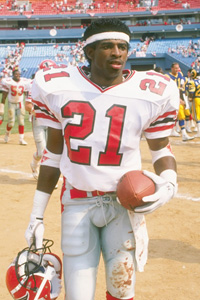 Allen Steele/Allsport Deion Sanders will become the first player drafted by the Falcons to enter the Pro Football Hall of Fame.
"When I was dreaming as kid, I couldn't often times share those dreams because I thought they were so out of the box. Never would people think that a kid from Ft. Myers, Fla., who was small in stature, but big on confidence, would ever have his name recognized in a stadium in the only place he played in which he called home,'' Sanders said last year when he was inducted into the Falcons' Ring of Honor. "I want to thank the Atlanta Falcons, ironically 21 years later [from the year he was drafted and also the jersey number he wore in Atlanta], for making my dreams come true.''
This isn't like the Baseball Hall of Fame, where a player has to declare what team's hat he wants on his plaque. Members of the football Hall of Fame represent all the teams they play for.
This will be a big moment for the Falcons because Sanders is the first player they've drafted to make the Hall of Fame. Although Rankin Smith owned the team when Sanders played for the Falcons, new owner Arthur Blank has developed a strong bond with the player who was nicknamed "Prime Time.''
Blank already is in Canton and he and Sanders have agreed to carve out some private time to sit and talk Saturday morning. Although the Falcons are in the middle of training camp, the team will send a large contingent to Ohio.
Blank's son, Josh, also will be on the trip. Other members of the organization who will be in attendance include player programs director Kevin Winston, vice president of communications Reggie Roberts and senior director of media relations Frank Kleha.
Winston has worked closely with Sanders, who maintains a youth foundation in Atlanta. That's not his only lasting bond with the city. Sanders also hosted a "Thank You Atlanta'' party at 200 Peachtree on July 16, with proceeds going to his foundation.
Sanders' only rule for the party was that all attendees had to wear red and black.
September, 18, 2010
9/18/10
12:30
PM ET
One of the things that's impressed me about the Falcons the last few years is how they keep former players involved in the organization.

That's largely because of player programs director Kevin Winston, who is one of the best in the league at what he does. Winston organizes an alumni day during training camp every year, and I happened to be there on the day it took place this year. The Falcons had about 80 former players out to watch practice and talk to the current players.

They're going to do it again during the regular season. The Falcons just sent out an announcement that they will honor some of their former Pro Bowlers at the Oct. 3 "Throwback Weekend'' game against San Francisco in the Georgia Dome.

Among those expected to attend are Claude Humphrey, Rolland Lawrence, Gerald Riggs, Steve Bartkowski, Scott Case, Terance Mathis and Warrick Dunn.

The current Falcons will be wearing throwback uniforms for that game. The uniforms will be replicas of what the Falcons wore in their first season, 1966.

"Once again this year we look forward to letting our fans celebrate the contributions that were made by our former players with alumni weekend," Falcons president Rich McKay said. "By recognizing former players in this way we are mirroring the NFL's time-honored traditions and we are allowing our fans to pay tribute to their accomplishments."
August, 11, 2009
8/11/09
6:30
PM ET
Posted by ESPN.com's Pat Yasinskas
FLOWERY BRANCH, Ga. -- A few evening notes from Atlanta's camp.
The Falcons put out their initial unofficial depth chart Tuesday and there aren't any real surprises. The first offense is what it was most of last year with tight end Tony Gonzalez added to the mix.
Perhaps the most interesting aspect of the offensive depth chart is the situation at backup wide receiver. With Harry Douglas lost for the season, the Falcons have Marty Booker and Brian Finneran listed as the top two backups. But Robert Ferguson, Chandler Williams, Eric Weems, Troy Bergeron and Aaron Kelly also are in the mix. Also, Chris Redman is listed as the No. 2 quarterback and D.J. Shockley is third.
On the defensive side, the Falcons have rookie Peria Jerry as the first-team nose tackle. The first-teamers in other positions of interest are Stephen Nicholas at strongside linebacker, Brent Grimes at cornerback and Thomas DeCoud at safety.
The Falcons were hoping Douglas would play a big role in the return game. For the moment, they're listing Jerious Norwood as the kickoff returner and Grimes as the punt returner.
The Falcons had a very nice event this afternoon. It was Alumni Day and more than 60 former Falcons showed up, including eight from the inaugural 1966 team. The event, organized by player development director Kevin Winston, was a little different than the usual.
This wasn't tied to any marketing or sales campaign. In fact, the afternoon practice was closed to the public. The alumni basically had a reunion as they watched practice. At the end of practice, coach Mike Smith called all the alumni to join the current players as he spoke to the team. Couldn't hear the speech. But I can say I heard several alumni raving about the current facilities and wishing they had something like the Flowery Branch complex back in their playing days. By the way, Morten Andersen showed up and looked like he's still fit enough to play in this league.
June, 19, 2009
6/19/09
12:05
PM ET
| | |
| --- | --- |
| | |
| | David Stluka/Getty Images |
| | Linebacker Stephen Nicholas will be able to concentrate on winning a starting job. |
Posted by ESPN.com's Pat Yasinskas
FLOWERY BRANCH, GA. -- Stephen Nicholas' arms were wrapped around his infant son, somewhat loosely because he didn't want to bump the tubes that had kept the child alive the past four months.
Wife Irene sat nearby and the doctor began talking. The doctor said the tubes were going to come out that afternoon. Stephen and Irene looked at each other and started crying as both minds registered the same two thoughts.
Stephen Nicholas Jr. had been in Children's Hospital Boston since last summer, waiting for a heart suitable to transplant into his little body.
"That was the doctor's way of saying there was a heart coming in,'' Stephen said.
Stephen Jr. was going to get a shot at life with a new heart. Tears of joy for a few seconds. Then, tears of sadness.
"The most bittersweet moment you can imagine,'' Irene said. "Our baby was going to get a new heart. But then you realize the heart had to come from someone his age and his size.''
Somewhere, someone else had lost a baby.
The date was Oct. 17, 2008. The surgery took hours upon hours and finally ended sometime around 4 the next morning. When the father saw the son at around noon, the baby had better color and was looking more alert than ever.
In another few weeks, Stephen Jr. would be given a clean bill of health and sent home to Atlanta. The doctors all have said Stephen Jr. should have a normal and healthy life.
If you looked over at the bleachers where the families sat during the Atlanta Falcons' minicamp practices last month, you never would have guessed life had been far from normal for the Nicholas family. When practice was over, the father went over to where the son sat with his mother. Within a few seconds, the two were running around and rolling in the grass.
Teammates walked by and smiled at the scene. Their wives and girlfriends watched the two Stephens and there might have been a few tears. This was the happiest ending to the best-kept secret of the 2008 season for the Falcons.
While rookie quarterback Matt Ryan was lighting up the NFL and the Falcons were making a run to the playoffs as the NFL's most surprising team, there was a little family secret that wasn't public because it was a very private matter.
Now Stephen, Irene and the Falcons are ready to tell the story that everyone else helped keep quiet last year.
Stephen and Irene were going through hell, but they had 52 other Falcons, a coaching staff, an owner and an entire building of employees quietly helping them along.
After all the craziness (the Michael Vick saga, Jim Mora melting down and Bobby Petrino walking out on his team) that had surrounded the Falcons in recent years, this story -- even more than the playoff run -- demonstrates a franchise with sanity, compassion and priorities that are very much in order.
It all started soon after Jan. 6, 2008, when Stephen Jr. was born. He was the first child for Stephen and Irene, but the new parents quickly could tell something wasn't right.
"He was sleeping all the time and he barely would eat,'' Irene said.
| | |
| --- | --- |
| | |
| | Todd Kirkland/Icon SMI |
| | Mike Smith told Nicholas not to worry about his job security while he dealt with his son's health issues. |
There was a flurry of visits to pediatricians and the root of the problem wasn't clear at first. A doctor in Gainesville, Ga. decided something was badly wrong with Stephen Jr.'s heart.
More tests only enhanced that idea and, with help from Stephanie Blank, wife of Falcons owner Arthur Blank, Stephen Jr. was airlifted to Atlanta. Stephanie Blank is a board member at Children's Hospital of Atlanta. There, doctors determined the baby had cardiomyopathy, a condition where the heart isn't able to properly pump blood throughout the body.
At first, Stephen Jr. was given medication and sent home. There was some mild improvement, but it didn't last long.
"I can't even begin to tell you how many trips we made back to the emergency room,'' Irene said.
A few weeks before Stephen, 26, and the Falcons were scheduled to begin training camp last July, doctors sat him and Irene down.
"They basically said it wasn't getting any better and that just treating it with medication wasn't going to work,'' Stephen said. "He had to have a heart transplant and it would have to come soon. There was no other choice at that point.''
Irene and the baby went to Boston. Stephen went to training camp, where he went through the motions, but his heart was in Boston. For the next four months, Stephen Jr., wired with tubes of medication to help keep his heart functioning, waited for a donor they weren't sure would come in time.
As all this was going on, there was a development that makes you realize the NFL isn't always the cold, hard business we always hear about. First-year coach Mike Smith, a gentle man with a family of his own, sat down Nicholas and told him not to worry about his job security.
"We were very cognizant of what was going on and wanted to make sure he was able to get to Boston as often as possible,'' Smith said. "We wanted him to be with his wife and baby because that was a very trying situation.''
Smith offered a deal. Each Sunday night during the season, Nicholas could fly to Boston from wherever the Falcons were playing. He could take Monday and Tuesday off and fly back to Atlanta in time for Wednesday's practice.
The show of support went even deeper than that. As a second-year backup, Nicholas wasn't making a lot of money. Two veteran teammates, who don't want to be named, helped take care of his travel expenses.
Then there was Kevin Winston. Officially, he's the Falcons' director of player programs. Unofficially, he's the team's social worker and a big brother to the players. Winston looks like he could play linebacker, but has a soft spot for anyone who's going through a tough time.
"Kevin was on the phone with me all the time,'' Irene
said. "He was always checking to see if there was anything I needed or anything the Falcons could do.''
Back in Atlanta, Stephen was able to focus on football for a few hours each day. He was a fixture on special teams and a backup at outside linebacker.
"It says a lot about Stephen's character that he was able to still play football while he was going through all that,'' Smith said. "It also says a lot about our football team and how the guys rallied around him.''
The situation also revealed an awful lot about Irene. She might have been the strongest of all. She was on the front line, sitting with Stephen Jr. every day, not knowing how long his heart would last or if a new one was coming.
"She's a rock,'' Stephen said. "She held down the fort and told me to keep plugging with football because we had to keep going on. I thank God for giving her to me. Every day when I go home now, I kiss my wife and I kiss my baby. I've been blessed with both of them.''
As Father's Day approaches this weekend, things are back to normal around the Nicholas' house -- as normal as can be expected when you're the proud parents of a rambunctious 18-month-old.
"He's more than normal now and really has been since just a few days after the surgery,'' Irene said. "He's into everything and he never really stops, but that's fine with us.''
Without knowing what was going on behind the scenes last season, some Falcons fans were wondering why Stephen was having a quiet year, after a promising rookie season, and not getting on the field much even though starting linebackers Michael Boley and Keith Brooking weren't having great seasons.
Now, fans know. The Falcons learned plenty about Nicholas last season and that's part of the reason they let Boley and Brooking go.
Nicholas has been working as the starter on the strong side throughout the offseason. Part of that is because the Falcons believe his physical skills are ready to blossom. And part of it may be because Nicholas already has shown he's the strongest player on the roster as a person.
"Stephen and his wife are incredibly strong,'' Smith said. "And they've gotten even stronger because of what they've been through.''
This year, Nicholas is looking forward to training camp and a shot at a starting job. Irene and Stephen Jr. won't be so far away this time. In fact, Nicholas already is looking forward to taking some glances at the bleachers between plays to see his son, safe, sound and healthy.
"It's going to be nice to be out there with a clear mind,'' Nicholas said.