NFC South:

Khiry Robinson
October, 29, 2013
Oct 29
11:20
AM ET
METAIRIE, La. -- The New Orleans Saints' run game, which remains a work in progress midway through the 2013 season, will face its stiffest test yet on Sunday. The
New York Jets
defense ranks first in the NFL against the run, allowing just 77.9 yards per game.
The Saints, who rank 25th at 85.3 yards per game, have been showing signs recently that they're up for the challenge, with two of their best efforts overall in the past two games.
But they continue to take two steps forward and one step back.
[+] Enlarge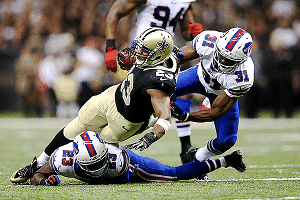 Crystal LoGiudice/USA TODAY SportsPierre Thomas had his best performance of the season this past Sunday, but the Saints are seeking more consistency in their running game.
Negative runs have been a consistent problem for the Saints all season. According to ESPN Stats & Information, they have lost yardage on 25 runs this year (not counting quarterback kneel-downs).
That rate of 3.6 per game is the third highest in the NFL, according to ESPN Stats & Information (behind two teams – San Francisco and Seattle – that run the ball a lot more).
The Saints are on pace for 57 negative runs this year. From 2009-12, they averaged 34 negative runs per year.
"I think you're seeing more 6, 7, 8-yard runs. More consistency. The problem is when there's three negative-1s or a negative-3," Saints offensive tackle
Zach Strief
said. "It destroys the whole stat line and it stalls the offense. Those are the plays that have to be eliminated.
"Negative runs happen, but I think they're happening at too high of a rate at this point."
The Saints had one of their better efforts overall last Sunday against the
Buffalo Bills
– especially running back
Pierre Thomas
, who gained a season-high 65 yards on 14 carries (an average of 4.6). Thomas had gains of 13 and 12 yards and a total of seven gains of five yards or more.
But the Saints went backward twice in the first quarter, including a 2-yard loss by
Khiry Robinson
that never had a chance on third-and-1. Robinson, who typically plays in more predictable rushing situations, gained just nine yards on seven carries after he had run for 53 yards on seven carries against the
New England Patriots
in Week 6.
A backward run also made a huge impact during that Week 6 loss to the Patriots. When the Saints were trying to run out the clock late in the fourth quarter, they ran for four yards on a first-and-10 play – then lost a yard on second-and-6 with Thomas carrying the ball.
There hasn't been any one obvious problem for the Saints in those situations. The negative runs have come with different running backs, different linemen and different blocking schemes. Sometimes it's play design, sometimes execution. Whatever the case, the Saints know it has to be better.
"We have to give coach the confidence that we're not going to have a negative play," Strief said. "That a running play is not going to put us in a bad position, to where we have more confidence calling those plays in some more situations."
Saints coach Sean Payton said he would have actually preferred to run the ball more in the first half against Buffalo when he looked back on the game.
The Saints ran the ball nine times in the first half – showing that variety between hits and misses: 6, 8, 1, minus-2, minus-1, 2, 12, 0, 6.
"We would have liked more attempts at it, and some of those we didn't get in the first half," Payton said. "But overall we're making progress there."
October, 15, 2013
Oct 15
3:05
PM ET
The
New Orleans Saints
tried to alleviate some congestion in their crowded backfield this offseason by trading running back
Chris Ivory
to the
New York Jets
. But then they went and added a new undrafted free agent,
Khiry Robinson
, whose performance is demanding he remain part of the rotation.
Robinson (6 feet, 220 pounds) has made the most of his limited opportunities over the past four weeks since
Mark Ingram
went down with a toe injury. Ingram is expected to return to the lineup after the Week 7 bye. But the Saints will likely try to figure out how to keep Robinson in the mix along with
Pierre Thomas
,
Darren Sproles
and Ingram.
[+] Enlarge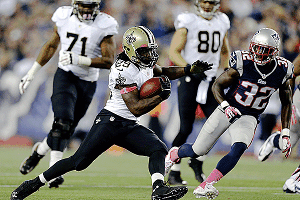 AP Photo/Steven SenneSaints RB Khiry Robinson had an explosive second-half performance against New England.
Robinson had his most outstanding performance to date in Sunday's 30-27 loss to the
New England Patriots
. He gained 53 yards on seven carries, all in the second half -- including a terrific 20-yard gain, a 16-yard gain and a 3-yard touchdown. In addition to his power-speed combo, Robinson has shown great instincts and vision on several nifty cutback runs this season. That was especially true on his 20-yard gain in the fourth quarter against the Patriots, when he cut back outside to the right, then kept his balance while breaking a leg tackle.
Unfortunately, on the very next play, Robinson committed the ultimate sin for a rookie trying to earn trust. He appeared to fumble the football on a 4-yard gain up the middle. Although a fumble wasn't called on the field, the Patriots may have challenged the ruling if Saints left tackle
Charles Brown
hadn't recovered.
Robinson also fumbled twice in the fourth preseason game. And when asked Monday if Robinson is earning his trust, Saints coach Sean Payton immediately mentioned the fumble.
"I think the ball came out on a play," Payton said. "I thought he handled the opportunities outstanding. But the ball security for a young player of understanding how difficult it is in our league is something we will continue to work on.
"But to answer the question, he's been explosive. He's been tough. He's been hard-nosed. And we will continue to look at his snaps and evaluate how he fits in each game plan."
It's a good sign for Robinson that the Saints continued to give him carries in the fourth quarter after the fumble, while they were trying to run out the clock to protect a lead.
I've been saying for weeks that I expect Ingram to resume his role in a timeshare with Thomas as the leading base-package runners when he returns from his toe injury. Although Ingram struggled in the first two games, the entire run game was struggling badly at that point. And the Saints were still so high on Ingram's potential heading into this season that I don't expect that to change overnight.
But the way Robinson has played in recent weeks will certainly make it difficult to take him off the field. The Saints may opt to stick with the hot hand. Robinson and Thomas both helped give the Saints offense life in the second half at New England when the passing game was struggling early.
Ideally for the Saints, their overall running game will keep improving to the point where there's enough touches to go around for all of their running backs.
October, 13, 2013
Oct 13
8:00
PM ET
FOXBOROUGH, Mass. -- A few thoughts on the
New Orleans Saints
' 30-27 loss, their first of the season, to the
New England Patriots
.

What it means:
This was a devastating way to lose, with the Saints giving up a 17-yard touchdown pass with five seconds remaining. But I imagine they'll take some positives out of the way they fought back from a sloppy start to almost pull off the victory. The Saints showed perseverance after the Patriots (5-1) did an excellent job of taking away some of their go-to offensive weapons (
Jimmy Graham
had zero catches,
Marques Colston
had only one).
Brees contained:
Quarterback
Drew Brees
also didn't have his best day (17-of-36, two touchdowns, one interception). But the Saints fought back from an early 17-7 deficit thanks in large part to their run game, some great defensive stands and a touchdown pass from Brees to
Kenny Stills
. Ultimately, though, the defense couldn't make the final stand.
Tom Brady
threw a beautiful score to
Kenbrell Thompkins
over cornerback
Jabari Greer
.
Graham stymied:
It was a rough day for the Saints' star tight end, who was held without a catch for the first time since 2010 and left with an ankle injury in the fourth quarter (severity not immediately known – though he did briefly return to action). Early in the game, the Patriots used the rare tactic of matching physical cornerback
Aqib Talib
up against Graham, which worked well. After Talib got hurt, the Patriots mostly used safety/former cornerback
Devin McCourty
, as well as double teams.
Brees probably tried to force the ball to Graham a few times too many (once resulting in an interception that set up a field goal in the fourth quarter). But the Saints did a better job of staying patient with the run game in the second half.
Stock watch:
The Saints' rookie offensive weapons came up big while some of the veterans were struggling. Stills made the biggest offensive play of the game with his leaping touchdown grab in double coverage on third-and-20 late in the fourth quarter. Running back
Khiry Robinson
ran for 53 yards and a touchdown on just seven carries -- all in the second half.
Up next:
The Saints head into their bye week at a good time after falling to 5-1 -- especially with some new injuries to deal with (defensive end
Cameron Jordan
also left the game temporarily with a lower leg injury). They'll have a good opportunity to resurrect their momentum with a home game against the
Buffalo Bills
in Week 8.
September, 25, 2013
Sep 25
6:00
PM ET
The
New Orleans Saints
have used six undrafted rookies in their lineup this season after defensive end
Glenn Foster
and tailback
Khiry Robinson
made their debuts last Sunday. (The others are guard
Tim Lelito
, tight end
Josh Hill
, linebacker
Kevin Reddick
and cornerback
Rod Sweeting
.) According to ESPN Stats & Information, that's tied, with Cleveland, for the most in the NFL.
But that's nothing new around New Orleans during the Sean Payton era. The Saints have never been shy about throwing undrafted rookies into the mix – including two of their longtime offensive stars, receiver
Lance Moore
(began with the Browns before joining the Saints in 2006) and tailback
Pierre Thomas
(signed by the Saints after the draft in 2007). As Payton likes to say, the Saints don't care where their players came from. They go by what they see on the field.
The Saints currently have 23 players on their 53-man roster who were undrafted when they came into the NFL, including veteran starters such as cornerback
Jabari Greer
and linebacker
David Hawthorne
who played for other teams before joining the Saints.
According to ESPN Stats & Information, the Saints have used a total of 64 undrafted players since 2006, the third most in the NFL. The league average is 47 during that span. And dating back to 2008, the Saints have had undrafted players take 22.3 percent of all offensive or defensive snaps, the fifth most in the NFL.
Here's the complete list of players on the Saints' 53-man roster who were not drafted (* denotes a starter):
Offense
*WR Lance Moore, *RB Pierre Thomas, *C
Brian de la Puente
, *FB
Jed Collins
, RB
Travaris Cadet
, RB Khiry Robinson, G Tim Lelito, T
Bryce Harris
, TE Josh Hill
Defense
*CB Jabari Greer, *LB David Hawthorne, *LB
Junior Galette
, S
Rafael Bush
, S
Isa Abdul-Quddus
, CB
Chris Carr
, LB
Ramon Humber
, DE
Tom Johnson
, DE
Tyrunn Walker
, DE Glenn Foster, LB Kevin Reddick, CB Rod Sweeting
Special teams
*K
Garrett Hartley
, *LS
Justin Drescher
August, 29, 2013
Aug 29
11:13
PM ET
Thoughts on the
New Orleans Saints
'
24-21 loss
to Miami on Thursday night:

What it means:
The Saints came up a little short of a perfect preseason, finishing 3-1. But they are far from a perfect team. They head into the regular season needing to replace three guys (defensive end
Kenyon Coleman
and linebackers
Victor Butler
and
Will Smith
) who were expected to be starters but have been lost to injuries.
Ingram's role?
Running back
Mark Ingram
had a nice 8-yard touchdown run. But the mere fact Ingram was getting nine carries in the final preseason game makes me wonder if he's bound to spend another year buried on the depth chart behind
Pierre Thomas
and
Darren Sproles
. Rookie running back
Khiry Robinson
got mop-up duty, but finished with 165 yards of total offense. Robinson isn't a lock to make the roster, though, because he fumbled twice.
What's next:
The Saints open the regular season against Atlanta on Sept. 8 at the Mercedes-Benz Superdome.
August, 25, 2013
Aug 25
7:09
PM ET
There is reason for concern for the
New Orleans Saints
' defense. There also is reason for hope.
Evidence of both was on display in Sunday's
31-23 preseason victory
.

Let's start with the concern. New Orleans fans know all too well that the Saints had the league's worst defense last season. The Saints have changed coordinators and schemes, but it looked as if nothing had changed early on.
The Texans gained 164 yards of total offense in the first quarter and the New Orleans defense struggled in all areas. But, even with Houston's offensive starters remaining in through the end of the first half, some signs of hope emerged.
Cameron Jordan
, who I think will excel as a 3-4 defensive end, came up with a sack and a quarterback pressure. Undrafted rookie
Glenn Foster
came up with his fourth sack of the preseason. Linebacker
David Hawthorne
, playing in place of the injured
Jonathan Vilma
, showed signs he can hold up in pass coverage. Cornerback
Patrick Robinson
, who struggled all of last season, had great coverage on a deep pass in the second quarter.
Oh, and one other thing besides all that -- you can bet that defensive coordinator Rob Ryan was holding back on a lot of things that the
Atlanta Falcons
will see in the season opener.
Some other quick observations on the Saints:
August, 10, 2013
Aug 10
12:00
PM ET
METAIRIE, La. -- The first thing I noticed when watching the
New Orleans Saints
practice was the silence.
There was no messing around and no coaches screaming at players. Instead, the Saints looked like a veteran team that is intensely focused -- more focused than last year, when chaos surrounded the entire season. Maybe even more focused than in 2009, when the Saints eventually won their first Super Bowl championship.

The quiet practices are a firm sign that coach Sean Payton is back in charge and that this team wants to put last season as far in the past as possible. The bounty scandal that led to the season-long suspension of Payton and a disappointing 7-9 record is over, and the Saints want to return to their winning ways.
"Last year was an apparition," quarterback
Drew Brees
said. "It was a different time with all the situations that had taken place. This year, just knowing that we've got everybody here, this is our team. Nobody's missing. This is the team that can accomplish great things, and there's a lot of work that needs to be done. Here's our window of time to bring it together. We know there's going to be tough times. We know there's going to be adversity. Build that attitude, build that chemistry, and get ready to make a run at it."
Payton's return alone should make a big difference. He's one of the league's best coaches and possesses a brilliant offensive mind. After watching his team from a distance last year, Payton had some strong critiques for his players, even the superstars.
Soon after Payton was reinstated, he called tight end
Jimmy Graham
and told him that a season in which he caught 85 passes but led the league in drops, according to ESPN Stats & Information, wasn't good enough.
"First, he called me and I didn't recognize the number so I didn't pick it up," Graham said. "He was pretty mad because it took like two or three days for me to call him back. The conversation was very serious, talking about his expectations for me and the things that I need to correct from last year and how he's ready to be back. He's ready to see my growth even more."
Payton needs to see growth from more than Graham. He's made it clear that he wants to run the ball more often and that the Saints have to be substantially better on defense.
If the Saints can combine those things with Brees and the passing game, they should be right back in playoff contention.
THREE HOT ISSUES
1. The defensive overhaul.
Payton is an offensive guru, but the first order of business upon his reinstatement was to replace defensive coordinator Steve Spagnuolo with Rob Ryan. Spagnuolo's defense never caught on in New Orleans, and the Saints finished last season ranked No. 32 in total defense.
The Saints aren't just switching coordinators. They're switching schemes. With Payton's blessing, Ryan is installing a 3-4 scheme. The pass rush now will have to come from the outside linebackers, particularly
Junior Galette
,
Will Smith
and
Martez Wilson
, a trio of guys that previously played defensive end.
The secondary also is going through some major changes. The Saints signed free-agent cornerback
Keenan Lewis
and drafted safety
Kenny Vaccaro
in the first round.
The defense will look a lot different because Ryan uses a lot of exotic looks. If the results are different from last season, the Saints will be in good shape.
[+] Enlarge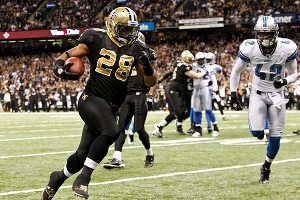 Derick E. Hingle/US PresswireThere won't be any excuses for Mark Ingram this season, as the Saints plan to keep him involved in their running game.
Ingram's time?
Payton repeatedly has said the Saints need to get back to running the ball more efficiently. They were good in that area in their Super Bowl season but got away from the run last season.
There really is no reason the Saints shouldn't be able to get production from the running game. They have a good offensive line and three talented running backs --
Mark Ingram
,
Darren Sproles
and
Pierre Thomas
.
The real wild card is Ingram. Payton and general manager Mickey Loomis used a first-round pick on Ingram in 2011, but he hasn't produced a lot in his first two years. I think Payton is going to make it a point to give Ingram more carries this season.
A new age of receivers.
A few years ago, the Saints had a receiving corps as deep as any in the league, which came in handy because they use so many three- and four-receiver sets. But
Robert Meachem
and
Devery Henderson
left over the past two seasons.
Joe Morgan
, who had been ticketed for the third receiver spot, suffered a season-ending injury in camp.
That leaves starters
Marques Colston
and
Lance Moore
as the only sure things. Beyond them, there's a lot of uncertainty. But the Saints hope veteran
Steve Breaston
, who was signed this week, and second-year pro
Nick Toon
, who missed his rookie season with an injury, can fill the void.
REASON FOR OPTIMISM
Any team that has Brees as its quarterback is going to be competitive. With weapons such as Graham, Colston and Sproles, the Saints are going to score plenty of points. It would be difficult for the defense to be any worse than last season.
If the Saints can just put a middle-of-the-pack defense on the field, they can be a dangerous team.
REASON FOR PESSIMISM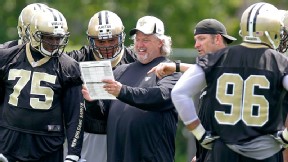 Derick E. Hingle/USA TODAY SportsRob Ryan will bring an aggressive new 3-4 attack to New Orleans, but do the Saints have the proper personnel to run it effectively off the bat?
The Saints already have had some tough breaks when it comes to injuries. Defensive end
Kenyon Coleman
and outside linebacker
Victor Butler
, who were brought in specifically to fill important roles in Ryan's defensive scheme, already have suffered season-ending injuries.
Ryan is an aggressive coach, and the 3-4 has had plenty of success around the league in recent years. But I'm not sure Ryan has the personnel to make this defense succeed. It could take another offseason to get this defense fully stocked.
OBSERVATION DECK
One of the brightest spots in training camp has been the play of second-year defensive lineman
Akiem Hicks
. I saw him make several big plays during my visit. Hicks is going to get his chance to shine in the regular season, and with Coleman out, it looks like he'll be a starter at defensive end.
In another sign that the Saints are serious about running the ball more, Graham has bulked up. The tight end said he now weighs about 270 pounds and that he's focusing on becoming a better blocker.
The Saints have a history of finding unheralded running backs who end up making a contribution (see
Chris Ivory
and
Travaris Cadet
). They might have found another one in
Khiry Robinson
, an undrafted free agent out of West Texas A&M. Robinson has flashed big-play ability in camp. The Saints have so much depth at running back that it might be tough for him to make the roster, but he could end up on the practice squad.
There was some thought that
Jason Smith
, a former first-round pick by the
St. Louis Rams
, could end up as the starting left tackle. But it doesn't look like that's going to happen.
Charles Brown
has been getting virtually all the first-team work. Smith has fallen to third on the depth chart and is working behind rookie
Terron Armstead
. It's looking like Smith might not even make the roster.
In recent years, the Saints have brought rookie defensive backs along slowly.
Malcolm Jenkins
and
Patrick Robinson
didn't play significant roles in their first seasons. But I don't think the Saints are going to be cautious with Vaccaro. Whether it's at one of the safety spots or as the nickelback, Vaccaro is going to play a lot this season.