December, 11, 2013
12/11/13
4:18
PM ET
FLOWERY BRANCH, Ga. – The
Atlanta Falcons
don't have to worry about facing
Robert Griffin III
and his ability with the read-option, when healthy. But the Falcons' defense still has to be aware of what new starting quarterback
Kirk Cousins
is capable of doing for the
Washington Redskins
.
Cousins
When these teams met last season, Falcons linebacker
Sean Weatherspoon
knocked Griffin out with a concussion, and Cousins stepped in and completed 5-of-9 passes for 111 yards, including a 77-yard touchdown. But Cousins also had two late interceptions in the Falcons' 24-17 road win.
"You know, Kirk can throw the ball pretty well," Weatherspoon said. "He did a great job last year when he came in; kept them in the game. Ultimately, he was just a rookie, so we sat back on him in some zone coverage when they had to go down the field, ended up getting a couple of interceptions there at the end to close it out.
"We expect him to be prepared. He knows he's the starter this week, and that's always great as a player – when you know early. So he'll be coming in with some confidence. We just look forward to going out there and just doing our job against him."
Cousins pointed out how last year's game against the Falcons represented his first NFL regular-season action.
"Did some good things, but also made some mistakes," Cousins said. "Every chance I've gotten to play – whether in practice or in games – I've learned something from those reps. And I've learned from my mistakes. And I've learned from my successes."
Cousins might not get much protection from his offensive line, but he could get a boost from a strong running game that ranks second in the NFL, led by 1,000-yard rusher
Alfred Morris
.
The Falcons won't have to contend with Griffin's version of the read-option. But they still have to stop the ground game – something they've been unable to do consistently all season.
October, 7, 2012
10/07/12
6:45
PM ET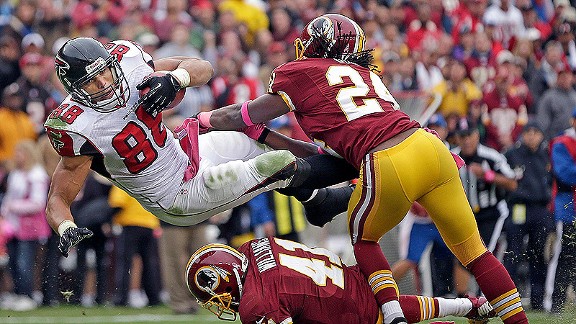 AP Photo/Evan VucciThe Falcons are 5-0 in part because of Tony Gonzalez, who had 13 passes for 123 yards and a TD.
LANDOVER, Md. -- Arthur Blank is a cultured man who has experienced plenty of things in his life.
That's why I'm kind of chuckling at what the owner of the
Atlanta Falcons
said after his team defeated the
Washington Redskins
24-17 on Sunday
at FedEx Field.
As he waited to listen to coach Mike Smith's postgame news conference, Blank walked over to me and sounded like he had a big secret.
"This is the first time this team has been 5-0, and that goes all the way back to 1966," Blank said.
Blank's tone wasn't celebratory or boastful. In fact, he sounded more amazed than anything. You can't blame him, especially when you look at the history of the Falcons.
They'd had only two 4-0 starts in their entire existence. Aside from one glorious run to the Super Bowl in 1998, this is a team without much positive history. The Falcons didn't even have their first back-to-back winning seasons until 2008 and '09.
Blank wasn't the only one who seemed stunned that the Falcons are 5-0. Like Blank, veteran center
Todd McClure
has been around the block. He has the longest tenure of any member of the team, but he sounded almost child-like as he pondered his team's status.
"You know [linebacker]
Mike Peterson
came into the league the same year I did," said McClure, who was a seventh-round pick by Atlanta in 1999. "I went up to him after the game and I asked him, 'Have you ever been 5-0?' He couldn't remember being 5-0."
I double-checked with Peterson, who has played for the Colts, Jaguars and Falcons during his 14-year career.
"Not that I remember," Peterson said. "If I have, it wasn't sweet enough that I could remember. This is very sweet. It's big for the city, the franchise and the owner. Everybody's been pulling for this team to take that next step. You can kind of see it now. We've been fighting this thing the last three or four years."
"The thing" Peterson is talking about is the fact that the Falcons have had four straight winning seasons, but they haven't won a playoff game. They've been a good team, but not quite great.
The Falcons can't do a thing about their playoff jinx until January, but they're putting themselves in a position where they could have the NFC South wrapped up early. If they keep winning, they could rest some starters at the end of the season, have home-field advantage and, maybe, finally get over that hump.
They might have taken a step in that direction Sunday.
"These are the kind of games that you hate to see, but you want to see," defensive end
John Abraham
said. "We didn't play the way we wanted to, but we persevered."
The Falcons weren't sharp early and fell behind when
Ryan Kerrigan
intercepted
Matt Ryan
in the second quarter and returned it for a touchdown. Atlanta hung around, but fell behind again (17-14) early in the fourth quarter when
Santana Moss
caught a 77-yard touchdown pass from rookie quarterback
Kirk Cousins
, who entered the game after fellow rookie
Robert Griffin III
suffered what the Redskins described as a mild concussion in the third quarter.
"We were our own worst enemy in the first half," Smith said.
The Falcons -- and Ryan -- were uncharacteristically sloppy for the better part of three quarters, but they scored 17 points in the fourth quarter. Ryan completed 34 of 52 passes for 345 yards and two touchdowns, and he did that on a day when he didn't look particularly sharp.
For the second consecutive week, Ryan rallied the Falcons to a come-from-behind victory in the fourth quarter. With the game tied (17-17), Ryan and the Falcons got the ball at their own 31-yard line with 5:40 remaining and promptly went on a touchdown drive.
"That's what [Ryan] does," Abraham said. "I never thought we were going to lose that game because nothing he does surprises me."
Ryan didn't have his best day, and neither did the Falcons, but they came away with a win. They did it with solid defense, stopping the Redskins consistently on third downs and coming up with two fourth-quarter interceptions. They also did it because veteran tight end
Tony Gonzalez
had a huge game, catching 13 passes for 123 yards and a touchdown.
"In terms of showing some resiliency, you are going to have to do that," Smith said. "Games are going to be tight and close in this league, and you are going to have to win those close ones."
That's the kind of thing you have to do if you're going to take the next step that Peterson talked about.
"We've got a maturity level on this team," Peterson said. "We were down seven, and it could easily have swung the other way and got away from us. We got down, but we have the maturity to get through that. Nobody got down or started pointing fingers. It just shows how this team has grown over the last few years."
And here might be the scariest thing of all.
"We haven't played our best football yet, but we're 5-0," McClure said. "This team is much better than the way we've played so far. But the nice thing is that it's easy to make corrections when you're 5-0. We still have a lot of room for improvement."
They do. But they're 5-0, and that's something the Falcons never have been able to say before.
October, 7, 2012
10/07/12
4:05
PM ET
LANDOVER, Md. -- Thoughts on the Atlanta Falcons'
24-17 victory
against the
Washington Redskins
at FedEx Field on Sunday.
What it means:
The Falcons are 5-0 for the first time in franchise history. They're also high atop the NFC South standings. This was not a particularly pretty game, but there's a nice trend developing. The Falcons, who many view as a "dome team," have won three outdoor games already this season. This one came on a day that was cool and rainy.


Play of the day:
With the Redskins driving, cornerback
Dunta Robinson
saved the game for the Falcons with an interception with 1:53 remaining.
Hit of the day:
Linebacker
Sean Weatherspoon
knocked Washington quarterback
Robert Griffin III
out of the game with a big hit in the third quarter. The Redskins said Griffin was "shaken up," and he did not return to the game. He was replaced by
Kirk Cousins
, who threw two fourth-quarter interceptions.
One thing I never want to see again:
Joe Hawley
attempting to catch a pass. With fullback
Lousaka Polite
out with an injury, the Falcons sometimes used Hawley as a blocking back. But with 5:50 left in the third quarter, the Falcons tried to throw a pass to Hawley. He was wide open, but the ball went right off his hands. When you have the talent at the skill positions that the Falcons have, Hawley should never be thrown the ball.
He never gets old:
Atlanta tight end
Tony Gonzalez
has said he's 95 percent sure he'll retire after this season. He might want to rethink that. Gonzalez had a huge day, catching 13 passes for 123 yards.
What's next:
The Falcons host the
Oakland Raiders
next Sunday.
February, 23, 2012
2/23/12
1:22
PM ET
The NFC South may not have nearly as much of a vested interest in this as it did last year, but Gruden's QB Camp is returning for a third season this spring.
Last year, Jon Gruden, the former Tampa Bay coach and current "Monday Night Football" analyst, had a fascinating session with Cam Newton. Their time in the film room gave us all plenty to talk about as we waited for the
Carolina Panthers
to select Newton at No. 1 overall.
This year, I don't see any NFC South team taking a quarterback in the first round. But I do think you could see some NFC South quarterback moves later in the draft. Wisconsin's
Russell Wilson
is similar
to New Orleans' Drew Brees in a lot of ways. I wouldn't be all that surprised if the Saints took Wilson in the middle rounds and try to groom him as the heir apparent to Brees. There even has been a bit of a buzz that the Panthers could look at Wilson as a guy to complement Newton.
The Falcons and Buccaneers also could be keeping an eye out for potential backups in the draft.
Wilson's session with Gruden will air April 11 at 5 p.m. ET on ESPNU.
The show will debut with
Andrew Luck
on March 31 at 7 p.m. ET on ESPN. The segment with
Robert Griffin III
will air at 9 p.m. ET on April 2 on ESPN.
Kellen Moore
will be featured April 12 at 5 p.m. ET on ESPNU. Kirk Cousins' episode will be shown April 16 at 5 p.m. ET on ESPNU.
Case Keenum
will be featured at 5 p.m. ET on April 17 on ESPNU. The segment on
Brandon Weeden
will air April 18 at 8 p.m. on ESPNU.
Brock Osweiler
will be featured April 19 at 5 p.m. ET on ESPNU.
A segment on
Nick Foles
will air April 23 at 5 p.m. ET on ESPNU and
Ryan Tannehill
will be featured April 24 at 5 p.m. ET on ESPNU.
February, 14, 2012
2/14/12
4:48
PM ET
BRADENTON, Fla. -- The boot was off Tuesday and
Ryan Tannehill
's right arm looked just fine.
The Texas A&M product, who is considered one of the top quarterback prospects in the 2012 NFL draft, said the foot injury that forced him to miss the Senior Bowl is healing fast. Tannehill said he will head to Indianapolis for the scouting combine next week and will go through medical testing and meeting with teams, but will not participate in any of the on-field drills.
Tannehill said he'll save that for his pro-day workout in late March when he expects to be 100-percent healthy. Tannehill had been in a walking boot until recent days after having surgery to repair a fractured fifth metatarsal a little more than three weeks ago.
The surgery was performed in Charlotte by
Carolina Panthers
team physician Robert Anderson, one of the best-known foot specialists in the sports world.
"Dr. Anderson basically put a screw in there,'' Tannehill said. "It's locked down and I shouldn't have any problems going forward.''
Tannehill will stay out of the physical part of the combine, but he wasn't holding back on the field Tuesday at IMG Football Academy, where he's taking part in pre-combine training with about 30 other draft prospects.
After fellow quarterbacks
Russell Wilson
(Wisconsin) and
Kirk Cousins
(Michigan State) finished the on-field portion of their workday, Tannehill remained on the field for about 15 minutes getting one-on-one work with former Carolina quarterback Chris Weinke, who runs IMG's football operations. Tannehill said the fracture happened during a January workout at IMG, but Anderson told him it probably was the result of a pre-existing stress fracture.
Tannehill said he plans to come directly back to Bradenton after the combine and begin doing more intense on-field work with Weinke.
"We'll come back and push it pretty hard,'' Tannehill said. "I'm thinking I should be getting close to 100 percent by right after the combine and we'll really jump into the on-field stuff then to make up for the time I missed and get ready for pro day.''
Tannehill has been mentioned as a possible first-round pick by some draft experts. Last year, Carolina's
Cam Newton
and Minnesota's
Christian Ponder
came to IMG to work with Weinke and both ended up starting as rookies.
"I knew that Cam and Christian worked with coach Weinke and he helped elevate them,'' Tannehill said. "That's what you look for in a QB coach is someone who can take you to the next level. We lost a little time because of the foot, but we'll make up for it.''
(
Note:
I'll have much more from my visit to IMG, including features on some top prospects over the coming days.)
February, 14, 2012
2/14/12
11:01
AM ET
BRADENTON, Fla. -- I'm going to get a little preview of the scouting combine Tuesday. I'm down at IMG Football Academy, where I'll soon be heading out to the practice field to watch some of the draft prospects working out.
I'll be out of pocket for a bit because I'll be interviewing IMG Football Academy director Chris Weinke, the former quarterback for the
Carolina Panthers
, and some of the players for several stories over the coming days. While I'm out of pocket, keep an eye on the headlines section of our main NFL page for any news on the NFC South. Weinke obviously is doing some good things here -- he worked with Carolina's Cam Newton and Minnesota's Christian Ponder last winter and spring.
I'll check back in this afternoon, but right now I'm looking forward to seeing how these players are going about getting ready for the combine, an event where their performance could have a big impact on the rest of their lives. I was down here last summer when the rookie symposium and the
Tampa Bay Buccaneers
' minicamp were held here during the lockout and the facility is quite impressive.
In addition to the on-field work, the combine-preparation program also focuses on physical conditioning, speed and movement, nutrition, vision training and mental conditioning.
Here's a list at some of the draft prospects who have been taking part in the program along with their college and positions:
Kirk Cousins, Michigan State, QB
Luke Kuechly, Boston College, LB
Mohamed Sanu, Rutgers, WR
Ryan Tannehill, Texas A&M, QB
Russell Wilson, Wisconsin, QB
Peter Konz, Wisconsin, OL
Alexander Tounkara, Brown, WR
Alfred Morris, Florida Atlantic, RB
Bobby Wagner, Utah State, LB
Brandon Lindsey, Pittsburgh, LB
Bryce Brown, Kansas State, RB
Chris Manno, Hofstra, WR
Cordy Glenn, Georgia, OL
Corey White, Samford, DB
Derek Moye, Penn State, WR
Devin Aguilar, Washington, WR
Eric Page, Toledo, WR
Gerell Robinson, Arizona State, WR
Hugo Souza, New Hampshire, DB
Jeff Allen, Illinois, OT
Jerry Franklin, Arkansas, LB
Josh Kaddu, Oregon, LB
Josh Norman, Coastal Carolina, DB
Justin Bethel, Presbyterian, DB
Kendall Reyes, UConn, OL
Mark Asper, Oregon, OT
Matt McCants, UAB, OL
Markus Kuhn, NC State, DL
Ron Brooks, LSU, DB
Ryan Steed, Furman, DB
Stephen Hill, GA Tech, WR
Stephen Peyton, Brown, DB
August, 26, 2009
8/26/09
4:29
PM ET
Posted by ESPN.com's Pat Yasinskas

TAMPA, Fla. -- There could be even another element to the quarterback situation for the Buccaneers.

The team could be looking to trade one of its quarterbacks for a draft pick. Coach Raheem Morris wouldn't confirm an NFL.com report that the Bucs are shopping three of their quarterbacks for a trade, but he didn't deny it either.

"Oh, man, they're Nostradamus," Morris said when asked about the report. "Everybody in this league, all 32 teams around this time start calling front offices. I can't control who calls us. Everybody's interested in everybody's roster and everybody's looking to nit-pick off everybody's roster. Everybody has talent and you're trying to accumulate the best talent on your football team. That's just all that talk is what that is."

But it makes total sense for the Bucs to at least try to find out what the market value might be for Byron Leftwich, Luke McCown or Josh Johnson. They're not about to let go of rookie Josh Freeman, who they call their franchise quarterback.

But that's likely in the future. For now, it appears the Bucs will open the season with either Leftwich or McCown as their starter. They're about even at this point and a potential trade could play into Morris' decision, although the Bucs likely would be able to get only a late-round pick (at best) for any of their quarterbacks.

Leftwich, a former starter in Jacksonville, probably has more trade value because of his experience. McCown has only seven starts. Johnson, a second-year pro, has yet to play in an NFL game and probably wouldn't bring much in a trade.