August, 9, 2010
8/09/10
5:27
PM ET
FLOWERY BRANCH, Ga. – The Falcons and Jaguars just completed an afternoon practice that was limited to special teams. There wasn't anything particularly exciting out there, but I stumbled onto something good after the practice.
I sat down with middle linebacker
Curtis Lofton
to gather some stuff for our Camp Confidential segment on the Falcons that is to run next week, as well as some items for the season preview. But Lofton brought up something that I thought Atlanta fans would want to hear right away.
For those who don't know – and I think you will soon enough – Lofton has become the unquestioned leader of the Atlanta defense. The third-year linebacker didn't have to take part in the special teams practice, but he stood and watched the whole thing.
Then, we sat and talked about some other things, mainly Atlanta's defense. We got to the pass rush, which is a concern for a lot of Atlanta fans. I asked Lofton why he's confident in the pass rush, and that's where he got very excited and emphatic.
"Over the past couple of days, Abe has looked great,'' Lofton said.
"Abe'' is veteran defensive end
John Abraham
. A lot of people thought Abraham might be on the downside of his career after he produced only 5.5 sacks last season. He had 16.5 in 2008. The Falcons certainly could have addressed the position in the offseason, but they elected not to do anything dramatic.
Coach
Mike Smith
and general manager Thomas Dimitroff have said several times they believe young players Kroy Beirmann and
Lawrence Sidbury
are ready to emerge. They also said a big part of the reason they didn't make any major moves at defensive end is because they believe Abraham can bounce back. They said that a film review of last season showed Abraham still was putting good pressure on quarterbacks.
That seems to be showing through on the practice field.
"I would still say that Abe is one of the best in the NFL right now,'' Lofton said. "He just has to stay healthy and he's going to do his thing.''
Abraham spent part of the offseason in Florida working on his conditioning, and Lofton said the results are obvious.
"I have no idea what he did, but he's been doing a great job in practice,'' Lofton said. "He looks better than ever out there.''
August, 8, 2010
8/08/10
12:57
PM ET
BUFORD, Ga. – Don't let the dateline fool you. I'm about seven
Matt Ryan
throws away from the Falcons' facility in Flowery Branch.
I'll be over there Monday morning when the Falcons and
Jacksonville Jaguars
practice together. By the way, you're going to see a lot more of these joint workouts if the NFL goes to an 18-game regular season and cuts out two preseason games. I suspect practicing with other teams would be very popular with coaches. You can probably accomplish a lot more in those settings than you can in preseason games, which are largely worthless.
It should be a relatively quiet Sunday because coaches and players around the division are getting the day off. I'll be in and out throughout the day. But let's look ahead to tomorrow a bit.
Some issues I'll be paying close attention to with the Falcons:
Are the rumors that defensive end Jamaal Anderson is having a really good camp true?
What does John Abraham have left physically?
Are Kroy Beirmann and Lawrence Sidbury stepping up as pass rushers?
Is defensive tackle Peria Jerry at full strength after last year's injury?
Who's emerging as the leader for the starting cornerback spot opposite Dunta Robinson?
Is rookie linebacker Sean Weatherspoon going to take Stephan Nicholas' starting job?
Is receiver Harry Douglas ready to be what the Falcons thought he was going to be before he got hurt last year?
Is Ryan ready for the breakout season everyone seems to be expecting?
Those are just a few ideas. If you've got something you'd like me to keep an eye on or ask the coaches or players about, go ahead and send it to my mailbag.
July, 29, 2010
7/29/10
9:30
AM ET
Carolina linebacker Jon Beason writes that he
doesn't know if he'll be playing in the middle or on the weak side
. He says he's fine with either. We'll find out soon enough what the Panthers are thinking because they've got their first practice today.
Atlanta defensive end Kroy Beirmann
reportedly is dating Kim Zolciak
, a cast member of "The Real Housewives of Atlanta."
The Buccaneers say tight end Kellen Winslow's knee is fine, but they probably
will place some limits
on his practice time in training camp. Not a bad idea. Winslow's probably the one guy with the least to prove on this roster and having him healthy for the regular season is all that really matters.
The Panthers are opening camp with
six players on the physically unable to perform list
. As expected, linebacker Thomas Davis and flag football player Steve Smith are on the list. But tackle Jeff Otah and running back Jonathan Stewart were added to the list, which came as a bit of a surprise.
D. Orlando Ledbetter reports that
progress was made
late Wednesday in contract talks with first-round draft pick Sean Weatherspoon. The Falcons report to camp today, so a holdout could be avoided if Weatherspoon is signed before Friday's first practice.
June, 29, 2010
6/29/10
1:00
PM ET
»
NFC Big Question
:
East
|
West
|
North
|
South
»
AFC
:
East
|
West
|
North
|
South
Can the Atlanta Falcons have a winning record for the third straight season?
There was some minor celebrating at the end of last season when the Falcons won their final three games to finish 9-7 and record back-to-back winning seasons for the first time in franchise history. It still wasn't good enough for the Falcons to get to the playoffs in back-to-back seasons for the first time and that was mildly disappointing after a 2008 season in which rookie coach Mike Smith and rookie quarterback
Matt Ryan
took Atlanta to the postseason.
[+] Enlarge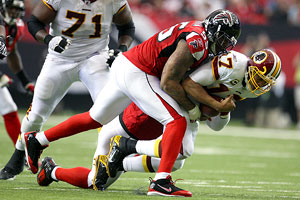 Kevin Liles-US PresswireThe Falcons need a stronger season from John Abraham and the Falcons' pass rush.
Blame last year on injuries and bad luck. But maybe a season in which everything that could go wrong did is exactly what the Falcons needed to raise the bar for 2010. They were a 9-7 team when everything was working against them.
They should be much better when things are going well. Things can always change, but, right now, the schedule doesn't look all that difficult. Injured guys like defensive tackle
Peria Jerry
, safety
William Moore
and receiver
Harry Douglas
are expected back at full strength. Running back
Michael Turner
is in much better physical condition than he was at this point a year ago and he seems to be on a mission to prove that his 2008 season wasn't a one-hit wonder.
The Falcons took their annual one large plunge into free agency by signing cornerback
Dunta Robinson
and that should solidify the secondary. First-round pick
Sean Weatherspoon
should give Atlanta a playmaker at linebacker. The only uncertainty is the pass rush. Maybe
John Abraham
can bounce back from a quiet season and maybe
Kroy Biermann
and
Lawrence Sidbury
can take the next step in their development.
The pass rush and the
New Orleans Saints
might be the biggest obstacles the Falcons face at the moment. Even with those issues hanging out there, this looks like a team that's on course for a third straight winning season.
June, 18, 2010
6/18/10
1:40
PM ET
The offseason programs essentially are over and during the next few weeks, players, coaches and front-office officials will disappear for a little down time.
They'll return in late July for training camp, but the vacations don't mean that every NFC South team has reached solutions on all issues. They've gotten some ideas of what they got in the offseason workouts, but they're nothing more than ideas.
The real answers will come in August, when players wear pads, hit and move at real-game speed. With that in mind, here are five questions that still need to be answered across the NFC South.
[+] Enlarge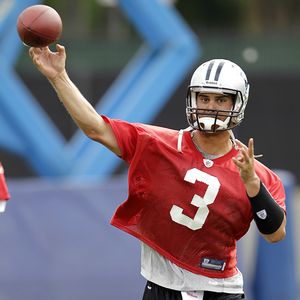 AP Photo/Chuck BurtonMatt Moore might have a short leash considering the Panthers have Jimmy Clausen waiting in the wings.
1. Is Carolina's Matt Moore really a starting quarterback?
The Panthers hope and think so, but there really is no way to tell for sure until Moore gets into the real thing. He looked good at the end of last season as
Jake Delhomme
was playing his way out of a job. Moore has shown some leadership skills this spring and some signs he's got more of an arm than anyone ever thought he had.
It has all been positive and Moore seems to have gained plenty of respect in the locker room. But the fact is he doesn't have a ton of experience. He needs to rely on Carolina's strong running game and make his plays in spots. If he can do that, Moore will be just fine. If not, the Panthers have second-round draft pick
Jimmy Clausen
waiting in the wings. Coach John Fox is in the final year of his contract and needs to win -- or at least show some promise. If Moore doesn't get the job done early, the Panthers won't hesitate to turn things over to Clausen because Fox needs to generate hope for the present and the future.
2. How much better will Tampa Bay quarterback Josh Freeman be?
He wasn't bad over the second half of last season and it must be noted that was with a very bad team around him. The Bucs still are a work in progress, but, on paper at least, they should be better in a lot of ways than they were last year.

Freeman
Tampa Bay's coaches and front office are extremely aware Freeman is the franchise and he had very little to work with last year. That's why they drafted
Arrelious Benn
and
Mike Williams
. There are no guarantees with rookie wide receivers. But Benn and Williams have more talent than what the Bucs have had at this position in the past.
They can get downfield and there's no doubt Freeman has the arm to throw downfield. He just might get the chance to show it this year.
3. Is Atlanta's defense really that much better?
You can make a case that Atlanta's defense was what held the Falcons out of the playoffs last year and that's probably not wrong. The Falcons had no pass rush and a weak secondary, which is not a great formula for any defense.
[+] Enlarge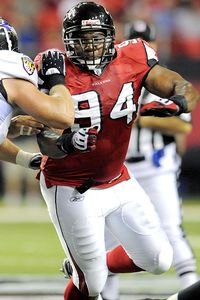 Dale Zanine/US PresswireThe Falcons are counting on 2009 first-rounder Peria Jerry to bolster their pass rush.
Atlanta spent much of its offseason working on that secondary. The Falcons signed
Dunta Robinson
to be the No. 1 cornerback and re-signed
Brian Williams
to at least fill a gap until some other young players have time to be groomed for bigger things. The Falcons also hope
William Moore
, who missed much of his rookie season, with injury is ready to step in right away and be a starting safety.
But touching up the secondary is really the only tangible move the Falcons have made to fix their pass rush. They believe, a split second or two extra of coverage will make their pass rush better. It may look like a risky move because the Falcons have done little to address a front four that was anemic last year.
They're betting veteran
John Abraham
will bounce back and young players
Lawrence Sidbury
and Kroy Biermann will step up. They also think the return of defensive tackle
Peria Jerry
from injury will create a surge in the middle and make the entire defensive front better. Sounds nice in theory, but we'll find out if it's reality soon enough. A strong pass rush could be the only thing keeping the Falcons from being a true challenger in the NFC.
4. Can the Saints reverse recent history?
We all know the following season hasn't been kind to Super Bowl champions. They're going to be wearing the bulls-eye that every Super Bowl champion does. But they just might be able to reverse history.
The Saints have kept their team pretty much intact and you can argue they've had addition by subtraction in releasing defensive end
Charles Grant
and replacing him with
Alex Brown
and
Jimmy Wilkerson
. They also lost linebacker
Scott Fujita
, but have plenty of young legs to take his place. Other than that, the Saints haven't lost much.
They still have quarterback
Drew Brees
and that means they're going to have an offense that's one of the best in the business. If they can play a little defense, they should be just fine.

Peppers
5. Can the Panthers survive without Julius Peppers?
Carolina and its defensive end had a nasty parting. There's no denying Peppers was a rare athletic talent and that's not easily replaced. But I'm thinking the Panthers might be better off with Peppers, who had not been happy in Carolina for several years.
That whole scenario meant there were times Peppers played hard and times he didn't. That wasn't good for the defense as a whole. Young defensive ends
Everette Brown
and
Charles Johnson
probably will never come close to showing Peppers' overall athleticism.
But they're going to show up and give their best effort every game. That actually might be an improvement.