May, 31, 2012
5/31/12
2:04
PM ET
While repeatedly saying he's confident Drew Brees' contract situation will be worked out, New Orleans assistant head coach Joe Vitt said Thursday the Saints likely will add a third quarterback before the start of next week's minicamp.

The Saints have gone through the early part of their offseason workouts with
Chase Daniel
working with the first team and only
Sean Canfield
behind him. Vitt said the Saints will work out some quarterbacks in the coming days.
Assuming the Brees situation eventually gets resolved, the Saints aren't looking for a starter. That's a good thing because there aren't any real starters available at this time of year. The list of available guys is basically a list of guys that could provide an extra arm for minicamp and the rest of the offseason program.
The Saints previously worked out Brian Brohm and he could be a candidate.
Tyler Palko
and
Mark Brunell
have spent time with the Saints in the past and could be possibilities. But I don't know that the Saints would want Brunnell because he's 41. If you're looking for a third arm, you might as well bring in a guy that at least has the potential to blossom in your system.
Another former Saint,
Jake Delhomme
, remains available. But Delhomme falls into the same category as Brunell. Same for
Jeff Garcia
.
After that, the list of available quarterbacks isn't any more impressive. It includes guys like
Luke McCown
,
J.P. Losman
,
Kyle Boller
, Kevin O'Connell,
Dennis Dixon
,
A.J. Feeley
,
Brian St. Pierre
,
Jim Sorgi
and J.T. O'Sullivan.
We'll have more from Vitt, once I get a complete transcript of his media session later this afternoon. But I'll give you one hint about something that's coming. Defensive end
Will Smith
has been getting some work at defensive tackle. I'll be back with more on what was said on that topic.
October, 19, 2011
10/19/11
12:00
PM ET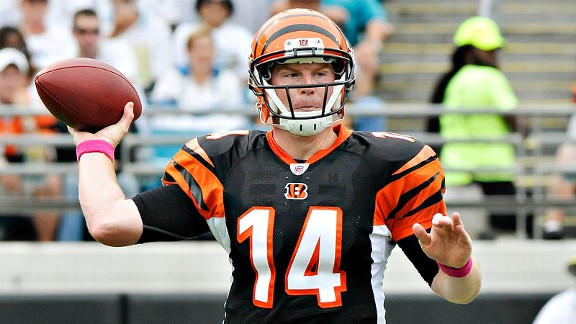 Fernando Medina/US PresswireWhile his numbers aren't off the charts, Andy Dalton has helped lead his team to a 4-2 start.
With Carolina's
Cam Newton
, there's been shock, awe and a lot of losing. With "the other'' rookie quarterback that's been starting all season, there simply has been a lot of winning.
That's Cincinnati's
Andy Dalton
, who, very quietly, has his team off to a 4-2 start. Jacksonville's
Blaine Gabbert
was tossed into the starting role after opening the season on the bench, and the same is about to happen with Minnesota's
Christian Ponder
.
Newton's had 400-yard passing games and turned heads with his feet. That's great, but the only rookie quarterback who is winning regularly so far is the guy who was drafted in the second round. Dalton was taken with the 35th overall pick at a time when it still looked as if
Carson Palmer
might return and the rookie could develop slowly behind him.
Instead, Palmer stuck to his demand to be traded or released and stayed away from the Bengals. That cleared the way for Dalton to be the No. 1 quarterback right away. The numbers haven't been quite Newtonesque, but Dalton has had games where he threw for 332 and 298 yards and the Bengals have won their past three games.
It's not like Dalton was thrown in as a game manager and the Bengals are winning in spite of him. This was a team that couldn't win with Palmer last season and Dalton has come in and made an immediate difference.
"The quarterback, he is our centerpiece, and we develop offense through Andy,'' Cincinnati coach Marvin Lewis said. "Everything we do comes through Andy. People asked me, 'How are you going to be with a young quarterback?' Well, a young quarterback is going to be our offense and he is going to be what our offense is. You can see what we do and we do it through him. That's why we felt so good about this guy."
What Dalton did at Texas Christian was throw accurate passes and win. After an 8-5 record as a freshman, Dalton was 34-3 the next three seasons.
It's been more of the same since Dalton took over the Bengals. He's completing 62.4 percent of his passes. Tight end
Jermaine Gresham
and rookie receiver
A.J. Green
have made Dalton look good by catching some passes that weren't exactly where they were supposed to be. But there haven't been off-target throws.
But the best thing the Bengals might have done for Dalton was to pair him with offensive coordinator Jay Gruden. A longtime Arena Football League coach, Gruden puts an emphasis on getting rid of the ball quickly.
That helps limit the pressure on Dalton and eliminates room for potential mistakes, and Dalton's only getting better. In the past two games, he's thrown just one interception and been sacked twice. In Sunday's victory against Indianapolis, Dalton completed a season-high 78.1 percent of his passes and he's singing the praises of Gruden.
"There is a lot of give and take,'' Dalton said. "We don't know anything different. With he and I coming here at the same time, we were both going to have new people around us. It has been great. He's done a great job calling plays."
It's all worked out so well with the arrival of Dalton and Gruden that the Bengals finally put Palmer in their past. They
traded Palmer to Oakland on Tuesday
because they already had moved on so nicely without him.

TRENDING UP

TRENDING DOWN
March, 28, 2009
3/28/09
4:38
PM ET
Posted by ESPN.com's Pat Yasinskas
Next stop on our tour of team-by-team mailbags is Tampa Bay.
Marc in Pittsburgh writes: I'm a big Buccaneers fan and there is plenty of talk about the Buccaneers wanting to get a veteran quarterback. They keep wanting to add to their offense but they don't add to their defense. What do you think the possibility would be that the Buccaneers would try to trade with the Browns again and get Derek Anderson and a defensive tackle Shaun Rogers since he wants out of Cleveland.
Pat Yasinskas: I like both Anderson and Rogers and think they could be nice fits with the Bucs. But I haven't heard any indications that the Bucs are pursuing either one. That could change between now and the draft. But the potential barrier I see to this is the cost. A package of Anderson and Rogers likely would require several draft picks. The Bucs already traded their second-round choice to Cleveland for tight end Kellen Winslow. I'm guessing they'd have to give up a first- and third-round draft choice (at least) for Anderson and Rogers. I don't see general manager Mark Dominik and coach Raheem Morris wanting to be without a pick in the first three rounds in their first draft.
---
Christopher in parts unknown: I know the Bucs are in the middle of a youth movement still, but with quality guys like Torry Holt, Jason Taylor, and Marvin Harrison still available do you think it's possible for any of them to come to Tampa?
Pat Yasinskas: That doesn't fit the profile of what the Bucs are doing so far. They're going with youth just about everywhere. However, if they go through the draft without addressing all their needs, you could see a veteran or two come in. But, again, I think that will be limited to veterans who are sitting out there after the draft.
---
Chris in Honolulu writes: Hey Pat... I was just woundering do the Bucs really believe that Josh Johnson can be the QB of the future, and if they do why would they spend their first pick on a guy like Josh Freeman dont they have about the same amount of potential?
Pat Yasinskas: I don't think the Bucs can count on Josh Johnson as their quarterback of the future right now. He could develop into something, but it's premature to really think that can happen this year. Johnson was drafted as a project last year. Now, the Bucs are going with a whole new offensive system, so he'll be starting almost from scratch. I know there's speculation the Bucs might draft Freeman at No. 19, but I don't think that will happen. I think the Bucs need to be competitive right away and they don't have the luxury of a lot of time for Freeman to develop. I still think the Bucs will bring in a quarterback to compete with Luke McCown, but I think it will be someone with experience. Some names out there (and these probably won't excite you) are Byron Leftwich, Rex Grossman and Kyle Boller.
---
Saood in Tampa writes: Pat, What kind of options do the Bucs have left at DT in the free agency and what DTs would be suitable for the Bucs this upcoming draft. I have heard a lot of good things about Raji out of Boston College, he must also be somewhat familiar with Jeff Jags, any chance we can land him?
Pat Yasinskas: I think B.J. Raji would be a tremendous pick for the Bucs, who need to solidify the middle of their defensive line some more. The problem is, it looks like Raji probably will be gone before the Bucs pick at No. 19. If he's somehow there, I've got to think he's a real possibility. If the Bucs really want to go with a defensive tackle in the first round and Raji is gone, Mississippi's Peria Jerry could be a possibility.
March, 25, 2009
3/25/09
1:12
PM ET
Posted by ESPN.com's Pat Yasinskas
After reading what coach Raheem Morris had to say at the breakfast for NFC coaches in California this morning, I'm more convinced than ever the Bucs will try to add a quarterback before the draft.
Morris talked about four dogs and a bone as he looked ahead to the preseason competition for the starting job. Problem is, the Bucs only have three "dogs'' right now. They have Luke McCown, Brian Griese and Josh Johnson. McCown's the only one of those guys you could reasonably want as your opening-day starter right now.
I don't see the Bucs taking Josh Freeman with the No. 19 pick because I don't think he's ready to start right away and I think Morris needs to win fairly quickly. As far as a possible trade for Jay Cutler, slow it down. I still think that's a very long shot.
Cast your eyes on the next level that's more realistic. Cleveland could be looking to deal Derek Anderson or Brady Quinn. Or there are free agents like Byron Leftwich, Kyle Boller and Rex Grossman still out there.
I think Morris really is intent on having a competition for this spot. All he needs now is someone to compete with McCown.
March, 20, 2009
3/20/09
11:31
AM ET
| | |
| --- | --- |
| | |
| | US Presswire |
| | If the Buccaneers can't land Jay Cutler, could they make a play for Cleveland's Brady Quinn (center) or Derek Anderson? |
Posted by ESPN.com's Pat Yasinskas
All those Tampa Bay Buccaneers fans begging for Jay Cutler might want to examine the quarterback's right hand.
The window on Cutler and the Bucs might have slammed almost a month ago. Tampa Bay's best -- and perhaps only -- shot at landing the Denver quarterback might have come on the day in late February, when the Bucs were, at very least, involved in some talks about a possible three-way trade.
Reports of what actually transpired are sketchy. But we do know for sure there was at least some talk of a deal that would have sent Cutler to Tampa Bay, Matt Cassel to Denver and Tampa Bay's first-round pick to New England. It didn't transpire as the Patriots traded Cassel to Kansas City for a second-round draft pick.
| | |
| --- | --- |
| | |
| | NFL.com Video |
| | Highlights of the best moments from Jay Cutler in 2008. |
The wreckage of that day still is flying in Denver, with Cutler and the team reportedly at odds about his future with the Broncos. Cutler reportedly wants out, and the Broncos may or may not grant his wish.
Even if the Broncos do decide to deal Cutler, it might be way too late for Tampa Bay. Whatever happened on that February day, the rest of the league suddenly found out that there's a chance Cutler could be available. That simple fact might have closed this case for the Bucs.
Maybe they could have had Cutler for their first-round pick (No. 19 overall) back in February. Now that the rest of the league is watching the Cutler situation, the price tag suddenly has gone up and the Bucs probably don't have the ammunition to play in this game.
All they've really got is that first-round pick. Their second-round pick already is gone in a trade with Cleveland for tight end Kellen Winslow. Tampa Bay does have a third-round pick, but that and a first-rounder are probably not nearly enough to get Cutler.
Detroit, a potential landing spot for Cutler, has two first-round picks (Nos. 1 and 20), and there are a whole bunch of teams with picks in the first and second rounds. Then there's Cleveland, which has the No. 5 overall pick, disgruntled defensive tackle Shaun Rogers (who sure would look good in Denver) and two, young quarterbacks in Brady Quinn and Derek Anderson.
You think some combination of what Cleveland has in the cupboard could be tempting?
March, 10, 2009
3/10/09
1:00
PM ET
Posted by ESPN.com's Pat Yasinskas
We'll start our tour of team-by-team mailbags with the Carolina Panthers.
Jay from Durham writes: Hey Pat, I know there hasn't been a lot of talk about Julius Peppers recently, and I think he's a big reason why the Panthers aren't making any moves in Free Agency so far, but what do you think are the chances of Peppers getting traded the closer we get to the draft are? Specifically to a team like the Patriots, where we can get multiple picks from, and Peppers can go to a team he would probably want to play for, being a great team with a 3-4 Defense?
Pat Yasinskas: There is no doubt Julius Peppers has the Panthers handcuffed at the moment with the $17 million franchise tag. If there's going to be a trade, my guess is it will be right around draft time and New England is one of the teams often speculated on in that scenario. Nobody knows how it will all play out, but I think that's at least a possibility. I think it also is possible the Panthers will play hardball with Peppers and not trade him. It would be awfully tough for him to sit out a year, especially when there's $17 million at stake.
---
Norm in Winston-Salem writes: Do you think there is any chance that the Panthers would take a look at Kyle Boller? I've heard nothing about him with anyone this offseason. He has HUGE upside, he's only 27 and probably could be brought in with an incentive-laden contract if and when the Panthers trade Peppers. Any thoughts on this?
Pat Yasinskas: Glad you asked that question. I know for a fact that some members of the Carolina front office have been high on Kyle Boller for a long time. I agree he's got upside. It also seems like he's not getting a lot of interest on the open market. This might be one to keep an eye on. Boller's price tag is likely to drop and the Panthers could get him at a reasonable price if he continues to sit out there. Keep an eye on this one.
---
Sam in Newport News writes: Pat, I'm scared for my panthers this year! I have a feeling there going to struggle to go 8-8. Tell me why i feel this way?
Pat Yasinskas: I understand your fears. The Panthers haven't done much to improve their roster so far and the Peppers situation is not a pleasant thing. But I'll try to bring your spirits up by telling you this offseason's far from over. The Panthers still will make some moves and the Peppers situation will play out. You've still got plenty of pieces in place from a 12-4 team. But one thing to be concerned about is the fact John Fox has never put together back-to-back winning seasons.
---
Stoney in Winston Salem writes: I keep hearing rumors about Michael Vick coming to Carolina. Given the QB situation what are the chances Vick plays WR opposite Steve Smith. As I remember 11 guys had trouble containing Vick breaking it down to a sfaety and a corner just seems like a proper fit.
Pat Yasinskas: One thing I can tell you with absolute certainty is that Michael Vick will not play for the Carolina Panthers. Owner Jerry Richardson has been burned by off-field problems (see Kerry Collins and Rae Carruth) in the past and he feels very strongly about no longer taking chances with guys who have had off-field issues. It's just not going to happen. Vick will play in the NFL somewhere, but it won't be in Carolina.
March, 7, 2009
3/07/09
4:34
PM ET
Posted by ESPN.com's Pat Yasinskas
It's shaping up as a very quiet weekend in the NFC South. No visits or imminent signings that I'm aware of at the moment. That could always change, but indications are it will stay quiet until Monday.
But that hasn't stopped you from filling up the mailbag. So let's take a look at some of your questions.
Brent in Bozeman MT writes: Hey love the info Pat Two questions, Do you really think Jamaal Anderson is a bust, if i remember right it took him three years to make any noise in college he had like 3,8,then 11 sacks his junior year, plus it took Roddy White, Jenkins, even Chauncy Davis three years to make any noise, Second question i believe you said we were some where around 25 million under cap is that included the horrible Vick contract or not since he is suspended.
Pat Yasinskas: Although a lot of Falcons fans are ready to give up on Jamaal Anderson, the coaching staff isn't. There's still a lot of untapped talent and the Falcons are hoping the proverbial light comes on in Year Three. But I also think the Falcons believe Chauncey Davis could be ready to take over as the starter if Anderson doesn't step up. The Falcons had about $20 million in cap room at the start of free agency. Don't have an exact update for you, but that figure has dropped with the re-signing of some of their own players. Michael Vick's contract doesn't count against the cap as long as he's suspended. If he's reinstated, he'll start counting and there's still about $15 million in pro-rated bonuses that have to be accounted for.
---
Devin in Dallas writes: I feel like the Bucs are making some great additions to the team but I still feel uncomfortable with Luke McCown under center...is there any chance the Bucs can get solid QB to lead the team for years to come?
Pat Yasinskas: A lot of Tampa Bay fans share your uncertainty about Luke McCown and that's very understandable because he's barely played. But the Bucs have seen him in practice for several years and they must feel good about him if they re-signed him. That said, they're not done at quarterback. The Broncos have said they're not trading Jay Cutler, but you never know if that could change. There are some decent free agents remaining (Rex Grossman, Kyle Boller, etc.) and drafting a quarterback is certainly a possibility. From what I know, the Bucs will add another quarterback to the mix at some point.
---
Ian in Atlanta writes: Pat, Great job with the nfc south blog. I'm a big Falcons fan, and its been killer in the past getting one article every month or so about them in the offseason (usually negative). This offseason, they haven't done much at all, but you've done great keeping us fans fed on any updates, i especially love when you let us know they aren't interested in certain big name free agents because fans always wonder about those big name guys for the preseason hype if anything, even if they are washed up i.e. roy williams, T.O. I know you said the Falcons are going young on D this year, but any chance they will pick up a couple veteran back ups/starters out of the recently cut FA's?
Pat Yasinskas: The Falcons have been very clear that they want to continue building through the draft and there's no reason to doubt that. I don't see them pursuing any of the big-name free agents still available. But I think you could see a veteran or two added to the defense later on. I'm talking after the draft, when the Falcons see what exactly they have to work with and where there might be some holes. I don't think it will be anything dramatic and you won't see them signing any 35-year-olds, but it wouldn't hurt to bring in a little bit of experience and leadership.
---
Trevor in Hickory NC writes: Pat do you think the panthers would use their 2nd round pick on a QB? if so what do you think about Josh Freeman?
Pat Yasinskas: I have a tough time seeing John Fox and Marty Hurney using their second-round pick on a quarterback. They have long been believers that it takes too long for a rookie quarterback to develop. They don't have a first-round pick this year (at least as of now) and they've got some other needs to fill. I do like Josh Freeman, but I think he'll go in the first round.
---
AD in Raleigh writes: So its been relatively quiet here in Carolina during the first parts of FA, but now Holt says he wants out of St. Louis. He is an NCSU alum and he already said he would like to play here so what are the odds that Carolina can get something done? I think if it's possible, he would be a great fit and he would make Carolina's offense even better. How crazy would it be having that kind of running game AND Smith across from Holt?
Pat Yasinskas: Don't rule this one out. Like you said, Torry Holt has Carolina ties. The Panthers also have a history of bringing in players from the Carolinas (Stephen Davis, Ricky Proehl). The Panthers don't have a lot of cap room to work with, but Holt might come at a reasonable price. Keep an eye on this one.
---
Mookie in parts unknown writes: Hey Pat, 2 quick questions, Have you heard about any team showing interest in Lance Moore and has he been in any serious talks with any of them ? I'd hate to lose him. Also, It seems like the Saints and Gerald Sensabaugh talks has come to a stand still, Is he entertaining other options, Or are they crunching the numbers with him and his agent?
Pat Yasinskas: I haven't heard any rumblings of any teams making an offer to restricted free agent Lance Moore. That could happen, but I don't think you have to worry too much about this one. The Saints would have the chance to match any offer (and get a second-round pick if Moore goes elsewhere). But I think the Saints like Moore a lot and will do what they have to do to prevent him from going anywhere. They also may still be looking at signing him to a long-term contract. As for safety Gerald Sensabaugh, the Saints had him in for a visit this week. They also had safety Darren Sharper in. I think both remain possibilities and there could be some movement in that area next week.
---
Mark in Covington, LA writes: Do you think the Saints really believe Dan Morgan is the answer to weak side linebacker?
Pat Yasinskas: Mark, let me start by saying I covered Dan Morgan throughout his career in Carolina and he truly is one of the best human beings in the league. When Morgan was healthy, he was one of the best linebackers I've ever seen. Sadly, we all know Morgan had lots of problems staying healthy and that's always going to be a
concern. But when Morgan told me he was ending his retirement, he said he feels better than he has at any point since he came into the league and that's a good sign. I don't think the Saints can put all their eggs in one basket here. But, if Morgan can stay healthy and give them a full season, it would be a huge boost for that defense.
January, 16, 2009
1/16/09
12:00
PM ET
Posted by ESPN.com's Pat Yasinskas
In a tavern about three miles from Charlotte's Bank of America Stadium in the wee hours of Sunday morning, a plan was hatched to fix the Carolina Panthers.
"This team's never going anywhere this way," one despondent fan said to another. "What this team needs is Matt Ryan at quarterback and Bill Cowher as coach.''
Umm …
| | |
| --- | --- |
| | |
| | Chris Keane/Icon SMI |
| | Following Jake Delhomme's six-turnover meltdown against the Cardinals, the Panthers may consider other options at quarterback. |
The Atlanta Falcons are going to just take Ryan, perhaps the best rookie quarterback ever, hand him to their division rivals and say, "Here, you take him"? Or Cowher, who has given every indication he won't return to coaching this year, is suddenly going to change his mind? Besides, does anybody think the Panthers would fire coach John Fox, who still has two years left on his contract, after a 12-4 regular season?
Yeah, like that's all going to happen.
Maybe the knee-jerk reactions that were flowing in the immediate aftermath of Saturday's 33-13 playoff loss to the Cardinals have faded a bit by now. Sure, this particular fan's thoughts were a wild exaggeration. But you have to wonder if the Carolina brain trust might be thinking about a scaled-down version of the plan.
Fox isn't going anywhere, but after perhaps the most disappointing loss in franchise history, there might still be a scapegoat. Defensive coordinator Mike Trgovac could be a candidate, but the biggest question facing the Panthers is what to do about quarterback Jake Delhomme.
His five interceptions and one lost fumble against the Cardinals formed the kind of game that can cause a quarterback -- even a quarterback who has taken a team to the Super Bowl, like Delhomme -- to lose his job.
Fox defended Delhomme immediately after the game, but Fox always defends his players. The coach took some down time this week and so did general manager Marty Hurney. You have to wonder if their thinking might change a bit after they've had time to clear their heads, or if they might even get some pressure from management to make a change.
It's too early to tell what Fox and Hurney will decide, but the way I see it, they have four options:
1. Dump Delhomme and go out and get a free agent who won't throw five interceptions and will win big games. Sounds easy enough on the surface, but take a look at the list of proven quarterbacks who might be available. Scratch Donovan McNabb, Kurt Warner and Matt Cassel off the list. Even though they're scheduled to become free agents, their current teams aren't going to let them go.
There's not much else out there. But keep in mind, the Panthers once took a huge leap of faith when they signed Delhomme, who was an unknown when they signed him in 2003. There long have been rumblings that the Panthers always have liked Baltimore's Kyle Boller, who will be on the market and probably won't command ridiculous money. That's important because the Panthers aren't going to have a lot of cap room, even though they could clear up more than $6 million if they released Delhomme before he gets into the last year of his contract.
Or they could go out and try to trade for Cleveland's Derek Anderson. But there's no guarantee that Boller or Anderson would be an overall upgrade from Delhomme.
2. Dump Delhomme and draft a quarterback. Again, it sounds like a nice idea, but you need to look at reality. The Panthers don't have a first-round pick this year because they gave that up in last year's draft to get tackle Jeff Otah. Also, keep in mind, Fox and Hurney long have had a philosophy that it's not worth drafting a quarterback early because they take too long to develop.
Fox and Hurney almost always play by the book and the book says you don't make a 12-4 record by taking a rookie quarterback, drafted in the second round or later, and instantly make it better. If the Panthers do draft a quarterback it will be a guy who is a project and Fox and Hurney don't have time for projects.
| | |
| --- | --- |
| | |
| | Rex Brown/Getty Images |
| | After David Carr's struggles in Carolina, the Panthers may be wary of bringing in another veteran challenger to Delhomme. |
3. Keep Delhomme, but bring in a quarterback to compete with him. This is a bit of a risky proposition because Delhomme is enormously popular in the Carolina locker room and team chemistry could be hurt if he's got a challenger and ends up on the bench. Besides, with Delhomme around, chances are it would be real hard for a free agent or a rookie to beat him out in training camp.
Delhomme's going to look good in that setting because he knows the offense and a challenger would take time to learn it. The Panthers sort of made a similar move in 2007, when they signed David Carr and that turned out to be an utter disaster.
4. Stay the course. This might be the least-appealing route to Carolina fans. But it also might be the route Fox and Hurney most likely will follow. They've got Josh McCown and Matt Moore as their backups and all indications are they like both (with McCown higher on their list because he's got a fair amount of starting experience).
Maybe the Panthers saw enough out of McCown in practice that they feel like they at least have a solid alternative if Delhomme struggles in camp or early next season.
None of that's going to excite Carolina fans like the pipedream about Ryan. But all Fox and Hurney have to choose from are the realistic options that are on the table.
November, 19, 2008
11/19/08
4:00
PM ET
Posted by ESPN.com's Pat Yasinskas

Delhomme
I doubt this is the player any quarterback wants to be compared to, but, if you want to put Jake Delhomme's past two games into perspective, Kyle Boller is the measuring stick.
According to our friends at ESPN Stats & Analysis, Carolina's Delhomme is the first quarterback to start and play two straight complete games, throw for less than 100 yards in each and still win both since Boller did it in Baltimore in 2004.
For those who might not get the "Mendoza'' reference in the headline it's about light-hitting baseball player Mario Mendoza from the 1970s with a batting average often lower than his weight.
Here's a look at Delhomme's last two games:
Record as starter: 2-0
Pass YPG: 85
Completion percentage: 37.0 (17 for 46)
TD/Int: 2/4