January, 31, 2010
1/31/10
1:00
PM ET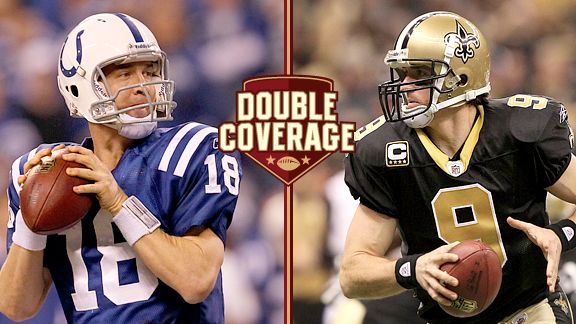 Getty ImagesPeyton Manning and Drew Brees lead two of the most powerful passing attacks into Super Bowl XLIV.
The Colts and Saints arrive in Miami on Monday, when the hype for Super Bowl XLIV will kick into high gear.
Eager to do our part, we locked NFC South blogger Pat Yasinskas, who analyzes the Saints for ESPN.com, and AFC South blogger Paul Kuharsky, who tracks the Colts, in a room and asked them to talk through several of the top issues.
We're sure to revisit many of them in the week to come, so consider this a tasty platter or appetizers. Tuck a napkin in your collar and dive in.
How much of a factor is it that the Colts have a recent Super Bowl championship on their resume, while this is the first Super Bowl appearance in a not-so-glorious franchise history for the Saints?
Pat Yasinskas:
I'm not going to even try to bluff my way through this one or downplay this aspect. This is a huge factor and the Saints are clearly at a disadvantage here. By my count, they've only got four players who have even appeared in a Super Bowl (with other teams, of course). That's safety
Darren Sharper
, cornerback
Randall Gay
, fullback
Kyle Eckel
and long-snapper
Jason Kyle
. Gay is the only one of those guys with a Super Bowl ring.
If you really want to pad the list, I suppose we could throw in tight ends
Jeremy Shockey
and
David Thomas
, who were on the injured-reserve list when their teams went to Super Bowls, and fullback
Heath Evans
, who went to a Super Bowl with New England. But Evans won't play in this one because he's on injured reserve. That's it. Not a long list of guys who have been there and done that.
The Saints haven't been here before, but they have to act as if they have. They've got strong veteran leadership in players such as Sharper,
Drew Brees
and
Jonathan Vilma
. They'll have to follow their lead. Just as important, the coaching staff has to set the tone that the Saints shouldn't stroll into Miami with their eyes wide open. They need all eyes focused only on winning the game.
Paul Kuharsky:
I'm not expecting the Saints to be overwhelmed or unfocused by the hype or events of Super Bowl week. They were smart to get their game plan drawn up and installed during the week after winning their conference, same as the Colts did.
It's Super Bowl Sunday itself that can prove to be the big difference. It's great to have people tell you about the unnatural start time, the long delay between warm-ups and pregame festivities and the extended halftime to make room for The Who. It's another thing to go through it yourself. Edge: Colts. Not only have they done it, they've done it in this very venue.
I also think the adrenaline that shoots through guys when kickoff finally arrives can make it hard for them to settle down. Indianapolis will be better prepared for that, and if the Colts settle down more quickly than the Saints, New Orleans has to hope by the time its feet hit the ground it's not facing a two-score deficit.
Understandably, the first thing people talk about with these two teams is the passing game. But both the Colts and the Saints can run the ball a little bit. Which team has the better running game?
[+] Enlarge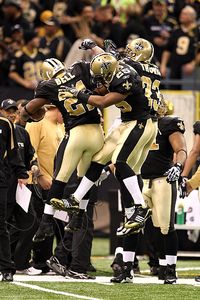 Scott Cunningham/Getty Images Mike Bell, left, Reggie Bush and Pierre Thomas are part of a running game that balanced New Orleans' offense.
PY:
I'm going with the Saints. People tend to overlook their running game, but it's a big reason why they're in the Super Bowl. One of the best things Sean Payton did in the offseason was realize his running game was inconsistent and just plain bad last year. He made a conscious commitment to make the running game better this year and the most impressive thing might be that he and general manager Mickey Loomis were able to avoid the temptation to go out and sign
Edgerrin James
or draft
Beanie Wells
.
They realized they already had some good backs in the building with
Pierre Thomas
,
Reggie Bush
and
Mike Bell
and they added
Lynell Hamilton
for a bit of depth. They had a good offensive line already in place, and Payton altered his play calling to have a more balanced offense that allowed the Saints to protect leads and run out the clock.
New Orleans doesn't have one dominant back. Thomas can do a bit of everything, Bush provides speed and a receiver out of the backfield and Bell and Hamilton give the Saints some power. This makes for a very solid combination.
PK:
I like the Saints' running game better as well, but as we've discussed thoroughly in the AFC South blog this season, the Colts aren't looking for conventional production in this department. They need their runners to pick up blitzes, put together some efficient runs, work well in play-action, and not put the team in bad spots with runs for losses. The home run plays are far more likely to come out of the passing game.
It's important to note that the Colts, the NFL's lowest-rated running team in the regular season, just out-rushed the Jets, the league's top ground game, in the AFC title game. Indy has survived a lot of quality running backs too, including the Titans' explosive 2,000-yard runner
Chris Johnson
. While he torched the rest of the league, averaging 5.8 yards a carry, he managed 4.1 and 147 total rushing yards against the Colts in two Tennessee losses.
The Colts may give up some yards, but overall they are more than capable of containing Thomas, Bush, Bell and Hamilton well enough to win.
The quarterbacks are obviously the marquee names in this game and they will be dissected all week.
PK:
I have a great deal of appreciation for Drew Brees, but even if he wins this game, we're not going to be calling him
Peyton Manning
's equal. Both quarterbacks are excellent leaders. Both are supremely accurate. Both have a quality stable of weapons.
But things begin to stray from there. Manning has four MVPs, including this season's, and he won it over Brees, who finished second. Manning has a lot more big-game experience and a title on his resume. And while he wasn't always at his best on the playoff stage, he's playing at a level right now where a lot of people feel, reasonably it seems, that he may just be unstoppable.
In the AFC Championship Game, against the Jets and the NFL's top-rated defense, he needed some time to figure out what New York was trying to do. Once he did, he shredded the Jets with 377 yards and three touchdowns. His in-game adjustments, with help from coordinator Tom Moore, are unparalleled. And like a lot of defensive coaches before him, Gregg Williams
is talking about
sending people at Manning and hitting him. These days, it very rarely works out the way against Manning and the Colts, as it did against
Brett Favre
and the Vikings.
PY:
Paul, let me start by saying I respect the heck out of Manning and all he has achieved. He is a first-ballot Hall of Famer and, quite possibly, the best quarterback ever. And I'll gladly agree that he probably is playing at his highest level ever right now.
That said, why can't we call Brees his equal if the Saints win this game? Seriously, I believe the only thing really separating Brees and Manning right now is a Super Bowl ring. Look at Brees' numbers the past few years. He's right there with Manning. I honestly remember watching him in training camp last year and thinking, "This guy is the closest thing to Peyton Manning I've ever seen'' and Brees has only continued to improve since then. He has carried a franchise on his shoulders and that franchise is the
New Orleans Saints
-- enough said about that.
As for the MVPs, that's a wonderful thing. But I think some of that is overrated and the Manning name carries a lot of weight in elections. I'm not trying to tear down Manning at all. But I think you have to at least let Brees in the same sentence if he can win this game. I'll offer a compromise here. If the Saints win this game, can we at least say the two best quarterbacks in the league are from teams in the South?
PK:
Well, beyond four MVPs to none, if the Colts win Manning will be up two Super Bowls to none, and while he's only three NFL seasons ahead of Brees he has led his team to the postseason 10 times to Brees' three. Lots of cushion there in my eyes. But I'll go with you on the South divisions ranking one and two if Brees gets his hands on that Lombardi Trophy.
We talked quarterbacks, of course we have to talk pass rushes. How much will the guys chasing Manning and Brees influence this game?
PK:
For a long time the Colts' defense was at its best when the offense got a lead and made the opponent one-dimensional. That did a lot to get the run game out of the mix against a defense keyed around speed, not size, and put
Dwight Freeney
and
Robert Mathis
in those maximal pass-rushing situations.
It doesn't have to be that way now. This version of the Colts is still fast, but the defense is a bit bigger with
Antonio Johnson
and
Daniel Muir
manning the middle of the line. It has a second big-hitting linebacker in
Clint Session
to go with
Gary Brackett
and boasts defensive backs who can come up and hit as well as run and cover.
Jon Stinchcomb
(against Mathis) and
Jermon Bushrod
(against Freeney) will be dealing with some serious speed. If
Freeney's ankle injury
holds him out or limits him, that will hurt. Raheem Brock is a quality third end, but he won't necessarily prompt the Saints to help Bushrod with a tight end or back, so the vaunted Saints passing attack may not have to sacrifice a weapon in protection. If the Colts bring a fifth rusher to help, as they have much more often in Larry Coyer's
first season
as their defensive coordinator, the timing up front can get all out of whack no matter who's at end.
If either defense can prompt some happy feet, it could be an edge.
PY:
Absolutely. The pass rush is going to be a deciding factor in this game for both teams. No doubt Indianapolis has a great pass rush and that's a challenge for the entire New Orleans offense, particularly Bushrod. He is a backup who has been forced to play all season because of an injury to
Jammal Brown
.
Bushrod has his limitations. But he has held up all right against players such as
Julius Peppers
and
John Abraham
.
DeMarcus Ware
has been the only guy to really tear him apart. Admittedly, a lot of that has to do with the rest of this offense more than it does with Bushrod's skills. The Saints account for him on every play and they've been able to cover him because the rest of their offensive line is so good. They've given him help from tight ends, fullbacks and running backs and the offense is designed so that Brees rarely takes deep drops and he gets rid of the ball very quickly. Plus, it's tough to fluster Brees.
Sure, it's tough to fluster Manning too, but that's not going to stop the Saints from trying, and their pass rush is better than a lot of people think. Defensive end
Will Smith
is one of the most underrated players in this game and Bobby McCray's a pretty good pass-rusher too. With
Sedrick Ellis
and
Anthony Hargrove
, the Saints are capable of getting a push in the middle and Gregg Williams is not afraid to bring the blitz -- although I don't see him doing it a lot in this game. The Saints beat up Favre and
Kurt Warner
in their two playoff games. I know Manning is seen as sacred by a lot of people, but I don't think Williams and the New Orleans defense view him that way.
PK:
However it unfolds, I root for a classic. We should have good seats, I want the good storylines too.
PY:
I'm with you my friend. Nothing better than the Super Bowl -- good football, good weather and good entertainment. Remember how great Bruce Springsteen's show was at halftime last year? Oh, that's right, you didn't make it. Hope The Who helps make up for that.
PK:
Could be another tricky day for you and the team you're following. But it'll be fun to join together to see how it unfolds.
December, 22, 2009
12/22/09
4:59
PM ET
Just sent a story over to our news side on the Saints cutting kicker
John Carney
.
This is really not a big surprise because it seemed unlikely the Saints would carry two kickers on their postseason roster, even though they had been doing it all season. The release of the veteran Carney is confirmation the Saints are committed to
Garrett Hartley
, who has taken over the kicking duties in the last three games.
Hartley had been targeted to be the kicker for the entire season. But the Saints went out and signed Carney when they learned in August that Hartley would be suspended for the first four games for taking a banned substance that he said was a stimulant to keep him awake during a long drive.
Even after Hartley was reinstated, the Saints took the conservative approach and stayed with Carney. But coach Sean Payton implied that Hartley was outkicking Carney in the weeks leading into the switch.
The Saints made a couple of other roster moves Tuesday, signing fullback
Kyle Eckel
, who appeared in five games for them earlier in the year, and safety
Herana-Daze Jones
, who previously has been with the Bengals and Broncos.
December, 9, 2009
12/09/09
2:24
PM ET
So much for the theory, held by some New Orleans fans, that practice-squad quarterback Chase Daniel was a project with the potential to develop into the next
Drew Brees
.
Obviously, the Saints didn't see it that way as they released Daniel from the practice squad Wednesday. Don't rule out the possibility of Daniel returning to the practice squad at some point to help run the scout team. But leaving Daniel out there for any other team to grab isn't exactly a sign that the Saints have any real plans for the young quarterback.
Daniel's release was one of a series of minor transactions the Saints made Wednesday. To fill Daniel's spot on the practice squad, the Saints signed linebacker Prince Kwateng. He's a rookie from Northwestern, who spent the last few months in the United Football League.
In other moves, the Saints signed fullback Marcus Mailei off Philadelphia's practice squad and linebacker
Anthony Waters
from Buffalo's practice squad. Both players go straight on New Orleans' 53-man roster. The Saints also released fullback
Kyle Eckel
.
November, 30, 2009
11/30/09
7:29
PM ET
November, 1, 2009
11/01/09
6:05
AM ET
Posted by ESPN.com's Pat Yasinskas

Time to turn our attention to the undefeated New Orleans Saints as we continue our series of team-by-team mailbags.

Robin in Independence, Kansas writes: I need your input. Charles Grant.. how is he this year? I got a friend that tells me he is terrible this year and owes everything to Ellis... I look at his 4 sacks, and say he is doing great...What are you thoughts? I greatly appreciate your input.

Pat Yasinskas: Probably somewhere in between great and terrible would be a fair answer. I'd point the dial a bit closer to good. As a defensive end, Grant is judged largely by sacks and four is a pretty decent number through four games. Grant has also played the run all right. Yes, part of his success has been due to help on the line from Sedrick Ellis. But we're about to find out what Grant can do without Ellis, who will be out with an injury for Monday night's game. Bottom line: Grant's been called an underachiever the last few years. I don't think that tag fits what he's done this season.


---
Graham in New York writes: Breakout game for Bush? When does he hit over a hundred rushing? There will be a game. I think it's this Monday.

Pat Yasinskas: I would never rule it out, but the Saints aren't giving Bush a lot of carries this year as Mike Bell and Pierre Thomas have shared most of those duties. I don't expect that to change. I still think Reggie Bush will make a difference in a couple of games, but you can't measure him like a traditional running back. He's a combination of a running back, return man and receiver and he's capable of big plays in any of those roles.


---
Evan in Baton Rouge writes: Pat, I was talking to a buddy of mine and came up with this realization. The Saints have a ton of starters who were unwanted by other teams. There are 10 unrestricted free agent signed players, four undrafted free agents, and a 7th round pick of the 22 starters. Some notable names include: Drew Brees, Pierre Thomas, Darren Sharper, Jeremy Shockey, Jonathan Vilma, and Marques Colston, who are all having Pro Bowl-caliber seasons. Lance Moore, Mike Bell, Randall Gay, Jabari Greer, Scott Fujita, Scott Shanle, Jamar Nesbit, Kendrick Clancy, Jonathan Goodwin, and Kyle Eckel (who's replacing free agent signee Heath Evans) were all waived by their former teams or looked over in the draft. This team is made up of players nobody wanted and now nobody wants to play us. WHO DAT!

Pat Yasinskas: Good point. Kudos to Mickey Loomis and Sean Payton for putting this group together.


---
Alan in New Orleans writes: Pat, just hit the wire that Saints have lost Heath Evans for the year and have added Kyle Eckel to the roster in his place. This could be a big blow for a running game that had finally found its rhythm. Do you know anything about Eckel? Should Saints fans expect a big downturn in rushing or pass protection?

Pat Yasinskas: I don't know much about Eckel, but I do know Evans was playing a big role for the offense. There's going to be a drop-off any time you have to start a guy who wasn't even on the roster a week ago. But I think Payton's such a good offensive coach that he can minimize the impact. I also think there's a chance you could see some of Bell and Lynell Hamilton at fullback.


---
Jim in Ocean Springs, Miss. writes: When giving your NFC South pro bowl picks, you left out one obvious Saints-CB J. Greer.

Pat Yasinskas: All right, I'll give you that one. Jabari Greer is having a very nice season and is a big part of the reason the Saints were able to turn around their defense. I'll give you my permission to vote for Greer for the Pro Bowl. I'll also give him the nod as the best cornerback in the NFC South, although the competition isn't exactly stellar.


---
Jake in San Diego writes: I definitely think that Darren Sharper should be looked at for the Defensive Player of the Year. Through 6 games, he has 6 interceptions with 3 touchdowns. He has as many touchdowns as every offensive player on the roster with the exception of Marques Colston. And not to mention, without penalties involved he would actually have two more interceptions and one more TD on the stat sheet. He has made a case for himself, and without another tackle or interception, he has already reserved a seat on a flight to the pro bowl.

Pat Yasinskas: Yep, I'm with you. Sharper's been outstanding and would get my vote as Defensive Player of the Year if I were voting today. And, yes, I think he's a safe bet for the Pro Bowl, unless of course the Saints are in the Super Bowl. The Pro Bowl's being held the week before the Super Bowl this year and teams that are still playing will, obviously, be busy. Also, this season's Pro Bowl is in Miami and not Honolulu.