NFC South:

Kyle Vanden Bosch
October, 25, 2011
10/25/11
1:00
PM ET
»
NFC Stock Watch
:
East
|
West
|
North
|
South
»
AFC
:
East
|
West
|
North
|
South
FALLING
1. Aqib Talib, cornerback, Buccaneers.
He was called for a costly personal foul in the final minutes. Talib's had problems controlling his emotions throughout his career and that doesn't seem to be improving. The Bucs have gone out of their way with Talib because he is a rare physical talent. But their efforts have rarely been rewarded this season. In the past, Talib's physical talent often outweighed his mistakes. This season, that hasn't been the case.
2. Raheem Morris, coach, Buccaneers.
His team has been wildly inconsistent all season. One week, the Bucs go out and play great against the Saints. The next, they're flat as can be against the Bears. Tampa Bay is a very young team and inconsistency should be expected. But it's ultimately up to the head coach to get his team to play with consistency. The Bucs haven't shown any progress in this area.
3. Sam Baker, left tackle, Falcons.
He sat out with a back injury.
Will Svitek
filled in and did not allow a sack to
Kyle Vanden Bosch
. Baker's been shaky most of the season. It will be interesting to see what the Falcons do at left tackle coming out of their bye week.
RISING
[+] Enlarge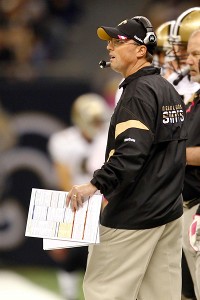 Derick E. Hingle/US PresswireOffensive coordinator Pete Carmichael had a very successful debut as the Saints' playcaller.
1. Pete Carmichael, offensive coordinator, Saints.
With Sean Payton nursing his injured leg up in the press box, Carmichael got to call the plays for the entire game for the first time in his career. He obviously did pretty well as the Saints scored on their first nine possessions. Carmichael has kept a low profile and he's a quiet guy. But he's known and respected throughout the league. It looks like he'll continue calling the plays for some time. That should only raise his profile and his name could start coming up in some conversations about head-coaching jobs.
2. Antwan Applewhite, defensive lineman, Panthers.
This guy was a late pickup for the Panthers after they suffered a number of injuries on the defense. Coach Ron Rivera had history with Applewhite in San Diego. But this guy is contributing much more than you'd expect from a guy who was signed off the street just a few weeks ago. Against the Redskins, Applewhite had a sack, forced a fumble and made five tackles.
3. Corey Peters, defensive tackle, Falcons.
The second-year pro has quietly been Atlanta's best defensive lineman. He was stout against the run last season, but his skills as a pass-rusher have improved this year. That showed through Sunday when he came up with a third-quarter sack that stalled a Detroit drive and forced the Lions to kick a field goal.
August, 23, 2008
8/23/08
12:51
AM ET
Posted by ESPN.com's Paul Kuharsky
ATLANTA -- Jeff Fisher showed the Titans tape of the Falcons' first two preseason games and warned his guys that Atlanta would take things beyond the whistle tonight.
According to several Titans, it panned out over the course of a 17-3 loss just as Fisher predicted.
Defensive back Vincent Fuller was on the receiving end of a knee from tackle Todd Weiner in the first quarter that drew an unnecessary roughness call -- one of nine penalties for 101 yards assessed against Atlanta. The Titans had eight for 62.
"They just do a lot of cheap stuff," Fuller said. "Some of it is in between the whistle, but a lot of it is at the end of the play. If you're standing near a pile, offensive linemen will come and clean you from behind. They're blocking high then somebody else is chopping low. Some of it is illegal but it doesn't get called. A guy today took me to the ground, but instead of the play being over he put a knee on me. There was a lot of unnecessary stuff that we saw that they were doing that we knew we couldn't allow."
Atlanta coach Mike Smith was not happy about how far his players took the tone-setting at times.
"There are a lot of guys who are trying to impress coaches about their passion for the game and how hard they want to play," he said. "We had entirely too many personal foul penalties. It will be interesting to watch the tape. We've got to address that. It's a lot easier to address when you come out with a win."
Titans safety Michael Griffin got called for holding on a first-quarter punt return, and he wound up with his helmet pulled off. He tussled with Daren Stone and had to be restrained. Vince Young was among the players pulling him off the field and trying to settle him down.
Griffin said Stone crossed a line.
"He got my dreads, just pulled my hair," Griffin said. "That got me fired up, pulling my hair, man. My helmet got knocked off and then he grabbed my hair. That's really all there was to it. Hair is fair game, my helmet was off, we got into a little pushing and shoving and pulling match and he pulled my hair.
"When it comes to that, somebody pulling your hair? Not cool. That's disrespect you know? I'm not going to pull on your hair. You've got a problem, don't pull on my hair. Girls pull on hair."
Stone had a different version of events, of course:
"He tried to hit me hard, so I retaliated," he said. "We were just competing and went at it a little bit. But we shook it up at the end. Everything is cool. He kind of has a reputation of latching on and trying to pull you down. That's what he tried to do to me, but everything was within the rules."
The Titans said they figured Atlanta's extracurricular activities were part of the transition to new coach Mike Smith's attitude.
"We came into this game seeing what they did earlier in preseason games, we kind of anticipated it," Kyle Vanden Bosch said. "They kind of do some backside blocks away from the ball, they'll take a shot on guys, pull guys to the ground. We kind of expected it. Our big thing, especially for the young guys on our defense, we weren't going to back down.
"You have to be smart, but at the same time you can't be afraid of things like that. Obviously it's something they're being coached to do. It can make defensive players timid and afraid, but that's not our style. I'm extremely proud of the way we played, the way we stood up, the way we reacted."
Said Fuller: "They have a new coach, he's trying to set a tone. Maybe they didn't play as physical a football as they wanted to last year. And they want to be known as a physical team with coach Mike Smith coming from Jacksonville, so they have a hard core physical attitude and he's just trying to instill that in his players. But there is a right way to go about that, and I don't think they are always going about it in the correct way."
Thankfully, correct way or incorrect way, the three state troopers who guarded the Titans' locker room door after the game were never required to intervene. Seemed like overkill to me, but I guess you can't be too careful.