April, 6, 2012
4/06/12
9:50
AM ET
Let's take a look at the Friday morning headlines from around the NFC South.
Jeff Duncan writes that it should come as
no surprise
that the Saints are painting former defensive coordinator Gregg Williams as a rogue coach in their bounty scandal. He's right. It was obvious from the start that head coach Sean Payton and Williams were not tight. Payton hired Williams as a desperate act. He needed someone to get production out of his defense. It worked well for one season and not so well for the final two. The whole time, Payton and Williams were clashing. But I have a tough time buying that Payton didn't know about the bounty program that ran for three seasons. Payton knows everything that goes on with the Saints. The NFL report announcing the punishments even expressly stated that assistant head coach/linebackers coach Joe Vitt was responsible for keeping an eye on Williams and letting Payton know what was going on with the defense.
Ashley Fox writes that Williams should
never coach
in the NFL again. I don't think you'll find many people willing to argue that point right now.
San Francisco receiver Kyle Williams was mentioned by Gregg Williams as a specific target for injury by the Saints. The receivers father, Kenny Williams, is the general manager of the Chicago White Sox and he
issued a statement
in which he said "it's probably best I'm never in a room with Gregg Williams."
Former Falcons coach Bobby Petrino has been placed on
administrative leave
by the University of Arkansas for not disclosing all the details surrounding his recent motorcycle accident.
After it was recently reported that LSU cornerback Morris Claiborne, a possible target for Tampa Bay at No. 5 in the draft, posted a low Wonderlic score, NFL commissioner Roger Goodell has told all 32 teams to
keep the scores confidential
or they could end up facing disciplinary action.
Louisiana-Lafayette tight end Ladarius Green recently
visited
with Tampa Bay. He also said he may visit with the Falcons and Saints. It's fair to say that all four NFC South teams could be looking to add a backup tight end in the draft.
New Orleans receiver Lance Moore said quarterback Drew Brees
should be signed
to a long-term contract soon. He's right. I know the Saints are dealing with some other things right now. But taking care of Brees and making him happy might be the most important move they can make this offseason.
The Buccaneers reportedly are showing
some interest
in free-agent defensive tackles Amobi Okoye and Derek Landri. It's pretty obvious the Bucs are simply looking for some depth in their rotation at defensive tackle. They already have Gerald McCoy, Brian Price and Roy Miller. But McCoy and Price have had injury problems, so it wouldn't hurt to add one more guy to the rotation and the price tags for Okoye and Landri aren't likely to be that high. The Bucs could make a move before the draft. But it also is possible they'll wait and see if Okoye, Landri or another defensive tackle with experience still is available after the draft.
April, 5, 2012
4/05/12
10:11
AM ET
There's a development in the Saints' bounty story,
and this one has people talking
.
Yahoo! first reported
about an incendiary speech former New Orleans defensive coordinator Gregg Williams made to Saints defensive players the night before his last game with the team, a playoff loss to San Francisco in January. A documentary filmmaker, who is working on a film on former New Orleans player Steve Gleason, taped the speech and released it. ESPN's Mike & Mike talked
about it
this morning.
There are comments from Williams that are going to cause a big stir. Here are highlights:
"Kill the head and the body will die. We've got to do everything in the world to make sure we kill
Frank Gore
's head. We want him running sideways. We want his head sideways.''
"We need to find out in the first two series of the game ... that little wide receiver, No. 10 (
Kyle Williams
), about his concussion. We need to [expletive] put a lick on him right now.
"[Receiver
Michael Crabtree
] becomes human when we take out that outside ACL.''
You can make the case that this is simply a coach trying to fire up his players, and bounties aren't specifically mentioned.
[+] Enlarge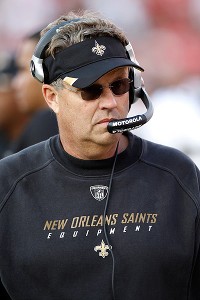 AP Photo/Paul SpinelliFormer Saints defensive coordinator Gregg Williams delivered a controversial speech before the team's Jan. 14 playoff game against the 49ers.
But, in light of all that's gone on, I don't see anything good coming out of this for the Saints or Williams. The one thing I'll defend Williams on just a little bit is the part about Gore's head. I don't think Williams told his players to injure Gore's head. He just told them to make Gore ineffective by getting him to run sideways. This is a common speech among coaches -- cut off a snake's head, the body will die. Still, it sounds terrible to be talking about a player's head, even in a figurative sense, considering everything that's going on with the Saints.
Other quotes are indefensible. On Kyle Williams, Gregg Williams clearly told his players to put a big hit on a player who previously had a concussion. On Crabtree, Williams told his players to take out the receiver's knee.
Keep in mind, these quotes were made about a week after the Saints were told the NFL was re-opening its investigation into a bounty program that New Orleans had been told to stop. That's very significant, because it shows the Saints never stopped, even after multiple warnings. Also, these quotes are coming to light on a day when New Orleans coach Sean Payton, general manager Mickey Loomis and assistant head coach Joe Vitt are having their appeals heard by the NFL.
I think there's a good chance the NFL already heard Williams' speech. It probably came up in the NFL investigation of the bounty program. If it didn't, it's now public, and it certainly doesn't reflect well on Williams or the Saints.
Williams already has been suspended indefinitely; the former defensive coordinator can have his status reviewed next year. I think the latest developments decrease the chances of Williams coaching in the NFL again.
I also think that the chances of Payton, Loomis and Vitt getting their suspensions reduced on appeal aren't good.