October, 29, 2014
10/29/14
8:10
AM ET
TAMPA, Fla. -- With Tuesday's trade of safety
Mark Barron
to the
St. Louis Rams
, the
Tampa Bay Buccaneers
have only three of their own first-round picks left on the roster.
And one of those is defensive end
Adrian Clayborn
, who is on injured reserve. That leaves defensive tackle
Gerald McCoy
and rookie receiver
Mike Evans
as the only two first-round picks getting playing time.
Throw in guard
Logan Mankins
, defensive end
Larry English
and cornerback
Mike Jenkins
, who were drafted in the first round by other teams, and we've got a good stat.
According to ESPN Stats & Information, the Bucs have gotten a combined 1,699 snaps this season from players drafted in the first round. That's the third-fewest in the league.
Jacksonville (1,305) has the fewest and Oakland is second with 1,589. The Bucs, Jaguars and Raiders are a combined 2-20, so there must be something to be said for getting production out of first-round picks.
October, 10, 2014
10/10/14
5:21
PM ET
TAMPA, Fla. -- Both of the
Tampa Bay Buccaneers
' starting wide receivers are listed as questionable for Sunday's game against Baltimore. But don't go shuffling your fantasy team just yet.
Jackson
The signs were encouraging Friday as
Vincent Jackson
(ribs) and
Mike Evans
(groin) participated on a limited basis in Friday's practice. Coach Lovie Smith seemed optimistic Jackson and Evans will be able to play.
Smith wasn't as optimistic about safety
Dashon Goldson
(ankle) and linebacker
Jonathan Casillas
. They both have been ruled out for Sunday. Defensive end
Larry English
(hamstring) participated on a limited basis and is listed as questionable.
Center Evan Dietrich-Smith also is listed as questionable. Dietrich-Smith was ill Friday, but Smith said he is confident the center will play Sunday. Quarterback
Josh McCown
(thumb) is listed as doubtful.
Middle linebacker
Mason Foster
, who missed three games with a shoulder injury but has practiced fully three times this week, is listed as probable.
September, 26, 2014
9/26/14
4:07
PM ET
TAMPA, Fla. – The Tampa Bay Buccaneers' injury report is out and there are no surprises.
As expected, it looks like the Bucs will be without the quarterback of their offense and defense. Middle linebacker
Mason Foster
(shoulder) was declared out for Sunday's game at Pittsburgh.
Dane Fletcher
is expected to start in Foster's place for the second straight week. The Bucs also are listing quarterback
Josh McCown
(thumb) as doubtful, but all indications are that McCown won't play and
Mike Glennon
will start.
Defensive end
Larry English
(hamstring) also was declared out. Defensive end
Michael Johnson
(ankle) is listed as questionable.
The rest of the injury report is pretty encouraging. Running back
Doug Martin
(knee), defensive tackle
Gerald McCoy
(hand), tight end
Austin Seferian-Jenkins
, defensive end
William Gholston
(shoulder) and wide receiver
Vincent Jackson
(wrist) are listed as probable.
August, 30, 2014
8/30/14
7:26
PM ET
Most significant move:
The
Tampa Bay Buccaneers
took a leap of faith when they released kicker
Connor Barth
and decided to go with
Patrick Murray
. Barth was a proven veteran. Murray is an unknown. But Murray had an excellent preseason to win the job. Barth didn't look quite as sharp and didn't seem to have as much distance as he did before missing all of last season with a torn Achilles tendon. Barth also was scheduled to make more than $3 million this season. Murray will only cost the team $420,000.
Not so fast:
A lot of people were under the assumption running back
Jeff Demps
would make the roster because the Bucs were so infatuated with his speed. But Demps was released Saturday. The former Olympic sprinter was given every opportunity as a running back and a return man, but he never was able to make things happen in space. Still, Demps has rare speed and the Bucs likely will try to get him signed to the practice squad, where he might be able to develop into something.
What's next:
The Bucs likely aren't done with roster moves. They're likely to bring in some players who were released elsewhere. Depth at linebacker, safety and on the offensive line still could be priorities.
Bucs' cuts:
Released WR
Solomon Patton
, RB Jeff Demps, QB
Mike Kafka
, DT
Matthew Masifilo
, DT
Ronald Talley
, K Connor Barth, TE
Cameron Brate
, DE
Larry English
, G
Jamon Meredith
, DB
Marc Anthony
, LB
Nate Askew
, T
Edawn Coughman
, CB
Kip Edwards
, DE
T.J. Fatinikun
, CB
Anthony Gaitor
, LB
Ka'Lial Glaud
, CB
Keith Lewis
, LB
Brandon Magee
, OL
Andrew Miller
, FB
Lonnie Pryor
, DL
Ronald Talley
, S
Major Wright
and OL
Jeremiah Warren
.
August, 28, 2014
8/28/14
12:00
PM ET
The
Tampa Bay Buccaneers
(1-2) host the
Washington Redskins
(2-1) in the preseason finale for both teams Thursday night.
Three things to watch:
Mike Glennon:
The backup quarterback will get most of the action with the starters expected to play very little. Glennon hasn't looked sharp in his last two games, but that might be due in large part to some poor play from the offensive line. Glennon needs a strong performance to make the team more comfortable with him as the backup for
Josh McCown
.
Larry English:
The former first-round pick by San Diego recorded two sacks in the last preseason game. Although English was a bust with the Chargers, there's hope he can resurrect his career. Another strong performance by English could put him on the roster ahead of
Da'Quan Bowers
, who has missed much of the preseason due to an injury.
The backup offensive line:
Newly acquired
Logan Mankins
will not play and it's likely the other starters will sit or appear only briefly. The backup jobs remain very much up for grabs. Even though they were drafted, rookies
Kadeem Edwards
and
Kevin Pamphile
are on the bubble.
August, 23, 2014
8/23/14
7:38
PM ET
ORCHARD PARK, N.Y. --
Tampa Bay Buccaneers
coach Lovie Smith said earlier this week that he wanted to see more sacks and takeaways. Mission accomplished.
Tampa Bay's first-team defense forced three turnovers in Saturday's
27-14
victory against the
Buffalo Bills
at Ralph Wilson Stadium.
Lavonte David
forced a first-quarter fumble by
C.J. Spiller
that was recovered by
Mason Foster
. Tampa Bay's offense punched the ball in for a quick touchdown. Tampa Bay's offense was far from spectacular, but the defense more than made up for it.
The defense produced a touchdown of its own. As
Adrian Clayborn
sacked Buffalo quarterback
EJ Manuel
,
Michael Johnson
reached in and knocked the ball loose. Defensive tackle
Clinton McDonald
picked the ball up and ran it in for a touchdown with 8:21 left in the second quarter.
All of Buffalo's points came in the second half after Tampa Bay's starting defense had left the game. The Bucs held a 24-0 lead at halftime.
Some other observations:
Tampa Bay's offense hadn't been putting together long drives this preseason. That finally changed late in the second quarter. The Bucs had an 11-play drive that covered 82 yards and ended with a touchdown pass from Josh McCown to Mike Evans. That shows the Bucs can sustain a drive. But it's important to remember that we've seen only a very small sampling of coordinator Jeff Tedford's offense. The Bucs are saving most of that for the regular season.
I've got a feeling what we saw Saturday will be repeated a lot during the regular season. The Bucs played fantastic defense and were rather ordinary (but opportunistic) on offense. That's not flashy, but that fits Smith's philosophy perfectly.
Smith said he wanted to take an early look at recently acquired defensive end Larry English. He did, putting English into the game early. He responded with two sacks. The former first-round pick by San Diego still faces an uphill battle to make the team but might be gaining ground on Da'Quan Bowers, who missed the game with a groin injury.
Smith said he wanted to play his starters into the third quarter. He did play his starting offense into the second half, with one notable exception. Backup quarterback Mike Glennon replaced McCown to start the third quarter. That was a smart move. With the offensive line still a work in progress, there's no sense in exposing McCown to possible injury before the regular season starts.
Linebacker Jonathan Casillas did not play for the Bucs. He was held out for a disciplinary reason, according to a team official. Danny Lansanah got the start in his place and played well. Lansanah has had a strong preseason and appears to have secured a roster spot.
August, 22, 2014
8/22/14
9:00
AM ET
TAMPA, Fla. – The
Tampa Bay Buccaneers
didn't get a lot out of the 17
th
overall pick of the 2009 draft. Maybe they'll get more out of the 16
th
pick.
The Bucs used the 17
th
pick in the draft on quarterback
Josh Freeman
. His career fell apart last season during a well-publicized feud with former coach Greg Schiano. Very quietly last week, the Bucs acquired the guy that was taken one pick ahead of Freeman.
That was
Larry English
. A defensive end at Northern Illinois, the
San Diego Chargers
drafted English with the intent of using him at outside linebacker. The position switch and injuries helped prevent English from ever producing anything close to what the Chargers had hoped. San Diego gave up on English just before the start of training camp.
[+] Enlarge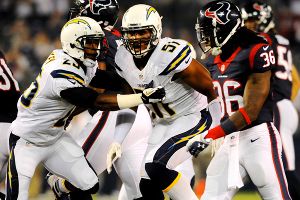 Christopher Hanewinckel/USA TODAY SportsLarry English (center) signed with Tampa Bay after five seasons with the San Diego Chargers.
English said his arrival in Tampa Bay represents a fresh start.
"I feel rejuvenated," English said. "I feel excited about this opportunity. In a lot of ways, I feel like it's my first year all over again in the sense that I feel like I've got a new energy. I say that in the positive light in the sense of being reenergized. Situations happen and you get released; it makes you look inside yourself a little bit and really analyze the situations and what could have been handled better. It was a little bit of a hard time when I was in limbo, but now that I'm back learning and working every day, I feel really energized."
English said he doesn't like to make excuses, but acknowledged that injuries prevented him from developing in San Diego.
"When you're in a situation for a long time you can't really see outside of it," English said. "It's hard to be able to really analyze if the grass is greener or not. Sometimes it is and sometimes it isn't. I like the spot I'm in right now and I'm excited about this opportunity."
In Tampa Bay, English is getting a look as a defensive end.
"I really do like the scheme a lot," English said. "I think I fit well in the scheme. As a defensive end in this scheme, it's a lot about motor, it's a lot about heart, it's a lot about playing fast and getting off the ball. I definitely think that will work well for me."
English might be a long shot to make the roster. But he was a low-risk signing who possibly could bring big rewards.
"We're always looking for outside pass rushers," coach Lovie Smith said. "We brought Larry in, hoping that he could give us some of that. In practice, the first day he was OK. The next day he was better. So we're anxious to let him play. You might see him early in (Saturday's preseason game at Buffalo). We want to see him against good competition to see exactly what he can do."
August, 21, 2014
8/21/14
5:21
PM ET
TAMPA, Fla. --
Tampa Bay Buccaneers
defensive end
Da'Quan Bowers
is a realist.
Bowers
A day after coach Lovie Smith implied that Bowers' roster spot could be in danger because of missed practice time due to a groin injury, Bowers said he knows what is at stake.
"Everybody's on the bubble," Bowers said. "There are a select few guys here that have got their spots. The rest of us are competing for jobs. Nobody's set in stone, definitely not me. I just take that into consideration each and every day."
Bowers said he understood Smith's comments and is doing everything possible to get back on the field as quickly as possible.
"You can't prevent injury," Bowers said. "It happens. Like coach said, any time you can't perform on the practice field it gives someone else another opportunity. When you do get on the practice field, you've got to make your reps count and I think I did a pretty decent job of that this camp with the reps I've gotten in the game and in practice. Like coach said, the only way to perform and compete is to be on the field."
The reality is the Bucs are set with
Michael Johnson
and
Adrian Clayborn
as their starters. They also are high on backups
Steven Means
and
William Gholston
, and newcomer
Larry English
has made a good impression. Before the injury, Bowers had been getting some work as a defensive tackle.
Bowers' best hope of making the roster is to make a good impression at defensive tackle and convince the Bucs he can swing between the two positions.
August, 14, 2014
8/14/14
8:01
PM ET
TAMPA, Fla. -- A daily review of the hot topics coming out of
Tampa Bay Buccaneers
training camp:
Training camp ended for the Buccaneers the exact same way it started -- with electricity in the air. No, really, there was electricity in the air. Lightning first interrupted practice for an hour and then brought it to a premature end. The same thing happened on the first day. Between the first day and the last day of camp, the Bucs had no other interruptions or cancellations. They broke camp Thursday and coach Lovie Smith said he was pleased with how things went. But Smith also said he's looking for an improved performance in the second preseason game, Saturday night against Miami. "The rain cooperated with us throughout camp," Smith said. "I think every day there's been a threat of thunderstorms and lightning. But, for the most part, we've been able to get everything in. I feel like we've had a good camp. We realize what's at stake this week. We want to play a lot better. Any time you get to start off in front of your fans at home, that's kind of special." While they still were able to practice, the Bucs worked in shorts and shells and did some game planning for Miami.
Smith said cornerback Alterraun Verner, cornerback Mike Jenkins and running back Charles Sims have been ruled out for Saturday night. Verner and Jenkins are recovering from hamstring injuries. Smith said Sims has an ankle injury and the running back was wearing a boot on the sidelines.
The Bucs took a bit of a low-risk gamble by signing defensive end Larry English. Coming out of Northern Illinois in 2009, English was the 16th overall pick in the 2009 draft. But English never has lived up to his potential. The Bucs have nothing to lose by taking a look at English. "You can never have too may pass-rushers," Smith said. "We talk about getting pressure with a four-man rush. I remember Larry when he played at NIU. A good football player. Injuries have kind of held him up a little bit. But he's what we're looking for, a speed, edge rusher. We feel like he might be able to give us something." The Bucs released Jibreel Black to make room for English.
Smith said the starters will play into the second quarter Saturday night. He said it's likely the starters will get double the amount of snaps they did in the preseason opener against Jacksonville.