August, 25, 2012
8/25/12
11:07
AM ET
Time for a look at some Saturday morning headlines from around the division:
ATLANTA FALCONS
As we noted in Friday night's
observations
, the Falcons showed off their deep passing game Friday night. Here's a
little more
on the subject. I'm more than a little amused by all this talk that Matt Ryan suddenly has developed a strong arm. In my eyes, Ryan's arm always has been strong enough. I know he bulked up a little in the offseason and lots of people think that allows him to throw deeper. Maybe it's because I come from a bit of a baseball background and that's probably why I'm not a big believer in the theory that adding muscle allows you to throw a ball further or faster. I think Ryan's always had the arm. I think he's just getting more of a chance to show it now.
Rookie Peter Konz got some
first-team work
at right guard. He's competing with Garrett Reynolds for the starting position. Coach Mike Smith said the evaluation process of the offensive line will continue through the final preseason game. I think the Falcons are quietly hoping the rookie can win the starting job. He may need some seasoning, but he has far more upside than Reynolds.
CAROLINA PANTHERS
Quarterback Cam Newton said he
learned a lot
from Tim Tebow during their brief time together at the University of Florida. They'll be reunited Friday when the Panthers play the Jets.
The Panthers have come out and said receiver Steve Smith will
miss the game
against the Jets as he recovers from a foot infection. All indications are Smith continues to improve and there doesn't appear to be any concern about him not being ready for the start of the regular season.
NEW ORLEANS SAINTS
Offensive line coach Aaron Kromer said he's not looking at his first six games as the temporary head coach as
an audition
. He said he simply will be trying to hold things together until assistant head coach Joe Vitt returns. But the fact is this is a bit of an audition for Kromer. He already was on the radar as a head-coach candidate in the offseason with his name coming up in connection with two jobs. If Kromer does a good job guiding the Saints through the first six games, it should raise the awareness level of him around the league and could help him land a top job.
Nakia Hogan has a list of
what to watch
in Saturday night's game against Houston. One of the items he touches on is tackling. It was a problem in the last preseason game, and it's going to be tested again by Houston running backs Arian Foster and Ben Tate.
TAMPA BAY BUCCANEERS
Martin Fennelly writes that a young Tampa Bay team with a new coaching staff doesn't need any
added adversity
. But they're getting it. It's likely we'll get official word soon that Pro Bowl guard Davin Joseph will miss the season after suffering a knee injury Friday night. A lot has been made about how this team lacked leadership in the recent past, but Joseph was an exception. He brought perhaps the strongest veteran presence of the returning players and it would have been nice to see him get some help in the leadership department from free-agent pickups Carl Nicks, Dallas Clark and Vincent Jackson.
Rookie running back Doug Martin
got the start
over LeGarrette Blount on Friday night. Generally, teams try to use the same starting lineup in the third preseason game that they plan to use in the regular season. I think that this is yet another sign that the Bucs don't plan to bring Martin, a first-round pick, along slowly.
December, 27, 2011
12/27/11
1:00
PM ET
»
NFC Stock Watch
:
East
|
West
|
North
|
South
»
AFC
:
East
|
West
|
North
|
South
FALLING
1. LeGarrette Blount, Buccaneers running back.
He lost a fumble on Tampa Bay's first offensive play against Carolina and coach Raheem Morris benched Blount, who has had fumbling problems all season, until the second half. Tampa Bay has all sorts of problems, but if you asked me to single out the biggest culprit among the players, I'd go with Blount. He ran for 1,000 yards as a rookie in just about half a season and probably won't do that for this full season unless he runs wild in the finale against Atlanta. Yeah, like that's going to happen. My main gripe with Blount is that he's held back the entire offense because the coaches won't use him as a pass-catcher or pass-blocker. If you haven't learned to pass block by the end of your second NFL season, you probably never will pick it up.
2. Atlanta's defense.
I'm sure some members of the Falcons' organization aren't happy the Saints were still throwing the ball late in Monday night's game. Understandable because the Saints did push the limits of decorum a little bit. But there's an easy way for a defense to prevent that. Play better earlier in the game and you won't put yourself in a situation where a team is blowing you out.
3. Michael Turner, Falcons running back.
He carried 11 times for 39 yards Monday night. I know the Falcons had to go away from the running game after they fell behind. But this was the fifth straight game in which Turner has failed to rush for 100 yards. He has been on the injury report with a groin problem in recent weeks. Makes you wonder if the injury might be holding him back.
RISING
[+] Enlarge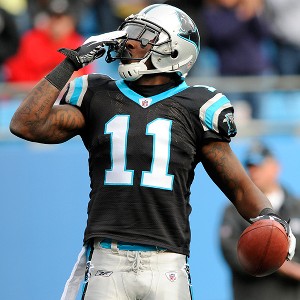 AP Photo/Mike McCarnBrandon LaFell celebrates his touchdown reception this past Saturday against Tampa Bay.
1. Drew Brees, Saints quarterback.
His stock has hit an all-time high and that's saying something. He broke Dan Marino's record for passing yards in a season and he did it in a victory. Brees is having a season for the ages, but he has made it clear it will only be meaningful if it culminates with a second Super Bowl title.
2. Brandon LaFell, Panthers receiver.
He had his first career 100-yard receiving game against Tampa Bay and that included a 91-yard touchdown catch, the longest in franchise history. A lot of people say the Panthers should draft a receiver early and pair him with
Steve Smith
. I say that's not necessary. They invested an early pick in LaFell last year. It often takes receivers some time to develop. Plus, Carolina put in a whole new offense this season. LaFell seems to be picking it up and the coaches are happy with his progress.
David Gettis
, who missed his second season with an injury, also will be back next year. Put LaFell and Gettis with Smith and the Panthers might already be set at receiver.
3. Darren Sproles, Saints running back.
He sort of got lost in Brees' shadow, but Sproles had another huge all-around game Monday night. He rushed five times for 67 yards, caught two passes for 22 yards and a touchdown and added a 92-yard kickoff return. The biggest difference I see between last year's Saints and this year's team is the addition of Sproles. He has brought different elements to the offense and the special teams.