February, 28, 2013
Feb 28
10:52
AM ET
The
Atlanta Falcons
have had to steadily reshuffle their front office over the past two years as Les Snead and Dave Caldwell moved onto jobs elsewhere as general managers.
The shuffling continued Thursday with another promotion from inside. Nick Polk was named director of football operations after spending the past five years as the team's director of football administration.
Polk might not be a name known to the average fan, but he's been an important part of the front office and his role just got bigger. Polk has worked closely with general manager Thomas Dimitroff on contract proposals, negotiations and management with the salary cap.
"Nick does a very good job of managing our salary cap," Dimitroff said. "His communication regarding our cap situation has paid dividends over the last five years and we are fortunate to have him as a member of our organization."
Polk's also got big-picture experience. He basically ran a whole league at one point. Polk worked as the senior director of football operations for NFL Europe for three years. He also has some history as a coach in the college ranks.
This was a logical move for the Falcons because Polk has paid his dues and been a key part of the front office. But this promotion also puts him one step closer to ending up as a general manager somewhere else in the future.
January, 11, 2013
Jan 11
4:59
PM ET
The
Atlanta Falcons
didn't take long to find a new director of player personnel after Dave Caldwell left to become the general manager in Jacksonville this week.

General manager Thomas Dimitroff said Friday that Lionel Vital, who spent the past four seasons as the team's assistant director of player personnel, will move into Caldwell's old role.
"Lionel has assisted in constructing our roster and has been instrumental in our draft process and free-agent acquisitions,'' Dimitroff said. "He has over 20 years of scouting experience and has had the opportunity to work under team-builders like Ozzie Newsome and Bill Belichick during his career. Lionel is a vital member of our scouting team and we are happy that he will continue to be a member of our organization."
Vitale worked in New England's personnel department with Dimitroff prior to joining the Falcons. Vitale also previously worked as a scout for the Jets, Ravens and Browns.
Interestingly, Vitale's promotion sets up the possibility of the Falcons keeping one streak going. Former director of player personnel Les Snead was hired away to become general manager of the
St. Louis Rams
last year. Caldwell replaced him and quickly got hired away by Jacksonville.
We'll see next year if Vitale ends up being another branch of the Dimitroff tree.
January, 9, 2013
Jan 9
9:27
AM ET
Time for a morning trip through the headlines from around the division:
ATLANTA FALCONS
For the second straight year, Atlanta is losing its director of player personnel. Dave Caldwell
has been hired
as the general manager in Jacksonville. That comes a year after Les Snead left for St. Louis. Atlanta general manager Thomas Dimitroff has a deep and talented staff in place. But it's logical to speculate about the chances of Scott Pioli ending up with the Falcons. He used to be Dimitroff's boss in New England.
CAROLINA PANTHERS
The team
interviewed
New York Giants college scouting director Marc Ross and Montreal Alouettes general manager Jim Popp on Tuesday for the general manager job. But there are more interviews coming this week. The Panthers are expected to interview five or six candidates and a decision might not come until next week.
If Ron Rivera gets off to a slow start next season, fans can start screaming for Bill Cowher -- again. The former Pittsburgh coach, who has a home in North Carolina, said he wants to
return to the NFL
at some point.
NEW ORLEANS SAINTS
Bradley Handwerger has his list of the most
memorable plays
of the season. The top two plays were memorable for all the wrong reasons. But, at No. 3, he has the play where safety Malcolm Jenkins chased down Tampa Bay receiver Vincent Jackson to prevent a touchdown. That play didn't define the Saints' season, but it might have been the team's best play of the year.
TAMPA BAY BUCCANEERS
Mark Cook has a list of the potential class of
free-agent quarterbacks
. It is far from impressive. That's another reason why I think that, if the Bucs do add a quarterback to compete with Josh Freeman, it will come through the draft.
May, 15, 2012
5/15/12
8:46
AM ET
Time for a look at the top Tuesday morning headlines from around the NFC South.
April, 29, 2012
4/29/12
10:28
PM ET
Let's take a look at some headlines from around the NFC South.
Former Indianapolis Colts general manager Chris Polian reportedly
will join
the Atlanta Falcons in a scouting capacity. The Falcons shuffled their front office a bit when Les Snead left to become the general manager in St. Louis. David Caldwell and DeJuan Polk each took on added duties. Polian should add experience and make the front office deeper.
Here's a partial and
unofficial list
of undrafted rookie free agents expected to sign with the Carolina Panthers. One of them is Southern receiver Jared Green, the son of Hall of Famer Darrell Green. The Panthers are expected to announce their full list Monday or Tuesday after they have received signed contracts.
Here's
the list
of undrafted rookies expected to sign with the New Orleans Saints.
Undrafted Toledo receiver Eric Page tweeted Saturday that he was signing with the Tampa Bay Buccaneers. But he apparently had a
change of heart
and signed with the Denver Broncos. Here's
a list
of a few other rookies that are expected to sign with the Bucs.
With the drafting of receiver/return man Joe Adams, Armanti Edwards' time with the Carolina Panthers is
probably up
. The Panthers traded a second-round pick in 2011 to take the former Appalachian State quarterback in the third round in 2010 and the plan was to turn Edwards into a receiver and returner. Former coach John Fox was opposed to drafting Edwards and was hesitant to play him. Edwards got a fresh start last year, when Ron Rivera took over, but was never able to make an impact.
February, 13, 2012
2/13/12
6:28
PM ET
A couple of quick notes on this Monday evening.
The first is not directly related to an NFC South team, but it's related to an NFC South region and it's sad news. Freddie Solomon
has died
after a long illness. Solomon played for the Dolphins and 49ers in the NFL. But he was a big part of the Tampa Bay community. Solomon played at the University of Tampa back when the Spartans had a program. After his NFL career, Solomon lived and was very active in Tampa Bay.
The Falcons moved quickly to replace Les Snead after he became general manager of the
St. Louis Rams
. They stayed inside and
promoted two members of their personnel department.
David Caldwell has been promoted to director of player personnel. DeJaun Polk was named director of pro scouting. Caldwell spent the team's last four seasons as director of college scouting. Polk has been a pro scout for the Falcons the past six seasons.
February, 11, 2012
2/11/12
5:07
PM ET
An offseason of upheaval continues for the
Atlanta Falcons
.
Director of player personnel Les Snead is leaving to become general manager of the
St. Louis Rams
, several league sources confirmed to ESPN.com.
This comes after offensive coordinator Mike Mularkey left to become head coach of the
Jacksonville Jaguars
and defensive coordinator Brian VanGorder took a college job. Dirk Koetter has taken over as offensive coordinator and Mike Nolan as defensive coordinator. The Falcons also have made several other changes to their coaching staff.
While the departure of a front-office employee might not seem as big a deal as changes on the coaching staff, this particular case is a big deal. Snead carried lots of weight in the front office and was viewed as a key assistant to general manager Thomas Dimitroff.
This is an excellent hire by the Rams because Snead is an experienced talent evaluator who is more than ready for the next step. He should work well with new coach Jeff Fisher. But it's also a big loss for the Falcons, and Dimitroff will have to adjust his staff.
Snead had been with the Falcons for 13 years and had worked his way up the scouting ladder to director of personnel.
February, 11, 2012
2/11/12
10:42
AM ET
The
Atlanta Falcons
could lose a very important part of their front office.

You don't hear the name of director of player personnel Les Snead a lot because he operates quietly behind the scenes. But Snead is a top assistant to general manager Thomas Dimitroff and is highly respected around the league. The respect and a stellar reputation is one reason Snead no longer is a secret.
He reportedly is a
finalist for the job
as general manager in St. Louis. Snead already has interviewed twice with the Rams and is expected to meet with owner Stan Kroenke this weekend. Fellow finalist George Paton, who is Minnesota's director of player personnel, also is expected to meet with Kroenke this weekend.
Kroenke is expected to make a final decision by early next week.
January, 5, 2012
1/05/12
10:18
AM ET
Time for a Thursday morning look at the top headlines from around the division.
Atlanta offensive coordinator Mike Mularkey
defended his offensive line
against allegations of dirty play. Mularkey said the Falcons are physical but are not instructed to play beyond the whistle.
Panthers owner Jerry Richardson said that quarterback
Cam Newton
is
capable of winning multiple Super Bowls
. It's possible, as long as the Panthers spruce up their defense.
Ndamukong Suh
was suspended when the Lions played the Saints during the regular season. But Suh will be playing in Saturday's playoff game and that should lead to a
fantastic matchup
. New Orleans has one of the best interior offensive lines in the league with guards
Carl Nicks
and
Jahri Evans
. This will be a classic case of strength on strength.
Gary Shelton writes that none of the available coaching candidates has much of a
"wow factor.''
That's true. But the Bucs need something other than "wow." They need a coach who will come in and stabilize their franchise.
Atlanta director of player personnel Les Snead is
getting some consideration
for general manager's jobs. Chicago and St. Louis are showing some interest. It's only natural because Snead is good at what he does and is viewed as a rising star in league circles.
April, 18, 2010
4/18/10
5:28
PM ET
The common assumption out there, and I've been firmly in this category, is that the
Atlanta Falcons
are going to go with a defensive player with their first-round pick -- No. 19 overall.
[+] Enlarge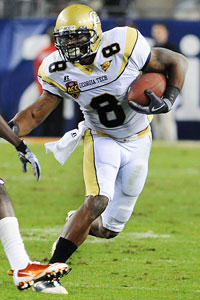 Al Messerschmidt/Getty ImagesThe Atlanta Falcons were out in full force to watch Georgia Tech receiver Demaryius Thomas on Sunday.
But I just heard something that made me pause a bit. A league source tells me the Falcons were out in full force Sunday for a workout by Georgia Tech receiver
Demaryius Thomas
. General manager Thomas Dimitroff, college scouting director Dave Caldwell, personal director Les Snead and assistant director Lionel Vital all were in attendance. About eight to 10 teams had representatives at the workout, but the Falcons had, by far, the biggest contingent.
Yes, the workout was in Atlanta, so logistics weren't an issue for the Falcons. But I think they must be looking hard at Thomas if they sent so many people to watch. They already should have a good read on this guy since he's in their own backyard, but this is a sign that they're doing extra homework.
Drafting a receiver wouldn't be a total surprise for Atlanta. Dimitroff admits the Falcons draft for need and defensive end and linebacker seem to be the needs everyone talks about. But there also is a need at receiver.
Roddy White
is firmly established as the No. 1 receiver.
Michael Jenkins
has been the other starter, but he's somewhat of a role player. In the long term, Thomas could be an upgrade at No. 2. The Falcons still have high hopes for
Harry Douglas
, but he's coming back from a major knee injury and projects more as a slot receiver. Veteran
Brian Finneran
is also in the mix, but he's more of a situational player.
Thomas is in the Jenkins mold. He's a bigger receiver -- 6-foot-2 and 229 pounds. He's not a burner, but he's tough to tackle and can make things happen after the catch. The best stat I saw on him is that he averaged 25 yards a catch last season. Thomas isn't known for his blocking, which is perhaps Jenkins' biggest strength. But he has the size and can be taught to become an effective blocker. He's also born and raised in Georgia and the Falcons like that kind of thing -- see
Dunta Robinson
and, in the past,
Keith Brooking
.
Yes, the Falcons may still go with defense first, but don't rule this one out. Keep in mind, this team is built around quarterback
Matt Ryan
and the Falcons try to give him all the toys he needs to succeed.
January, 13, 2009
1/13/09
3:13
PM ET
Posted by ESPN.com's Pat Yasinskas
After taking a week to recover from a playoff loss to Arizona, the Falcons are back at work this week. The team made a slight tweak to its front office Tuesday, promoting Les Snead to director of player personnel.
That's a nice reward for Snead, who's been with the team for 11 seasons and has a strong reputation as a pro scout. Snead already was in charge of the team's pro scouting operations and now will oversee college scouting as part of his new job.
"Les continues to distinguish himself as an adept evaluator in our business," Falcons general manager Thomas Dimitroff said. "His work ethic, critical evaluation and detail-oriented approach to all aspects of personnel clearly set him apart."