NFC South:

Levine Toilolo
December, 26, 2013
12/26/13
10:00
AM ET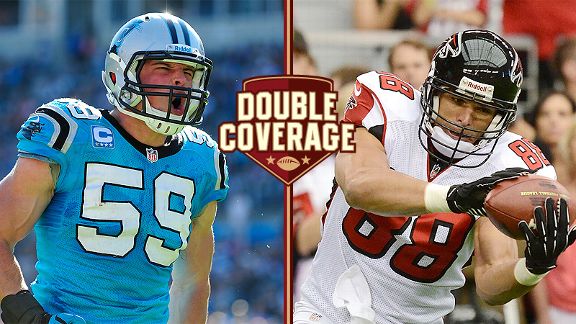 Getty ImagesLuke Kuechly and the Panthers will try to spoil the final game for the Falcons' Tony Gonzalez.
There should be plenty of electricity inside the Georgia Dome when the
Atlanta Falcons
close their season against the
Carolina Panthers
on Sunday. It will mark the final time
Tony Gonzalez
suits up in his No. 88 jersey, the final time the 17-year veteran walks out of the locker room with his teammates, set to do battle.
The Falcons (4-11) are sure to do everything possible to make sure Gonzalez's last NFL game is a memorable one, including a likely tribute of some sort. Could ruining the Panthers' NFC South title chances be a part of the Falcons' festivities?
ESPN.com Falcons reporter Vaughn McClure and Panthers reporter David Newton break down the matchup.
McClure:
David, I'm sure the Panthers (11-4) are aware that this is Gonzalez's last NFL game. Earlier in the season, Seahawks cornerback
Richard Sherman
exchanged jerseys with him, knowing that it would be the final time he'd see Gonzalez on the field. Which player from Carolina would be most likely to follow Sherman's lead with such a swap?
Newton:
I'm going with wide receiver
Steve Smith
. He has swapped items with a few players already this season and at this stage of his career. Besides, Smith won't need his own jersey; he's doubtful to play because of a sprained knee.
I suspect the Panthers will be more worried about covering Gonzalez than being nostalgic. He lit them up in the first half of the teams' first meeting before they adjusted coverage to shut him down. It's amazing that at 37 years old he's still a player teams have to plan for. Look for him to get a heavy dose of linebacker
Luke Kuechly
again.
A year ago, a Carolina team with nothing to play for beat Atlanta soundly in Charlotte late in the season, perhaps dulling some of the Falcons' momentum going into the playoffs. Are the Falcons hungry to play the spoiler, or just play out the string?
McClure:
I think they're just trying to finish up the season unscathed and build toward next year. Coach Mike Smith has started nearly a full-fledged youth movement. In a Week 15 win over the
Washington Redskins
, nine players in the starting lineup were either rookies or second-year players. Smith contends that the Falcons aren't worried about draft positioning and are more concerned with winning games. At the same time, I'm sure they don't want to fall out of the top five in the draft order; they stand at No. 6 right now. Whatever the case, Smith's job is secure going into next season.
I know there had been some talk before about Ron Rivera's status, but he has no doubt silenced his critics, correct?
Newton:
Rivera has pretty much slammed the door on his critics. If he doesn't get an extension out of this, it will be a shame. I've been really impressed with the way he remained the same during this hot streak to close the season as he was during a 1-3 start. That consistency, that unwillingness to waver from what he believed was the right way to build this team, is why the Panthers are in the position they're in.
He is indeed a players' coach. He doesn't ask anybody to do anything on the field that he wouldn't have done himself as a player. The biggest change since the season began is in his philosophy on fourth down. He has gone for it so many times that he's earned the nickname "Riverboat Ron." But most of that is more calculated than you'd think, and it has a lot to do with believing in what his players can do.
You mentioned Smith being solid in Atlanta, but there obviously needs to be some changes in personnel to shore up that defense during the offseason, right?
McClure:
Correct. The first changes I anticipate are among the coaching staff, likely first on the defensive side. Once those coaching changes are made, the Falcons can identify where they are going with their schemes and identify which players make the best fit. Obviously, they need help along the offensive and defensive lines, and having a high draft pick helps the cause. I wouldn't be surprised to see them go after a linebacker in free agency and maybe try to add an elusive running back to the mix. Safety also is an area that needs to be addressed. And if the Falcons aren't fully confident in rookie
Levine Toilolo
as Gonzalez's replacement, they need to target another tight end.
I think the Panthers showed this year that they can compete with anyone, but what will it take to get them to the next level in terms of consistently being among the NFC's top teams?
Newton:
They may be there now, but there are a few pieces that must be addressed after the offseason. Steve Smith isn't getting any younger, and No. 2 receiver
Brandon LaFell
is unsigned. The secondary, despite its rank, could use a shutdown corner. And a decision on re-signing left tackle
Jordan Gross
must be made.
Otherwise, you have a strong nucleus in 2011 Offensive Rookie of the Year
Cam Newton
at quarterback; Kuechly, the 2012 Defensive Rookie of the Year, at linebacker; and 2013 candidate
Star Lotulelei
at defensive tackle. General manager Dave Gettleman has done a good job of clearing cap room to re-sign key players and add needed pieces. I'd say it's more a matter of fine-tuning at this point.
November, 15, 2013
11/15/13
2:15
PM ET
FLOWERY BRANCH, Ga. --
Atlanta Falcons
tight end
Tony Gonzalez
, who missed the past two days of practice with a toe injury, returned to the field Friday and is questionable for Sunday's matchup against Tampa Bay.
Gonzalez
Gonzalez injured a toe on his left foot during last Sunday's 33-10 loss to the
Seattle Seahawks
. He appeared to be a bit hobbled when he walked through the locker room on Friday but gave the thumbs up. His participation in Friday's practice was limited.
Gonzalez hasn't missed a game since the 2006 season with the
Kansas City Chiefs
. The Falcons gave the 37-year-old tight end most of training camp off to prepare his body for the regular season.
If Gonzalez is unable to go, rookie
Levine Toilolo
and veteran
Chase Coffman
would have to contribute at tight end. Both Toilolo and Coffman spent extra time following Friday's practice working on their route-running while being defended by linebacker
Sean Weatherspoon
.
Wide receiver
Harry Douglas
also returned to the field Friday after missing Thursday's practice with a knee injury. Head coach Mike Smith said Douglas should be ready to go Sunday.
Weatherspoon, recently activated from injured reserve after suffering a Week 2 Lisfranc foot sprain, will be in the starting lineup against the Buccaneers after practicing all week. He is expected to start alongside undrafted rookie linebackers
Paul Worrilow
and
Joplo Bartu
, if the Falcons open the game in their base defense.
The only Falcons player ruled out for Sunday's game was rookie defensive end
Malliciah Goodman
, who was sidelined all week with a calf injury.
August, 3, 2013
8/03/13
9:07
AM ET
Let's take a Saturday morning run through the top headlines from around the division:
ATLANTA FALCONS
Special-teams coach Keith Armstrong said rookie cornerback Robert Alford is a candidate to
return punts and kickoffs
. Alford has some history doing that and the Falcons could use a boost in their return game.
Daniel Cox writes that tight end Chase Coffman was
impressive
in Friday night's scrimmage. Coffman has had a strong training camp and could end up as the top backup behind Tony Gonzalez. The team likes rookie Levine Toilolo, but he might be a bit of a project.
CAROLINA PANTHERS
The Panthers
signed
guard Chris Scott and claimed safety Ricado Silva off waivers.
Jonathan Jones writes about how running back DeAngelo Williams has gotten virtually all of the
first-team work
with Jonathan Stewart recovering from injury. The Panthers are going to run the ball more this year and my sense is Williams will play a very large role. In other words, you might want to draft him for your fantasy team.
NEW ORLEANS SAINTS
Although many already consider him the best guard in the NFL, Jahri Evans isn't satisfied. He's
dropped some weight
in an attempt to make himself quicker.
The Saints will hold a
scrimmage
Saturday morning.
TAMPA BAY BUCCANEERS
Scott Reynolds makes a case that Vincent Jackson should be considered one of the league's
elite receivers
. I agree. Calvin Johnson may be in a class by himself, but I'd put Jackson somewhere in the next wave of receivers.
July, 27, 2013
7/27/13
1:00
PM ET
FLOWERY BRANCH, Ga. -- When he purchased the
Atlanta Falcons
in 2002, Arthur Blank wasn't looking primarily to make money.

"It's a solid business, and the NFL is king of the sports world and all that," said Blank, who made his fortune as co-founder of Home Depot. "But I got in this business to win. You want to win for your franchise, you want to win for the fans, and you want to win for the city and the state and you want to win for your players and the people in this building. All of that is what's important to me. I'm a super competitive guy, and I want to win."
After some up-and-down early years in Blank's tenure, the Falcons finally have become consistent winners. The team has had five consecutive winning seasons since the arrival of coach Mike Smith, general manager Thomas Dimitroff and quarterback
Matt Ryan
. That's remarkable progress for a franchise that had never had back-to-back winning seasons before the trio came along. And last year's trip to the NFC Championship Game certainly was another step -- the Falcons came up 10 yards short of the Super Bowl.
But Blank's not the type of guy to dance around. He wants more. He wants a Super Bowl championship. Wait, make that championships, plural.
At the news conference to announce Ryan's contract extension Thursday evening, Blank strongly said he and the Falcons can't really relax until they have Super Bowl rings.
"I think when you have five consecutive winning seasons and go to the playoffs four out of five years, you're very much in the game," Blank said. "I feel good about what we've built, but I also feel like it's time to take the next step."
He's not alone. Smith had a strong message for his team on the first day of camp.
"I wanted everybody to understand we're not 10 yards from the Super Bowl," Smith said. "We're 193 days from the Super Bowl, which is where we want to be at the end of the season."
The Falcons didn't go into panic mode and make desperate moves in the offseason. But it's easy to detect the sense of urgency around Atlanta's camp. The Falcons won't quite say it's Super Bowl or bust, but they believe it's their time to continue moving in that direction.
[+] Enlarge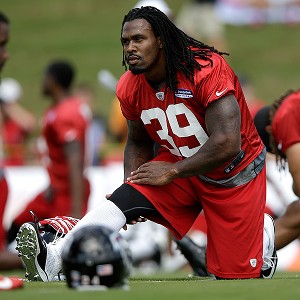 AP Photo/John BazemoreAtlanta's pass-oriented offense should have better balance in 2013 with RB Steven Jackson in the mix.
"When an organization comes close to a goal you want to attain and you don't get there, I think the first thing that you've got to do is make sure everybody doesn't live in the past," Smith said. "I tell my guys there are three time frames you can live in. You can live in the past. You can live in the future. You can live in the now. As human beings and athletes, we live in all three at different times, but the majority of the time has got to be spent in the now and we have some goals that we want to attain now."
Three hot issues
1. The running game has to work.
The Falcons clearly have made the transition to a pass-first team, and that's not going to change. But they need some semblance of a running game. That's something they lacked last year as
Michael Turner
aged and fizzled out.
The Falcons have added
Steven Jackson
, and that should provide a significant upgrade. Jackson doesn't need to be the workhorse runner he was earlier in his career, and the Falcons still want to get
Jacquizz Rodgers
some playing time.
A combination of Jackson and Rodgers should be more than enough to give the Falcons a running game. That should complement the passing game by clearing the way for play-action passes. It also should come in handy when the Falcons are in control of games and trying to eat up some clock.
2. The defense needs a star and an identity.
Although Smith comes from a defensive background, the Falcons never have had a really strong defense during his tenure. That needs to change if this team really is going to challenge for a Super Bowl.
It should help that defensive coordinator Mike Nolan is entering his second season and most of the players know his defense. But it's time for this defense to build a real identity, and I look for Nolan to try to put a more aggressive product on the field.
It also would help Nolan if he can find a true star on his side of the ball. Linebacker
Sean Weatherspoon
could be that guy. Weatherspoon has been very good so far, but he needs to take the next step and become a prolific playmaker.
3. The pass rush has to produce.
For virtually all of Smith's tenure, the pass rush has consisted of
John Abraham
and not much else. But Abraham, 35, was released in the offseason because of his age. The Falcons replaced him by bringing in
Osi Umenyiora
.
On the surface, it appears as if Umenyiora should be able to give the Falcons what Abraham used to. But this defense needs more than Umenyiora to get after opposing quarterbacks. The team is hoping one of its young defensive ends, particularly
Jonathan Massaquoi
, can step up and complement Umenyiora.
But I'm expecting Nolan to get more creative in his second season and get his linebackers and defensive backs more involved as blitzers.
Reason for optimism
Despite the loss to San Francisco in the NFC Championship Game, the Falcons took a big stride last year by winning a playoff game against Seattle. It was the first playoff victory of Smith's tenure, and it was significant because it showed the Falcons they can win in January.
This now is a veteran team without many holes. On paper, it's as good as any team in the NFC. This team knows its window for winning a Super Bowl is wide open at the moment but isn't going to stay that way forever.
[+] Enlarge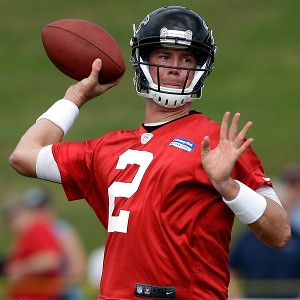 AP Photo/David GoldmanWith a hefty new contract and premium weapons around him, Atlanta QB Matt Ryan will be playing under heavy scrutiny all season.
Reason for pessimism
There always are going to be doubts about the Falcons until they win a Super Bowl. Is Smith too nice of a guy? Does Ryan have what it takes to win the big one?
Those questions still linger. And, with those questions, there is a lot of pressure. It remains to be seen whether this team can handle that kind of pressure.
Observation deck
One of the first things that struck me on the practice field was the size of rookie tight end
Levine Toilolo
. He's 6-foot-8, which makes him the tallest tight end in the NFL and a potential matchup problem for linebackers and defensive backs. The best thing about veteran
Tony Gonzalez
's taking part only on a limited basis is that Toilolo will get plenty of reps and a chance to develop quickly. But I'm not sure Toilolo will immediately beat out
Chase Coffman
, who had a very strong offseason, for the No. 2 tight end spot.
If you're looking for an unsung player who is going to make an impact this season, start with
Bradie Ewing
. The Falcons drafted him last year and planned to use him as the lead blocker for Turner. But Ewing got hurt in the preseason and missed his entire rookie year. Turner had his problems last year, but I think the lack of good blocking from the fullbacks was a factor. Ewing has nice size and should be able to open holes for Jackson.
Don't read too much into the fact that
Mike Johnson
has received all the first-team reps at right tackle so far in camp. Johnson might have a slight edge thanks to experience, but the team still has high hopes for second-year pro
Lamar Holmes
, and he's likely to be given some reps with the first team.
The speculation that defensive end
Kroy Biermann
could be used more as a linebacker is more than speculation. Biermann was spending a lot of time at linebacker in the first two days of camp. He's athletic enough to play in pass coverage and should be able to generate a pass rush from a linebacker position.
The Falcons seem a little thin at defensive tackle, but they might have some quiet plans to get second-year pro
Travian Robertson
more involved in the rotation. He played a little as a rookie, and I expect his playing time to increase. Also, defensive end
Cliff Matthews
appears to have bulked up and could slide inside at times.
Second-round pick
Robert Alford
is going to have a shot at playing time at cornerback. But I think there's another reason the Falcons drafted Alford. He has return ability, and the Falcons need to improve their return game. Third receiver
Harry Douglas
also could be an option in the return game. The Falcons would like to get Douglas more touches because they believe he's an explosive player. But it's tough to get Douglas touches in the passing game with
Roddy White
,
Julio Jones
and Gonzalez around. Letting Douglas handle punt returns could give him four or five more touches a game.
I had been thinking the Falcons would bring in a veteran backup for Ryan at some point. But, after watching second-year pro
Dominique Davis
the past few days, I'm not so sure the Falcons are still looking. Davis looked sharp and decisive. He'll get a lot of playing time in the preseason games. If he performs well, the Falcons will stick with him as their backup.
July, 25, 2013
7/25/13
10:12
AM ET
FLOWERY BRANCH, Ga. -- The
Atlanta Falcons
will hold their first practice of training camp this afternoon. Here are five things I'll be keeping a close eye on:

Steven Jackson.
The Falcons signed Jackson to spice up their running game after
Michael Turner
ran out of gas last season. But Jackson's not exactly young either. He turned 30 earlier this week, which isn't always a good age for running backs. But I'm expecting to see Jackson show his legs are a good bit fresher than Turner's.
How much Tony Gonzalez practices.
Part of the reason the Falcons were able to coax Gonzalez out of retiring was because they made a deal that he could go lightly in training camp. I'm guessing Gonzalez's participation will be extremely limited. But that's good news because the Falcons know what they have in Gonzalez and they'll be able to take an extended look at rookie tight end
Levine Toilolo
.
How the offensive line lines up.
Center
Todd McClure
retired and right tackle
Tyson Clabo
was released. The Falcons are moving second-year pro
Peter Konz
from guard to center.
Garrett Reynolds
appears to be the favorite to take Konz's spot at guard.
Mike Johnson
and
Lamar Holmes
are expected to compete at right tackle.
Stephen Nicholas.
The veteran linebacker took a lot of heat from fans after opposing tight ends shredded the Falcons in the playoffs. But I'm not sure Nicholas was completely healthy. The Falcons still must have confidence in him because they didn't make any dramatic moves at linebacker.
The defensive tackles.
The Falcons had some talks with free agent
Richard Seymour
, but he has not been signed. That means the Falcons seem likely to head into the season with
Jonathan Babineaux
,
Corey Peters
and
Peria Jerry
as their top three defensive tackles. All three are heading into the final year of their contracts and I'm curious to see who steps up.
June, 6, 2013
6/06/13
4:44
PM ET
Let's take an afternoon look at some news and notes from around the division:
ATLANTA FALCONS
With tight ends Tony Gonzalez and Levine Toilolo away from offseason workouts, the Falcons are using the time to take a
long look
at Chase Coffman, Tommy Gallarda and Andrew Szczerba. The Falcons also signed tight end Anthony Miller on Thursday. Gonzalez is set as the starter and Toilolo almost certainly will make the roster. That means the other four tight ends are competing for one roster spot.
CAROLINA PANTHERS
Defensive end Greg Hardy has
missed multiple organized team activities sessions
, according to coach Ron Rivera. These practices are voluntary. But Hardy is entering the final year of his contract and you have to at least wonder if he's making a statement that he wants a new deal. The answer to that should come next week when we see if Hardy shows up for the mandatory minicamp.
NEW ORLEANS SAINTS
Receiver Joe Morgan
spoke publicly
Thursday for the first time since his arrest for driving under the influence two weeks ago. Morgan said he made a mistake and has learned from it. Morgan has a shot at winning the third receiver spot, so it's critical that he avoids any more trouble.
TAMPA BAY BUCCANEERS
General manager Mark Dominik won't be the only member of the organization getting his head shaved to help
raise money
for the Pediatric Cancer Foundation. Quarterback Josh Freeman and 12 other players also will participate.
The Buccaneers signed guard Jeremy Lewis on Thursday and waived guard Desmond Wynn.
May, 17, 2013
5/17/13
4:30
PM ET
May, 3, 2013
5/03/13
10:20
AM ET
Time for a run through the morning headlines from around the division:
ATLANTA FALCONS
In this radio interview, Asante Samuel defends his claim he's the
best cornerback
in the league. You have to admire his confidence. Samuel might be nearing the end of his career, but he's going to have to play very well this season as rookie Desmond Trufant makes the transition to the NFL.
Daniel Cox points out that, at 6-foot-8, rookie Levine Toilolo currently is the
tallest tight end
on an NFL roster. The Falcons already have one power forward at the position in Tony Gonzalez. It can't hurt to have another big target.
CAROLINA PANTHERS
Steve Smith came in at No. 84 on the NFL Network's list of the
top 100 players
. That's not a bad accomplishment for an aging wide receiver. But, knowing the way Smith thinks, I think he'll use the fact that 83 players are rated ahead of him as motivation.
NEW ORLEANS SAINTS
Mike Triplett writes that several analysts are
high on third-round picks
Terron Armstead and John Jenkins. Armstead is going to get a chance to compete with Charles Brown and Jason Smith for the starting spot at left tackle. Jenkins is likely to get some immediate playing time at defensive tackle.
TAMPA BAY BUCCANEERS
Kicker Nate Kaeding decided to
retire
due to a chronic groin injury. Kaeding had been signed to provide competition for Connor Barth in training camp. But Barth was the odds-on favorite to keep the job. With Kaeding out of the picture, the Bucs still may bring in another kicker to share the work in training camp.
April, 29, 2013
4/29/13
11:28
AM ET
As I look at what NFC South teams did in the NFL draft, I'm not seeing a lot of players that will make instant impacts.
In fact, I'm seeing only four players that are likely to be starters on opening day. Let's take a look:
Atlanta Falcons:
Go ahead and put first-round pick
Desmond Trufant
in the lineup as a starting cornerback opposite
Asante Samuel
. Second-round pick
Robert Alford
will get a chance to compete with
Robert McClain
for the job at nickel back.
Levine Toilolo
, a fourth-round choice, has a shot at some decent playing time as the second tight end.
Carolina Panthers:
First-round pick
Star Lotulelei
will be an instant starter at defensive tackle next to
Dwan Edwards
. Second-round pick
Kawann Short
could start off his career rotating in for Lotulelei and Edwards. The rest of Carolina's draft picks will begin their careers as special-teams players.
New Orleans Saints:
Although the Saints brought defensive backs
Malcolm Jenkins
and
Patrick Robinson
along slowly in recent years, I think safety
Kenny Vaccaro
will get thrown right into the starting lineup. He's likely to unseat
Roman Harper
as the Saints overhaul their defense and go to a 3-4 scheme. It might be too much to expect third-round pick
Terron Armstead
to be an immediate starter at left tackle. But Armstead will get a look in training camp because
Charles Brown
and
Jason Smith
are the only other options.
Tampa Bay Buccaneers:
At worst, second-round pick
Johnthan Banks
will begin his career as the third cornerback. That's virtually the same as a starter because teams use so many nickel packages. But I think there's a good possibility Banks vaults past
Eric Wright
and starts opposite
Darrelle Revis
. Fourth-round picks
Akeem Spence
and
William Gholston
have a chance to earn spots in the rotation on the defensive line.
April, 27, 2013
4/27/13
6:10
PM ET
»
NFC draft analysis
:
East
|
West
|
North
|
South
»
AFC
:
East
|
West
|
North
|
South
The NFC South might be the only division in the NFL with four franchise quarterbacks, assuming Tampa Bay's
Josh Freeman
can be just a little more consistent.
When Freeman is on his game, he joins Atlanta's
Matt Ryan
, New Orleans'
Drew Brees
and Carolina's
Cam Newton
to give the division four high-octane offenses. In recent years, defense has become something of a lost art in the NFC South. But that may be about to change.
The division-wide theme to the 2013 NFL draft was to load up on defense, even to a point where it looked like teams were overcompensating at what had been problem spots.
Carolina used its first two picks on defensive tackles (
Star Lotulelei
and
Kawann Short
). Atlanta used its first two picks on cornerbacks (
Desmond Trufant
and
Robert Alford
). Even after trading for cornerback
Darrelle Revis
, Tampa Bay used its first pick on cornerback
Johnthan Banks
. And New Orleans, the league's worst defense last season, used its first pick on safety
Kenny Vaccaro
.
Will that be enough to shut down Ryan, Brees, Newton and Freeman? Probably not. But all four NFC South defenses suddenly got better over the past few days.
BEST MOVE
This wasn't a flashy draft for the division. But that's not necessarily a bad thing. Teams focused on the basics, and no team did a better job of that than Carolina.
New general manager Dave Gettleman apparently believes that everything starts up front. His selection of Lotulelei was a stroke of intelligence and a little bit of luck. By all rights, Lotulelei shouldn't have been available at No. 14. Just a few months ago, people were talking about him as perhaps the No. 1 overall pick.
But a pre-draft medical scare caused Lotulelei's stock to fall. He checked out fine medically, and I'm sure the Panthers did plenty of homework on his health situation. They ended up getting the best defensive tackle in the draft. Put Lotulelei in a rotation with Short and
Dwan Edwards
, and defensive tackle suddenly becomes a strength for Carolina. With the infusion of talent in the middle of the line, a Carolina front seven that's good everywhere else could become a real force.
RISKIEST MOVE
[+] Enlarge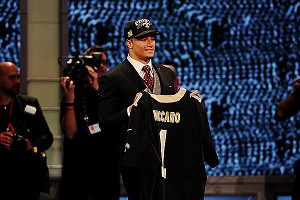 AP Photo/Alix DrawecThe Saints are hoping that safety Kenny Vaccaro can help improve the NFL's worst defense last season.
I'm not knocking the Saints' selection of Vaccaro. He has a great skill set, and he's going to make a secondary that needed help much better. But I do have to question the wisdom of taking a safety with their first pick.
New Orleans is in the process of switching from a 4-3 defense to a 3-4 scheme. That means you have to have the right personnel for the 3-4, and I'm not sure the Saints have that. The key to a 3-4 scheme is having an edge pass-rusher. The Saints could have had outside linebacker
Jarvis Jones
, who was a productive rusher in college, at No. 15, but they passed on him and took Vaccaro. That was New Orleans' one big chance to get a pass-rusher because the Saints have been limited as to what they were able to do in free agency by the salary cap.
Maybe
Victor Butler
,
Martez Wilson
and
Junior Galette
will provide a strong pass rush. But they're all unknown commodities. If the pass rush doesn't make an impact, life isn't going to be easy for Vaccaro and the secondary.
MOST SURPRISING MOVE
Immediately after the season ended, Tampa Bay coach Greg Schiano talked about how he wanted to bring in someone to compete with Freeman for the starting job. That caused a bit of a stir in Tampa Bay, but the coach backed away from that statement several times, saying he simply meant he wants to improve the competition at all positions. In other words, Freeman is the starter as he heads into a contract year.
But Schiano, who wasn't around when Freeman was drafted, opened the way for a quarterback controversy the first time Freeman struggles by drafting NC State quarterback
Mike Glennon
in the third round. The Bucs had more pressing needs, such as tight end and depth on the defensive line, at that point in the draft.
Yet they took Glennon, who might have stuck around for another round or two. Freeman still is the starter, and maybe everything will work out fine for him. But he suddenly is on a short leash. Schiano now has a quarterback that he drafted and could turn to if Freeman has a few bad games.
FILE IT AWAY
Stanford tight end
Levine Toilolo
, taken by the
Atlanta Falcons
in the fourth round, can be a better NFL player than his draft position and college numbers would indicate. Toilolo was overshadowed by
Coby Fleener
and
Zach Ertz
.
In 2010, Toilolo beat out both of them for the starting job. That lasted for only one game as Toilolo suffered a knee injury in the first game of the season. He came back but took on a secondary role.
He doesn't stand out as a receiver or a blocker, but he's decent in both areas and has lots of upside. Toilolo could be coming into an ideal situation in Atlanta. He'll get to learn from
Tony Gonzalez
for a year. After that, Toilolo could become the starter.
I'm not saying he'll turn into the second coming of Gonzalez. But Atlanta has so many other offensive weapons that Toilolo could end up being a productive tight end.
April, 27, 2013
4/27/13
1:58
PM ET
Let's take a quick look at what the NFC South teams did in the fourth round:
At No. 100, Tampa Bay traded up to get Illinois defensive tackle
Akeem Spence
. I like the pick because it addresses a need. The Bucs have
Gerald McCoy
at one defensive tackle spot. But the other job is wide open. Spence will get a chance to immediately compete with
Derek Landri
and
Gary Gibson
for playing time.
At No. 108, the Panthers took Valdosta State guard
Edmund Kugbila
. General manager Dave Gettleman continued his focus on his offensive and defensive lines. Carolina needed a little more depth on the offensive line. Kugbila is a bit of a project and probably won't make an immediate impact.
At No. 126, the Bucs stayed focused on their defensive line and took Michigan State defensive end
William Gholston
. Draft gurus have questioned his work ethic and whether or not he has a high enough motor to succeed in the NFL. But playing for Greg Schiano might be the best thing for Gholston. Schiano demands good work ethic and a high motor. Gholston will get a shot as a rotational backup behind
Adrian Clayborn
and
Da'Quan Bowers
.
At No. 127, the
Atlanta Falcons
chose Clemson defensive end
Malliciah Goodman
. Consistency was an issue during his college career. But Goodman has some upside and the Falcons need to develop someone that can rush the passer besides
Osi Umenyiora
.
At No. 133, the Falcons took Stanford tight end
Levine Toilolo
. He probably isn't the second coming of
Tony Gonzalez
. But Toilolo probably can step in and be a secondary tight end to Gonzalez. Toilolo doesn't stand out as a pass-catcher or blocker, but he can do both things reasonably well.