NFC South:

Loomis scandal
April, 24, 2012
4/24/12
8:15
AM ET
Let's take a quick look at the early-Tuesday-morning headlines from around the NFC South. As you might expect, many of them include the
New Orleans Saints
and their various problems.
Free-agent defensive tackle Aubrayo Franklin, who spent last season with New Orleans, visited the Falcons on Monday. I'd say this one is just due diligence and, if anything is going to happen, it will come after the draft. Atlanta needs some depth in the middle of the defensive line, but isn't desperate. The Falcons have Corey Peters, Jonathan Babineaux and Peria Jerry. Peters has had a very nice first two seasons. Babineaux had a quiet 2011; Jerry has never come close to his potential since suffering a knee injury early in his rookie season. Franklin has some history with new defensive coordinator Mike Nolan, so he could be an option if the Falcons aren't satisfied with their situation at defensive tackle after the draft.
The Saints and general manager Mickey Loomis are denying a report that he had the ability to eavesdrop on opposing coaches from 2002 through 2004. But, John DeShazier writes, the news causes another distraction for a franchise that already has plenty of them as a result of what the NFL says was a three-year bounty program.
Here's a statement from Loomis in which he emphatically denies the report.
Jim Haslett, who coached the Saints during the period in which Loomis allegedly had the ability to listen to opposing coaches, said he had no knowledge of Loomis actually doing so.
Mike Triplett writes that the news on Loomis probably won't get the general manager fired. He might be right. Saints owner Tom Benson has stood by Loomis through the Vicodin scandal a couple years ago and through the bounty program that's dominated the headlines for more than a month. There haven't been any indications the latest allegations will change Benson's mind.
Ron Green Jr. writes that Boston College linebacker Luke Kuechly could make an instant impact if the Panthers take him at No. 9 in the NFL draft. No argument here. Kuechly had a highly productive college career and comes with very few questions. It's rare that you can say that about a prospect near the end of the top 10. Plus, Carolina owner Jerry Richardson and general manager Marty Hurney really like guys that come with no obvious questions.
Tampa Bay's coaching change affected more than the Bucs. It also affected the football team at Tampa's Plant High School, which has been a state and national power in recent years. With former tight ends coach Alfredo Roberts joining the Colts, his son, Austin Roberts, a top college prospect at tight end, is leaving Plant's program. But the Panthers are getting receiver/defensive back Tristan Cooper. His father, Ron Cooper, is the new defensive defensive backs coach for the Bucs.
April, 23, 2012
4/23/12
5:34
PM ET
Former NFL executive Bill Polian said he doesn't understand how New Orleans general manager Mickey Loomis got any
competitive advantage
from allegedly having the ability to
listen to opposing coaches
communicate during games.

"There's something missing here,'' said Polian, who is now an ESPN analyst. "I don't know what kind of competitive advantage you can get. Mickey would have to know the verbiage of every other opposing team in order to translate it, and then he would have to do it instantly and find some way to communicate with his coaching staff and get it down to the field in time for it to be useful. That would be very difficult to do in my opinion.''
That all makes a lot of sense. It would have been difficult, if not impossible, for Loomis to tip off his coaching staff to what opposing coaching staffs were saying seconds before the snap. It also would have been pretty much impossible for those coaches to let players know quickly enough what play was coming.
It also is extremely important to note that Loomis had the alleged ability to listen to other coaches only from a span from 2002 through 2004. That's when Jim Haslett was coaching the team. Hurricane Katrina hit before the 2005 season, and the Saints had to play their home games in other locations that season. The report says the listening device was destroyed by the hurricane, and there are no indications it was put back into place. Haslett was fired after the 2005 season, and if Loomis was listening to play calls by opposing coaches, Haslett's record doesn't suggest it provided much of advantage.
Sean Payton was hired to replace Haslett in 2006. So you can't tie Payton to this issue. But I still don't see how this can mean anything positive for the Saints.
The NFL already has suspended Payton for a full season for a bounty program the league says lasted three years. Loomis also will be suspended for the first eight games of the 2012 season for not stopping the bounty program.
The NFL reportedly was not aware of Loomis allegedly having had a listening device until the report came Monday afternoon and the team has denied the allegations. Loomis might not have gained any competitive advantage from allegedly having a listening device, and the allegations are from long ago when a different coaching staff was in place.
But these allegations sound a lot like Spygate, which also was something that happened in the past. The NFL -- particularly commissioner Roger Goodell -- didn't take that situation lightly, and fined the
New England Patriots
$750,000. If this had come out a few years back, the Saints might be in line for a punishment similar to New England's, if the NFL had found them guilty of the allegations.
But that was just one situation. This is different. This is coming on top of the whole bounty program.
Competitive advantage or not, this could convince Goodell to throw the book at the Saints -- even more than he already has.
April, 23, 2012
4/23/12
4:21
PM ET
By
ESPN.com staff
| ESPN.com
Bill Polian, Marcellus Wiley and Mark Schlereth discuss the reports that Saints GM Mickey Loomis was able to listen to visiting coaches during 2002-2004 season.
Read
more from the report
on "Outside the Lines."
April, 23, 2012
4/23/12
4:08
PM ET
In an offseason that has been filled with controversy for the
New Orleans Saints
, we now have even more.
This one doesn't relate to the bounty program, but it could have major implications.
[+] Enlarge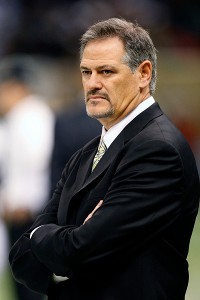 AP Photo/Bill HaberSaints' GM Mickey Loomis, already suspended for eight games next season, could be facing more punishment from the league.
ESPN's "Outside The Lines" just reported that New Orleans general manager Mickey Loomis
allegedly had an electronic device in his Superdome suite
that had been secretly re-wired to enable him to eavesdrop on visiting coaching staffs for nearly three seasons, from 2002-04. That allegedly took place before coach Sean Payton and quarterback
Drew Brees
arrived in 2006. Sources told "Outside The Lines" that the listening system was disabled when Hurricane Katrina hit New Orleans in 2005 and not restored. (Greg Bensel, Saints vice president of communications, said Monday on behalf of the Saints and Loomis: "This is 1,000 percent false. This is 1,000 percent inaccurate.")
This is significant on several levels. First, the report suggests that state and federal law might have been violated, and the situation has been reported to the U.S. Attorney in New Orleans. There is no indication yet if any charges will be filed. We'll wait for law enforcement and the lawyers to figure that out. I won't even speculate about what civil liabilities Loomis and the Saints could be exposed to.
But there are huge potential implications elsewhere. Loomis is suspended without pay for the first eight games of the 2012 season for his role in not stopping the Saints' bounty program. This latest news isn't going to persuade commissioner Roger Goodell to shorten Loomis' suspension.
In fact, this has the potential to lead to a longer suspension, or even more punishment for Loomis and the Saints. Although this incident allegedly took place quite a long time ago, it won't sit well with Goodell. He fined the
New England Patriots
$750,000 and forced them to forfeit a first-round draft pick for Spygate. You can make a case that listening to opposing coaches during a game is worse than videotaping signals on the sidelines and using that information.
Throw in the whole situation surrounding the bounty system, and I don't see how this can lead to anything positive for Loomis or the Saints.
Saints owner Tom Benson has stood by Loomis and Payton, who is suspended for the entire 2012 season. But you must wonder if news of more alleged wrongdoing by Loomis might prompt Benson to fire his general manager.
I know Benson has other things going on. He recently purchased the NBA's New Orleans Hornets. Brees hasn't been able to work out a long-term contract with the Saints, and that's not a positive for Brees, Benson or the Saints. The team is waiting to see if players will be suspended for their roles in the bounty program. Benson also reportedly has put his granddaughter, Rita Benson LeBlanc, on
unofficial administrative leave
. LeBlanc had been viewed as the heir apparent to Benson, but it doesn't sound as if the owner is anywhere near ready to step aside.
That might be a good thing, because the Saints have all sorts of turmoil to deal with. Someone must clean up this mess. It's Benson's team, so we'll wait and see where he goes from here.
This offseason just keeps getting worse for the Saints.