NFC South:

Luke Petitgout
November, 3, 2011
11/03/11
12:15
PM ET
TAMPA, Fla. -- As you read this, keep in mind that
Donald Penn
talks big.
"My thing is, at the end of my career, I want to play 15 years and be a Hall of Famer and be one of the greats,'' the left tackle for the
Tampa Bay Buccaneers
said.
[+] Enlarge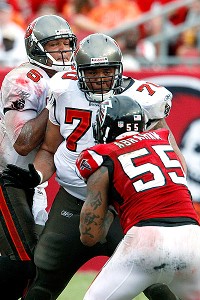 Cliff Welch/Icon SMI Donald Penn is making a name for himself in Tampa as the Bucs' starting left tackle.
That might sound like an extreme ambition for a guy who has been to precisely one Pro Bowl (last season).
"He loves to talk and talks about nothing all the time,'' said New Orleans defensive end
Will Smith
, who will line up against Penn on Sunday in the Mercedez-Benz Superdome. "He's a nice guy. I know him off the field. But on the field, he just loves to talk about anything. He loves to self-promote himself.''
In an interview with Sirius NFL Radio several weeks ago, Smith said Penn "talks as much as wide receivers,'' who are commonly known as big talkers. Smith said Penn can be anywhere from funny to entertaining to annoying on the field. The topics can change, but the talk never stops, said Smith, who has been playing against Penn for five seasons.
"He's made big strides as a player,'' Smith said. "But he's always been a talker.''
Penn doesn't deny any of that. He said he feeds off talking to opponents throughout a game.
"One of the things is, if you're going to talk you've got to back it up,'' Penn said. "I've been lucky enough to back it up.''
That may sound a little like the self-promotion Smith talked about. But the thing is Penn doesn't have to do all the promoting on his own these days.
"You can make an argument that Donald Penn is the best left tackle in football right now,'' former Pro Bowl tackle and current Westwood One Radio analyst
Tony Boselli
recently told The Tampa Tribune
. "He's athletic, he's powerful, he's a good run blocker and an even better pass blocker.''
"A very solid left tackle,'' said Matt Williamson of Scouts Inc. "They don't give him a lot of help and he doesn't really need it. People like to say you have to find a left tackle in the top 10 in the draft. But Penn is proof that you can get a good one outside of the top 10. Heck, the Bucs got him for nothing and that almost never happens with left tackles.''
It wouldn't be far off to say that Penn came out of nowhere. But the fact is he came out of Utah State. He had a shot at being drafted, but tore up his knee on the first play of the Hula Bowl in his final season. He showed up at the scouting combine, but was unable to work out.
"After that, I just fell off the map,'' Penn said.
He went through the 2006 draft without being chosen. He later signed with the
Minnesota Vikings
and landed on their practice squad. The Bucs signed Penn off Minnesota's practice squad later that season, thinking they were getting a guy who could be a career backup.
But it wasn't long before Penn talked – and worked – his way into a starting role. He began the 2007 season projected as a backup for veteran
Luke Petitgout
, who the Bucs had brought in from the
New York Giants
.
"I was always telling Petitgout I was going to take his job,'' Penn said.
Pretty soon, that's exactly what Penn did. Petitgout started four games in 2007 before getting injured. Penn started 12 games that season and hasn't missed a start since.
"Once I got that opportunity, I tried to do my best to not let it get taken away from me,'' Penn said. "You don't know when you're going to get an opportunity like that again.''
The talk of Penn as one of the league's best tackles didn't start right away. It's really just started to heat up in the last year or so. That coincides roughly with the timeline of when the Bucs made a big commitment to a guy who wasn't even drafted. At the start of training camp in 2010, the Bucs gave Penn a six-year, $48 million contract.
They paid him like a big-time left tackle. The contract might have changed the perception of Penn around the league, but he said he never viewed himself as anything less.
"I've always thought of myself in those terms,'' Penn said. "You need to think of yourself in those terms to be a great player. You have to have confidence. Thinking of yourself as the best, that's the most confidence you can have. I always knew I was good. I just needed a shot.''
Penn's become the most steady force on Tampa Bay's offensive line. In a season in which the 4-3 Bucs have been up and down, Penn has been perhaps the team's most consistent player.
In one three-game stretch, Penn had the task of blocking Atlanta's
John Abraham
, Minnesota's
Jared Allen
and Indianapolis'
Dwight Freeney
. He gave up only one sack (to Allen) and Penn's been getting a lot of praise from around the league.
"I'm going up against the best every week and I don't get nearly as much help as most tackles do,'' Penn said. "I appreciate finally getting the notoriety. Tampa is not a big media center, so you don't get as much attention. But I've been doing it for five years now and I've been doing it well. It feels good to finally get some recognition for it.''
But one Pro Bowl and a few nice comments don't add up to the Hall of Fame career Penn talks about and he knows that.
"That's my goal,'' Penn said. "I'm a long way away from it, but that's what I'm trying to reach. That's why I'm working so hard and playing so good because I want to get there. I want to be known as the best left tackle in the game when it's all said and done.''
Yeah, that's all down the road. But it no longer seems as impossible as it did when Penn was a practice-squad player. Maybe if he keeps talking big and playing the way he has recently, he just might meet his goal.
November, 8, 2008
11/08/08
2:22
PM ET
Posted by ESPN.com's Pat Yasinskas
I'm sitting in Tampa International Airport as I write this and looking out at a nice view of Raymond James Stadium.
The Bucs aren't there this weekend because they have their bye, but I'm pondering what they've done in their first nine games. I still don't have a real clear picture of the Bucs and I'm not sure anyone, including Jon Gruden, does.
Are they the team that blew Carolina out of Raymond James Stadium? Or the team that went up to Arrowhead Stadium and needed the biggest comeback in franchise history to scrape past the lowly Chiefs?
I'm not sure. What I do know is Tampa Bay has a great defense and a decent schedule remaining. Those two things alone should keep them in the playoff race through the final seven games. But they're going to need a little more than that to win the division or go anywhere in the playoffs.
I know Tampa Bay's offensive numbers aren't bad, but they're a little misleading. Consistency in both the running and passing games hasn't been there and a lot's been made about the Bucs not coming up with big plays or getting big results in the red zone.
You can bet Gruden has pondered those issues while his players have been off. He's got a decision to make on whether running back Cadillac Williams will return this season and he needs to figure out if receiver Joey Galloway is physically shot or still can play a role in this offense.
Gruden has his critics. But give the guy some credit. He's coached the Bucs to a 6-3 record so far and he'll keep figuring out ways to keep the Bucs in this race.
September, 9, 2008
9/09/08
3:56
PM ET
Posted by ESPN.com's Pat Yasinskas
As we pointed out earlier today, the Falcons moved defensive end John Abraham all over the field against the Lions. They may just want to keep him at right end against the Bucs on Sunday.
| | |
| --- | --- |
| | |
| Abraham | Penn |
That's because Donald Penn is Tampa Bay's left tackle and the possible weak link in the offensive line. Penn got thrust into a starting role last year when Luke Petitgout got hurt. Penn did a respectable job under the circumstances, but the Bucs thought they would upgrade this spot.
It hasn't worked out that way. Although Tampa Bay thought Petitgout would return and claim the starting job, the Bucs cut him when he was slow in recovering from an injury (and, perhaps, because he was facing a suspension). Nobody else was able to step up in training camp, so Penn got the job almost by default.
The Bucs still keep looking for tackles (Willie Anderson and Fred Miller both visited), but haven't been able to land anyone to challenge Penn. They'll have to give Penn some blocking help Sunday or else Abraham and the Falcons really will be able to exploit this matchup.
August, 20, 2008
8/20/08
9:03
PM ET
Posted by ESPN.com's Pat Yasinskas
The Tampa Bay offensive line, which looked so good on paper a few months ago, suddenly looks very ordinary. Luke Petitgout, who was supposed to be the starting left tackle, is gone because of an injury and a suspension. Right guard Davin Joseph is out for the foreseeable future with a foot injury.
That has the Bucs shuffling their line around and it's not looking nearly as pretty as it once did. The Bucs don't have their quarterbacks take a lot of deep drops, but they're running the possibility of seeing Jeff Garcia run for his life. Donald Penn took over as Petitgout's replacement early last season and, according to STATS, allowed 6.5 sacks. That number might have approached 10, but Penn only started 12 games. Over the course of this season, he's got to get better or Garcia's blind side will be a problem spot. One problem Penn will have this year that he didn't have last year is Carolina defensive end Julius Peppers, who is switching positions and will line up directly across from Penn for two games.
The right tackle spot isn't rock-solid either. Jeremy Trueblood is a good run blocker, but he allowed 7.5 sacks last season and 6.5 in 2006. The depth behind Trueblood and Penn also is a concern. Anthony Davis appears to be the top backup. Davis didn't play much last year and didn't give up a sack. But Davis allowed 7 sacks in 2006 and 7.5 in 2005 when he was a starter.
Trueblood and Penn are going to have to get some help from the tight ends or else Garcia could be in trouble.
August, 19, 2008
8/19/08
3:21
PM ET
Posted by ESPN.com's Pat Yasinskas.
Just days after getting rid of veteran tackle Luke Petitgout, the Bucs took another hit to their plans for the offensive line.
Starting guard Davin Joseph has undergone surgery for a broken foot and will be out for an extended period. That's a big blow to an offensive line the Bucs had been hoping would be dramatically improved this year.
Donald Penn, who is adequate at best, has taken over Petitgout's position. The loss of Joseph leaves the Bucs with a tough decision. Rookie Jeremy Zuttah worked in that spot with the first team today. Zuttah was expected to be the backup center and he had a very strong training camp.
The Bucs may decide to throw Zuttah in and let him sink or swim. The alternative is veteran Dan Buenning. But Buenning also can play center and the Bucs may want to keep him as an experienced backup for all three spots in the middle.
August, 19, 2008
8/19/08
10:22
AM ET
Posted by ESPN.com's Pat Yasinskas
Here's a look at this morning's local coverage of the four NFC South teams.
SAINTS
PANTHERS
BUCCANEERS
FALCONS
August, 16, 2008
8/16/08
6:40
PM ET
Posted by ESPN.com's Pat Yasinskas

Petitgout
The Bucs just made a surprise move, releasing left tackle Luke Petitgout.
He was attempting to come back from ACL surgery and progress had been slow. The Bucs initially hoped Petitgout would be ready for the start of training camp. But coach Jon Gruden admitted last week that the outlook wasn't bright. They released Petitgout with the designation of failed physical and filled his roster spot by signing fullback J.D. Runnels, who was drafted by the Bears in 2006.
The move leaves Tampa Bay thin at left tackle. Donald Penn, who filled in after Petitgout was hurt last year, has spent training camp working with the first team. Penn is far from dominant, but the Bucs don't have any real alternatives on the current roster. The Bucs were hoping Anthony Davis could step up in camp, but he didn't stand out.
The Bucs likely will bring in another tackle when other teams start making roster cuts, but it will be difficult to find a starting-caliber left tackle. They likely will have to stick with Penn and hope for the best.
August, 15, 2008
8/15/08
3:23
PM ET
Posted by ESPN.com's Pat Yasinskas
As training camps end, here's a look at the biggest remaining question for each of the division's teams.
FALCONS
Who's the quarterback? Even coach Mike Smith doesn't know for sure. He'll start Joey Harrington on Saturday night and Chris Redman got the start last week. Top draft pick Matt Ryan, presumably, will get a start in the third preseason game. He's looked good throughout camp and in the preseason opener. The Falcons don't want to rush Ryan, who they want to be the face of the franchise. But he's showing signs he might be ready to play right away.
PANTHERS
Who's the featured running back? All my fantasy football friends are asking me this question about Carolina and I'm telling them to stay away from Jonathan Stewart and DeAngelo Williams. But that's just for the purposes of fantasy football because I think the carries will be split between the two. In real life, this could be a pretty good duo. Stewart has power and Williams has speed.
SAINTS
Is the defense really going to be better? Yes. Even with the loss of defensive tackle Hollis Thomas to injury this week, this defense will be improved. It couldn't be much worse than last year and the arrival of rookie defensive tackle Sedrick Ellis, middle linebacker Jonathan Vilma and cornerbacks Randall Gay and Tracy Porter gives the Saints a lot more talent than they had last season.
BUCCANEERS
Can this team start fast after having some key players miss most of training camp? It's going to be tough because the Bucs already are trying to catch up. Quarterback Jeff Garcia has just returned to practice after an injury and top receiver Joey Galloway didn't practice once in camp. The Bucs may just be resting Galloway because of his age, but he's got to get some practice time with Garcia in the next few weeks to knock the rust off. The rest of the offense has to get used to Garcia again. Left tackle Luke Petitgout and running back Cadillac Williams could start the season on the physically unable to perform list.
August, 15, 2008
8/15/08
10:05
AM ET
Posted by ESPN.com's Pat Yasinskas

Petitgout
With all the talk about the injuries to Joey Galloway, Jeff Garcia and Cadillac Williams, Tampa Bay left tackle Luke Petitgout has been overlooked a bit. But this injury could have big implications for the regular season.
Petitgout, who suffered a torn ACL in Week 4 last year, has not been able to return to practice. With each day he misses there's growing concern Petitgout may have to begin the season on the physically unable to perform list.
"Yes, there sure is," Gruden said. "That's why he's not active at this point in time. I do know our training staff is working hard and Luke is working hard. The injury just isn't ready to go yet."
The Bucs had hoped Petitgout would be ready for the start of training camp, but it hasn't worked out that way. Donald Penn, who started 12 games last year, has been working with the first team. The Bucs had hoped that tackles Anthony Davis, Chris Clark and Dennis Roland could step up and become alternatives to Penn, but they haven't.
Penn played well at times last year, but he's not the kind of left tackle who can dominate. Petitgout is not dominant either, but he's a very solid left tackle and the Bucs have done a good job of building up the rest of their offensive line. That could all go to waste unless the Bucs can get Petitgout back on the field or get Penn to play over his head.
July, 25, 2008
7/25/08
10:31
PM ET
Posted by ESPN.com's Pat Yasinskas
FLOWERY BRANCH, Ga. -- Just arrived and there's some news on the Falcons tonight. First-round pick Sam Baker signed his contract Friday evening and will be at practice on Saturday morning.
Baker, the 21st overall pick, is expected to quickly move into the starting spot at left tackle. His signing means the Falcons will have all their rookies in camp on time.
In other news, the Bucs also got all their draft picks under contract before the first practice tomorrow morning. Here's a look at the roster moves the Bucs made Friday:
Signed CB Aqib Talib (2008 first-round pick)
Signed WR Dexter Jackson (2008 second-round pick)
Signed QB Josh Johnson (2008 fifth-round pick)
Waived WR Taye Biddle
Waived RB Cory Boyd (injured)
Waived LB Teddy Lehman
Placed T Luke Petitgout on the active Physically Unable to Perform (PUP) list
Placed RB Carnell Williams on the active Physically Unable to Perform (PUP) list