April, 25, 2012
4/25/12
6:02
PM ET
Relax Carolina fans. You no longer have to worry about the "Madden Curse."
Your quarterback,
Cam Newton
, will not be on the cover of Madden 13. The winner was just announced and it is Detroit receiver
Calvin Johnson
.
He narrowly edged out Newton in an election that included about 20 million votes. Johnson and Newton started off in a field of 64 players and fans narrowed it down through a series of head-to-head votes.
I know some Carolina fans voted against Newton because they didn't want to subject their quarterback to the curse. I'm not a big believer in curses and didn't think Newton was bound for a bad season if he had won. But I did grow up a Boston Red Sox fan, so I at least understand why some people believe in curses.
So maybe it's a good thing Newton isn't on the cover.
April, 24, 2012
4/24/12
5:26
PM ET
New Orleans interim head coach Joe Vitt is meeting with the local media right now. It sounds like he's addressing the bounty situation, the offseason program and lots of other things. We'll have more on that after Vitt wraps up.

Meantime, let's take a quick run through some headlines around the NFC South.
April, 24, 2012
4/24/12
12:40
PM ET
A quick reminder that we're entering the final hours of the 2013 "Madden" cover vote.
Carolina quarterback
Cam Newton
is up against Detroit receiver
Calvin Johnson
and reports have indicated the voting is very close.
If you haven't seen it already, here's
the video
of Newton making his case to be on the cover. He's not worried about the alleged "Madden curse." He wants to win this contest.
If you haven't voted yet, head on over and
cast your ballot
.
The winner will be announced Wednesday on SportsNation, which airs at 5 p.m. ET on ESPN2.
April, 18, 2012
4/18/12
10:48
AM ET
This may not be news that a lot of
Carolina Panthers
fans want to hear. But quarterback
Cam Newton
has made it all the way to the
final round of the Madden 13 Cover Vote
.
Newton is up against Detroit receiver
Calvin Johnson
and the winner will be announced April 25.
I know there's apprehension about seeing Newton on the cover of the popular video game. That all stems from the alleged
"Madden Curse''
. There's obviously a precedent that some guys who have been on the cover have been injured or had bad seasons. But this hasn't applied to everyone that's been on the cover.
I say Carolina fans should embrace the fact Newton is up for this honor. It's a sign of how far the franchise has come in recent years. Newton is the reason Carolina will play
two prime-time games
in 2012.
Like it or not, Newton's ability and personality automatically make him a drawing card. You can vote for him or not, but be ready to see him on the cover because it probably will happen.
April, 13, 2012
4/13/12
5:33
PM ET
There hasn't been a great deal of positive news out of the NFC South for the last month or so. Let's break tradition and start our Friday evening roundup off with something bright and cheery.
If you've ever spent much time around the
Tampa Bay Buccaneers
, you probably know or have heard of Jill Hobbs. That's largely because she's been with the team forever -- almost. Hobbs, currently the team's director of player benefits and alumni programs manager, will celebrate the 35
th
anniversary of her hiring on Sunday. The Buccaneers started the celebration Friday by calling all staff members together for a meeting. Then, the Bucs surprised Hobbs, who has worked in a variety of capacities throughout the years, with a celebration and some
very nice gifts
.
April, 11, 2012
4/11/12
11:01
AM ET
Carolina Panthers
quarterback
Cam Newton
has taken another step toward being on the cover of "Madden NFL 2013."
Newton
Newton has advanced to the final four of the
Madden 13 Cover Vote
. He's up against San Francisco linebacker
Patrick Willis
in this round. Green Bay quarterback
Aaron Rodgers
and Detroit receiver
Calvin Johnson
are squaring off in the other semifinal.
I'll leave it up to you if you want to vote for Newton or not. I know there is a contingent of Carolina fans that are apprehensive about this due to the
alleged Madden Curse
. It's understandable because a fair amount of players who have graced the cover have had injuries or down seasons. But there have been exceptions, including one from the NFC South. That was
Drew Brees
, who was on the 2011 cover. Brees had a very good 2011 season, although the Saints were eliminated in the first round of the playoffs by Seattle.
I understand the fear Carolina fans have about seeing Newton on the cover. But I'm all for seeing him on there. I think it would be good national exposure for a franchise that has had a few down years. I also think it would be good for the NFC South, a division in which fans sometimes have a bit of complex about other divisions and teams in larger markets getting more attention.
The Panthers never have had a player featured on a Madden cover. Brees and former Atlanta quarterback
Michael Vick
(2004) are the only NFC South players that have earned the honor.
March, 23, 2011
3/23/11
2:40
PM ET
We mentioned this Tuesday, but it's worth another mention today so that we can point out
Drew Brees
has a chance to make history.
The New Orleans quarterback has the chance to be the first player ever to grace the cover of the "Madden NFL'' video game two years in a row. He also has the chance to be the first player ever to be on the cover twice.
You can
go here and vote for Brees
. But that's totally up to you. I know people in New Orleans can be a little superstitious and a lot of people were upset last year when Brees was chosen. People love to
talk about the "Madden Curse''
and there's definitely been something to it through history. But I don't think Brees really fell to the curse last season. True, the Saints didn't repeat as Super Bowl champions.
But they still made the playoffs and Brees put up pretty big numbers. Heck, if you think Brees was a victim of history, maybe the way to reverse the curse is to make sure he gets on the cover again.
If not, you also can vote for NFC South candidates
Josh Freeman
,
Matt Ryan
and
Jordan Gross
.
December, 10, 2010
12/10/10
1:00
PM ET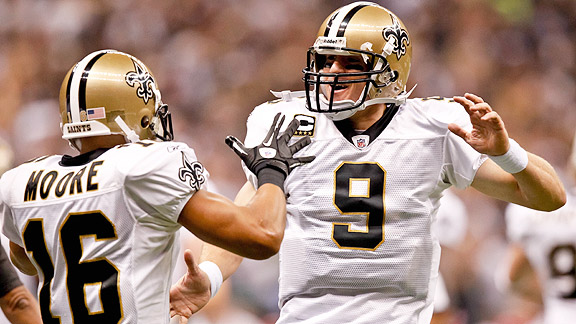 Derick E. Hingle/US PresswireNew Orleans quarterback Drew Brees says the Saints are in "crunch time."
Their fans like to say the
New Orleans Saints
are flying beneath the radar, but that's simply not true.
There might have been a bit of turbulence on takeoff, and the rise to 30 points a game took longer than expected. But in the last month, the bell has sounded indicating the Saints are free to move about the cabin, all over the field and maybe even straight back to the Super Bowl.
"Just kind of hitting our stride,'' New Orleans quarterback
Drew Brees
said. "Midseason form is what you guys like to call it. But we're getting into crunch time here. This is December. These are the games you want to remember. These are the games that kind of define your season in a lot of ways where you fit into the whole playoff picture. You want to play your best football in this stretch.''
That's precisely what the Saints have been doing. They've won their last five games and scored 30 or more points in each of the last four games. Brees has thrown for more than 300 yards in four of the last five games, and
Robert Meachem
and
Devery Henderson
are breaking free with regularity on deep routes.
It's starting to look a lot like last season, when the Saints were lighting up scoreboards and winning the Super Bowl. The early-season panic that swept Bourbon Street when the Saints were looking only ordinary on offense has faded with each touchdown in the five-game winning streak. The realization is setting in that the 9-3 Saints are right on the heels of the 10-2 Falcons in the NFC South.
The two teams play each other Dec. 27 in a game that could go a long way in deciding the division. But there are things to take care of before that. The Saints host St. Louis on Sunday and travel to Baltimore next week. The Falcons are pretty much guaranteed a win at Carolina on Sunday, and they have to fly cross-country to Seattle next week.
All the Saints can do at this point is take care of themselves, and recent events have put them in a prime position to do this. In some ways, the Saints are in a better spot now than they were a year ago. Last season, they started 13-0, lost their final three regular-season games and sort of limped into the playoffs.
This season, at least on offense, the Saints appear to be headed for the peak -- or at least deep down the field -- at the right moment. The deep passing game is prospering when it matters most. Meachem has at least one catch for more than 50 yards in the last two games. Henderson, who had a 57-yard catch in a Thanksgiving victory at Dallas, also seems to be emerging at the right time.
Why is the deep passing game suddenly working so well? Coach Sean Payton points first to Brees.
"He's playing at a high level,'' Payton said. "He's playing very efficiently. Each week we keep looking at opportunities for our players and it varies where the shot plays go. Meachem had a few this past week and Devery at Dallas. It's something in each plan where we want to aggressively get the ball down the field.''
Early in the year, when Brees and the offense weren't putting up huge numbers, conspiracy theories were flying. That's understandable -- Brees was on the cover of this year's "Madden'' video game, and New Orleans is a town that believes in voodoo and curses. Theories were also flying that Brees was struggling because he banged up his knee in a home loss to Atlanta and wore a brace for a few weeks. There were even rumors that Brees was playing despite major knee damage.
But all that was untrue, and the talk of the "Madden Curse'' has pretty much disappeared over the last month. Brees is back to the Brees of old, and the strongest proof of that came this week when the quarterback was asked whether he feels he's been playing better. Keep in mind, there generally is not a person more critical of Brees than Brees. But even the quarterback is willing to admit he believes he's playing better these days.
"I do,'' Brees said. "I feel like early on for whatever reason some of the breaks weren't going my way. I wasn't quite as sharp as I wanted to be. I think a lot of that was timing and just getting into it and getting going again.''
[+] Enlarge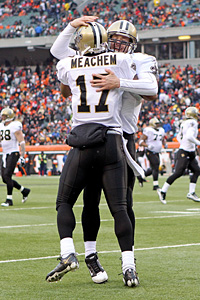 Andy Lyons/Getty ImagesSaints receiver Robert Meachem and quarterback Drew Brees have been having success on deep routes as of late.
But the surge by New Orleans' offense isn't simply due to Brees. There are reasons that Meachem and Henderson suddenly are getting open downfield and
Marques Colston
consistently is getting open in the medium-range passing game and the red zone.
"I think we're running the ball a little better in this last quarter of the season, if you look at it statistically,'' Payton said. "If you're able to do that, you're able to get some of the looks that you would prefer in regards to your down-the-field shots."
As long as Payton is coaching this team, the Saints never will be perceived as a running team. But Payton will be the first to tell you that the running game is an important part of his offense and that he's always seeking some sort of balance between the run and the pass.
He's found it in a very unlikely place -- undrafted rookie running back
Chris Ivory
. With top two running backs
Reggie Bush
and
Pierre Thomas
hurt for much of this season, the Saints were searching for some consistency out of the backfield early on. Defenses weren't even worrying about the running game.
Ivory broke off a 55-yard touchdown run in last week's win at Cincinnati, and he's run for five touchdowns in the last three games. Bush has returned from a broken leg to play in the last two games, although the Saints are taking a very gradual approach to getting him involved in the offense.
The news keeps getting better. Thomas hasn't played since September because of an ankle injury, but it appears he might return Sunday. Look for Thomas to be worked in slowly, like Bush, and for Ivory to keep getting the bulk of the carries, at least for the short term.
But, come the final weeks of the regular season and in the playoffs, the Saints might have three strong options out of the backfield. That's good news for the running game. But it might be even better news for the passing game and the entire offense.
"As you effectively run the ball, it's a little bit harder to sit in the same soft zone coverage and two-deep safety looks,'' Payton said. "I think it all goes hand-in-hand. Our ability to run the ball efficiently and then come off of it with play-action or a drop-back pass, I think that goes together."
October, 28, 2010
10/28/10
10:57
AM ET
The
New Orleans Saints
are next in our series of team-by-team mailbags.
Jacob in Atlanta writes:
Do you think that the "Madden Curse" has anything to do with
Drew Brees
' recent struggles. I just thought I should ask because no one has really mentioned it yet and I would like to hear your opinion.
Pat Yasinskas:
I'm not a big believer in that type of thing and it's not like Brees has gotten seriously injured or in trouble like some of the previous guys on the cover of the video game. But it is true he's not playing nearly as well as last year, but I think there are other factors at work (like injuries to his running backs and struggles on the offensive line) that have more to do with that than any curse.
---
Graham in New Orleans writes:
I believe Brees' knee injury is much worse than Sean Payton is letting on. And that is why his deep balls are off. Also, why is every analyst saying the Saints aren't great? Our 2 starting running backs, 2 starting cornerbacks, our outside linebacker, as well as a slew of others have been out with injury. I guess it is just easier to say they're bad.
Pat Yasinskas:
If Brees' knee injury truly was serious, the Saints wouldn't be throwing him out there every week. He is a very valuable piece of property and it doesn't make much sense to play him if there's a serious knee injury. As far as the analysts, I can't speak for everyone. But my take on the Saints right now is they're not great because they haven't played great. But I'm not ready to call them bad either. They're loaded with talent and, if some of the injured guys come back, this team could get back to being great in a hurry.
---
Chuck in New Orleans writes
: A while back you put one of my questions in the mailbag. It was about the possibility that the Saints were struggling physically and mentally because they simply played more games than anyone last year.
Ben Roethlisberger
made the following comments this week: "A lot of the hard part about it is your off-time is so short," he said. "You play longer than anyone else (the previous year) and the time to heal and rest or get your body right (is reduced).'' Interesting!
Pat Yasinskas:
Yes, I think that's a pretty honest and accurate answer. The Saints were playing for a month longer than most teams last season, and every game takes a physical toll. Payton tried to compensate for that by starting the offseason program a little later. But there's no doubt this is an issue for any team that plays deep into the postseason. The NFL operates on a clock that pretty much goes year round, and winning the Super Bowl probably put the Saints in a different time zone for much of the offseason.
---
Daniel in New Orleans writes:
Why is
Jahri Evans
on your Pro Bowl list? He's not even playing close to a Pro Bowl level. Brees definitely hasn't been great either, but he's closer to the list than Evans who has frequently been beat, shown poor technique and been penalized.
Pat Yasinskas:
True, Evans is not having a great year, especially when you compare it to the standard he set last year. But he's a "name'' player and a lot of coaches and players around the league will tell you he's the most talented guard in the game. Sometimes, reputation alone is enough to get someone into the Pro Bowl.
May, 23, 2010
5/23/10
1:20
PM ET
Kevin in Glen Lyon, PA writes:
I'm still concerned with the Falcons' pass rush. Do you think the additions of
Sean Weatherspoon
,
Corey Peters
and a healthy
Peria Jerry
are enough to provide a good enough support for our DB's? Also, is there a chance we still can sign someone to help that pass rush?
Pat Yasinskas:
I think the Falcons are pretty much done making roster moves -- at least significant ones. They really didn't do anything dramatic with their defensive ends in the offseason. The coaches sincerely believe
John Abraham
will bounce back from a tough year and that
Kroy Biermann
and
Lawrence Sidbury
will step up. They think the interior push Jerry will bring will help the entire line and Weatherspoon can be used as a blitzer. More than anything, the coaches believe the improvements in the secondary will help the pass rush because quarterbacks will have to hold the ball longer.
---
James in Columbia, SC writes:
With the cap free year it would seem obvious for the
Carolina Panthers
to extend the contracts of both
Jonathan Stewart
and
DeAngelo Williams
. With an opportunity like this most likely never occurring again, why don't you think that Jerry Richardson/Marty Hurney have done this?
Pat Yasinskas:
Right or wrong, Jerry Richardson isn't handing out big contracts right now. He's bracing for a lockout in 2011.
---
Shane in Greer, SC writes:
What do you think of the Madden Curse?
Drew Brees
is on the cover, so what do you think would happen if he say got injured early in the season?
Pat Yasinskas:
I'm not a big believer in curses or jinxes. But history has shown there is something about being on the Madden cover. That said, Brees already has shown he can re-write history.
---
Luke in Virginia writes:
Even with the re-signing of
Darren Sharper
it seems like
Malcolm Jenkins
will eventually take over that position because of the signing of
Patrick Robinson
and I believe the Saints have had Jenkins take some snaps at safety. Do you think that is the case?
Pat Yasinskas:
We'll know more when I get to New Orleans' minicamp June 4 through 6. The Saints have been quiet on their plans for Jenkins so far. But I think it's fairly obvious they're thinking about moving him to free safety. They've got a bunch of cornerbacks and they need to get Jenkins on the field. Sharper likely still is recovering from his reported micro-fracture knee surgery, so I'm expecting to see Jenkins getting some work at safety when I get to New Orleans.
---
Jeremy in Reno, NV writes:
This seems to be one of the most bipolar offseasons for the Panthers in recent memory. The analysts are all over the spectrum, predicting a potentially strong playoff team, to the third pick in the draft. John Fox always seems to pull out a playoff caliber season when not much is expected of the team. Some say the lame duck year will ruin Fox, others say it will bring out the best of him. What do you think Pat? What seems more likely? A playoff contender Panthers, or a team that picks in the top 5 in 2011?
Pat Yasinskas:
I understand why the analysts are all over the board with the Panthers. They have a lot of questions to answer and I can see them going either way. That said, you hit on a good point. Fox is at his best when expectations aren't high. He's a good coach and I expect him to coach the heck out of this team and I think Carolina at least contends for a playoff spot.
---
Seth in Edgewater, MD writes:
Gerald McCoy
&
Brian Price
need a nickname.."The Twin Hull's?"
Pat Yasinskas:
Not bad. But let's give Tampa Bay's rookie defensive tackles a little time to create their own identity.
---
Christopher in Raleigh, NC writes:
It's coming up on the 5th anniversary of the day my son passed away in his sleep at the age of 3 months due to what I was told was S.I.D.S. This time of year is always especially hard for me and when I saw the
article you had about the
Matt Bryant
I wondered if you wrote about that game he kicked the winning field goal against Green Bay the day after he buried his son (something I never could've done!). I
found the article
and wanted to tell you that I found it therapeutic to read as it took me back to that day where I cried like a baby watching that game. I wish I was a wealthy or scientific man so that I could make sure this never happened to another parent. I will always look up to Matt for what he did and continues to do, and I thank you for writing such a great article.
Pat Yasinskas:
Thank you very much for sharing your story. I know there are no easy answers, but I'm glad you were able to get some therapeutic value from Matt Bryant's story. I have gotten to know Matt and his wife, Melissa, quite well over the last few years and they are great people. I admire their strength and particularly admire Matt's perseverance. In addition to losing Tryson, Matt also lost his father last year, but has handled that with a lot of strength and dignity.
April, 21, 2009
4/21/09
6:53
PM ET
Posted by ESPN.com's Pat Yasinskas
There is good news and more good news in this item sent to us by Daniel Cox.
The NFC South, a division that seems to thrive on playing the old "no respect'' card isn't getting any respect when it comes to the cover of 2010 Madden NFL video game by EA Sports. The nine finalists for the cover can be found here.
That's fine. Guys like Drew Brees, Steve Smith, DeAngelo Williams and Matt Ryan and their fans can take the perceived slight and run with it.
But the better news might be that the NFC South is avoiding the dreaded "Madden Curse.'' As Cox details, the guys who have graced box cover throughout history have met with some strange luck. That's especially true in the case of Atlanta's Michael Vick who was on the cover in 2004 and promptly broke his leg in a preseason game.
In related news, Falcons general manager Thomas Dimitroff said he'd be happy to trade the rights to Vick for a couple of Ryan (Matt, not Nolan) rookie cards. Still no takers.