April, 12, 2012
4/12/12
6:02
PM ET
On the surface, Joe Vitt's tenure as an interim head coach in St. Louis doesn't look very pretty.
But dig beneath the surface a little bit and you'll find a different story. I spoke with several people who observed Vitt's time as the Rams' head coach in 2005, and they said he did a nice job of weathering the storm.
Vitt will be taking over as the interim head coach of the
New Orleans Saints
on Monday when Sean Payton begins his season-long suspension. Vitt, who has been Payton's assistant head coach since 2006, will run the team through the offseason program, training camp and the regular season. But Vitt will have to step away at the start of the regular season and serve a six-game suspension for his role in the Saints' bounty program. After that, Vitt will return as head coach.
[+] Enlarge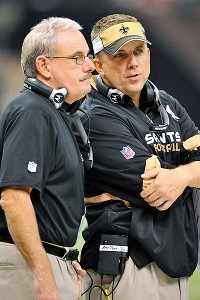 Kirby Lee/Image of Sport/US PresswireJoe Vitt, left, who will lead the Saints while head coach Sean Payton serves a suspension, dealt with similar circumstances while with the Rams in 2005.
General manager Mickey Loomis will serve an eight-game suspension to start the season. The Saints also could have players suspended.
There are turbulent times ahead for the Saints, but Vitt has experience in handling situations like this.
Back in 2005, he was the assistant head coach and linebackers coach in St. Louis. The Rams already were ending "The Greatest Show on Turf'' era. With Mike Martz as the head coach, the Rams got off to a 2-3 start and there was a well-publicized feud brewing between Martz and the front office. Martz came down with a bacterial infection in his heart after five games, and Vitt was elevated to interim head coach.
By that point, injuries already were piling up. With quarterback
Marc Bulger
injured, the Rams had to go through a lot of that season with Jamie Martin and
Ryan Fitzpatrick
at quarterback. Wide receiver Isaac Bruce was dealing with injuries and near the end of his career, and nothing was easy. The Rams went 4-7 under Vitt, but several people that were associated with the team or observed the Rams closely in those days said Vitt made the most out of a difficult situation.
They said Vitt kept his players playing hard. He's known as a motivator in New Orleans, and it was the same way in St. Louis. Vitt used to show the Rams a movie the night before a game, and it always was tied to a motivational message. One movie was "Gladiator,'' which emphasized the importance of sticking together. Under Vitt, the Rams started off 3-3, highlighted by Fitzpatrick coming off the bench to rally them to a 33-27 victory against Houston.
After that, the Rams endured a four-game losing streak, but most of those games were close. The last two were a one-point loss to Philadelphia and a four-point loss to San Francisco. Vitt wrapped up his tenure with a season-ending victory against Dallas, a team that included Payton on its staff. After that, Payton got hired by the Saints, and one of the first moves he made was hiring Vitt.
On Monday, Payton will hand over his team to Vitt. It's not an ideal situation by any means. But Vitt has made the most out of a tough situation before, and the Saints are counting on him to do it again.
October, 6, 2011
10/06/11
11:01
AM ET
With some help from ESPN Stats & Information, let's take a look at some numbers and notes about Sunday's matchups.
The Saints will face a starting rookie quarterback for the second straight week when they take on
Cam Newton
. They faced Jacksonville's
Blaine Gabbert
last week. The only other time that's happened in Saints' history was last year, when the Saints faced Carolina's
Jimmy Clausen
and Arizona's
Max Hall
(the Cardinals beat the Saints) in back-to-back weeks. Since the start of the 2008 season, New Orleans has a league-high 17 interceptions against rookie quarterbacks.
New Orleans running back/return man
Darren Sproles
leads the NFL with 716 all-purpose yards. Since the 1970 season, Sproles is one of only two players to have 350 yards from scrimmage and 350 return yards in the first four games. The other was Terry Metcalf in 1975.
Newton has thrown for 1,386 yards through four games, the most ever by a rookie. Newton needs only 111 passing yards to break Marc Bulger's record for passing yards in the first five starts by a rookie.
Last season, Carolina's
Steve Smith
led the NFL in dropped passes with five on throws of 15 or more yards downfield. This year, Smith has yet to drop one of that distance and he's been targeted 19 times in those situations.
The Buccaneers have a chance to put together their first four-game winning streak since 2008. A victory against San Francisco would give Tampa Bay its best five-game start since 2005, when the team went 4-1.
After rushing for just 15 yards in the opener, Tampa Bay running back
LeGarrette Blount
has come on strong. Over the last three games, he ranks third in the NFL with 279 rushing yards.
The Falcons are 21-4 in the regular season in the Georgia Dome since Mike Smith took over in 2008. The only team with a better home record in that span is the Patriots, who are 22-3.
When Green Bay's
Aaron Rodgers
and Atlanta's
Matt Ryan
square off Sunday night it will be a meeting of quarterbacks who have had vastly different success rates when throwing downfield. On throws of at least 15 yards this season, Rodgers has completed 57.1 percent of his passes this season. That ranks third in the NFL. Ryan has completed just 30.3 percent, third-worst in the NFL.
July, 11, 2011
7/11/11
10:10
AM ET
Several times this offseason, new
Carolina Panthers
coach Ron Rivera has implied pretty strongly that he wants to add a veteran quarterback to help mentor
Cam Newton
and
Jimmy Clausen
.
I get the idea. Clausen and Newton are both very young and raw. If the lockout shortens training camp, the Panthers could even open the season with someone like
Marc Bulger
or
Jake Delhomme
as the starting quarterback. Someone like Delhomme or Bulger could come in and run the offense efficiently until Newton and/or Clausen gets up to speed.
But let's say the lockout gets resolved quickly and training camp starts on time. In that scenario, I'm not so sure it's necessary the Panthers go out and sign a veteran to work as a mentor. In fact, I think the idea of having a player mentor another player at the same position is overrated. First off, there are competitive juices flowing through every professional athlete and that doesn't always lead to dedicated mentoring.
Besides, I think the Panthers already have some pretty good mentors for Newton and Clausen. They are offensive coordinator Rob Chudzinski and quarterbacks coach Mike Shula. They've been around and are good at what they do. They can do more as mentors than some veteran backup.
Look at how Tampa Bay handled
Josh Freeman
. They had
Byron Leftwich
there as a (very short) bridge in Freeman's rookie year. But Leftwich wasn't a mentor. Freeman's development came because he worked hard and because he got some very good coaching from offensive coordinator Greg Olson and
Alex Van Pelt
joined the Bucs as quarterbacks coach last season. Freeman frequently credits Olson and Van Pelt for his progress. It was kind of the same thing with
Matt Ryan
in Atlanta.
Chris Redman
might be an extra set of eyes and ears for Ryan, but offensive coordinator Mike Mularkey and former quarterbacks coach
Bill Musgrave
were the ones who developed him.
It probably wouldn't hurt the Panthers if they add a veteran mentor for Newton and Clausen. But will it really help them? They've got another quarterback,
Tony Pike
, who they drafted last year. Some in the organization thinks Pike has potential. If the Panthers bring in a veteran, Pike will be gone, unless the Panthers find some way to carry four quarterbacks. Putting Pike on the practice squad is possible, but not likely. If he's released, some other team will sign him before Carolina can get him on the practice squad.
The idea of bringing in a mentor sounds nice. But the fact is the Panthers might already have all the mentors they need in Chudzinski and Shula.
June, 24, 2011
6/24/11
11:42
AM ET
We already have talked quite a bit about players from the NFC South who are expected to become unrestricted free agents. We're going on the assumption that players not under contract who have at least four accrued seasons can become unrestricted free agents.
With that in mind, and with some help from ESPN Stats & Information, let's take a look at some of the more prominent potential free agents from the rest of the league.
QUARTERBACKS:
Marc Bulger
,
Kerry Collins
,
Rex Grossman
,
Matt Hasselbeck
,
Patrick Ramsey
,
Alex Smith
,
Billy Volek
,
Kellen Clemens
,
Brodie Croyle
,
Trent Edwards
,
Bruce Gradkowski
, Tarvaris Jackson,
Matt Leinart
,
Troy Smith
and
Tyler Thigpen
.
RUNNING BACKS:
Cedric Benson
,
Ronnie Brown
,
Kevin Faulk
,
Mewelde Moore
,
Sammy Morris
,
Clinton Portis
,
Dominic Rhodes
,
Tony Richardson
,
Kevin Smith
,
Darren Sproles
,
Fred Taylor
,
Brian Westbrook
,
Ricky Williams
,
Joseph Addai
,
Ahmad Bradshaw
,
Jerome Harrison
,
Brandon Jackson
,
Laurence Maroney
and LeRon McClain.
WIDE RECEIVERS
:
Mark Clayton
,
Braylon Edwards
,
T.J. Houshmandzadeh
,
Randy Moss
,
Santana Moss
,
Terrell Owens
, Donte' Stallworth,
Steve Breaston
,
Malcom Floyd
,
Santonio Holmes
,
James Jones
,
Sidney Rice
,
Mike Sims-Walker
,
Brad Smith
and
Steve Smith
(of the
New York Giants
, not the Steve Smith of Carolina).
TIGHT ENDS:
Desmond Clark
,
Donald Lee
,
Randy McMichael
,
Bo Scaife
,
Kevin Boss
,
Owen Daniels
,
Daniel Fells
,
Zach Miller
,
Ben Patrick
and
Matt Spaeth
.
OFFENSIVE LINEMEN:
David Baas
,
Jammal Brown
,
Robert Gallery
,
Adam Goldberg
,
Kyle Kosier
,
Olin Kreutz
,
Matt Light
,
Sean Locklear
,
Casey Rabach
,
Chris Spencer
,
Langston Walker
,
Casey Wiegmann
,
Floyd Womack
,
Damien Woody
,
Chris Chester
,
Jeromey Clary
,
Daryn Colledge
,
Willie Colon
,
Doug Free
,
Jared Gaither
,
Charlie Johnson
,
Deuce Lutui
,
Samson Satele
,
Lyle Sendlein
and
Marshal Yanda
.
DEFENSIVE TACKLES:
Aubrayo Franklin
,
Tommie Harris
,
Chris Hoke
,
Chris Hovan
,
Kris Jenkins
,
Bryan Robinson
,
Gerard Warren
,
Jamal Williams
,
Pat Williams
,
Alan Branch
,
Barry Cofield
,
John McCargo
and
Brandon Mebane
.
DEFENSIVE ENDS:
Jason Babin
,
Dave Ball
,
Raheem Brock
,
Andre Carter
,
Shaun Ellis
,
Cullen Jenkins
,
Travis LaBoy
,
Trevor Pryce
,
Marcus Spears
,
Ray Edwards
and
Mathias Kiwanuka
.
LINEBACKERS:
Akin Ayodele
,
Keith Bulluck
,
Kevin Burnett
,
Dhani Jones
,
Kirk Morrison
,
Julian Peterson
,
Matt Roth
,
Takeo Spikes
,
Jason Taylor
,
Mike Vrabel
,
Stewart Bradley
,
Bobby Carpenter
,
Manny Lawson
,
Paul Posluszny
,
Ernie Sims
and
Stephen Tulloch
.
CORNERBACKS:
Nnamdi Asomugha
,
Phillip Buchanon
,
Chris Carr
,
Drayton Florence
,
Ellis Hobbs
,
Carlos Rogers
,
Lito Sheppard
,
Ike Taylor
,
Fabian Washington
,
Drew Coleman
,
Antonio Cromartie
,
Chris Houston
,
Johnathan Joseph
,
Dimitri Patterson
,
Josh Wilson
and
Eric Wright
.
SAFETIES:
Aaron Francisco
,
Ken Hamlin
,
Michael Lewis
,
Brandon McGowan
,
Quintin Mikell
,
Lawyer Milloy
,
Brodney Pool
,
Gerald Sensabaugh
,
Roy Williams
,
Gibril Wilson
,
Atari Bigby
,
Melvin Bullitt
,
Abram Elam
,
Dashon Goldson
,
Michael Huff
,
Dawan Landry
,
Danieal Manning
,
Bernard Pollard
,
Eric Weddle
and
Donte Whitner
.
June, 19, 2011
6/19/11
12:57
PM ET
Let's take a quick trip through the Sunday headlines around the NFC South.
The attorney for Tampa Bay cornerback Aqib Talib says it's likely a trial for his client on assault charges won't come until next year. That means that barring a plea agreement or dismissal, the Bucs or the NFL will be the only ones who might force Talib to miss any time this year. The league could suspend Talib, who was suspended for the first game of last season. But players are fighting for amnesty for conduct violations during the lockout, although NFL commissioner Roger Goodell continues to say that infractions during the lockout are subject to punishment. The Bucs also could step in and discipline Talib before the league does. They also could trade or cut him. If the lockout ends and the Bucs don't do anything with Talib, he could open training camp with his teammates. If discipline for lockout activities is allowed it's likely to take the NFL some time before issuing suspensions.
It looks like Carolina receiver Steve Smith, who is at his best when he's got a chip on his shoulder, already has found a chip to put on his shoulder wherever he's at this season. Smith, 32, said many people are saying his skills are diminishing and he's losing a step. Funny, but I haven't seen or heard anyone suggest anything close to that. Yes, Smith's numbers were off last season, but I think that can be blamed totally on poor quarterback play and an antiquated offense.
Steve Reed writes that the Panthers may bring in a veteran quarterback who could end up as their opening-day starter. The Panthers have thrown out hints that they'd like a veteran to help mentor Cam Newton and Jimmy Clausen and guys like Jake Delhomme and Marc Bulger could be available. But unless the lockout shortens training camp and the preseason, I don't see the Panthers using a veteran as a "bridge." This team is in a youth movement and it might as well go through the growing process with one of the young guys. Yeah, it might not be a bad idea to have a veteran to help them, but if Clausen and Newton get a full preseason, whoever grasps the play book quicker should be the starter on opening day.
Jim Henderson writes that New Orleans running back Reggie Bush has strongly denied a report that he and his agent were given permission to talk to other teams before the lockout. The initial report said that Bush found several teams who said they would pay him more than the Saints were offering in a restructure of his contract.
Mike Triplett has a nice feature that looks back at the career of former Saints fullback Buford Johnson, the latest member of the Louisiana Sports Hall of Fame.
March, 19, 2011
3/19/11
7:45
AM ET
Time for a quick leap into the NFC South mailbag.
Justin in San Francisco
asks whether compensatory picks still will be issued in a lockout and what the Panthers might expect as compensation for losing
Julius Peppers
.
Pat Yasinskas:
All indications are the compensatory picks will be announced, as usual, at the NFL meeting. That starts Monday in New Orleans, and I'll be there. I'll share the picks with you as soon as I get them. I think it's pretty safe to assume the Panthers will get a third-round pick to compensate for Peppers. Just a reminder, teams can't trade compensatory picks.
Alan in Daytona Beach, Fla.,
asks whether the Bucs should make a play for
Randy Moss
and says he could help the development of
Josh Freeman
.
Pat Yasinskas:
No, don't do it! Alan's question also mentioned the injury to
Arrelious Benn
as another reason the Bucs could look to Moss. But all indications are that Benn's injury is healing well and that he should be fine for the start of the regular season. The Bucs also have some other young receivers, like
Dezmon Briscoe
and
Sammie Stroughter
, they like. Of course,
Mike Williams
already is established as the No. 1 guy. Moss comes with way more downside than upside. Yeah, he still might be able to make some plays, but the guy can disrupt a locker room. If you look at the way the Bucs approached last season, it sure looked like they wanted to surround Freeman with a group of young receivers and let them grow up together. That seemed to work very nicely. Why mess up a good thing? If the Bucs want to add another receiver somewhere later in the draft, fine. But they don't need any more than that.
Bryson in Atlanta
wonders whether the Falcons should make a play for Moss.
Pat Yasinskas:
See the above answer and now we'll tailor it to Atlanta's situation. Coach
Mike Smith
is a big believer in chemistry in the locker room. Top receiver
Roddy White
is a unique character and he's thrived in recent years. Like a lot of receivers, White has a personality that sometimes can push the envelope a bit. But Smith does a nice job keeping that in check. If you throw Moss into the equation, you push the chances of White or Moss really stepping into "throw me the ball'' territory. Atlanta can get a speed receiver in the draft and still use
Michael Jenkins
and some other guys as decent role players. No need to do anything too dramatic here.
Dave in Valdosta, Ga.,
wrote to ask whether there is any chance of the Bucs trading backup quarterback
Josh Johnson
and picking up a veteran such as
Marc Bulger
.
Pat Yasinskas:
I'd be all for it. If the Bucs could actually get any draft pick for Josh Johnson, I'd take that. I'd like to see them have a dependable veteran backup like Bulger, who seems to have the personality to handle such a role after being a starter much of his career. However, that's just my opinion, and I don't think you'll see anything like this happen. Raheem Morris and his staff seem to be content with Johnson.
Zach in Peachtree City
wrote to say he thinks the Panthers official website has been writing a lot about
Patrick Robinson
lately and asks whether that's a sign Carolina could be looking to take the cornerback with the first overall pick.
Pat Yasinskas:
Can't speak for the team's official website. But let's just say that most teams are pretty controlling of their own sites. It's highly unlikely any team is going to telegraph its draft plans, and I can assure you that doesn't fit Marty Hurney's profile. In fact, I'd be more inclined to say what you're seeing is a smoke screen.
August, 12, 2010
8/12/10
11:15
PM ET
Jimmy Clausen
looked very good at times in his NFL debut.
Matt Moore
looked mediocre at times.
Does that add up to a sudden quarterback controversy for the
Carolina Panthers
? Not just yet. I'll explain why as we run through seven observations from Thursday night's preseason game between the Panthers and
Baltimore Ravens
. By the way, for those who actually track preseason results, the final was
Baltimore 17, Carolina 12
.

1. Clausen looked very NFL ready, at least until the rain started.
He made some nice throws and seemed to have a good sense of awareness. But let's remember a few things. Clausen was playing against Baltimore's backups and the Panthers pretty much decided Moore's performance at the end of last season earned him the right to open this regular season as the starter. Clausen landed some jabs, but nothing close to a knockout punch.
2. Moore was far from horrible.
He wasn't spectacular, but he did some nice things. Something else to keep this in perspective -- Moore was playing against a very good Baltimore first-team defense. He also was doing it without receiver
Steve Smith
, right tackle
Jeff Otah
and running back
Jonathan Stewart
. All three are expected to be ready for the start of the regular season and they will make Moore a much better quarterback. Moore would have to absolutely bomb to lose the job now and he didn't do that.
3. What was the deal with Jordan Gross?
The left tackle got called for three penalties in the first 12 minutes and that didn't help Moore. I wouldn't be too concerned with this and I doubt the Panthers are. Gross is one of the best left tackles in the league. He's not going to have games like that in the regular season.
4. The pass rush is very much a work in progress.
When it mattered with the first and second teams, the Panthers had stretches when they didn't generate any pressure on
Joe Flacco
and
Marc Bulger
. But they also had a few flash plays where they did. The good news is veteran
Tyler Brayton
had two sacks on Flacco. The bad news is Brayton suffered some sort of ankle injury on his second sack. We don't know the extent of that injury yet. The most encouraging news is rookies
Greg Hardy
and
Eric Norwood
showed some real flashes. If I'm John Fox, I let Brayton sit for most (or all) of the rest of the preseason. The Panthers know what they can get out of Brayton. They need to find out more about what they can get from Hardy, Norwood,
Charles Johnson
and
Everette Brown
.
5. Whoov?
Like a lot of Carolina fans, I was more than a little concerned when the Panthers let fullback
Brad Hoover
go after last season. It was hard to find a fullback more dependable than Hoover. But I liked what I saw of replacement Anthony Fiammetta. He blocked well and looked good as a receiver out of the backfield.
6. Backup running back Tyrell Sutton had a few nice plays.
But I wouldn't go drafting him for your fantasy team. As long as
DeAngelo Williams
and Stewart are healthy, they're going to get almost all of the carries. Besides, Sutton fumbled at the goal line and Fox isn't big on giving the ball to guys who fumble.
7. Rookie Armanti Edwards will be a factor on offense, but not immediately
. Jon Gruden and Ron Jaworski both talked about how the former college quarterback is adjusting to playing wide receiver and implied it might take until about midseason for him to have much of a role in the offense. That's the exact word I got from the Carolina brass when I visited training camp. But don't be surprised if Edwards is handling punt returns sooner than that. That's a new task for Edwards, too. But he showed he can catch punts, even in the rain, and the guy has the dynamics to make things happen in the open field.
May, 11, 2010
5/11/10
1:00
PM ET
»
NFC Big Question
:
East
|
West
|
North
|
South
»
AFC
:
East
|
West
|
North
|
South
Who will be Drew Brees' backup in New Orleans this year?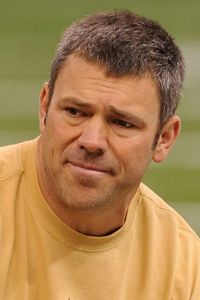 Al Messerschmidt/Getty ImagesThe Saints' backup quarterback last season, Mark Brunell, is still a free agent.
My guess is that quarterback isn't even on the roster yet. Yes, the Saints took a long look at several quarterbacks in their recent rookie camp. They brought in Syracuse's Greg Paulus and seventh-round pick
Sean Canfield
also took part. Paulus is a former Duke basketball player who played only one year of college football. At best, he's a developmental prospect. Maybe he spends some time on the practice squad.
Canfield also is a prospect. He was a seventh-round pick and it's unrealistic to expect him to start off as anything more than a No. 3 quarterback. But that role was held by
Chase Daniel
last season and it's hard to imagine anyone other than Daniel and Canfield competing for the No. 3 job this year.
Yes, the Saints like Daniel, but he's got no real experience. It's kind of a stretch to imagine the Saints just handing the No. 2 job to Daniel at this point.
They've got a Super Bowl championship team. Let's get hypothetical for a second and say Brees twists an ankle and has to miss a couple of games. Are the Saints ready to turn it over to Daniel? Or Canfield?
I seriously doubt it. This is a veteran team and just about anything less than another Super Bowl will be a disappointment. The Saints need an insurance policy behind Brees. They need someone with experience who could come in and lead them for a couple games.
You've got to believe something will happen on this front, especially when you look at how the Saints have collected depth just about everywhere else.
Mark Brunell
, last year's backup, is still available as a free agent and I still think he's the leading option. Yes, Brunell is old, but he already knows the system.
Even if the Saints think Brunell is too old, they've got to look at other guys with experience. The list of available free agents isn't all that impressive right now. But someone like
Marc Bulger
could make the Saints feel a lot more comfortable with their backup situation.
April, 6, 2010
4/06/10
12:40
PM ET
Ramoo in Atlanta writes:
Our kicking hurt us last season. I honestly believe we would easily have had at least two more victories last season. I know
Matt Bryant
is a solid veteran kicker but is there any plans Falcons have to pick up a long term kicker late in this year's draft? I hate to see another
Jason Elam
this season.
Pat Yasinskas:
No doubt kicking was an issue for the Falcons last year. But I'm not a big believer that you should draft kickers and immediately expect them to be great. Traditionally, some good kickers bounce around the league before truly finding their home, and there always are some decent kickers available. Give Bryant a chance. I know he's settled into a home in Atlanta and is working hard to get his career back on track. He'll get his chance to show the Falcons what he's got left. But I'm also sure they'll be keeping a constant eye on what other kickers might be available.
---
Will in New Orleans writes:
The Times Picayune is reporting that the Saints are bringing
Alex Brown
in for a workout. If he signs with them it would seem to resolve their problem at defensive end, who would you predict them going after in the draft if they fill that spot first?
Pat Yasinskas:
Yes, signing Brown would seem like a very logical move for the Saints and probably would be an upgrade over
Charles Grant
. But, let's hang loose on this one a bit. The Saints have had some visitors already this offseason and they've let them leave without offering contracts. Those were mostly running backs and the Saints simply were doing their due diligence. It might be the same with Brown. Besides, he's drawing interest elsewhere. There are reports saying Tampa Bay will be next on Brown's tour. I also know Carolina's at least entertaining the idea of pursuing him. However, if the Saints do sign Brown, I think they'd be pretty well set at defensive end and their needs in the draft would be narrowed. Outside linebacker would probably top the list and there should be some good ones available at No. 32 overall. But that would give the Saints flexibility to not have to absolutely lock in on one position with their first pick.
---
Unknown (only because I accidentally erased the name as I pulled the question out of the mailbag and I'm sorry about that because it's a good question) writes:
With all the talk of needing a QB to go with
Matt Moore
in Carolina, why not
Jeff Garcia
? Granted they are going younger but with the lockout looming why not? He could probably be gotten on the cheap and would be a great mentor for Moore. Especially if this is John Fox's last year, you know there will be another purge with the new regime.
Pat Yasinskas:
Jeff Garcia has been many things and, at times, was a very good quarterback. Not sure how much he has left. But one thing Garcia never has been and never will be is a mentor. He's never been content to be a backup. That's not necessarily a knock on him. He's just a very competitive person and competitive people aren't going to go out of their way to help the people they're competing with.
---
Ryan in Wilmington, N.C., writes:
Forget about
Jason Campbell
. What about the Panthers having a true viable alternative to Moore with
Marc Bulger
? I want Moore to get his chance, but I'd feel a lot more comfortable having a true vet like Bulger in case things don't go so well and Campbell is more questionable than Moore is in my opinion.
Pat Yasinskas:
I think the Panthers have to at least consider Bulger. He's a veteran and has done some good things. But at this point in his career, is he that much better than
Jake Delhomme
? Not so sure. If I were the Panthers, I'd want to sit down with Bulger first and see exactly what his mindset is (see Garcia question above). I'd prefer the Campbell scenario, even though there are no guarantees with Campbell. But Campbell still has upside. I say bring in Campbell, throw him out there with Moore and see if one of them rises up. One of those two guys just might emerge as a franchise quarterback -- at least in Carolina's system.
February, 25, 2010
2/25/10
9:50
AM ET
Time for a morning cruise through the local headlines around the NFC South.
November, 2, 2009
11/02/09
1:04
PM ET
Posted by ESPN.com's Pat Yasinskas
METAIRIE, La. – Wanted to share a few interesting nuggets I just received from ESPN's Stats & Information about tonight's Monday Night Football game between the Falcons and Saints.
First off, I think we all realized pretty quickly that Atlanta quarterback
Matt Ryan
was good as soon as he came in the NFL last season. But he's at his best when he's indoors.
Ryan is 11-3 in his indoor starts. That puts him in some pretty good company. The only two quarterbacks in history with better records in their first 14 indoor starts are
Kurt Warner
and
Marc Bulger
. They each started off 13-1.
The Falcons have only one victory in franchise history against a team that was undefeated through at least the first five games. That came all the way back in 1973. In a "Monday Night Football" game against the 9-0 Vikings, Atlanta quarterback Bob Lee led the Falcons to a 20-14 victory. By the way, Atlanta has never won a road game against a team that was 4-0 or better to that point in the season.
The Saints have a chance to equal the best start in franchise history with a victory. The 1991 team started 7-0 and finished 11-5.
Through six games, the Saints are on pace for one of the top scoring seasons in NFL history. They've scored 238 points. Only the 2000 Rams (262 points) have scored more points through their first six games.