February, 11, 2015
Feb 11
8:00
AM ET
TAMPA, Fla. -- Time for a look at what we're seeing and hearing about what the Buccaneers might do with the No. 1 overall draft pick.
It's very early in the process, and much will depend on what happens at the scouting combine, pro days and individual interviews. But the early indicators are that Florida State quarterback
Jameis Winston
is the favorite -- for now.
I've heard that coach Lovie Smith prefers Winston over Oregon's
Marcus Mariota
. When Smith chose Dirk Koetter as the Bucs' offensive coordinator over Marc Trestman, the logic was simple. Although Smith and Trestman have similar philosophies about how to run an offense, they disagreed on the quarterbacks. Trestman preferred Mariota.
Smith favors Winston and Smith is the boss. There is lots of logic behind Smith's preference.
Mariota spent his college career running a spread offense. Winston ran a pro-style offense. Both fared well, but there isn't much room for comparison.
At Florida State, Winston ran an offense that is at least somewhat similar to what the Bucs run. The offense Mariota ran looked nothing like that, and the only comparable NFL offense is what the
Philadelphia Eagles
run.
The Bucs still have to do plenty of homework on Winston off the field. He comes with some red flags. But if the Bucs are looking for a quarterback who fits their current style of offense, Winston has a big edge.
November, 21, 2014
11/21/14
8:00
AM ET
When:
1 p.m. ET, Sunday
Where:
Soldier Field, Chicago
TV:
Fox
The records scrub away some of the shine for Sunday's matchup at Soldier Field between the
Tampa Bay Buccaneers
and
Chicago Bears
, but the storylines involved remain interesting for what should be a competitive contest.
First off, there's the obvious with Lovie Smith coming to town to coach against his former team, which is led by former Bears backup quarterback
Josh McCown
. But even with the Bucs owning a 2-8 record, they're just two games out of first place in the NFC South.
The Bears, meanwhile, are looking to win back-to-back contests for the first time this season since Weeks 2 and 3.
Remember, the Bears fired Smith after a 2012 season in which he led the team to a 10-6 record. The club hasn't recorded a double-digit win season since, and doesn't appear to be on the way to doing it this year, either.
Bears reporter Michael C. Wright takes a look at the matchup with Buccaneers reporter Pat Yasinkas:
Wright:
Pat, the Buccaneers are coming off a big road win at Washington, and I've long thought they were a much more talented team than the record indicated. Obviously, it's probably too late to save the season. But how's the atmosphere out there coming off this win, and what's the next step for the Bucs?
Yasinkas:
The atmosphere is a lot better than you would expect from a 2-8 team. That's mainly due to the fact the Bucs are only two games behind Atlanta and New Orleans in the NFC South. And, you're right, this is a talented team. If the Bucs can put that talent together down the stretch, they could end up being a playoff team. It may sound crazy, but they're not far off the pace in the NFC South.
I thought last year's strong finish by Chicago would carry over into this season. But it hasn't. What's gone wrong for the Bears?
Wright:
Where do I start? I think people put too much faith in the offense, expecting it to perform at the same level or better than it did in 2013. But what folks don't understand is the Bears sort of caught teams by surprise last season because opponents didn't know exactly what to expect out of a Marc Trestman offense. Opponents adjusted in 2014 to what the Bears put on film in 2013, and they've had trouble coming up with a sufficient counterpunch. On the other side of the ball, the Bears revamped the front four, but haven't received the production commensurate with the investment. The Bears miscalculated what the staff would be able to get out of the linebacking corps, which has struggled, not to mention the secondary.
Surely, there's quite a bit of disappointment about Tampa Bay's record, especially when considering how the Bucs have squandered fourth-quarter leads five times this season. Why haven't the Bucs been able to hold leads, and overall, what's the thought out there regarding the job done so far by former Bears coach Lovie Smith?
Yasinkas:
The Bucs have had their share of disappointing losses. They've blown five fourth-quarter leads and the reasons for that are collapses by the defense and an inability by the offense to protect a lead. That has been very disappointing and you can make a strong case that the Bucs should have a much better record than they do. Fans aren't very pleased with what Lovie Smith has done so far. He has been stubborn, sticking to a Tampa 2 defense that may be antiquated and an offense that's conservative. But the Washington game was a good example of what "Lovie Ball" can be when it works properly. Smith's record isn't very good, but he's not on the hot seat. Ownership believes he can show some promise down the stretch and turn things around with another offseason.
There has been a lot of talk about
Jay Cutler
's future in Chicago. Does he have one?
Wright:
Boy, that's a good question that I'm not sure I can answer at this point. Obviously with the contract, Cutler is sort of handcuffed to the team for the next couple of seasons. But if Cutler doesn't improve down the stretch, I could see the Bears looking for ways to cut ties (a trade perhaps?). The Bears gave Cutler a $126.7 million contract, and he certainly hasn't produced at the level you'd expect a player making that type of money. So if the arrow isn't pointing up for Cutler at the conclusion of the season, it certainly wouldn't surprise me if the Bears entered 2015 with an open competition at the position or looked to trade him in the offseason.
Speaking of quarterbacks, when Josh McCown left Chicago to sign with the Buccaneers, it seemed like an ideal match, especially when considering how he performed in 2013 as the fill-in for Cutler. Can you give me a rundown as to why has McCown struggled this season?
Yasinkas:
McCown admitted recently that he was pressing too much in the first three games. He was trying to make something happen out of nothing and that led to some mistakes. But McCown got five games to sit back and watch while he dealt with a thumb injury. In the past two games, he has been much more efficient. The Washington game was similar to what he did in Chicago last year. If he can continue to do that the rest of the season, the Bucs will be very happy.
I know it's only Year 2, but this league doesn't have much patience anymore. Is Marc Trestman on the hot seat?
Wright:
Similar to Cutler's situation, I think it all depends on how the team performs down the stretch. At this point, I don't think general manager Phil Emery is inclined to fire Trestman in part because of the investment in Cutler. Prior to Trestman's arrival, Cutler had played for three different offensive coordinators in three different systems over four seasons. So for Emery, gaining some level of stability for Cutler was important, which is what the GM believed he did in bringing aboard Trestman and offensive coordinator Aaron Kromer. Remember, the Bears signed Cutler to a seven-year contract, and Emery doesn't want his quarterback playing in yet another system for another coach. So unless the Bears totally nose dive over the last six games, Trestman's job is safe. Certainly, there will be scapegoats let go at the conclusion of the season regardless of what happens. But I don't think Trestman is on the hot seat. He'll get another season unless things go totally awry.
November, 19, 2014
11/19/14
2:49
PM ET
TAMPA, Fla. -- It's more than a little ironic that
Tampa Bay Buccaneers
quarterback
Josh McCown
is finally feeling like he did last year.
That's because he's about to visit Chicago to face the team he played for last season. McCown played the best football of his career for the
Bears
: Filling in for an injured
Jay Cutler
, he threw for 13 touchdowns with just one interception. That performance was enough to get McCown a two-year, $10 million contract and a starting job in Tampa Bay.
[+] Enlarge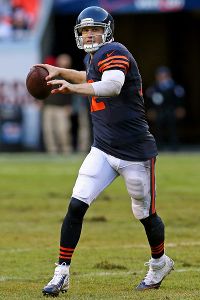 Jonathan Daniel/Getty ImagesJosh McCown parlayed a strong 2013 in Chicago into a two-year, $10 million deal with the Bucs.
McCown said his momentum from last year went away at the beginning of this season. He has said he was pressing too hard in the first three weeks, throwing two touchdown passes and four interceptions before suffering a thumb injury that kept him on the sideline for five games. But since returning to the lineup two games ago, McCown said he feels like he did during his run as Chicago's starter.
That was especially evident on Sunday in Washington. McCown completed 15 of 23 passes for 288 yards and two touchdowns as the Bucs (2-8) snapped a five-game skid.
"I don't know that I felt that way the first few games," McCown said. "That's how I envisioned it. That's how I felt when I was playing last year. I felt more calm, and [quarterbacks coach] Marcus [Arroyo] and I are on the same page with the plan and just where he's at as a playcaller. That brought me a lot of peace. That's more what everybody envisioned."
Sunday's performance was exactly what the Bucs envisioned when they signed McCown.
"If you look at what he did last year and his body of work when he was given a chance, he was very impressive," Arroyo said. "I think he's capable of doing that game, and that was a great game last weekend. We've got to try to find a way to do it again and again."
McCown said the
arrival of coach Marc Trestman in Chicago
last year helped elevate his game.
"Just from the standpoint of having someone on the offensive side of the ball bring his kind of expertise," McCown said. "You get different things from different people in your career, and I've had tons of coordinators, some really good ones. But every now and then, you click with somebody that sees it the way you see it. As a player, the way they call a game or the way they see the game, it kind of hits your brain the same way. For me, I think that's what allowed me to play at the level I played at for Marc."
Bonding with a coach wasn't the only positive McCown took from his three seasons in Chicago, which included two years playing for current Bucs coach Lovie Smith.
"Especially when I first got there in 2011, I liked how that locker room was," McCown said. [Linebacker Brian] Urlacher was still there. You could just feel the closeness of that group of guys. It's very rare that you get to be in those kind of locker rooms when you have groups that have been together like they have. I mean, you're talking about
Lance Briggs
and
Peanut Tillman
have been teammates for 10 years plus. That's unheard of. It just doesn't happen very much in this league.
"When you get in a locker room like that where you have guys that have been teammates that long and observe their relationships and how much they appreciate each other and their friendship and watch how it plays out on the field, I think that's what I look back on my time there the most -- how important those relationships are in that locker room."
January, 16, 2013
1/16/13
9:22
AM ET
The drama that's been following the
New Orleans Saints
for the last 10 months hasn't stopped.
The latest development is that the team lost a valued member of its coaching staff. Adam Schefter reported that offensive line coach
Aaron Kromer will be the new offensive coordinator
and offensive line coach in Chicago.
Kromer was highly respected by the Saints and that was reinforced when he was named the interim head coach for the first six games of the season. Although the Saints started off 0-4, Kromer drew wide praise for keeping the team together during some difficult circumstances.
Kromer's contract expired after the season. Although general manager Mickey Loomis said new contracts were offered to the coaches whose contracts had expired, the opportunity to be a coordinator for new Chicago coach Marc Trestman apparently was too tempting for Kromer.
When coach Sean Payton returns from suspension after the Super Bowl, one of his first tasks will be to find a replacement for Kromer.
January, 11, 2011
1/11/11
6:05
PM ET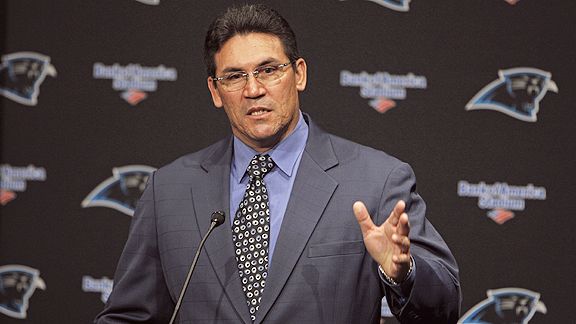 AP Photo/Chuck BurtonNew Carolina coach Ron Rivera said he's willing to employ a more "balanced offense."
Watching Ron Rivera's first news conference as coach of the
Carolina Panthers
was a lot like watching John Fox's introduction back in 2002.
That's not necessarily a bad thing.
Although Fox's time with the Panthers didn't end well, his overall tenure was a success. Rivera's can be even better if he learns some lessons from what went right and what went wrong for Fox.
"I'd like to be an aggressive, physical football team,'' Rivera said Tuesday afternoon as he met with the media in Charlotte.
That was Fox's message coming in and pretty much throughout his entire tenure. That style worked, especially in Fox's early years. In those days, Fox built his team around his defensive line and the Panthers truly were an aggressive and physical team. They went to the Super Bowl in Fox's second year and it wasn't really until a trip to the NFC Championship Game in the 2005 season that Fox's flaws started to show.
Back in the early years, Fox stuck to what he knew: defense. One of his first hires was Dan Henning as offensive coordinator -- Fox viewed that as a coup at the time. Early on, Fox trusted the veteran Henning with his offense and the Panthers won with ball control and the occasional big play.
Things began to fall apart in the 2006 season when the Panthers got too conservative on offense. Henning took the fall for that and was fired at the end of that season. In hindsight, Fox was the guy to blame. He insisted on sticking with his style even when it obviously wasn't working. Fox brought in Jeff Davidson as the replacement and the Panthers haven't had much of a passing game since.
That's why I'm saying Rivera could end up being better than Fox. When Rivera uttered the words "balanced offense," I could almost hear fans in the Carolinas cheering.
I almost cheered when someone asked Rivera to describe himself for people who don't know him.
"A listener, someone who understands,'' Rivera said.
That's a great thing because Fox refused to change or adapt and that's why he's gone. I'm certain general manager Marty Hurney, team president Danny Morrison and owner Jerry Richardson made it clear the Panthers must be much better and much more open minded when it comes to offense.
Rivera said he's going to stick mostly with the defense and let the assistants he hires handle the offense.
"I'm looking for guys that are going to coach and teach," Rivera said.
That's a good thing because the Carolina brain trust didn't feel there was enough teaching or coaching going on at the end of Fox's tenure. That was needed because the team had gone to a full-blown youth movement. You can bet that Rivera has already given some names of potential offensive coaches to Hurney, Morrison and Richardson. They probably wouldn't have offered him the job if they didn't like those names.
Ron Turner, Rob Chudzinski and Marc Trestman are coaches Rivera might target and that's a good start. Rivera ran through his offensive roster and sounded very satisfied with the offensive line and the running backs. That's usually as far as Fox's eyes went on offense.
But Rivera kept going. He talked about the three tight ends --
Jeff King
,
Dante Rosario
and
Gary Barnidge
-- and said he liked them all and the Panthers could upgrade in the draft or free agency. Rivera also praised young receivers
Brandon LaFell
and
David Gettis
. Then he saluted wide receiver
Steve Smith
's career and said he'd "love to visit with him and see how he's doing."
That's important. Smith might be the best player in franchise history. He's been frustrated by the losing and the team's offensive struggles. Smith has not asked to be traded or released, but team officials have told him to think about his future. They've made it clear to him that he's welcome back if he's satisfied with the new direction of the team. If not, they'll accommodate him and trade him.
Smith still has some good years left and Rivera can do himself a favor by winning over the receiver. But that might have to be done over time because Rivera must take care of some other challenges first.
"We need to see if there is a quarterback on this roster that can be that franchise guy that you need,'' Rivera said.
In other words, Rivera and whoever he hires as his offensive coaches must decide if
Jimmy Clausen
can be a franchise quarterback. Fox never really gave Clausen a chance in his rookie season. He made Clausen spend much of training camp working behind Hunter Cantwell, who didn't even make the team.
Fox only turned to Clausen after
Matt Moore
got off to a disastrous start. Fox benched Clausen twice after that and the offensive system made it impossible to tell if the rookie has any upside.
At the very least, Rivera made it sound like he's at least open to giving Clausen a chance. The Panthers took a hit when Stanford's Andrew Luck decided not to enter the draft. The Carolina brass realizes the franchise's hopes can't be put entirely on Clausen, and it's certain that another quarterback will be added through the draft or free agency.
That puts Rivera one up on Fox. He's coming in with an open mind about the offense. He's not coming in hell bent on using square pegs when you've got a bunch of round ones.
January, 11, 2011
1/11/11
2:29
PM ET
All signs continue to point to Ron Rivera as the next head coach of the
Carolina Panthers
. In the latest report from our news side, Adam Schefter says the team and Rivera are
putting the finishing touches on a contract
.
But I wouldn't expect an immediate news conference. Charlotte has been hit hard by a winter storm and the Panthers might wait a day or two to formally introduce Rivera. That might be a bit of a break because it will give Rivera time to begin assembling his staff.
As I said Monday, the hiring of the offensive coordinator and quarterbacks coach
might be the two most important moves
Rivera has to make. Possible candidates for offensive coordinator include San Diego tight ends coach Rob Chudzinski and Indianapolis assistant Ron Turner, who worked with Rivera in Chicago. Marc Trestman, who has been coaching in the Canadian Football League, could be a candidate as the quarterbacks coach.
January, 10, 2011
1/10/11
4:28
PM ET
It looks like Ron Rivera
will be the new head coach in Carolina
, but he might not be the most important hire the Panthers make.
The Panthers believe that who they hire as offensive coordinator and quarterbacks coach will be almost as important as who they hire as the head coach. They feel so strongly about this that team officials might try to steer Rivera toward hiring certain offensive coaches, and one name you should keep an eye on is Marc Trestman.
He's been coaching Montreal in the Canadian Football League, but Trestman has a long history as an NFL coordinator and quarterbacks coach.
Although this logic didn't apply with Bill Cowher, there's another reason Trestman might be on Carolina's radar. He has a home in the Raleigh area and lives there during the CFL's offseason. Trestman did a stint at North Carolina State before heading to Montreal.
Carolina owner Jerry Richardson has made it very clear he expects the new coach to improve an offense that was dismal last season and predictable throughout much of the John Fox era. With Andrew Luck electing to stay at Stanford and not enter the NFL this year, it's unlikely the Panthers will use the No. 1 overall pick in the draft on a quarterback.
They could draft one later or they could target a quarterback in free agency. The Panthers realize they can't sit still at quarterback, although there are people within the organization who believe that
Jimmy Clausen
and
Tony Pike
still have the potential to develop into decent NFL quarterbacks. The belief is that Clausen and Pike didn't have a chance to succeed as rookies because they weren't getting great coaching and were in an offensive system that didn't give them a chance to prosper.
Through his career, Trestman has worked with
Bernie Kosar
,
Rich Gannon
and
Jake Plummer
in seasons where those quarterbacks put up big numbers.