NFC South:

Marcell Dareus
July, 18, 2011
7/18/11
5:15
PM ET
Atlanta receiver
Julio Jones
and New Orleans running back
Mark Ingram
are the top rookies in the NFC South, at least
according to "Madden NFL 12"
.
Take a look at the top-10 rookies according to the Madden rating system. Ingram is tied for sixth with a 79 overall rating. Jones is tied for ninth with a 79 rating. Arizona defensive back
Patrick Peterson
and Buffalo defensive end
Marcell Dareus
are tied for the top spot with an 82 overall value.
I don't think the Madden folks are too far off on Ingram and Jones. I think Ingram immediately will take on a significant role in New Orleans' backfield. The Falcons obviously have big plans for Jones in their passing game after trading up in the first round to get him.
The bigger news here might be who is not on the list. That's Carolina quarterback
Cam Newton
, who was the first overall draft pick.
I'm guessing the people who come up with the Madden numbers were a bit like a lot of talent evaluators leading into the draft. They're not sure if Newton will have an impact right away.
April, 28, 2011
4/28/11
3:05
PM ET
Let's take a quick look back at our Call It polls for the Falcons, Saints, Buccaneers and Panthers a few days ago. Using the ESPN.com blog network
mock draft
as a guide for who would be available, I gave you four choices for each team.
Each group of choices included the guy I picked in the mock draft and three alternatives. Looks like we're all in some sort of agreement. Let's run through what voters had to say for each of the four NFC South teams.
We'll start with the Falcons because
this is the closest race
. As of a little earlier this afternoon, voters had receiver
Jonathan Baldwin
and linebacker
Akeem Ayers
tied at 29 percent. Receiver
Torrey Smith
was right behind them at 27 percent and offensive tackle
Nate Solder
had 15 percent. Remember, defensive end is still a possibility here, but that would probably require someone falling who did not fall in our mock.
Those who
voted on the Saints' pick
were the only ones who strongly disagreed with what I did in the mock draft. I took defensive end
Adrian Clayborn
at No. 24. He's second in the voting at 25 percent. But fans are calling for running back
Mark Ingram
, who has 42 percent of the vote. I wouldn't rule that one out.
In our mock draft, I took defensive end
Justin Houston
at No. 20 for the
Tampa Bay Buccaneers
. Voters seem to agree because Houston
leads the vote with 34 percent
, although Clayborn is right on his heels. Clemson defensive end
Da'Quan Bowers
wasn't available in the mock draft, but it's sounding more and more like it's possible he'll be there for the Buccaneers. Not sure if they'll take him because there is a reason he seems to be falling (concerns about his knee), but he's a talented player who might be worth the risk.
Speaking of talented players who might be worth the risk, that brings us to the voting from Carolina fans. They've got quarterback
Cam Newton
leading with
38 percent of the vote
. He's the guy I picked in our mock and, barring a last-minute surprise, I'm pretty sure Newton will be the guy the Panthers pick tonight. Cornerback
Patrick Peterson
is second with 24 percent and defensive tackle
Marcell Dareus
has 23 percent.
By the way, the polls are technically still open right up until each team makes it pick. If you haven't voted, feel free to go back and do so. Not sure it will have any impact on what your team does, but at least you'll have the chance to voice your opinion.
April, 28, 2011
4/28/11
12:18
PM ET
CHARLOTTE, N.C. -- There are a lot of reports out there saying the
Carolina Panthers
are still in the process of "narrowing down''
their list of candidates for the No. 1 pick in tonight's draft.

I don't think that's an entirely accurate portrayal of what's really the situation. Yes, that's what the Panthers are saying and I'd expect nothing less from them. There's no reason for them to come out and announce the pick before they're on the clock. The labor uncertainty and the possibility of another team making an overwhelming trade offer means it's wise for the Panthers to leave the door open for anything until the moment they have to close the door.
But do you really think Marty Hurney, Ron Rivera and Jerry Richardson are sitting around Bank of America Stadium debating the merits of
Cam Newton
,
A.J. Green
,
Marcell Dareus
and
Patrick Peterson
? If they are, maybe the wrong guy (John Fox) went in the purge after last year's 2-14 season. If the Panthers aren't already pretty sure who they're taking at No. 1, they're more dysfunctional than anyone could imagine.
Seriously, the decision was made days or weeks ago and all signs continue to point to that decision being making Newton the top pick. Yes, there still is room for a wild scenario or two that could change things. But unless something dramatic happens in the next eight hours, Newton's going to be the pick. The Panthers narrowed it down to him long ago.
April, 27, 2011
4/27/11
1:30
PM ET
In their Hot Button debate, Mel Kiper and Todd McShay
state their cases
for who should be the No. 1 pick in the draft.
Kiper says the Panthers should go with Georgia wide receiver
A.J. Green
. McShay says the Panthers should take Alabama defensive tackle
Marcell Dareus
, although I'm starting to wonder if John Fox hacked into McShay's computer and wrote the argument for Dareus.
In other years, like throughout the entire Fox tenure, taking a defensive tackle would be the obvious choice. But Fox isn't coaching the Panthers anymore, and the people there now realize they have to get an offense that's at least competitive in the NFL.
Green's a great prospect, and I think the Panthers might take him ahead of Dareus if it came down to a choice between those two. But I honestly don't see either scenario playing out.
For weeks now, all indications are the Panthers are preparing to draft Auburn quarterback
Cam Newton
. I have not seen or heard anything that leads me to believe there's been a change in that thinking.
That's good news for Fox. He's now with the
Denver Broncos
. They have the second overall pick, so Dareus should be there when Fox and John Elway make their pick.
April, 25, 2011
4/25/11
11:45
AM ET
Although there had been some rumblings early on about players not attending the draft due to the labor situation, the NFL announced Monday that 25 expected draft picks are planning to be at Radio City Music Hall. The league said that's an all-time record.
Although players won't be able to work out with their teams or sign contracts until the lockout is over, the league has said it's all right for top picks to go to their new cities to meet with the media the day or two after the draft. The Panthers have the first overall pick. The Buccaneers are at No. 20, the Saints at No. 24 and the Falcons at No. 27, so it's at least possible all four of the first-round picks for the NFC South could be in New York on Thursday night.
Here's the list (in alphabetical order) of the players the league said will be at the draft:
March, 11, 2011
3/11/11
10:53
AM ET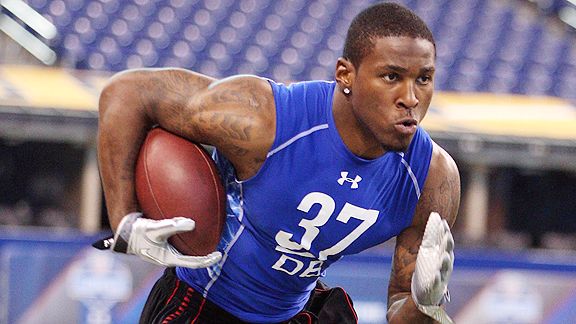 Brian Spurlock/US PresswirePatrick Peterson is regarded by some draft gurus as the best player in this year's pool of players.
Let's go ahead and agree on the expert witnesses' credentials and swear them in as we begin the case of
Patrick Peterson
vs. the National Football League draft.
Peterson is challenging the age-old law that you simply don't take a cornerback with the first pick in the NFL draft. It's never been done before, at least not in the modern era. In fact, case law shows that a cornerback never has been chosen earlier than
Shawn Springs
when Seattle picked him at No. 3 in 1997.
But the people at Peterson's table can put any number of guys on the stand and make a case that it's time to change the law.
"I honestly think he's the best player in the draft,'' said Scouts Inc.'s Matt Williamson, a former NFL front-office worker. "He's as clean a prospect as there is coming out in this draft. There are no character flaws or physical problems. I don't know that there is a single thing you can put down about him that's a negative.''
"Peterson is the best player in this draft, period,'' said Tony Softli, who worked as a high-ranking personnel official for the
Carolina Panthers
and the
St. Louis Rams
. "There's nobody who's even close.''
Plenty of draft gurus agree and consider Peterson the best player in the draft. But those same guys are putting out mock drafts, and almost none of them puts Peterson as the first pick.
That pick belongs to the Panthers, and they'll be the ultimate judge on whether it's time to rewrite the draft rules to say it's not a crime to draft a cornerback first -- especially one with the ability to return kickoffs and punts.
Will they do it? That's anybody's guess. The Panthers, coming off a 2-14 season and beginning the tenure of Ron Rivera as coach, are methodically working their way through the process. Rivera has said there are as many as eight players being looked at as options with the pick.
It's safe to assume that defensive linemen Da'Quan Bowers,
Nick Fairley
and
Marcell Dareus
are under Carolina's microscope. Same goes for quarterbacks
Cam Newton
and
Blaine Gabbert
, and they're being examined under a more powerful lens. But what about Peterson, the guy you can look at from 50 yards away and see is basically flawless?
That's where Rivera, general manager Marty Hurney and even owner Jerry Richardson are going to have to make one of the most interesting calls in recent draft history. There's no doubt the Panthers need a quarterback, but Newton and Gabbert come with questions. There's a big need for help in the middle of the defensive line, and Fairley or Dareus could fix that. Even though the Panthers have talent at defensive end, they almost have to give some consideration to Bowers, who is a game changer at a position where teams aren't afraid to use high draft picks. But each of the defensive linemen comes with some questions.
[+] Enlarge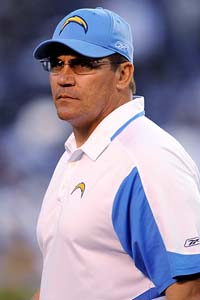 Kirby Lee/Image of Sport/US PresswireRon Rivera said as many as eight players are serious candidates to be the No. 1 overall pick.
Peterson doesn't.
"Why would you not take this kid?'' Softli said.
Well, that answer is buried deep in minds around the NFL, and traditions can be hard to break.
"The logic is that if you have one of those guys at one corner, he's going to be marginalized because people are just going to attack the other corner all day,'' Williamson said.
Softli echoes that and points to baseball, where the theory is you build up the middle with good pitching, a catcher, shortstop and center fielder. In other words, you don't build a baseball team around a left fielder or a first baseman.
"The philosophy is that you build from the inside,'' Softli said. "On defense, you build around the defensive line or the linebackers. On offense, you start with the quarterback or the running backs or the guys that block for them. The last piece you put in an offense is a wide receiver or a tight end. The last piece you put on a defense is a cornerback. It's because those guys are on the outside.''
We've heard all the glowing testimony on Peterson, and we've heard why the current law is in place. Everyone seems to agree on all of that. But ask what the Panthers should do with the first pick, and that's where reasonable minds disagree.
"They have to get a quarterback,'' Williamson said. "I take Gabbert over Newton because there's less downside. Look at the rest of Carolina's roster. They've got running backs and I like their young wide receivers,
Brandon LaFell
and
David Gettis
. They've got a good offensive line. This isn't the Houston offensive line when
David Carr
was coming in. They need a quarterback and this is an exceedingly friendly time to do it. Apologies to Patrick Peterson, who I think the world of, but they have to go with a quarterback.''
Richardson and Hurney are traditional guys, but Softli has some advice for his former bosses.
"They can get a transition guy at quarterback,'' Softli said as he pointed to quarterbacks such as
Carson Palmer
,
Donovan McNabb
and
Kevin Kolb
, who might be available via trade or free agency. "They can get their quarterback in another year or two when there's more of a can't-miss guy. Why not just take the best player in the draft? You can't go wrong on that.''
Carolina already has cornerbacks
Richard Marshall
and
Chris Gamble
, who have played at high levels in the past.
Captain Munnerlyn
also has shown signs he can be a solid starting cornerback. Marshall got into the bad graces of the front office last year, and Gamble fell out of favor with former coach John Fox last season. It's possible one of those guys could go, but the other could stay and team with Peterson as the starters and Munnerlyn as the nickel. That would leave the Panthers with second and third cornerbacks who aren't all that easy to pick on.
That might help bend the law in the Panthers' eyes, and Softli points to the franchise's past for more support. He remembers 2002, when defensive end
Julius Peppers
was in a draft class that featured Carr and
Joey Harrington
. The Panthers held the second pick in that draft and Softli remembers sitting in pre-draft meeting rooms with Hurney, Fox and college personnel director Jack Bushofsky.
"We were all sitting there hoping that Houston wouldn't take the best player,'' Softli said. "They took Carr and we could have had Harrington, but we wanted the best player. Peppers was the best player, and history has shown that. Harrington's out of the league and Carr's a third-string quarterback.''
The verdict won't come until the Panthers make their pick in late April. But they have to at least look at Peterson and wonder whether the guy with no questions would make it worthwhile to break the law.