March, 10, 2012
3/10/12
1:37
PM ET
Friday's NFC South chat was loaded with talk about the Saints' bounty program. But we also talked a lot about free agency and a little bit about the draft. Let's take a run through the highlights.
MJ (Palm Beach, FL):
Pat, I know that no one can really predict the punishment outcome for this bounty scandal but how about this scenario. Everyone feels that suspensions are coming but how's your take on this punishment for the players. Regardless of the team's record for the 2012 season the Saints are eliminated from play-off contention!!!
Pat Yasinskas:
I'm guessing some players will face suspensions. But, exactly which players, we don't know yet. Could be some that are no longer with Saints.
Carter (Atlanta):
Excluding Super Mario, who else will the Falcons pursue?
Pat Yasinskas:
Love to see them get a left tackle. Maybe Marcus McNeil?
Mitch (NC):
Pat, I read an article about
Thomas Davis
and how excited he is to get back on the field and how he wants to be the first effective player to have three surgeries on the same knee. He knows the Panthers will have to restructure his contract in order to play for them, do you see him being more than willing to restructure?
Pat Yasinskas:
I think TD will do whatever it takes and I think Panthers will work with him. Hope it works out for him. Good guy and a very good player if healthy.
Sean (Vegas):
Brees has obviously built up a ton of goodwill in the gulf region since he arrived in NO. With the contract situation playing out the way it did, I can now envision a scenario where Brees doesn't sign the tag before OTA's begin and may sit out until the season starts. Would Brees actually go this route? Seems like Condon and Loomis are really going to the mattresses with this negotiation.
Pat Yasinskas:
Hard to imagine Brees skipping OTAs. But both sides are playing hardball so far, so anything is possible.
Rich (Albany, NY):
Hey Pat, given the Saints current situation with bountygate, Brees' contract and other related salary cap issues, and no 1st round pick and possible reduction of other picks. Would you say this team is looking at a strong decline?
Pat Yasinskas:
Possible, because they're going to lose some key free agents and could be without their coach for a bit. Also could have some players suspended. However, as long as they have Brees, they'll be competitive.
Tim (Athens):
Pat, who do you think will be the starting RB for the Bucs on opening day?
Pat Yasinskas:
Someone not currently on the roster.
Dr. H. Doofenshmirtz (Tri-State Area):
I know it's Florida and all, but do you think the Bucs might have a hard time getting free agents to sign there because of the huge step backwards they took last year, and the new coaching staff,etc.?
Pat Yasinskas:
Well, I think Schiano will have to sell himself to free agents. But I think if he can do that, Bucs can impress free agents. Show them the facility, one of the nicest in league. Great grass field and stadium. Nice weather. And don't underestimate this when you're talking about millions of dollars -- no state income tax.
Vinnie (ATL):
Why is Lofton on his way out of Atlanta? Is his asking price too high? I think Lofton is a good player and great locker room guy. I would hate to see him go.
Pat Yasinskas:
I feel the same way. But it sounds like Nolan may view him as a two-down player and I think Curtis wants to be an every-down guy.
Here's the
complete transcript
of Friday's NFC South chat.
February, 21, 2012
2/21/12
1:29
PM ET
We've been talking about needs for the four NFC South teams this offseason and we're about to do it again. Let's turn to this
Insider post

by Gary Horton.
He lists three needs for each team and I'm picking one of those for each team to discuss here.
— For the Falcons, Horton lists the offensive line as the top need. No argument here. The Falcons have to get better up front if they're going to truly have the kind of explosive offense they like to talk about. Horton speculates the Falcons could go after guard
Carl Nicks
as a free agent or sign tackle
Marcus McNeill
if he is released, as expected by the Chargers. I'm not totally ruling out the Falcons pursuing Nicks. He's the best guard in the game and taking him away from New Orleans would weaken a division opponent. But I don't know if the Falcons can afford to spend so much money on a guard when their biggest weakness is at left tackle.
— Horton lists wide receiver as Carolina's top need. I'd put defensive tackle and outside linebacker ahead of receiver, but I see his point. There's a school of thought the Panthers should go get another top receiver to pair with
Steve Smith
. I can see the Panthers adding a receiver, but not in the early rounds of the draft and not an expensive free agent. All indications I've been getting are that the Panthers are happy with the progress of
Brandon LaFell
and are expecting
David Gettis
back from an injury.
— For the Saints, Horton has outside linebacker at the top of the list and I couldn't agree more.
Scott Shanle
is aging and the Saints never found a solid replacement for
Scott Fujita
. They have high hopes for
Martez Wilson
, but I think they'll add another linebacker in the draft or free agency.
— Horton also has outside linebacker on Tampa Bay's list. That's a definite area of need.
Geno Hayes
and
Quincy Black
didn't step up last season. The team played rookie
Mason Foster
in the middle and that could have had a negative impact on the outside linebackers. But the Bucs have to upgrade this position.
February, 17, 2012
2/17/12
3:26
PM ET
We spent a lot of time looking ahead to free agency and the NFL draft during Friday's NFC South chat. Let's take a look at some of the highlights.
Preston (New York):
After watching a lot of Bucs film from last year, it seemed to me that Kellen Winslow looked slower, had problems creating separation, and made a lot of silly mistakes during the season (How many offensive pass interference calls against him?). Could the Bucs be looking to work on finding a replacement for him going into the offseason?
Pat Yasinskas:
Wouldn't totally surprise me. Sure new coaching staff is looking at film of everyone right now. If they see same things you do, there could be a move.
Paul (Knoxville):
Which piece is more important to NO...Nicks or Colston?
Pat Yasinskas:
I've gotta go with Nicks. He's a big part of why Brees has been so well protected. Colston's great too. But you're asking me to pick between the two of them. I'll go with Nicks because they have -- and can add -- other guys that can catch the ball.
Cj South Carolina [via mobile]:
Can the Falcons sign Nicks?
Pat Yasinskas
: I still think he'll stay in New Orleans. Would he help Falcons? Absolutely. He's the best guard in the league. But I think the Falcons need to take care of left tackle before they do anything else.
Carter (Atlanta):
What will the falcons do at left tackle?
Pat Yasinskas:
Marcus McNeil? Maybe. But they better do their homework on the medical side. Other than that, it's tough to get a good left tackle in the draft when you don't have a first-round pick and the current list of free agents isn't all that attractive.
Paul (Knoxville):
Saints getting Thomas Davis...could that be a possibility?
Pat Yasinskas:
I could see Saints taking a shot on him. They have a history of taking shots on guys whose careers have been stalled by injuries or other reasons. If Thomas can get back to being what he was before the injuries, he could be a steal. But obviously that's a lot to expect from a guy who has had three torn ACLs.
Ben (Atlanta):
Do you think Jason Baker will be replaced in the near future? No one talked about it much last year because punting isnt a really fun topic, but our net punting avg was horrible.
Pat Yasinskas:
Ah, yeah, there's a good one. I should have mentioned him before when reader asked about potential releases for Panthers. I could see that one happening. He's making pretty big money for a punter.
Here's the
complete transcript
of Friday's NFC South chat.
February, 12, 2012
2/12/12
10:05
AM ET
Let's take a look at the Sunday headlines from around the NFC South.
It's almost a certainty the Atlanta Falcons will be looking for a left tackle. Sam Baker has not worked out and could be released and Will Svitek might be better off as a backup. The expectations are that Marcus McNeil
will be released by San Diego
and he could be a good fit for the Falcons if healthy. McNeil has had some neck problems, but is one of the best in the game when he is healthy. The Falcons need to make serious upgrades to their pass blocking and it would be hard for the team get an elite left tackle in the draft because they are without a first-round pick.
The Panthers will
host the defending Super Bowl champions
for the second straight season. They hosted Green Bay last season and the New York Giants are scheduled to play at Bank of America Stadium in 2012.
The Bucs looked at several candidates, including some they weren't allowed to interview, before hiring Mike Sullivan as the offensive coordinator. As it turns out, they might have landed the perfect fit. As Stephen Holder points out, there's a feeling inside One Buccaneer Place that getting quarterback Josh Freeman back on track is
critical for the franchise
. Working with Eli Manning the last two seasons, Sullivan has shown he can get positive results from a quarterback.
UCLA coach Jim Mora
has been recruiting heavily
in the Georgia area. He seems proud to remind recruits that he was the Atlanta coach the last time the Falcons won a playoff game. He might want to leave out the fact the Falcons were an incredibly unstable franchise throughout his tenure and much of that had to do with Mora's up-and-down demeanor.
Saints defensive tackle Tom Johnson
feels confident enough about his future
with the Saints that he went ahead and recently bought a house in New Orleans. Probably a good move. After struggling with an early-season injury, Johnson worked his way into the rotation and seemed to score points with the coaching staff. Sedrick Ellis is a lock to stay in that rotation, but veterans Shaun Rogers and Aubrayo Franklin are not. Both are potential free agents and there is no guarantee the Saints want them back.
Tampa Bay veteran cornerback Ronde Barber, who is a free agent and also could choose to retire, said he
hasn't made any decision
about what he wants to do in 2012.
February, 10, 2012
2/10/12
2:21
PM ET
We are in one of the quietest times of the NFL offseason. But Friday's NFC South chat was anything but quiet.
In fact, the pace at which your questions were coming in was right up there with a typical regular-season week. Let's take a look at some of the highlights:
Kasy ( Hattiesburg):
Hey pat, could you clarify what role a senior offensive or defensive assistant is?
Pat Yasinskas:
Excellent question, in light of the Butch Davis situation. Technically, it's a non-coaching position and more of an advisory position. Not sure exactly how Bucs are structuring this one, but there have been lots of examples in the past. To name just a couple, Tressell as a consultant with Colts last year. Ricky Proehl as an offensive consultant with Panthers last season.
Mike (Panama City, FL):
Do you believe
Drew Brees
will continue having record breaking and just flat out phenomenal seasons? Or is he on the downward slope of his career. Also on that note when should New Orleans start looking for a replacement.
Pat Yasinskas:
I don't see Brees slowing down immediately. He's got a good five years in him -- at least that's my guess.
Cameron (Atl):
Do you think the Falcons will be significant players in free agency this year? Any ideas who they'll go after?
Pat Yasinskas:
History shows they usually go after one big player a year. Obvious needs are DE and LT. As I said earlier, I'd take DE in the second round. Left tackle might be the spot they go for in free agency. There's not a lot out there, but
Marcus McNeill
should become available. His health might be a question. There are some other LTs that also could come available.
John (pa):
Is it time for smith and ryan to go. Watching atlanta in the playoffsis like watching a marty shothiemer coach team and carson palmer at qb. there i said ryan has topped out never going to be a frachise qb just a very good one like carson palmer was in his prime.
Pat Yasinskas:
Think you're a little premature on that. They've had four straight winning seasons. But you are correct that the pressure now is turned way up. They need to start winning playoff games.
Richard (Ann Arbor, MI):
Will Smith
came back from suspension and was instantly the Saints' best D-lineman, despite missing time, and he has to know that. That seems to complicate matters with regards to what to do with him.
Pat Yasinskas:
Yep, that one is a very tough call. His cap figure is outrageous. But he's their best pass rusher up front and that becomes even more important because Spags relies mostly on front four for pressure. Could save a lot of cap room by letting Smith go. But it's not like they are loaded with other pass rushers. Best approach might be restructuring his deal and knocking that cap figure down.
Robert (Shreveport, LA):
Do you think
Cameron Jordan
will improve next season? And if he doesn't how long do you see the Saints giving him before they go out and try and replace him?
Pat Yasinskas:
I think having Spagnuolo running the defense should help him considerably. But I don't know that Jordan ever will be one of those guys that will go out and give you 12 or 15 sacks in a season.
Andrew drace (one buc place,):
have you heard how the bucs are doing on ticket sales? are season tickets up or down? i was hoping for excitement with a new head coach.
Pat Yasinskas:
I have not heard anything on that. I'll ask. But I didn't see any big lines outside the ticket office last few times I drove by the stadium. Their hire wasn't the kind that will generate instant excitement. Going the Schiano route means he'll have to come in and win before they really see results at the box office.
Dan (Charlotte, NC):
Do you think the Panthers would really draft a OT in the first round this year instead of going defense?
Pat Yasinskas:
I'd say defense is priority, obviously. But you're sitting there with a top 10 pick, which in general terms is the one place where you can get a sure-fire LT. Gross is getting older. They might not have a top-10 pick again for a long time, so I think they at least have to consider it.
Here's the
complete transcript
of Friday's NFC South chat.
June, 14, 2011
6/14/11
12:40
PM ET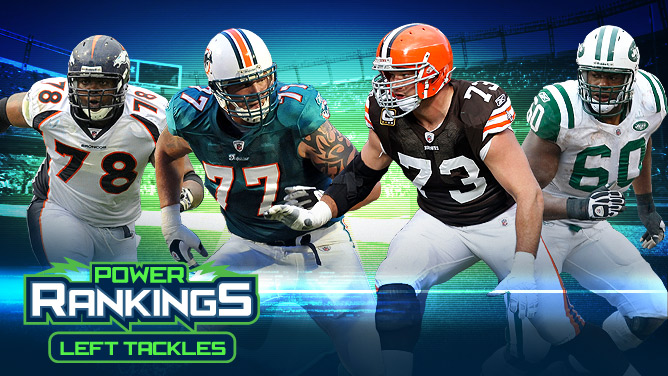 ESPN.com IllustrationOur bloggers say Joe Thomas and Jake Long are the NFL's best left tackles by a wide margin.
ESPN.com ranks the NFL's top 10 at left tackle, one of the most important positions in the league. Next week: Top up-and-coming assistants.
Take a quarter out of your pocket and look at its width. That's basically the difference between the top two left tackles in the ESPN.com Power Rankings.
Cleveland's
Joe Thomas
received 76 points from our eight-person panel of voters. Miami's
Jake Long
received 75. That put them way ahead of the rest of our top 10 list of the NFL's best blindside pass protectors.
Our panel of division bloggers gave Thomas five first-place votes, and Long received three.
"It was pretty much a coin flip for me,'' said NFC East blogger Dan Graziano.
If Graziano's quarter had landed on the other side, we might have had a different outcome. I think the same can be said for some of the other voters. I gave Thomas my top vote only after some strong consideration for Long.
But let's cut to the chase and point out the man who ultimately decided this election. It's AFC South blogger Paul Kuharsky. Every other voter had Thomas and Long in the top two spots. Kuharsky threw things off a bit by putting Long at No. 1 and Tennessee's
Michael Roos
at No. 2. He had Thomas at No. 3.
Let's turn to Kuharsky for his rationale.
"I've seen Long more, which helped him,'' Kuharsky said. "Also, frankly, I knew there could be close to a consensus for Thomas. He's very good. But we're not talking
Orlando Pace
or Jonathan Ogden. The groundswell for Thomas as top left tackle is, in my eyes, more a media creation than the view of players, scouts and coaches. I wanted to note and reflect that.''
Point taken, and I agree that we're not talking the same level as Pace and Ogden -- at least not yet. Thomas and Long are young and it's too early to put them in the category of surefire Hall of Famers. But, aided largely by Kuharsky, Roos did finish No. 6 overall.
Ryan Clady
,
Jordan Gross
and
D'Brickashaw Ferguson
rounded out our top five at Nos. 3, 4 and 5 respectively. After Roos, the rest of the top 10 was filled out by
Jason Peters
(No. 7),
Marcus McNeill
and
Donald Penn
, who tied for No. 8, and
Matt Light
at No. 10.
Let's work our way back toward the top, with one more quick stop at Roos. I had him at No. 8 on my ballot, and James Walker and Kevin Seifert didn't even vote for him. I've had a couple of scouts tell me Roos is a good left tackle, but seemed to take a step backward last season.
Kuharsky heard otherwise.
"I've had a coach and two scouts tell me Roos is as good or better than Thomas and Long,'' Kuharsky said. "I obviously see Roos a lot and think he's quite good, certainly better than he wound up here.''
Roos or ruse? Take your pick, but let's head right back to the top of the voting and back to the argument between Thomas and Long. They were drafted one year apart with Thomas entering the league in 2007 and Long coming in for the 2008 season. Each has made it to the Pro Bowl in every season played.
Kuharsky mentioned the "media creation'' about Thomas. In Cleveland? That's not where you usually turn to find guys to top Power Rankings, so our vote has to say something pretty strong about Thomas. Let's turn to the guy who covers Thomas.
"Thomas has always been focused on doing his job,'' Walker said. "You can't tell whether the Browns are 16-0 or 0-16 with the way he plays, and that's why he's been to four straight Pro Bowls. The NFL has gone the way of speed pass-rushers, and Thomas is the prototype to combat that. He's lean with very good feet and agility, but still strong enough to dominate in the running game. There's really no weakness in his game."
None of our panelists saw a weakness in Long's game.
"I thought Long's run-blocking ability put him a little bit ahead of Thomas,'' Grazianzo said. "I think he's shown improvement every year and is likely to pass Thomas soon if he hasn't already (and for me, these lists are about which guy I'd pick right now, so a guy I think is going to get better is going to get a long look from me). And he earned a bonus point or two from me for playing the last six games of 2010 in a shoulder harness and still being incredible.''
The best news is, these guys are so young we can have this same argument every year for the next decade. Now, let's move on to some other notes about the voting in the Power Rankings for left tackles.
Turn off the Light.
As we mentioned, Light came in at No. 10. That surprised me a bit because he's a big name with three Super Bowl championships and three Pro Bowl selections. I had Light at No. 6 and Walker had him at No. 4. But Light didn't even appear on four ballots, including the one from AFC East representative Tim Graham.
"Matt Light is a quality player, but Stats Inc. blamed him for 10 sacks allowed and four penalties last season, more in each category than his previous two seasons combined,'' Graham said. "I've always thought Light got more recognition simply from being
Tom Brady
's left tackle. Once you name the three or four elite tackles and you rack your brain for the next group, it's easy to understand people sorting through the great quarterbacks and asking, 'Who is so-and-so's left tackle?' Light made the Pro Bowl last year, but as an alternate. Light's reputation also is enhanced by his involvement in the union and being a truly rare species: the gregarious Patriot.''
Also-rans.
Andrew Whitworth
,
Chad Clifton
,
Doug Free
,
Russell Okung
and
Jeff Backus
didn't make the top 10, but each received votes.
"I don't think there are 10 elite or even complete left tackles in the NFL,'' NFC West blogger Mike Sando said. "I list Okung on a very short list of players with the talent and makeup to be elite at that position. Okung hasn't played enough to this point, but I think he'll join that group this season. Listing someone with considerably less ability was the alternative.''
The longest shot.
Somewhere, former Tampa Bay general manager Bruce Allen and coach Jon Gruden are smiling at Penn's name appearing on this list. It's true, they headed the regime that signed Penn as a free agent in 2007 after he was cut by Minnesota in 2006. Then again, they were also the ones who signed Luke Petitgout, and Penn only got a chance to play because Petitgout turned out to be washed up. I used to subscribe to the theory that you needed to use a first-round pick to get a good left tackle. But Penn has shown that's not necessary. In his case, he simply made the most of his shot at playing time and turned it into a $48 million contract as training camp started last year.